On Tuesday January 13th we motored north from the Mecca Hills in the desert east of Mecca, CA up to the Cottonwood Springs Campground in Joshua Tree National Park. Cottonwood Springs is in the Colorado Desert (a region of the larger Sonora Desert) in the southern portion of Joshua Tree. It's not as pretty as the northern portion that in the higher elevations of the Mojave but because it's only at 3,000 ft it's warmer which in January is a good thing.
It was in the high 50's and pretty breezy when we set up camp so were glad we were lower down rather than up at 4400 feet where it was much cooler. We hadn't expected to have a cell or hotspot signal and so we weren't surprised to discover there wasn't even a trace of one. Most of Joshua Tree is designated as wilderness and they don't even have a phone at the Visitor's Center at Cottonwood let alone cell service.
It was in the high 30's that night and we were happy to run the furnace come morning and know that we didn't have to worry about the batteries because we had plenty of sun for the solar panel to do it's job. We've found that when we have sunshine that running the generator for an hour and a half in the evening while I'm cooking (and running the hood fan) works great at keeping everything (including the computers) nicely charged up. If we don't need any heat then we can get away with not running the generator at all at least for a couple of days if we have sun.
The next morning on Wednesday January 14th we headed north on through the Pinto Basin.

This is classic Colorado Desert with mostly creosote bushes for miles and miles.
This is Pinto Mountain (3983 ft) named I suspect for its varied coloring like a Pinto Pony.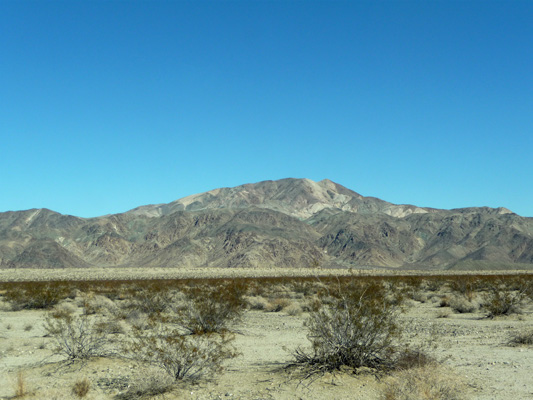 As you turn westward past wonderfully named places like Fried Liver Wash, the road steadily gains altitude until you begin to see the piles of rocks that Joshua Tree is so well known for.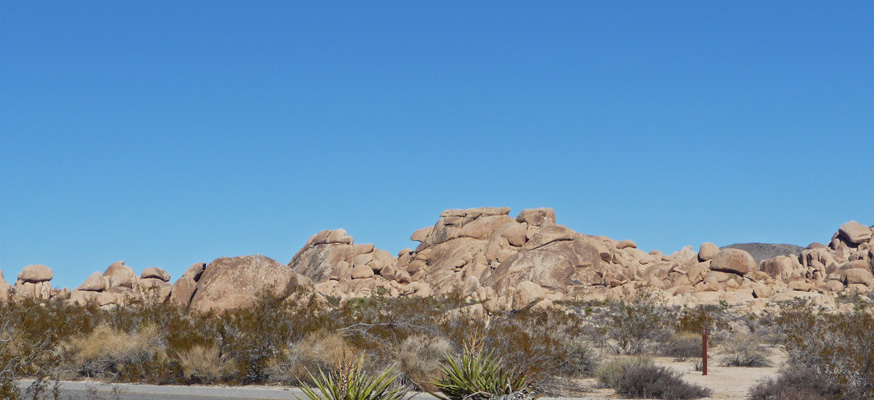 These rocks are monzogranite formed when magma forced its way into an overlaying rock layer known as gneiss. Groundwater flowed down cracks etching it. Mountain building lifted it and erosion exposed it to the surface. Once the monzogranite was exposed, weathering action sculpted the rocks into their present forms, making it look like some giant came along and made a bunch of jumbo cairns. [End geology lecture]
Most of the northern portion of Joshua Tree is covered with these wonderful monzogranite formations. They are terribly photogenic and rock climbers come from all over the world to climb them. Note the folks on top of this one not far from the Jumbo Rocks Campground.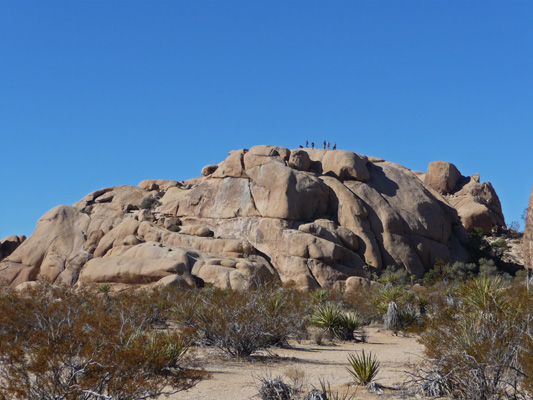 The other iconic form here is the Joshua Tree, a kind of yucca that only grows in the higher elevations of the Mojave desert. There are huge forests of them here. There's a rock climber on the right top edge of this rock but you can't see him. Ah well.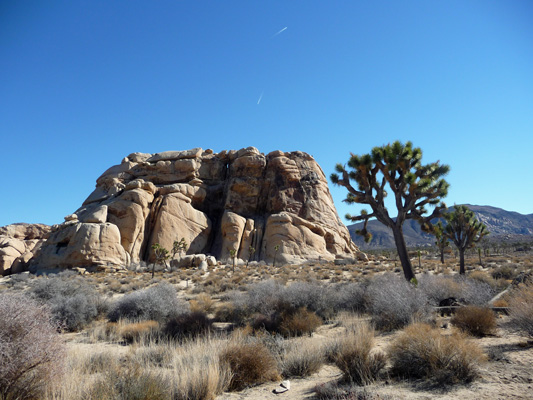 We motored on out to the Barker Dam trailhead parking area (a hike we did back in 2008) and took the trail towards the Wall Street Mill. It was in the 50's and a bit breezy so I wore my wind breaker over my fleece to start out. The sun was warm so we were happy as long as we kept moving.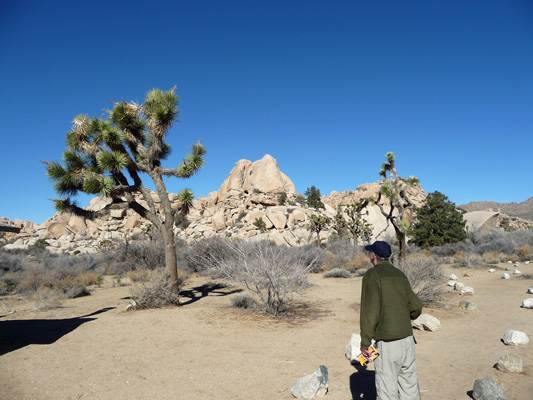 The trail follows a sandy wash (though not as loose sand as some of the hikes we've done lately) running parallel to a long band of monzogranite rocks. In amongst these we spied not only Joshua Trees but Pinyon Pines—the first we'd ever seen here.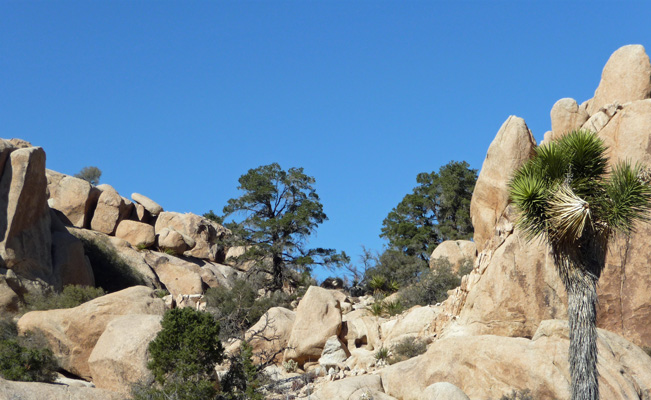 To the south the hills have a very different look—darker in color and smaller sized rocks AND lots more Joshua Trees.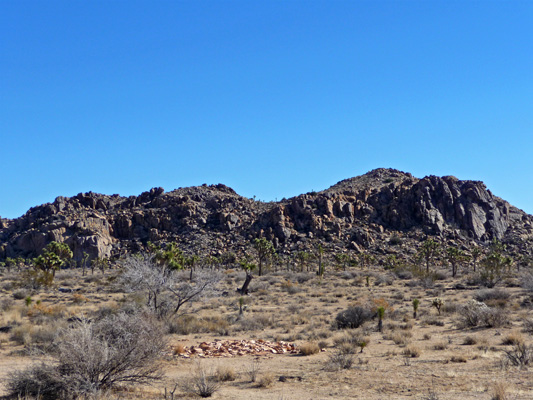 The trail goes right by this old windmill.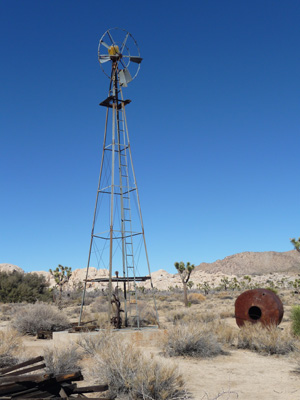 There are piles of old lumber—no doubt there were buildings here once upon a time. And a few old metal tanks. But most amazingly the hand pump is still attached to the windmill. The desert preserves things in an interesting way.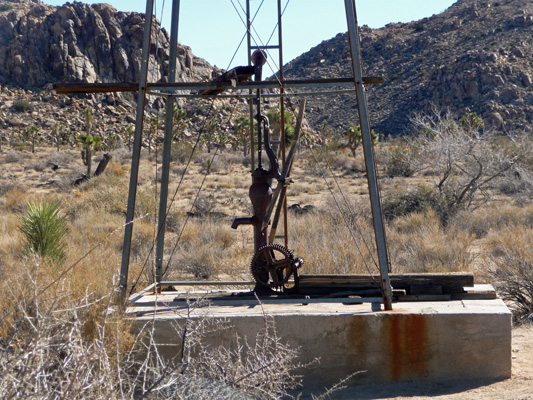 The trail eventually turns northward and you arrive at the remains of an old truck partially buried in the sand.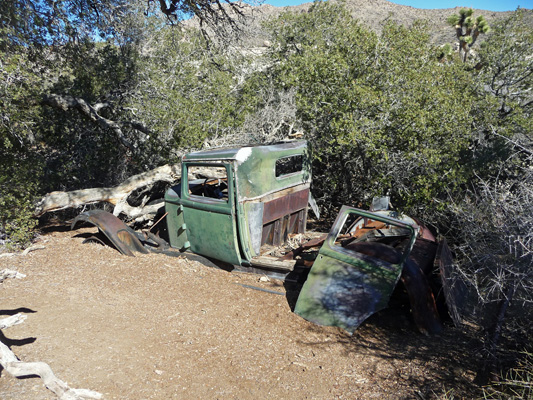 We climbed the rise behind this truck and found the ruins of the Wall Street Mill itself. They used this mill to process ore from a mine not far from here and other miners in the area brought their ore here too.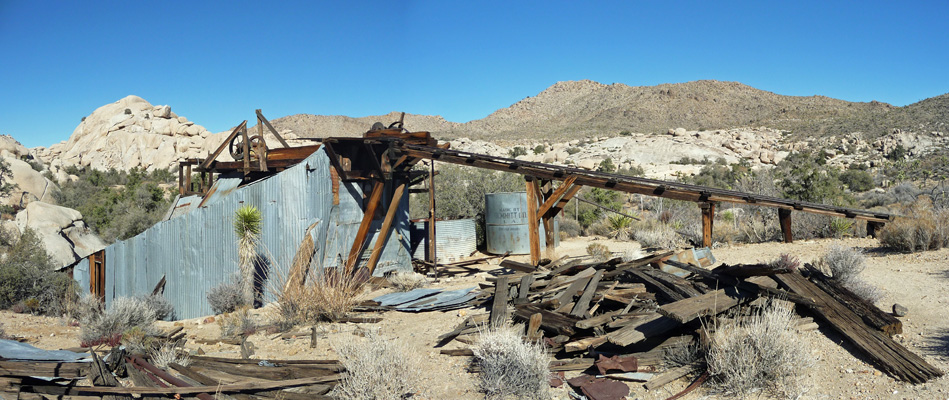 I love that the print is still visible on this old storage tank.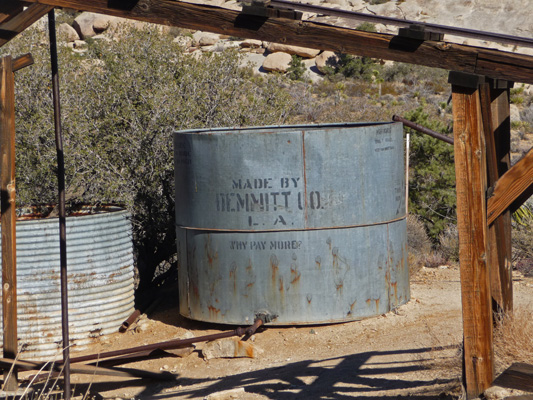 There are lots of cool rocks up the hill from the mill.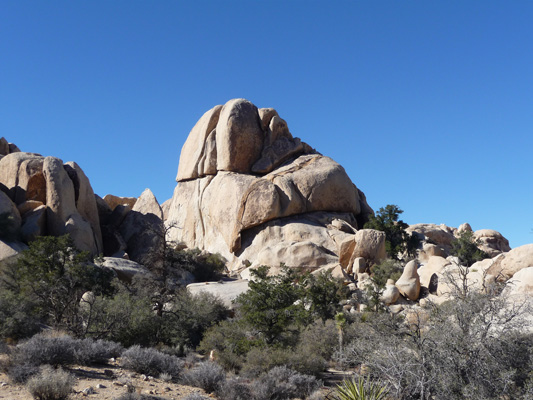 We scrambled down to the front end of the mill where you could actually still see the two stamps that they used to grind the ore into sand for processing (we're talking gold here).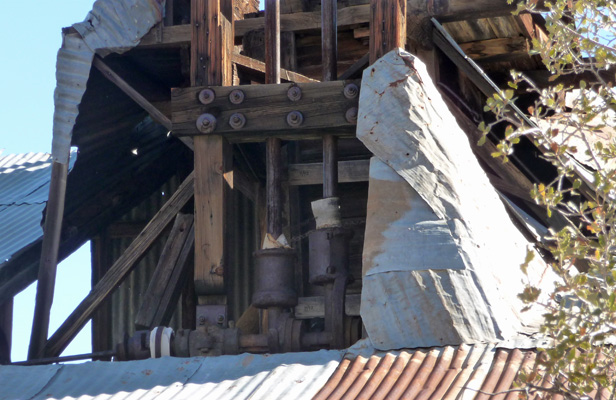 The mill is on the Register of National Historic Sites because of its location, technology and the fact that it's still intact.
There's still a pile of pieces down below and the lumber looks to be in great shape.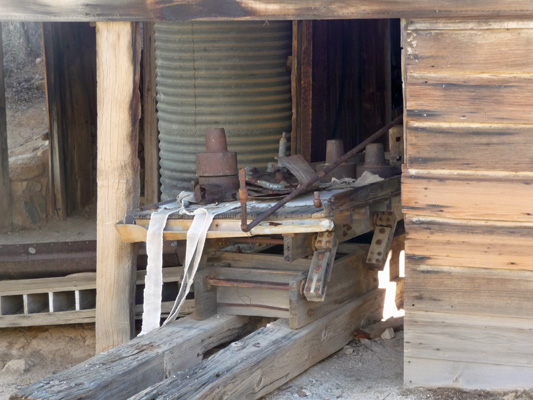 Back behind the mill is yet another wonderful old truck.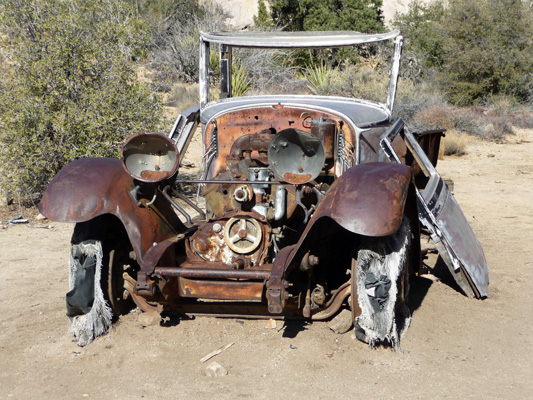 The headlights may be gone but the tires are still there. Just don't count on trying to inflate them any time soon.
On our way back past the mill we spied a few more bits and pieces of old cars—a fender and a rumble seat.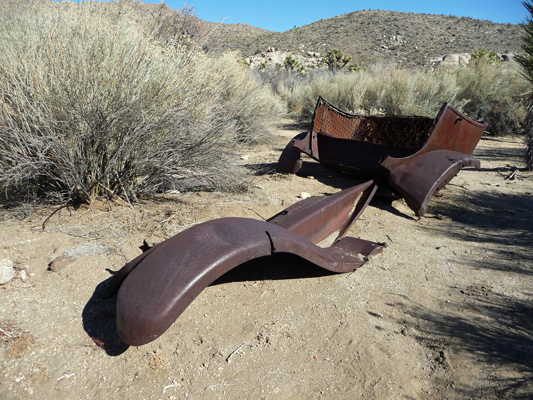 We hiked back the way we came and I spied this wonderful cluster of little cacti. I don't know what kind they are but they sure are fun.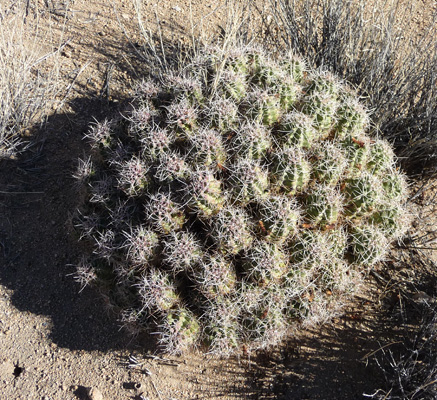 As we neared the intermediary trailhead (which has a parking lot but they don't point you towards it back at the main parking lot so we didn't know to drive out here) we took the turn out towards the ruins of an old ranch. On the way we came across another old vehicle.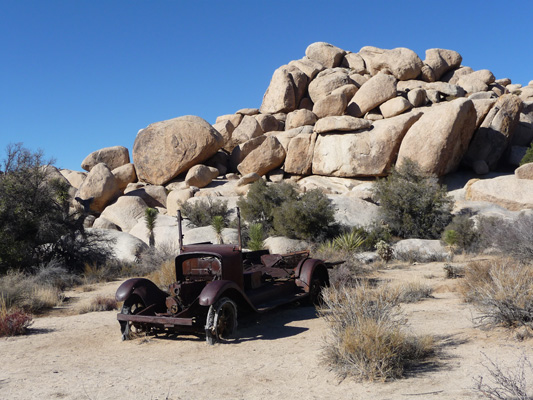 We cut over from here to the old ranch building which strangely enough was originally painted pink.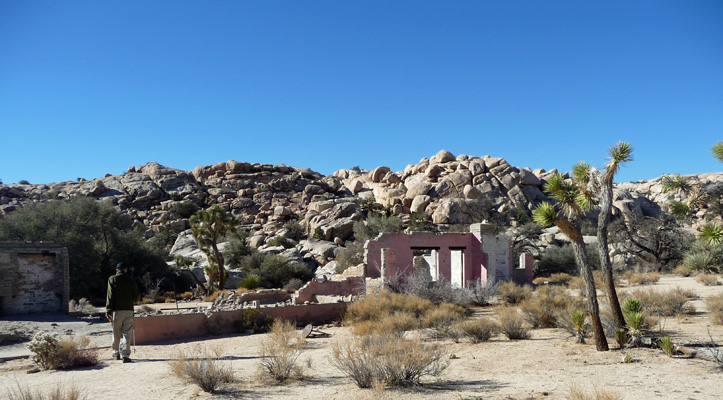 This place had been constructed out of concrete block without any steel reinforcement so at some point the back wall just fell over and it was still stretched out in the sand in pieces. All along the pony wall people had left pieces of glass and metal that they had found in the area. This is a National Park after all so you can't take anything home with you. Instead of beach glass what we've got here is desert glass.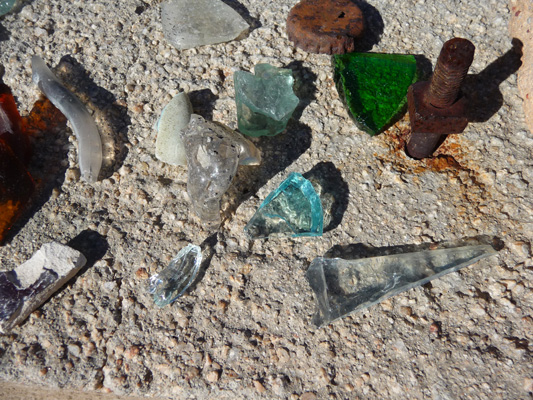 There's a trail that heads north out of here along a wash up through the monzogranite rocks and eventually (or so our trail guide said) out into an area that the climbers call the Astrodomes. Walter took a pass and sat and rested sitting on the pony wall while I found my way out in amongst the big rocks.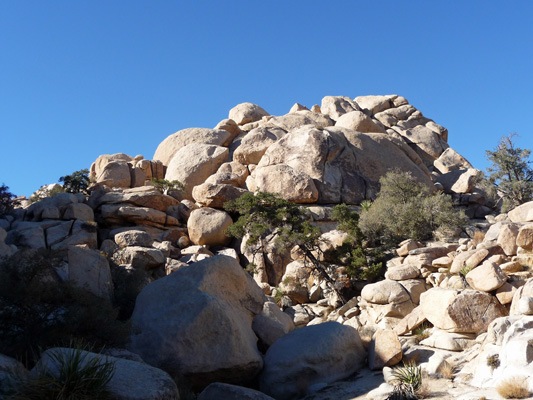 There really wasn't much of a trail. I scrambled over a rise here and there and found the wash and then it would disappear again until after a bit of a scramble it would reappear.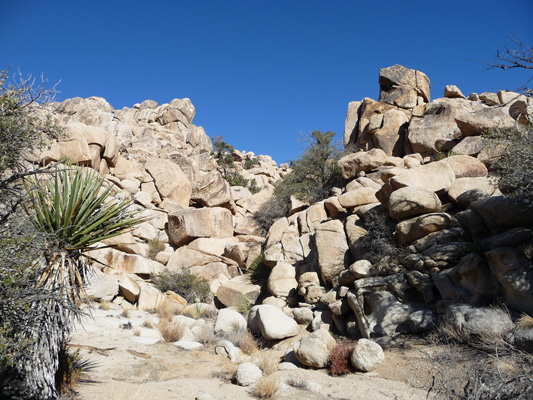 Eventually I'd scrambled enough and then I got to find my way back. Hurrah, I didn't get lost!
We made our way back to our truck and spied a Loggerhead Shrike sitting on the top of a yucca.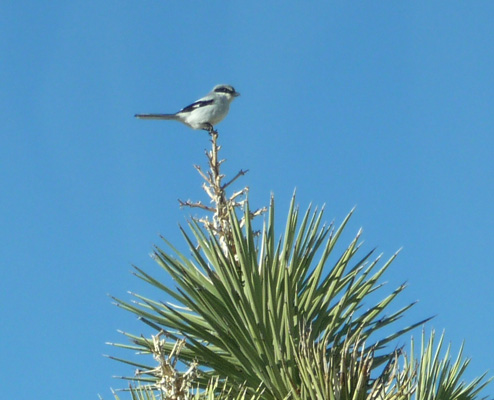 It was lunch time so we took a short drive over to Hidden Canyon picnic area. It still wasn't warm (read mid 50's) but we found a table sheltered in amongst the rocks to have our lunch.
The view from here is lovely.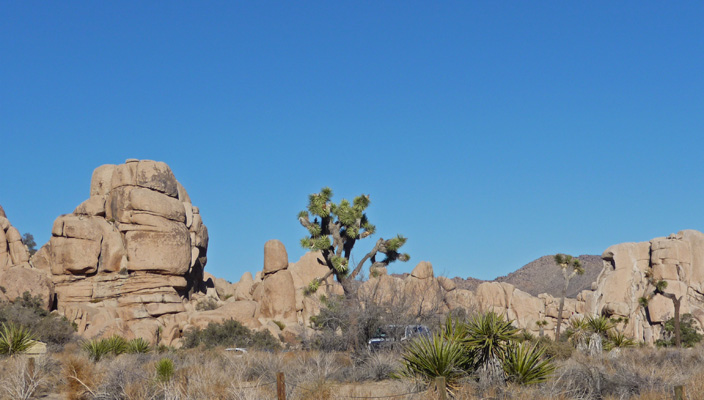 Climbers love this area and there's a really nice Nature Trail for us mortals too. We saw a couple of folks pop up on the top of this big rock while we were having lunch but they didn't stay up there for long.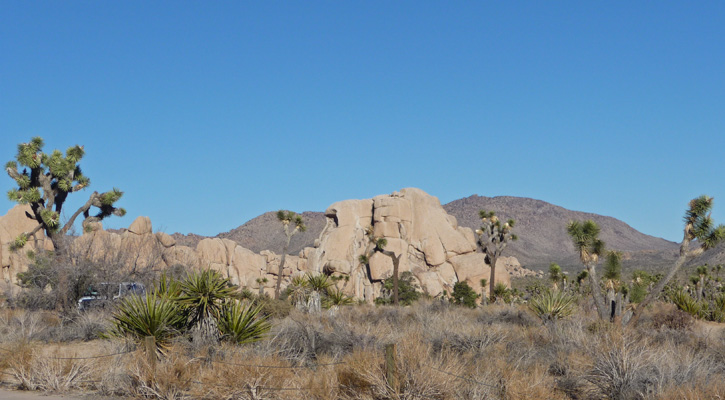 We would have loved to have spent another day hiking in this area but it's over 40 miles from Cottonwood Springs Campground out to this area (nearly an hour's drive) and we really didn't relish driving 80-90 miles again the next day. If the weather is warmer when we return to California in March we may try camping at Jumbo Rocks Campground (elevation 4400 ft) so we can do some more hiking in this area. We camped there one year in April and it was wonderful.
On Wednesday January 14th, we decided to stay close to home and took the Cottonwood Springs Nature Trail from the campground down the hill to the springs themselves. The trail wasn't well marked and we wandered around a bit, but eventually we saw the informative signs about desert plants off in the distance and reconnected with the trail. The signs are pretty cool telling you what the Cahuilla, the native peoples of the area, had used each plant for (food, medicine or dyes).
We'd noticed some ruins over by some palm trees so we followed a wash up to have a look. We think it was the ruins of Winona Mill but there wasn't any signage so we might be wrong. All that remained were a seep in the trail (water!), some palms and cottonwoods, a few eucalyptus and a few foundations and partial walls.
The best thing here was the peeling bark on the eucalyptus.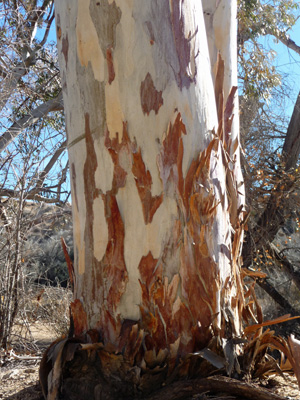 We wandered back to the trail which eventually took us to the parking area for Cottonwood Springs and finally to the springs themselves.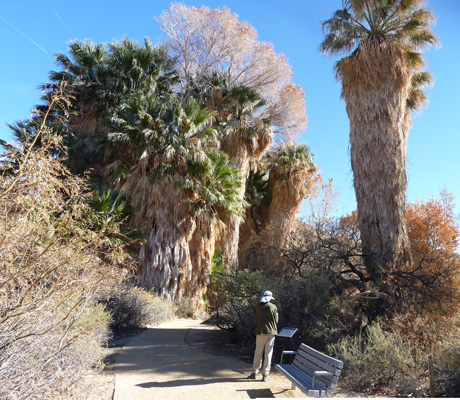 There's a large grove of palms here along with the cottonwoods that the miners planted back at the end of the 1800's. This area was closed after flash floods in 2011 and 2013 so we were glad to see that it was open again. The water from the springs is cordoned off because of arsenic and other pollutants from the mining days (arsenic tends to be present in ores with gold and copper and then gets concentrated when they process the ore to extract the metals).
We wandered through the grove and out onto the other side looking for the trailhead to Moorten's Mill. In the process we came across a sign telling us about the mortars left by the Cahuilla. There were several worn into the rocks. This was the deepest and most impressive. They pounded Mesquite seeds (their main food source) in these. Generations of Cahuilla women spent weeks each year pounding seeds into flour for their families thus making the mortar deeper and deeper.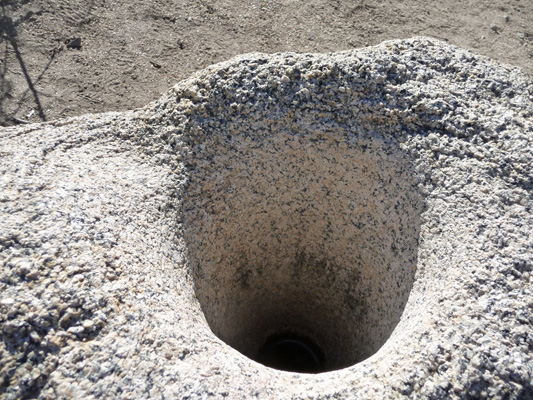 We read our trail guide and wandered around a bit until we decided that the trail lead down the footprint-filled wash we could see from the bank. We made our way through the brush and down into the wash. From a ways down the wash I turned to shoot this photo of the palms at the spring.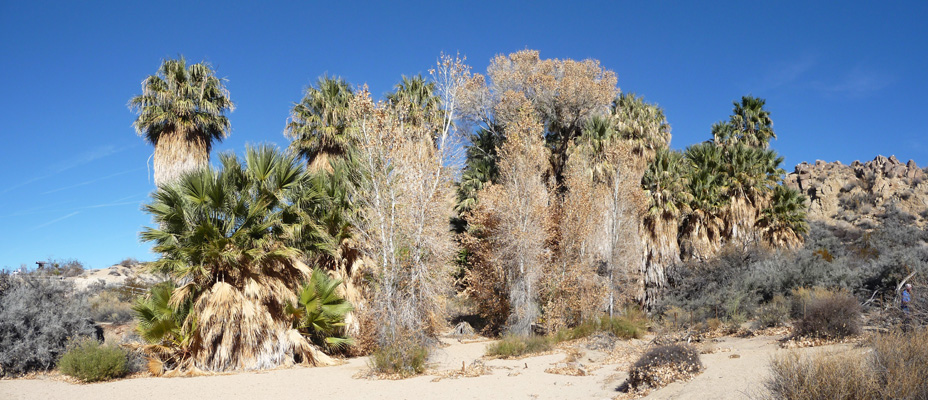 The wash leads you though a rocky area that isn't as stunning as the monzogranite but still not bad.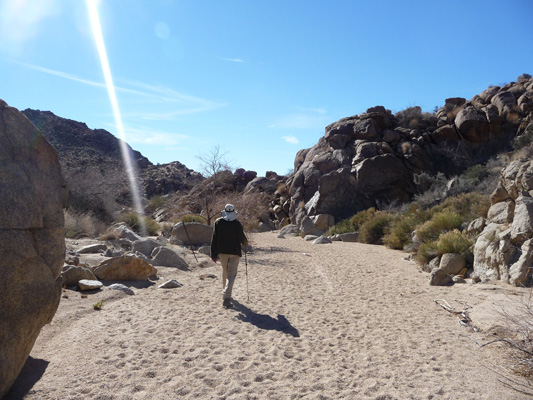 The cliffs have yucca, palo verdes and small cactus in addition to creosote bush.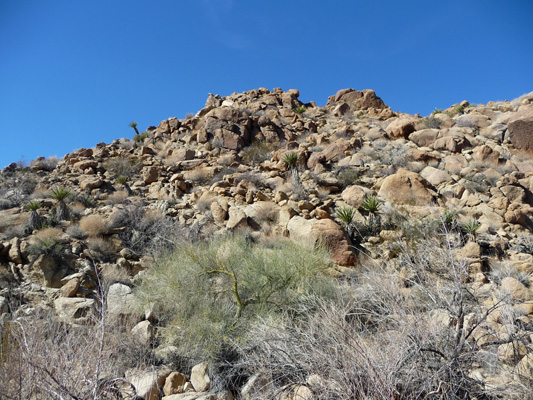 There's desert mistletoe growing here and there on both shrubs and trees.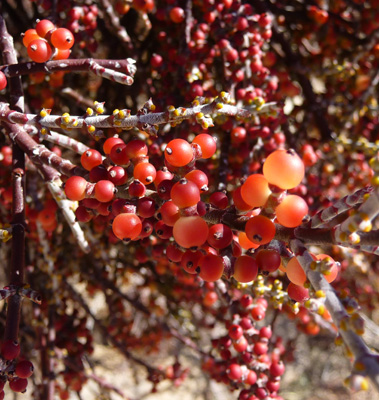 After a while, you come to a sign that explains you have arrived at Little Chilcoot Pass. At the turn of the century when Chilcoot Pass in Alaska was being scaled by miners on their way to the Klondike gold fields, miners here were dealing with trying to get their wagons up this rocky pass. They tamed it much more easily than the miners in Alaska tamed the real Chilcoot (that required building the narrow gauge railway from Skagway Alaska to White Horse Yukon) by building a stone road around it.
Here's the problem section.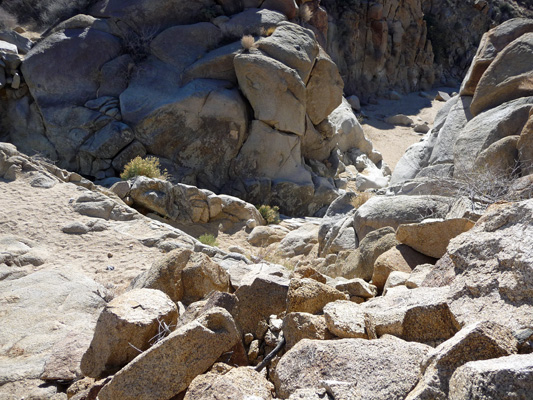 Here's Walter scaling the bypass road. Do you want to take a wagon up or down that?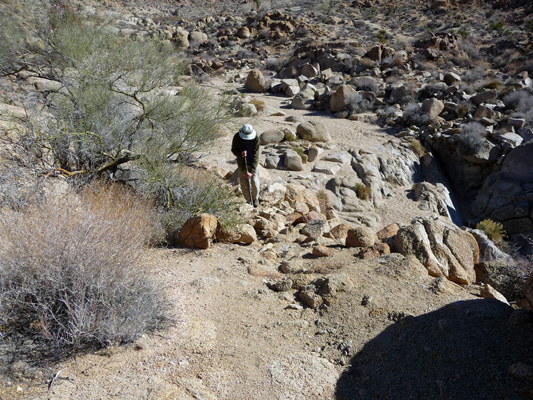 And here's the road—nearly looking like a road—on the downhill side. I still wouldn't want to take a wagon up or down it but I can well imagine that with some work you could make it passable.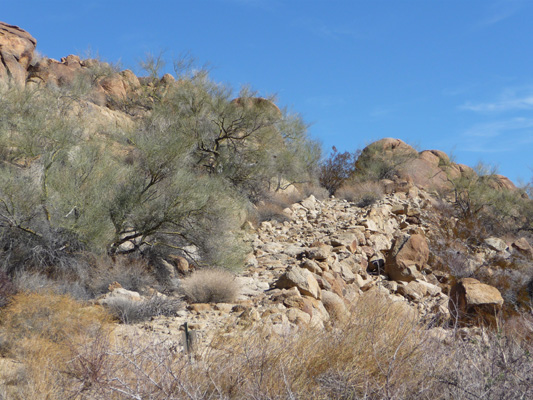 Our trail guide said that when you walked down the wash you would eventually come to a sign in the middle of the wash indicating the location of the old Moorten's Mill. We hiked on and on looking for remnants of the mill with no luck. We could see the main park highway going by just a ways to the south so we knew we'd probably passed it even though we hadn't seen an evidence of it. We sat down to rest for a moment and I spotted a sheet of rusted metal in the wash.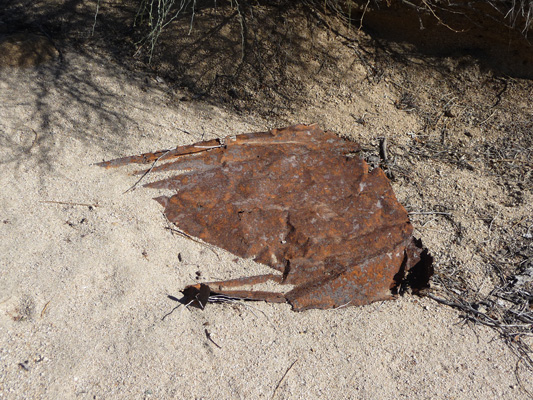 We shrugged thinking that the rest of it had washed away in the last couple of flash floods. So we started back up the wash. And what should we see on the west side wall of the wash but more rusty goodies.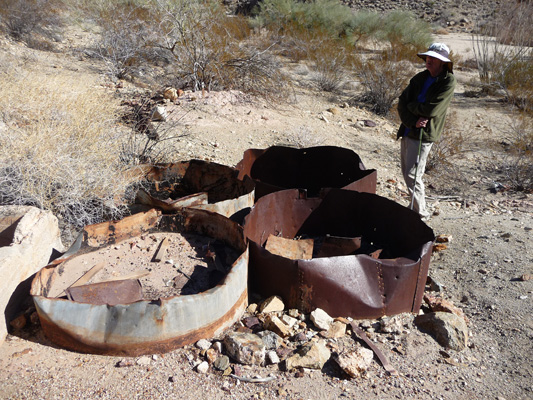 There were rusty pieces of cars—a fender and various pieces. There were these 4 tanks and a small square concrete footing beside them.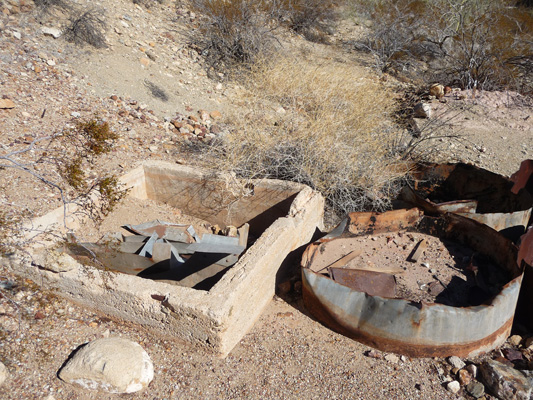 And there were lots of rusted tin cans of all sizes.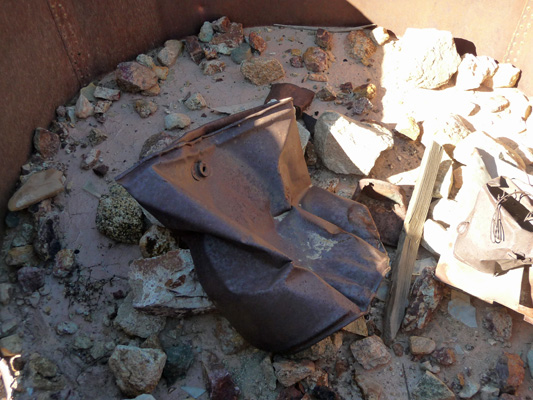 We hiked our way back up the wash. Did I mention that loose sand is hard work? We've been hiking for several weeks in sandy washes and while it's gotten easier it's still hard work.
When we reached the lower portion of the wash up to Cottonwood Springs I stopped and took another shot of the springs.
Those signs say the area is closed do to emergency conditions—from summer of 2013. We walked down through here on our way out and had to step over the cable but there weren't any signs telling us to stop. Ah well, it was all safe and fine and clearly they're just behind on taking up the signs. There was one at the south end of Little Chilcoot Pass too that we discovered AFTER we'd come down it. Clearly they wanted to keep folks who started down by the highway from coming up but there's no reason now to worry about it.
We turned up the side wash here towards the parking lot hoping to walk on pavement back to the campground. With a bit of bushwhacking we made it up to the road and rested a bit before heading towards the campground. About 1/2 mile from our campsite Walter gave up and sat down to rest while I hiked back up the hill to get the truck. I know it was 1/2 a mile because I clocked it when I drove back from getting him. If he'd had to he could have done it but why kill yourself when you don't have to?
Along the way I stopped to take a photo of this lovely Jumping Cholla (aka Teddy Bear Cholla) that I'd been admiring every time we'd driven by it.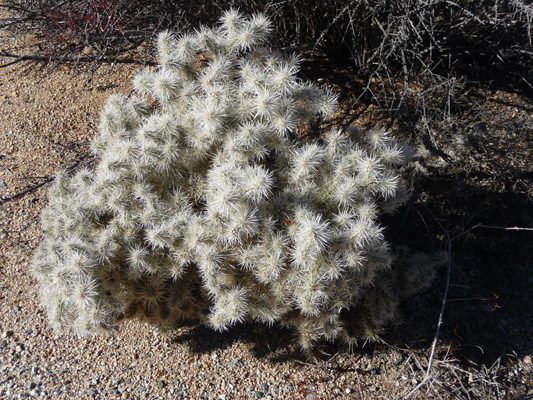 We figure we put in at least 3 miles of sandy wash hiking for the day and that was more than enough for both of us.
The next morning on Friday January 16th we headed south out of Joshua Tree past one of only 2 Big Horn Sheep Crossing signs I've ever seen (the other being the one on the other side of the road coming in).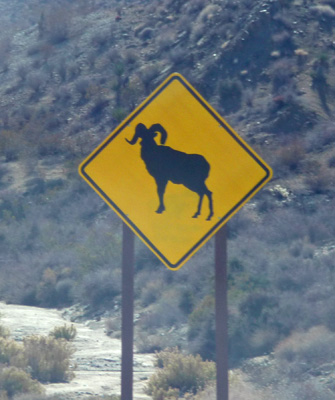 Then we went east nearly to the Arizona border and then south to Gold Rock Ranch RV Park, a strange little RV park about 20 miles from Winterhaven CA (on I-8 near the Arizona border). We were out in the middle of the desert with the Glamis sand dunes off to the west (but you couldn't see them) and the Cargo Muchacho Mountains to the east. The park is full of old mining stuff from the old gold mines in the Cargo Muchacho Mountains. The water wasn't potable but we had power and sewer and it was only $40 for 3 nights with our Passport American membership. We had a decent hot spot signal with our booster and Walter managed to get TV with the antenna so we could watch the heart stopper of a win by the Seahawks in the playoffs on Sunday. Go Hawks! Super Bowl here we come.
That night we had another great desert sunset.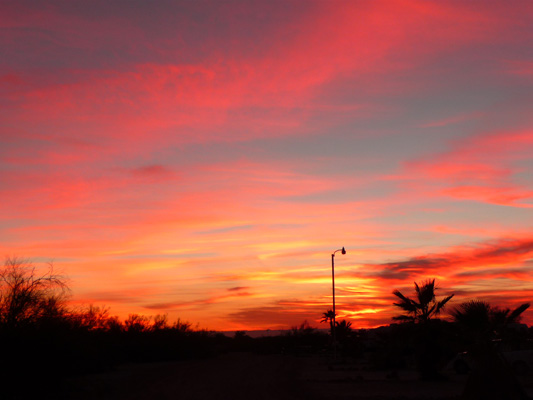 Complete with palm trees.

Good sunsets make up for all sorts of deficiencies in campsites!