When we awoke on Sunday January 4th, it was sunny and warm at the Pegleg boondocking area in Anza Borrego Desert State Park. The morning light made the our view pretty spectacular.

After lolling about on Sunday morning (arguing with the hot spot which gave us a signal part of the time) we decided to drive down to the eastern side of Anza Borrego to take the Elephant Trees Discovery Trail. To get there you drive through the Texas Dip, an arroyo with very steep sides that makes for a pretty fun drive.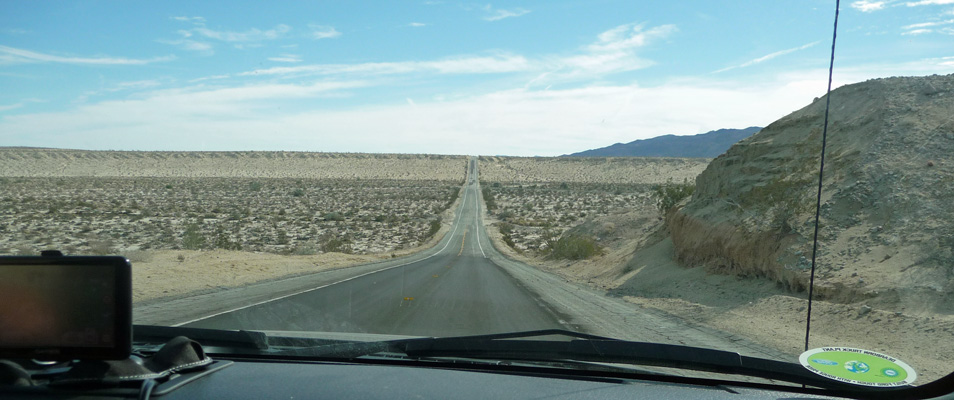 We drove out to Ocotillo Wells, a tiny little town whose economy is totally dependent on the Off Highway Vehicle crowd that gathers in the desert here (there's a big state OHV area with sand dunes there). From Ocotillo Wells we drove south to the turn off for the Elephant Tree Discovery Trail and bumped along another sandy rocky 4-wheel drive road. We met two cars coming out but there was space to pull over so all was well. This road had a few big boulders around the edges but not as bad as the one to Torote Canyon that we took before New Years.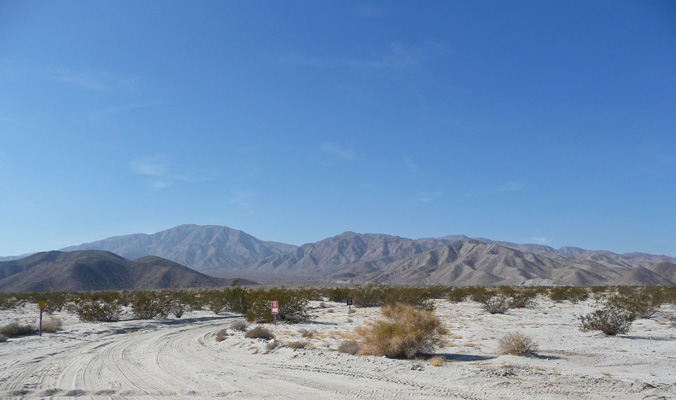 There was a nice cairn marking the beginning of the trail—counting the boulder it was sitting on and the two little rock chips on top this is a 9-rock cairn.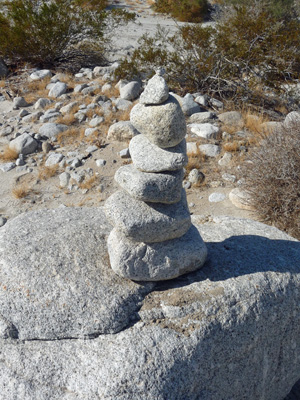 This is one of those guided nature trails with numbers and a booklet to tell you about them. That was all fine and good, except we couldn't find the box with the booklets in them and never did find post Number 1. We set out along the trail and stopped at each post and decided what it was probably about—almost as much fun as reading the booklet. There were ant hills in the middle of the trail. The ants seem to be gathering up the fine hairs from the teddy bear cholla to build their mounds.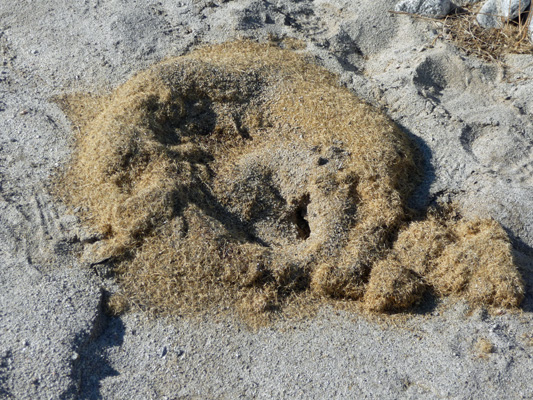 There was a really nice healthy looking Mesquite tree that I had to capture with the mountains behind it.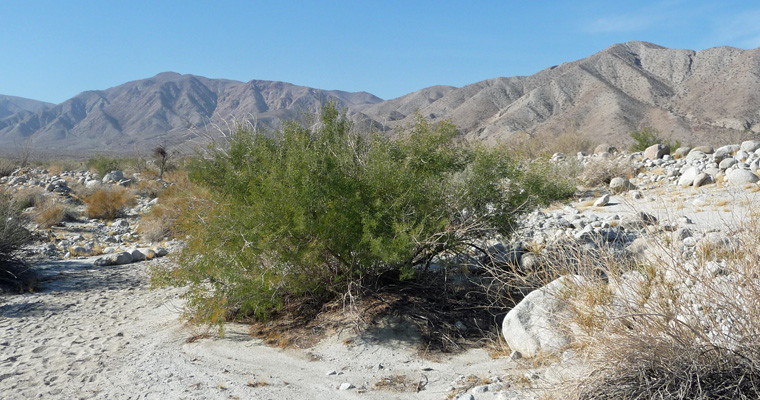 We followed the footprints along the wash looking for Elephant Trees. After about 1/2 an hour without seeing any more numbered signs or any sign of Elephant Trees we we pulled out our guide book and decided we must have made a wrong turn. We turned around and retraced our steps noticing that there were lots of footprints going both ways—a bit of a clue when you're hiking a loop trail where all the prints should pretty much be going the same way. Keeping our eyes out we finally noticed a few cairns marking the trail as it went off to the north. And as you can notice further along it does really look like a trail once you get through the rocky section.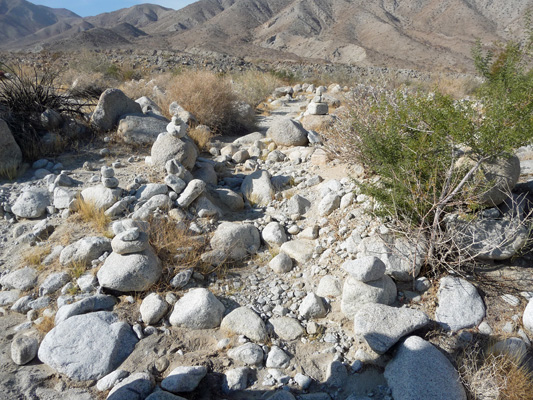 This is the 'false trail' we'd followed. Clearly we weren't the only ones fooled by the big wide wash and all those lovely foot prints.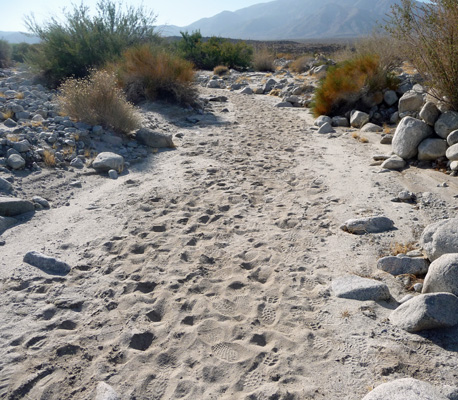 I drew a big arrow in the sand pointing to the real trail hopefully saving a few folks from wandering around in the desert like we did. We figure we walked twice the trail distance by the time we got back to the car—hey aside from it being sandy which makes it a bit harder work it was pretty level and a nice day to wander around in the desert.
The numbered posts took up again and we knew we were on the right trail. And finally we spied a very large mature Elephant Tree. They only get to be about 10 feet tall so we figure this one has reached full maturity. Once upon a time there were a number of these trees here but we read later that this is the last one left.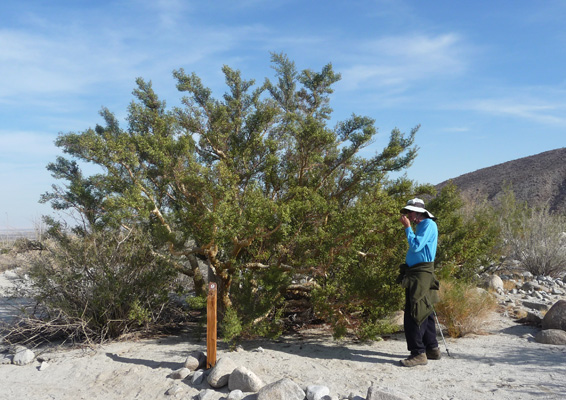 Walter got to smell the leaves this time and see the twisted trunks for which the trees are named south of the border (Torote).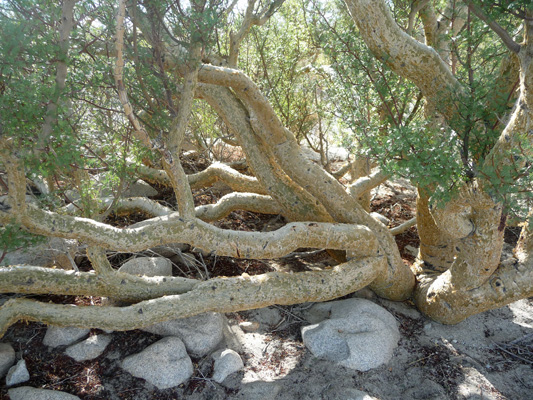 And the cool bark.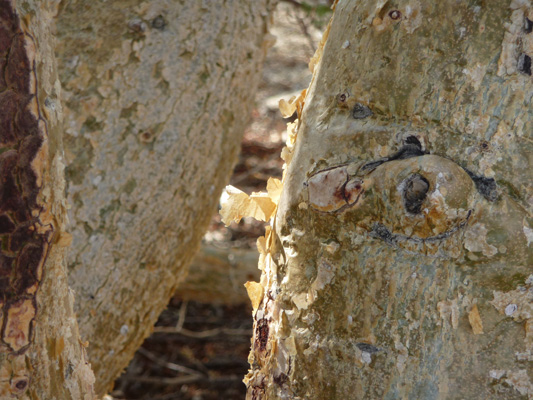 This time I noticed that the upper branches had red bark like a Manzanita. The sap of these trees is red and the Native Americans used it for medicinal purposes and as a dye.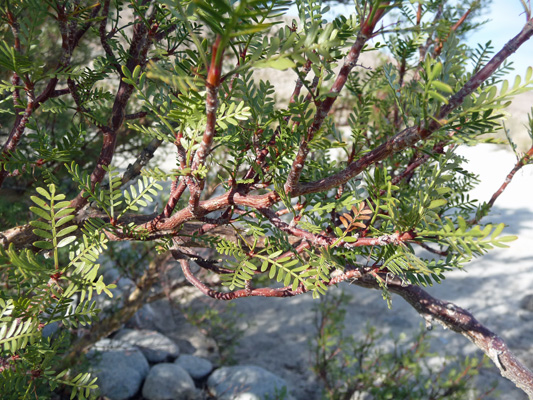 We carried on along the loop trail and came upon a Barbershop Quartet of Barrel Cacti that I found highly amusing.
All told it took us nearly 2 hours to do this 1 1/2 mile hike so we figure we did at least 3 miles with our wandering around.
That evening Mother Nature treated us to yet another spectacular sunset.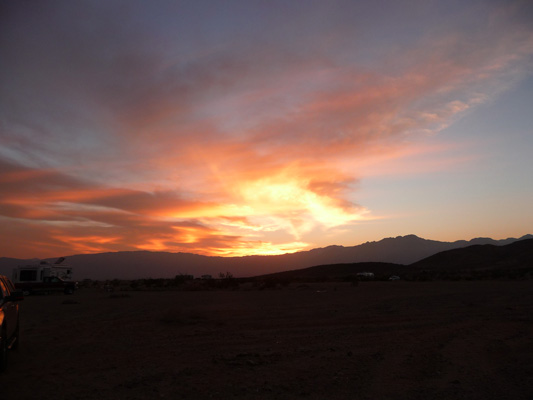 Which of course just kept getting better.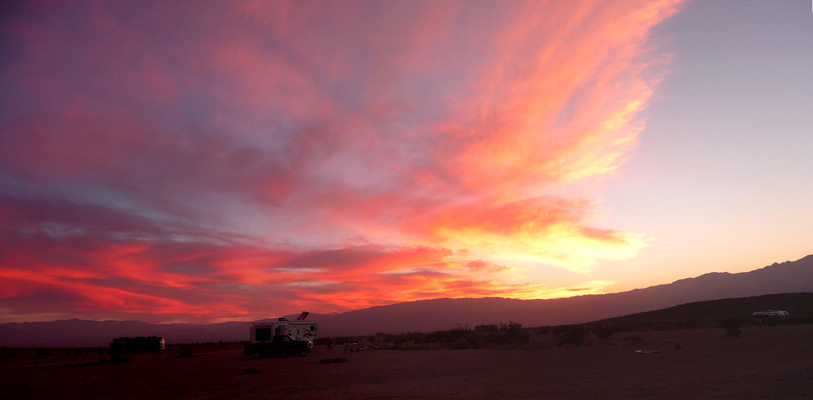 On Monday morning we went in to town to pick up our mail at General Delivery. It had been waiting for us for over a week because we'd gone south to El Centro instead of going up to Pegleg at New Years because of the snow. No problem. They hold General Delivery mail for 30 days for you. While we were at it, we went shopping and bought a nifty new pair of binoculars that are way more powerful than our old ones.
Late in the afternoon, we took the 4-wheel drive road out to Foss Point overlooking the Borrego Badlands. The road is sandy so you do need 4-wheel drive but it doesn't have the boulders around the edges that some of the other 4-wheel drive roads we've taken in Anza Borrego have. The road ends at a parking area where there was a couple camping out with their van. You can camp anywhere in Anza Borrego as long as it isn't posted No Camping.
We hiked up a short trail that led you out to the edge of a cliff with a view of the badlands. It's straight down and crumbly so don't get too close to the edge.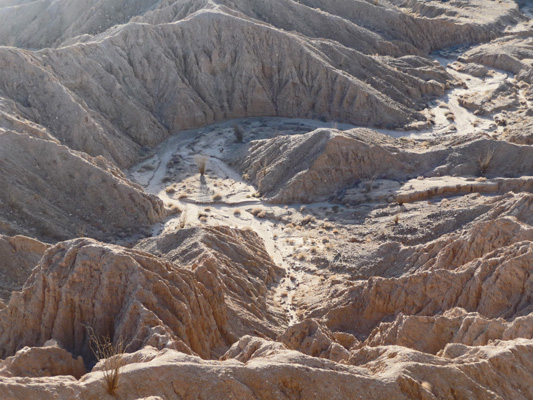 Looking east you could see all the way to Salton Sea and south to Mexico.

Looking north you could see back to where we were camping with a portion of the badlands in between.

There are several viewpoints and from the eastern-most one you could see the arroyos down in the bottom of the canyon. They look like roads but I don't suspect you could get a jeep down there.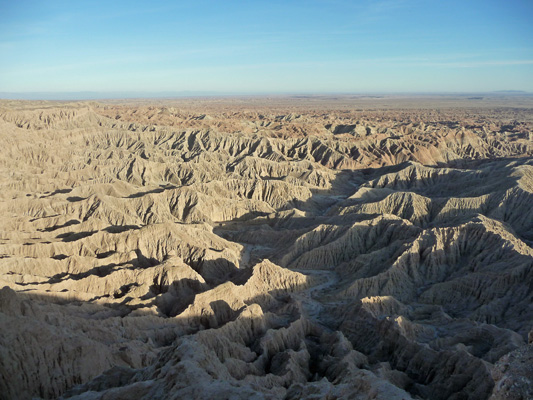 When we got back to the trailer I noticed a nifty reflection photo in the making. And Genevieve was kind enough to stay still so I got it okay.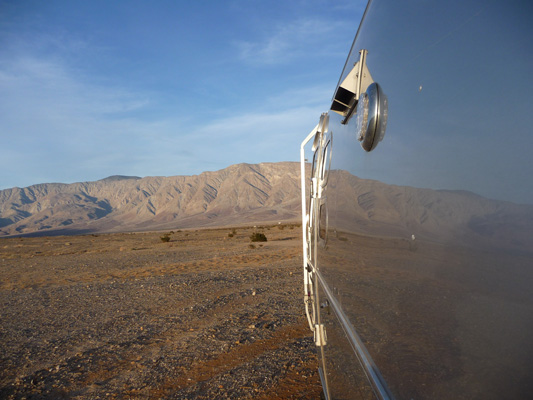 And then we had yet another lovely sunset. One of the things I said when we sold the house in Monroe was that the next place I lived I wanted to be able to see sunsets. Boy have I gotten my wish!

Our hot spot reception continued to be a challenge and since we weren't running the generator because the solar panels were doing such a good job, my computer was in need of a charge. So we went into town to the library and used the free WiFi there. God Bless all public libraries. We stopped and bought a new hiking book that covers all of San Diego County (which is where Anza Borrego is). It should be really useful when we come back this way in March.
From there we went on to the Anza Borrego Desert State Park Visitors Center which is on the west side of the little town of Borrego Springs. The view from the roof of the Visitors Center is pretty wonderful. We were camping in the valley between those spines of mountains.

There's a nice Nature Trail here at the Visitor's Center and the plantings are really nice.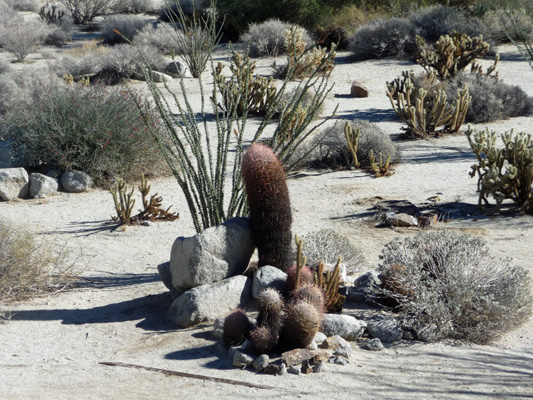 We watched the wonderful movie in the Visitors Center and looked at the hiking books (nothing new) and I bought a new Anza Borrego t-shirt—my third in a series of gorgeous art by an fellow who has now passed away. I hope that they continue to use his stuff on their t shirts for years to come. It's gorgeous.
From here we went back to the trailer for lunch and then prepared for our next adventure: The hunt for the Stone Snake.
We'd read about folks hiking to the Stone Snake on several blogs and I'd gotten the GPS coordinates so we knew that it was in the hills just up above us but we really didn't know where the trailhead was. I put the coordinates in Carmine the Garmin who isn't really designed for hiking and she indicated that we should drive over to the parking lot at the PegLeg historical marker. So that's what we did. We parked at the northeast corner of the lot where there seemed to be a couple of trails leading up the hill. One blog had indicated that they'd followed rock cairns and we found a cairn next to one of the trails and so up we went.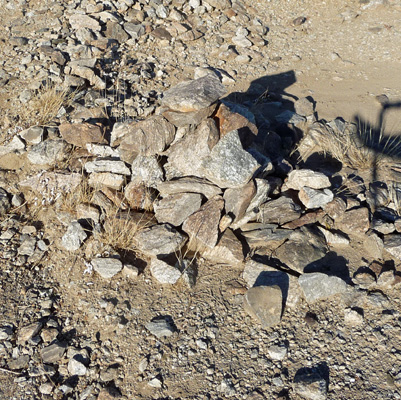 It was pretty steep and when we got to the top of the rise we could look down and see our truck (second from the bottom on the left).
We followed the cairns with only a few false trails because we couldn't decide what we were supposed to do when we came to pairs of cairns like this.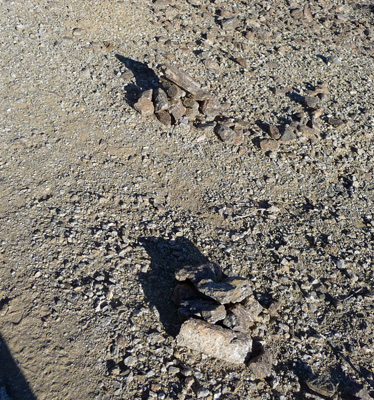 In the end, I decided that we were supposed to walk between them rather than what we'd thought at first which was that the one on the top was pointing for us to turn north. Once you hit the top of the ridge, the trail leads you east and you get a few views of the valley where we were camped. We could actually pick out Genevieve in amongst the other rigs down there.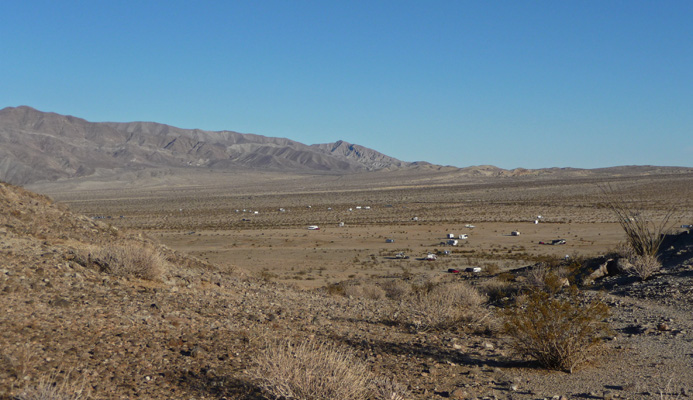 After enough false turns to make us wonder if we'd ever find the thing, we came over a rise and there it was, the Stone Snake.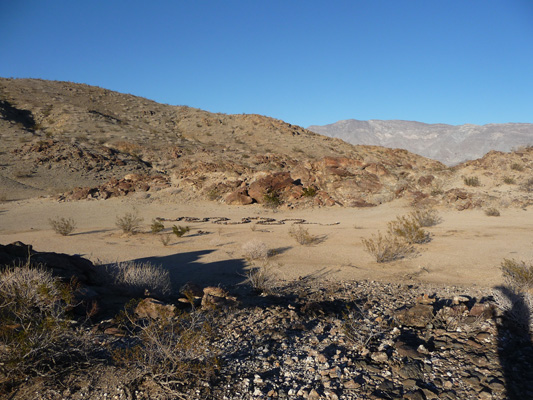 One of the blogs posted a photo of an aerial view of it from Google Earth.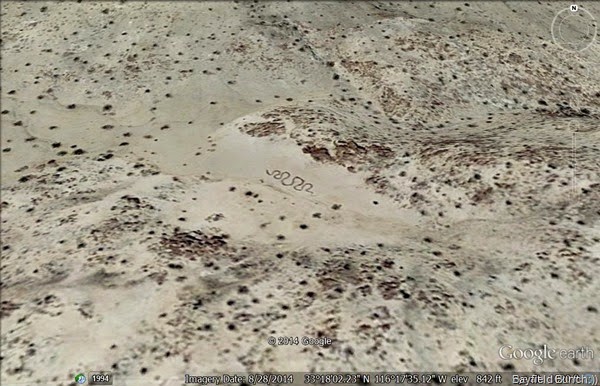 While I found a good spot to photograph the beast, Walter paced it off. It's nearly 50 feet long. We figure it would be about 150 feet long if you stretched it out.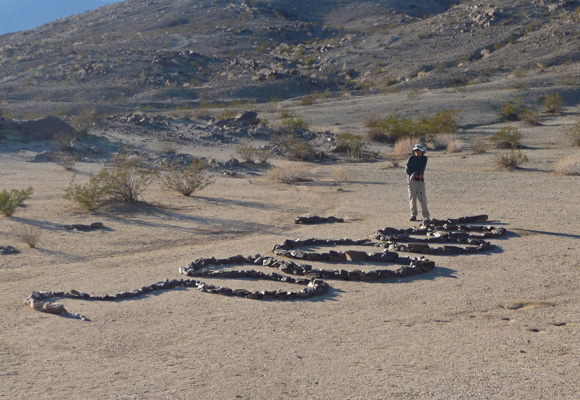 It has a forked tongue and milky quartz eyes.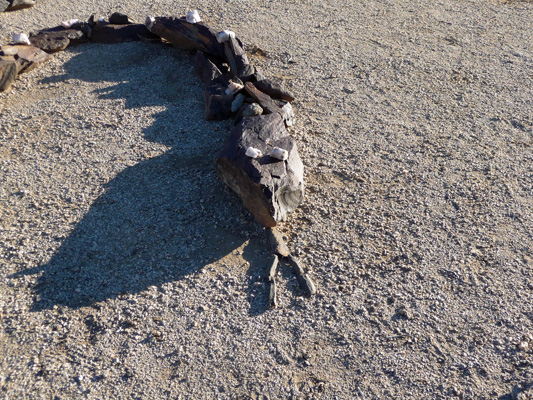 No one knows who built it—probably an RVer staying at Pegleg years ago.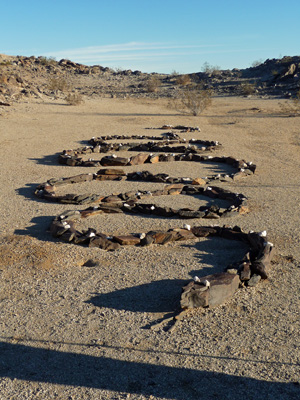 He's a rattlesnake. You can tell from his tail.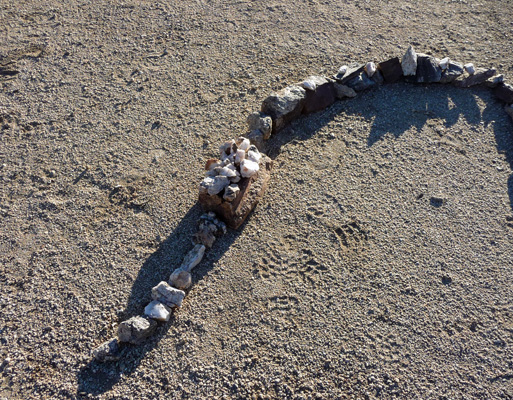 He has milky quartz along his back that makes him look like a diamondback. Folks add rocks (I did too) to help him grow.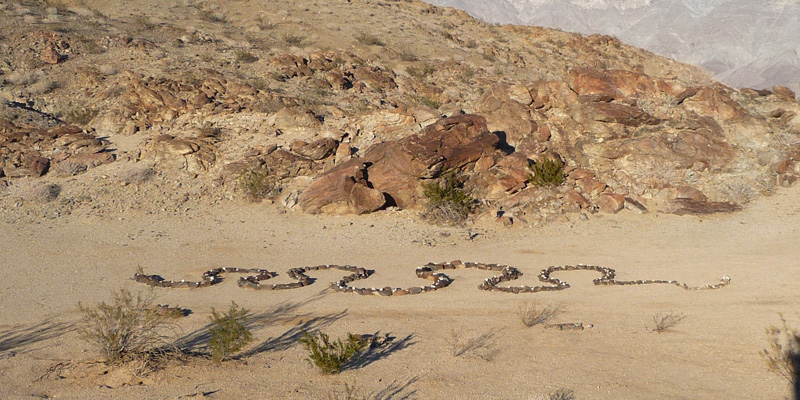 Walter had noticed an old jeep trail on our way up, so we followed it down rather than going down the steep rocky trail we'd come up by. It was a little farther but a much easier route. We wound across the desert and I spied this lovely teddy bear cholla backlit by the sun.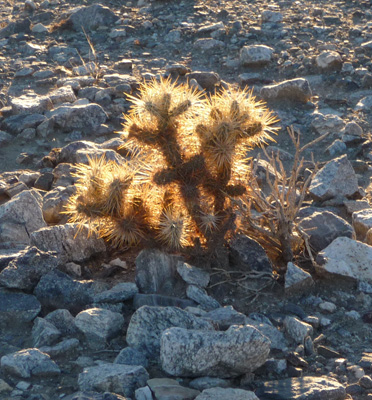 We didn't have much of a sunset that night or at least I wasn't impressed enough to go out and photograph it. We were both a little tired from snake wrangling.
On Wednesday January 7th we packed up and headed south back through the Texas Dip and Ocotillo Wells on our way to Niland for a visit to Salvation Mountain and Slab City.