We left Anza Borrego on Wednesday morning January 7th and drove southeast to the little town of Niland on the east side of the Salton Sea. Outside of Niland is an old retired Marine base that has become one of those strange cultural phenomena that we all thought died in the 1960's. The base closed in 1946 and was disassembled leaving nothing but the concrete slab foundations. By 1961 the place was completely dismantled and abandoned. Soon afterwards RVers began using the slabs as a rent-free place to park in the winter months. And unlike all the other places like this that cropped up in that era this one has survived.
There are now a core group of maybe 150 folks who live there year round (it's really hot here in the summer) but several thousand people come with their RV's to winter here. There are no services. No water, not power, no trash collection, no sewer, no bathrooms. And still folks come year after year to camp here for free.
To make things even more interesting a fellow named Leonard Knight built an amazing piece of folk art at the entrance to Slab City to get across his message that "God is Love". Folks from all over the country come to visit Salvation Mountain. Leonard lived in his truck and created and cared for Salvation Mountain until 2012 when he moved into assisted living. He died in February 2014.
When you drive out towards Slab City you come to this lovely sign near the entry.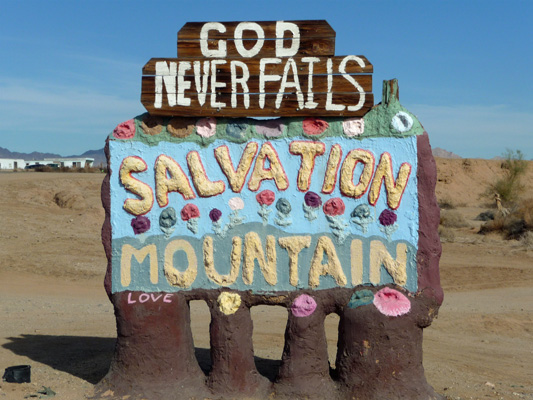 Park you vehicle where you may (there's spots for cars in the lot but we parked Genevieve out along the road.) And have a look at Salvation Mountain.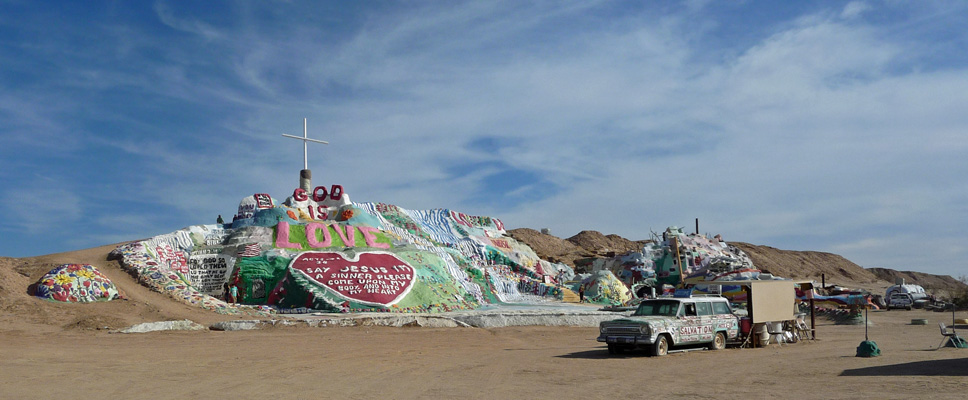 There's a non-profit organization that was formed in 2012 to help preserve the mountain and you can make donations by putting them in a box by the information board next to this car.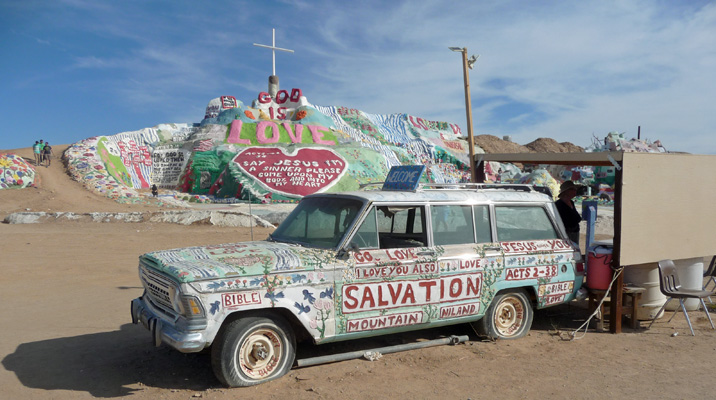 Leonard had to perfect his construction methods to hold up to the extremes of the desert. The first mountain that he constructed collapsed in just a year or so. This one was constructed in the mid 1980's and has stood the tests of time. However you can see that things are starting to degrade a bit without him there to keep applying paint and plaster on a daily basis.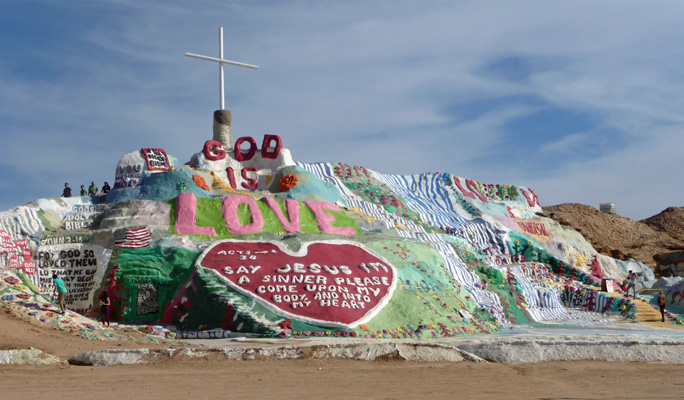 They ask you to only walk on the "yellow brick road" but there were kids and adults walking and climbing all over the place. There's no one here to ask folks to stay on the yellow brick road (only two little signs) and so the place is taking a beating. There is a dirt path over on the left side where you can safely climb to the top. The view is really about Slab City looking the other way.

You can also see down into the section of Salvation Mountain known as The Museum that has a series of domes and structures that look like they are made of trees. This whole area is made of old tires, hay bales and tree branches.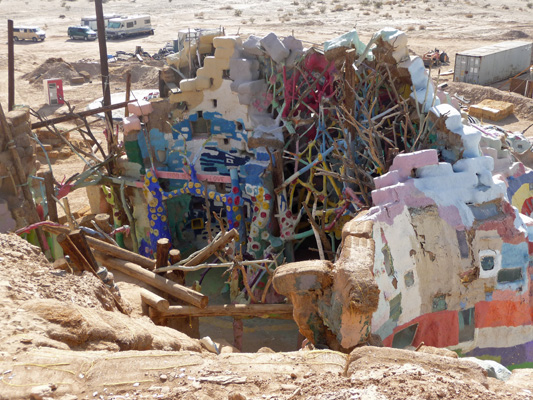 I think that the detail work is the most fun. Things like this mailbox that I call "God's mailbox"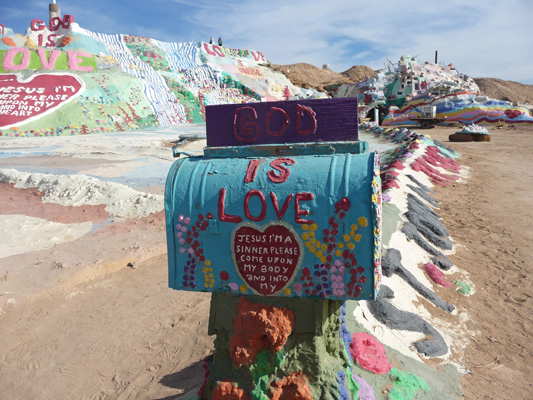 The first room in The Museum has lots of plaques and then there are things that I think folks have left here.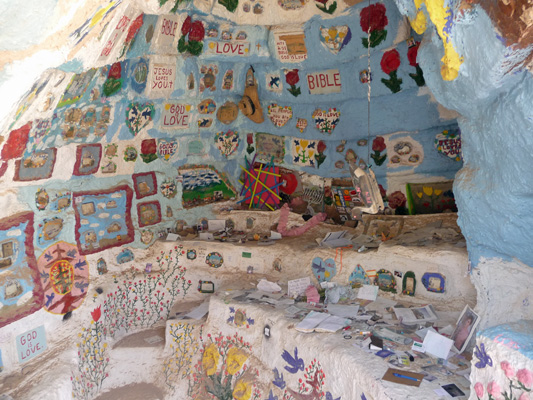 There are lots of bluebirds especially along the doorway which I think are real fun.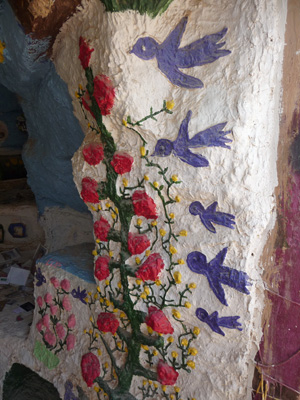 There are several of these little chapel-like rooms. And there is a walkway joining them to a series of big rooms.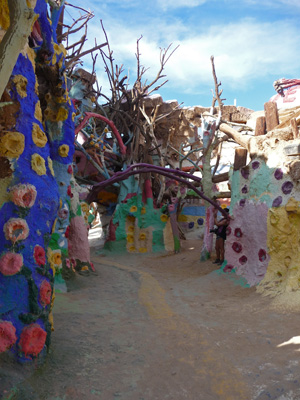 The big rooms are hard to photograph but here's a shot at it. Lots of color, not as much fine detail though there is some on the lower sections of the walls.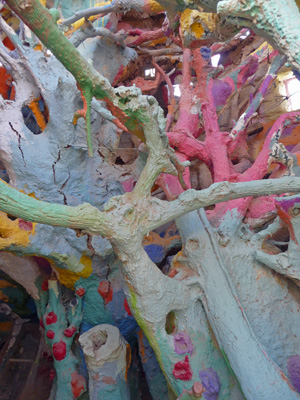 Walter wanted to have his picture taken with the mountain. He's standing next to the sign that says "Please stay on the yellow brick road."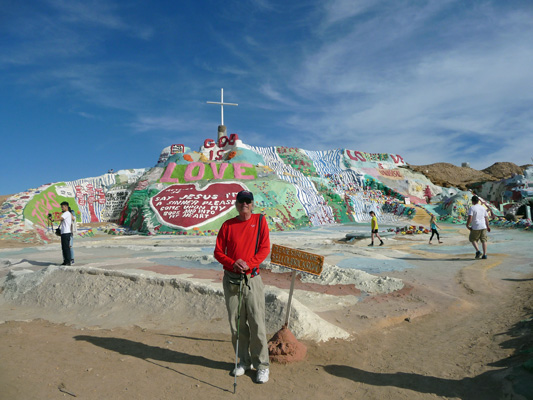 There was a large group of twenty-somethings with high end cameras taking fashion shots. I suspect it was a college art class of some sort. There were Japanese tourists, retired folks and people with kids all swarming over the place. I think that Salvation Mountain will end up loved to death—but that is better than just moldering unseen and unappreciated.
We climbed back into our truck and went for a tour of Slab City. I love what they did with the old guard house.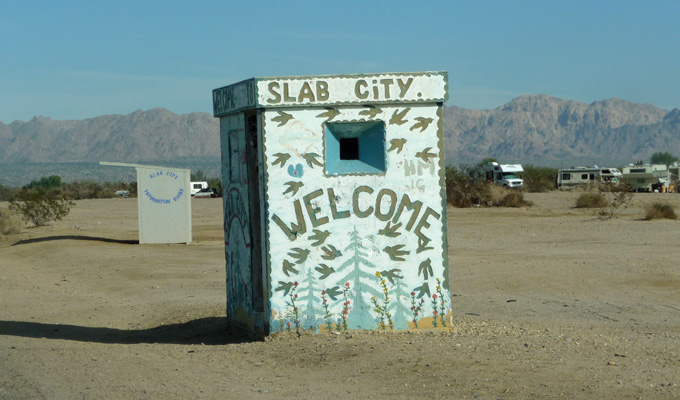 Here's one of the old original slabs that gives Slab City it's name.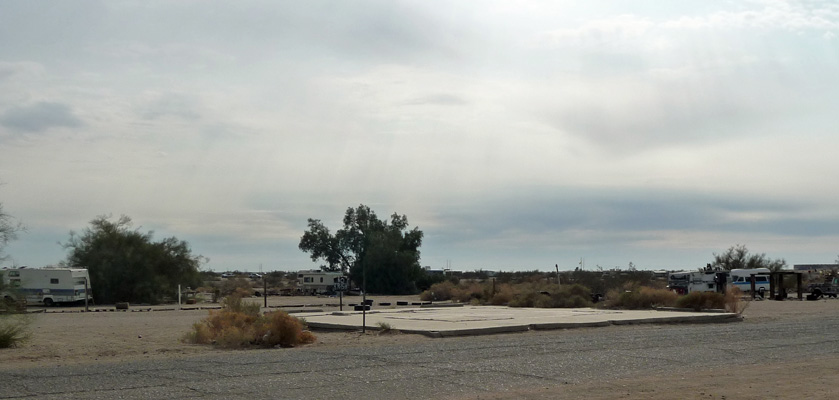 Some folks are lined up right on the main drag. It's a bit junky and that is typical of this place.

There's no water here so folks have barrels and other big containers that they fill in town and haul out here.
There are some interesting art installations.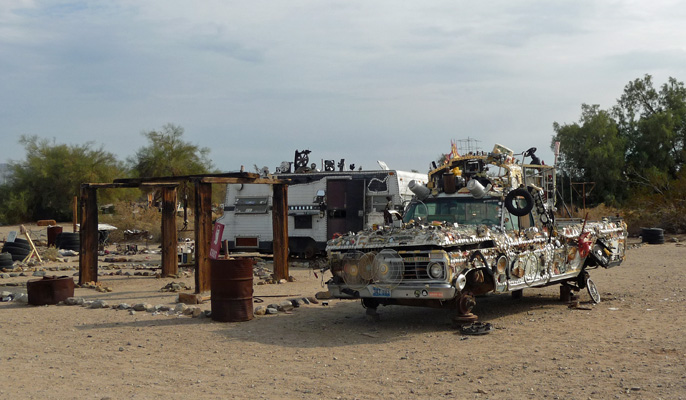 And folks who actually are selling their art.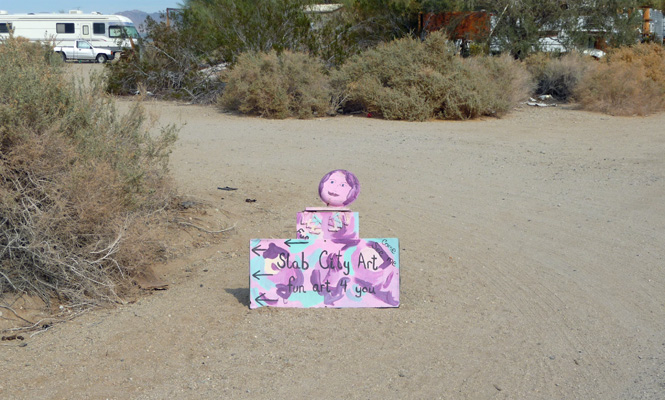 This sign points to a set of colorful buses—shades of the 1960's.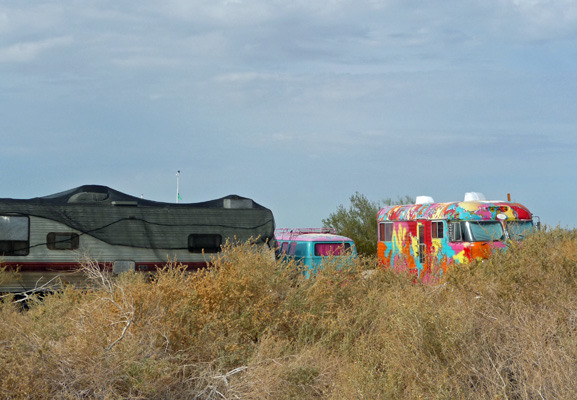 There's this great community bulletin board.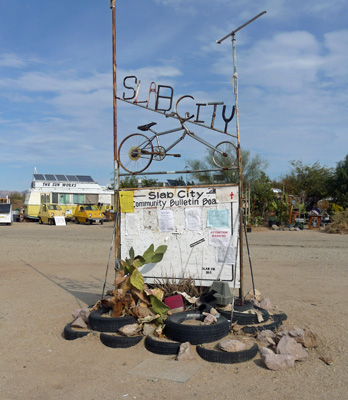 There are folks who have signs out for car repair and that sort of thing and there's even a solar guy who looks like he might be one of the folks who lives here permanently.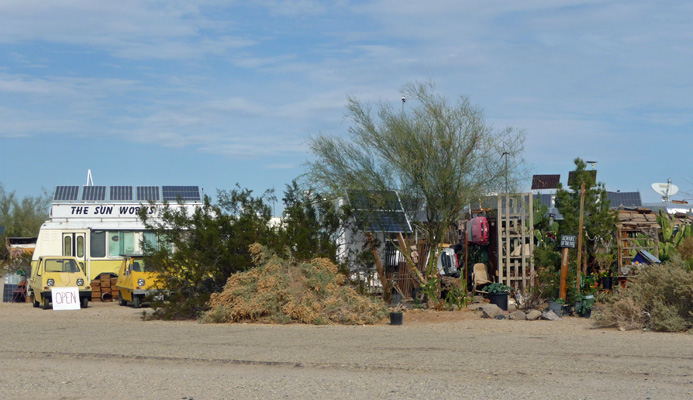 We drove through a good portion of the 'neighborhoods'. Some are like these. Some are full of piles of garbage every 10 yards or so. We found a spot that didn't have too much garbage and the neighbors looked pretty decent so we set up camp. Our neighbor across the way came over to tell us that we should move over by the fire circle because there was a 'gopher hole' we could use for our black and grey water if we were planning to stay long. His friends who usually camp there weren't coming this year.
We said no thank you. We really didn't want to camp on top of someone's sewage even if it was a year old. The neighbor was your regular retired RVer-type who clearly spends the winter here.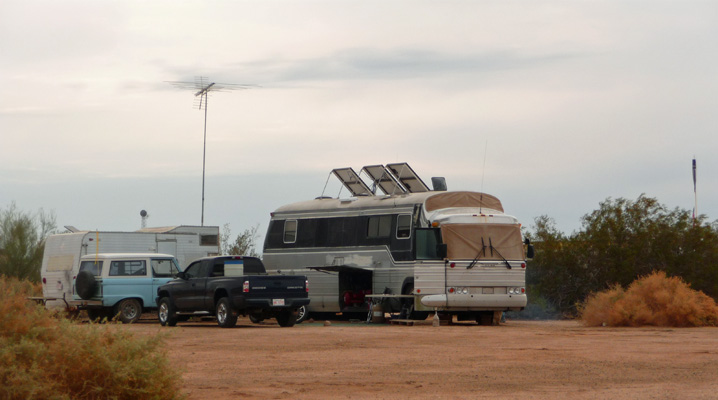 The neighbor back behind looked a little more permanent but we didn't see him so I don't know. He had his perimeter lined out with piles of tires with boards laid between some of them.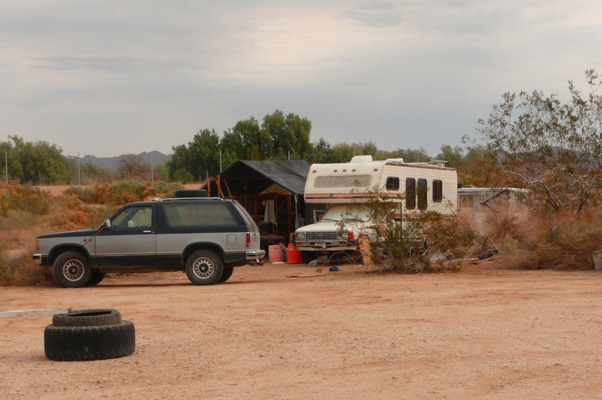 The energy at Slab City is pretty awful. The place hasn't been well cared for, in fact it's been abused with garbage, sewage and general neglect. It smells of garbage and sewage plus the overtones of chemical fertilizer that come from around Salton Sea.
By the time we had set up camp I was clear of one thing. I was willing to spend one night here but I had no intention of ever coming back. The place gave me a headache which is pretty unusual. I took a nap and the nice sunset that night shining off the water on Salton Sea helped cheer me up some.

The section right near the sun was pretty gorgeous at the height of the color.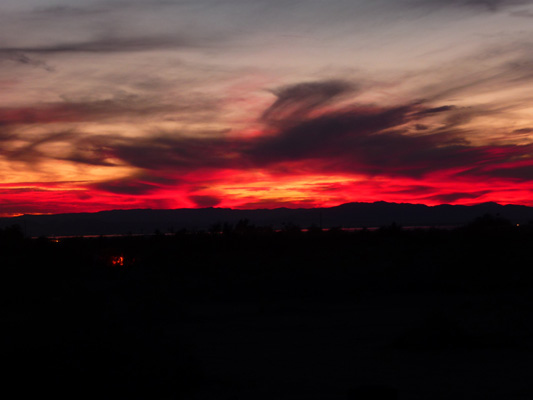 The next morning we packed up and motored out of Slab City. I'm glad we went. It's something everyone who has ever boondocked should see and Salvation Mountain is most certainly worth the trip. I'd even advise folks to spend a night so they can see that while it smells, it's perfectly safe. The folks here aren't dangerous. They're not going to attack you or take your stuff. They just don't believe in disposing of their garbage most likely because they charge you when you take it to the dump.
From here we motored north up CA-111 following some directions we'd gotten back at Rio Bend RV Resort to visit a mud volcano. We found the turn in the directions but we never did find the mud pots or the mud volcano. We did some internet research later that day and discovered the GPS coordinates for them so if we're ever back that way we may look them up.
We continued north past some nice little beach-side campgrounds in the Salton Sea State Recreation area that might be worth a visit someday. And then on to Oasis, a 'suburb' of Thermal just south of Indio and Palm Springs, to the Oasis Palms RV Park. We got a nice full hook up site next to their lovely pond for $20 a night with our Passport America membership.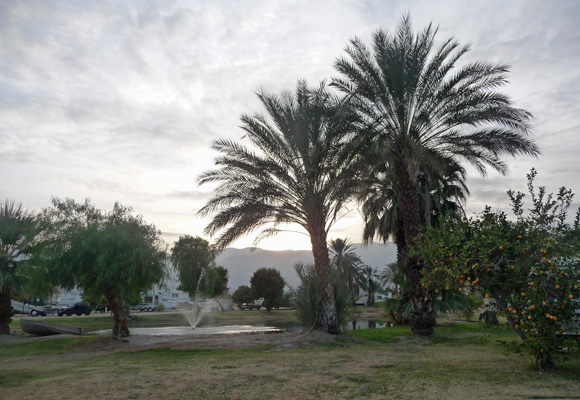 That's Genevieve behind the orange tree on the right. I could sit and watch the fountain from our dining room windows. Those are date palms that produce real dates. This area is know for it's dates and you can get a date shake (a super high calorie experience) just up the road. There are huge groves of date palms all through here.
The park is full of orange, lemon, grapefruit and tangerine trees full of fruit free for the picking.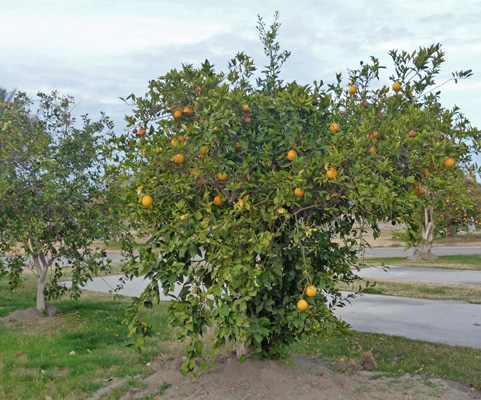 And they were sweet and good too, even though the trees are old and not very well cared for.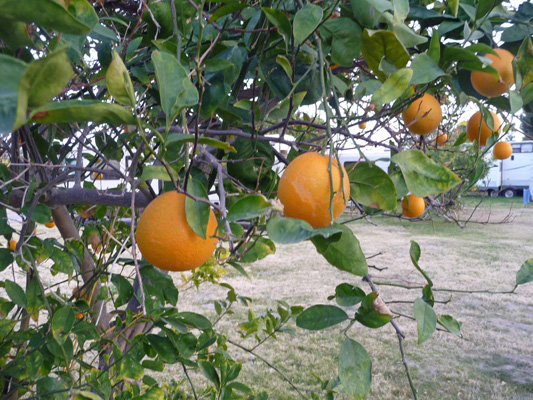 Most nights folks gather at about 4:00 for a bonfire-happy hour. We went the first night and most of the folks were Canadians from British Columbia. In fact over 60 percent of the people staying here are Canadians escaping the cold winter. That's a higher percentage that we've normally seen but word or mouth is a wonderful thing. Behind the bonfire is the club house with showers and laundry and a nice heated pool and hot tub.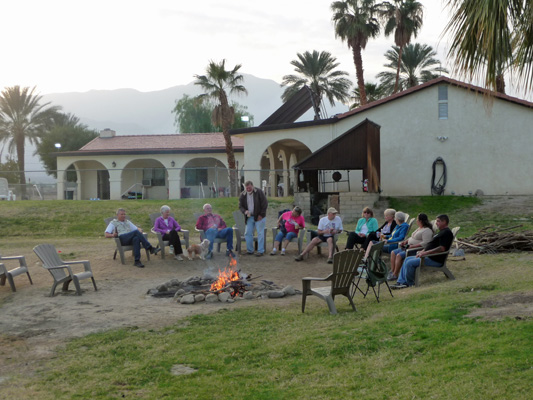 Right next to the fire pit by the pond, there's this fun horse made out of palm fronds.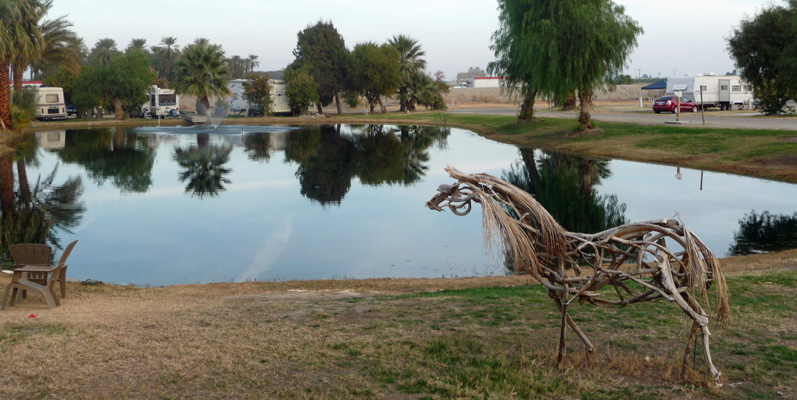 It's a great park with just one hitch. It's right next to Highway 86 which runs north and south connecting I-8 with I-10. There's lots of truck traffic on it 24/7 so it's noisier than we're used to. The people staying here clearly love it and come back year after year for both the whole season and brief stays. It's WAY less expensive (even at it's full price of $40 a night) than the places to the north in Indio and La Quinta not to mention Palm Springs.
We stayed here for three nights to rest, do errands (11 stops in one day, whew), laundry and to watch the Seahawks beat the Panthers in the playoffs. Go Hawks!
On Saturday night we even had a nice sunset to light up the pond. Meanwhile the Canadians were having a Chili Cook-off and hooting and hollering with live music.