The hot weather continued last week and we had warm dry winds blowing with it. It felt like the Santa Ana winds I grew up with in Southern California. There have been very active fires all over the west and a very large fire to the southwest of us not that far from Boise continued to burn. That meant that most afternoons and evenings we had smoke blowing up the valley. Air quality may not have been great and sometimes it even smelled like smoke. But it does make for an interesting sky.
Wednesday August 11th, in the early evening, the sun turned orange along with the lake and the sky.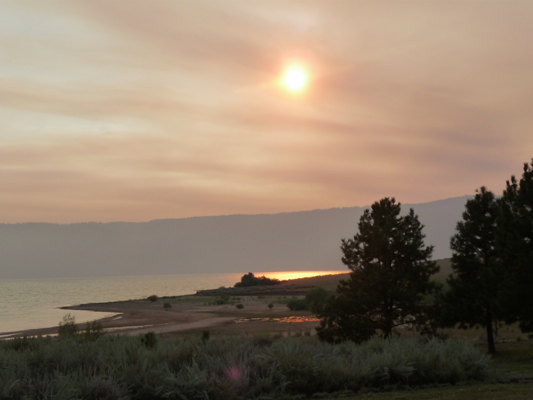 It only got better as the evening wore on. I love how as the sun becomes more obscured the whole lake turns peach.

It's certainly not a classic sunset but it is an interesting affect.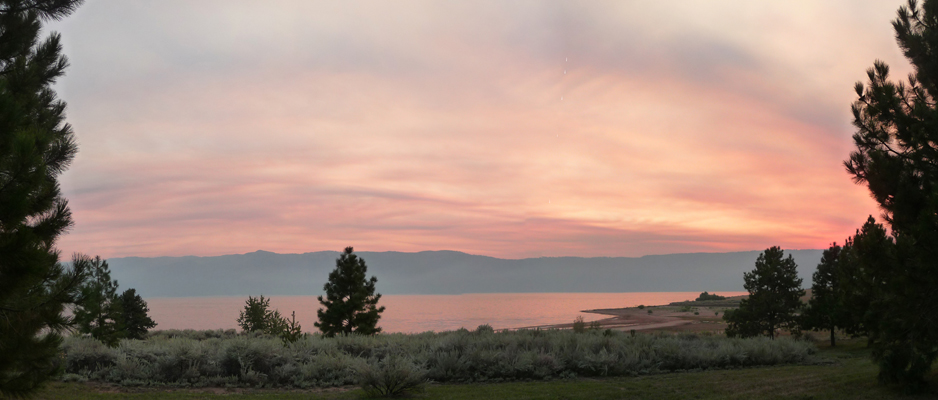 The temperatures continued to be in the mid 90's and that means we mostly lolled around all afternoon. Neither of us seems to have any energy for much of anything when the temps get over 90. We did actually have a decent internet signal for a few hours on Wednesday and Thursday which is a novelty. Our phones always work here for calls out but sometimes our phones don't ring since much of the time they only have a bar or so. But the hotspot will say it is a green signal but there's so much traffic on the nearby tower that it's so slow you can't do anything. Ah well, it is good training for our next assignment where we probably won't even have a phone signal. At least it's not real far into town in La Grande to the library there.
A few days ago the night sky was so clear I could see the Milky Way and I thought we might have a good shot at watching the meteor showers. But what with the smoke and clouds we didn't have a chance. We did get another great evening sky though on Thursday.

Wednesday evening we decided to try using the irrigation system to water the sod for the evening. We got it all running okay only to discover that one of the sprinklers that should be watering the sod was only putting out a dribble. Sigh. I tried cleaning it out and that fixed it real good—it stopped working entirely. So we set up the Rainbird to cover that area. Meanwhile the other zone we turned on so the system would work right, had two sprinklers that had gone fluey. One was making a 360 degree turn when it was only supposed to go about 60 degrees and the other was just putting out a dribble. I took a bucket over to cover the one watering everything in sight and of course it immediately flew off. So I stood there with my foot on it while I waited for Walter to find a big enough rock to put on it. Having gone through that adventure we decided that since we were moving to the once a day watering pattern for the sod, that running the Rainbird was a whole lot easier than fighting with the irrigation—especially since the lake had dropped so far that we didn't know how much longer the irrigation system would actually work. Sure enough, Thursday evening the ranger told us to turn the system off until they put on the last bit of pipe to extend the intake out into the lake again. The sod is looking great and we hope that it will be well established before the irrigation system shuts down for the season in a few weeks. We'll be gone by then and there'll be no one here to water it so it'll be on its own.
Meanwhile all my plants have completely recovered from being pruned by the ground squirrels 4 weeks ago. My basil is nice and bushy.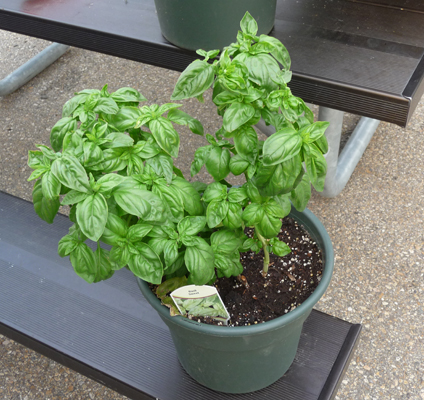 And my flower pot looks great since the verbena has begun to put out it's second flush of flowers.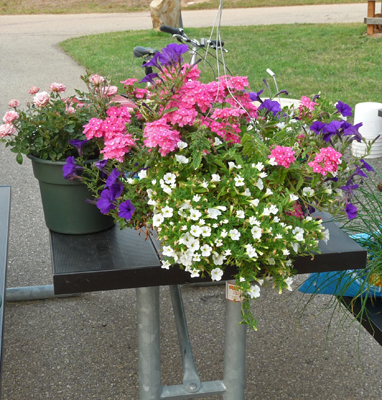 We have a pair of hummingbirds who visit the flowers regularly and also stop by and check out the whirligig too. I guess hope springs eternal that the thing will bloom.
Earlier in the week, our reservation list had us being full for the weekend. But we had 3 cancelations Friday morning—two for both Friday and Saturday night. Since the whole rest of the park was full, those spots became very attractive to folks. Two of them filled before 11:30 am and the other (which had been a 2 night spot) filled in mid afternoon—but by then someone had reserved it for Saturday night. The folks who had hoped to get it for the weekend were disappointed but that's how it goes. We had no cancellations on Saturday so they had no chance to snap anything else up and had to go home.
We had a HUGE thunderstorm at 2 am on Friday morning. The lightening woke us up, it was so bright. That storm dumped 1/2" of rain on the town of Cascade but up here, just a few miles north it put out only about 0.1". By Friday morning there were 100 lightening strikes reported and smoke rising over the hills to the east. By about 4 pm on Friday afternoon, I had a camper stop by to ask where they could find a spot. They had planned to camp at Warm Lake and the road was closed. Oh oh. There is a LOT of camping out Warm Lake Road including Horsethief Reservoir and if those campgrounds were closed we were going to have a tough weekend. Sure enough, I called the info in on the radio and when they called the Forest Service we learned that there was a fire out past Warm Lake and the road was closed at the National Forest boundary. We were full, but we still had a steady stream of folks coming in looking for some place to camp. And then at about midnight, there was another big influx of folks. We learned that late that night, they had evacuated all the folks who had set up camp BEFORE they closed the road because the smoke had gotten so bad. They were driving around in the middle of the night trying to find someplace to camp.
That next morning, I found two women camped in one of our sites who had paid for the site even though it had been reserved. They'd arrived after 1 am and decided that their chances were good that the folks with the reservation weren't going to show. At least they paid. Oftentimes, folks who arrive that late simply squat for the night and leave early and don't pay. They finished making their Dutch Oven zucchini egg casserole and then broke camp. We were full again on Saturday night and most of the 40 campsites that filled up on Friday stayed for Saturday night. Whew. That at least meant I didn't have a lot of new folks to check in.
We quick did our chores around the campground and then headed down to Cascade to help out with Lake Cascade's celebration of the 50th Anniversary of the Idaho State Parks. Walter got to direct traffic from 1 to 3 pm while I wandered around. Then from 4 to 6 pm I got to work in the Art Tent.
The rangers had put up displays on the history of camping to go with the Anniversary Airstream.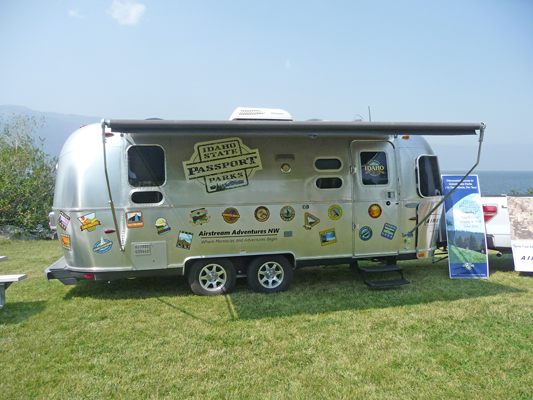 She was a front-bed Flying Cloud like ours but only about 20 feet long so the bedroom was tiny and the bed oddly shaped and short. They had decorated her with decals from all the state parks.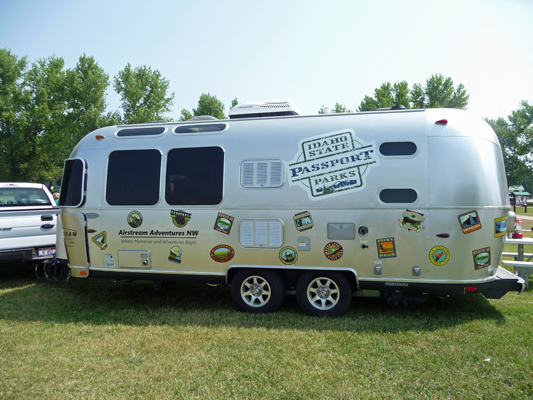 Including of course Lake Cascade.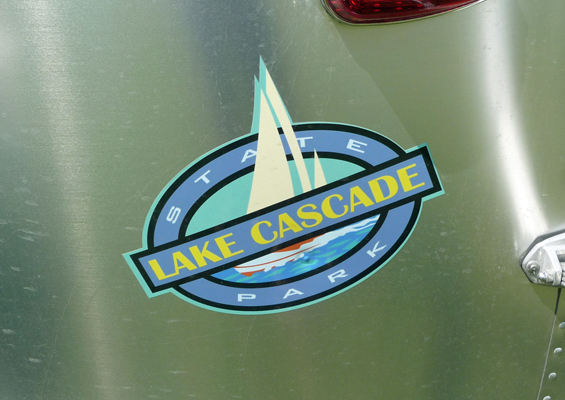 The big event of the day was to be the Water Hooligans Race down on the Van Wyck beach. I hiked down to see what I could see and found that the boats were just arriving. Our seasonal workers had built a boat on a toilet theme—complete with walls made from toilet paper boxes and a toilet brush mounted like an antenna. Don't you love the decorative touch of the blue latex gloves hanging around the edges?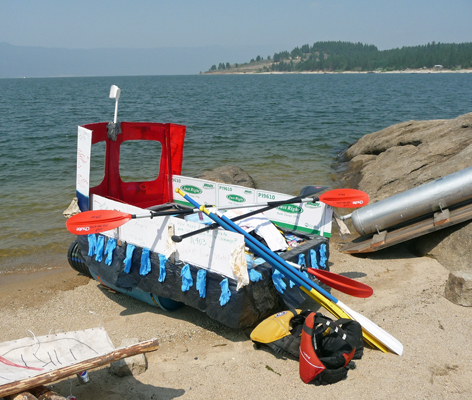 The granddaughters of one of the hosts had to have a boat too. So they helped them build one from things they found at the Thrift Store and a piece of donated foam board insulation. The girls did the paint job themselves.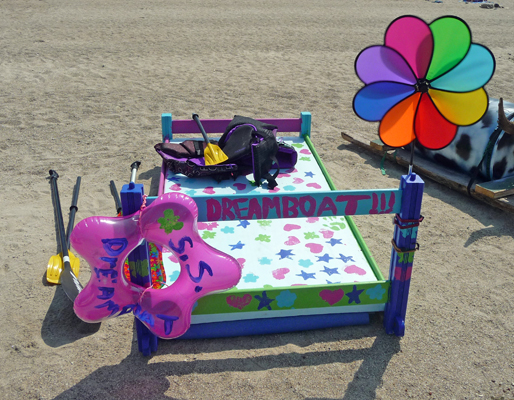 One of the local dads (who had a couple of kids in the race too) built this great Bull Ship. He won the prize for most creative.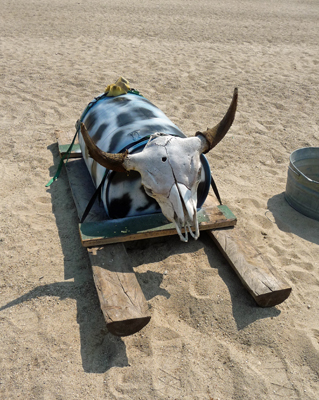 The race wasn't going to start for another hour so I hiked back up to find a place in the shade to hang out. I stopped to take a shot of the beach, the bay and Crown Point, across the bay.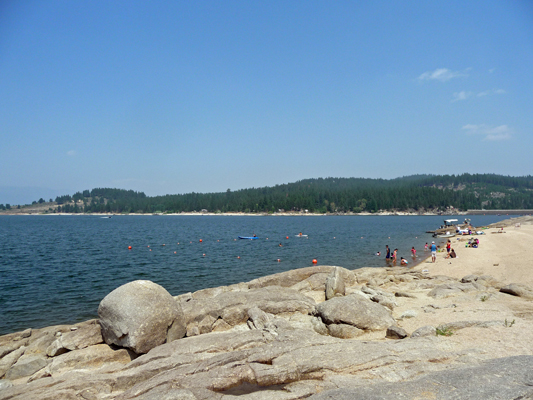 I hung out in the shade and then followed everyone back down to the beach when it was time for the races. There were ten boats entered in the race so they divided them into two heats of 5 boats each.
In the first heat we had our Park Manager and her husband and daughter in the Can Leaky.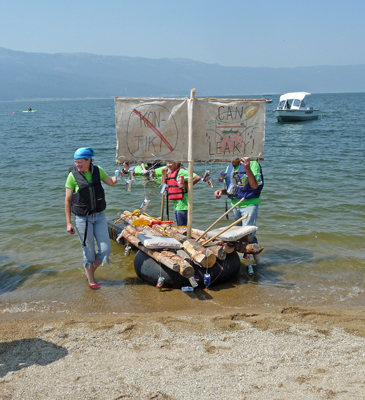 Our Seasonal Workers (who clean all our bathrooms and do all the dirty work) dressed in Hazmat suits.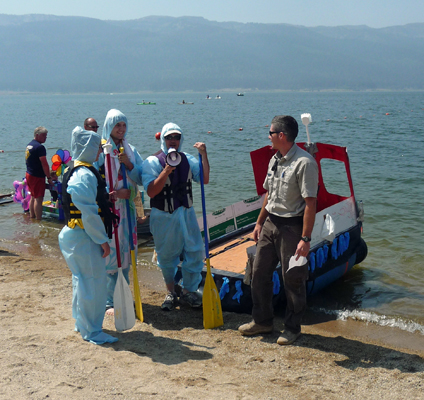 One lone boy on his one-man raft made from a bed stead.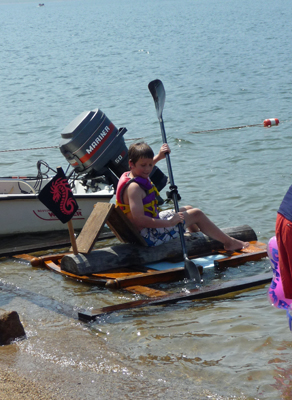 And his cousin (I think), Bucket Boy, with his dad as a cheerleader who ran up and down the beach the whole time waving his Bucket Boy sign and cheering.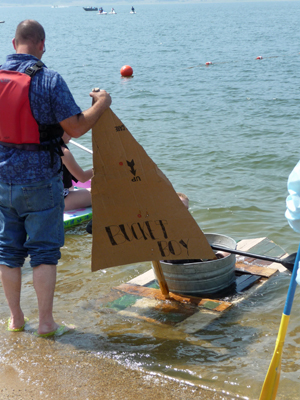 The Dreamboat with 3 lovely little girls, filled out the field.
After introductions, they were off in a splash. The Can Leaky lost it's mast right away and Dad fell in the drink. But at last everyone was off, including the Seasonals who were having trouble getting their paddles in the water.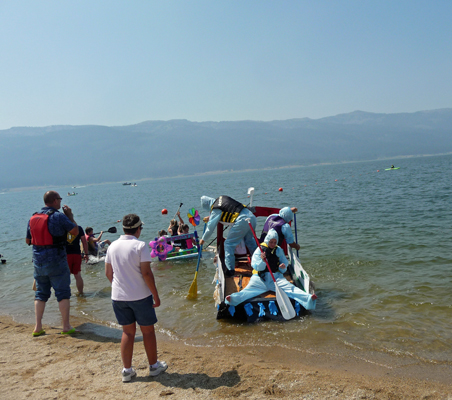 It wasn't long before the Seasonals were awash and had lost all men overboard. Note to self, 55 gallon drums don't seem to be very helpful for buoyancy if you're top heavy.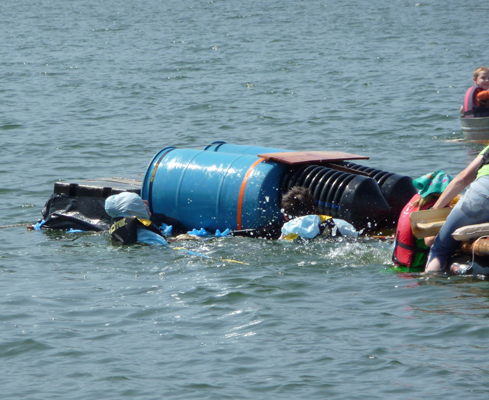 This caused a major traffic jam behind them but Bucket Boy and the Dreamboat had made it past them without a problem and so were in the lead. Meanwhile, the rangers came to the rescue in the state park's boat, The Guppy.
At about the same time, the Can Leaky lost a crew member overboard as daughter, Harmony, fell in the drink. She got back in but they'd lost a lot of time.
In the end, the Dreamboat won the heat with Bucket Boy coming in second.
The second heat consisted of a trio of boy scouts called the Mama's Boys on a stand up raft (one of the rangers helped with this I believe)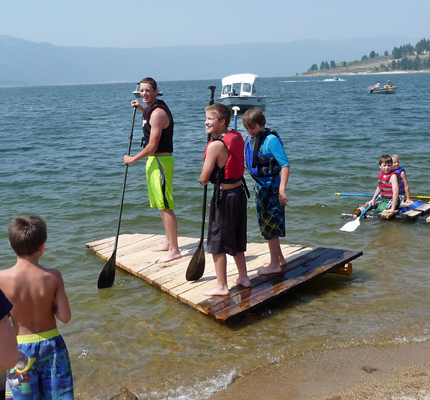 A group of younger scouts called the Wolverines on a sit down raft (I know that another ranger helped with this one)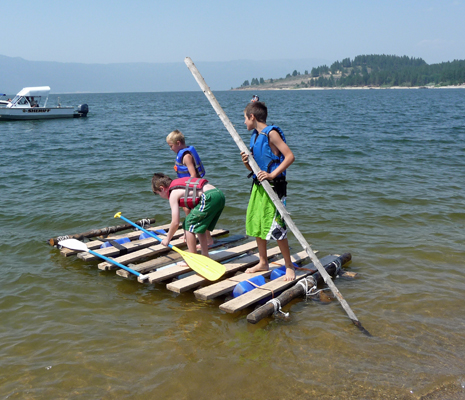 The Blue Heron Pirates (the significant other of one of the hosts and his friend)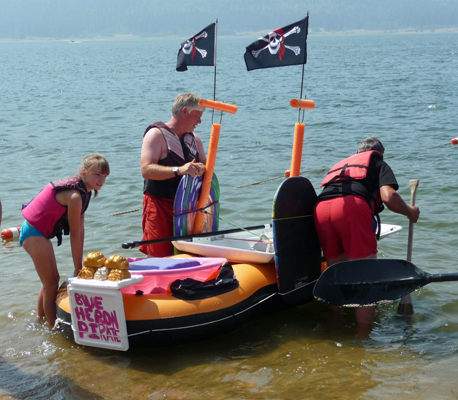 The Bull Ship which you saw earlier and Tank Man.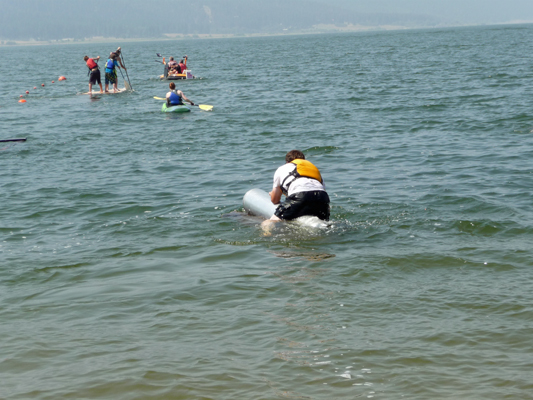 The race started and Tank Man immediately went under.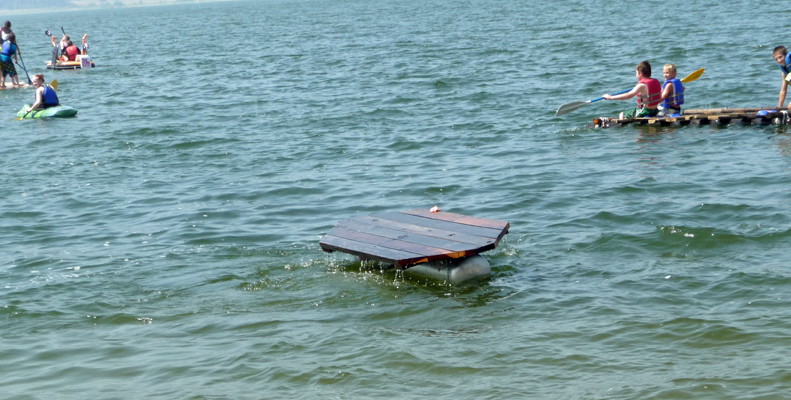 He kept trying over and over again, letting more and more air out of his tank. But he never got more than 10 yards out. He was all heart though. He had swum behind his son on his one-man raft to get him to the finish line in the previous heat and then went out and tried to get his own raft to go. And he just kept trying and trying until everyone else had made it to the finish line. He of course won the Titanic Award.
The Blue Heron Pirates finished first followed by the Mama's Boys. And the rangers helped the Wolverines finish after they got stuck since their raft was designed to be poled and oops the water was too deep for the pole!
The Finals pitted the top two finishers from each heat.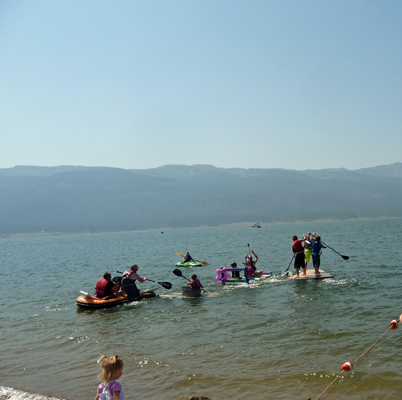 The Blue Heron Pirates began to fall apart after the turn and lost one of it's crewmen.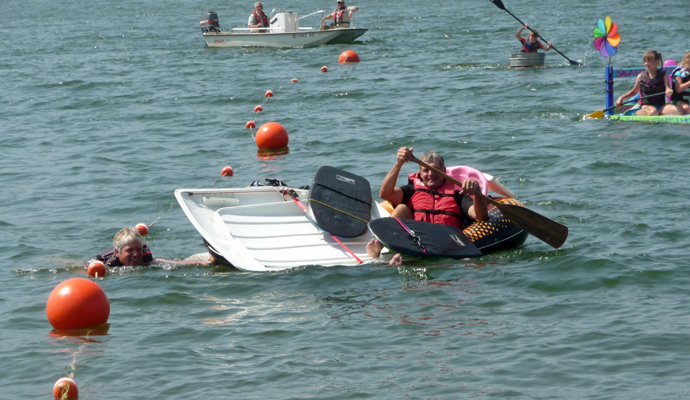 The Mama's Boys pulled ahead and just kept on going finishing way in the lead.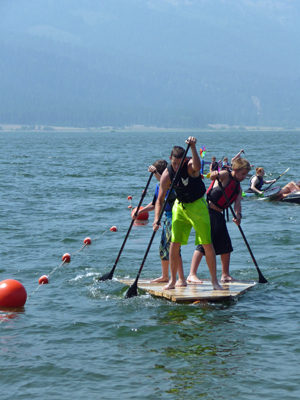 The Dreamboat began to take on water and lose it's water noodles but they made it to the finish line in second. It was a lot of work for the younger girls.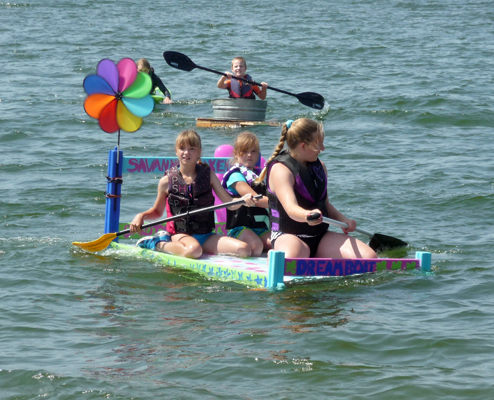 Bucket Boy just kept on trucking. He was only 8 years old and this was a LOT of paddling for him. But the Life Guards stayed with him, urging him on (with his Dad rooting from the shore of course) and he made it at last.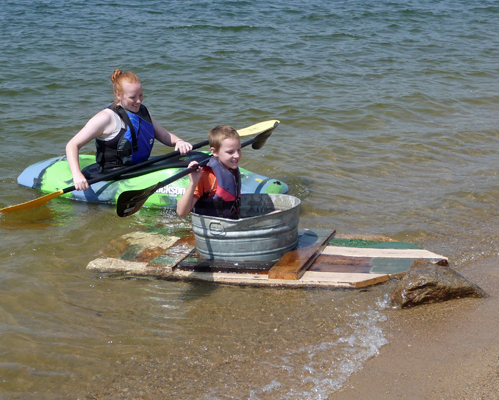 The race was a BIG success. Much laughter, lots of enjoyment and a good time was had by all.
When it was all done, I went back up the hill and found that Walter was still on duty because no one had come to relieve him. I went and bought him lunch (locally made Bar-B-Qued Pork) and ate my lunch with him and then went looking for someone to relieve him. In the end, the assistant manager relieved him since part of the next shift didn't seem to have showed up. Ah well. I dragged him over to see the Airstream and then we sat in the shade until my shift at 4 pm at the Art Tent.
The local Art Council had organized this part of the event. They'd blown up a photo of a view from Van Wyck Campground and divided it up into squares. Folks picked squares and we gave them a sheet of watercolor paper and a print of their portion of the big photo and they did their version of it. Mostly it was little kids but we had some adults and 'real artists' participate too. I got to help folks pick their portion of the photo out and issued them their paper and got them water for their water colors. Here's the status of the results when I left at 6 pm with just 3 blocks unfinished.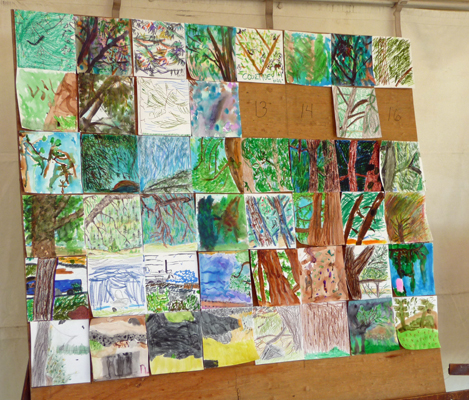 It's looks more like a patchwork quilt than the mural they were aiming for but a good time was had by all.
Walter rescued me from the booth at 6 after he had sat and listened to the local band who was playing nearby. They were pretty good and we can only hope that a few more folks showed up to listen to them before they packed it in an hour later.
As we headed back to the truck we passed this amazing V8 motorcycle. Notice the rocket mounted in front of the handle bars!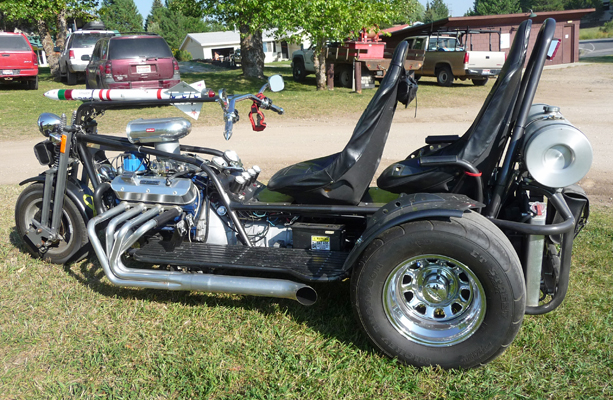 The ammo box under the driver's seat had this great sticker on it.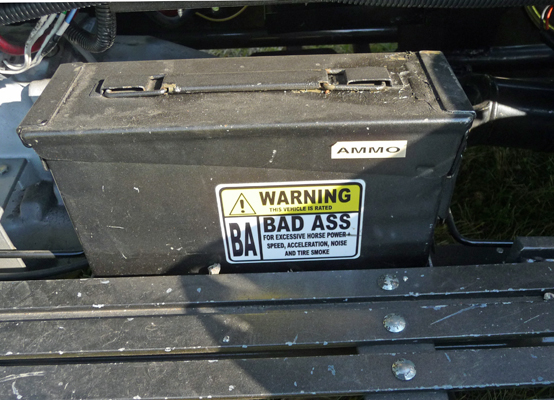 And the engine had this appropriate label.
The control panel was a riot. The far left label says "Rocket Launch"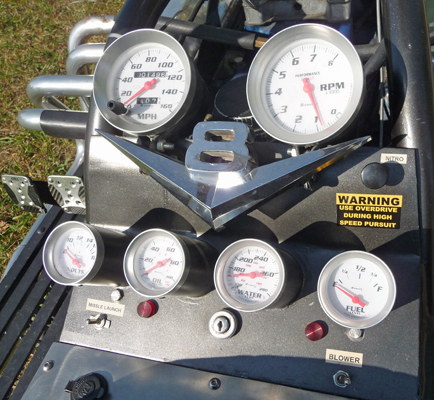 It was a great day and a wonderful change of pace from our usual Saturday with a full campground. The whole event was a bit like a company picnic crossed with a small town school fair. The town folks all knew each other and so did the kids and they were having a great time. It seemed that the rangers and park staff had a good time both with their booths and displays and with the Water Hooligan Race. Everyone needed a bit of frivolity on the last full weekend of the season.
Sunday morning the smoke coming from all the fires to the north, east and south of us filled the valley and obscured the mountains almost entirely.

It had been a mostly peaceful weekend considering that we were full to the gunnies again. Walter broke up a small dog fight (one dog had broken free of it's leash and had picked a fight with another so Walter provided a new leash from our Lost and Found pile) but otherwise all was calm and easy. That was a nice reward for what was probably our last full capacity weekend here.
The lake continues to drop and our cove out by the entrance to the campground keeps getting smaller and smaller.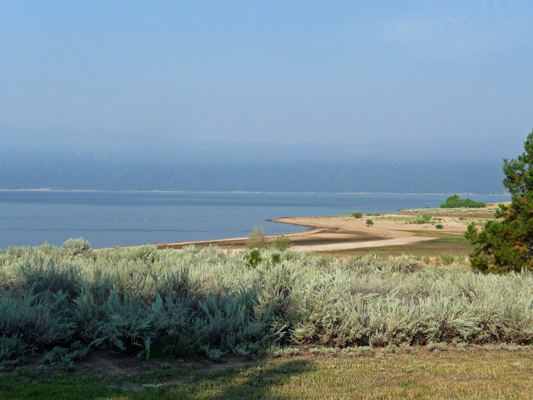 Here's what it looked back on July 28th just 3 weeks ago.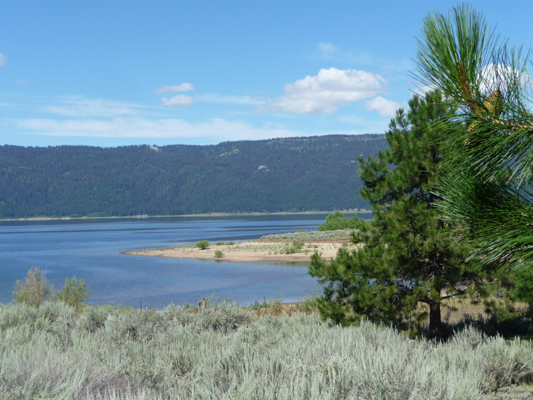 The back bay has nearly disappeared leaving only a wandering creek through a grassy area.

Here's what it looked like when we arrived back a month ago.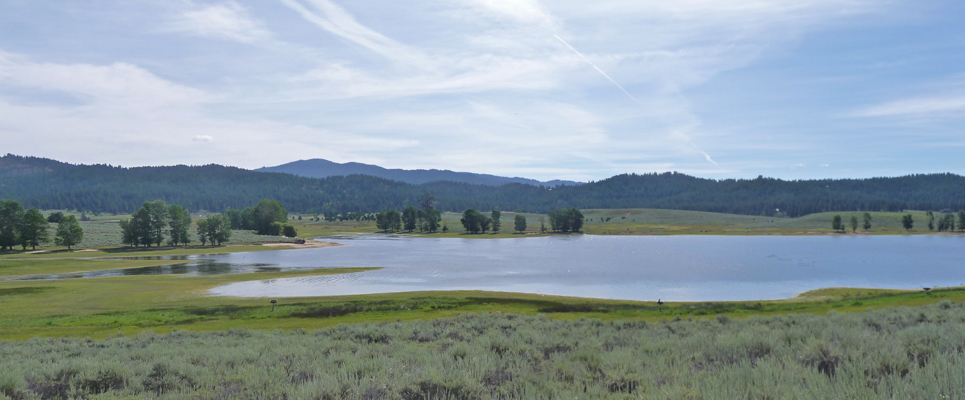 Tuesday August 18th, we got up early and ran the water on the sod while we ate breakfast and got the trailer ready to head back down to Boise one more time to try to get the stove vent fixed AGAIN. Visibility across the lake was so bad it looked like we were socked in by fog rather than smoke. You couldn't even see the far shore. We drove south through Long Valley where you could barely see the mountains and then down through the canyon where things were a little bit clearer. We stopped to switch drivers along the river and I spotted a nice patch of sunflowers (Helianthus annuus) in bloom. We saw a few of them last week along the river but this week there were lots of them—but none to be seen up along the lake yet.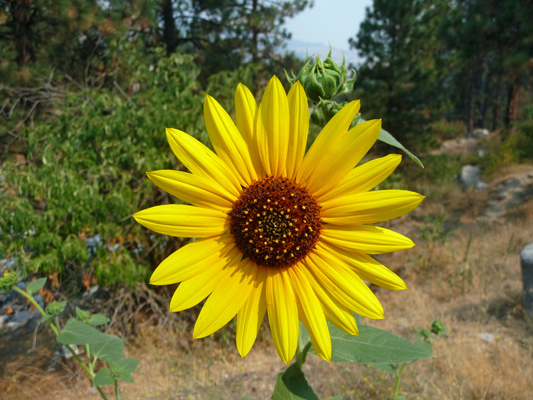 We dropped the trailer off and they promised that by hook or crook they would find a way to fix the vent. They had yet another replacement vent there and they figured they could cobble something together that would work between what they'd put in last week and this new one. We went off to Fred Meyer to do our grocery shopping and they called to say they were done long before we were even done shopping.
When we returned to pick up the trailer we were told that the latest vent they'd gotten was just as bad as the last 2. That's 3 of them that they've received that basically roared like a Harley Davidson and put out no air. But they still solved our problem. They went around the lot and ran all the fans in all the new trailers that they had and took out the one that sounded the quietest and put it in our trailer! And it's marvelously quiet—way better than I remember ours being to start with. Yippee. We headed back to Cascade before the traffic hit and tested the vent again when we stopped to switch drivers—and it was still working. Ahhhh. When we got back to Sugarloaf it tested fine. And when I made dinner it ran like a dream—though it hasn't been taken to the ultimate test yet—cooking with 3 burners at once. At this moment I'm just thrilled to have a vent that works at all and not having to go back to Boise again.
The smoke was a bit better on Wednesday August 19th. They have the big fire down by Boise 95% contained so at least we're not getting as much smoke from that direction. Air quality is still pretty bad though. We've only gotten reservations for 1/3 of the campground this coming weekend. School starts in Boise on Monday August 24th so things are winding down here. Besides, the lake is dropping fast and it's smoky—who wants to go camping!