After 2 nights in Bakersfield (grocery shopping, Trader Joe's, Wal-Mart) we hit the road on Friday April 10th heading north beginning a leg of our journey that full timers call 'repositioning.' Unlike our usual wanderings, we have a destination in sight up in Issaquah, WA with a date we're due for an Airstream warranty appointment in Covington, WA on April 23rd. So the whole focus of our travels for about 12 days will be getting from Bakersfield to Issaquah as easily and painlessly as possible. Remember, we're not into speed (we could do this drive in 3 or 4 days if we had to). We're into arriving safe and sound and not exhausted.
We drove northwest out of Bakersfield until we hit I-5 and then turned north. It's not an exciting road to drive and it's not particularly interesting country to drive through—unless you like trying to guess what kinds of trees those are out in the orchards you're passing. Most of the trees are almonds and pistachios but there are citrus, walnuts and cherries mixed in too.
We're holding firm to our policy of not driving more than 200 miles a day (and spending 2 nights everywhere we stop) so we drove to Santa Nella, CA--a little over 180 miles for the day. We arrived a little after 2 pm and got a nice spot with a view of a little patch of almost green grass. Santa Nella is one of the towns in the Central Valley that has been hit very hard by the drought. They've had water rationing for 2 years and there's a $150 fine for washing your car! The ground water out in the valley is being depleted by farmers and municipalities drilling deep wells—and not being restored by Mother Nature through rain. As the area lives through its 4th year of drought the ground is starting to sink a foot or more in places due to ground water depletion. Not fun. Needless to say none of the inhabitants of the area are happy campers when it comes to water.
We settled into our spot with temperatures in the high 60's and both of us took a nap!
It had been a few days since we'd gotten any exercise, so on Saturday April 11th we set out to find someplace to take a hike. I'd read about a wildlife refuge nearby where they were supposed to have some Tule Elk but it's gone dry in the drought. So we decided we'd head up to the San Luis Reservoir on Hwy 152 and see if we couldn't find a visitor's center with some hiking information. We turned off 152 at the turn off for the Basalt Campground and drove south through the rolling hills. Walter said he thought he saw some horses. And we slowed down to watch. These were not horses. They were Tule Elk!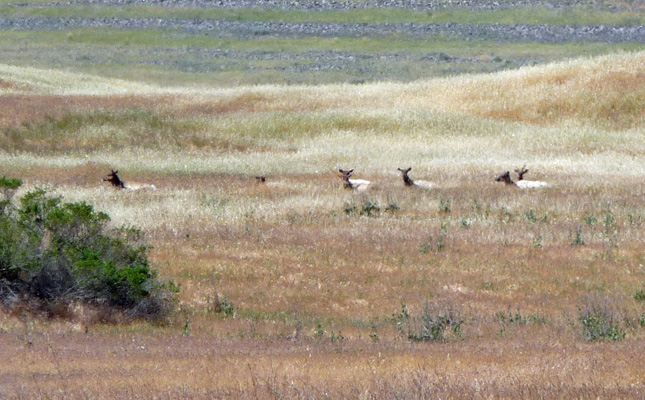 There were about 12 of them and one of them had the beginnings of antlers.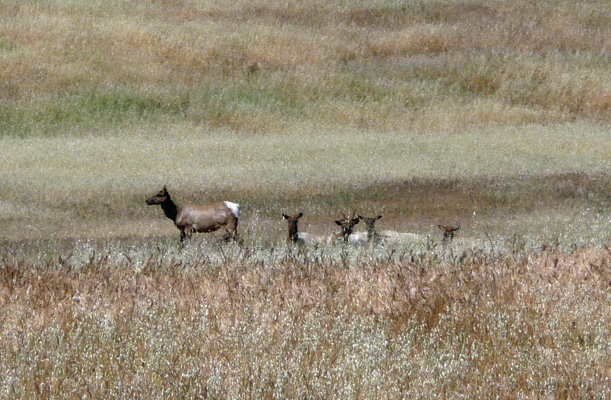 We sat and watched for a while and then drove on to the entry station. We asked the attendant if there was a visitor's center here. And the answer was no. We asked about hiking and she said there were some trails but if we wanted to really hike we should go to Pacheco State Park just up at the top of the pass (which is called Pacheco Pass by the way). We got a brochure for the park and drove on back to the highway heading further west.
We got off at Dinosaur Point Road and decided we'd drive down to the point to see what we could see. This is live oak country of the best kind: rolling golden hills with big old 500 year old live oaks.
The view of San Luis Reservoir from the point was pretty nice too.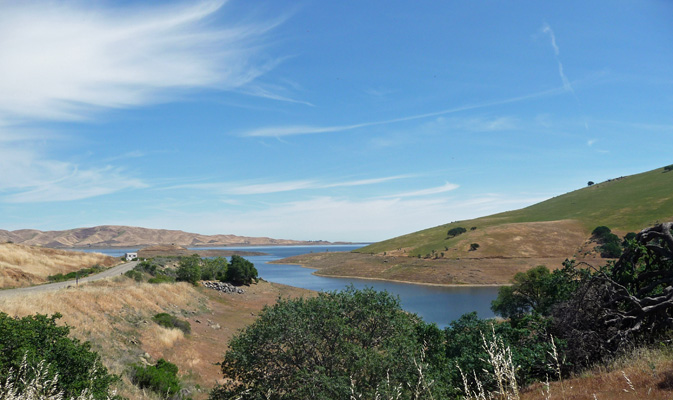 This reservoir provides irrigation water to farmers in the Central Valley. It's pretty full now (though you can see it's down from the high point of the 'bathtub ring'). But it was so low last fall that you could see the old Highway 152 that used to continue across the valley from here.
There were Blue Elderberries (Sambucus mexicana) in bloom along the road.
And I spied my first California Buckeye (Aesculus californica) in bloom.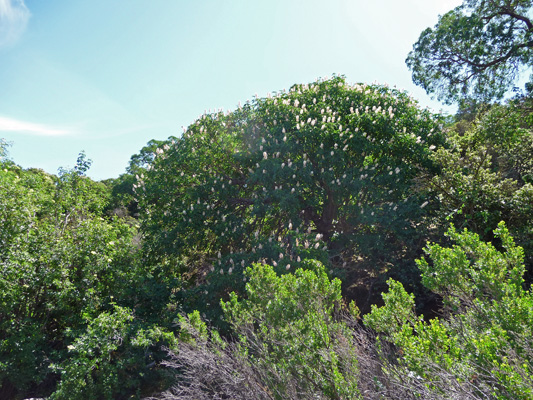 This tree was just covered with blossoms.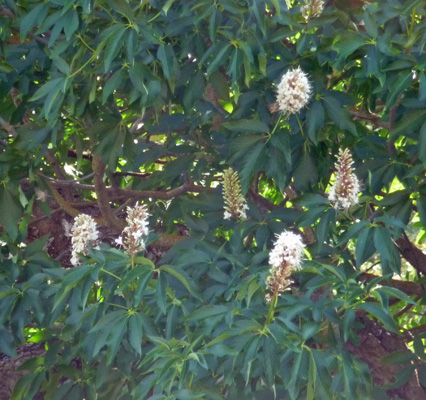 There was also a lot of Sticky Monkeyflower (Mimulus aurantiacus) (they call it Bush Monkeyflower here)—the same stuff that we saw a lot of over at Pinnacles National Park a couple of weeks ago. Pinnacles isn't far from here so I guess it's not surprising.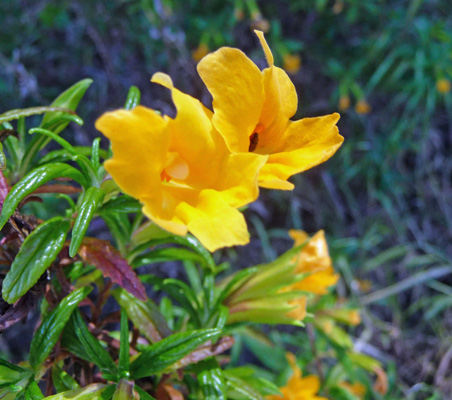 We drove back up Dinosaur Point Road to the Pacheco State Park Day Use Area and found a place to park. They have primitive camping for horse trailers here (by reservation only) and there were a lot of folks who had their horses out on this beautiful sunny Saturday. We took a look at the sign boards and discovered that they had a Wildflower Hike mapped out along with a full plant list and guided nature trail signs with a pamphlet to go with it. Whoo Hoo. It was about a 2 mile hike that starts through a pasture and then winds through the hills.
There were lots of Checker Blooms (Sidalcea malvaeflora) in bloom in the pasture.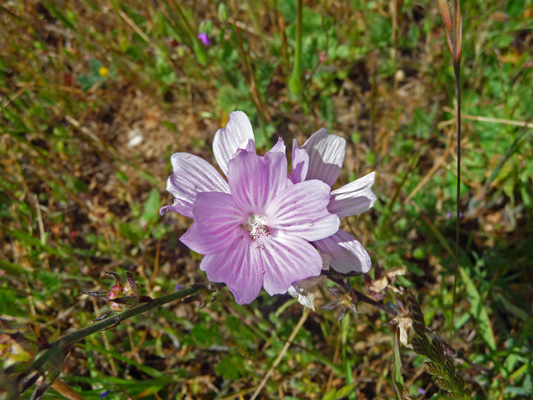 Even better there were tons of Grass Nut (Triteleia laxa) in bloom on the shady north facing sides of the hills.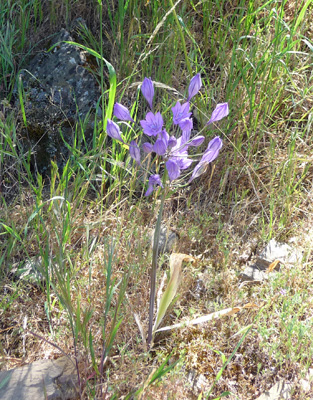 These are really big umbels and just lovely.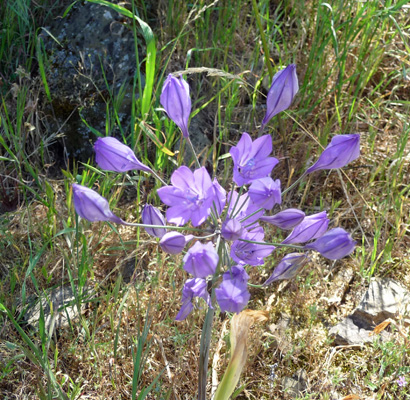 One of the signs on the trail was dedicated to Poison Oak (Toxicodendron diversilobum) and I thought I'd extend your education to this source of itchiness. The key to poison oak ID is simple. Leaves of three, let it be—especially if those leaves are bright and shiny and sticky looking! Not everyone is allergic to poison oak but why take a chance--I wasn't as a kid but I'm not interested in checking out if that's still true or not.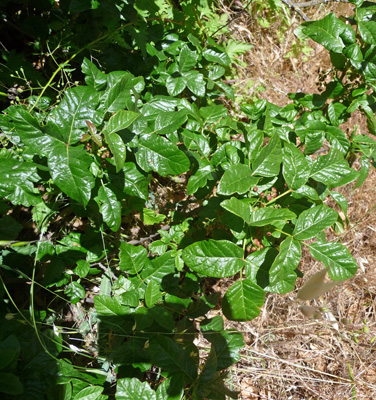 After the poison oak there was a whole hillside full of Blue Fiesta Flowers (Pholistoma auritum).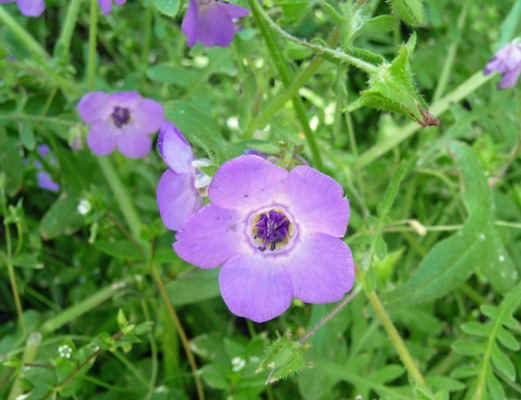 And just past them a whole huge patch of Purple Chinese Houses (Collinsia heterophylla).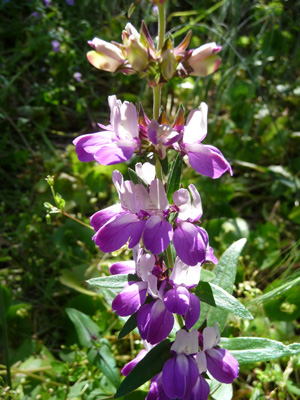 We came to a patch of mud and there were butterflies resting in it.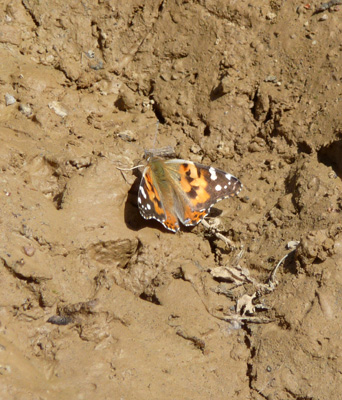 Up the hill majestic oaks stood guard.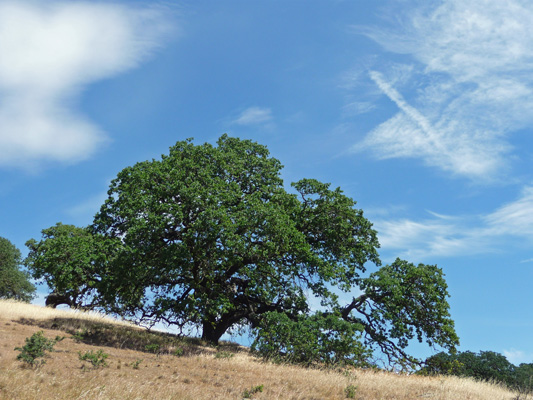 We hiked up the hill and were rewarded with a great view of the San Luis Reservoir.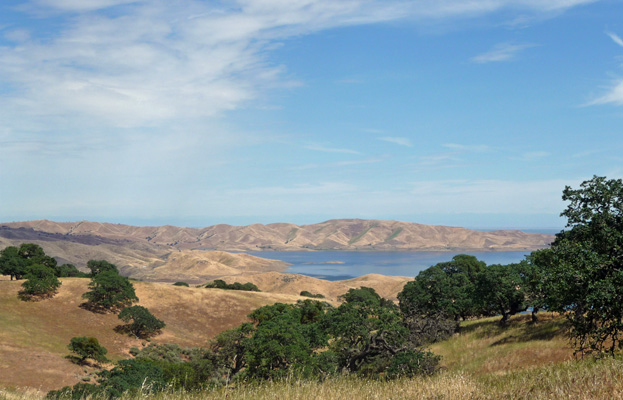 If you look south from here you can see a collection of wind turbines that were put in before the property was donated to become a state park. They provide energy for 3,500 home each year.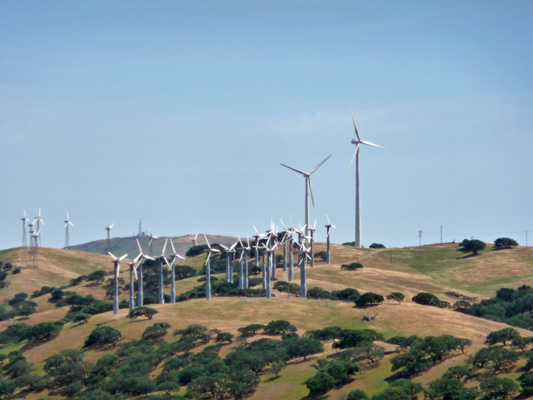 At the top of the hill there was a sprinkling of California Poppies (Eschscholtzia californica).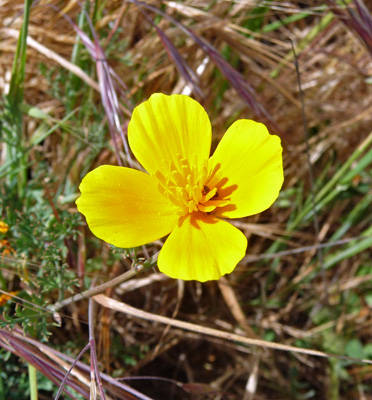 And another great view of the San Luis Reservoir.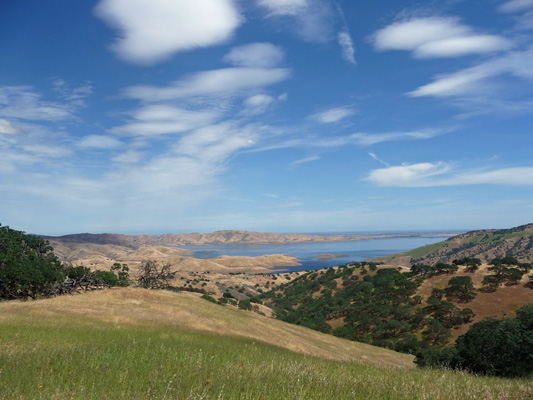 The trail continued up the hill some more and then looped back the way we'd come. We decided we'd done enough up so we turned around here and went back down.
Along the way I spied these great seed pods known as Blow Wives (Achyrchaena mollis).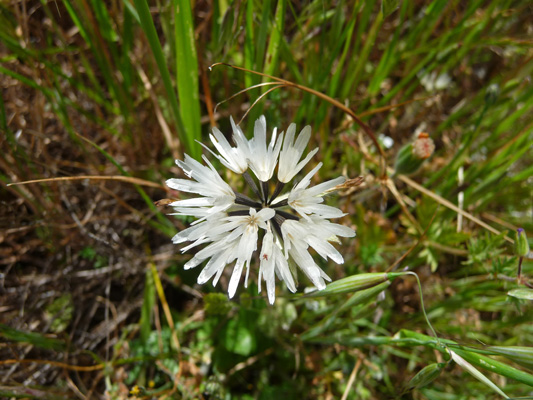 Hiking along on our way back I noticed that Walter had a ladybug on the back of his shirt and I got this photo just before she fly away home.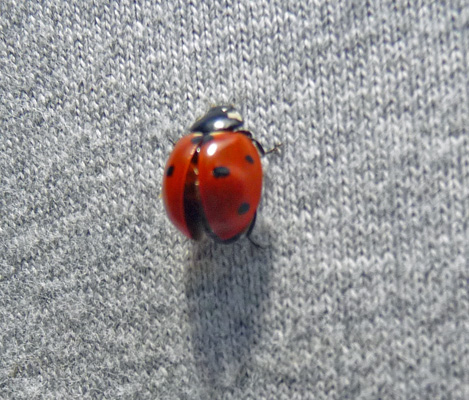 We passed up another chance to hike UP another hill and continued back along the trail the way we'd come. In the pasture, I realized that the little red/purple balls I was seeing weren't all just seed pods. Some of them were in bloom. These are Purple Sanicle (Sanicula bipinnatifida).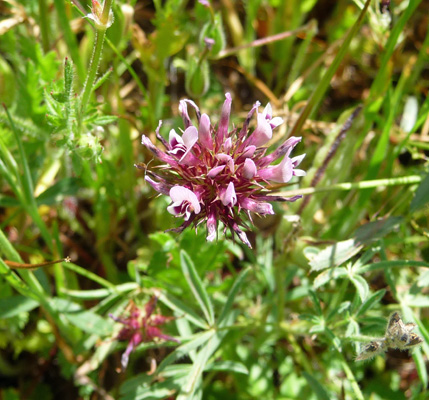 This was a VERY satisfactory hike. In fact it was way more than I'd expected from a day when we were really just looking for some exercise. We got that for sure but to get Elk and flowers and water views too? Wow. Life is good.
On Sunday April 12th (after Walter made waffles for Sunday breakfast) we headed north again on I-5 up past Sacramento and then took Highway 99 over to the town of Yuba City. There is nothing particularly special about Yuba City. We picked it because it was the right driving distance to split the trip from Santa Nella to Redding and there was a relatively inexpensive RV park that had an opening. It was time to do laundry you see, and some things take priority even on an adventure like ours.
On Tuesday April 14th, we drove up Hwy 99 and then over toward I-5 and the town of Corning. We'd located a Blue Beacon Truck Wash in Corning and folks on the Airstream Forum said that if you were going to have your trailer washed at a truck wash that Blue Beacon was the best choice. Genevieve and Francois were really dirty after over 5 months in the desert and finding the time and energy to hand wash them didn't seem to be on the docket so a Truck Wash sounded like the best, least expensive option.
We drove on into the place and they waved us into a long concrete bay with a real high ceiling. We parked and got out and 4 guys with power washer wands set to work. They washed the truck and trailer for $43 which is not bad at all. Was it a perfect wash job? No. But they did get the first 20 layers of dirt off! There is still one fine layer of grime but they both look SO MUCH better that it was clearly worth it. We've picked up a bunch of very fine scratches over the winter getting in and out of some of the boondocking sites we've visited. I hope to deal with them over the summer a little patch at a time during slow times while we're in Idaho. It's always great to pick up a new skill, right? Sara, the car polisher!
From Corning, we drove north on I-5 to Redding and the Sacramento River RV Park. There's really no place inexpensive to camp this time of year in Redding. We picked this place because it was only $38 a night. Premier RV where we've usually stopped in Redding is now $49 to $53 a night! So we decided we've give this place a whirl. We got a nice shady spot (it was in the 60's on Tuesday but supposed to get up into the mid 80's on Wednesday).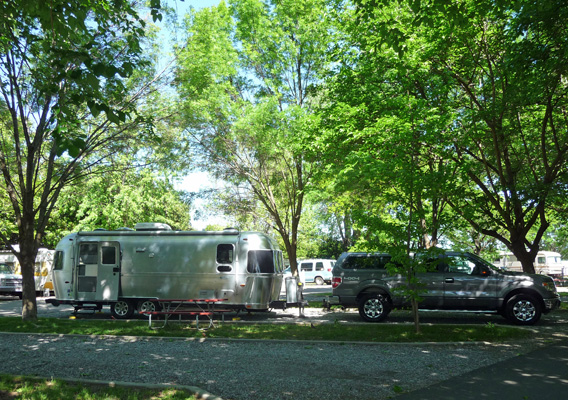 But we weren't far from the freeway and could hear the traffic on I-5 even with the windows closed Ah well, at night I just pretended we were at the beach. This park is pretty full of long term residents. We took a walk looking for a trail that was on the park map (it doesn't exist any more but we had fun crashing around in the meadows) and found one section of the park entirely full and the other 3/4 of the way full. The energy is just a little off—too many folks living here because they have no other option I guess. We probably won't stay here again.
On our walk I managed to snap a photo of Mt. Shasta to the north.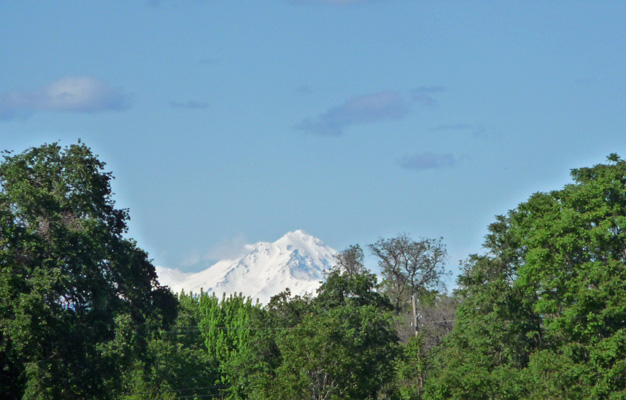 And Mt. Lassen off to the east (with I-5 rushing by in the foreground).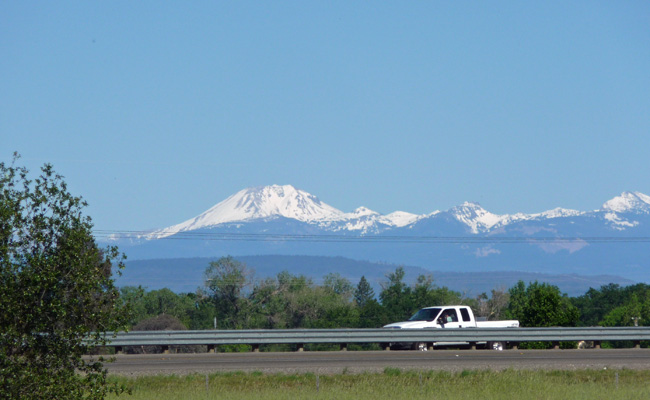 We managed to find a boat ramp and followed it down to the Sacramento River. There's quite a bit of water in the river at least in this section.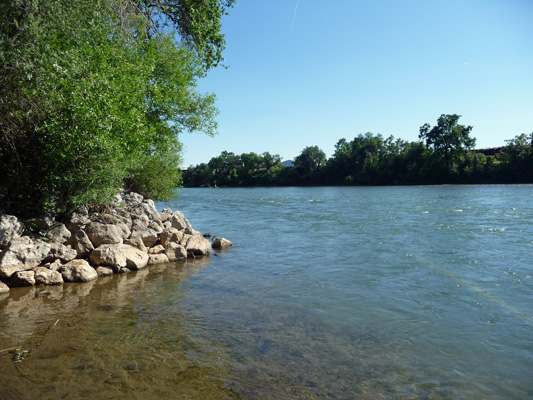 There were people our rowing, paddling and fishing on the river in the late afternoon sun.
It was cool overnight and we were happy to discover that Mother Nature hadn't read the weather forecast. On Tuesday, they said it would be 86 or higher on Wednesday but instead we had lovely weather in the low 70's instead. For our down day, we asked Carmine, The Garmin, to take us to the parking area for the Arboretum Loop Trail. She took us out to the McConnell Botanical Garden's parking lot and then asked us to start driving on a gated service road. As far as I could tell she was trying to get us to drive on the Sacramento River Trail as it runs along the bank of the river. We parked the truck and went looking for information. We found a map that didn't help much so we wandered around trying to at least find the Sacramento River Trail. We walked through the McConnell Sustainable Garden and eventually found our way out onto the Sacramento River Trail headed eastward towards the Sundial Bridge.
Along the way we passed a pond with signage about the Western Pond Turtle which is the only native turtle in the area. Sure enough there were turtles out warming themselves along the partially submerged logs in the pond.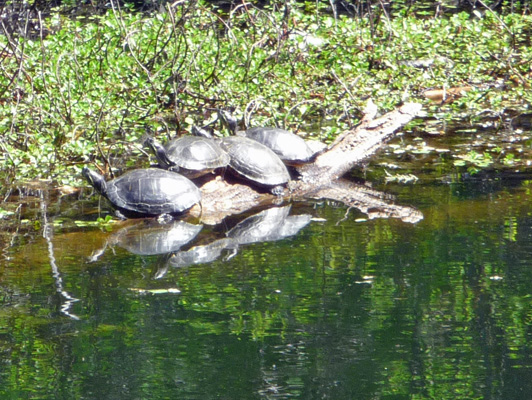 And as we looked some more there was another batch of them lining a log at the other end of the pond.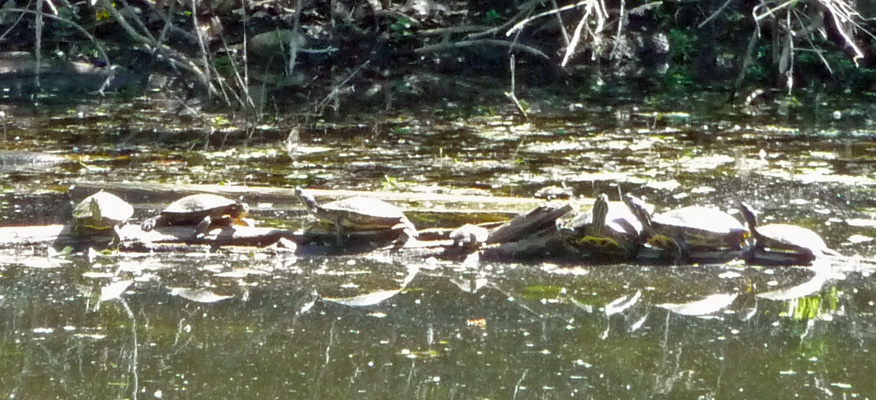 There were a few in the water and this guy took off and headed right at us.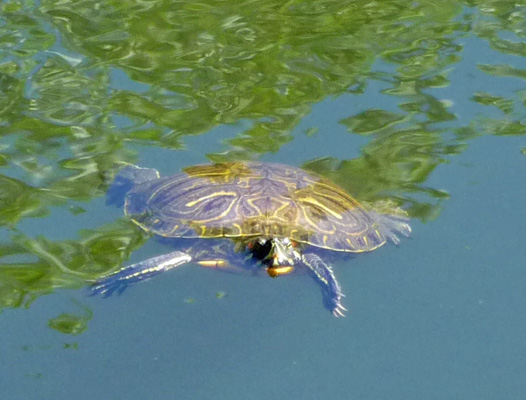 The sign said that there were some non-native Red Eared Sliders in the pond too. They have a red stripe on their heads. We saw at least one of them. So this guy could be one of those too because I didn't get a profile shot of him. In any case, they were lots of fun.
We followed the trail until it reached the Sundial Bridge. It's a lovely pedestrian bridge with green glass tiles on it's walking surface.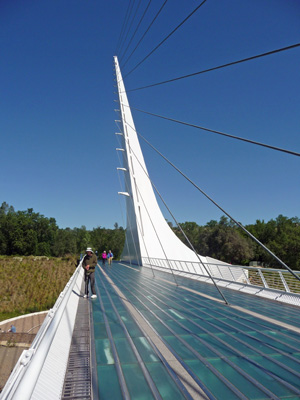 At the east gate of the Botanical Garden we found a map that showed the loop we were looking for—ah ha! So off we went to take our walk around the outer edge of the arboretum which is in actuality an area they are trying to return to native plants. It was badly damaged by mining and smelting during the 20th century and they're now making a concerted effort to eradicate invasive plants and encourage the native oaks, shrubs and grasses to return.
There were patches of Crimson Clover (Trifolium incarnatum) growing here and there.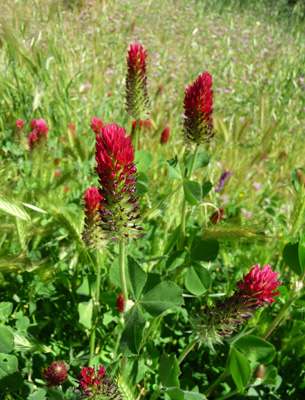 And we spied this lovely blue/purple allium growing in places along the trail too. I've looked at photos of all the native alliums and haven't been able to identify it.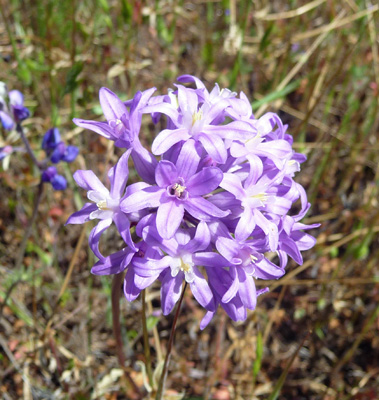 Some had only small clusters of flowers and might have been Blue Dicks though I don't think so.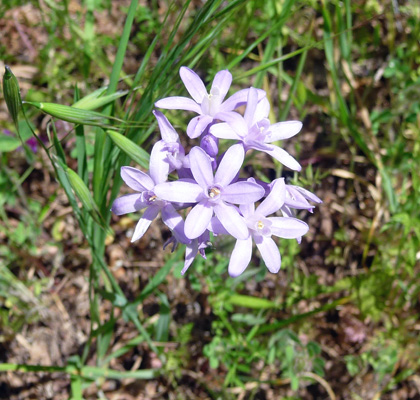 As we walked through the oak grasslands we could see the Sundial Bridge off in the distance and a bit of snow on the Coastal Range mountains too.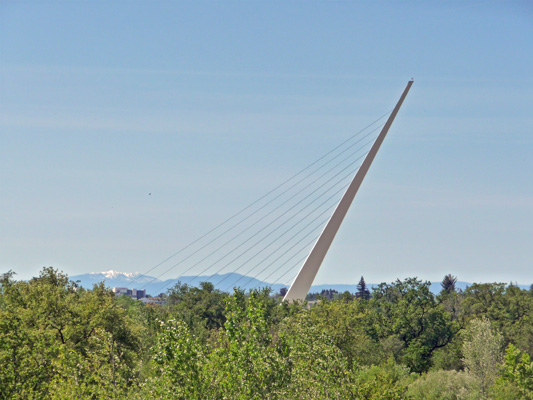 We completed the loop and sat for a while resting near the bridge and then took the path through the Botanical Garden straight back to the truck. This I figure was a major win since one of our concerns as we wandered around looking for the trail was whether we'd ever find our way back to the truck!
It was nearing lunch time so we hopped on I-5 north and drove up to Lake Shasta for a picnic lunch. We found a nice parking spot overlooking the houseboat marina at Bridge Bay. There was even one houseboat out on the water taking a test run. It's supposed to be in the high 80's and low 90's this weekend so folks will be out on the water!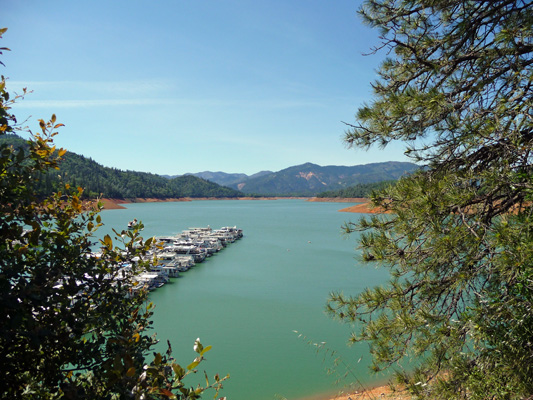 The lake is down from it's historical highs but considering the state of the drought here the water level is still pretty high. I suspect by fall folks will be talking again about how empty it is again.