After a nearly full campground on Friday and Saturday things cleared out quickly on Sunday June 21st. Sometimes folks stay late into the afternoon to avoid the traffic on the two-lane Hwy 55 back to Boise. But this Sunday they all packed up and left on time. We had a big family move in next door to us but aside from that things were pretty quiet. We started watering since we had lots of empty sites and the forecast was for temps in the high 90's late in the week when we were going to be pretty darned full. We're not supposed to water when folks are in sites (a nice courtesy) so we try to water as much as we can when things are empty.
Late in the afternoon the sky got dark and the wind came up. We had gusts up to 17 MPH on my anemometer which is sheltered by a small grove of aspens. The lake got really stirred up with BIG white caps.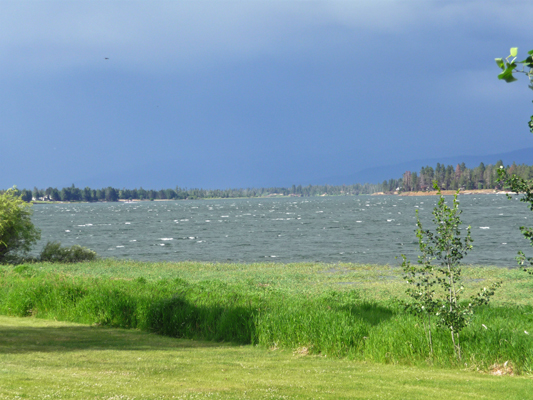 We had a little bit of rain—enough to get a puddle or two on the pavement and to cool the temperature down to 60 degrees. By mid evening, the wind had died down and we went out to check and were happy to hear that nobody's tent had taken off in the wind.
Monday we spent the day watering. We've got a system worked out where working together we can manage to not get worn out dragging our 500 feet of hose around.
Monday evening the last flock of sheep made its way past the campground. The kids in the site next door were thrilled but then disappointed that there wasn't a second flock that evening. There were lots of lambs in this flock which made it even more fun.
The shepherd kept them trotting along at a good pace so there weren't any problems.
Tuesday was yet another sun shiny day and after our rounds we packed a lunch and headed north to McCall to the Forest Service District Office to get a map of the National Forest lands to the northeast of us. We got all sorts of info on hikes and drives in the area and opted to take the drive up the Warren Wagon Road up into the mountains. It's not as rustic as it sounds—it's a normal paved road that goes along the northeastern shore of Lake Payette. We stopped at a turnout so I could take a picture of the lake.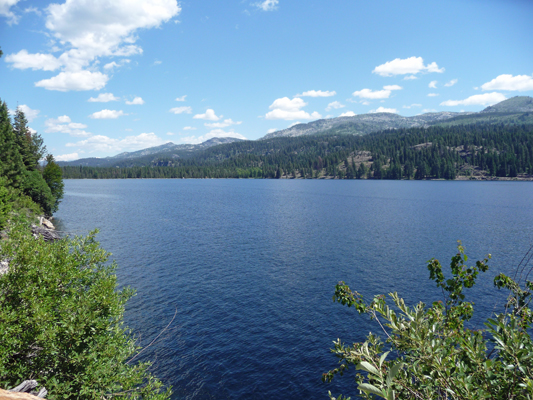 Across the road there was Pearly Everlasting (Anaphalis margaritacea) growing in the bare rock face. I'm always amazed at the determination of some plants to grow no matter what the conditions.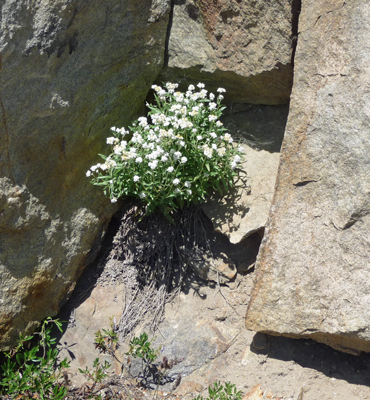 There was also some nice patches of penstemon in the verge. I suspect this is Dark Blue Penstemon (Pensetemon cyaneus) but I'm not sure about that.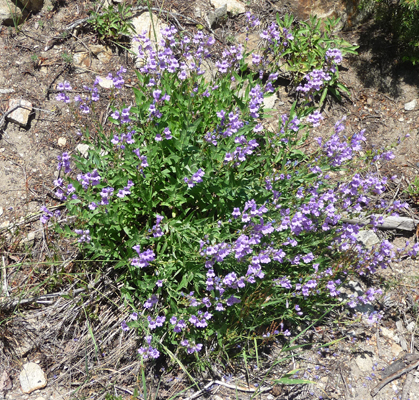 Further up the road we stopped so I could take photos of the lovely Subapline Spirea (Spiraea splendens) that was in bloom all along the road.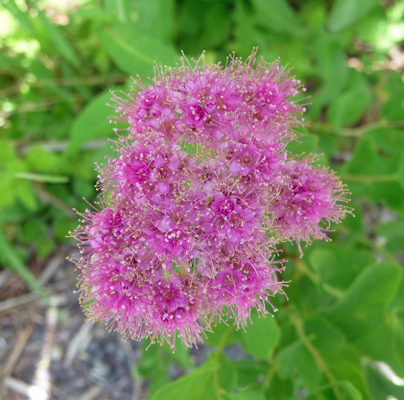 There was also a big patch of Tobacco bush (Ceanothus velutinus) in bloom here.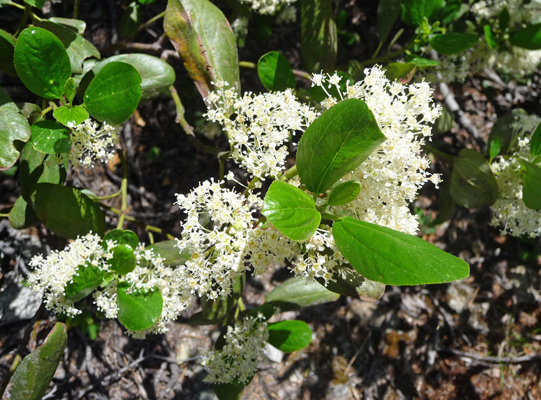 Just past Secesh Pass (elevation 6434), we came to a sign that both of us remember passing back in September 2003 when we drove up this way while staying at Ponderosa State Park. It wasn't in great shape then but it's certainly picked up a few more bullet scars since then. And the trees have grown a ton. We both remember it being very stark up at the pass—there'd been a forest fire here in the 90's and in 2003 the trees were just little tiny things.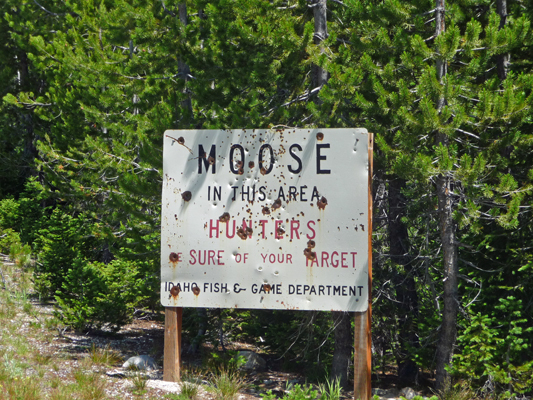 We didn't see any moose but we did see a wetland or two that a moose might like.
We turned of the Warren Wagon Road at Ruby Meadows so we could check out Burgdoff Hot Springs. Right at the turn there was this lovely patch of really dark blue penstemon which is probably more Taper-leaf Penstemon (Penstemon attenuatus) but it might be something else since it's such a different color than the other taper-leaf I've seen.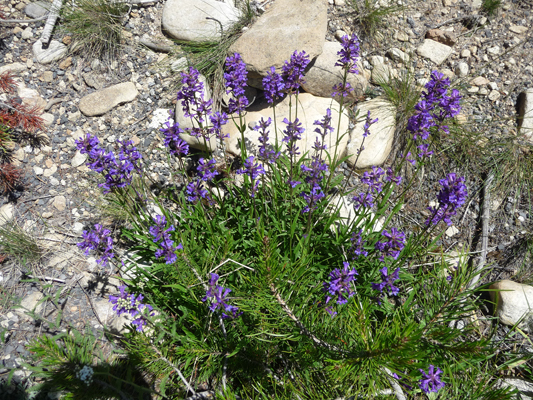 The hot springs area is pretty run down—no electricity, no indoor plumbing, and a lot of run down buildings. We checked out the forest service campground—only 5 sites--and then drove on back down the mountain to Upper Payette Lake for lunch. There's dispersed camping along the northern shore of the lake and then a nicely developed campground. We took a turn through the campground and found a nice lake view spot to pull into for lunch. This was the view from our picnic area.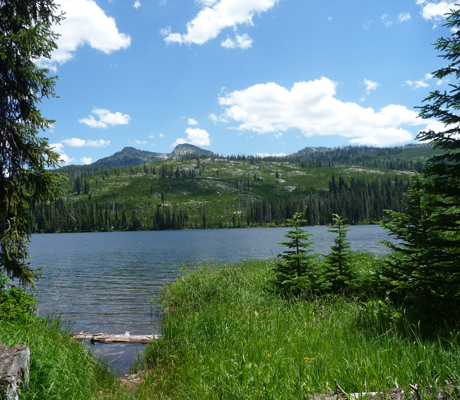 And here's the view looking east.

There were a few ciliate bluebells (Mertensia ciliata) in bloom in amongst the trees.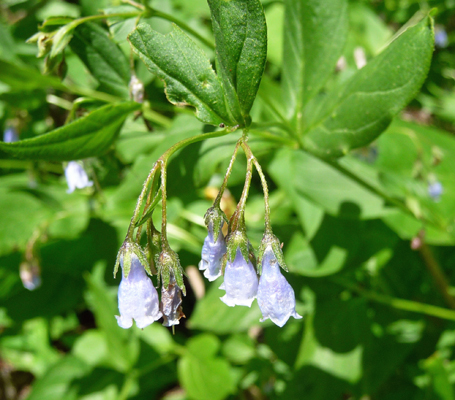 And some twinberry (Lonicera involucrata) which I saw for the first time back at Glacier National Park in 2013.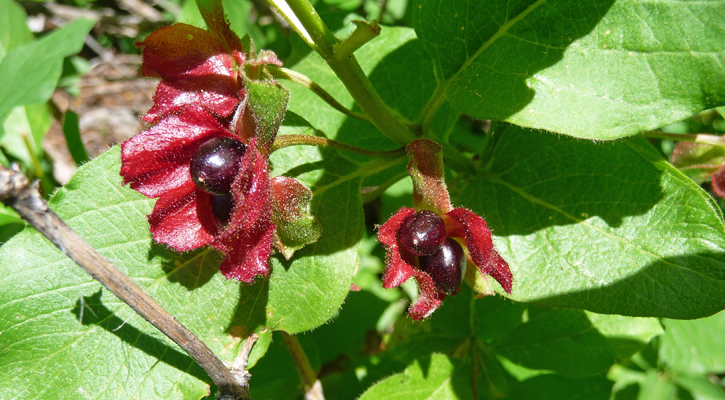 While we were having lunch I spied this Western Tanager in the tree nearby.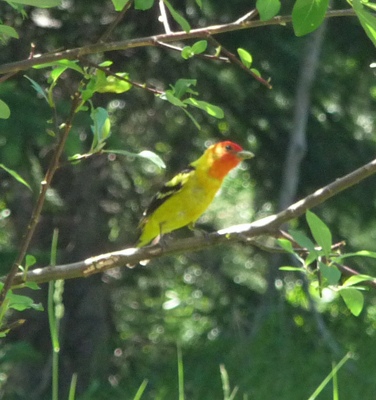 After a nice quiet lunch we drove on back down the hill to McCall and did our grocery shopping. When we got back to the campground we were greeted by a Scandinavian family on their bikes. They wanted to tell us that they'd ridden back across the bridge from boat launch to the Day Use Area a little too fast and the father had lost control and grabbed for the fence. The fence post gave way and a portion of the fence collapsed. The mother mentioned that it looked like the pole was hollow. I smiled—rotten wood—and made sure that nobody was hurt and then told them not to worry. We had a lot of posts like that all over the park. The father said that only his pride was bruised and then we all compared our bicycle war wounds. They had clearly been riding a lot since everyone had at least one scraped elbow or knee. While the people were wounded, the fence had clearly lost the battle.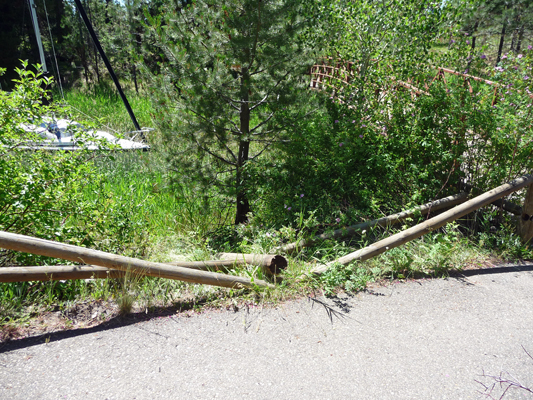 We watered some more that evening and the next morning and then I loaded up the laundry and drove to Donnelly about 6 miles away to the Laundromat there. While I was gone, a school bus full of junior high school kids (35 of them plus 6 adults) arrived to occupy 6 of our campsites. The interpretive host gave them a demonstration of how to put up a tent and then they constructed two tent cities (one for the girls and one for the boys).

Then they went off to Trinity Pines in Cascade to do the Challenge Course there—complete with zip line and other high events. They came back in the late afternoon and the campground sounded a bit like a playground until well after dinner time. They all went swimming down by the boat dock and we had a steady stream of kids traipsing back and forth.
At the same time another group of campers began to arrive. A church group had about 2/3 of the campground reserved for Thursday and Friday nights and a few of them had reservations for Wednesday night too. We got them settled in and were happy that the kids had lights out at 11 pm.
The next morning the kids were already heading out to swim before 9 in the morning. In fact we learned some of them were in the lake at 6:30! Their game for the morning was a Crisco Challenge—greased watermelons were tossed into the lake and they were asked to go fetch them. A couple of kids ended up with scrapes and bruises and the remains of a broken watermelon was left on the boat ramp but a good time was had by all.
Meanwhile the church group began to arrive in mass. They had folks who were going to cook for everyone and so there was a great convocation as the decisions were made about where they should set up. Sites were traded and they got set up. By 2 the junior high school group (a program sponsored by Boise State University) motored out in their bus and the tempo changed to one full of small children and their parents all over everywhere. They took over one of the campground's grassy areas for their meals and it did get pretty loud when dinner was served a little before 7 and continued that way all evening until quiet hours started at 10 pm.
In the afternoon, we got a call from the ranger on duty asking us to collect up the Interpretive Host's demonstration tent and stuff. We discovered the tent was still up so we got to take it down in the afternoon wind. It turned out that it hadn't been staked and we almost lost it when we took the rainfly off and turned our backs to fold it up. We got everything folded up and loaded into our truck and took it back to our site so that the ranger on duty could pick it up in the evening. We were grateful it was less work than we expected.
Friday June 26th started clear and sunny with the forecast talking about the high 90's. We did our rounds a little earlier than usual because there was a camp host meeting with the head ranger (called a manager here in Idaho). I heard a strange noise as I was walking by the Day Use Area and stopped to look and try to figure out what it was. And I spied a fox!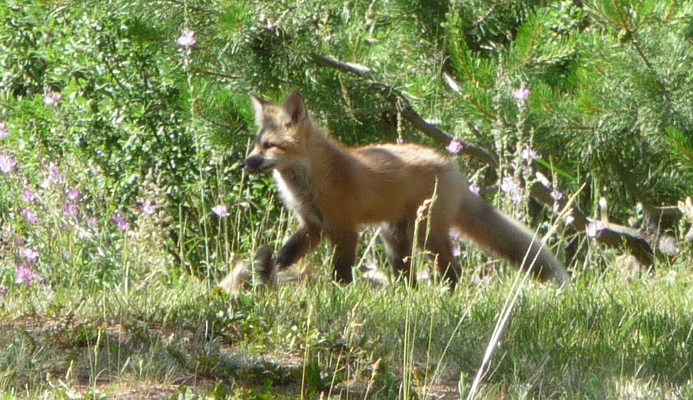 Looking carefully I realized there were two of them and that it looked like a mom and a kit (or maybe even a full family of 3, I'm not sure).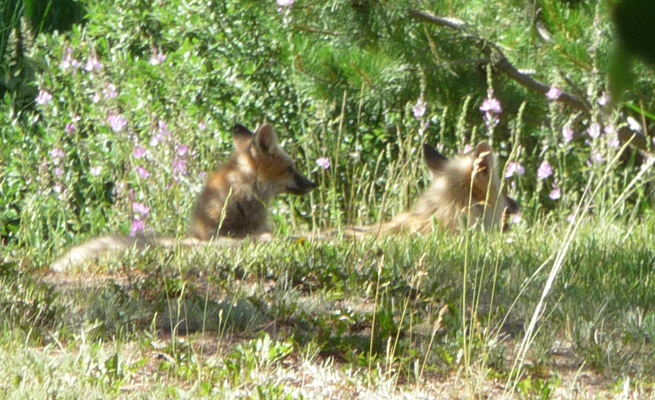 One stood and posed for me looking straight at me. That's a pretty cool ruff she has around her neck.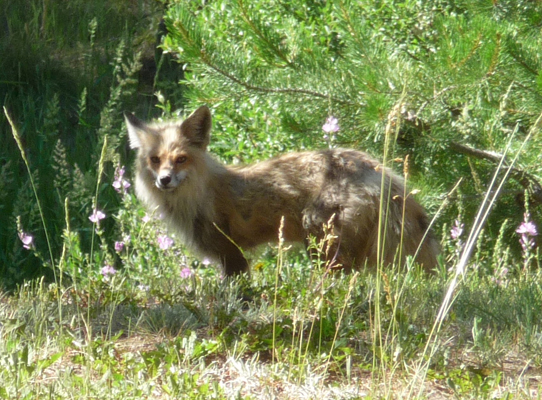 And then she posed looking the other way showing off her tail.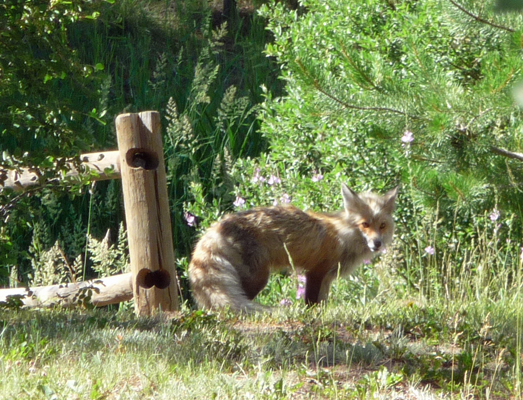 I'd never seen foxes in the wild where I was actually sure they were foxes before so this was a treat. Way cool.
We went off down to the Poison Creek campground (about 1 mile south of us) for our meeting. We were early (as usual) and discovered that the Tamarack Resort (just up the hill from Poison Creek) was building a big yurt next to the new moorage dock they were putting in. They've leased space from the state park and will have rental boats and jet skis and snacks here. We're pleased because when they're open we'll be able to send folks down there to get change.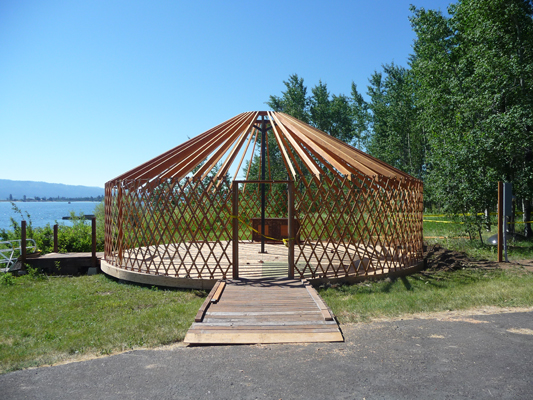 We came back about 12:30 and set the sprinklers to running over in the boat launch area. The church group (a bunch of very nice Baptists) had invited us to lunch so we had pulled pork, potato salad (Walter had some mac and cheese) and grapes for lunch. The temperature hit 100 at about 4 pm (but it was only 17% humidity) and the trailer stayed a cool 94 all afternoon. The forecast was for it to be even warmer on Saturday and then to be in the high 90's for the entire next week. Oh boy, hot weather for the 4th of July! So far we have resisted running the air conditioning but we may break down and run it in the evenings to cool things off before we go to bed if the humidity gets high. Friday night it was already down to 68 by 9 pm and we even closed up all our windows for the night.
Saturday morning the church folks began to pack up to go home. They had to be out by 1 pm to make room for the next round of reservations—19 new sets of folks. It's unusual for the campground to empty out like that on a Saturday. Usually we have a big influx on Friday and they stay put until Sunday morning. But not this weekend.
I discovered some Indian Blanketflower (Gaillardia pulchella) in bloom over by the boat launch. This isn't a native here in Idaho but it does well in the dry hot conditions here. It's an annual that they include in a lot of wildflower mixes here.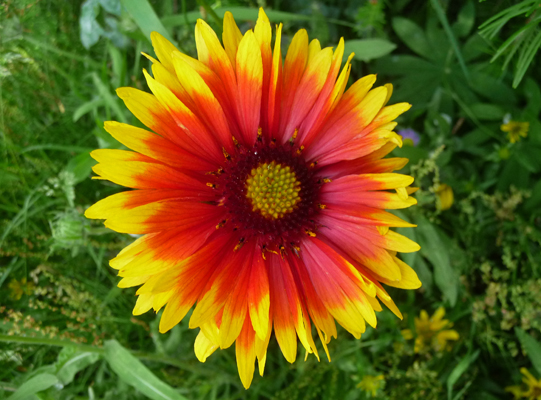 There are now big clumps of what I think are Showy Asters (Erigeron speciosus) in bloom.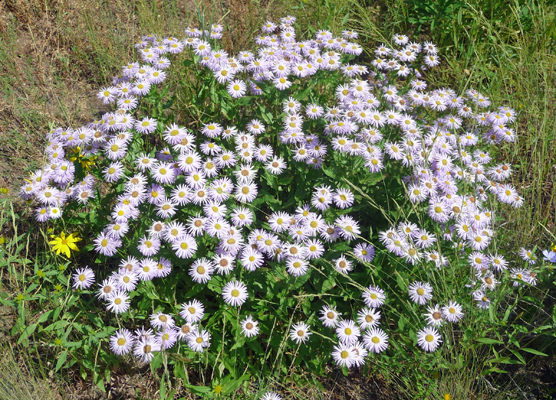 We also found some Western Horsemint (Agastache urticifolia) in bloom.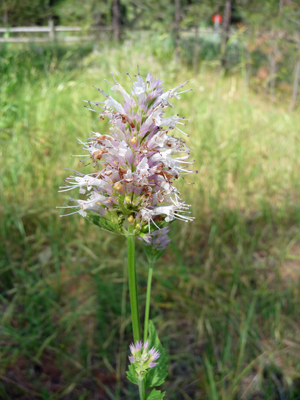 Before the church folks had finished packing up we had someone arrive to snatch up our one open site (we'd had a cancellation). To make matters worse, shortly after they nabbed it, someone else arrived who had called the office and been told we had an open spot. They were NOT happy to discover it gone. It was all for the best though, because it was only a 28 ft site and the RV they had was at least 35 feet if not longer, while the people who got it were in a tent. We had a fairly wild hour or so as the old group departed and the new folks arrived and I spent too much time out in the sun and got overheated and cranky. The temperature hit 102 (96 in the trailer) and we decided the only solution was to put on our swim suits and go jump in the lake. And so that is what we did. The water is warm in the shallows but still a bit brisk as you get past waist deep. Walter solved my problems with getting wet by starting a water fight—just what the doctor ordered! It finally started to cool off at about 5 pm and by 10 it was 69 degrees again. That is the blessing in being in the mountains on a lake!
We still had a few campsites empty (with paid reservations) when the evening ended. One is probably a total no-show since it was only for one night, but the other is for 4 days so we figure they will either show up late tonight or tomorrow sometime. So our sold our campground isn't entirely full tonight. And so it goes for camp hosts—rarely a dull moment and always a new adventure.