What a difference a week makes! On Saturday July 4th it was sunny and hot here at Lake Cascade. By Saturday July 11th it was been waffling between 65 and 75 with showers and sun breaks. By the late afternoon we were having thunderstorms and the temperature dropped to 56.
The 4th of July went splendidly here. Mother Nature put on a show for us with the first clouds we'd had in some time.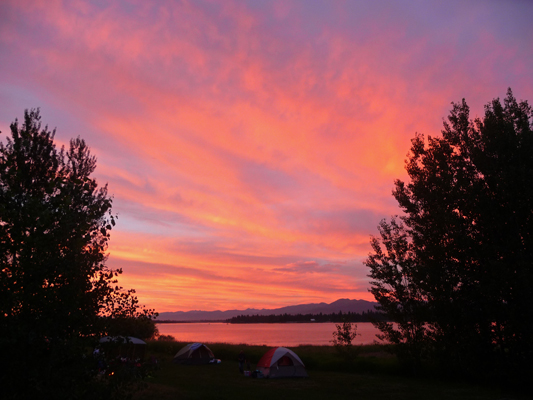 You could even see the sunset reflected in Genevieve's shiny side.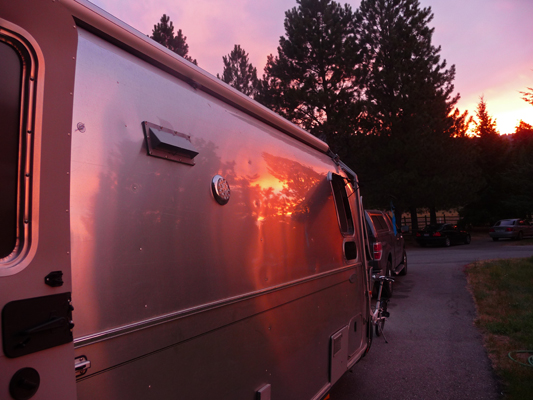 It lasted a long time and turned a lovely rosy purple color.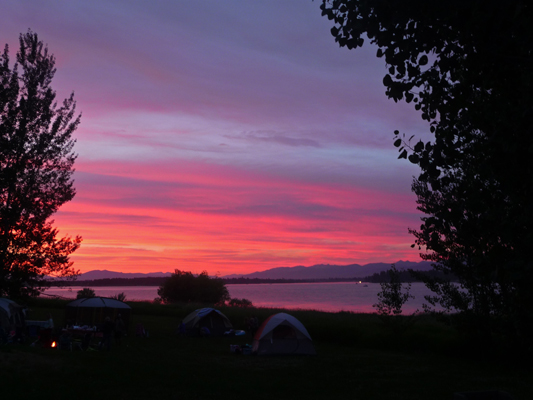 The fireworks in Donnelly were farther away than I'd expected and not anywhere near as flashy as the display the neighbor across the lake had put on the night before. Still I got to play around with taking photos of fireworks (should have used the zoom, ah well).
All those lights along the horizon are boats floating out in the lake. It was quite the traffic jam when the fireworks were over. The various neighbors along the lake shot off their own fireworks until well after midnight. I was definitely boomed out by the time the night was over.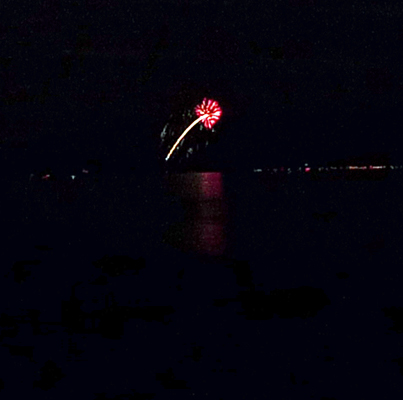 Sunday July 5th we awoke to the first truly cloudy day we've had in weeks (maybe the whole time we've been here). It was still warm and we had a few sun breaks but it was way cooler than it had been (mid 70's). The campers mostly packed up and went home early and we took the opportunity to start watering. This was our last full week at Buttercup and we hoped to get the entire campground watered if at all possible.
We spent most of the day on Monday July 6th watering too. While we were doing our rounds Walter spotted a pair of Sandhill Cranes with a couple of chicks walking through the Aspen Loop of the campground. I went and grabbed the camera and managed to take a photo of them as they crossed through the grassy area on the edge of the lake.
The redwing blackbirds began to dive bomb them trying to drive them out of the area.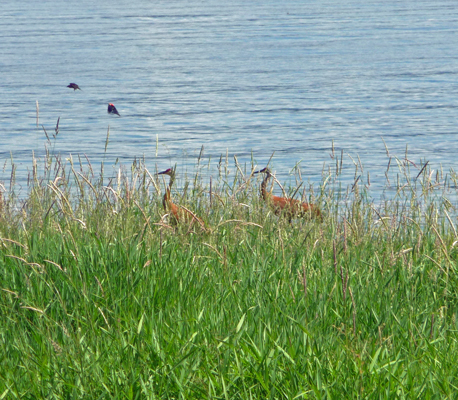 They were really quite frantic about it.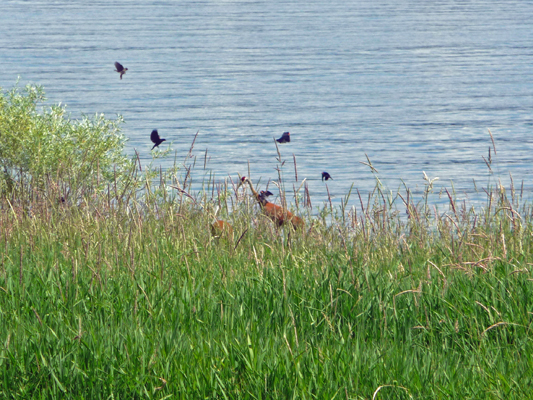 Then I noticed that one of the cranes seemed to have caught a large black toad. On careful examination we realized that the cranes were eating baby blackbirds! It turns out redwing blackbirds build a communal nest in the cattails. It's not the wisest place to build a nest when you've got predators around but hey that's nature in action.
The sun was out off and on that day and it still got up into the mid 80's but cooled down quickly in the afternoon when we had a squall come through with high winds and a bit of rain (but they had no rain or wind on the east side of the lake). Tuesday we did our rounds and headed out for an outing to Warm Lake which is in the mountains to the east of Cascade. We stopped by Sugarloaf Campground one more time to have another look at our future home. We'll be moving there this coming Wednesday July 15th. I spotted an Osprey sitting on a gate on the way in and we stopped so I could get a shot of it.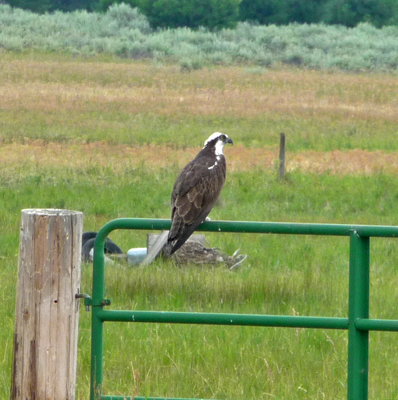 The ospreys are doing really well here. We see them all over the place and they have nests on old telephone and electrical poles all along the highway in addition to nesting boxes along the lake here in the park.
It was cloudy and in the 70's for most of the drive and we were happy to find a nice picnic table in a walk-in campground with a view of Warm Lake (which isn't warm by the way).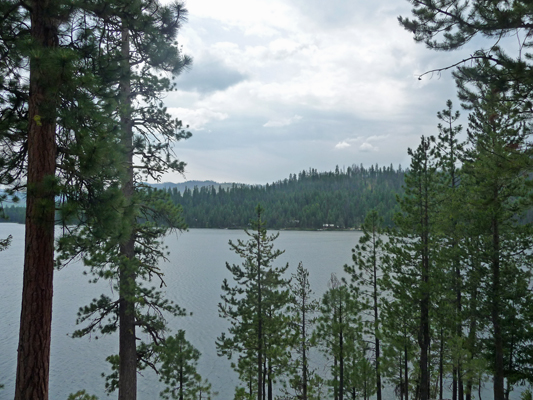 We had our lunch and I took a few photos and talked to the couple who were the only campers in the campground. They were worried about thunderstorms and we didn't have good news for them since the forecast had them as a decent possibility for the whole week.
The only new flowers we saw were Western Spirea (Spirea douglasii) growing along the edges of the lake.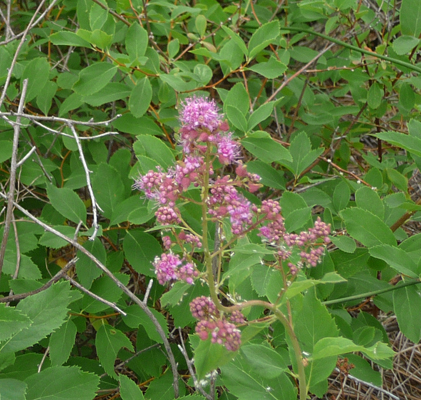 We missed any serious rain that day and it did still manage to get up to 82 or so--at least for a little while in the late afternoon. Wednesday we did some watering before we headed out to McCall to do our errands. By the time we got the laundry going it was raining, so we had lunch in the local Mexican restaurant—nothing very exciting but still better than a rained-out picnic. While I was folding the laundry (and Walter was taking a nap in the truck) the sky opened up and we had a full fledged gully washer which changed to pea sized hail and then back to rain. It pretty much stopped by the time I was done so I didn't get wet hauling the laundry out to the truck. And true to the microclimate patterns here, it was dry with no sign of rain at all back at the campground.
Thursday was another cloudy day. One camper went home a day early and another bagged it late in the afternoon. But one family spent the day out on the lake on their pontoon boat and they caught a 20" trout trolling down by the dam. We watered all day but were a bit stymied by the fact that one of the Rainbirds we'd been babying along (giving it a shot of WD40 every day to keep it from sticking) finally died. It not only stuck in position but only produced a little 2 foot long jet of water. I managed to beg one from the host at West Mountain Campground who had started the season with a big cache of sprinklers and was now down to only one extra. Clearly all the sprinklers are very old and clogged with iron and mineral deposits. They promise they'll be replaced soon.
Walter found a sleeping bat under a picnic table when he was policing a campsite that had been recently vacated. They'd had some gear under the table and we figure that the bat had gone to sleep there and been uncovered when they gathered up their stuff to leave. He was breathing steadily and when we checked later he was gone.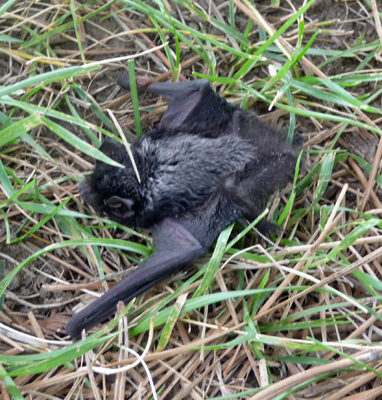 Friday we endeavored to finish up watering. But it just wasn't to be. First, our biggest most effective Rainbird died. We replaced it with the not very outstanding one we'd gotten from West Mountain the day before and then it died—I came back from running it for an hour to find it had watered a wedge of ground maybe 15 degrees wide—of mostly bare dirt of course. We were left with our weakest Rainbird which doesn't cover more than 10 feet in diameter. So we rolled up the hoses and called it a day. Then Mother Nature stepped in and we got an hour or two of steady light rain.
Needless to say, we had a couple of cancellations for the weekend. We'd been booked solid for the weekend but by Friday evening we had a couple of open slots and then a number of no shows too. The rain stopped by about 7:30 and we did our rounds. People had tarps and plastic festooned everywhere but they were still out having fun making s'mores and playing music around the campfires.
Saturday was a mixed bag. We had mostly cloudy skies with 1/2 hour sun breaks now and then. We borrowed a ladder from the park and I managed to wash the roof of the trailer for the first time. The thundershowers had done a pretty good job of washing the pollen off the roof but it still needed a good scrubbing. Just as I was finishing washing the ground level passenger side of the trailer (I still have the street side at ground level to go) it started to rain. This was a good heavy rain with lots of thunder. It was followed by a torrential downpour. It all lasted over 3 hours and the temperature dropped to 56. Part of the boat ramp parking area was flooded when it was done and at least one parking spot in the campground was full of water (the poor folks who were camped there went off to the Laundromat to dry out their clothes). By 7:30 it was over, the sun was out and two of our campers were off on their jet skis to grab what lake time they could get. We did our rounds and I took this photo of the clouds drifting low over across the lake.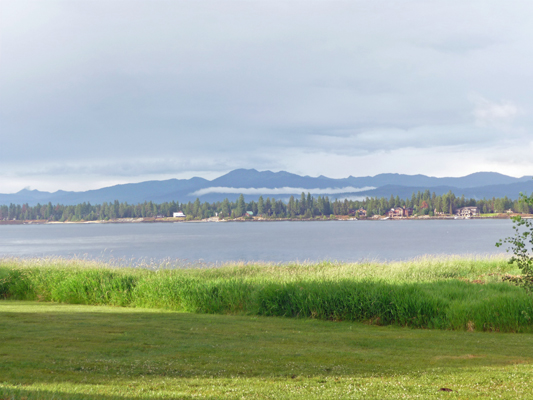 We're getting ready for the big move from Buttercup to Sugarloaf next week. We'll leave Buttercup and head down to Boise on Tuesday to have our shower door and stove vent replaced (repairs we've been waiting for since April and which are under warranty). While they work on the trailer on Wednesday we'll do errands in the big city. Then if all goes well with the repairs, we'll return to Sugarloaf on Wednesday evening. Sugarloaf is a very different campground from Buttercup. It's set up on the bluff with wide views of the lake. There's an automatic sprinkler system that takes care of what little grass that they have over there (the soil isn't great up on the bluff) so no hose hauling! Instead of mosquitos we'll have burrowing ground squirrels to deal with. There is a large popular boat ramp there that has just been redone. While Buttercup is popular with families and folks who want to be right on the lake, Sugarloaf is popular with fishermen who just want a really nice boat ramp and good places to fish. There are 43 campsites versus only 29 at Buttercup and it's hilly so we don't know how well we'll do on our bikes—who knows we may just use going up and down the hills as a way to build up our biking skills—who needs a gym when you have hills to conquer?