After a number of days of really hot weather (just shy of a hundred on Sunday August 2nd) the clouds rolled in and things cooled off. It was only in the high 70's for most of the day on Monday August 3rd. This was a wonderful break and made doing our chores around the campground much easier. I dodged the sprinklers and got all the reservation signs updated and then came back to the trailer to do some housekeeping. Sunday morning we had discovered we had a mouse in the house—she shredded 3 rolls of toilet paper in preparation to making a nest. Walter went to town and got some mouse traps on Sunday and we caught one next to our bed--ugh. I had been hearing scrabbling noises nearby at night so we had taken a bag of snack bars out to the truck the night before. On Monday, Walter went through that and discovered they favored Kind bars—there were two that they'd eaten the bulk of, yuck.
So I spent a while taking everything out from our under-the-bed storage and checking for mouse damage. There was a bit here and there where they nibbled on the edges of some plastic bags but nothing big. We had hoped that we had deported the other mouse (they do always come in pairs) to the truck and either he'd depart and we'd catch him in the trap we set in there. Meanwhile, just to be safe, we had a trap set in the trailer too. We always had traps set at the house in Monroe because there were so many mice there, so this isn't something new except we've managed to be rodent-less in the Airstream up until now. Wednesday evening, I was sitting at the dining table and I heard a rustling noise under the kitchen sink. Ick. Walter took out the trash can but the sound persisted. So he moved the trap from the truck to under the sink and BINGO, we caught the mouse in less than 10 minutes. Hopefully, that's the end of them. Now to figure out how they got in and seal that up.
On another rodent front, the strange rodents they call voles here seem to like the 5 gallon bucket that Walter uses when he picks up trash. Twice now we've had one get stuck in it and then climb up the Easyreacher to get out—with a great rattle and bang. The first time that happened I was walking by and nearly jumped out of my skin. Then on Friday, I heard the rattle again and got to watch a large ground squirrel climb out of the same bucket. Never a dull minute. Now Walter keeps the bucket on the picnic table...
The lake continues to drop steadily. The nice little cove out by the campground entrance had developed a new sand bar and the part behind it had nearly dried up by Sunday evening.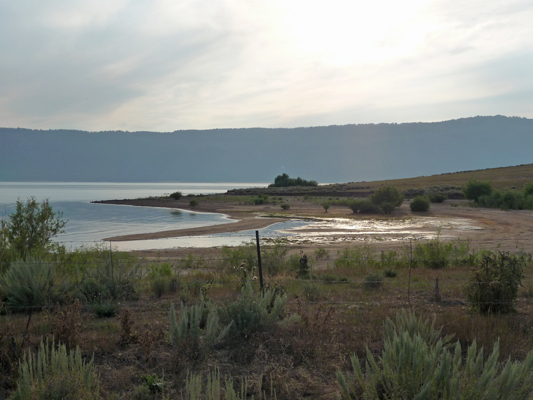 By Thursday the next sand bar out was beginning to show!
The smoke that drifts through from time to time from fires in Washington, Oregon and Canada make for great sunsets. They've ranged from deep magenta pink on Saturday night to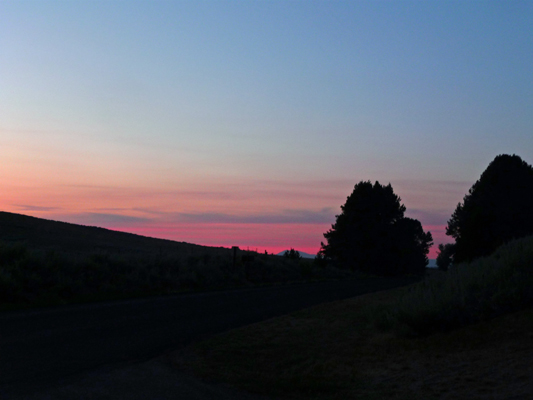 to peach on Monday evening looking southwest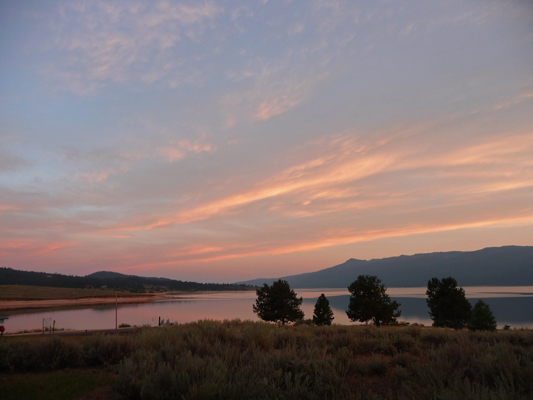 And northwest.

Monday the show just kept getting better too.

And on Thursday night we had smoke coming from the southwest (fires along I-84 in Oregon) which made for red skies to the southwest.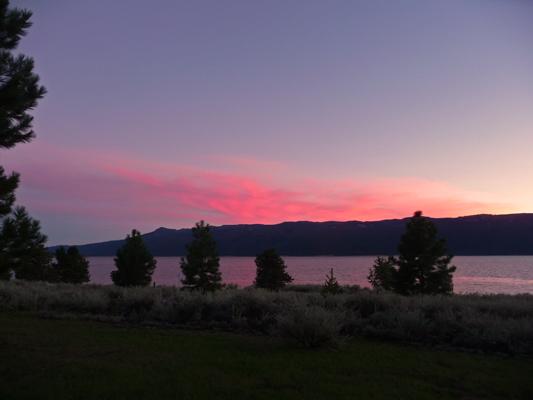 Friday was even better. You can see the smoke pattern to the southwest.

Monday the irrigation system started up and ran and there was only one hitch—the geyser next door which was supposed to have been turned off still came on. The map that shows where the zones are supposed to be is sketchy at best so it's taken 3 tries to turn it off (same as our previous problem). We'd warned all our campers on Sunday night that the irrigation was going to run and that seems to have helped—forewarned is forearmed I guess. In any case, I was pleased not to have a bunch of unhappy people lined up first thing Monday morning.
We set the Rainbird to run down on the sod and discovered when we went to move it that it had been moved by the people who had come to paint new lines in the disabled boat trailer parking! They sat and watched the paint dry and then left. So in the afternoon we could once again water in such a way that we could get ALL the sod wet rather than only part of it. Sigh.
Tuesday morning, we packed our lunch and got ready to make another try at hiking to Louie Lake. It was warmer than the week before but only in the low 70's so we thought it would be okay. We ran the water on the sod and when I went down to move it, discovered that now we had guys building forms for a new cement curb along the edge of the walkway near the disabled boat trailer parking. And funny thing, they didn't want to get wet. So half the area didn't get watered in the morning and none of it got watered mid-day since we went hiking. We called in to let the office know and they asked us to check with the contractor if it would be okay for us to water that evening. The cement guys said it wouldn't hurt it as long as we waited until after 6 pm and so it goes, the sod has survived all this which is good.
Armed with the hiking book this time, we drove back up to the Boulder Lake trailhead and then turned right and headed out to the end of the parking area. And what did we find but a lovely sign for the Louie Lake Trail!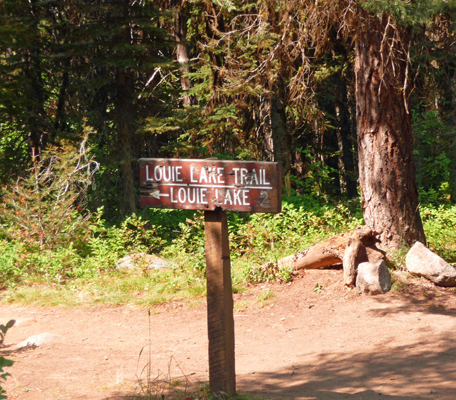 Now that's the way to mark a trail head. There were no cars at this end of the parking area (it turned out they were all crowded down by the Boulder Meadow Reservoir where the Boulder Lake trail actually starts) so we got a parking spot right next to the start of the trail. We decided not to take our lunch with us since it's only 1 1/2 miles to the lake and it was early. But thank goodness I packed a couple of snack bars because it was a very loooooong steep 1 1/2 miles and it took us a long time.
We followed the trail through the woods until it came to a creek with a log crossing (just like the trail description said).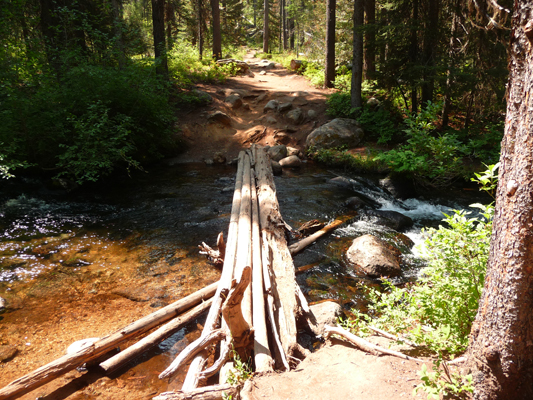 The log on the right is pretty rotten and spongy but it was still okay to walk on and the crossing wasn't too bad. The trail goes steeply up through a huckleberry patch (all gone—eaten no doubt by hikers) gaining 300 feet in 1/2 a mile. Whew. We stopped and rested from time to time because I got hot. Even with 2 full months of living in the heat, I still overheat really easily. The trail joins an old jeep road after 1/2 a mile.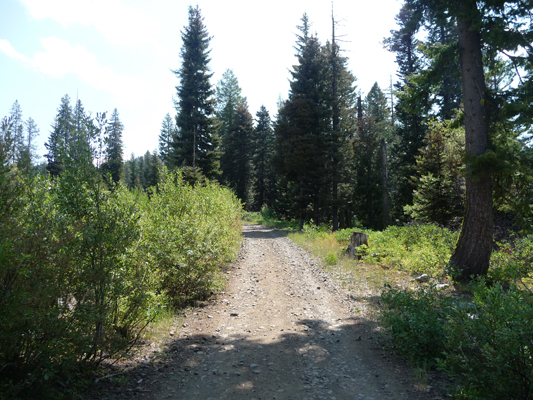 It continues on fairly smoothly for a ways. We came to a sedan parked in a wide spot in the road so clearly you can drive a regular car on this thing (though we met some folks on our way down who had driven in, who said they'd never do it again). But then the road turns upward again and the going gets rocky and we could see why they'd left their car. We saw tire tracks all the way to the lake, so clearly a jeep or an ATV could make it but I wouldn't even take our 4-wheel drive truck on it.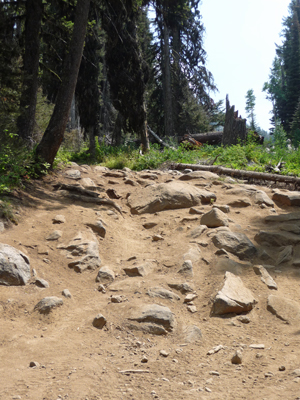 We saw scrape marks on some of the larger boulders so people are bottoming out on them. It was rough going on foot too. Just when we were beginning to wonder if we were going to make it (or bag it and give up) we finally came to the lake.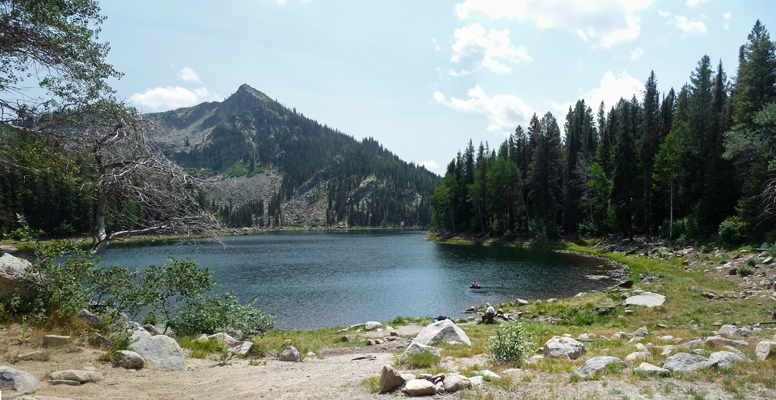 There were two people getting ready to go fishing out on the lake when we arrived. They had packed in all their gear including inflatable floating fishing chairs to use. They had fins to wear to guide the chairs around the lake. We watched them get ready which provided lots of entertainment. Here's the fisherwoman in her little 'boat' backing out into the lake. She has waders on so she isn't sitting directly in the water.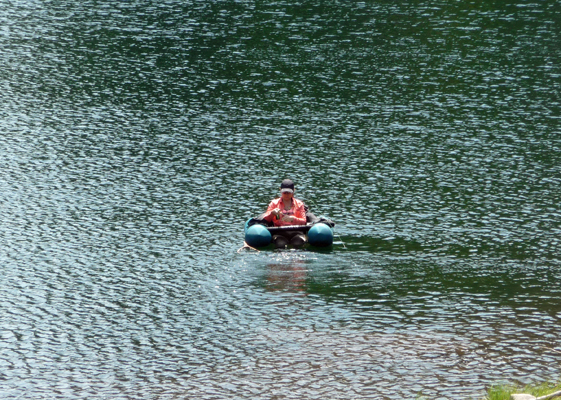 The area is posted as a 2 trout limit—none under 20 inches, no bait, barbless hooks required. So you better be ready for catch and release because that's a BIG trout. We saw lots of fish jumping but nothing that big.
I walked a ways around the west end of the lake to get a different photo angle. That's Jughandle Mountain in the background.

And I got a nice shot of my favorite photo subject resting on a rock.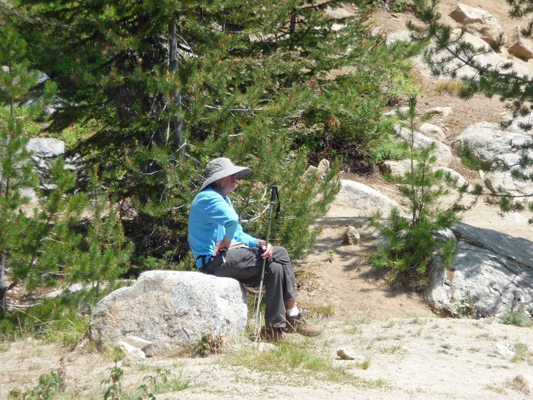 Then I walked up the north edge of the lake a ways. For yet another angle.

By this point there were clouds coming in and the sun was playing peekaboo.
There was a small single-man pontoon boat beached on the shore of the lake. Someone had brought it in (on an ATV or Jeep maybe) and left it there—until the next weekend or for the whole summer????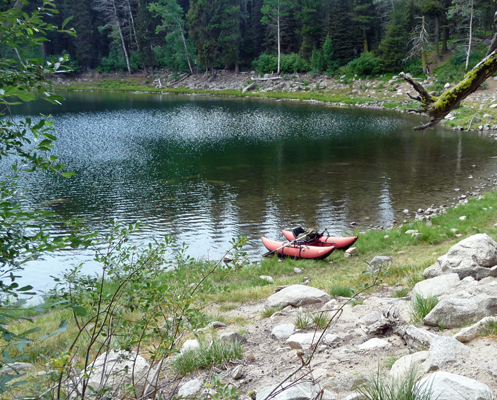 It had taken us nearly 2 hours to do this hike—way slower than usual—so those snack bars I had put in my pack were very welcome. Having had our snack we hiked back down again. It was even challenging hiking down since the soil was loose and dry and it was so steep. We both lost our footing multiple times and were grateful to get down in one piece. We stopped and rested a moment by the creek.
And then I caught this photo of Walter using his hiking stick to help him cross the logs.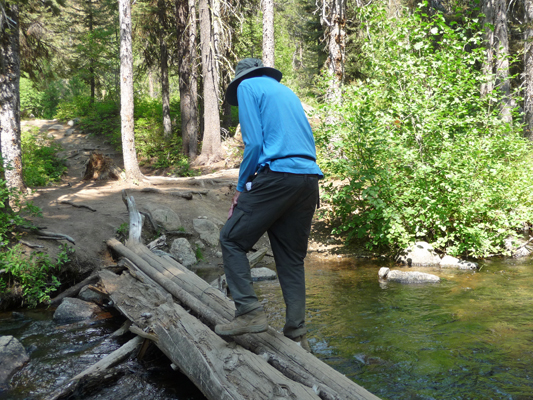 Tuesday night it rained lightly all night and then we had a nice hard shower to start the day. We debated shutting off the irrigation system but decided that it hadn't rained enough to be an issue and we left it on. Then we noticed that one of 'problem sprinklers' had a bucket over it with a brick on top. We thought that maybe it had been spraying one of our nearby campers and they'd done it. But later we discovered that no, a seasonal worker had come by and tried to fix it and being unsuccessful had 'capped it' with the bucket. Hopefully this is a temporary fix since we have someone camping in that site every night for the next week starting on Friday. The sprinkler is a big rotor that instead of only watering a 60 degree wedge of grass does a full 360 rotation blasting the parking area of one campsite, watering the road and then hitting the parking area of the campsite across the road. The ranger says they have a new one on order but who knows when it will come.
After doing our rounds and watering the sod we went off to town to do laundry and grocery shopping. For the first time, the Laundromat in McCall was FULL when we arrived. Every washer and dryer was in use. So I got to do staggered loads as the washers became free. As a result we didn't go anywhere special for lunch because I had clothes getting dry at random times. Ah well. We've pretty much seen all of McCall and Ponderosa State Park at this point anyway.
While we were gone they did an 'walk through' on the boat ramp project and in the process tested the sprinklers down there and of course discovered that some of them needed work—including some leaks. When they were done, they turned off one zone without letting us know. So in the morning when we got up, two of our zones weren't running but one of them was—something we'd been told wasn't possible. We radioed in and were told to just turn all of them off. So this week we managed to have the irrigation run 3 times out of 4—not bad and in fact that's all it really needs according to the ranger in charge.
Thursday afternoon, Walter got to go have his teeth cleaned at the dentist in Cascade. This is a first for us. Up until now, we've always managed to get back to Seattle to have our doctor and dentist appointments. But Walter is supposed to have his teeth cleaned every 3 to 4 months so he did the not so fun thing of going to a dentist he doesn't know. The only hang up is that they charged him for a full new patient exam and did x rays even when he didn't need them. Ah well, it still wasn't that much money. And now we've at least gotten over the hump of going to an unknown dentist.
Thursday night we were over 1/2 full—unusual for a Thursday but a nice blessing because that makes Friday easier—and we had a number of people come looking for spots for the weekend who we had to turn away. Just another sign of another busy weekend at Lake Cascade.
Friday morning we were just starting to wake up when there was a knock on the door. A fellow had just stopped by to let us know he'd registered (and paid for) a spot that had no reservation posted on it. While the sign said it was available, I already knew that it had gotten snapped up the previous afternoon on-line, I just didn't have a name to put on the sign (and we don't usually have folks shopping for sites that early in the morning). So we called in to find out if our one remaining opening for the night was still available. But it too had been taken. So we had to have a ranger come out and get his money out of the pay tube for him. He went out fishing and then came and got it from us when he got back. I swear there are an incredible number of ways that people can get snagged by this system—no matter how hard we try to keep it from happening.
After a full week of watering the sod three times a day, we finally switched to twice a day on Friday. It still looks great so I guess we're doing something right on that front. I pulled up a corner and there are nice little white roots poking out of the bottom which is a good sign. The real test came on Monday and Tuesday when we headed back to Boise for yet another try at getting our range vent replaced. Then it only got watered once a day and while it was in the 90's it did just fine.
Friday night all of our sites were reserved. It's hard on the folks who want to just come up without reservations but it's easier on us because we put up the full sign and don't have to juggle walk ins. By nine we still had 6 campsites that hadn't arrived yet but they all finally arrived even the folks who were only one-nighters. It turns out there was an overturned trailer on Hwy 55 so everyone who was on the highway after it was LATE.
Saturday morning we got our reservation list and discovered we had 3 openings for Saturday night. Before we were done with breakfast one of them was gone and a second got snapped up by the time we were done with our rounds. The third site went later in the day. Our reservations listing showed us full already for next Friday and Saturday night so the full weekend pattern continues. We have another bass tournament and there's a music festival over at Tamarack on the other side of the lake the weekend of the 14th and 15th so the whole park will be full.
The kids down in the Boise area start to go back to school on August 17th (isn't that awful?) and the bulk of them start school on August 24th so the weekend of the 22nd and 23rd may not be as full—we can hope can't we?
Overall it was an easy weekend. No great amounts of noise or generators after quiet hours; no dogs off leash; only one unhappy camper and there was nothing we could do to fix the problem since it was from the night before—in that case you listen and nod and say you're sorry and that you'll keep an eye on things so it doesn't happen again.
On Saturday afternoon one of our campers came by and handed me an armload of bi-color corn. I told him we'd never be able to eat it all and he said it didn't matter, he had a whole bag full and they were just going to throw what they didn't eat out. So I took it and put in the frig.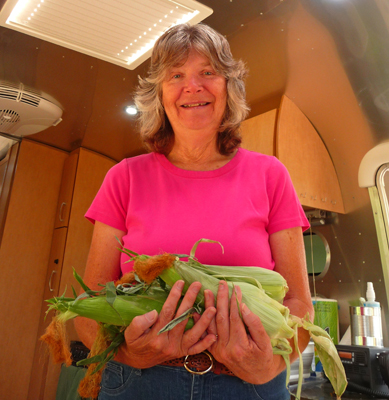 It was great corn. We had it with dinner on Saturday night and then I cut it off of two ears to have raw in a salad on Monday—yum. We've got plans for the last 2 ears and can hope it will still taste great when we get to it.
Sunday we took the kayaks out in the afternoon when the wind was blowing at about 3 mph. It was fine out in the inlet to the back bay but as we headed out past the boat ramp it got rough. There was surf in the shallows and a cross wind that made paddling a challenge. After about a half an hour we gave up and came back in. It's way more fun to go paddling when the water's like glass.
Late afternoon I noticed an ambulance driving out of the campground with it's lights flashing (I hadn't seen it come in) and we thought it strange but since we had nearly no one here we thought they might just be on a training run. In the early evening, I drove through the campground on my way back from turning on the water and discovered someone had pitched a tent in our one and only closed site (it's our administrative site that they use when there are problems with reservations). There wasn't a car parked there and things looked like they'd been left in mid-action. I talked to some folks further up the hill and they said that the ambulance had taken someone away from that site and that then the car had followed not long later. Wonderful. So we called it in but there was nothing for the ranger to do because there was no one there to talk to.
Monday we did our chores around the campground (we watered the sod, Walter finished up picking up all the trash folks had left in their sites and fire pits and I changed all the reservations sign) and got ready to head down to Boise one more time to try to get the range hood fixed. Just as we were getting ready to leave I noticed that one of the sprinkler zones had been running for WAY too long (a couple of hours at least). So we figured out which zone it SHOULD be and I turned off valves until presto it turned off. While I was doing that, Walter drove the trailer around and discovered that there was now a car at the site with the abandoned tent. He stopped and talked to the lady and discovered that her husband had been Med-evaced to Boise the night before. She said that it turned out not to be as serious as they thought, so he was going to come back on the bus on Tuesday and drive back with her! Walter told her to call the office about staying another night (since she was in a site where she shouldn't have been). As we motored out, I called the office to let them know about both the sprinkler and to update them on the camper situation. We really don't know what happened after that. The tent was gone when we got back on Tuesday afternoon and that's all she wrote.
We stopped for lunch half way down and got a spot next to the river where there were tons of kayaks and rafts going by.
Including this group that did a full 360 in front of us.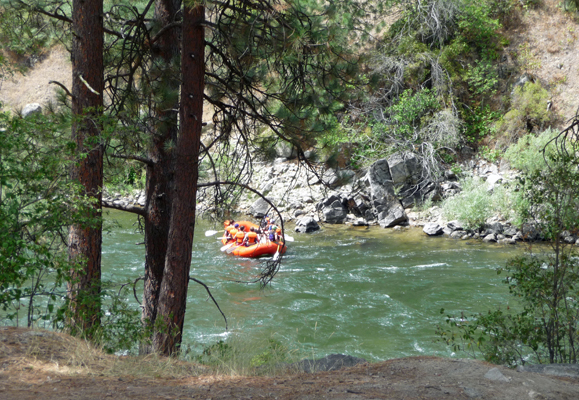 We spent the night in Boise at the Ambassador RV Resort again and it was HOT so we ran the air conditioning. The next morning we took the trailer in to get a new range hood. While that was happening we did our errands (Whole Foods, Trader Joes, Fred Meyer) and were back to pick up the rig by noon. We headed on back towards Lake Cascade and stopped to switch drivers after about an hour. While we were having our bathroom break, Walter turned on the range hood. And it sounded like a Harley Davidson motorcycle! We were parked on an incline so we hoped that was the cause of the problem and went on.
When we got to our campsite at Sugarloaf, the problem actually sounded worse. The thing doesn't even put out enough air to open the flaps that cover the outside vent. I stomped around and fumed for a while wondering how in the world they could have not checked the thing! When I'd cooled off, I called them and they assured me that it had sounded fine when they checked it. I put the phone under the vent for them to hear and they groaned. They have no idea WHY driving on normal highway would cause the thing to fail. We're still waiting to hear what Airstream wants them to do next. Isn't this fun?
We've got hot weather the next couple of days (in the 90's) but then it's supposed to cool back down into the 80's. The days are getting shorter and it's nearly dark at 9:30 these days so it's not so hard to convince folks that it's time to quiet down at 10:00. The irrigation seems to be working down at the boat launch (except for the zones that are turned off because of problems but they don't matter to us) so we hope to get things set up so that we can water the sod without having to go down to the boat ramp so often. Of course any day now, the lake will have dropped to the point where the pump can't get any water out and we won't have any irrigation at all. We've got maybe a week to go on that.
Life continues to be interesting here on the lake. We have less than three weeks to go until we head back to eastern Oregon for our next assignment. How time does fly.