On Wednesday January 28th, we set out to drive the Puerto Blanco Loop at Organ Pipe Cactus National Monument. All but a small portion of this loop was closed to the public in 2013 when we were here last. So we were excited to drive it even though it not was a very real well maintained dirt road.
The skies were clear except for a few wispy clouds as we passed Pinkley Peak. The mountains in this area are all old volcanoes which gives them that nice pointy conical shape.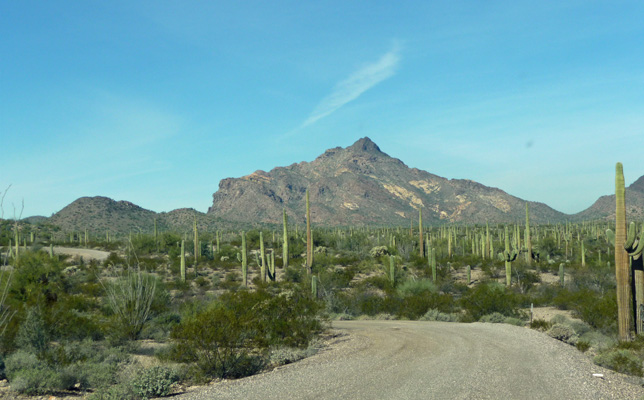 Looking east from North Puerto Blanco Drive the view was gorgeous.

And clearly the rain had done its job because lots of the ocotillos in this area had just started to bloom. It only takes about 48 hours after a rain for them to start to burst into leaf or bloom. We didn't see a lot of them in bloom in other parts of the park so clearly this section had gotten a bit more rain on Monday.
We spied this Grey Falcon (or maybe just an American Kestrel) sitting on a blooming ocotillo branch.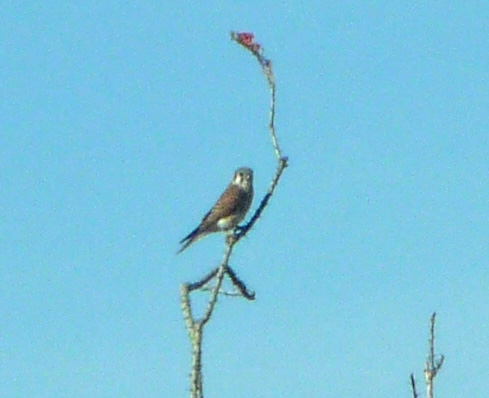 And wonders of wonders there were Mexican poppies in bloom in one of the washes.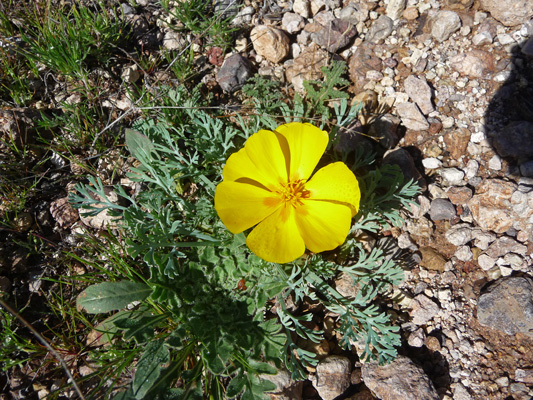 Mexican poppies are a smaller yellow version of the California poppy. One whole wash was peppered with them. And we saw some really small ones later on here and there too.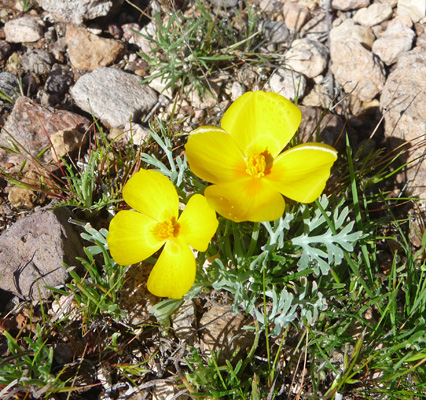 The mountains to the northwest are pretty craggy.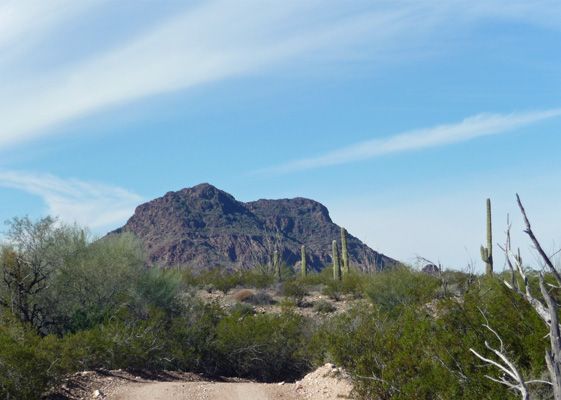 After a while we passed emergency blue light #24—a close cousin to #12 which we'd seen the day before.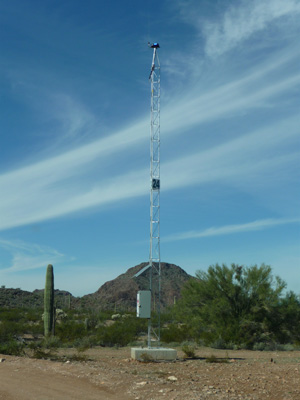 Here's a shot of one of some nifty crags with a bunch of organ pipes on its slopes.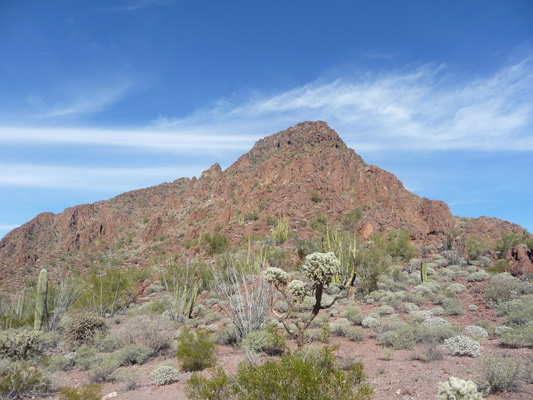 I took this panorama shot looking north just before the road turned southward. Organ pipes, saguaro, palo verdes and cholla. This part of the Sonoran Desert is considered one of the lushest part of on of the lushest deserts.

Then we came to emergency blue light number #13.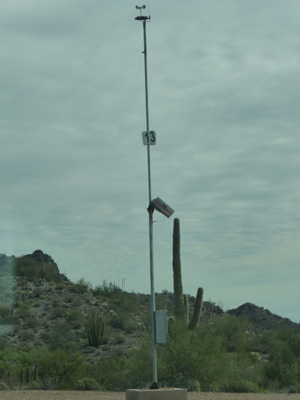 We took a pass on the very steep hike to Dripping Springs and the Dripping Springs Mine in hopes of taking a look at the Golden Bell Mine which was marked on our map. We missed the sign (if there was one) and ended up instead at the Bonita Well.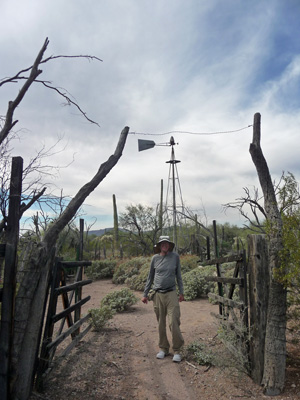 The old wind mill is still there along with a corral and water trough.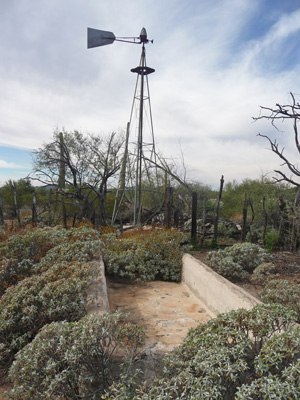 This huge old multi-armed saguaro caught my eye. Lots of the cactus we saw had little nobs of new arms. I don't know what stimulates their growth but whatever it is, they've been experiencing it big time.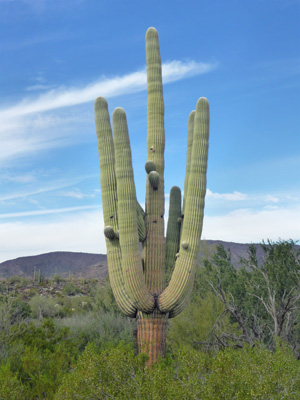 There were lots of large organ pipes in this area too.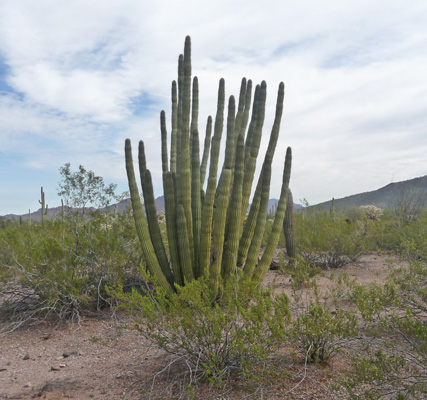 And big Jumping Cholla with no fruit.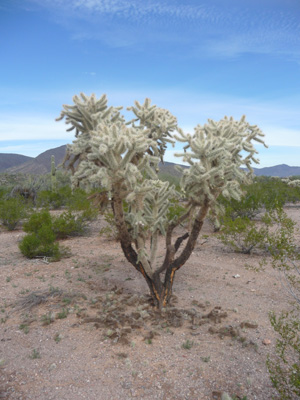 We drove further south and came to emergency blue light #2.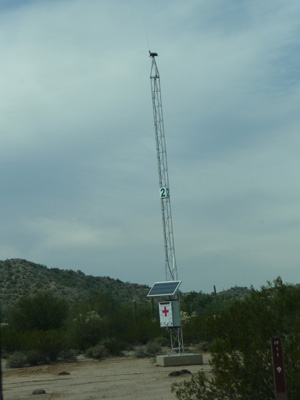 We passed a big tower with lots of cameras on it too. In fact the cameras followed us as we slowly drove by so I decided maybe I shouldn't take a photo of it. This observation towers are run remotely from Border Patrol trucks out in the desert. I don't know how effective they are but we weren't interested in riling them up.
There were Buckhorn Cholla growing through here too. Can you tell that I just bought a new cactus identification book to help pass the time?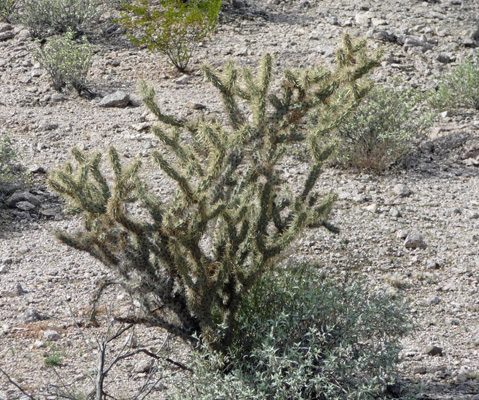 The road wanders further south until you hit South Puerto Blanco Road and the Mexico-US border. The concrete overpass is part of Mexican Highway 2, a nice modern freeway that runs east and west along the border. The rusty posts with the two strands of wire are part of the 30 mile long 'vehicle barrier' that runs through here on the US side.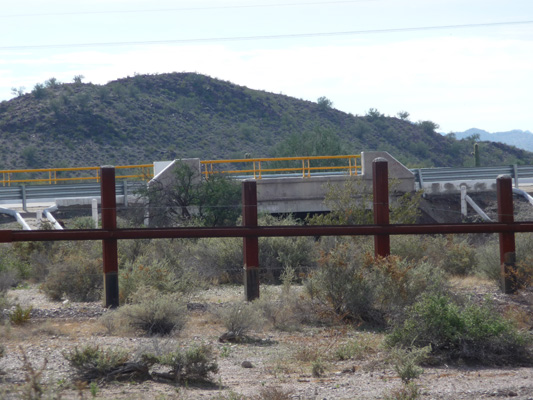 We saw a couple of border patrol guys on ATV's roaring along through here and then later had a border patrol SUV that we'd seen parked along the way roar up past us with his lights flashing. We didn't see anything that looked suspicious though.
I thought it was pretty ironic to be bumping long on a dirt road in the US with big semi's and passenger cars roaring along on the freeway just across the border.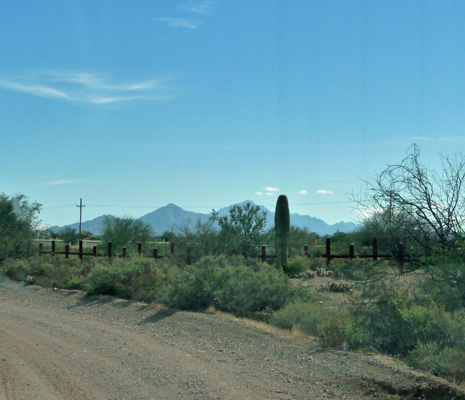 As we drove along we spied some Senita cactus. The park is the only place in the US where they grow.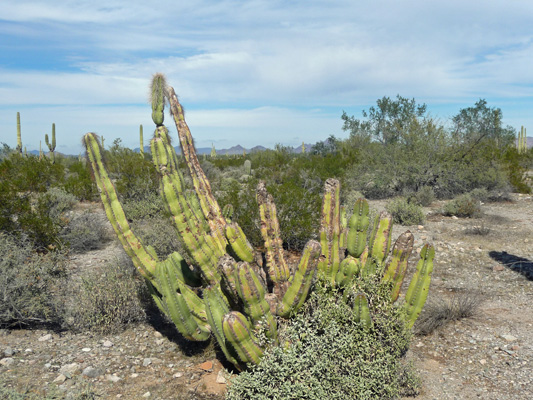 They get their name from the grey hairs that grow on the tops of their upper arms.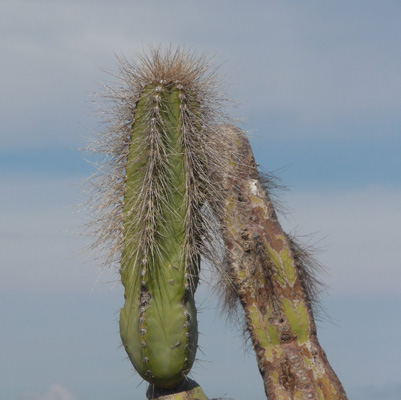 We had intended to drive up to Senita Basin where more of these guys grow but we missed the turn. By the time we figured that out, we were pretty tired from bumping along for 35 miles (the whole loop is 37.4 miles of dirt road) so we bagged it. Just as the road turns north again to complete the loop you can see the vehicle barrier as it morphs into the very tall pedestrian fence that runs for 5.2 miles on both sides of the port of entry at Lukeville (US side) and Sonoyta (Mexico side).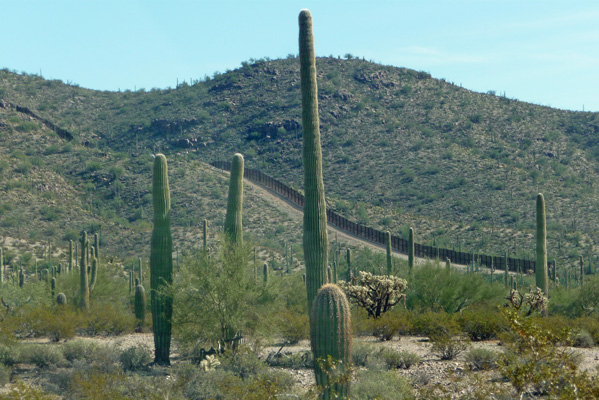 I stopped to shoot one more photo of this big senita before the road finally hit Highway 85 and pavement!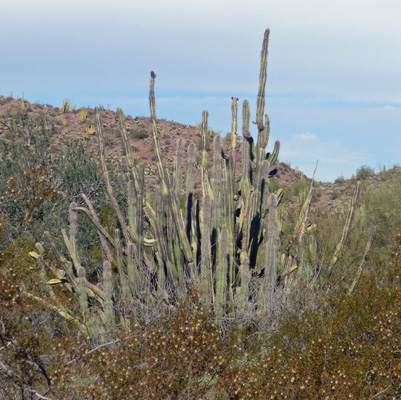 The clouds thickened as the afternoon went on and it was full on cloudy by the time sunset rolled around. A pretty strong wind had kicked up too. I had to pull our awning in because it was making too much racket whipping in the wind.
It was cloudy on Wednesday but not raining so we set out to do the Ajo Mountain drive and part of the hike through Estes Canyon. Along the way we saw an American Kestrel sitting on an ocotillo.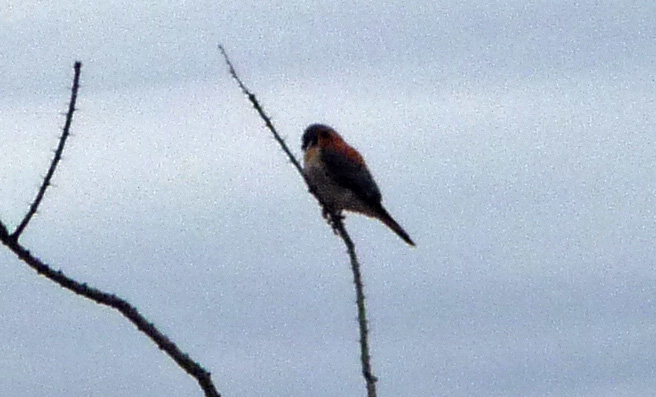 The Ajo Mountain Drive takes you through some gorgeous country.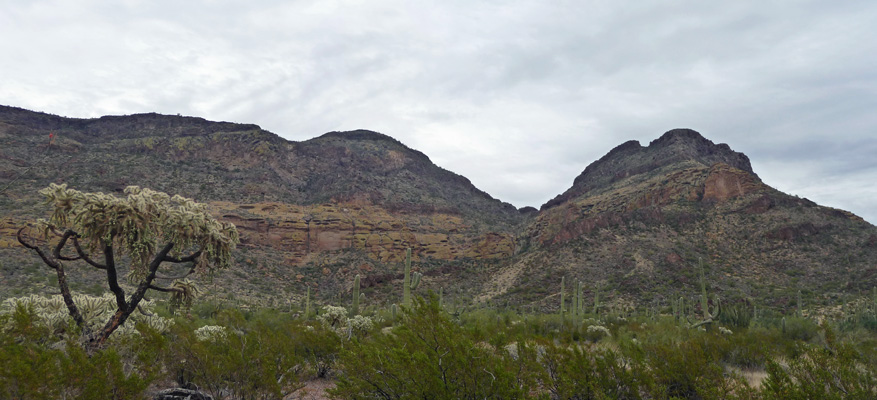 Last time we were here
we bought the driving guide that explains desert adaptions as you drive along. This time we just enjoyed the views. At the northwest corner of the loop you come to Arch Canyon and a great view of a nifty double arch.

Here's a close up of the arch and the itty bitty second arch on top of it.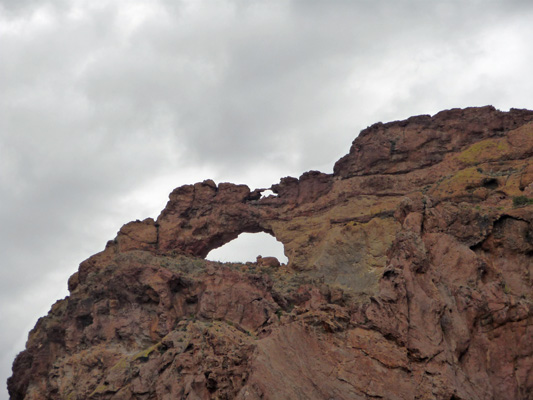 There was a very nice clump of Englemann Prickley Pear in the parking lot here. We didn't see many prickley pears in the park.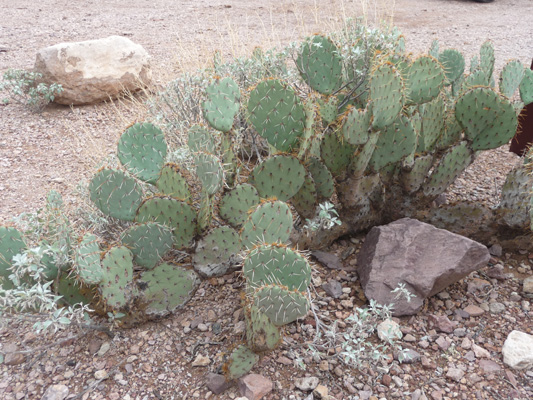 And a Gila Woodpecker in a nearby organ pipe.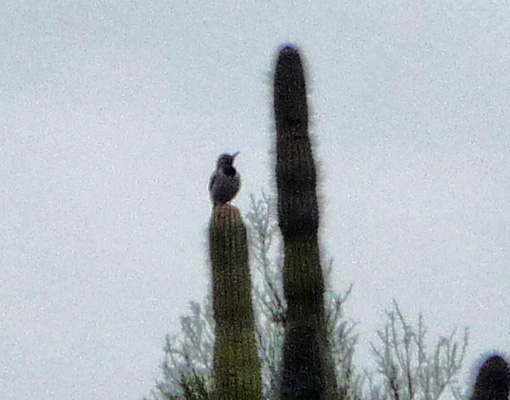 We drove on and parked at the Estes Canyon-Bull Pasture trailhead parking lot. While I'd love to be able to do the full loop hike to Bull Pasture it's a really rocky steep hike and we both decided we weren't up for 3 miles and 1000 ft gain that day. So instead we hiked out along the Estes Canyon trail to enjoy the canyon.
As it was, it was very rocky with lots of small washes to cross. There wasn't a lot of elevation gain so it wasn't hard work but it wasn't easy going either. The canyon is gorgeous—even on a cloudy day. There was a wonderful mix of cactus and tons of birds singing their hearts out. We had a light mist off and on and the birds seemed to like that.
There were huge clumps of Englemann Hedgehog Cactus.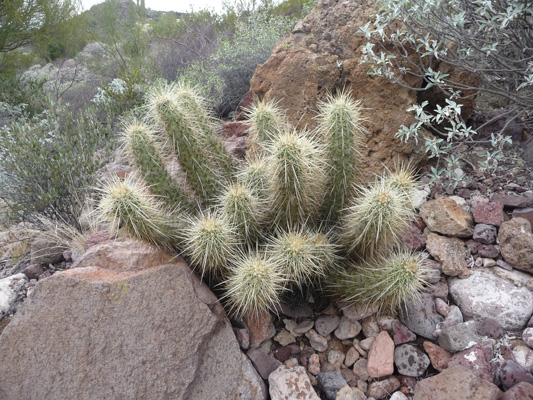 And this enormous Organ Pipe Cactus. Not all of them have these interesting rings on them. It turns out they are created in years there's a hard frost. It affects the growing tips and makes the fun indentations on their arms.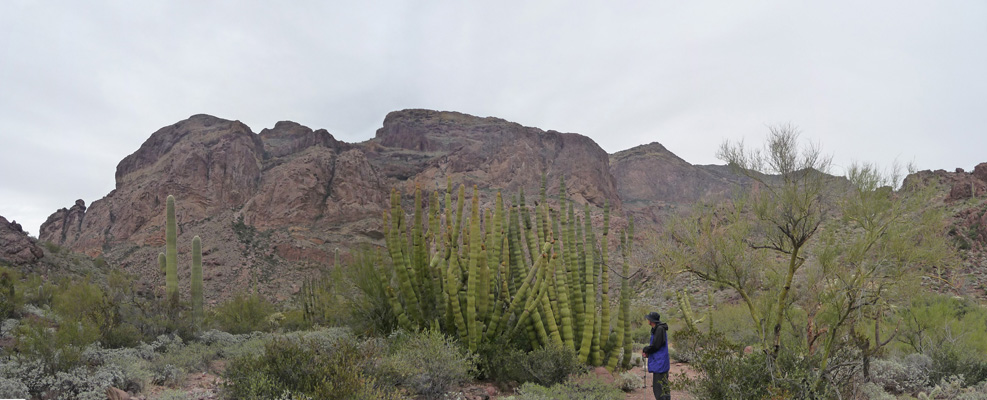 This baby is still putting out new pipes. You could see the nodes down at the base.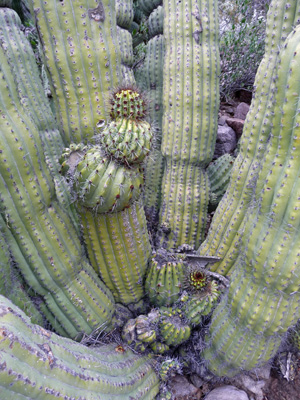 The trail turns a corner and a new section of the canyon opens up.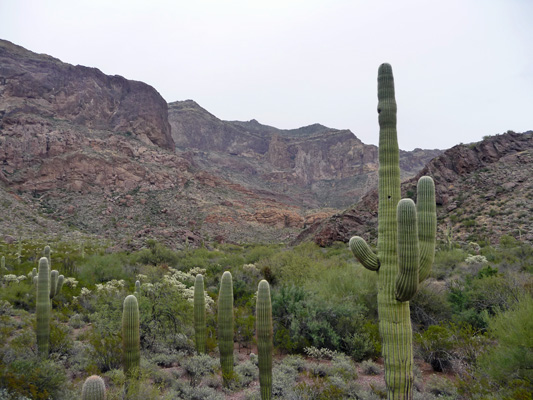 We kept on hiking and it just got prettier.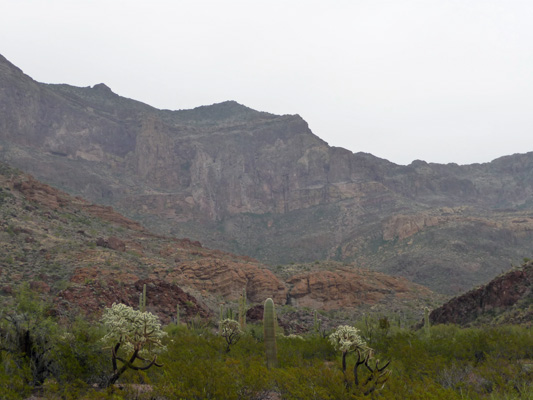 Just before we stopped to turn around and go back I took this panorama shot.

The trail continues across the canyon and then a series of switchbacks take you up the face of that strange rock that's pointing left at it's top. Once up top you continue UP for another 1/2 a mile to a natural bowl where ranchers used to keep their bulls in the summer—called Bull Pasture.
Instead of doing all that, we found a nice big rock and sat down to enjoy the scenery and listen to the birds.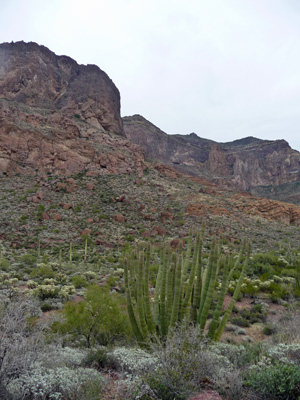 Agaves showed up in only the last 1/8 mile or so of the hike. They were the only ones I saw anywhere in the park. This one was about 4 feet across.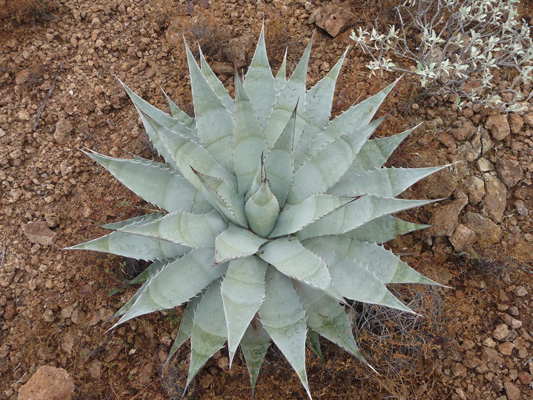 It had sprinkled lightly while we were doing the hike and it began to rain some by the time we got back to the truck. I was glad we hadn't decided to do the whole hike. We would have gotten pretty wet. We drove on to complete the loop (the road is one-way for most of the way) and not far from the end I spied this lovely purple Buckhorn Chollo.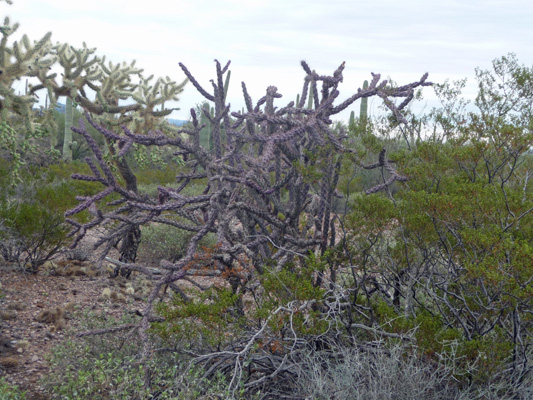 We found a turn out with a nice view to have lunch and then stopped by the Visitor's Center to let them know that we'd seen poppies in bloom the day before. The ranger was very excited and said she'd put it up on the boards so folks would know. Flowers this early are a very welcome sight.
It began to rain in earnest by 4 pm that day and continued until about 2 or 3 am. Another front came in later in the morning. We were lucky enough to have it only be misting when we broke camp. But it rained pretty heavily off and on the rest of the day as we drove northeast towards Tucson. We had hoped to camp at an RV park in Tucson for a couple of days of WiFi and power. But we hadn't realized that the Tucson Gem and Mineral Show (the granddaddy of them all for the west) was due to start the next day. There wasn't a spot in an RV park in all of Tucson. And they said all the motel rooms were booked too. So we punted (time for more flexibilty school). We headed south and pulled off at the Desert Diamond Casino for lunch and some research. We found the De Anza RV Resort in Amada just south of Green Valley had a spot for 2 nights. So we took it. We'd have liked to spend another night but the big art show and festival in Tubac was opening and they were booked solid for the occasion.
We'd planned on going next to the Buenos Aires National Wildlife Refuge for a few days. But when we called them on Saturday morning (after heavy rains all day on Friday) they said the roads were really slippery and muddy and they didn't suggest we come out. So once again we punted. Instead we headed to Patagonia Lake State Park for a couple of days of bird watching and sunshine.