We arrived at Quail Ridge RV Park in Huachuca City, Arizona on Thursday February 5th for a 5 day stay. This is a nice basic RV Park with full hook ups, decent showers (with warm to almost hot water) laundry and a club house all for just $10 a night with Good Sam or Passport American memberships. There's no cable tv or WiFi but hey at $10 a night who's to complain. It's also centrally located for visits to places like Tombstone, Bisbee, Fort Huachuca and a number of wildlife refuges known for their birds.
On Friday February 6th we drove 20 miles east on Hwy 82 to Tombstone, "the town to tough to die."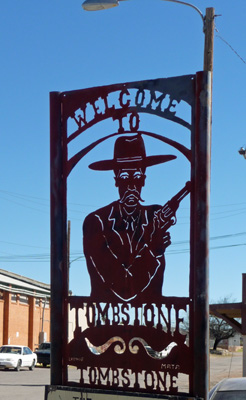 The entire 'downtown' is not only a historical district but is also a cross between a tourist trap and a living history museum. It reminded both of us of Knott's Berry Farm back in the early 1960's before they put in the rides—but with saloons instead of fried chicken.
We parked on the southwest end of town (in a big free lot) and set out to see Tombstone on foot. Several blocks of downtown are cordoned off as a pedestrian mall. And all the buildings look like they came from a movie set.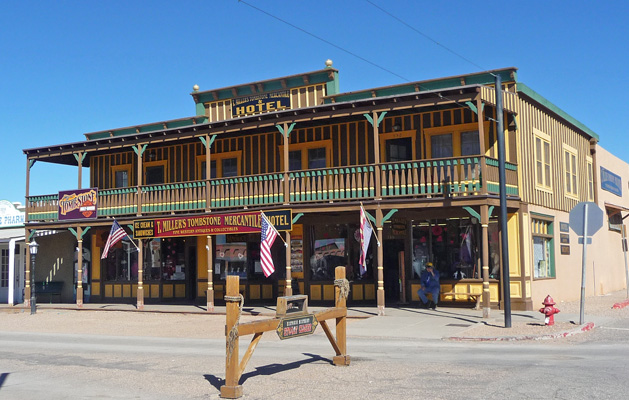 Across the street from the Mercantile is the Birdcage Theater.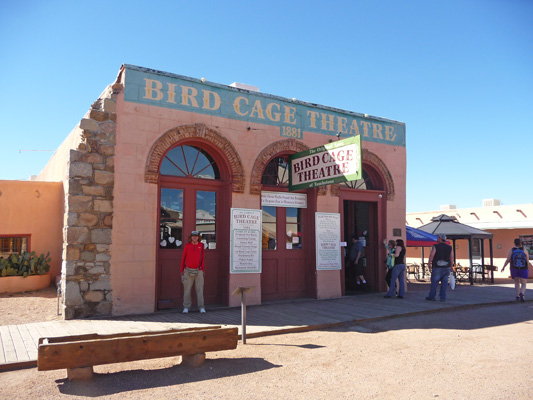 You can pay to have a tour or you can just stick you head into the front room and hear the lady dressed in period clothes giving a talk about the bar which is to the left. It went round the horn by the way.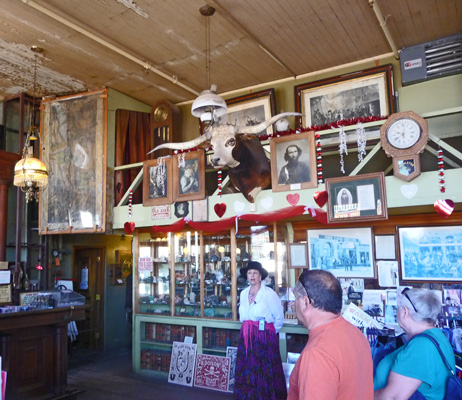 You can pay to take a ride/tour on the Butterfield Stage—either the open air version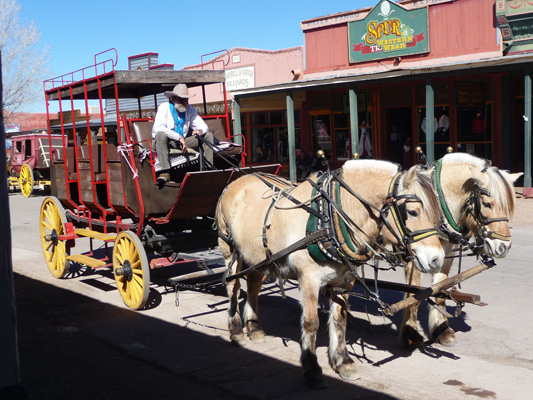 Or the classic closed stagecoach version.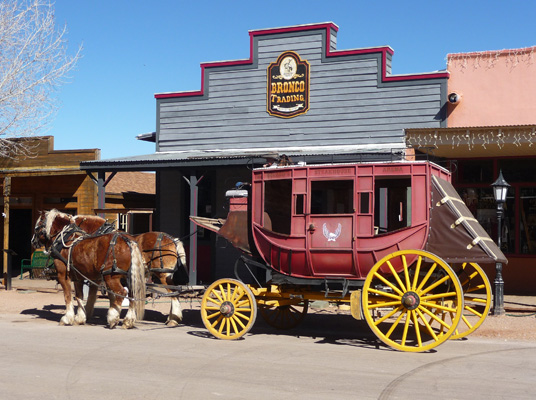 All up and down the street (and hanging out in the middle of the street) there are cowboys, gunslingers and sheriffs.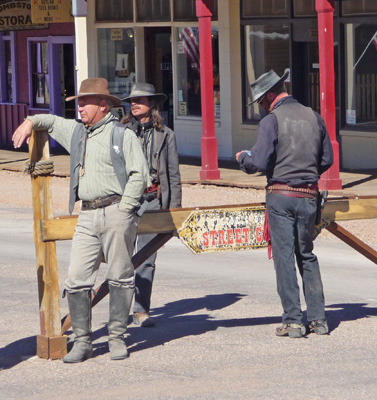 They have spurs that jingle and more than one of them was smoking an awful smelling little cigarillo.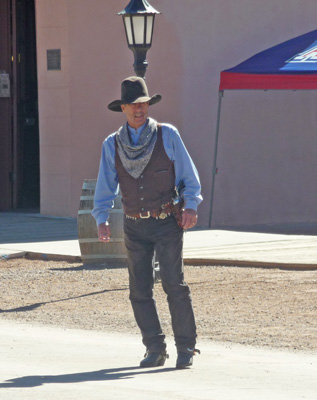 The stores sell everything from fudge and tourist trinkets to western art and quilts. There are cafes and saloons aplenty too. We walked the main street and then turned west to go past the Tombstone Consolidated Mines Company where you can take a mine tour. Walter had read about it and decided against it since it required crawling through narrow tunnels and up ladders—perfect for kids.
Tombstone was a mining town and also the home of the famous shootout at the OK Corral. Needless to say, you can pay to see a re-enactment of said gunfight. But there are several other places in town who offer competing gunfights too. There are also ghost tours—one at the undertaker's parlor of course plus several others. Any town where there were as many murders and shoot outs as there were here clearly has ghosts aplenty.
Some of the old original buildings have tin facades that look like brick or stone but when you touch them you discover they're metal. The Oriental Saloon has a tin façade with cool decorations across the top.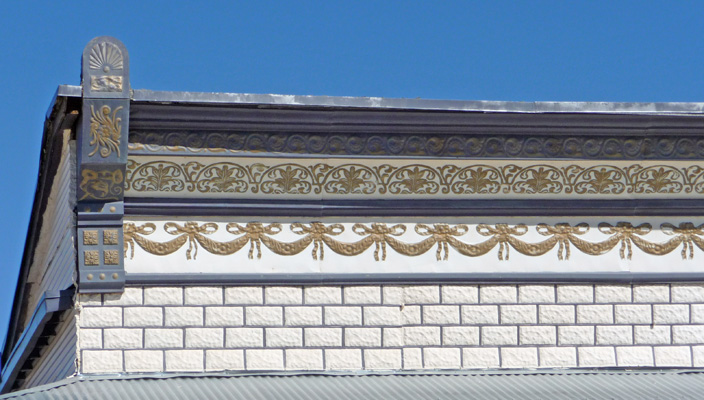 There was a fully restored 1919 Nash parked on one of the side streets. The trunk was a lovely wooden one on the front passenger-side running board.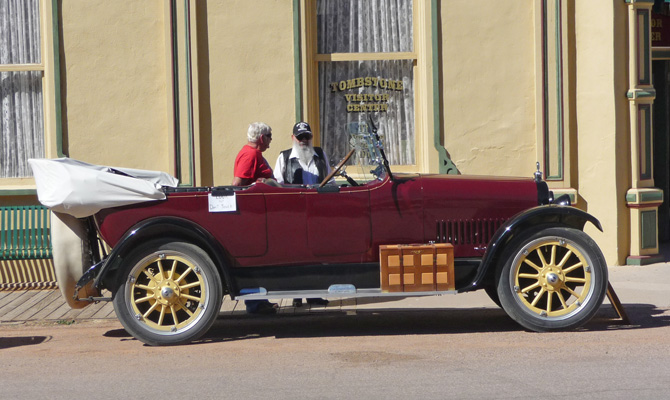 But best of all were the Earp brothers (Virgil, Morgan and Wyatt) and Doc Holliday posing out in the street before the noon re-enactment of the shootout at the OK Coral. Don't you just love the red ties and vest?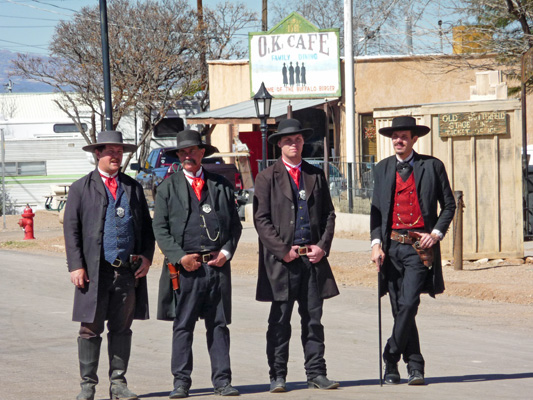 There are wonderful saloons and cafes here full of all sorts of kitsch.
I'm sure there are people who take this place seriously but I'm afraid I couldn't. I was thankful for all the folks in costume that made it so much fun and for the stage coaches and the horses that made it feel a bit more real. But plane and simple it's a lovely western tourist trap.
We spent about an hour and half here and then made a quick trip up to Boot Hill where you can visit the graves of all sorts of folks from Lester Moore (with no date) with the standard wood headstone with writing they clearly must refresh regularly.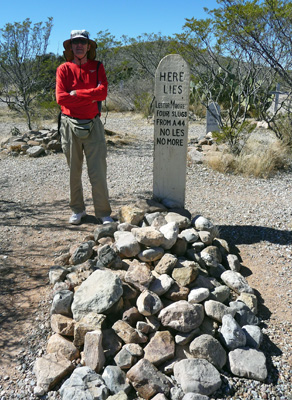 To John Swain who has an unusual granite headstone. The Buffalo Soldiers were stationed at Fort Huachuca so maybe this fellow was connected to them in some way.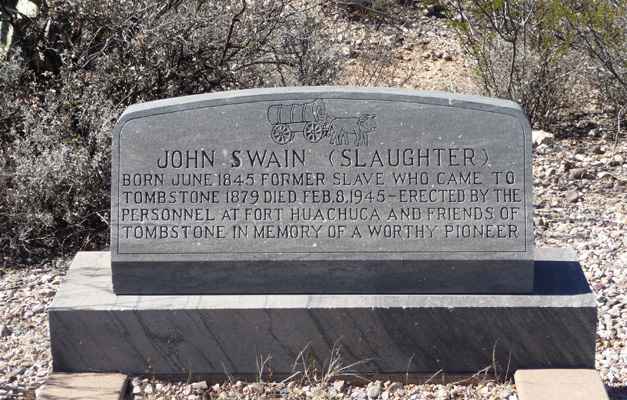 Clearly 1882 was a really bad year. The bulk of the graves are from that year and most folks died violent deaths.
Having paid our respects to the dead we decided to drive another 25 miles southeast to Whitewater Draw State Wildlife Area. You have to bump along for about 2 1/2 miles on a gravel road to get there but it was well worth it. There were literally thousands of sandhill cranes here around a lovely pond. There are about 30,000 sandhill cranes who winter in Arizona and they say that 90% of them are at Whitewater Draw.
We could hear the cranes when we drove up and parked but we were hungry so we found a picnic table first so we could have lunch. Not far away was a swarm of bees sitting in the sun on the edge of a plastic chair.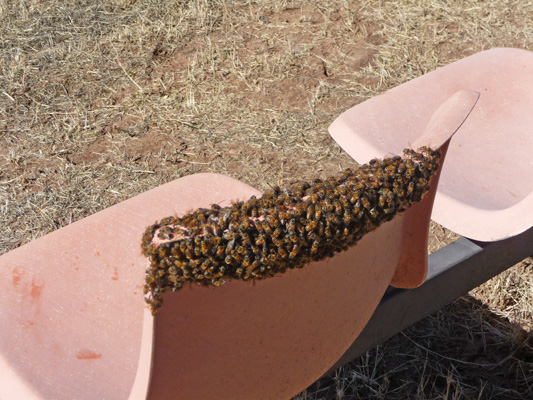 And up in the eaves of the open barn-like structure where we ate, there was a sleeping Great Horned Owl.
He's roosted here for an number of years because we've read several people's blogs who report seeing him. Someone said that sometimes there are two of them so it may be Mr. and Mrs. Owl. In any case I think he or she is pretty swell. After lunch Walter went to take a look and s/he'd opened his eyes!
Once we were done with lunch we took off on a hike around the large lake/pond to have a look at the birds. There were three sandhill cranes close to the trail strutting and posing.
And then we came out into the open area and got our first view of cranes for as far as we could see along the water's edge.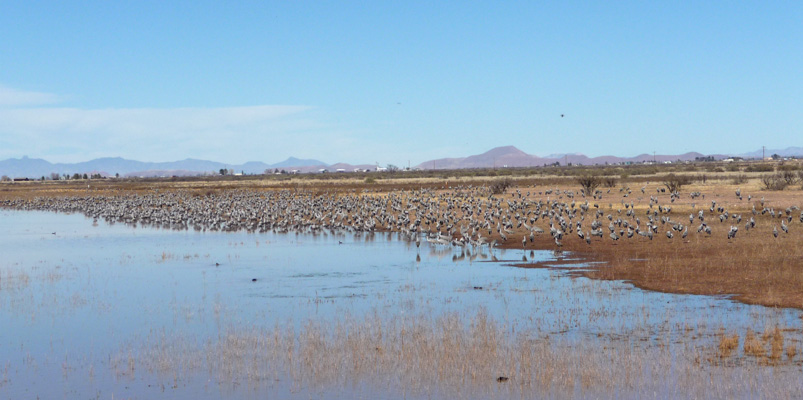 Someone said that when the lake has a bit less water in it that more of the cranes stand in it. The amazing thing is how densely packed they are.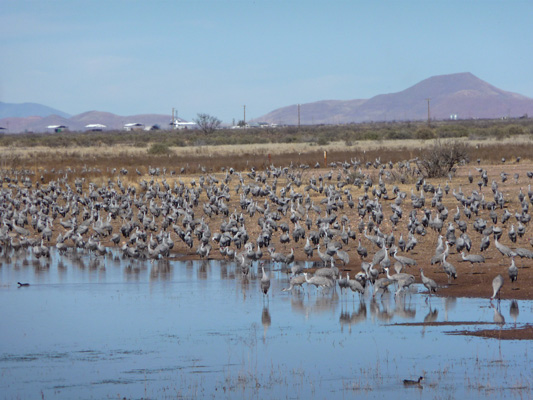 I took this shot so you could see the Pedregosa Mountains to the east along with the cranes down in the grasslands.
Every once in a while a few of them would take off and fly. They fly with their necks extended and they feet out behind them.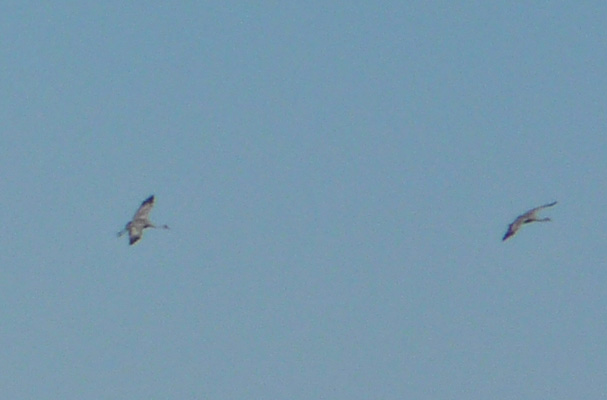 We stopped and watched them for a while and then moved on to the other side of the lake. Where there were more cranes.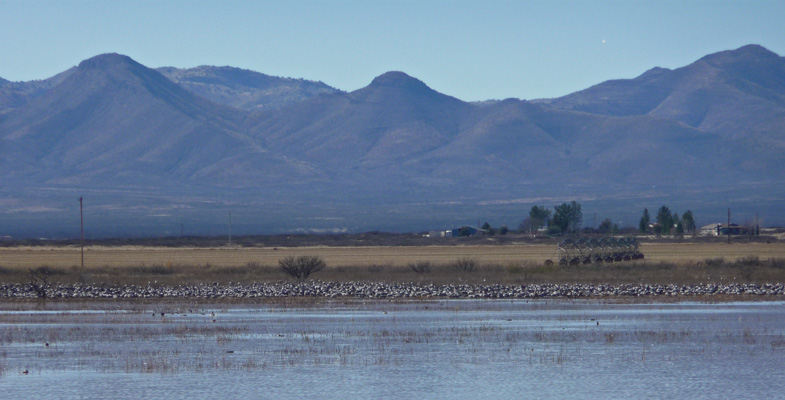 The cranes like corn and one of the things (besides the water) that attracts them here is the agricultural land in the area. The next day we talked to some folks who had visited here in the early morning and there were NO CRANES along the lake at all. They were out feeding. We were here at about 1 pm and there were thousands of them.
The wildlife area isn't entirely about cranes though. We saw a lot of ducks including this Northern Shoveler.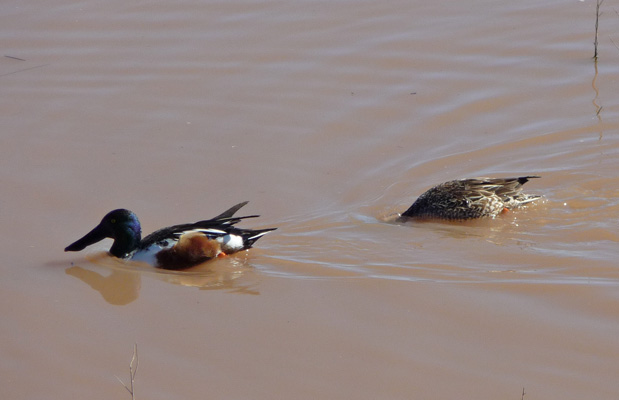 And a pair of Great Blue Herons that were calling to each other. They were several 100 yards apart and very quiet. Then this guy took off and flew out further into the lake and began to call (squawk-creak) and the other one answered.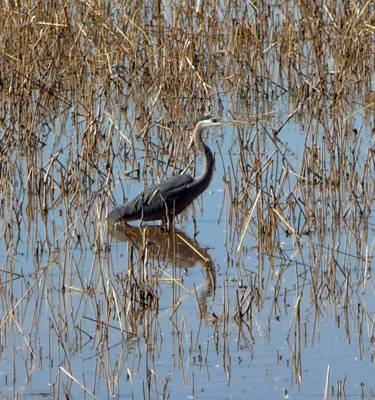 Meanwhile, we think that the white birds that are floating in the water in front of the cranes are snow geese, especially since some folks we talked to said they saw them fly in and they had black wing tips.

The Great Blue Heron continued to strut and pose for me once he'd stopped squawking at the other heron.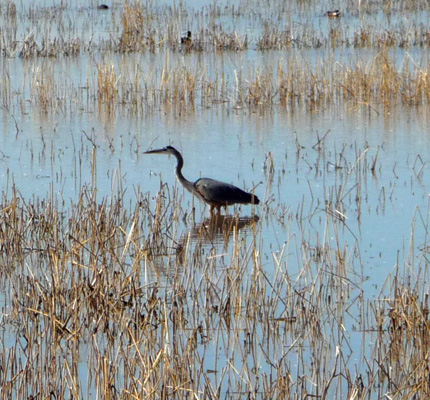 This is a great place. It was a perfect counterbalance to Tombstone for us. You can camp here for free too. There are a number of nice spots complete with picnic tables and a vault toilet. The camping area was about 2/3 full when we arrived at 1 pm and nearly full when we left several hours later. If you want to see the cranes 'launch' in the morning, it's a good idea to camp here overnight. But you have to realize that everyone who comes for the day will drive through the camping area to get to the day use parking area so it's not a peaceful place to camp at least during the day.
But it is pretty and there are LOTS of birds.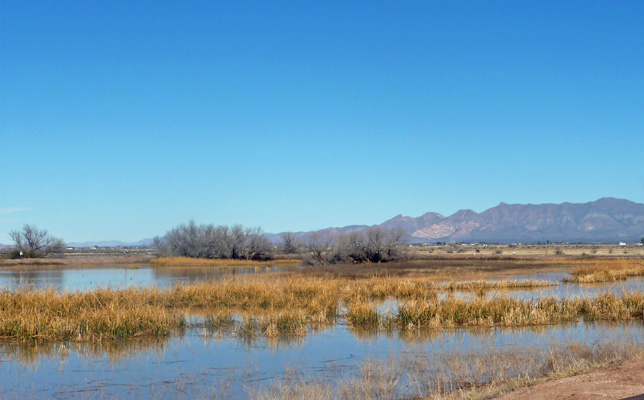 On Saturday February 7th we drove south to Sierra Vista to pick up our mail at General Delivery and then on to Ramsey Canyon, a Nature Conservancy Preserve in the foothills of the Huachuca Mountains. There was a bit of snow still on the northern faces of the upper reaches of the Huachucas from the storm that had come through the weekend before. Normally you have to pay $6 to get in here but it was the first Saturday of the month which is free. That was the good news. The bad news is there are only 23 spots in the parking lot and it was full when we arrived. But luck was with us, someone pulled out on our second time around and it was a spot big enough for the truck to fit into nicely.
Later in the spring this place is supposed to be alive with 14 different species of hummingbirds. And while they had feeders out it really was to early for them. It was sunny and a little cool as we set out on the loop trail up through the preserve. Ramsey Creek burbles down the hillside through the preserve.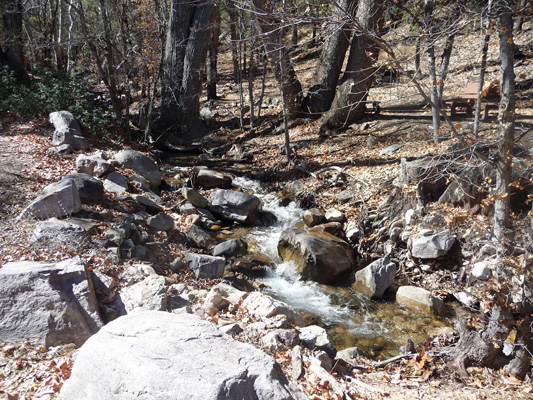 There are gorgeous sycamores along the creek.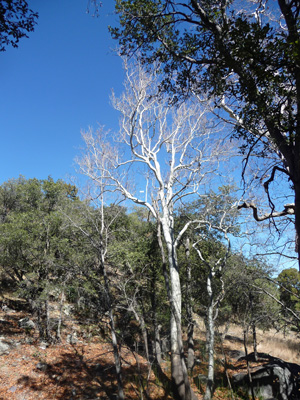 For years there were rental cabins along the creek and they were only abandoned a few years ago when the Nature Conservancy bought the land. This old cabin is pretty typical the few remaining cabins. One has been restored as housing for visiting researchers but the others are moldering.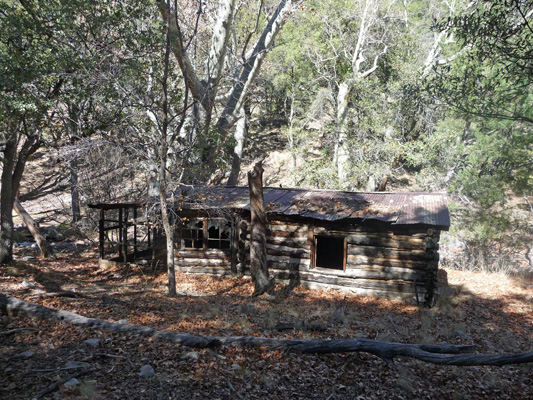 The trail keeps climbing and the creek makes a pretty steep decent in places.
We crossed it several times on bridges and stopped to sit and watch for birds here and there. This crystal clear snow melt was so refreshing after weeks in the desert.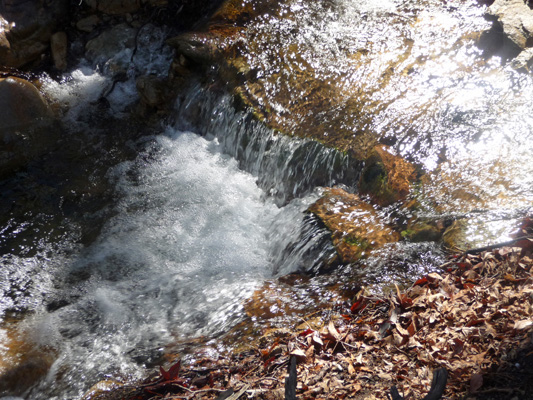 By the time we made it to the top of the loop trail, pines and Doug firs had begun to join the sycamores, cottonwoods, maples and oaks.
We came down the north side of the creek and got a nice look of the upper reaches above the canyon. It's a beautiful place.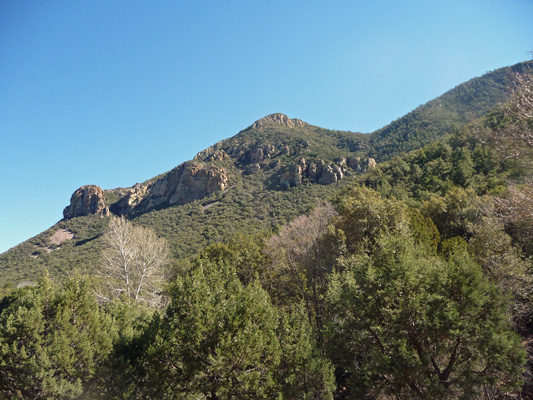 There are a few Schott's Yuccas growing in amongst the oaks. I'd never seen yuccas that grew is such deep shade before.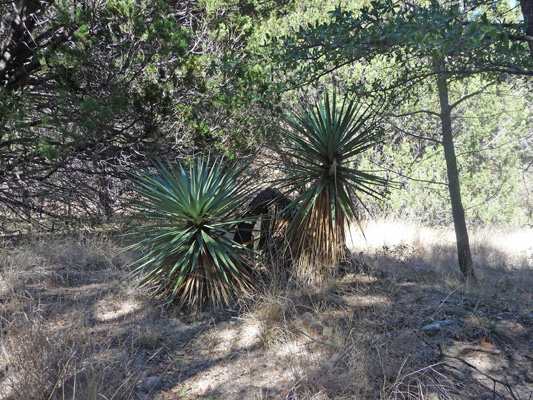 The plants here are nicely labeled. There is an area for kids to play in the creek. There are several artificial wetlands that have been built to encourage wetland plants and frogs. We didn't see a lot of birds but the people we talked to who were locals said that there is a lot of wildlife in the spring and fall and that birds just keep getting better as spring truly begins. Also for those who like to shop there is a gift shop/ bookstore at the entry to the place too.
On our way back out of the canyon we spied this doe along the side of the road.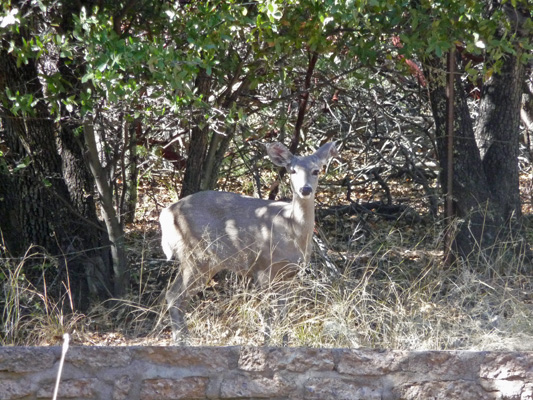 And few curves later we spied another doe with a yearling feeding on a Manzanita bush.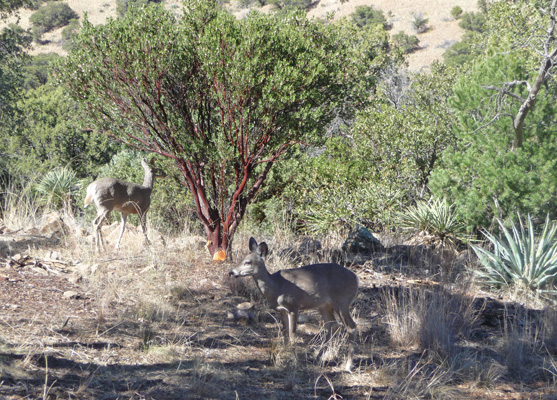 It was lunch time so we drove just a mile further south to Carr Canyon Road and up into the National Forest for our picnic. There's a creek here and there was a small tent only campground across the road from the trailhead parking lot.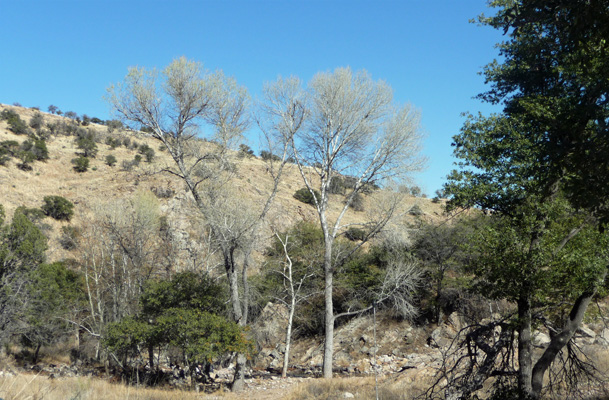 Carr Canyon Road is on old turn of the century road that goes up into the upper reaches of the Huachuca Mountains. It's full of hairpin turns and is steep and only a lane or so wide. We drove up a ways until we reached where it was closed for the winter. It was pretty hair raising when you met someone barreling downhill and I was grateful when we turned around and made it back down to the section that was 2 lanes wide.
On Sunday February 8th we drove southeast to Bisbee AZ, an old mining town turned trendy tourist area, to take the Queen Mine Tour. Much of Bisbee was built in the late 1890's and early 1900's. The streets are narrow and the buildings are mostly Victorian with a sprinkling or Art Noveau. The engine behind the building of the town was copper mining.
The Queen Mine was started in 1915 when the original Copper Queen Mine deposits played out and they expanded the mine further into the hillside. This was a sophisticated mine with a rail system to bring the ore up out of the mine.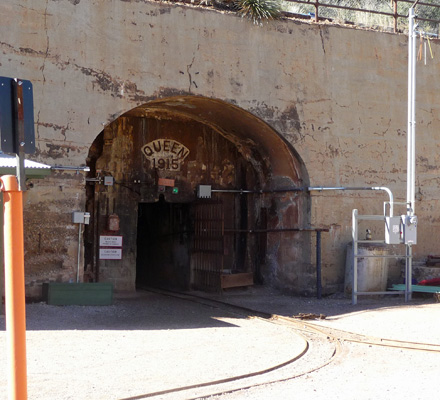 The Queen Mine Tour takes you into the mine straddling a bench riding on a little car pulled by this engine. The tracks are only 18" apart so it's kind of like a toy train.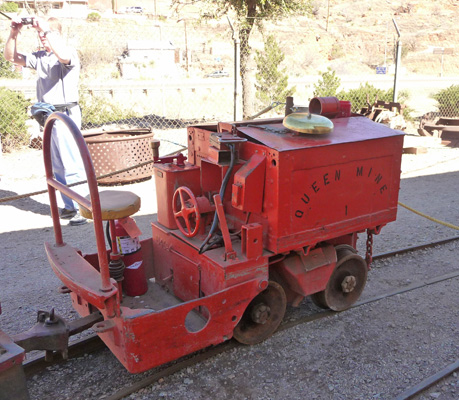 But before they'll let you into the mine you have to meet safety standards. That means a yellow rain slicker, a hard hat, a heavy leather belt with a battery hung on it and a headlamp light on a long cord. They don't have the light on your hat as they did in the tour we took in Butte MT but this way you could actually point it at things while leaving your hardhat on.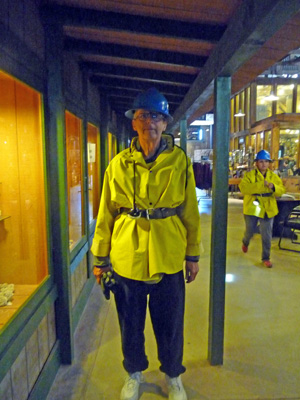 The mine is a damp 47 degrees so we brought our gloves and fleece and wore sweat pants over our lighter outdoor gear. And we were not sorry!
The tram takes you down the tunnel and past the original shaft of the Copper Queen.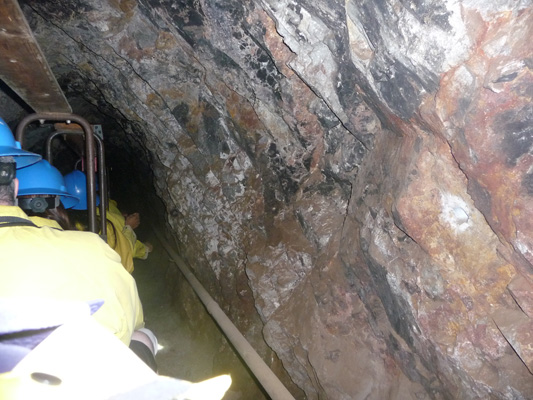 They stop and make sure nobody has gotten freaked out by the narrow walls and then continue on down the line to the first stop.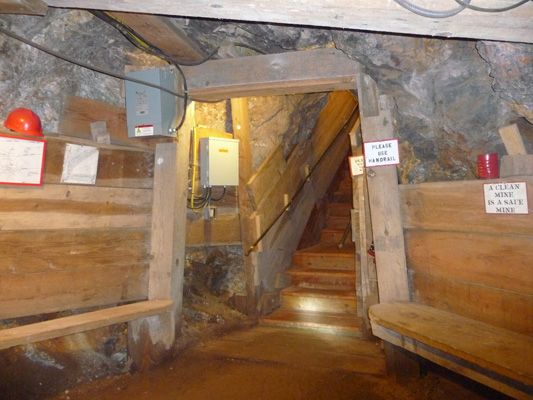 Here you go up the wooden stairs into a stope (a cavity carved out in the process of mining) to see what the mine was like and to get a look at some of the ore bodies.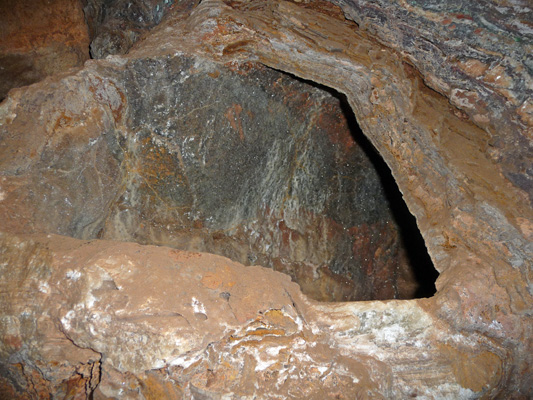 It was dark and there were lots of folks running around pointing their lights at things so it wasn't easy to photograph. But it was fun. Then we all climbed back onto the tram and went the rest of the 1500 ft into the mine to the final stop. Here there's a ventilation system working to make sure the air is clean and safe. And there are evacuation signs showing the way out in case of an emergency.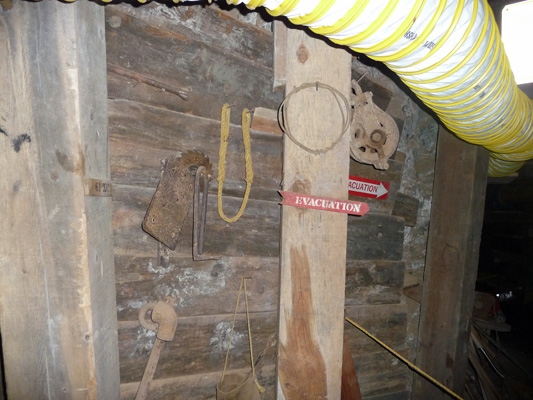 Here's an old supervisor's 'bike' used to ride on the rails to visit the miners on the job.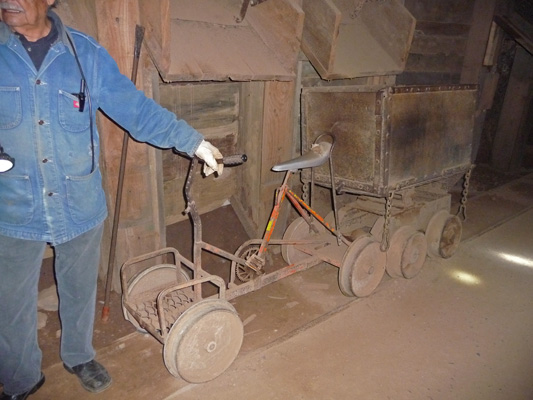 Our tour guide had worked in the mine from 1955 until it closed in 1975. He was funny and fairly informative too. We got a lecture on hydraulic drills.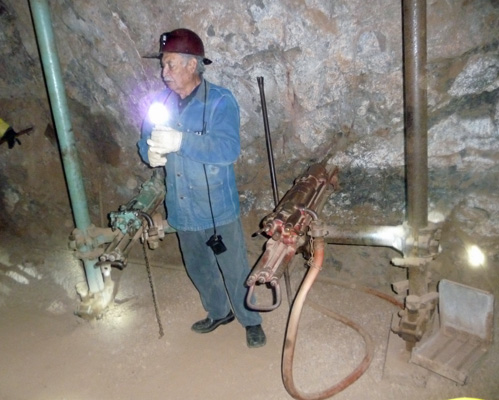 And on placing dynamite into the drilled holes to break up rock. They blasted at the end of each shift. Here are fuses hanging out of the drilled holes in the mine face.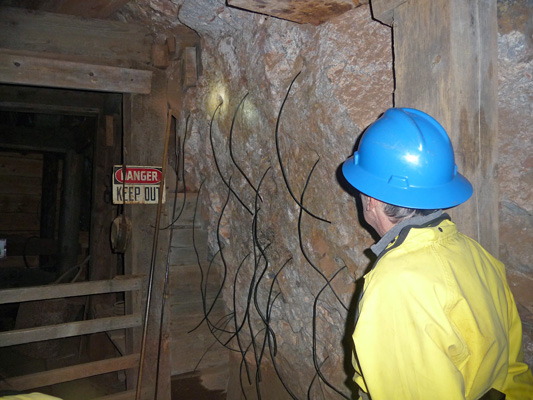 The miners traveled between the levels of the mine via an elevator system called a cage. There was a bell system to tell you what was going on.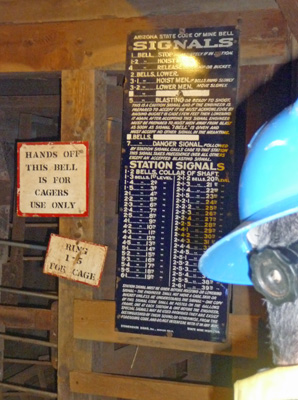 You didn't leave the mine during your shift so they provided bathroom services via sanitary cars—the ultimate in a porta potty!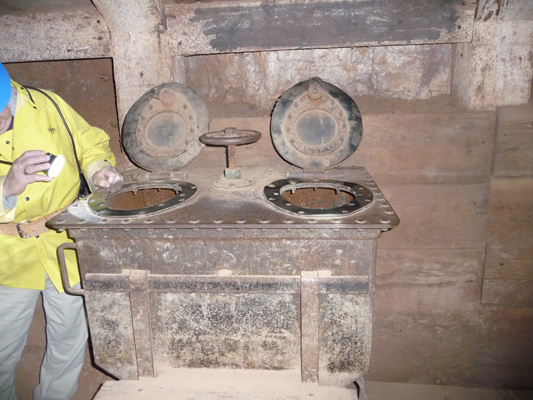 This was fun tour and the tram ride made it worth the price. It wasn't as informative as the one we took in Butte but then our guide at Butte was a mining graduate student who loved to talk and it was a smaller group too.
They have some nice displays about ore processing in the lobby and you can buy very nice mineral specimens here too. Out in front was a display of what I presume to be smelting tools—but not labels or signs to explain them.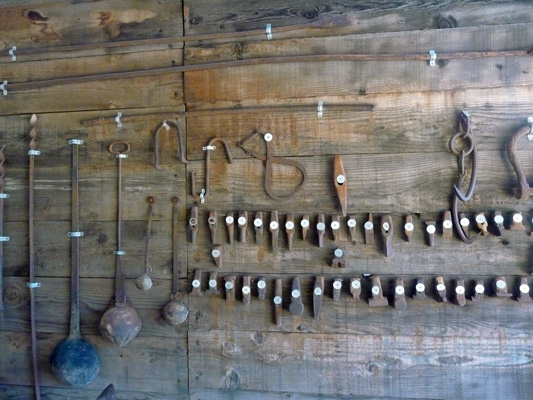 We'd parked in Bisbee proper so as we began our hike back I took a shot of the view from the mine eastward. The Lavender Pit, a huge open pit copper mine is on the other side of that hill.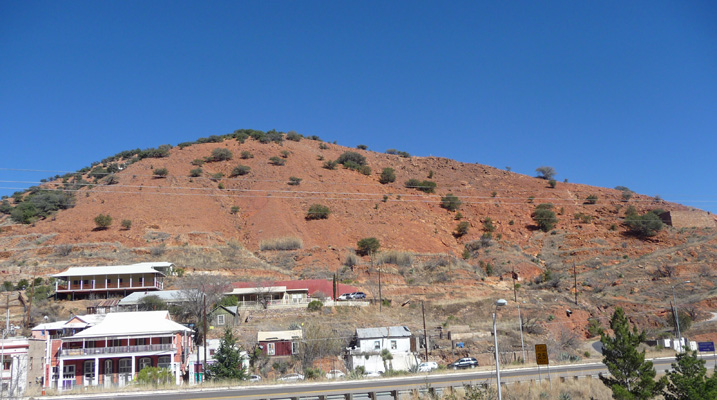 There's a Mining Museum on Main Street with a set of tram cars hooked together. They are perfect kid-sized toys.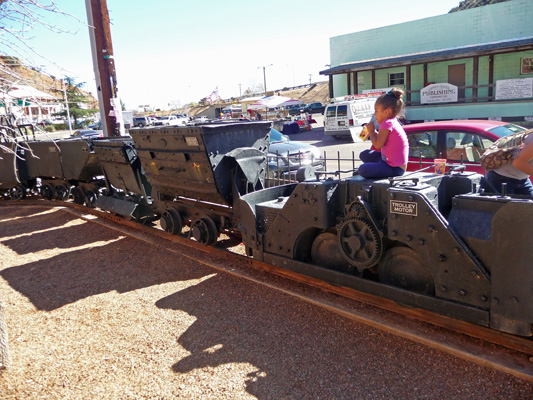 We skipped the museum and walked on past this fun homemade camper parked on the street.
Bisbee is a funny cross between high end art galleries and nice restaurants and old and young hippies and shops with incense wafting out their doros. There were quite a few interesting characters hanging out in the park at the museum.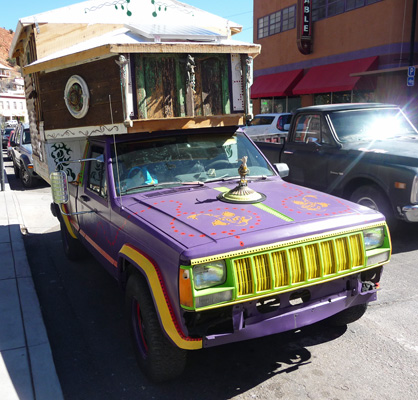 There were flies on the wall at the museum.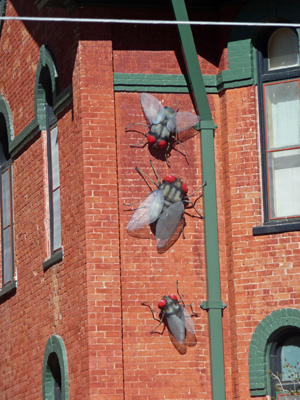 We walked up Main Street and window-shopped and looked at the architecture.
We got as far as Castle Rock and then turned around.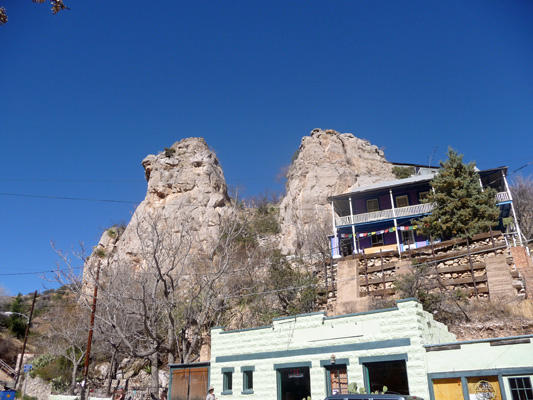 The town goes UP the hill and there is a steep stair climb between Main Street and the upper regions. We took a pass on that but I did stop and take a photo of this solar installation down near the heart of town. The meter was running very fast—backwards!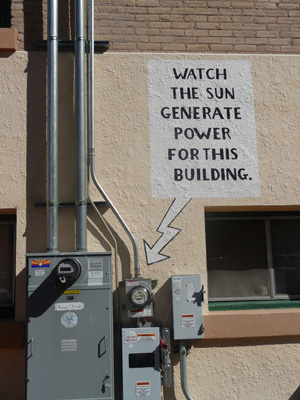 By this point, Walter had had it. So he went back to the truck while I did a quick turn up Brewery Ave—the old saloon and red light district.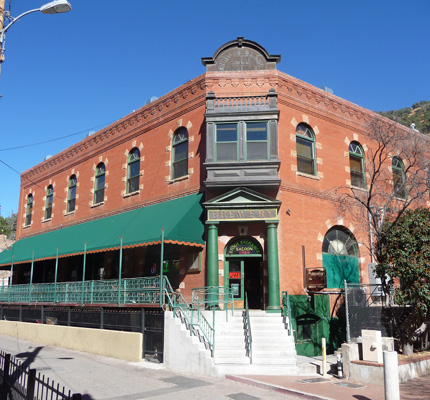 There's a nifty building with a swell tower here but I haven't a clue what it's purpose was.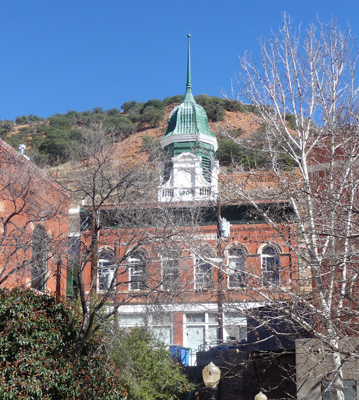 I walked on by the Copper Queen Hotel which looks very nice and then made my way back to the truck. We were both hungry and thought we'd have our lunch in the City Park up the hill. But the street it was on was one-way so we took OK Ave up the hill. Note to self: do not do this again. It was narrow and steep and a very tight one lane wide but it was a 2 way street. There were pick up trucks parked here and there that we had to squeeze past. And just before we reached the end we met a brand new Mercedes that we had to squeeze past. Yikes. When we made it back down to the park it turned out to be basically a one-block square of gravel with no place to park.
So we bagged it and headed north back out of town. Walter had picked up a brochure for the San Pedro House in the San Pedro Riparian National Conservation Area. It mentioned covered picnic tables and so that's where we headed. What a great place! There are bird feeders all over the grounds and as a result there were tons of birds. Where there are feeders there are not only birds but mice. And where there are mice there are birds of prey. As we were sitting eating our lunch a Northern Harrier swooped down out of a cottonwood and then back up into the one right near us. I walked over and got to watch him begin to tear a mouse apart with his beak—with tail hanging down.
I ran back and got my camera. No evidence of the mouse remained but I did capture the harrier.
Don't you just love the feathers on his legs?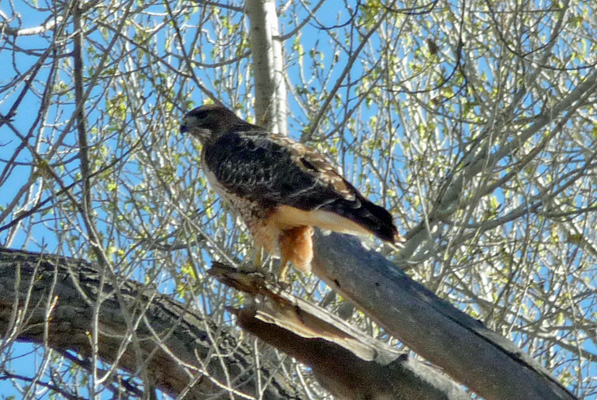 After lunch he headed back to the other cottonwood and we took the 1 mile loop trail out into the preserve. There was a nice Nature Trail complete with numbered signs explaining the plants and the riparian preserve. This is a soaptree yucca. I never realized there were so many different types of yuccas before this trip.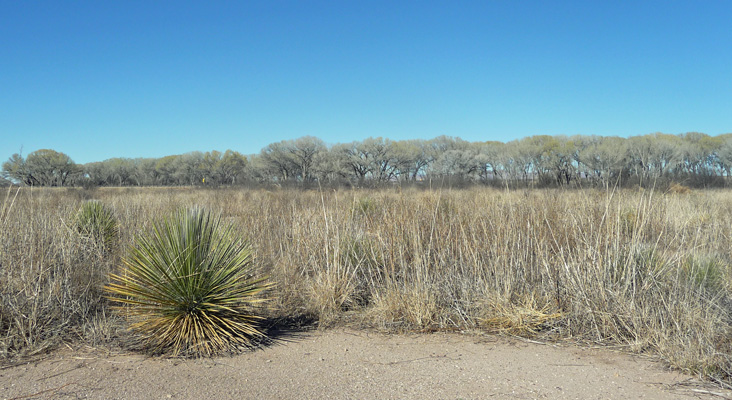 The San Pedro is a pretty muddy river. It has erosion problems because of years of over grazing and part of the purpose of the preserve is to help it recover.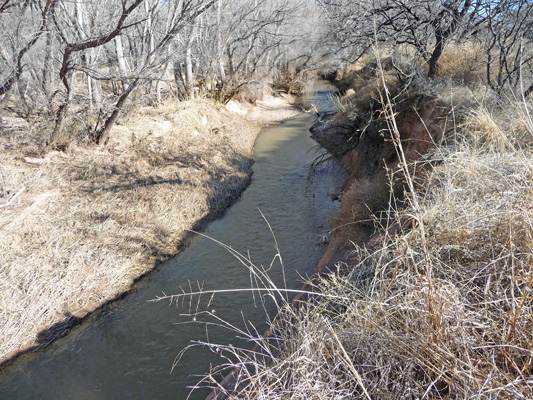 Here's a shot of the big Fremont Cottonwood that our friend the Northern Harrier was using as his perch.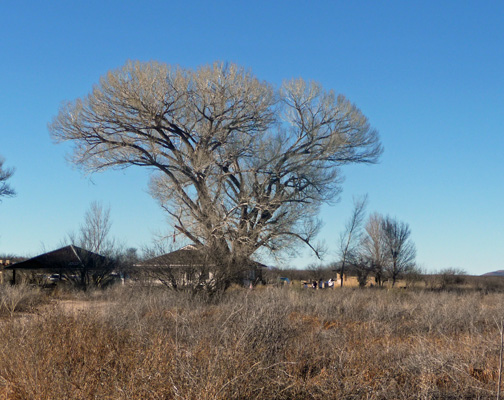 We saw a few birds on the loop but nothing like the numbers in the trees right around the old San Pedro House visitor's center.
There we saw a house finch.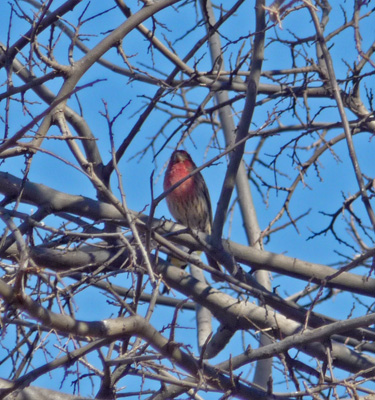 Some lesser goldfinches (there were about 15 in the tree with this one).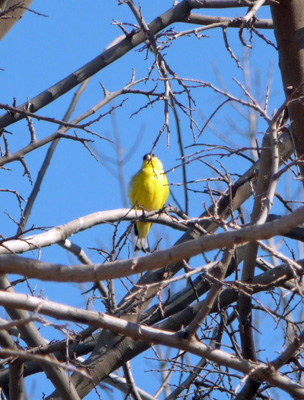 A flock of yellow-headed black birds replaced the gold finches.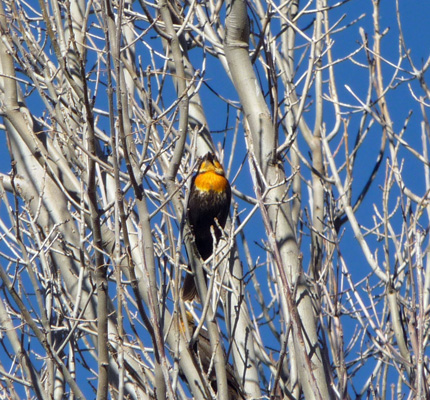 And I spied what I had thought was another female Northern Cardinal. But the next day I learned that I had made a mistake. These aren't cardinals. They're Pyrrhuloxia. This is a female because she doesn't have any red on her breast.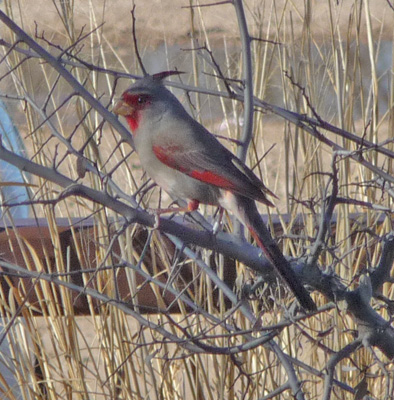 And last but not least we spotted a Curved Bill Thrasher who had a really nifty call.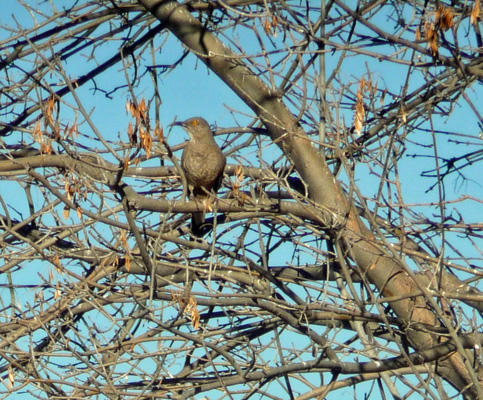 We had a great time here and I have to admit I liked it way better than the town of Bisbee. I don't know what it was but both of us didn't care for the place. Several people we knew had sung its praises and I'd expected to really like it but I didn't. Ah well. I know I'm not much of a town girl any more so I guess I'm not surprised I like places like San Pedro, White Water Draw and Ramsey Canyon better than Tombstone and Bisbee.
Monday we did grocery shopping and laundry—life still requires that we take a day here and there for the basics. Then on Tuesday February 10th we drove about 90 miles east to camp just outside of Chiricahua National Monument since getting a big rig like ours into the campground there is a bit problematic.