We left Morro Bay, CA on Sunday November 23rd and drove through Paso Robles, CA to do grocery shopping (and to buy Sara a new mouse since she'd spilled water on hers and it had stopped working). Then we drove east through Bakersfield and on to the little town of Mojave to stay at the Sierra Trails RV Park. Once we'd arrived, we realized we'd probably stayed at this same place a few years back
(in 2008)
when we stopped to visit the Poppy Preserve in Lancaster on our way to Joshua Tree. It's a nice little park though the spots are a little narrow so that it took some jockeying to get the Airstream parked. We ended up setting up camp at dusk and by the time we were done it was DARK—ah night in the desert.
Monday we spent the day doing laundry and other household chores but we did take the time in the late afternoon to take a bike ride north along the frontage road parallel to Highway 14. It was a nice easy ride going out and then we turned around and realized we'd been merrily riding down a steady grade for several miles. The ride back was a bit of a long steady slog but we made it with no ill effects.
We got up early the next morning and set out north on Highway 14 towards Trona (not a metropolis but at least a point on the map for those of you who care about those sorts of things) and then northeast on to Death Valley. There's a 3 to 4 mile section of the Panamint Valley Road that washed out the summer of 2013 and still hasn't been repaired. At this point it was a long slow stretch of really bad washboard where going over 10 mph just about shook us to death. Boy, was I happy when we hit the pavement again.
We arrived at Stovepipe Wells (elevation 5 feet) in Death Valley at a little after noon. The campground, which is just a big gravel lot with designated spots and tent camping sites around the perimeter, was only about 1/4 full and it stayed that way for most of the weekend. All the tent sites were occupied by Wednesday night and tenters started pitching their tents in the gravel spots but it never got crowded. We took a spot on the east edge of the campground with a nice view in all directions and an unobstructed view east across Death Valley to the Amargosa Range. It was in the 70's and we opened all the windows to air things out and enjoy the gentle breeze.
We did hear later, that all the tent sites in Death Valley were full and that the Furnace Creek area was really jumping. We were happy to stay up at quiet Stove Pipe Wells.
Last time we were here in 2010 we stayed at Texas Springs at Furnace Creek for a few days and then came up to Stove Pipe Wells for a few days.
Late in the afternoon the setting sun lit up the mountains to the east for a short while then set rapidly behind the Panamint Mountains leaving no sunset at all.

After dinner, we went out to star gaze for a while. You could see the Milky Way spread across the desert sky and the constellations shown bright and clear. Death Valley is a designated a "Gold Tier International Dark Sky Park" which means it's a great place to watch the night sky.
We awoke on Thursday morning to clouds! We decided that since it was cold (in the mid 50's) a drive would be a great way to stay warm and still enjoy ourselves. This is the first time we've visited Death Valley with a high clearance 4-wheel drive vehicle so we opted to take our hitch off the truck (it reduces our clearance out the back) and take the drive through Titus Canyon.
To do this you have to drive east towards Beatty, Nevada; out over a 4500 ft. pass; out of the park itself; and into Nevada. Then you take a one-way gravel road out across the desert. There were sections of washboard but it wasn't too bad to start with.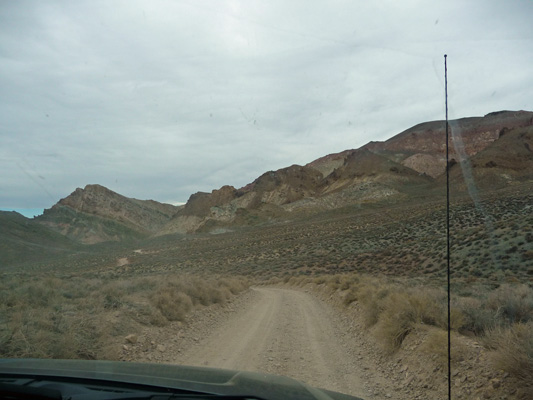 In time, the road starts to climb and the going gets rough and you begin to understand why they want you to have a high clearance vehicle since there are boulders and pot holes to dodge. The road changes color and becomes bright red as it winds up Red Pass. Here's a shot from the top of the pass looking back the way we came.

We'd driven across the valley below before climbing up all those nice twists and turns. It certainly was nice to have 4 wheel drive.
As you top the pass the view to the west opens out to a rather colorful picture.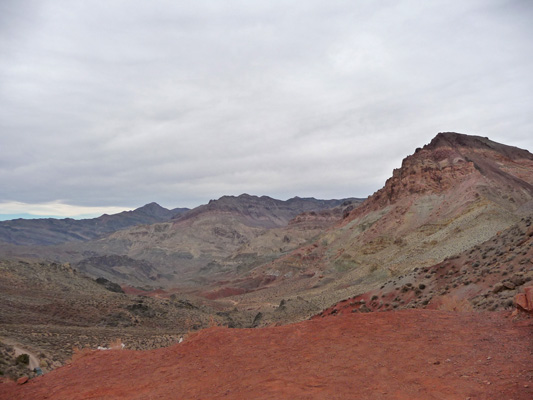 We twisted and turned our way back down the pass and stopped about half way down to take this shot.

And then this one.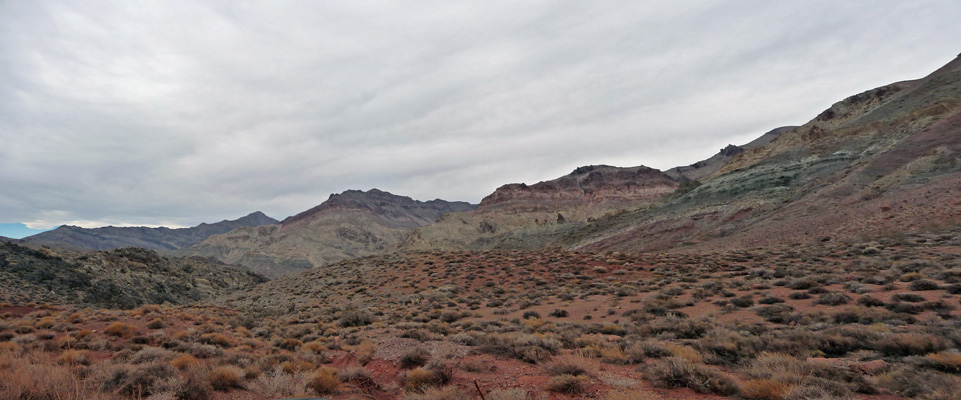 It's rugged country with lots of gorgeous colors that are probably even better with the sun out.
About half way through the drive (when the worst part of the pots holes are over) you come to the ruins of Leadfield, an old mining town complete with rusty abandoned buildings.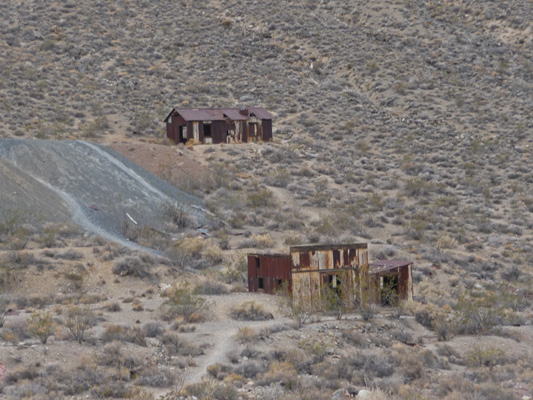 And a great abandoned old car.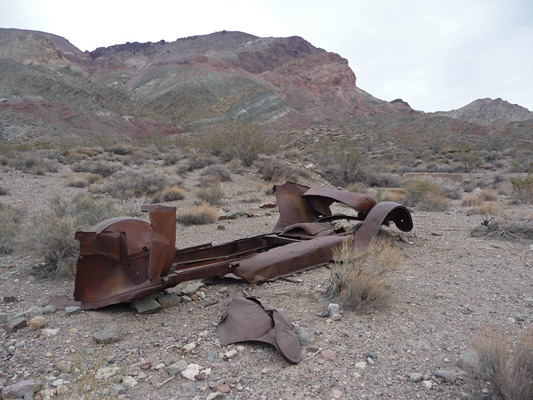 There's a small parking lot here so you can get out and stretch your legs and even hike up to the old abandoned buildings if you want.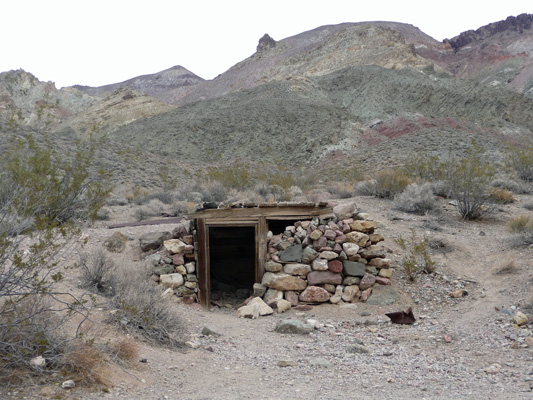 The town was started in 1926 when 300 people were drawn here on false advertising. They even had a post office. But when they all came up empty handed, the town died and the post office closed just a year later in 1927.
It's still a gorgeous area and it was a nice break in the bumpy drive.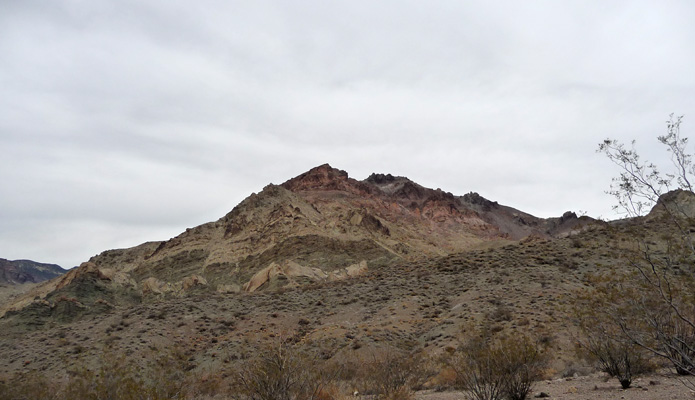 We changed drivers and I got to drive through Titus Canyon itself. The mouth of the canyon is a great geological wonder. Just look at those great tilted layers.
There's a petroglyph site a ways into the canyon with some nice petroglyphs where the black patina on the rock has been chipped off to reveal white rock beneath.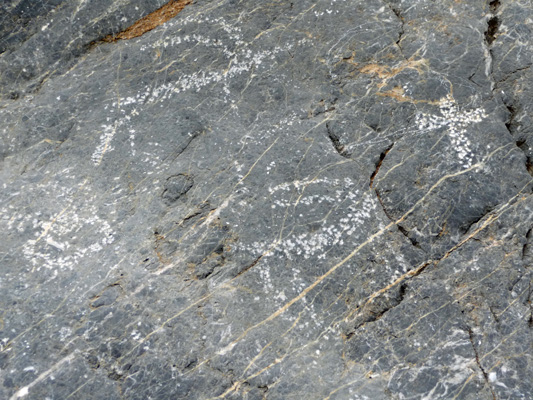 Back in
February 2010 we were here and got to hike Titus Canyon
because the road out by Leadfield had washed out and they closed it to cars. You can still hike it but it's a tight squeeze with the cars.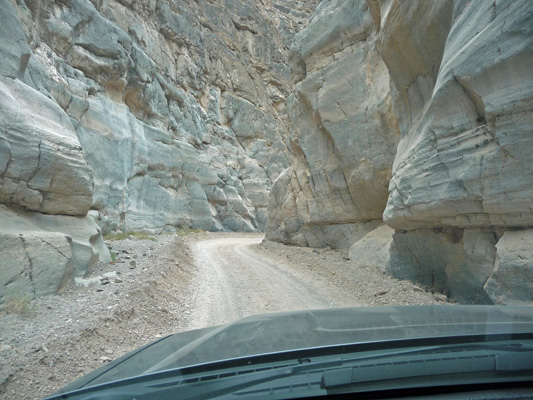 We had a pair of bicycles to dodge but no one on foot. If you're ever in Death Valley when Titus is open for hiking, I highly recommend it. It's much more enjoyable when you can move slowly through the canyon and see all the cool rock formations.
We came out of the canyon mouth after about 3 hours of driving ready for lunch. So we had our picnic in the parking lot overlooking the valley and I went back and took a photo of the road as it comes out of the canyon.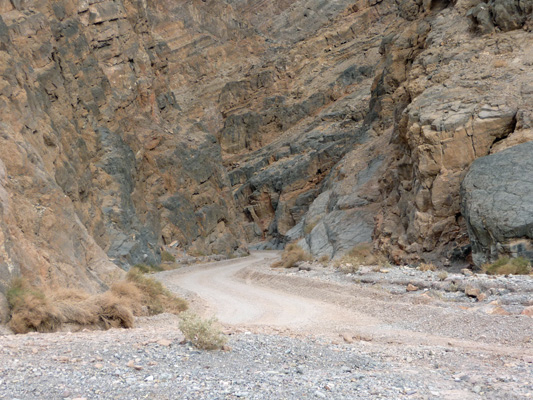 As the day progressed, the front passed and blue sky appeared in the west. By late in the afternoon, the Mesquite Dunes that you can see from Stove Pipe Wells lit up with the setting sun.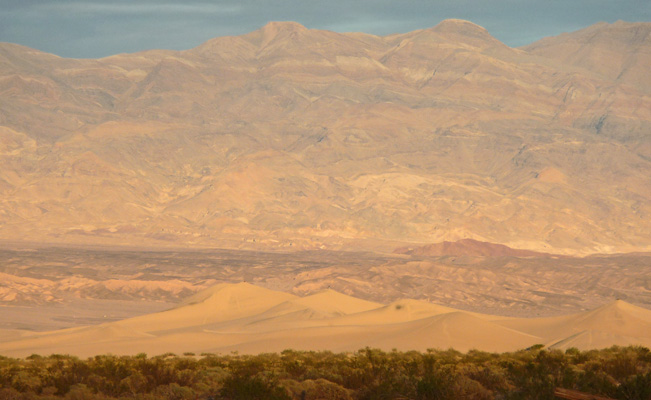 Not long after that, the northwestern sky turned pink.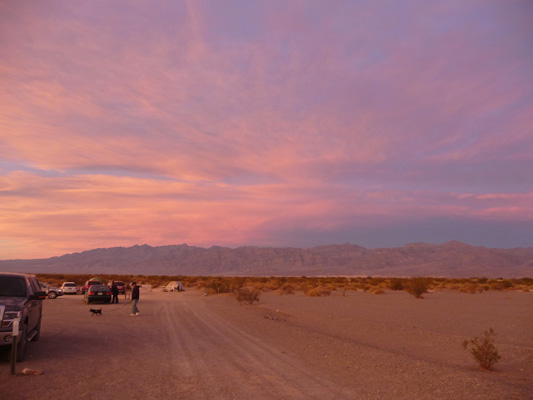 Then the western sky turned orange.

And the northwestern sky deepened and turned Geneviève, pink too.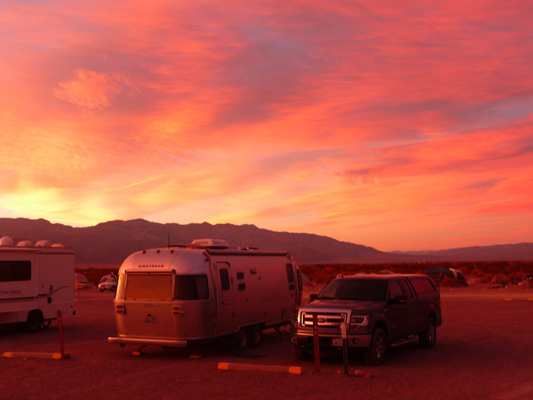 The sunset went on and on and I had a great time taking photos of it. It progressed from orange to red to pink.

And right in that area where the sun was going down, the streak of two clouds turned fiery orange again with the Panamint Mountains silhouetted giving things a dramatic look.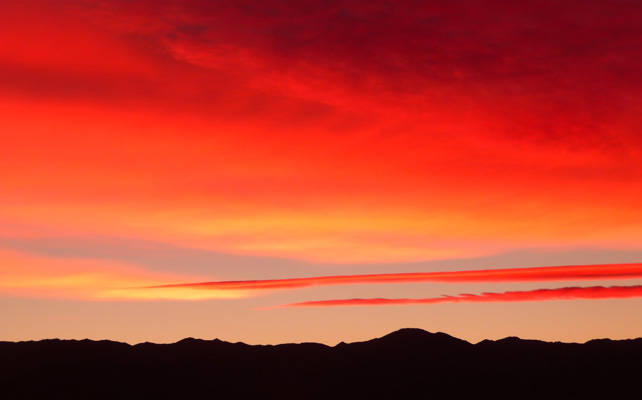 It was cold that night and we were happy to run the furnace in the morning. We ran the generator and then with a nice clear sky, we set up our new 100 watt solar panels and hooked them up to our house batteries.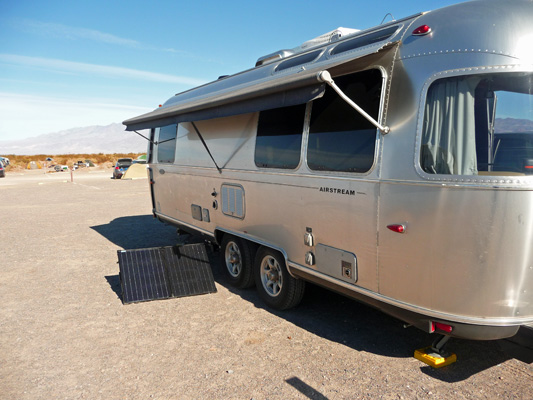 These 2 little panels fold up and go into a zipper case that fits nicely in the back of the pick up. They have a pair of adjustable legs so you can adjust the degree of slant you have. We need to get a longer cord for it though. It only has a 15 foot cord and it would have been nice to have the panels set up below our back windows so they'd catch sun all day.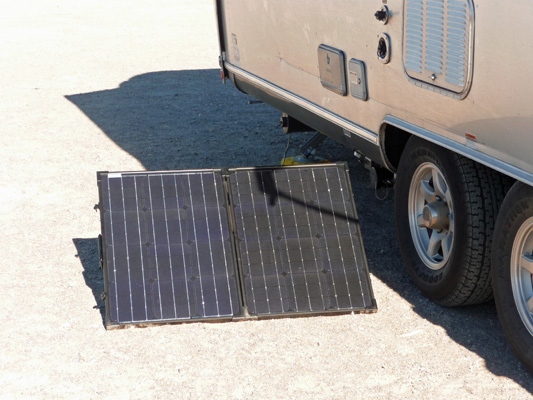 As it was, these guys were putting out 14.1 V and 4.4 Amps in the bright Death Valley sun. The next day, with a bit of adjustment we were getting 15 V and 5.1 amps. We connected up the panel at about 10:30 AM and it stayed in full sun until about 4 PM. By 3:30 it's output was a bit reduced but when the sun went down and we packed it up, our batteries were fully charged and we had no need to run the generator that night. Whoo Hoo, we've gone solar (at least on sunny days in the desert).
We'd thought that we'd do the local hike at Mosaic Canyon which is just up the hill south of Stove Pipe Wells. But we'd watched a steady stream of cars going up there all morning as we ran the generator and decided we really didn't want to deal with the crowds to hike a hike we'd done back in 2006. So instead, we drove south through Furnace Creek and just past Golden Canyon (where the parking lot was full and people were parking out on the highway) and took the unmarked dirt road out to the parking area at Desolation Canyon. When we arrived there were only 4 cars in the lot. That's our kind of hike.
Here's the view across the valley looking west from the parking area.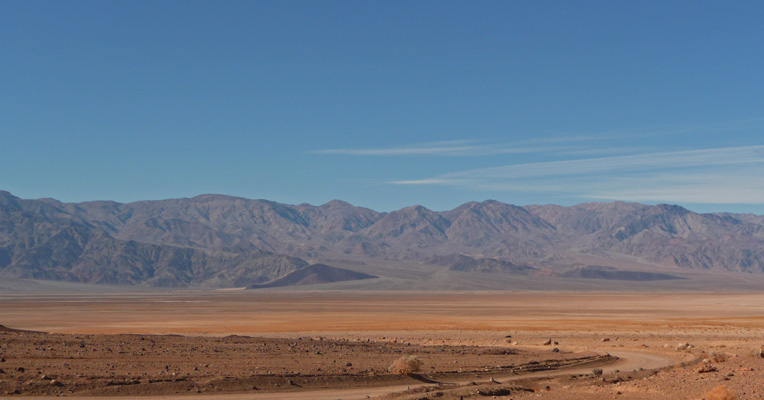 Put on your hiking boots, we're going to make our way up that old road and a wash on a steady climb up the canyon.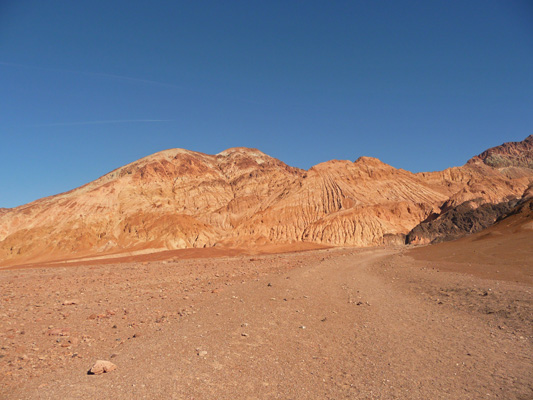 The trail takes you first up the old road, then up a wash that threads between two sets of hills.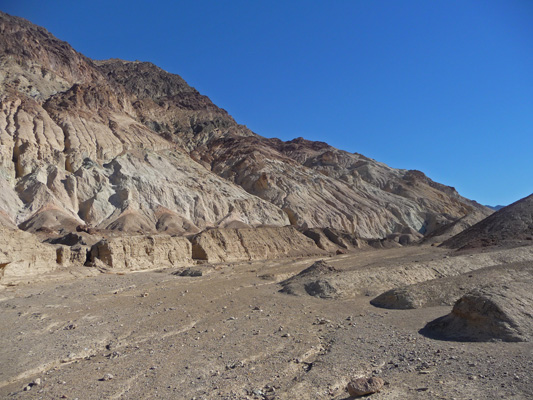 It's a steady crunch crunch crunch through the sandy gravel until you finally reach the mouth of the slot canyon.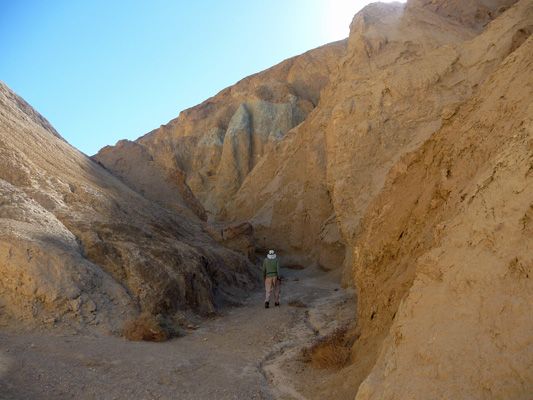 It narrows down quickly.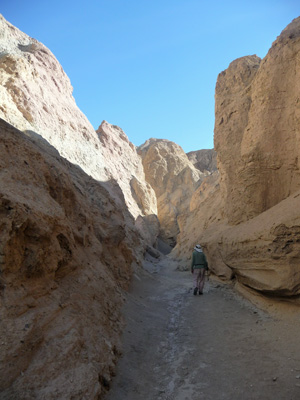 Until you think that maybe it has ended but instead you go over this little rise.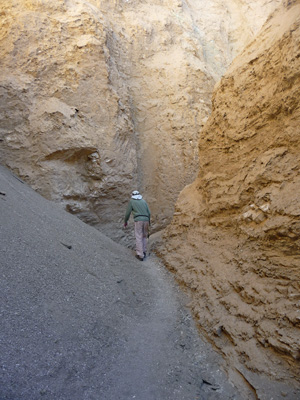 And around the corner into an area that looks like a mosaic floor gone bad.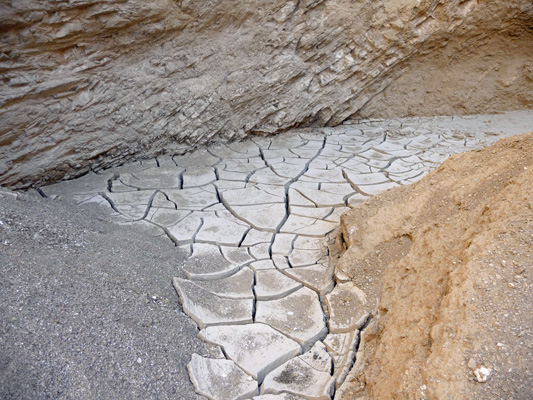 We carried on a ways further.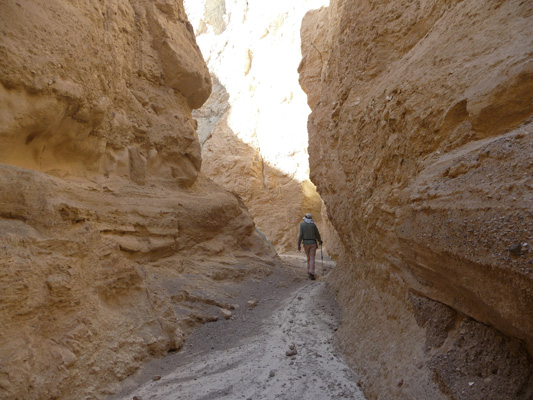 And around several more bends was a little dry fall. Walter wasn't interested in climbing it, but I did the little scramble up to see what was around the next bend. And there I found a 15 foot high dry falls that was nearly vertical.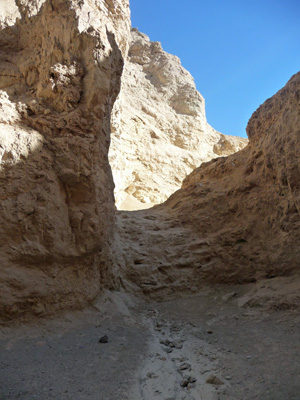 I could have climbed up it with the foot holds but I wasn't so sure about coming back down. So I turned around to join Walter for the hike back. It was WAY easier going back—hurray for downhill on the return trip.
It was early still, so we took the short drive up to Zabriskie Point, a favorite viewpoint of mine. It will be closed starting on December 1st until late April for restoration of the viewpoint itself so I thought I was a good time to visit one more time.
There are two distinctly different views you get from here. The one to the south is golden.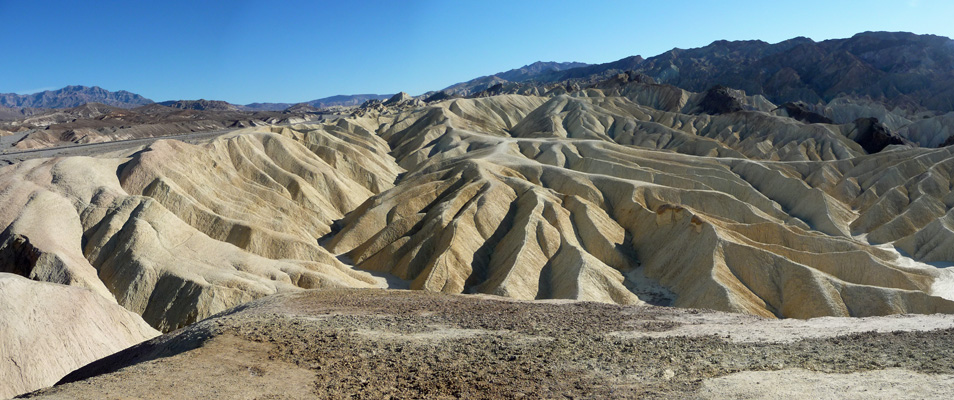 And the one to the north and west is chocolate.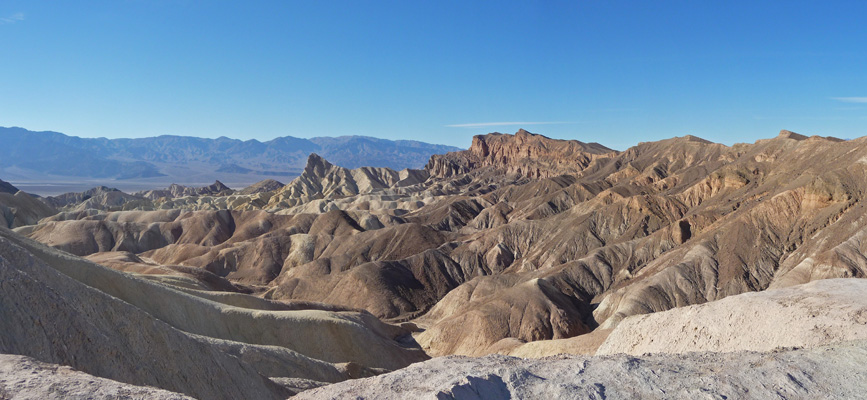 You can hike down into this area and there were people out at least on the first set of formations.
We went back from here to Stove Pipe Wells and had showers at the hotel across the street from the campground. They charge you $4 a piece but you can use the swimming pool too if you want. The water was hot and glorious and it was wonderful to be clean again! When we were paying our money, someone was checking to see if they had any openings for Saturday night. They had one left for $190 (tax included). That's a far cry from the $12 that it costs to camp here—and we only paid $6 a night because of our Golden Age discount.
Clean and happy, we went back and had our lunch sitting in our camp chairs in the shade of the Airstream. This is the life.
There were high clouds when we got up on Saturday after another cold night, but they blew through pretty quickly. We ran the generator and set up the solar panels so we were getting even more voltage than we had the day before.
Then we took the short drive over to the Mesquite Sand Dunes for a hike on the dunes. Someone had really put some effort in to build these 10-rock cairns next to the parking area.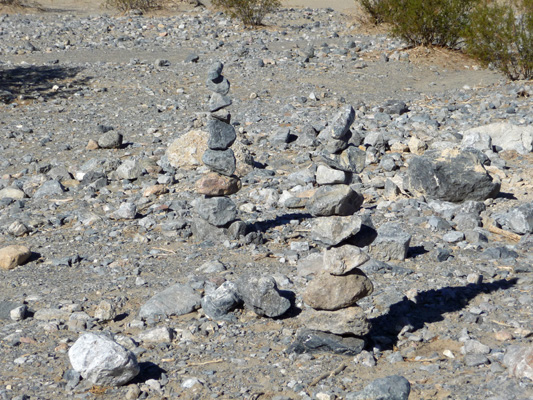 Four years ago, when we were here the sand in the dunes was hard packed and really easy to walk on. It had been a wet winter in the Valley and I guess that made the difference. Because this time it was like hiking on the dunes at the beach—loose and dry and lots of work. We hiked out into the dunes and watched folks try to sand board without much luck. But everyone was having a good time which is what playing in the sand is all about.
It's better to photograph the dunes first thing in the morning or late in the afternoon so that the shadows accent the edges but we were there a little before noon—oh well.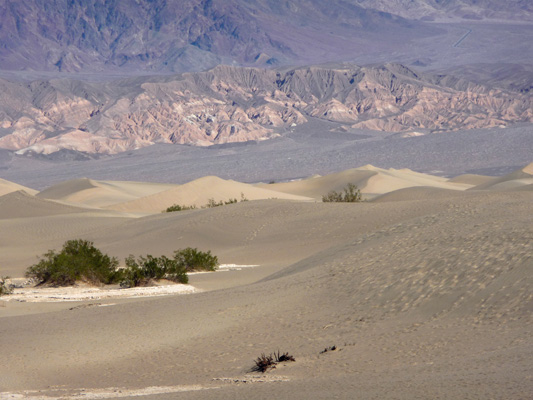 You can hike forever out here. It doesn't look all that far but with each rise you discover another valley to descend into and another dune to climb. I'd thought that maybe we'd make it out to the tallest of the dunes which is over 100 feet higher than the valley floor, but instead I was happy to simply get a bit closer to photograph it.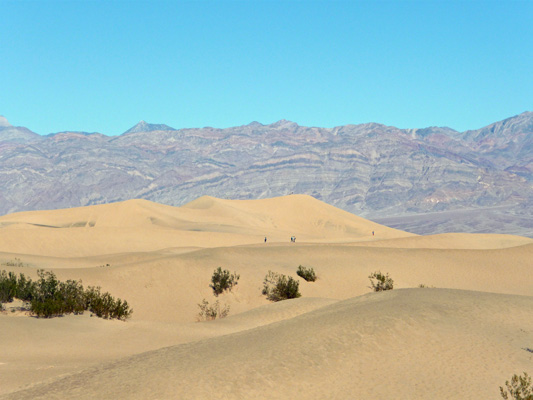 Looking southeast you can get a great view of the dunes and the Amargosa Range behind them.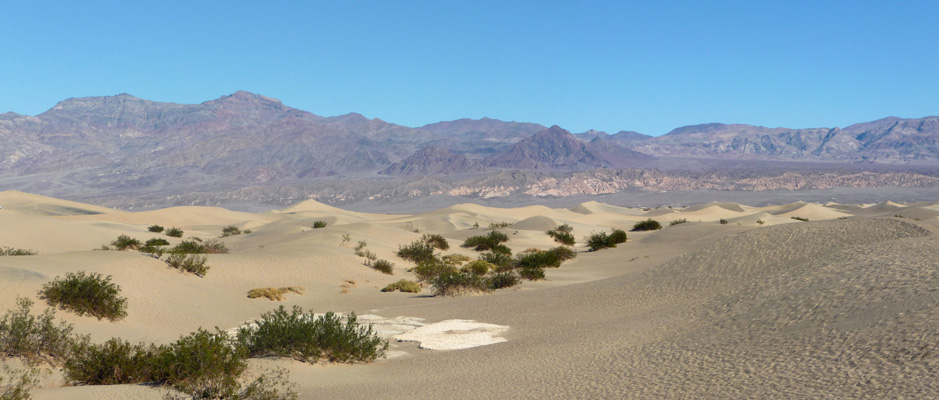 The solar panel was really putting out lots of power when we got back so we actually turned on our inverter and did a few things in the trailer that don't take a LOT of power—like charging my computer. We had a quiet afternoon just hanging out watching a few more high clouds come in. I'd thought we'd get another sunset out of them but no deal.
On Sunday, we drove less than 100 miles east to Pahrump, Nevada to stay in the Preferred RV Resort—full hook ups, WiFi and the works.