June
July
August
September
October
Taidnapam State Park June 2014
We spent Jun 17-20th at Taidnapam Park on Riffle Lake just outside of Morton, WA (on Hwy 12 south of Mt. Rainier). This is a WONDERFUL campground run by Tacoma Power. The campsites are large and widely spaced. They have a separate section for tent campers away from the big rigs and they have tons of huge hook-up sites. We had a nice pull through (side loop sort) site with water and power for $31 a night that we got for $26 a night because they give anyone over 62 a $5 a night discount. It is a way nicer campground than a lot of private 'resorts' we've stayed in. We highly recommend it.
The first day was cold and gray though the rain had mostly stopped by the time we got settled in. We took the truck over to check out the fishing bridge which was nearly elbow to elbow with people fishing.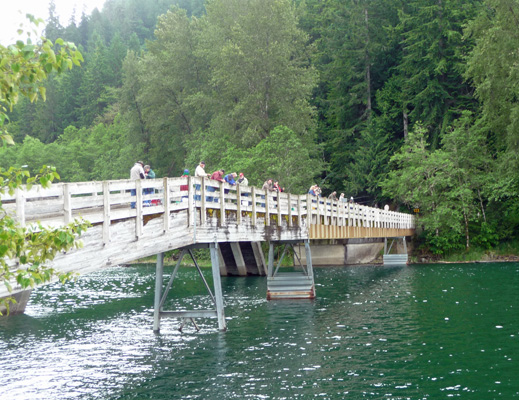 And the fish were biting. Folks where catching 1 pound Kokanee (fresh water land-locked salmon) one after another. The limit is 5 per person and we talked to a couple who had both reached their limits in half an hour. They use pieces of grocery store shrimp for bait. And it was great fun to watch people hauling one fish after another in out of the deep water.
The next morning it was still cloudy and damp though the forecast said that it was supposed to clear off eventually. So we loaded up the computers and went into the town of Morton to see if we could get a signal on the hot spot. No joy there but we did get a cell phone signal and picked up a message! We followed an 'Information' sign thinking there might be info about a local library since they usually have free WiFi. No library in town but the Information Center had free WiFi so we sat in the truck and picked up our email and did a bit of on-line research we needed to do.
After lunch, the sun finally came out. So we unfolded the bikes and took a riding tour of the campground. We stopped and talked to one of the campground hosts. They are here for June and September with someone else covering July and August. Their only duties are to 1) walk through the bathrooms a few times a day to be sure there's toilet paper and to report if they need cleaning up, 2) answer questions and be friendly and 3) sell firewood from their site. They'd been doing September for 6 years and have just picked up June when one of the long-time hosts couldn't do it. They say that Tacoma Power is a great organization to work with. But I bet the waiting list for hosting at this park is LONG. [Later we learned there was one hitch to their duties. The 5 days they are on, one of them is supposed to be in their campsite at all times. I'm not sure I'd like to be tied down like that.]
The fish were biting again. We talked to a guy at the fish cleaning station who had caught his limit in under an hour and when we went out to the fishing bridge we watched a bigger group than the day before (the sun was out after all) hauling in fish after fish.
On Thursday the 19th we awoke to SUN! It had been cold in the night but it sure was a treat to know that it would warm up during the day. The day before we'd heard about a hike to a waterfall nearby so we stopped by the check-in kiosk to ask for directions. They gave us a copy of an article about the hike complete with driving instructions and we were off and running to the Goat Creek Trail. The trail head is only about 5 1/2 miles from the fishing bridge but most of it is single track gravel with pot holes. So we took it slow and were happy when we reached the trailhead without meeting anyone on the road since there are very few turnouts.
The trail winds through the forest with wild flowers and small waterfalls and creeks along the way. There were large patches of Columbia Anemone (Anemone deltoidia).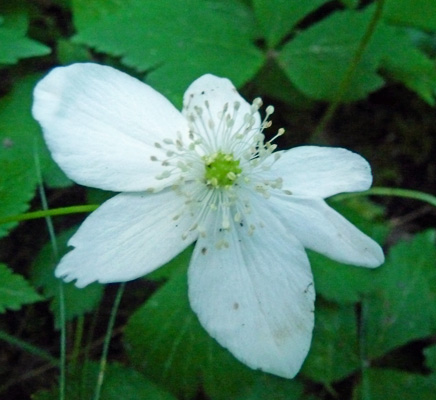 And in wet areas near the creeks there were wonderful patches of Maidenhair Ferns.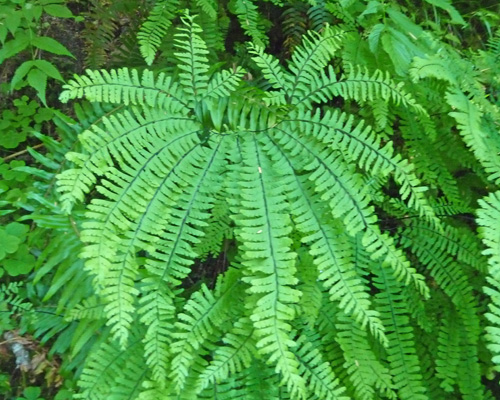 There was more than one small creek that cascaded down and provided a bit of rock hopping since there were not foot bridges.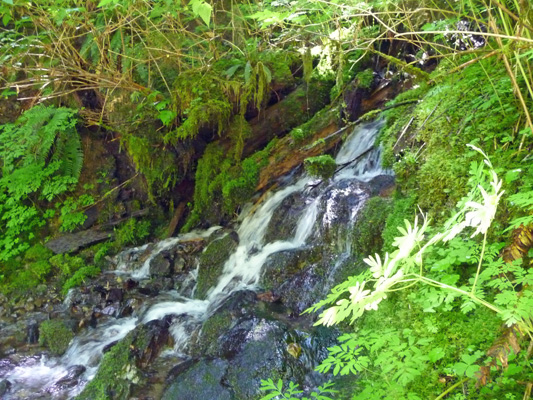 Near these crossings there were big patches of Scouler's Corydalis (Corydalis scouleri)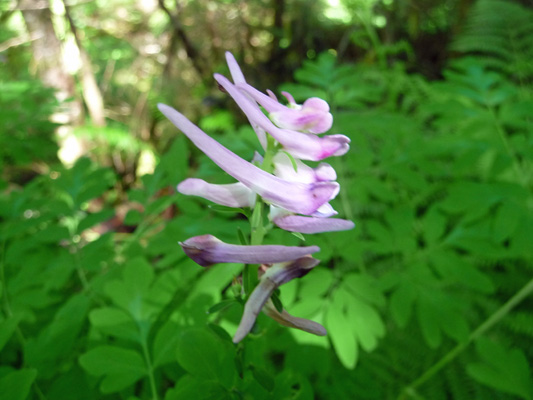 Some of the creeks made pretty decent falls for us to cross. You can see Walter there across the creek.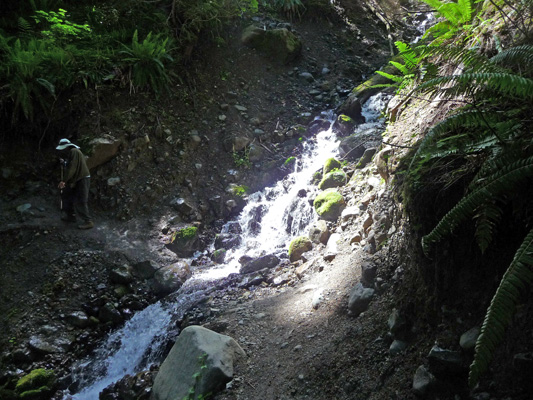 We stopped to rest for a few minutes on a downed log and my attention was drawn uphill into the forest.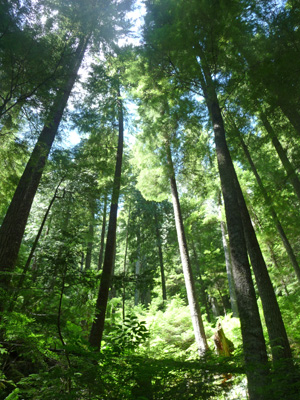 There was also a wonderful patch of Deer Ferns across the trail.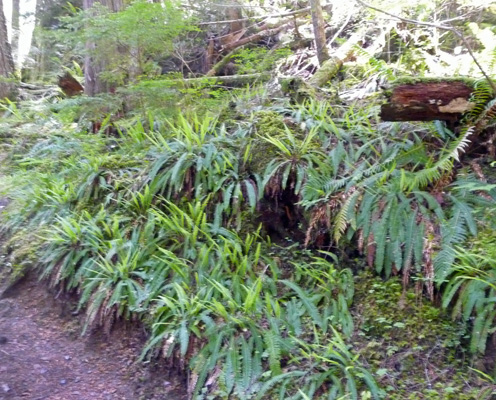 The trail went up and down and up and down until at last after a final upward push we came to the falls.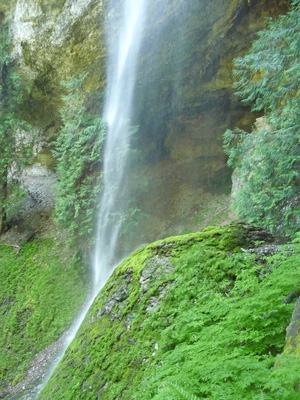 The trail goes behind the falls and past a concave area on the other side that gives you a nice view of the falls.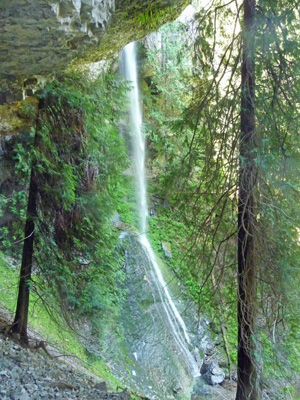 I went a little further along the trail to capture this panoramic view for the ledge of the cavern to the bottom.

The falls are 200 ft high so it's pretty hard to get a photo of the whole thing since you're so close to it. From a ledge further along the trail I got this shot of the top of the falls but of course the bottom is lost in the trees.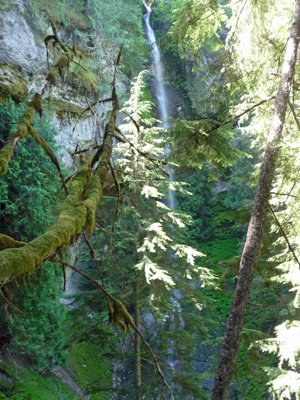 As I came back around to come under the falls, I took this photo from the edge of the cavern before I went back under and got dripped on again.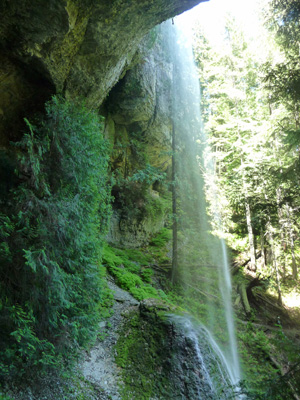 There was a huge mass of Scouler's Corydalis growing at the edge of the trail by the falls and I took this photo of it and the falls.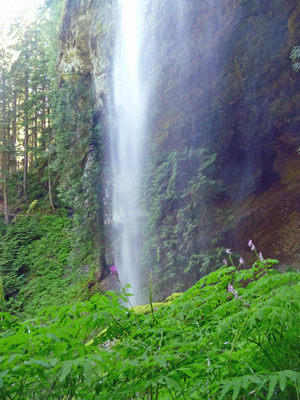 There was one lone bog wintergreen (Pyrola asarifolia) growing right near the falls.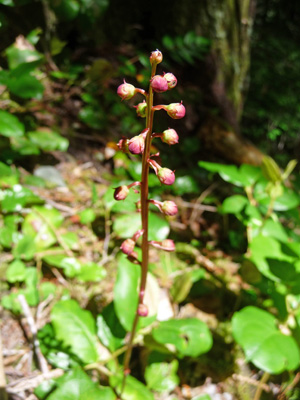 Near the trailhead there were masses of chickweed in bloom in the part of the forest that had been logged not that long ago. It's a very nice looking weed when you don't care about where it's growing.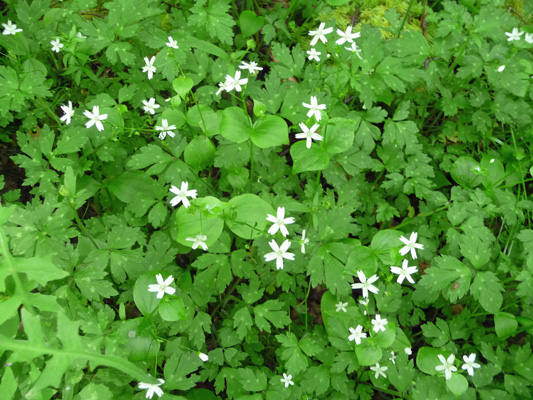 Along the trail I had seen a couple of little brown and yellow frogs but they didn't stay still long enough for me to get a photo of them. This little guy was next to the truck when we got back and he stayed still just long enough for me to catch him. He was about the size of my thumb.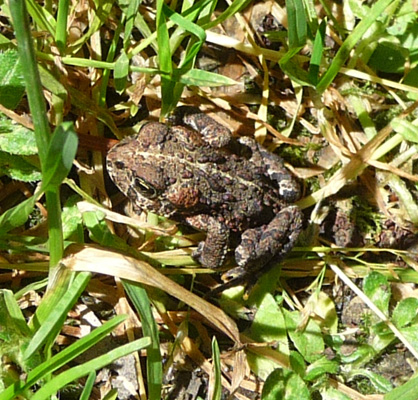 Driving back down the narrow forest road we met one small car. The driver was kind enough to back up a little ways to a wider spot in the road and we got by him okay. All toll we saw 10 people on the trail or on their way to the trail head. That's a lot for a weekday hike for us. I suspect there will be a lot of folks taking that hike this coming weekend when it's warm and sunny.
There are a couple of spots along the road where you can get a great view of the lake. It was a beautiful blue with the sunshine.