We left Yuma Arizona on Sunday December 21st and headed west on I-8 for about 50 miles to Holtville, CA. There's another LTVA (Long Term Visitor Area) here along with free camping for 14 days just beyond the boundaries of the LTVA (just beyond means you can camp as long as you're at least a mile beyond the boundary of the LTVA).
We had directions to the free camping south of the freeway so we turned that way to start with. And pulled up short right away. The road our directions took us on was sandy and very narrow and ran right along an irrigation canal with nowhere to go if someone was coming from the other way. Neither of us liked the looks of it, so we turned around and headed to the area north of the freeway.
The LTVA north of the freeway was pretty heavily populated because it's close to the hot spring. But we bumped along through it and then out into a not very beautiful sandy area with a few truck tracks but nothing that looked like anyone had camped there. So we continued on and ended up driving through a very narrow passageway through some salt cedars (now we have a few more fine scratches in the Airstream from the branches) and all the way until we hit a private property sign. There were no places that looked any better than the first area we had come to so we drove back and set up camp there. There's nothing wrong with this site, it's just kind of boring.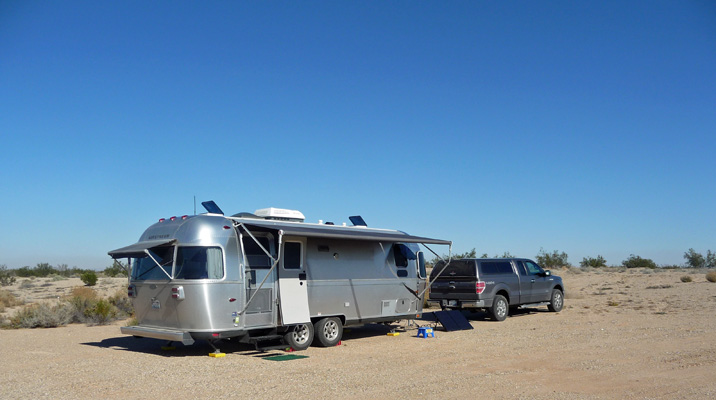 It was sunny and warm so we put out the solar panels, opened up the vents and put out the awnings. We had a quiet afternoon and then Mother Nature started to put on a show. We had this nice palm tree nearby to highlight things.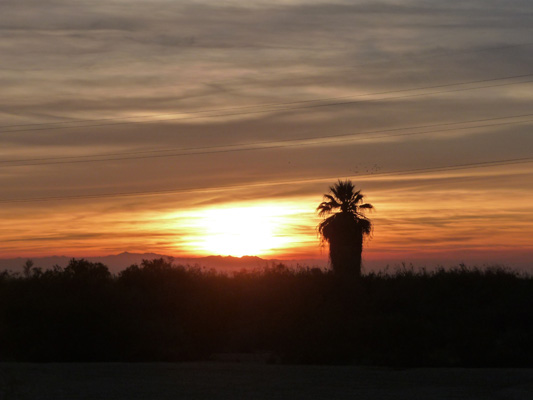 At first I thought that the sun would just do this little bit because quiet a few clouds had come in. But no, we were in for a real treat.
At one point the color reached from north to south in all the sunset colors imaginable.

This shot is a close up from the shot above. It's amazing to me what the camera does with sunset colors when you just cut a little slice of it. I actually almost captured a bit of the aqua color I've been trying to get for a long time, there in the middle of the palm tree.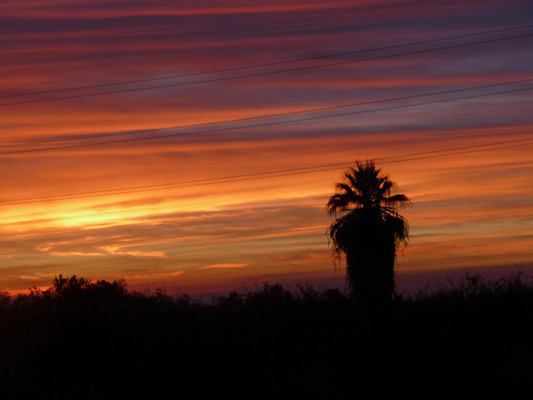 And things just kept getting deeper and richer for quite a long time.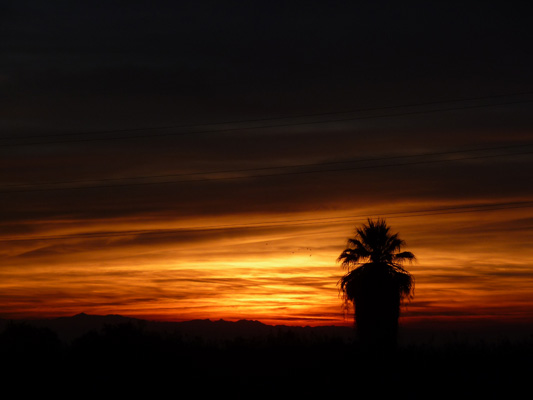 The next morning, we ran the inverter to charge up the hot spot and the computer while the solar panels were putting out their maximum output so that we didn't have to run the generator the whole time we were camping here. What a deal: A free campsite, a hot spot signal and sunshine so we didn't have to haul out the generator and burn any gas.
We took a drive down to see the hot spring later in the morning. It's in a day use area that's within walking distance for a lot of the folks in the LTVA. There's a vault toilet next to the parking area. And then over to your right is the small hot spring. These are all RIGHT next to I-8 and you can hear the traffic rumbling by.
There's a 'shower' that's made from a long pipe that squirts out warm water.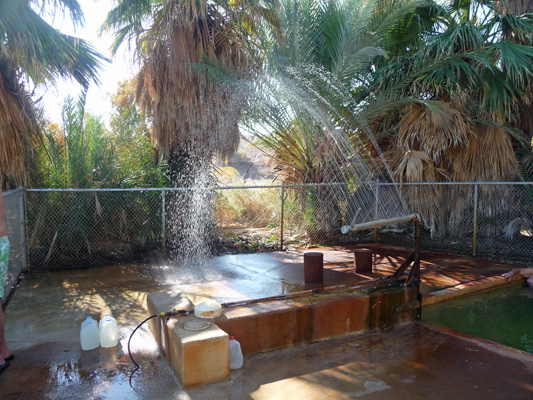 A deep hot pool that's about 103 degrees or so.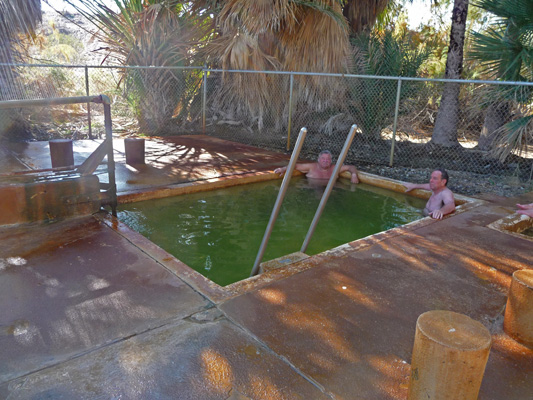 And a much smaller cooler pool with water in the 90's.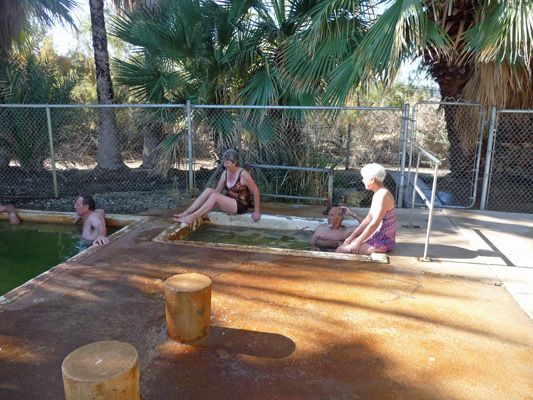 In the winter, the folks in the LTVA drain and clean the pools once a week but there was still a lot of algae. And from the deposits on the concrete clearly the water has lots of iron and minerals in it.
It's a clothes optional facility but everyone we saw had swim suits on. Since I had had a very nice soak in the spa at the Kofa Ko-op RV Resort in Yuma, I didn't feel moved to go and take a dip in these—especially with all the traffic noise.
There's a lovely grove of palms growing around the pond that these pools drain into. Folks used to swim here but it is now posted no swimming.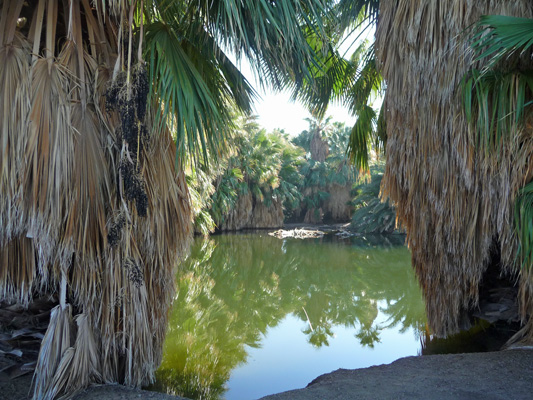 From here, we drove on down south of the freeway to explore the road we'd rejected the day before and see what the 14 day area there is like. Just like the area we were in, there was no one camping out there either and while there were a few spots that looked like parking spots there weren't any that would have suited us any better than what we had. We drove back through the LTVA (to do that we had to drive through another brushy area which is why the directions take you down that narrow sandy road). It was very sparsely populated no doubt because it's farther from the hot spring.
In the afternoon, we hiked around in the area where we were camped but mostly just enjoyed a quiet day. We actually had a few little patches of tiny little yellow flowers in bloom in the sand. I haven't a clue what they are but it was nice to see something in bloom.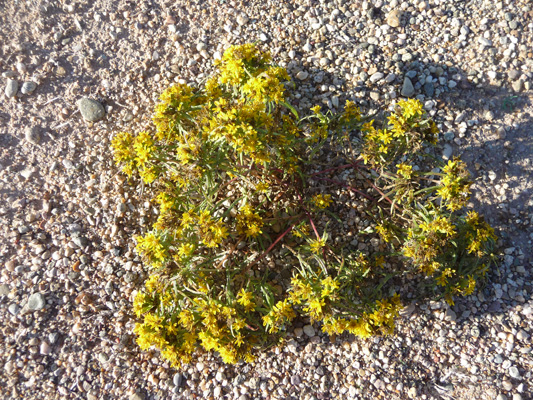 The next day it was 75 when we packed up to leave at 10:30 am and it just got warmer as we drove along. It was still over 50 at 4,000 feet when we went over the passes on I-8. I love how the mountains in this area look like they're just big piles of boulders.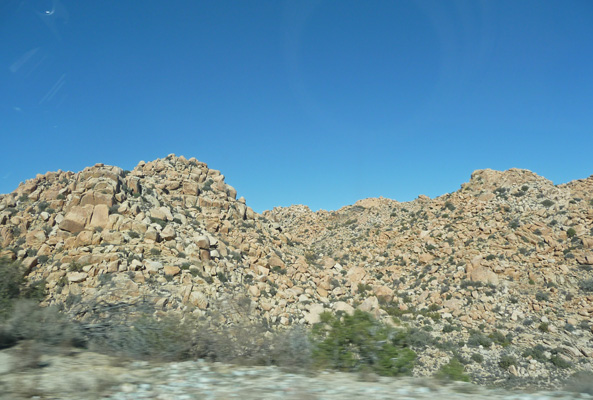 It was over 80 when we arrived at Santee Lakes Regional Park in the early afternoon. We set up camp and then had lunch and took showers in their newly renovated shower house. The good news is they are very nicely done and it was a warm afternoon. The bad news is that the water was lukewarm—a problem they've had here all the years we've been coming (since 2003). On a cold morning that can be an issue. On a hot day, it really wasn't a problem.
Once we were clean, we drove on up to Poway to have dinner with our daughter, Tracy.
On Christmas Eve we took the lovely up and down and up and down hike around Lake Poway with Tracy.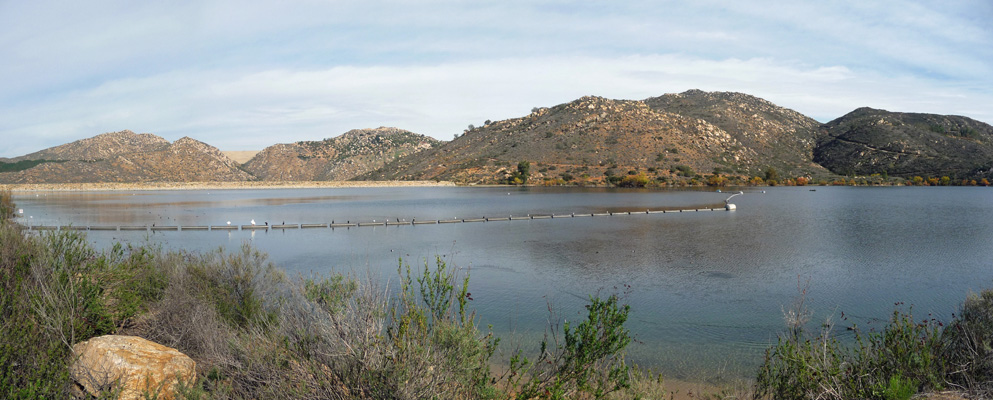 There were pelicans and cormorants cruising on the lake and sitting on the floats.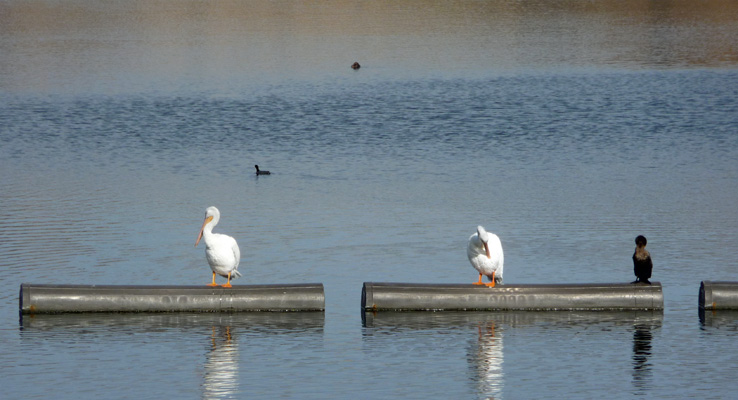 There was an osprey perched on top of a pole and a humming bird on a bare branch at the top of a small tree.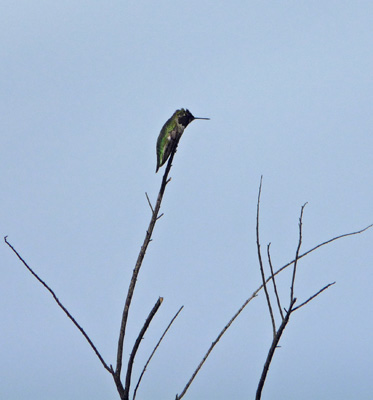 Here's a close up of him. I know it's a males because we saw a flash of scarlet iridescence that doesn't show up in this photo.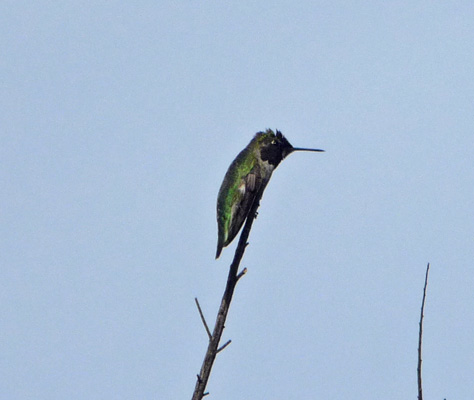 We did this same hike several years ago and were huffing and puffing much of the way. This time, while it was still work, we didn't get worn out which just goes to show that our hiking fitness program is working!
Walter made waffles on Christmas morning and then we went to Tracy's to open stockings and packages. In the afternoon we went to her friend Nancy's house for Christmas dinner with her kids and her friend, Fran and her daughter. The kids were all late teens and early twenties and it was kind of fun to have their young energy added to the mix.
On the day after Christmas, we thought we might avoid the crowds by going for the hike at Torrey Pines. Tracy's friend, Karen, whom we met when they were in Seattle in August 2013, joined us which was a real treat. We got to Torrey Pines at 10:30 am--early for us--and actually found a parking space though there were hordes of folks walking up the long roadway to the trailheads. For a change, we took the Guy Fleming Trail which is a lovely 2/3 mile loop along the bluffs.
You can see that people park along the highway just north of here to avoid having to pay the $15 it takes to get into the state park. It was a gorgeous day and the ocean was a wonderful color.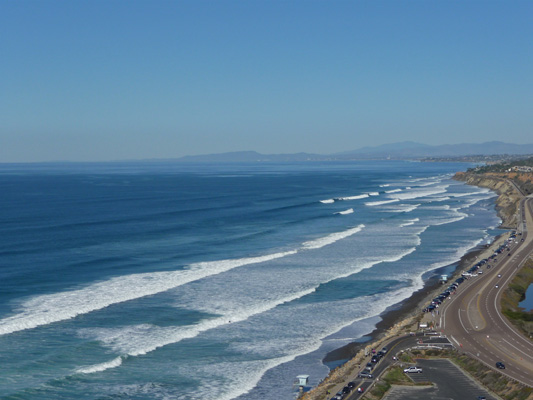 I usually try to get one shot of Tracy and Walter together but since we had Karen with us, I got her to take this photo of the three of us for a change. While I got everyone to take off their sunglasses, I forgot about the hats so you still can't see Walter and Tracy's eyes. Ah well.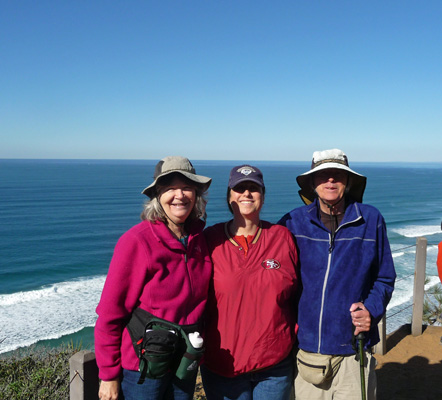 Along with the usual collection of surfers out in the waves there were folks on stand up boards surfing too. We've seen folks on these things all sorts of places but we'd never seen anyone try to catch a wave with one. One guy actually got a pretty decent ride.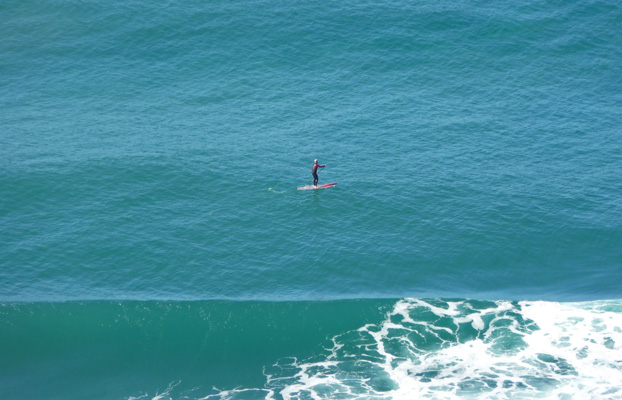 There are wonderful yuccas along the trail.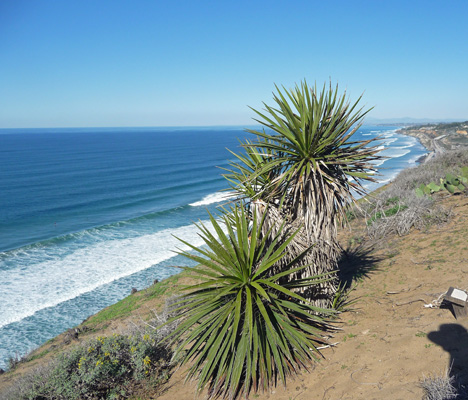 There's also a nice collection of succulents along here including this huge aloe that had nice red edges to its leaves.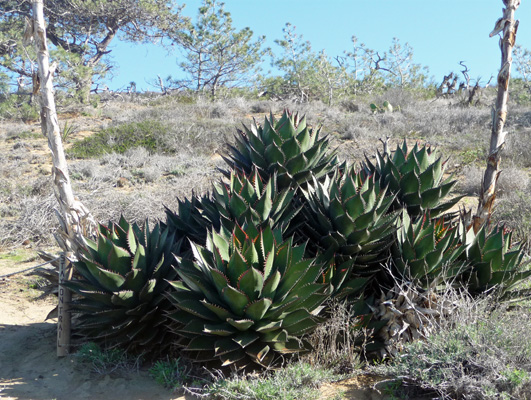 There were lots of bladderpods in bloom along the trail too.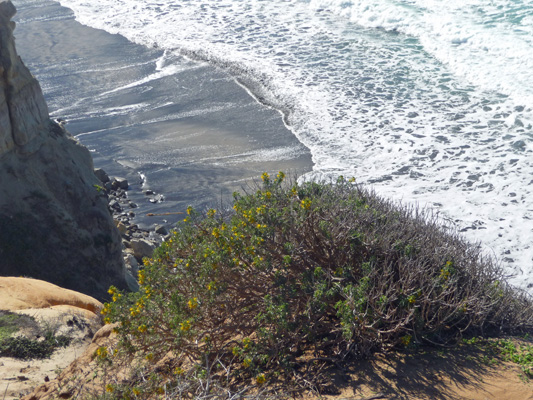 And if you're itching to see the rest of the view, here it is looking south.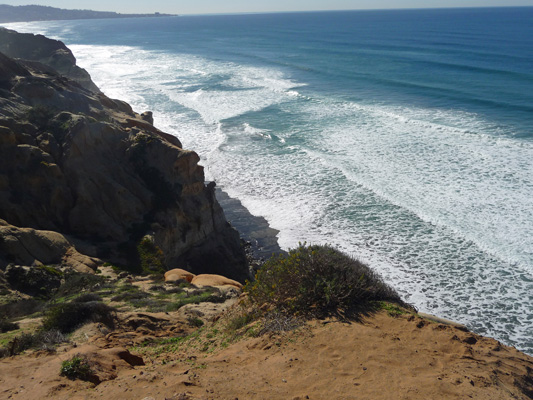 We stood here for a long time watching white poofs of spray that we all decided were from whales. The spray when up in a triangular shape like a sailboat sail and then disappeared and re-appeared a little further on. It was great fun, even if Walter said we were making it all up since he couldn't figure out where we were spotting them.
We saw this lovely verbena in bloom on the way back, but I neglected to take a photo of the sign that gave it's full name and it didn't show up in the little plant brochure I picked up later. So you'll just have to enjoy it without knowing its full name.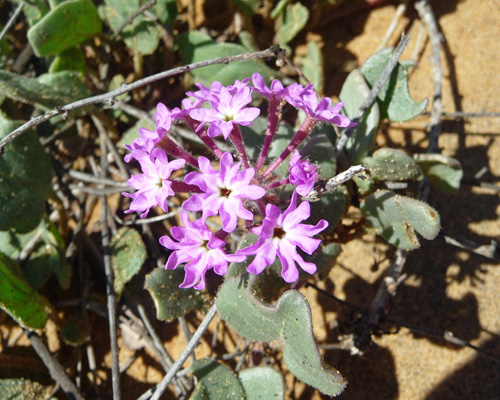 It turns out that the Torrey Pines here are the rarest pines in North America. They only grow here and one other place.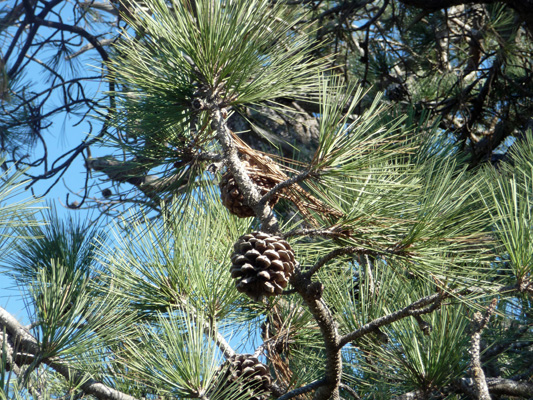 We hiked up to the upper parking lot to use the rest rooms and I got a nice little brochure on the local plants. That at least explained what the wild cucumber vines were that we kept seeing winding their way through other plants.
We hiked back down a ways and then took the High Point Trail up for a great view over the estuary and the Del Mar area.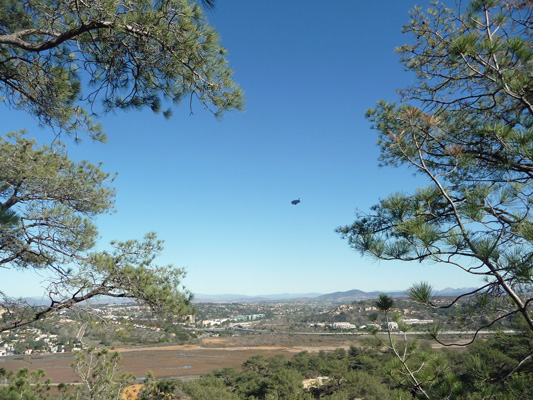 Complete with the Direct TV blimp.
From there we piled back into the car and drove down the hill to the parking lot at South Beach where we had our picnic lunch. After lunch we took a little stroll across the road to the beach. The tide was in and the surf was making great sound effects dragging the rocks up and back across the beach.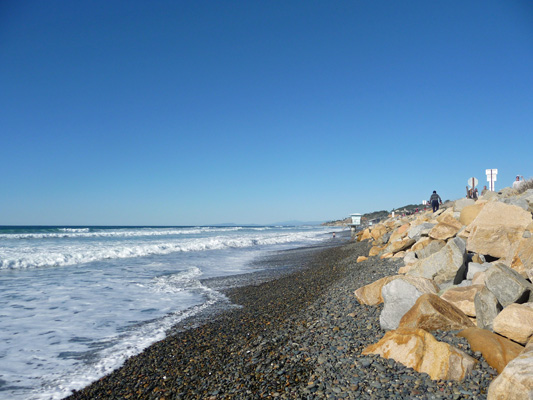 It was truly a gorgeous day.
We had showers that afternoon at Tracy's—praise be to hot water and thank you so much!
After a wonderful visit with Tracy, on Saturday morning December 27th, we packed up the trailer and drove into Santee to do shopping. Walter dropped me off at the Sprouts and went to look for a parking spot. He drove quite a ways, found a place to turn the rig around and ended up with a nice big spot BEHIND the store—now why didn't I think of that? From there we motored down the street to the Vons to finish the grocery shopping and only had to park in the next lot over to find a nice double spot by the bank.
Finally with the groceries packed away, we headed back to I-8 and drove east to Ocotillo and then north up the Imperial Highway to Anza Borrego State Park. Our plan had been to boondock at a small camping area near Mountain Palm Canyon. But it was really rough ground with lots of rocks and erosion and only one spot that might have been big enough for us. So we bagged it and drove on. We stopped for lunch and looked at the map and decided our best shot was the Blair Valley in the middle of the park—a place we'd boondocked back in February 2010. We found a nice spot not long before sunset and got set up. It was only 45 degrees when we arrived—not a good sign. We were at about 2500 feet elevation and the sky was clear as a bell.
It was 33 by 6:30 and was only 45 in the trailer. We ate dinner and ran the generator so we could charge the batteries and run the furnace. We headed for bed by 8:30 bundled up in hats and gloves.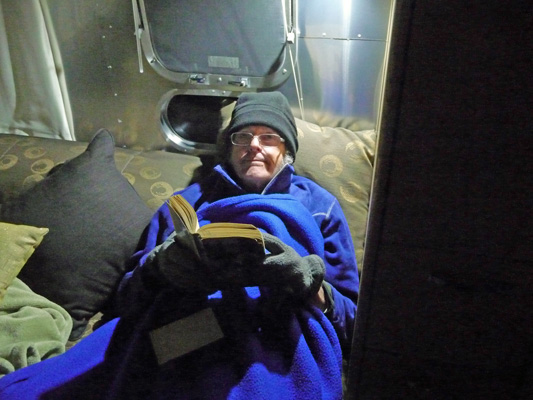 We put all our blankets on the bed and went to bed with our hats on. My hands were still cold so I wore my gloves until I warmed up. We woke up at 4:30 and things were COLD. It was 18 degrees outside. It was 25 degrees in the kitchen area and it was 32 in the bedroom. By then I was wearing my heavy fleece and a pair of sweats in bed. We ran the furnace until it was in the mid 50's in the bedroom and went back to sleep. At 7:30 we woke to discover it was back down to 25 in the kitchen and our pipes had frozen so you couldn't flush the toilet. And there was frost on the aluminum ceiling in the bedroom. We ran the furnace and thank goodness the pipes opened up right away. No damage!
As we waited for things to warm up, Walter turned to me and said "I think we're in the wrong place." I agreed. We have this rule that if we have to run the air conditioning, we're in the wrong place. We've added to that now: if we have to run the furnace too much, we're in the wrong place.
We ran the generator again so we could continue to run the furnace and packed up to move on. We had reservations to camp at Agua Caliente County Park for Monday and Tuesday. It's at about 1200 foot elevation and has full hook ups. We had a hot spot signal so we looked up the weather for Agua Caliente. Much warmer both in the daytime and at night. So we headed back the 16 miles south and hoped for a spot.
We pulled in at about 11:00 and explained our situation. We were in luck. Not only did they have an opening, there was no reservation for the spot where we had a reservation for Monday and Tuesday. And it has only been 34 degrees the night before instead of the 18 we'd just been through. Even better, when we drove in, the folks who had been in our spot on Saturday night had already left. Clearly this was where we were supposed to be.
We jockeyed our way into the spot and hooked up the electricity. We decided we'd continue to use our water pump rather than hooking up a hose that could freeze in the night. The sun was out (it had been cloudy in the Blair Valley) and it was already 60 in the trailer by the time we set up. Heaven.
There's an Ocotillo in bloom at the end of our spot complete with leaves (these guys can look like bunches of dead sticks much of the year).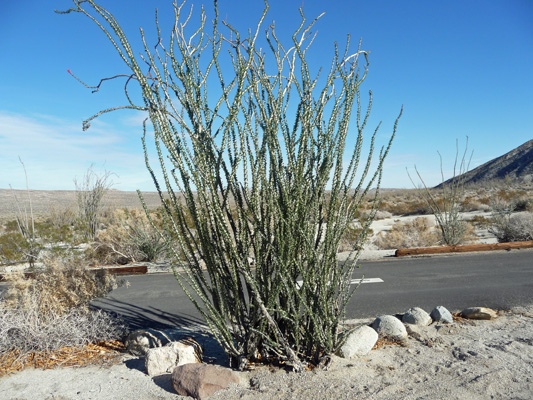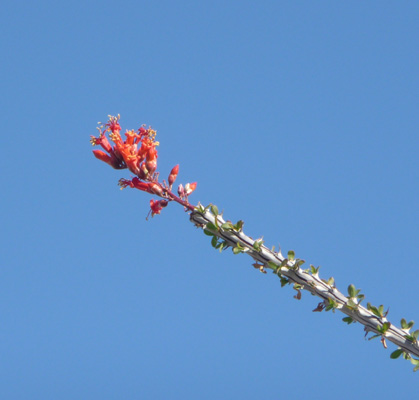 We went for a stroll before lunch to take out the garbage and stopped to talk to Wayne Scott, one of the camp hosts. He invited us back for a campfire at about 4:15 since they too were going to be camp hosting in Oregon State Parks this coming summer. He and his wife, Rhonda Courtney have a blog:
www.TurnWhenTheRoadDoes.com
. Turns out they'll be at Heceta Head in August after we're there in May. They've been full timing for 3 years and have done camp host jobs all over both in the winter and the summer. They've been here at Agua Caliente for 3 months and will be in New Mexico at the hot springs outside of Truth or Consequences from February through April before they head to the NW for the summer.
Late in the afternoon I took this panorama shot of the view northeastward from our campsite.

No that's not snow, it's sand that has blown onto the road.
Agua Caliente is a favorite place for us and this is our 3rd visit here. There are nicely maintained hot springs (both indoor and out), hot showers, partial and full hookups and this gorgeous view. In addition there's a couple of nice hikes here and it's not far to Mountain Palm Canyon to the south where there are more hikes. The downside is there's no cell service so we have no hot spot.