We arrived back in the Seattle area on Tuesday Oct 28th and stayed for six days at the Snoqualmie River RV Park in Fall City. This is a nice RV Park right along the Snoqualmie River. All the spots are on grass and in the heavy rain that we had during that time everything got muddier and muddier. On Friday Oct 31st I got to celebrate Halloween wading through ankle deep water to get to the women's showers in the pouring rain. Frightful!
We got a break in the weather over the weekend and took a quick trip up to Snoqualmie Falls on Sunday morning. Needless to say after nearly 3 weeks of rain, there was lots of water in the falls.
We were not the only folks who thought it was a great morning to see the falls so we actually had to park across the street in the big overflow lot. The pedestrian overpass takes you to the top of the falls next to Salish Lodge.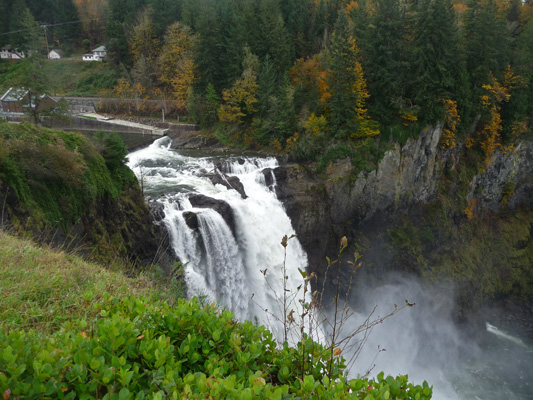 We wandered down to the next overlook and got wet along with everyone else from the spray. That's Salish Lodge over there on the upper left. Many folks recognize it as part of the setting for the old TV program Twin Peaks.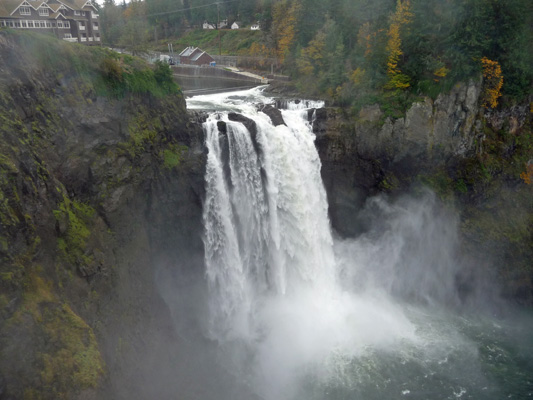 We hiked down to Peregrine Point and I was still getting mist on my lens.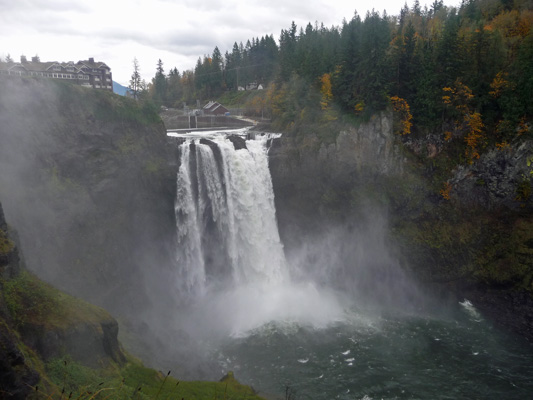 There were Virginia Creeper Vines along the fence next to the parking lot that were lit up with fall color.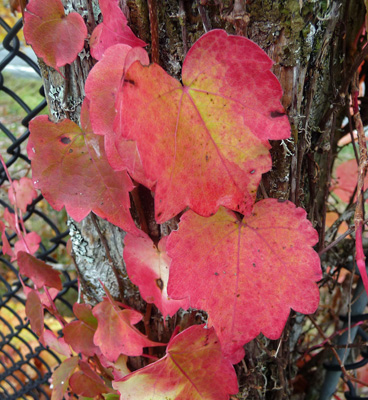 Some were redder than others.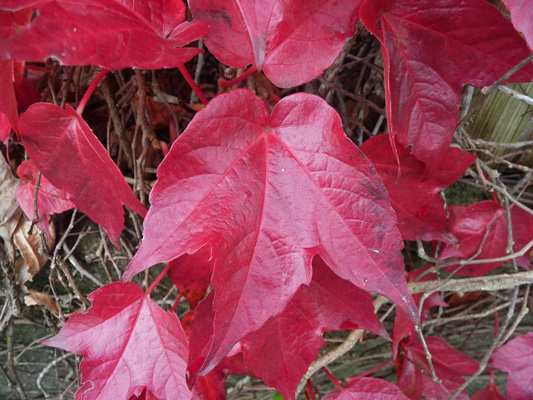 Snoqualmie River RV Park floods most years and they're prepared for it. All the electrical hook ups are set up on concrete headers with 4 or 5 steps you have to climb to get up to them. The river had been getting higher and higher as the days went by and then on Saturday they took the office away (it's a single wide trailer) in preparation for floods. This was not exactly a great vote of confidence for staying. So we decided that since we had no commitments in Seattle for another 10 days that it would be best to make our way down to Lacey (a suburb of Olympia WA, our state capitol) to the Washington Land Yacht Harbor. This was a doubly good thing because when we went to use the dump station at Snoqualmie River it was closed. We needed to dump our tanks and if we'd wanted to stay we'd have had to drive at least up to Carnation to do that. Clearly it was time to move on.
We'd stayed at WLYH one night back in the beginning of October and while it's not luxurious, it is high and dry and very reasonably priced (a full hook up is $10 a night less than no sewer at Snoqualmie). It's affiliated with the Airstream owners association and mostly who camps here are Airstreams. We settled in for 10 days and were very happy there. The park was nearly empty so it was quiet but not spooky since it's next to a mobile home park (very nice double wides mostly) for Airstream owners. It's near shopping so we got all our errands done. Sara even figured out a crafts project she could do in the trailer and got most of it done during the week. Now she's just waiting until we go further south so that she can do some spray painting outside (and above 60 degrees). It's been too cold or wet or windy for it here.
It rained and rained and rained some more but finally on Friday Nov. 7th we had a non-rainy day. It started out foggy but that didn't stop us from going off to the Capitol State Forest for a hike. We had decent directions that got us easily to the McLane Creek Nature Trail. This is a fun hike through a wetland with lots of wooden walkways and overlooks over a series of beaver ponds. We followed the trail out to McLane Creek.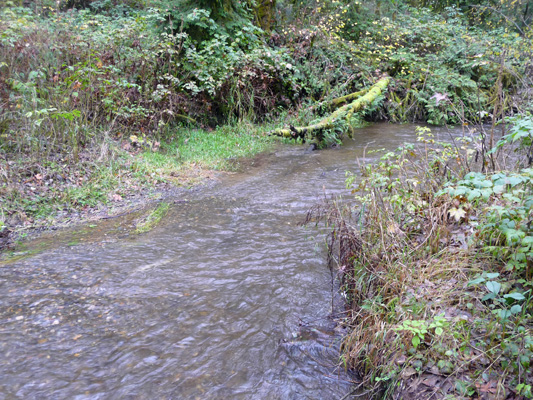 And were greeted by spawning salmon!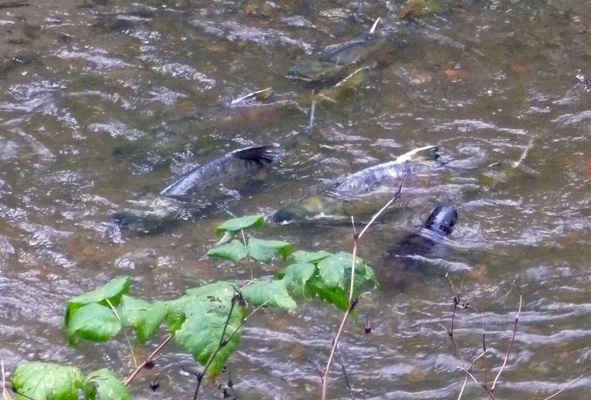 They were splashing around digging holes to lay eggs.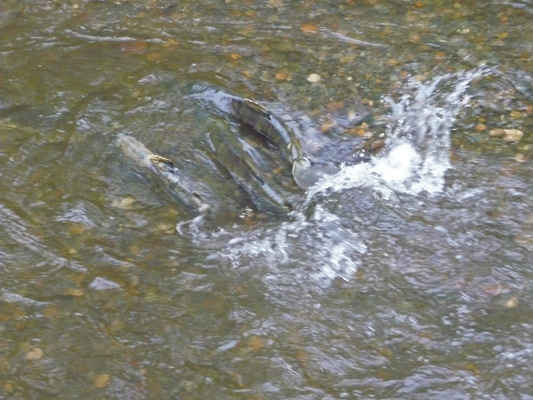 And fighting their way up stream.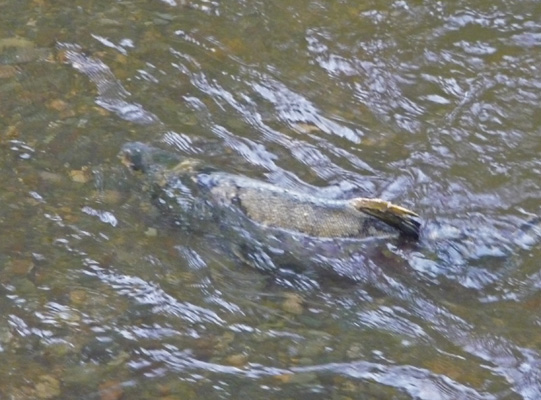 We stood and watched them for quite a while. There were LOTS of them and it was really an amazing sight.
We then walked the rest of the loop trail past the other ponds and spied some very healthy and happy mallards.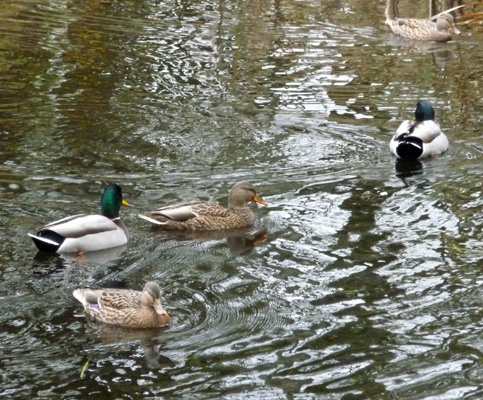 It was still cloudy when we finished our hike so we drove back towards Olympia and stopped at Marathon Park on Capitol Lake for lunch. The sun came out as we arrived.

We got out for a short walk on Saturday thinking that it was going to rain on Sunday. But while it rained on the Seahawks game up in Seattle, it was sunny in Lacey on Sunday afternoon. In fact we even had a bit of a sunset.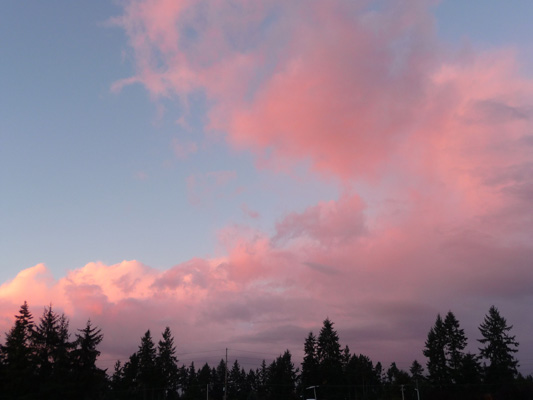 On Monday we awoke to SUNSHINE. It was a little breezy and cool but hey, it was sunny! We made a lunch, stopped by and did a couple of errands in Lacey and then drove north to Priest Point Park in northern Olympia. We had directions for a hike but we never really found the trailhead the directions were talking about. Ah well, we wandered around and found a way down to the shoreline of Bud Inlet. That's the capitol building in the distance.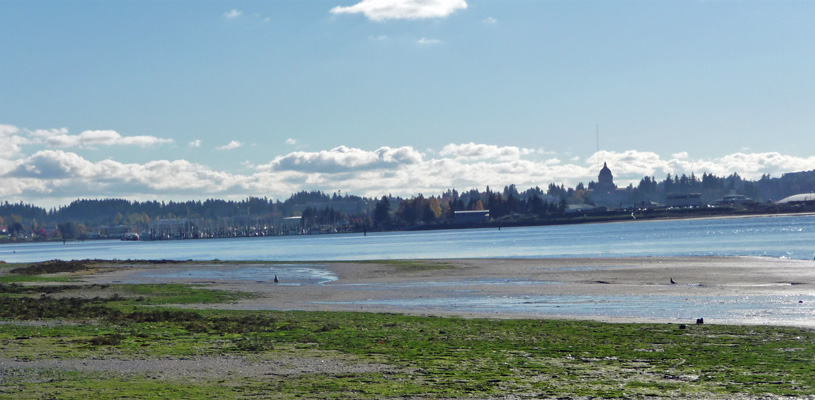 Here's a close up of the Capitol.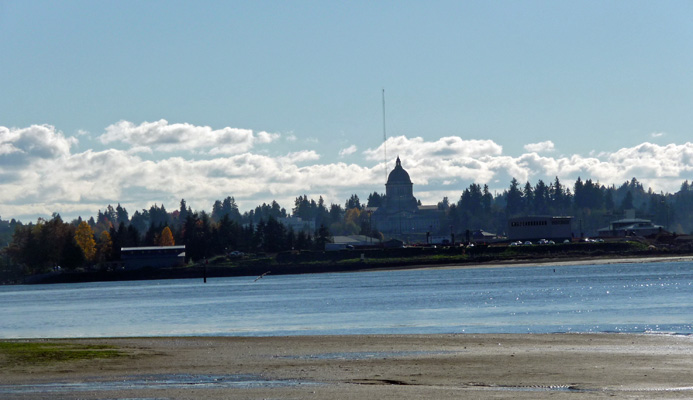 The view from the beach northward was pretty swell too. As you can tell the tide was out.

We squished our way across the mud flats looking for the rest of the trail and found ourselves by this lovely wide section of a creek,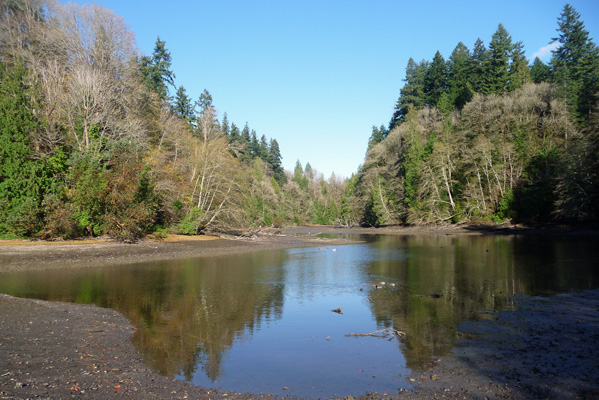 Complete with Great Blue Heron.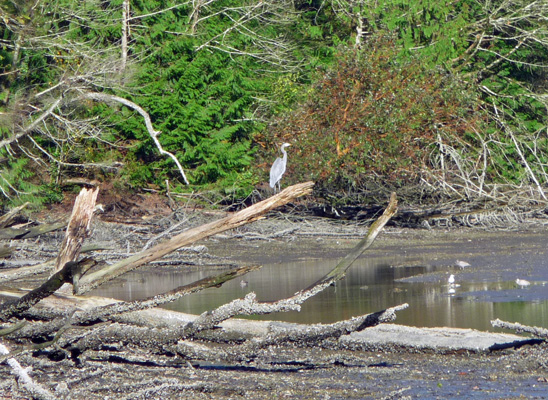 We hiked back up the hill where the trail ended and we sat in the SUN!!! for a while before going back to the truck. This wasn't a great place for a picnic (a bit cold and damp) so we drove back towards Olympia and found a nice spot at the marina for our lunch.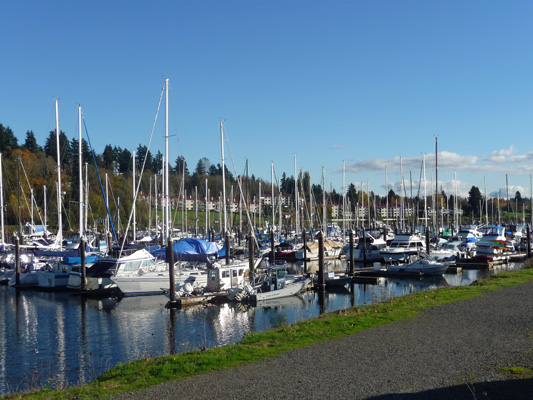 We picked up Walter's new glasses on Wednesday and then had a warranty repair appointment for the Airstream on Thursday morning. Mid afternoon we finally headed southward, AT LAST!