On Tuesday June 3rd, we packed up the Airstream and motored down the road from Salt Creek Campgroundd to Lake Crescent in Olympic National Park. With not too much trouble we found a place to park the truck and trailer near the trailhead for the hike to Marymere Falls. This is trail wanders through the woods, down through a tunnel under Hwy 101 and then into a wonderland of sword ferns in the old growth forest. There were wrens singing and a gentle breeze blowing to complete the magic.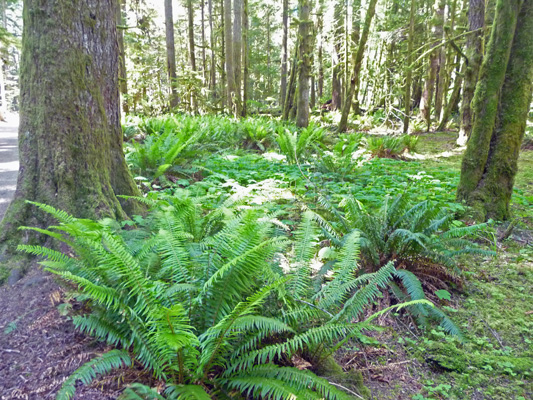 The trail crosses the river and the climbs via a set of pretty steep stairs up to a series of viewpoints of the falls.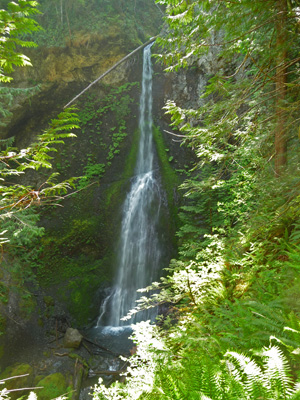 Once you complete the loop up by the falls the trail takes you back the way you came. On the way back I noticed this great patch of mushrooms growing on a downed log.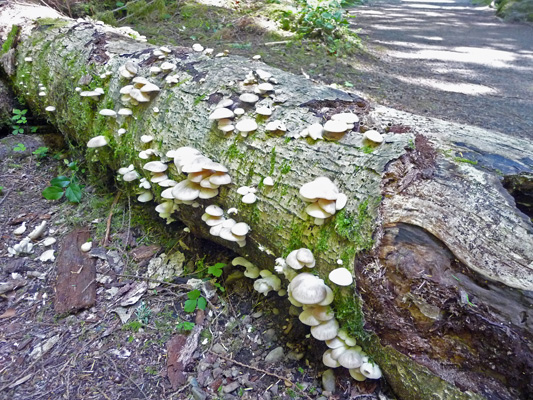 These were not the usual hard shelf fungi. These were soft and fragile mushrooms.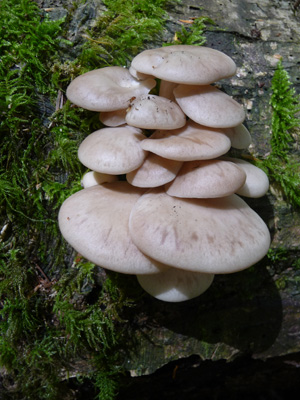 On the way in, I'd noticed this old hemlock that had started life on a stump and had extended its roots down to the forest floor. On the way back when I stopped to look at it again, Walter decided he'd make a great picture in amongst them—one gnarly old man with the gnarly old tree or something like that.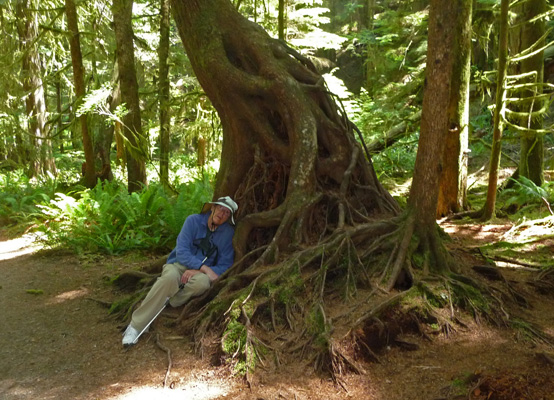 When the trail comes back out of the tunnel you can take a lower branch of the trail and go out along the lakefront past the boat launch. Back in 2006 we launched our kayak from here and paddled down in front of the hotel for a picnic lunch along the lake. The boat's in storage at the moment so we had to settle for a photo instead. Lake Crescent is always beautiful.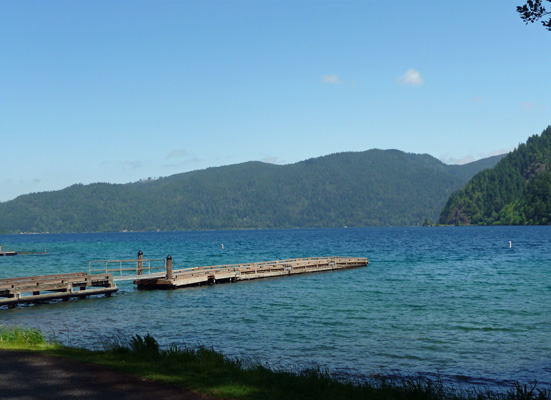 There was a big meadow full of daisies so Walter took a photo of me with my 'flock.'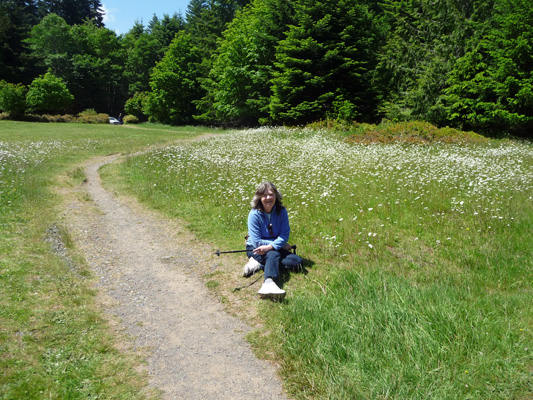 From here we motored on along the lake to the turn off to Sol Duc Hot Springs and campground. You drive 22 miles inland on a beautiful winding road until you get to the campground. We found a nice pull through space across from a 28 foot Airstream and settled in. I was most certainly surprised to discover that while we have a weak signal the new hot spot works from here! Pretty amazing to be out deep in the woods with technology working.
On Wednesday June 4th we took the hike to Sol Duc Falls and I forgot my camera. There were tons of flowers along the trail—very reminiscent of the flowers in Ketchikan this time of year 2 years ago. There was tons of water in the falls and they were as lovely as ever.