Saturday August 2nd we awoke to the smoke getting worse at Diamond Lake. We made a picnic lunch and set out on a drive so we could take a hike at Silent Creek on the other side of the lake. We stopped at the marina at Diamond Lake Resort to get 2 gallons of gas for the generator—only $5.50 a gallon!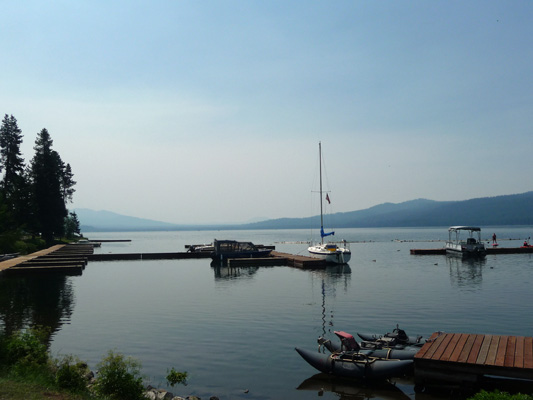 Then we drove around to the west side of the lake and stopped to tour the Thielsen View Campground. It was about 1/2 full. The west side of the lake is pretty marshy around the edges so I suspect they may have more of a reputation for mosquitos on that side. We stopped at the Day Use/Boat Launch area so I could take a photo of Mt. Thielsen.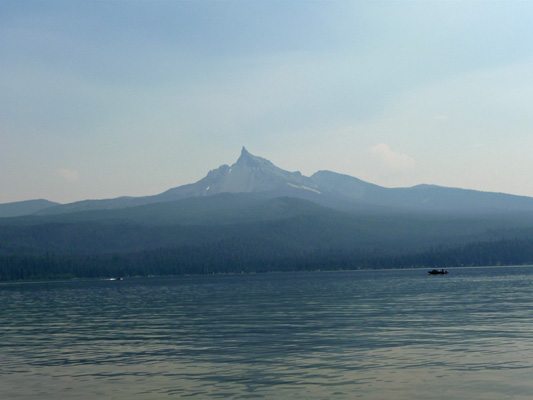 You can see that the smoke was pretty bad since the mountain really isn't that far away.
By the time we got to Silent Creek, both of us thought that a hike wasn't a real good idea considering the air quality. So we continued on our drive. We stopped at Broken Arrow Campground which is at the south end of the lake. It's a big wide open campground with lots of large sites and it was nearly empty. The campground is across the road from the lake so there are no view sites and the access to the lake isn't very close by. There is a boat ramp but I'd guess that Broken Arrow is mostly used as an overflow campground when the other two are full since it was nearly empty when we visited.
Once we'd finished the drive around the lake, Walter suggested that we go ahead and drive down to Crater Lake for a picnic lunch. It's only about a half hour drive so off we went. The smoke had been worse at the south end of the lake than the north and it got worse and worse as we went south towards Crater Lake. We turned east on the Rim Road and stopped at the first viewpoint with a good view of the lake. That's Wizard island out in the lake.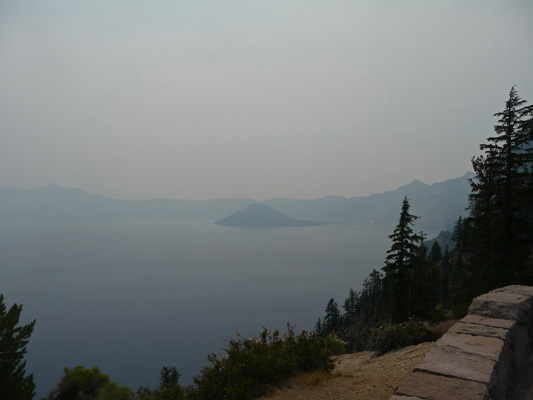 I dug through my photos from back in 2008 when we visited Crater Lake. This is what it looked like on a beautiful clear September morning with a fire burning to the southwest.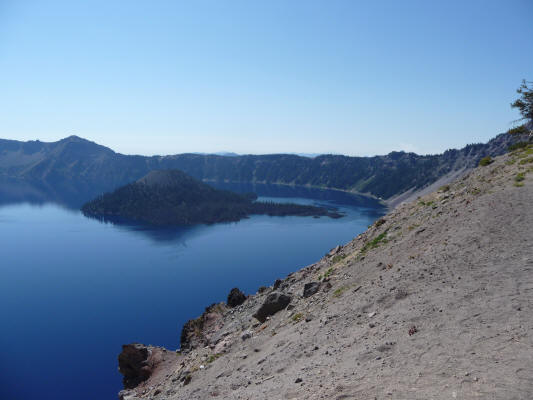 There was a fellow at the viewpoint with wonderful photos he had taken last year when it was gorgeous. So at least the folks who were there for the first time could see what all the fuss is about. We sat and ate our lunch and then motored back to Diamond Lake. Walter coughed off and on that night (he's allergic to smoke) so the next morning we packed it in and drove back to Crescent for another night at Big Pines RV Resort.
We had showers and spent the afternoon reading reports of the fire and trying to figure out where we could go where it might be okay. We settled on Waldo Lake which is just north and west of Crescent Lake. We camped there back in 2008 and had really enjoyed it. So on Monday morning August 4th we packed up one more time and motored out on the Crescent Cutoff Road towards Highway 58. There is a wonderful stand of Ponderosa Pines along the Cutoff Road between the turn-off for the Cascades Lakes Highway and where the Cutoff hits Highway 58. It's hard to photograph big trees so I didn't bother to try.
With some difficulty, we found a spot at North Waldo Campground that was big enough for Genevieve The Silver Palace and spent a good long time jockeying to get her in. We had the smallest of views of the lake but you could still feel the breeze which was wonderful. We set up camp and hung out until lunch time. After lunch we took a little walk down to the lake. There were lots of kids out in kayaks having a great old time.
This little inlet is actually a pass between the shore and an island. It makes for a nice shallow area for the kids to swim in and for the kayakers to get a feel of their boats.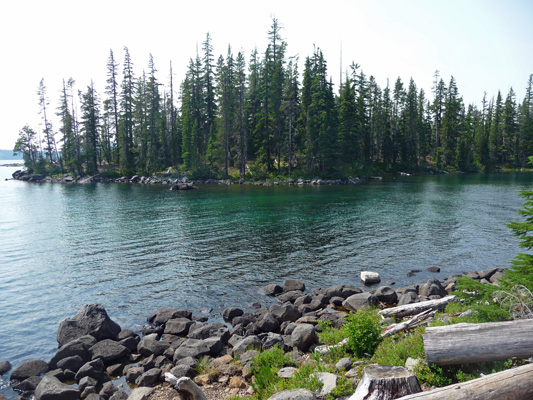 If you walk south along the shore towards Islet Campground you can get a view across the lake towards Diamond Peak which is barely visible through the haze in the distance.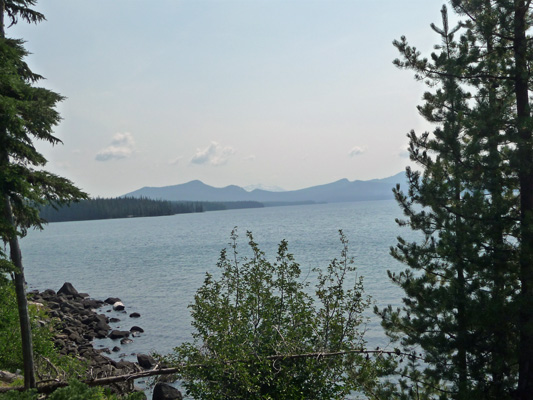 On Tuesday we awoke to clearing skies! The wind had changed direction and begun to blow the smoke into Eastern Oregon. We put on our hiking boots and set out along the Waldo Lake Trail which wonders of wonders goes around Waldo Lake.
There are tons of Golden-mantled ground squirrels here. This one stayed still long enough for me to get my camera out and take his picture.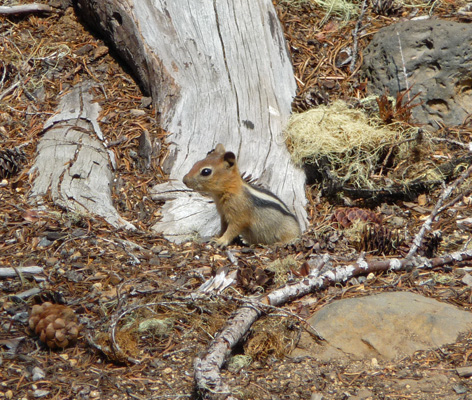 The understory of the forest was covered with this miniature version of Red Huckleberry. It's only about 6 inches tall but the berries are the usual size you see on the big bushes. It's called a Dwarf Red Whortleberry (Vaccinium scoparium)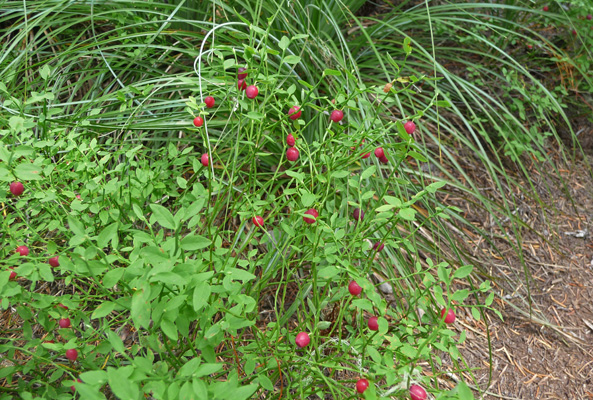 The trail has many splits and we decided this time to take the right fork (we went left the last time we did it) and the trail led us out into the remnants of a big burn. Over time many of the dead trees had broken off and so we were left with a forest of silver trunks about 10 feet tall. A little strange but still interesting. There were huge drifts of Pearly Everlasting (Anapahlis margaritacea) in bloom.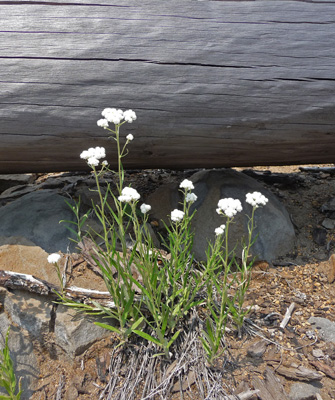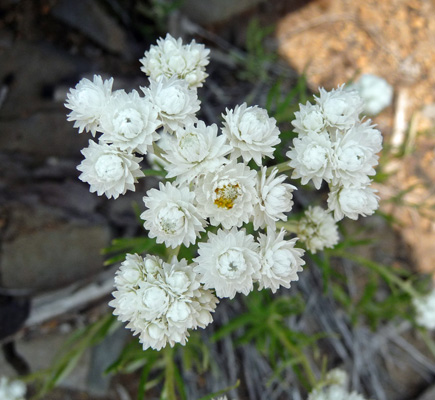 It's by no means a rare wildflower but I'd never seen so much of it in one place before. The trail came to yet another fork and we decided we were ready to see if this one might take us towards the lake shore. First it went past a couple of small ponds, one with water lily pads with one lone yellow bloom. Then we arrived at the lake shore. Walter found a nice big fallen log to rest on while I tried to capture what the burn looks like.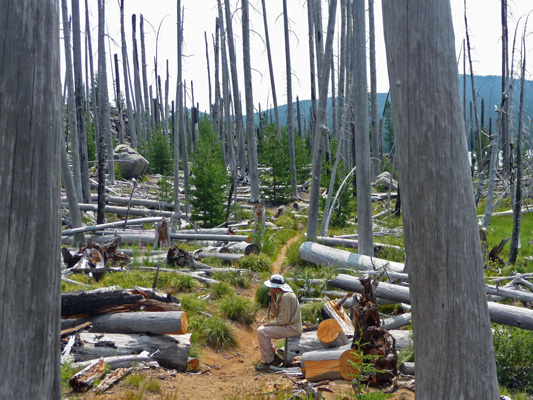 Later when we reached the shore I looked back and took this photo of the burn.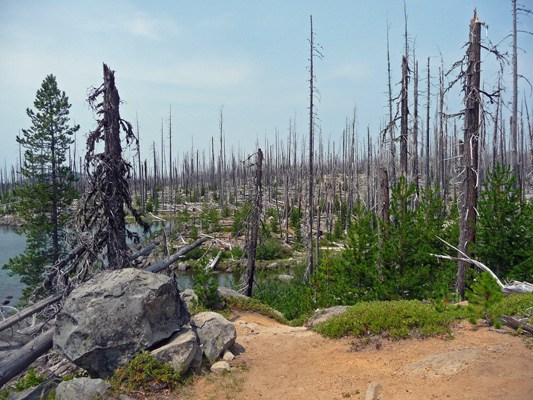 Back in 2008 we had our kayak with us and we stopped on this little islet. There's even a nice bench up at the top where you can stop and admire the view southward. You can tell it was clearer because you can actually see Diamond Peak in the background with snow on it. Those two specks off on to the left of the islet are kayaks.

When we had passed the boat launch on our way to the trail there was a group of about 15 folks from the Eugene Parks and Recreation Department (or so their bus said) getting ready to launch some kayaks. On the way back we saw them coming out onto the lake proper. They were like a little bunch of ducklings following the leader.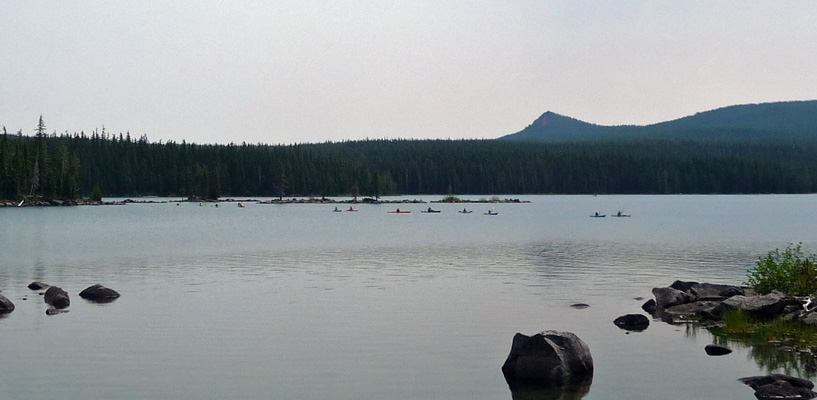 As we re-entered the living forest I finally got a good shot of Diamond Peak with a canoe paddling by.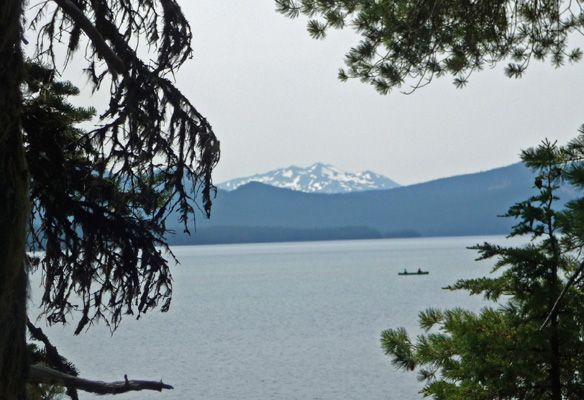 You can't have internal combustion engines on Waldo Lake so it's a great lake to paddle on. Both trips we saw more kayaks and canoes here than any other place we've visited.
As the trail turned southward back towards the campground we spied the group of kayaks as they passed the little islet.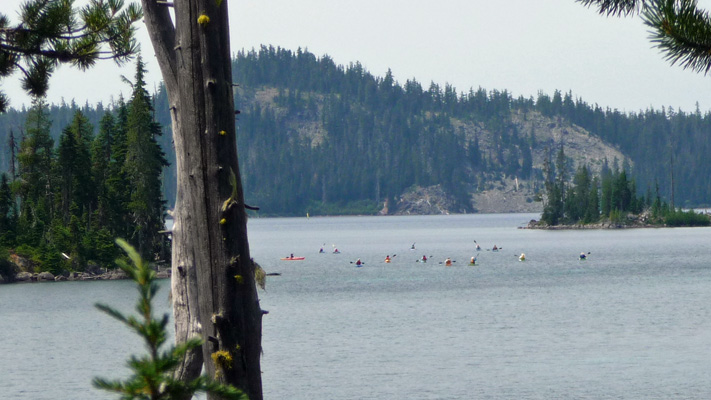 It had started to really warm up so we stopped for a few minutes to rest in the woods and I took a photo of the healthy forest just as a reminder of what it all looked like before so much of the north end of the lake's forest burned.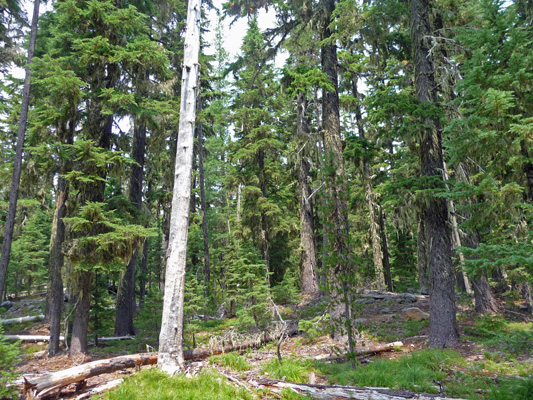 Wednesday August 6th we packed up and drove west on Highway 58 to Oakridge and then took the turn-off to Westfir under fairly clear skies. We were looking for the turn-off to Forest Road 19 also known as the Aufderheide Scenic Byway. The highway starts right past this wonderful old covered bridge. It's called the Office Covered Bridge. It's the longest covered bridge in Oregon. It's only a very narrow single lane wide so needless to say we didn't drive over it with the trailer.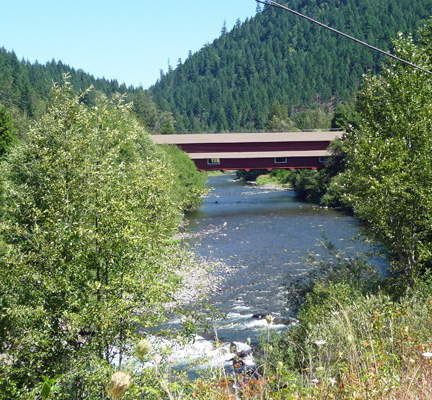 The roadsides here were covered with Queen Anne's Lace (Daucus carota).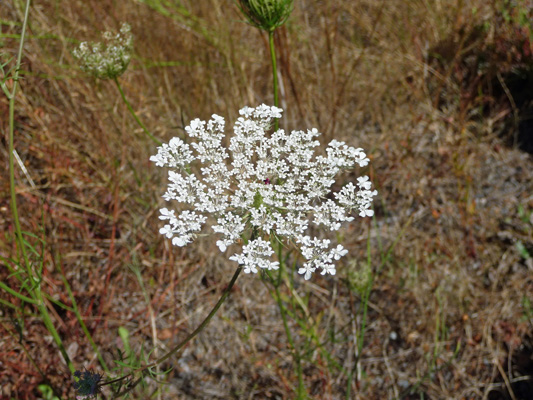 Just past the bridge, Forest Road 19 starts. It's paved the whole way and even has a double yellow line running down the middle. There were almost no turn outs big enough for the trailer so we only got to stop once. You could see the North Fork of the Middle Fork of the Willamette River through the trees but it didn't make a decent photo. It's a winding road that follows the North Fork until you pick up the South Fork of the McKenzie. It ends just after you pass Cougar Reservoir and hit Highway 126 near the town of Rainbow. So we've even been somewhere over the Rainbow this trip!
We spent the night at the Holiday Farm RV Park just west of Rainbow. We'd stayed there 2 weeks earlier and it's a nice park. The next morning we awoke to truly blue skies! The smoke was gone. Hurray. We stopped at Cold Cove Campground on Clear Lake (the source of the McKenzie River) but they were full already at 11:30. We drove on looking for a turn off to Big Lake Campground. It's supposed to be off Hwy 126/20 just east of Santiam Pass. We took a turn off that said Big Lake that also goes to the ski resort . We wandered around for a while and when we still didn't see any signs we gave up and turned around and continued on down the highway. When we reached Suttle Lake (which is nearly to Sisters) we knew we'd missed the turn. We drove back UP the pass and still didn't see a campground sign so we bagged it and went on to Detroit Lake where there are a number of campgrounds to pick from.
We decided we'd try for Cove Creek Campground since it's the newest and largest of the lot. It wasn't in our campground book even though I'd read all about it the night before on the web. So we didn't know where on Detroit Lake it was. Oops. We drove the highway looking for a turn off sign and ended up past the dam with no sign of the campground. We turned around and stopped at a turn off to regroup. I read my notes on Cove Creek and noticed that they said it was near a trail that started at one of the campgrounds on the south shore. So off we went to check out the south shore campgrounds. After driving past 2 sure enough there was the turn off for Cove Creek Campground. There are over 60 sites in this campground and we found one of the last unreserved spots that was empty. AND it was big enough for us. After a little less jockeying than the last time we got settled in. The spots here are pretty close together so you don't really get a the feeling of being out in the woods. It's more like being in a small town. It's on a side-hill with paved roads and the kids just love them for riding skate boards and scooters down. They're pretty steep so they get up a LOT of speed.
There's a boat launch here and we went down after lunch to check out the lake.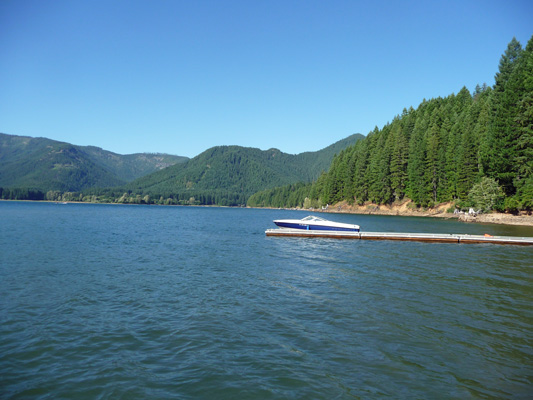 They water ski and jet ski and generally have a great time on this good sized lake. We can hear the boats from our campsite but we can't see the lake. Here's the lake without any boats on it—a small miracle.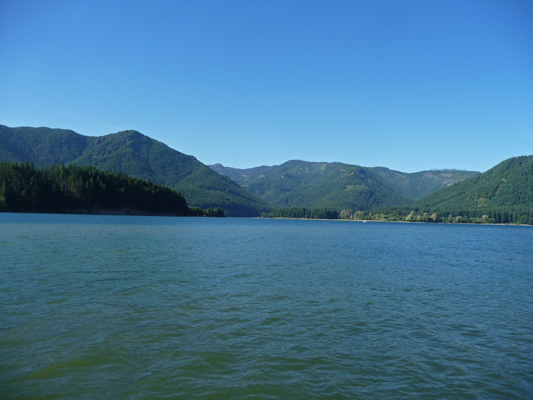 The next morning we ran the generator, packed a picnic and set out for Olallie Lake. When we visited there 6 years ago, the way wasn't marked well so we stopped by the Forest Service office in Detroit for directions. It's really simple. Turn onto Brietenbush Road and go 25 miles or so until you reach Forest Road 4690. Turn right on 4690 and go until it ends in a 'T'. Turn right on Forest Road 4220 and take it until you get to the lake.
The sign on the highway says it's 37 miles to Olallie Lake. If that's true, then it's paved for 29 miles of the route and the rest was very nicely graded gravel. Six years ago the gravel portion was pretty awful especially on FR 4220 so we were very pleasantly surprised when that one-track road didn't bounce us to death.
v We pulled into the Day Use area at Olallie Lake a little after 2 pm. There was a nice picnic table in the sun and it was about 65 degrees—perfect for sitting in the sun and enjoying the view. Mt. Jefferson was out but partly obscured by smoke from a fire that is burning in the eastern portion of the Mt. Jefferson Wilderness.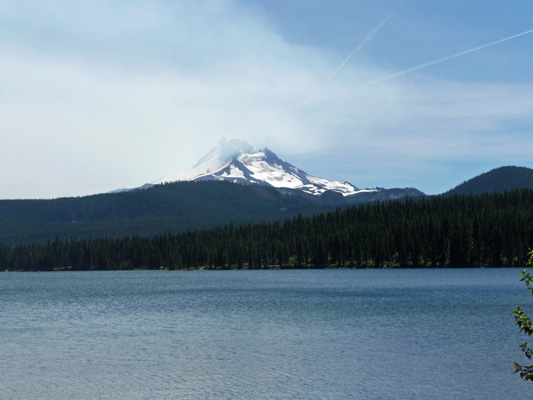 There's an old-time resort on the lake with cabins and a store. They have a dock with rental paddle boats and row boats.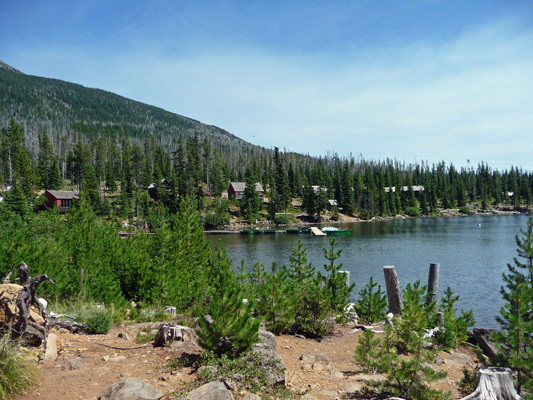 There are several campgrounds out this way too but we wouldn't have even brought Rosita out on that many miles of gravel let alone Genevieve the Silver Palace.
After lunch was sat and watched the osprey circle and dive (and abort their dives) over the lake and a few folks struggle with the row boats over on the dock. When lunch had settled we put on our hiking boots and got out our hiking sticks and set out for a bit of a hike. The Pacific Crest Trail (PCT) which runs from the Mexican to the Canadian borders runs right past Olallie Lake. Each year there are folks who hike the entire trail (usually from south to north) and others who hike portions of it. Hiking the whole thing can take months. When we were here in September 2008 we met a number of northbound through hikers who basically had a month left in their hike to the Canadian Border. Most of them didn't make it until after the first snow in the northern Cascades.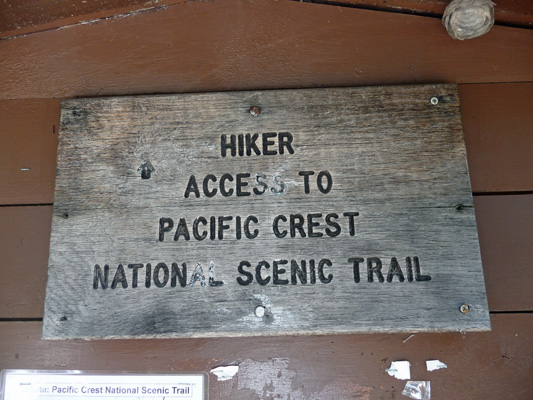 We hiked southward a ways past a pretty little lake complete with 2 skinny dippers. They were hooting and hollering and having a great time so I suspect that the water wasn't really warm.
Remember the bear grass that we saw back in June at Kachess Campground?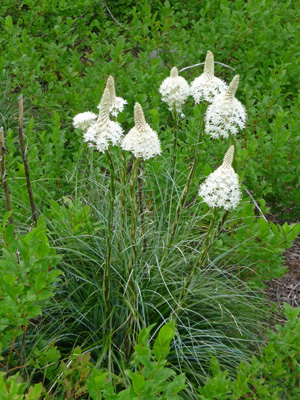 Well there was a ton of it here that had gone to seed. Walter wanted to know what the heck it was so I took this photo so you could see it too.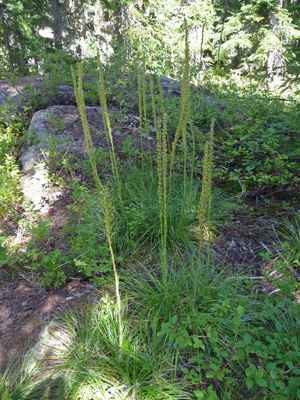 We hiked up the rocky trail until we found a nice set of boulders to rest on and I shot a photo of the trail and the surrounding forest. There's been a lot of die off due to bark beetle no doubt.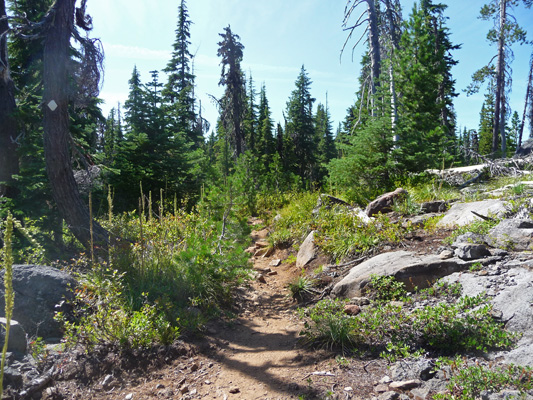 Around the bend from here there was a peak a boo view of Mt. Jefferson.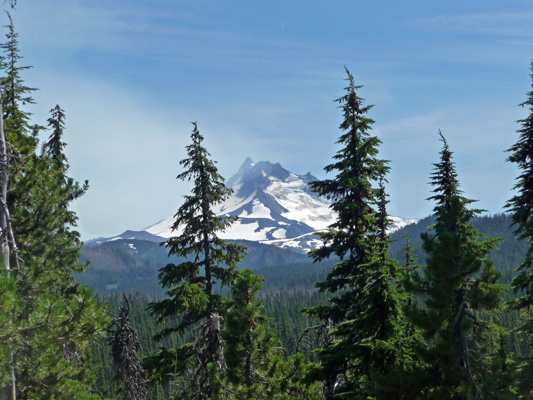 When we were beginning to tire we came to a pretty little lake just off the trail.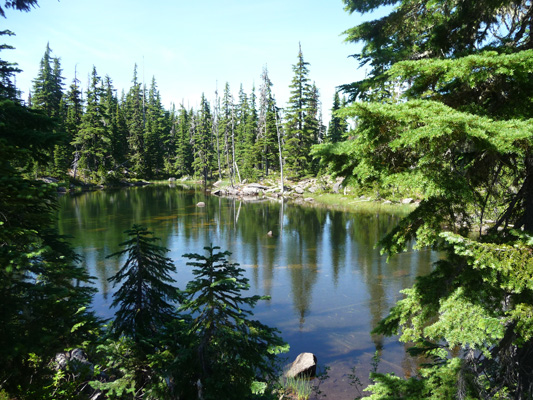 The sign posted on an old dead snag said it was Scharf Lake.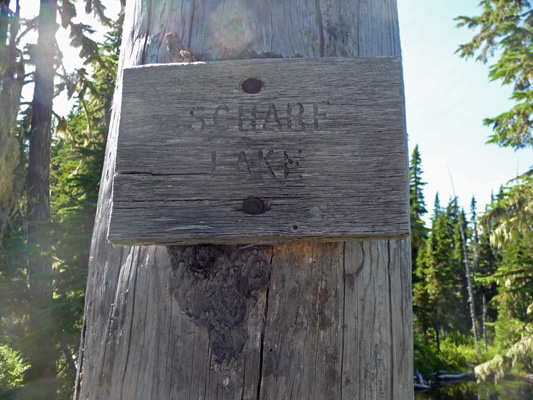 We wandered down to the lake and found a nice boulder to sit on and enjoy the peace and quiet.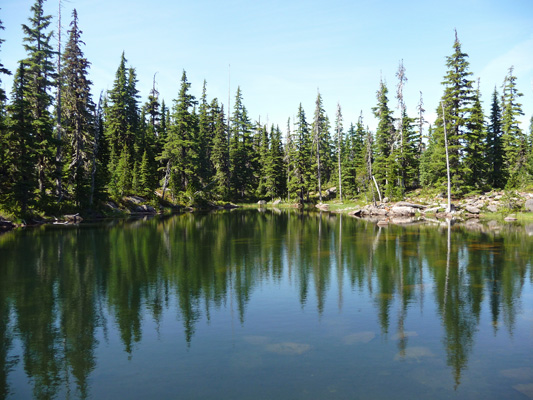 Having hiked about 1/2 hour, we turned around and made our way back down the trail.
At the junction where we joined the PCT we spied these signs posted on a tree.
When you've been backpacking for weeks carrying all your food and water, coming to a place with Ice Cold BEER and Soda must be a real treat. This sign says NOBO in small print just before the Class of 2014. That stands for North Bound. There was a similar sign on the other side of the tree that said SOBO standing for south bound.
When we got back to the Day Use Area the smoke had cleared some and Mt. Jefferson was fully visible.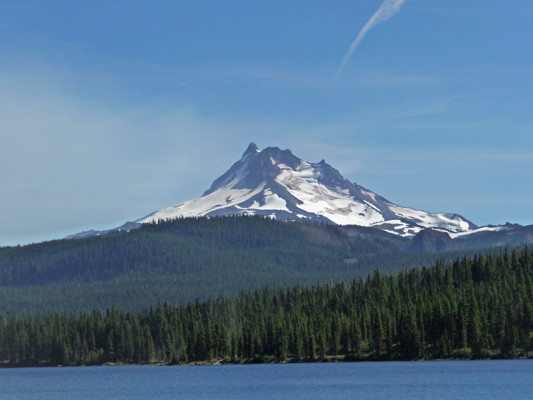 When we got back the campground was full and most of the sites had more than one vehicle parked and more than one tent. The place was really jumping all day but they mostly quieted down nicely after dark. I wouldn't suggest this campground if you want peace and quiet or a woodsy experience. The sites are pretty close together and it feels more like a small village or a refugee camp than a day in the woods.