We awoke on Thursday October 16th outside of Medford, OR to sunny skies. We took a few moments to consider whether we should stay another day at Stewart State Park to enjoy the sun but decided that it would be better to make our trip over the mountains while the weather was good since our plan was to spend the next little while in Central Oregon. As you will soon see, it was the right choice.
We headed up Highway 62 towards Crater Lake in bright sunshine. We spied a viewpoint or two and on a whim, Walter turned into the Rogue Gorge Viewpoint. What a great place. There's a short trail that leads out to the Rogue River as it crashes down a narrow gorge. At this point, the chasm is only 25 feet across.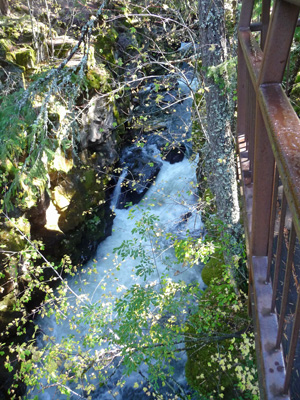 The trail follows the river upstream and the chasm gets narrower and narrower until it is only about 10 feet across.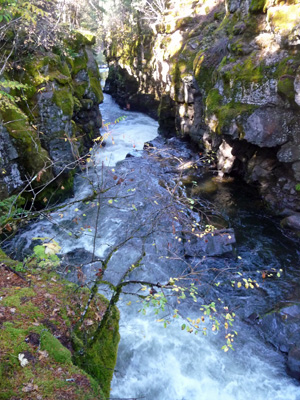 At this point the river is dropping about 25 feet through a series of cascades.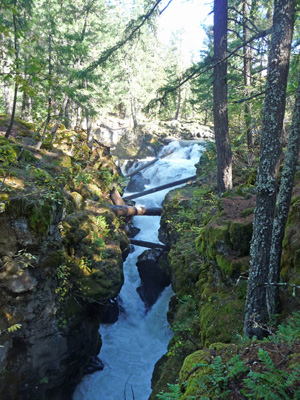 When you arrive at the top of the chasm you are rewarded with this nice waterfall—it's not that high but with all that water in such a small space it crashes really good.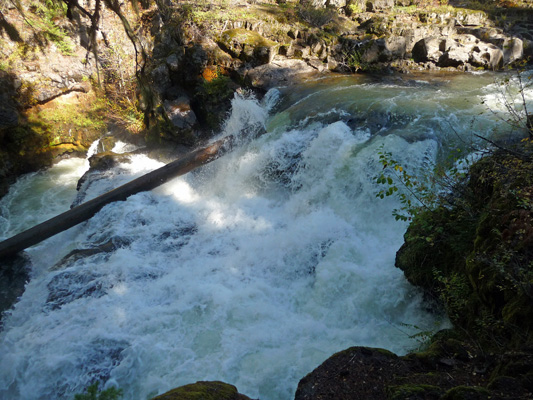 The river is busy carving it's course through solid basalt—some of it is clearly softer than others since this part isn't deep like the chasm down stream.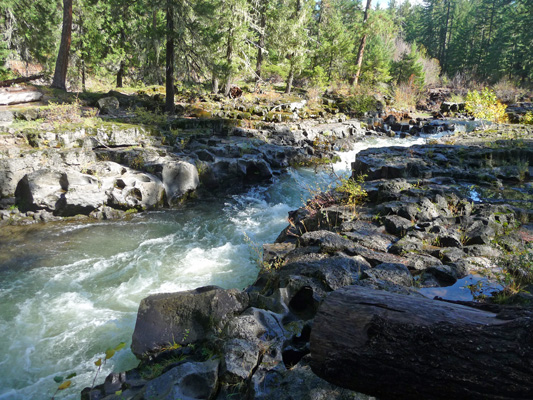 After that nice little break we continued up into the mountains to Crater Lake National Park. Not long after we entered the park we started to see snow along the verge. As the road climbed, the snow accumulation grew. The road was clear but they'd had quite a bit of snow out the storm that had just gotten us wet Tuesday night and Wednesday.
We'd been to Crater Lake in the snow before (twice as a matter of fact) but both times the lake was fogged in and we couldn't see a thing. Not this time! The turn outs weren't all plowed so getting a photo at first was a bit of a challenge. Just past the main Rim Village parking lot (7,100 feet in elevation), Walter pulled over and just stopped in the road so I could hop out and get a photo.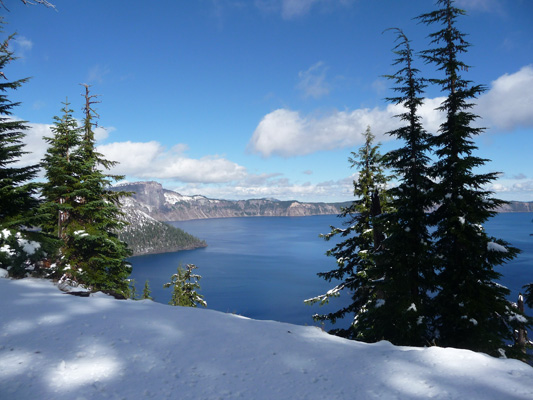 Here's François and Genevieve waiting in the road—and my foot prints in the snow.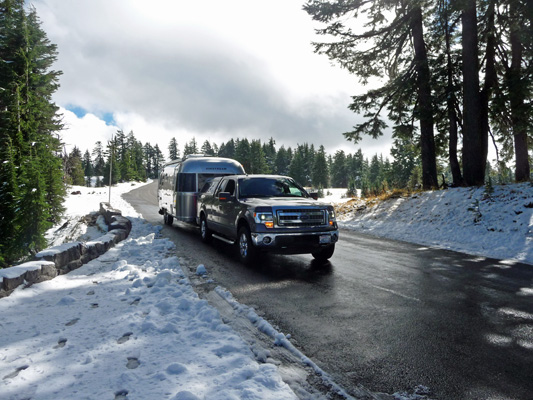 A little further on there were several turn outs that were fully plowed. It was only about 36 degrees but with the sun shining there was a lot of water running everywhere which made things kind of slushy. But that didn't deter my efforts to capture Wizard Island and the wonderful blue of Crater Lake. I hadn't realized I'd been waiting all my life to take this photo until I'd done it. I was so happy I was singing.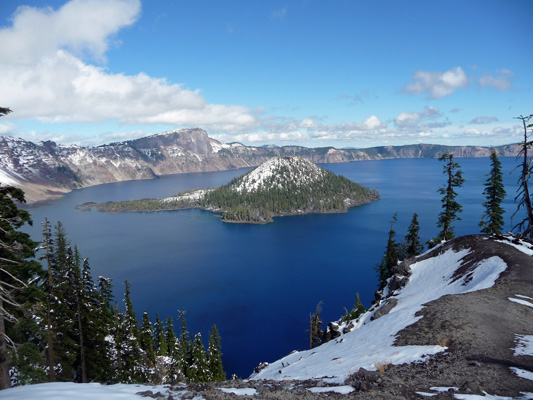 I took this panorama shot a little further along the rim road. You can see how slushy things were. But look at the gorgeous blue lake! That's a far cry from the
grey smoky views we had in August
.

The north sides of the trees were still heavy with snow and ice. Kind of looks like winter, huh?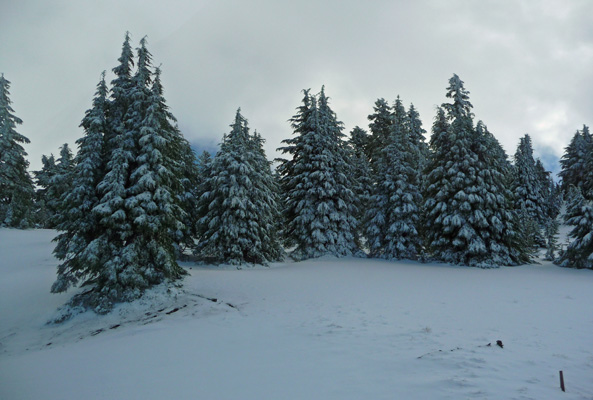 We stopped to change drivers and make a pit stop and I shot one last panorama photo of the lake.

And then turned and shot this photo looking north.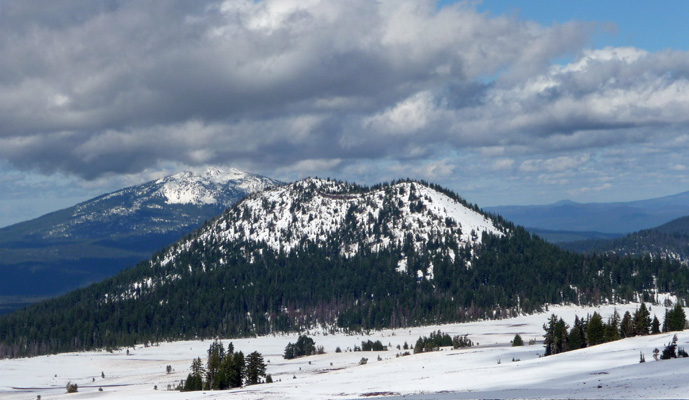 I don't think we've ever had such incredible views out the windows of a trailer before. A clear day at Crater Lake with snow as icing on the cake.
We arrived at Big Pines RV Park in Crescent, OR well before 2 pm and got settled in without a hitch. The park was nearly empty (after being full on the weekend for the end of hunting season). We stayed here several times over the summer and were happy to be back. The last time we were here we'd heard about The Oregon Outback Scenic Byway but it was really too hot to take the drive so we came back specifically to do it now when it had cooled off. Put your geologist hats on, we're headed for some wonderful weird geological formations.
While it was sunny when we arrived it was only in the 50's. Clouds followed in the night but it was dry on Friday morning. We made a picnic lunch, got some gas and set out going east on Highway 31 just south of La Pine. The highway goes through a lovely stand of Ponderosa Pines—probably the largest I've been through in years.
After a ways we came to our first turn off: Hole in the Ground. The turn off was nicely marked on the highway and off we bumped on about 5 miles of washboard gravel road. The good news is that every once in a while as we went through this great stand of Ponderosas, there were signs that confirmed we were still headed to Hole in the Ground. The road turned to dirt and at last we arrived.

The Hole in the Ground is volcanic explosion maar which was formed 13,500 to 18,000 years ago. At that time, things were much wetter and the nearby valley was a huge lake. Basaltic magma intruding near the surface flashed ground water to steam, which blew out overlying rock and soil. As material slid into the new hole, it closed the vent and the process repeated, eventually forming the huge hole. It's over a mile in diameter and nearly 500 feet deep.
This part of Oregon is full of lava flows and other wonderful volcanic formations. There's nothing active now but it sure left a lot of great stuff behind—like Newberry Crater just to the north of here which we visited back in July.
While the hole is mostly full of sage brush the surrounding forest is mostly mature Ponderosa Pines.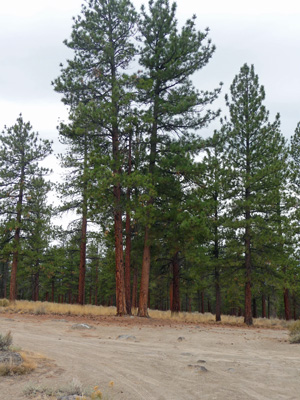 We bumped our way back along a new dirt and gravel road that completed a loop back to Highway 31. We followed Highway 31 eastward and shortly after the forest ended we came to the turn off for Fort Rock State Park. There's a nice kiosk there explaining a number of the features in the Oregon Outback, which is great since places like Hole in the Ground don't have any information signs.
You can see Fort Rock for quite a ways before you arrive. Fort Rock isn't an old fort of course. It's a tuff ring formed the same way that Hole in the Ground was formed but involving mud and shards of glass since the magma intruded into the lake bed rather than just ground water. The process repeated itself over and over again 100,000 years ago and slowly built a huge ring 400 feet tall and 6000 feet wide.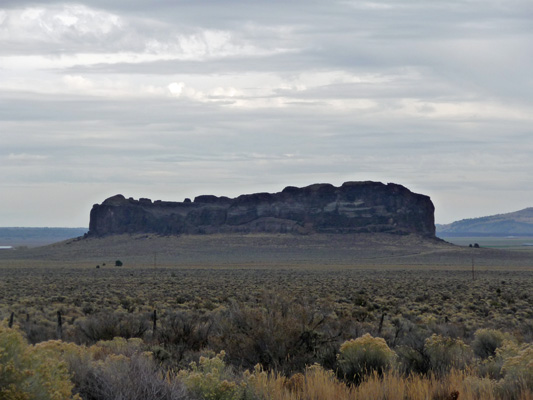 As you go north you can see that part of the tuff ring has been eroded away by the waves of the lake that was at it's base. Prevailing southwesterly winds brought the waves to the north side of the tuff ring eroding away the ring and leaving the north side open. As the climate warmed at the end of the last Ice Age the lake dried up and the native peoples moved in. The caves in Fort Rock were inhabited for over 11,000 years. The archeological claim to fame here is the oldest recorded example of a sagebrush and bark sandal. These are believed to be the world's oldest known shoes.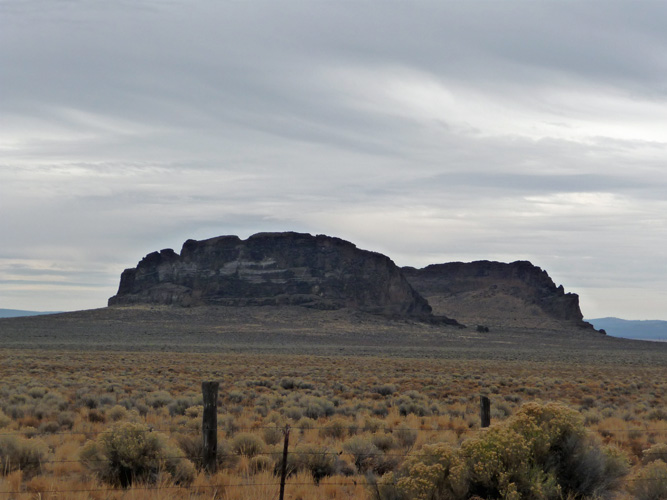 You can hike the trail that goes into and around the inside of the formation if you want. There are lots of swifts and other birds nesting in the holes in the eroded rock.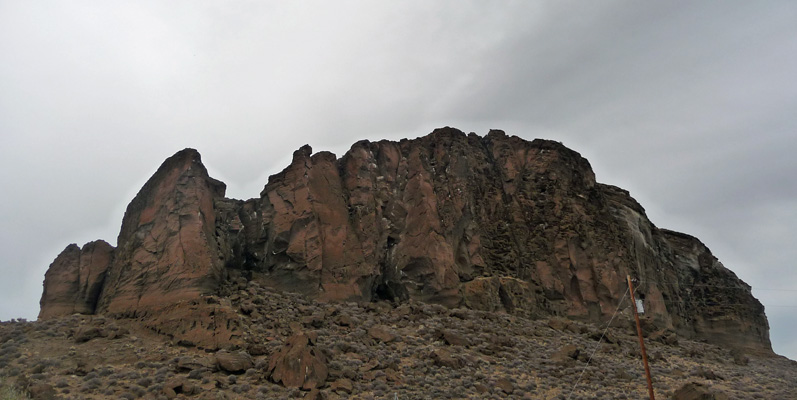 It was a little cold so we hopped back into the truck and drove on to Christmas Valley and the turn off to Crack in the Ground. I know, these folks in the Oregon Outback have such vivid imaginations when it comes to naming things!
There were encouraging signs now and then which is good news since this place is out in the middle of nowhere on BLM land.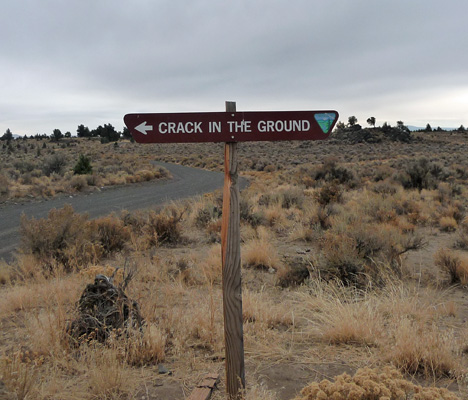 At last we arrived at a parking lot marked Crack in the Ground. We ate our lunch and then took the trail that started across the road out to the real deal.
This is a fissure that formed about 1,100 years ago between two cooling lava flows. It's about 2 miles long and 70 feet deep.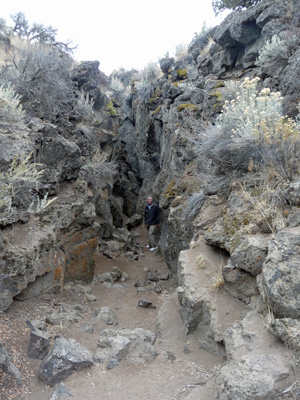 We didn't hike the whole 2 miles. It gets pretty narrow in places and the bottom is needless to say very rocky in spots.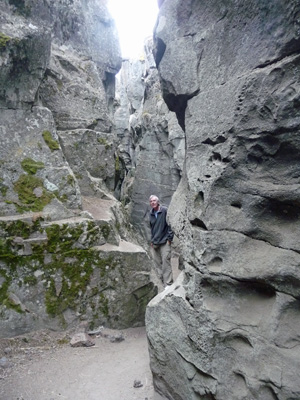 The walls have all sorts of nifty textures, like slumping rock.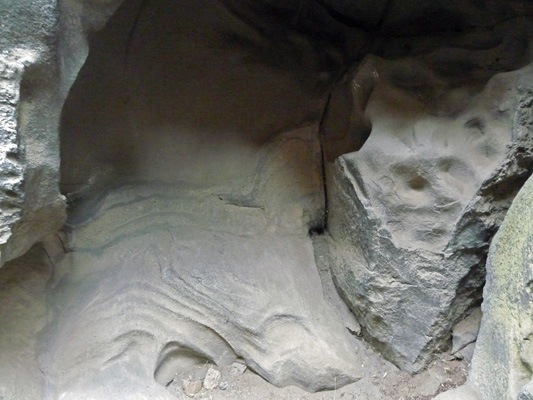 And bubbles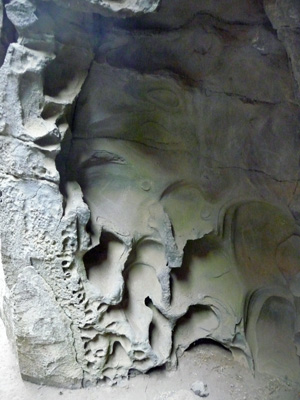 It just goes on and on.
We climbed back out and walked along the top of the crack for a while too.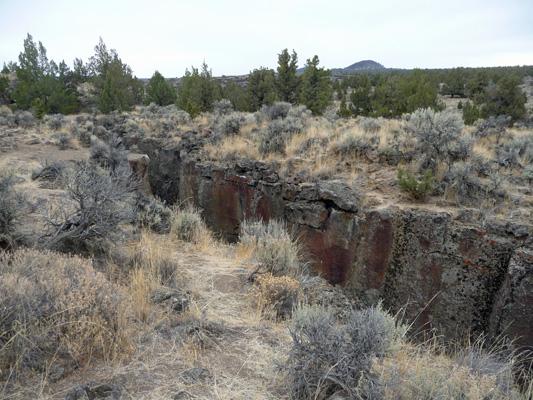 The surrounding country is a mix of sage brush and junipers. This old guy was near the beginning of the crack.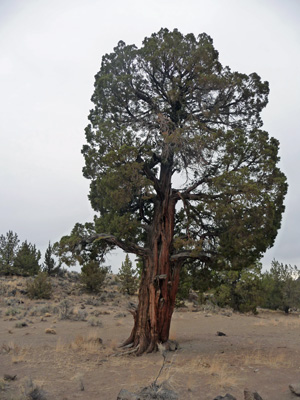 From here we drove back to Christmas Valley (a small town getting ready for the fall community gathering with antique tractors and cars) and then further east on Highway 31. The signs in Christmas Valley indicated that the Sand Dunes were 19 miles east and the Lost Forest was 23. We merrily drove along looking for signs and didn't see any turn offs. We had maps aplenty, some with the street names on them—we were looking for Fossil Lake Road—and some with county road numbers like 5-14D (exciting, no?). In any case, we kept on driving and after we'd gone 20 miles or so we were pretty sure we'd missed the turn.
I was navigating and dug through the piles of paper we had and sure enough, we had written directions that said the turn was 8 miles from Christmas Valley. Oops. So we turned around, asked Carmine the Garmin for directions to the Post Office in Christmas Valley and started to drive back. Carmine tells you how far you have to go until you turn, so we knew when we were nearing the 8 miles from town point. And sure enough, there was a road and the street sign (at least on our side of the road) that said Fossil Lake Road. Ah ha! So we turned and a ways up the road it said we were on County Road 5-14D. We drove until 5-14D dead ended into what was labeled as Lost Forest Road and turned right. A little ways along, it said we were on County Road 5-14E. Then we had the marvelous experience of having the gravel road turn to dirt. The written directions said we should be following BLM Road 6155, but there was no such road. However there was an information sign that indicated we should drive straight ahead on BLM Road 6151 so that's what we did.
In time we began to see sand dunes covered with sage brush. And just before an open camping area we spied a pretty good set of dunes. There are 15,000 acres of sand dunes here.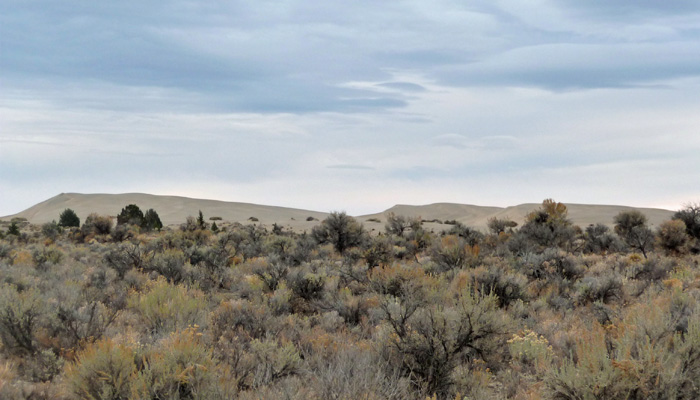 And they allow folks on off highway vehicles (dune buggies and ATV's) to ride on 9,000 acres of them. We saw quiet a few ATV's, both in the campground and out on the roads.
We bumped our way through the campground (a wavy road that I'm sure is fun on an ATV but wasn't particularly fun in a truck) following little hand written signs that said Lost Forest or just Forest with arrows.
And sure enough we finally arrived at a the Lost Forest. The road was dirt with boulders here and there and lots of erosion. If you go, be sure you do it in a high clearance vehicle.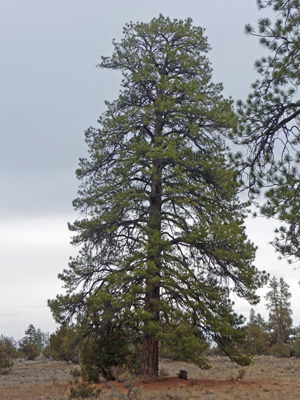 The Lost Forest is a large stand of Ponderosa Pines growing out in the middle of the high desert about 50 miles from the rest of the forest. They've set aside 9,000 acres of this forest so they can study it since these trees technically really shouldn't be growing here. What they believe at this point is that this is a remnant of an ice age forest most of which retreated into the hills to the west. This remnant has stayed here because there is just enough ground water to support the trees even though there isn't sufficient rainfall to support them. There are young trees along with these big guys so it's truly a healthy living forest.
We got out and walked around a bit. The soil is like the kind you find in the desert—crunchy and raised with special critters in it that they don't want you to disturb. It reminded me of the soil in Sedona—only it wasn't red.
Walter went over to greet one of the big old guys. If you look carefully at the bottom you can see him.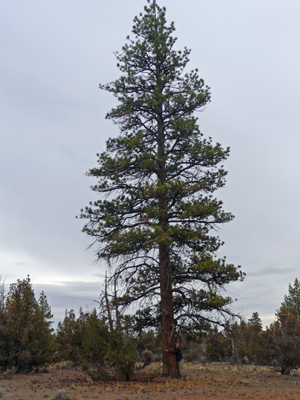 Yes, Walter is a certified tree hugger and this is one big old Ponderosa.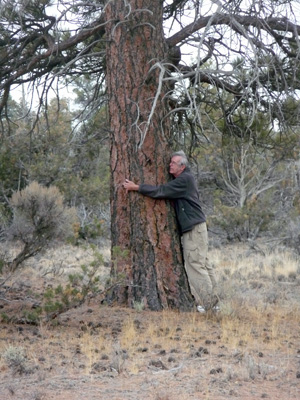 From here we drove back to Christmas Valley—funny how much easier it is going back when you know what you're doing.
In the sand dunes area, Walter spied a herd of deer which to start with we thought might be a flock of geese—except with binoculars you could see the had ears!

As we sat and watched them they began to get restless and stood up. They're clearly Mule deer—about 25 of them herded up as they do in the fall once the first snows arrive in the mountains. We saw several more herds about this size on our way home on Highway 31. The locals call this area, a deer feed lot.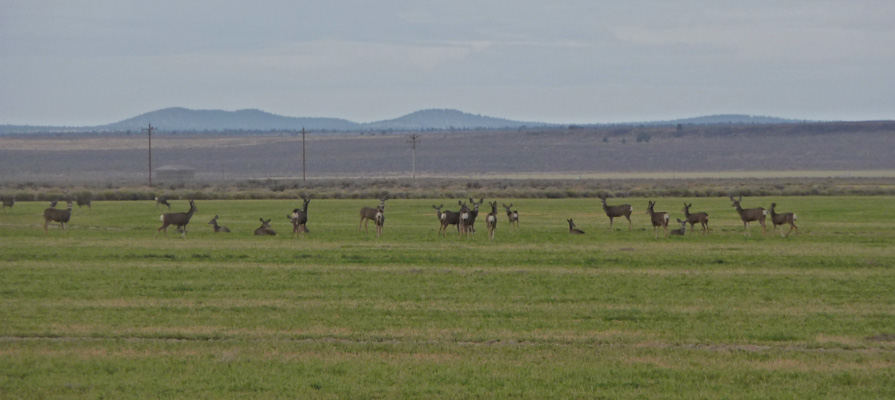 Once we were back in Christmas Valley, we turned south (on yet another road with the street sign cranked around so you couldn't see it until you were past it) towards Highway 31 again. Just as we reached Highway 31 we got a great view of Table Rock.

Once we were on Highway 31 the sun came out and light up Table Rock. It's flat on top because it's an old volcanic cone with a basalt lake capping it. The cone is starting to erode away leaving the basalt as a flat top.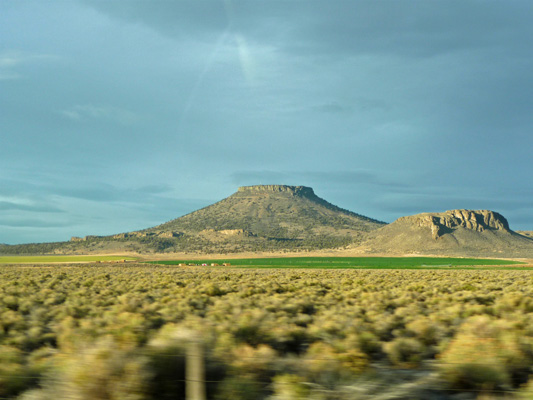 It was over an hour drive back to Crescent and it was dark by the time we got back. With his new eyes (post cataract surgery) Walter had no trouble driving at night at all. Hurray!
We took the day off on Saturday (if doing the laundry counts as taking the day off) and moved on to La Pine State Park on Sunday.