We left Lake Mead National Recreation Area near Las Vegas on Sunday December 7th and just as we were breaking camp a covey of Gamble Quail went by our campsite.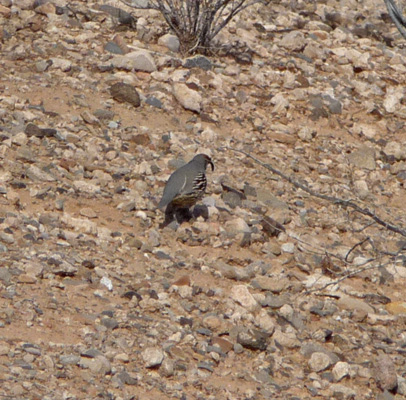 From there we drove south to Bullhead City, AZ to the Silver View RV Park up on the bluff overlooking the Colorado River and Laughlin, Nevada. We spent 3 nights there so we could do laundry, grocery shopping and get caught up on life. As it turned out, our timing in this was excellent because we were contacted by the head ranger at Lake Cascade State Park (in Idaho) asking for a telephone interview on Tuesday afternoon regarding our camp host application. We had a cell phone signal in Bullhead City (something we don't always have even when we have a signal for our hot spot) so we could actually do the interview.
The interview went really well (we're as a great team on the speaker phone as in person) and as a result they've asked us to come for June, July and August and we've accepted. Normally they want hosts to arrive in late May and stay until mid September. Initially, they'd offered us a position from mid July until Aug 31st since we were already committed for May and September. But after the interview, they thought we were so perfect for their team that they wanted us for as long as possible even if that meant we would arrive late and depart early. After a little thought about it, we decided we'd say yes. So now our calendar is full for hosting for the summer of 2015. In May, we'll be giving lighthouse tours at Heceta Head Lighthouse just north of Florence, OR (with a free campsite at Washburn State Park just north of there). We'll be at Lake Cascade State Park (about 75 miles north of Boise and just a little bit south of McCall, ID) for June, July and August. And we'll be at Hilgard Junction State Park along I-84 in eastern Oregon for September and the first half of October.
These volunteer hosting jobs will give us a number of things: 1) a free full hook up campsite for 5 1/2 months saving us $2500 to $3000 across the summer, 2) an opportunity to stay at a number of really cool places for a longer than usually permitted time period (most places have a 14 day limit), 3) a steady supply of interesting people to interact with and 4) an opportunity to do some volunteer work which is something we both love. We'll also probably spend a whole lot less on gas next summer than we did wandering around in circles in 2014! Those savings mean that we'll be truly footloose and fancy free for the winter of 2015, able to go just about anywhere we please.
We celebrated the interview going so well by taking a trip to the hot tub at the RV park (a plus that it worked, since so often in the winter they're shut down for the season). It was lovely and warm even if the wind was blowing—something it did the entire time we were staying there.
On Wednesday morning we packed up and motored south wandering over the Colorado River into California and back again into Arizona until we were just a short distance from Lake Havasu City, AZ for our first adventure into true boondocking. Boondocking is camping without any hook ups in a roughly designated camping area that isn't really a campground. There are tons of places to boondock in the California and Arizona desert. We bought a fun e-book from the Frugal Shunpickers (www.frugal-rv-travel.com) that gives you the GPS coordinates of many of these places. So we put the numbers into Carmine the Garmin and off we went.
We ended up with a fairly level (side to side at least) spot in amongst some wonderful red rocks.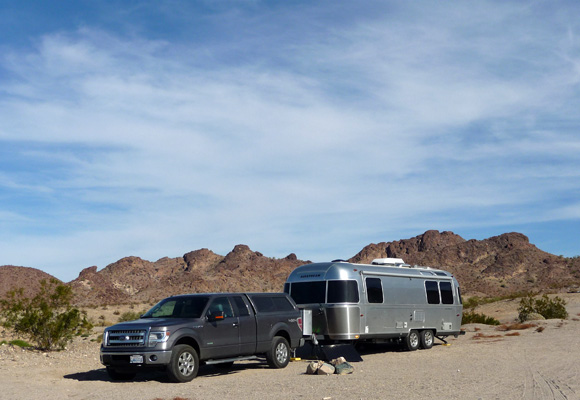 We set up camp, put out the solar panels and had the odd experience of not having to go register and pay our money. This is BLM (Bureau of Land Management) land. Cost to camp here? $0.00.
Here's the view from our dining room windows.

There were about 30 rigs and 3 or 4 tents scattered across the area. There's actually a camp host who issues folks a 14-day pass to camp here (and then renews it over and over again because he thinks folks should be able to stay as long as they want). We never heard from him so I guess he figured we weren't the long-term types.
After lunch we went out for a bit of a walk to enjoy the sunshine while it lasted. A big storm was headed for the entire west coast and we knew we might have clouds by Thursday and rain by Friday afternoon.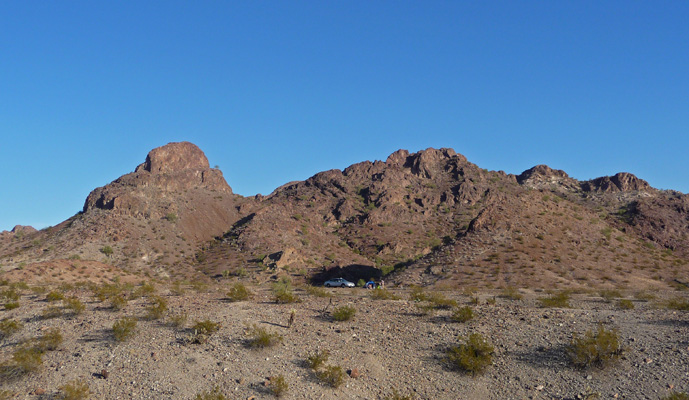 There was one HUGE cholla—nearly 6 feet tall-- in amongst the creosote bushes.
I had Walter stand next to a normal sized cholla so you could see the difference. You can see a bunch of RVs behind Walter. It's funny how folks like to cluster together. I guess, there's a feeling of having circled the wagons that way.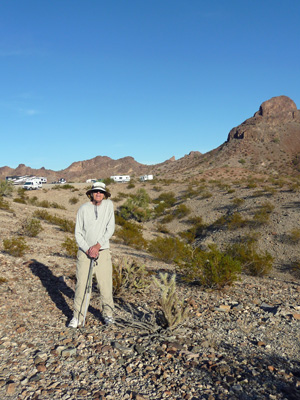 We hiked back to our rig and then up the hill to see what we could see beyond the ridge. There was a wash full of small palo verde trees along with creosote bushes of course.
We actually had a hot spot signal here (but no cell phone). So here we were, running solar and picking up our email and camping for free. It's so amazing. That night we didn't need to run the generator and we didn't need to the next morning either. By then, the only real issue was that my computer (which is a real power hog in comparison to Walter's Chromebook) and the hot spot were running low on juice.
We had high clouds on Thursday morning but we were still getting some power from the solar panels. So we left them out when we went off on our outing to visit Lake Havasu City, the town that hype built.
Back in the 1960's a pair of robber barons bought up a tract of land along Lake Havasu and set about developing a town. In 1968, the city of London put the old London Bridge (built in the 1800's) up for sale because they needed to build a new one to handle the traffic across the Thames. The two developers bought the bridge, disassembled it (numbered all the stones first), shipped the stones to California, hauled them by truck across the desert and rebuilt it across a wash. When the reassembly was done, they dug a channel to give it some water to go over, and voila! we have the 2nd biggest tourist attraction in Arizona: the London Bridge out in the desert.
They built a little bit of English kitsch to go with it too. Here's Walter with a fountain with lions, a City of London pillar with dragon and the London Bridge behind.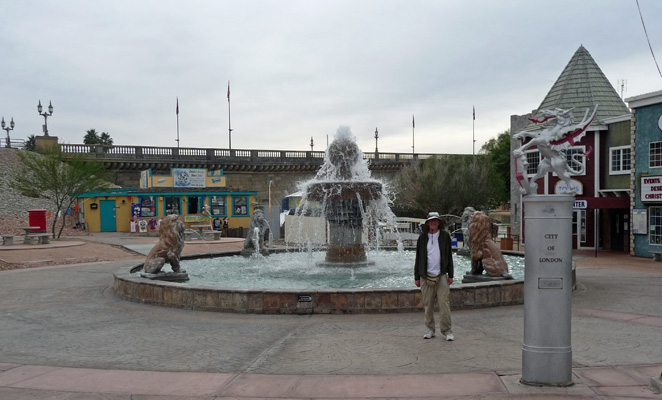 It's all marvelously tacky. Complete with English phone booths, with no phones in them.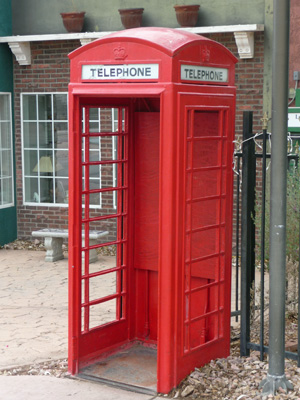 During the summer (when it's in the low 100's) this town absolutely rocks with boats, beach party bars and revelers. In the winter, it's pretty quiet, full of snow birds instead. We stopped at the Visitor's Center (with a little museum telling about the building of the bridge and a lot of cheesy souvenirs). And then took a walk along the Bridgewater Channel.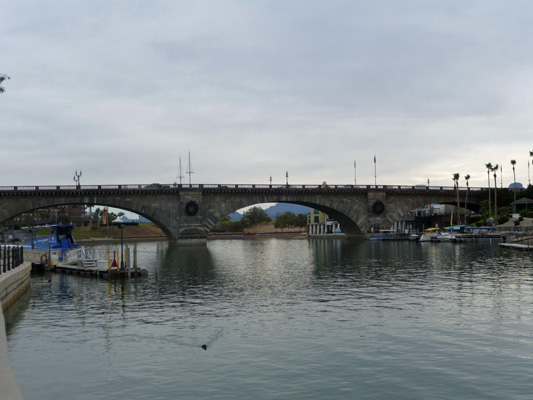 You can take a boat tour of the channel, or rent kayaks. And there was a hat shop with a 'barker style' owner out accosting folks about their hats. He called across the walkway to Walter saying his hat was 12 years old and he was wearing it wrong. He told him having the sting under his chin made him look like a dork. He needed a new hat—a Stud Muffin outback-style hat. Did I mention he had an Australian accent? Finished with Walter, he moved on to me wanting me to buy an absolutely awful wide brimmed floppy hat that had wire all through it so you could shape it any way you wanted. We escaped in time and moved on. He really was entertaining as long as you were sure you didn't want a hat.
There was a lovely Great Blue Heron standing peacefully on a dock along the channel.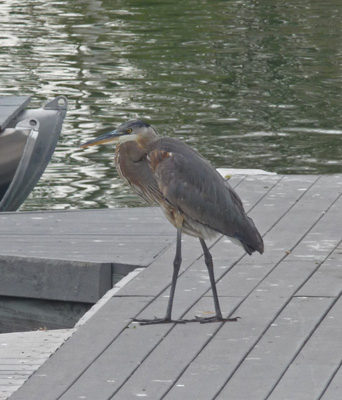 And a nice long-view of the London Bridge (complete with palm trees and condos).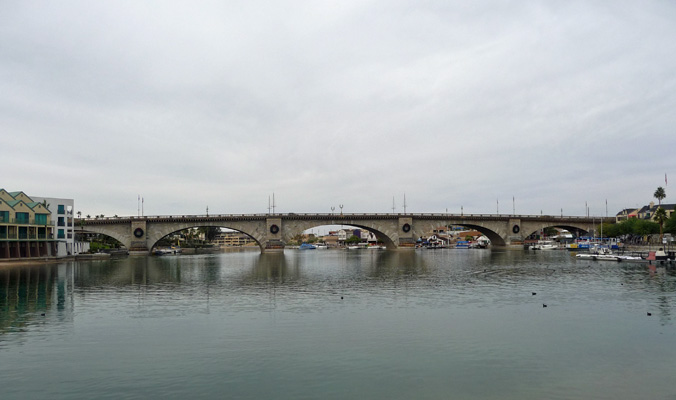 We walked the length of the sidewalk/bike trail out past the 1/3 replicas of famous east coast lighthouses (I couldn't take photos of them, they were so awful) until we reached Rotary Park and a real view of Lake Havasu.

There were hundreds of coots (mud hens) out dotting the water and several radio controlled sail boats taking a turn on the lake.
Walter found a bench and we sat and watched the birds (the coots were diving for something and so were the sea gulls along the water's edge). After a while an ultra light puttered overhead.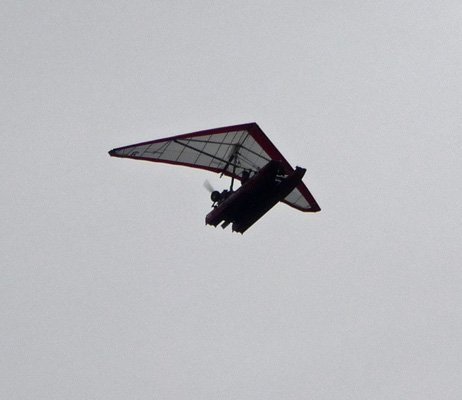 We saw him out for the entire rest of our visit so he had quite a range.
We wandered back the way we'd come and then took a drive across London Bridge (I'm afraid that's not worth the drive since you could be driving on any bridge anywhere really except for the light posts) and around the little island created by digging the Bridgewater Channel and then back to the trailer.
I remember hearing about the purchase of the London Bridge back when I was in high school. I'm glad we went to see it, so that I can no longer wonder how in the world they were going to get it to fit into the desert—it doesn't fit it and it's all rather silly. But it seems to provide a lot of entertainment for a lot of folks so what the hey.
Late in the afternoon with clouds building in the west, Mother Nature began to put on a show.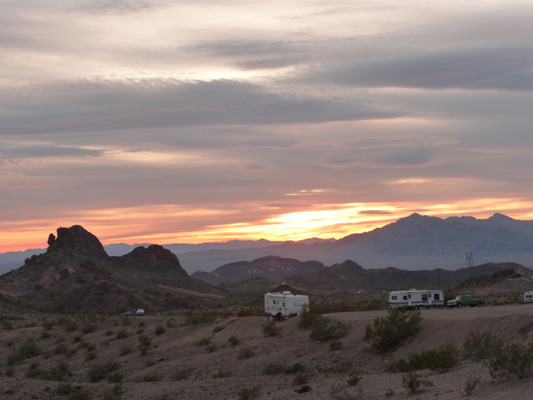 It was so lovely it made Genevieve blush.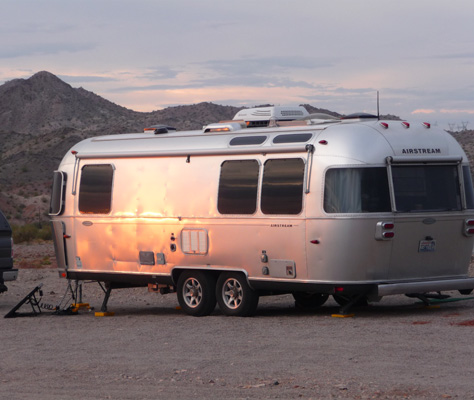 As the real sunset drew near we went out to take in the solar panels and set up the generator and I noticed the hills to the east lit up.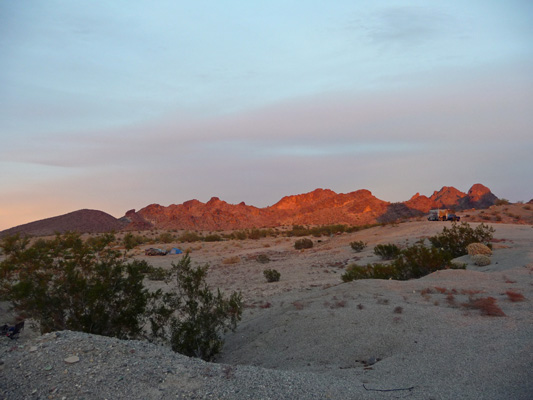 And then as the sun began to set everything turned golden.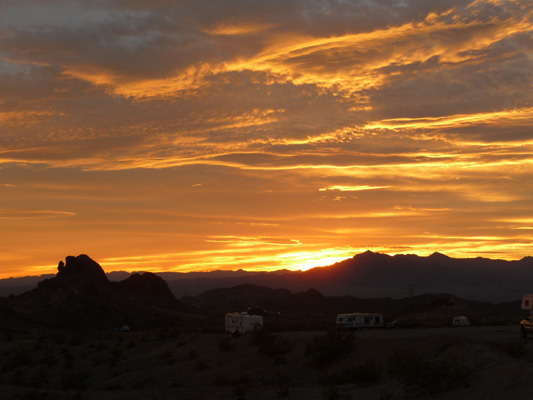 And then slowly shifted to pink all the way from the southeast to the northwest.

The colors got deeper and pinker.

And Genevieve blushed lavender to go with it.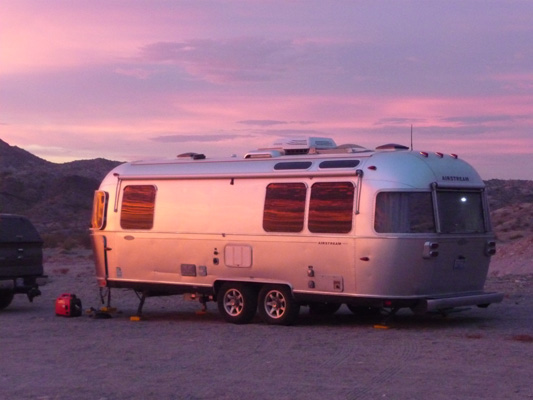 Your eyes adjust as the sun sets and you don't really realize how dark it's getting but it sure did stay colorful for a long time.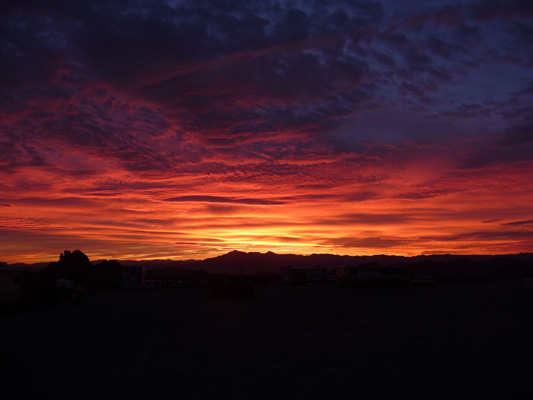 The wind kicked up in the night and it was really blowing when we got up on Friday morning. We broke camp (oh why did I bother to brush my hair when going out into a gale?) and headed south of Lake Havasu to our next boondocking site. When we got there, there was a sign saying it was State Trust land and that no camping was permitted. Oops. One of the boondockers up at our last spot had mentioned camping at a spot south of Lake Havasu where they'd gotten evicted after camping there for years. He'd thought it was BLM land but all of a sudden there was a notice on their rig that it was state land and they couldn't camp there any more. I guess this was that same place. So we drove off and regrouped. We got out our guidebook and decided to go to La Paz County Park just north of Parker, AZ.
This area is known as the Parker Strip. The Colorado is undammed through here and not very wide with lots of palm trees and beachfront RV parks. There's no free camping, but La Paz provides water, electric and cable hook ups for $25 a night which isn't bad for a campsite with a water view! You can dry camp out on the beach area for $22 but we decided that electricity would be nice so we paid the little extra and managed to find a site with a bit of a view too. The wind wasn't blowing as hard here and it was in the low 70's but we could sit and watch the clouds come in with rain on their mind. By late afternoon it had started to rain and the soup I had bubbling on the stove seemed like a really good idea.
It rained in the night and was cloudy first thing but by about noon the sun started to peak out.

We got the bikes out and took a spin through the campground. At the upper end of the campground there is an open beach area with a nice view of the river. There are little houses like this all along the shore on the California side of the river. It looks like they are single and double-wide trailers with front porches on them.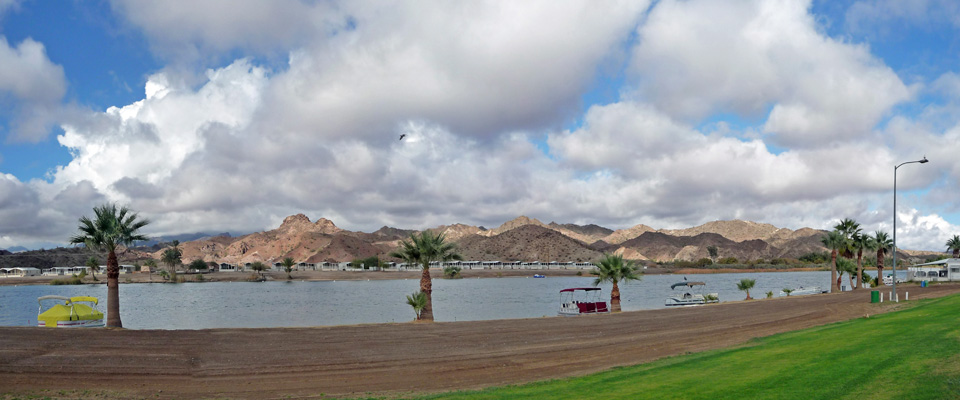 We road down through the campground and then hit a section that seemed to be much more upscale. There were cabanas in front of some of the RV sites and some had little patches of sand next to the water. Only when we came out at a beach bar did we realize that we'd entered a private RV park without knowing it. The Pirate's Den RV Resort is set up like a Mexican or Caribbean beach resort complete with beach bar, restaurant and pirate ship on the dock.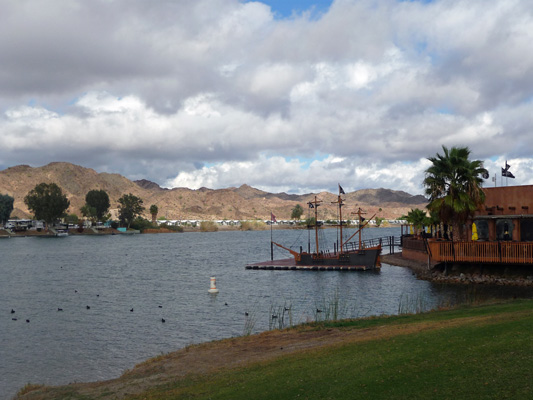 We looked it up on the internet when we got back from our ride. It costs $60 a night to camp at one of the waterfront sites with a cabana. But the monthly rate in the winter is only $495 which is way more reasonable than many places in Washington or California. The monthly rate in the summer is higher because this is another big party area when it's hot.
After lunch we took a drive into the town of Parker. There was nothing there but a casino since it's on the Colorado Indian Reservation and a Walmart and a Safeway.
There were just enough clouds left in the evening to make for an interesting sunset. And the palm trees add a nice bonus. All this without having to walk more than a few feet from the trailer.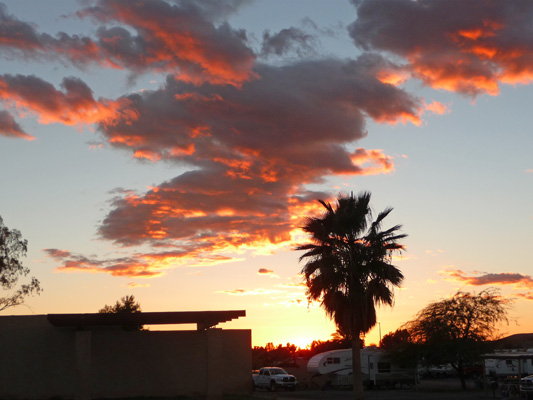 It went from orange and gold to pink.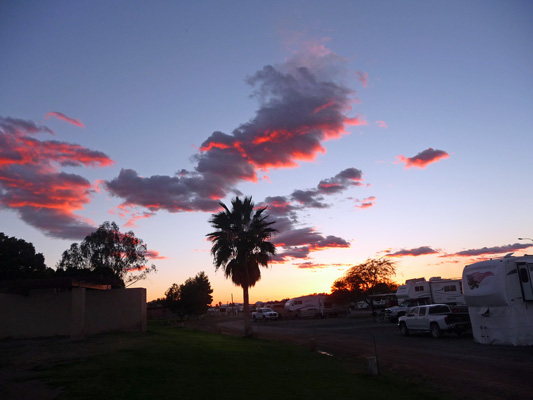 Late in the evening, Walter went out to check to see if the truck was locked and discovered a folk music jam going on across the way from us. We went out and joined them for an hour or so until we got too cold. Walter took his harmonicas and and we sang along. It was lots of fun and brought back wonderful memories of jam sessions gone by.
On Sunday we'll head south to Quartzsite, AZ for a couple of days of boondocking. There are a couple of hikes we'd like to do that are relatively nearby so we figured what the heck, we still have 10 days before we're scheduled to be in San Diego—plenty of time for some more adventures.