On Saturday June 6th we woke up at Kalaloch on the Washington coast to deep clouds and a cold wind. No rain yet, but it certainly wasn't gorgeous like had been the day before. That's okay, we had reservations to stay at Schafer State Park just north of Elma (west of Olympia) for a couple of nights—power and showers being the order of the day here. The vultures were out lurking, measuring our site before we pulled out and someone literally pulled in after us. The two water-view sites across from us had been snapped up nearly as soon as they were vacated early in the morning. Schafer State Park is no big deal, but it did give us a place to hang for a couple of days while we recharged all the electronics and got clean. It was nearly full on Saturday and it was full of kids running and biking around and around the campground loops and then out to the East Fork of the Satsop River. We took some time to talk to the campground hosts and got the skinny on how the campground host system works in the Washington State Parks. It sounds like you can actually fairly easily get a one-month assignment with the State Parks. The hosts here are on their first assignment and will be here for one month and then move up the Hood Canal to Dosewallops State Park for a month. They have been working 24 hours a week running the little store and greeting folks when they come in to get a campsite. Their problem is that they haven't been able to leave the park much because of the low staff levels. They're looking forward to Dosewallops where all they'll have to do is meet and greet.
I talked to one of the camp hosts while we were at Kalaloch (which is National Park Service) and they were going to be there for 4 months--from mid May until Labor Day. They work 4 days on and then have 3 days off to do whatever they please. Working equals checking to make sure the sites are clean and driving around in a cute little electric cart selling firewood. She was happy that it wasn't 'hard work' like at some locations and was thrilled to be at Kalaloch for that long.
In any case, we hung out in the trailer mostly and watched the parade of kids and people as they trooped by all afternoon. It was sunny and warm so there were lots of people out playing. After dinner we took a walk though the campground over to the day use area there was a high school graduation party going on.
The Verizon cell phone signal was so weak here that the hot spot barely worked at all with the signal wafting on and off. So on Sunday morning we took a drive back towards the highway and found a quiet place to check our email. The hot spot sure works like a dream even when it doesn't get a strong signal. We're now thinking that a signal booster might be a nice solution for all of these places we camp with marginal signals. Still no Sprint signal for our cell phone though.
When we got back from our drive we decided to take the 1-mile hike that starts across the river from the main portion of the park. You take the bridge that goes over the East fork of the Satsop River.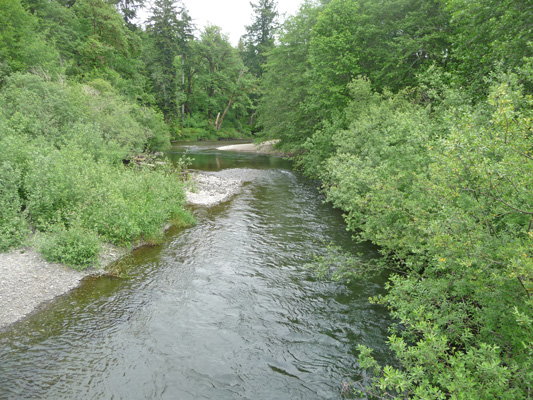 In the grassy open area where the trail starts I found these sweetbrier roses (Rosa eglanteria) blooming in big thickets.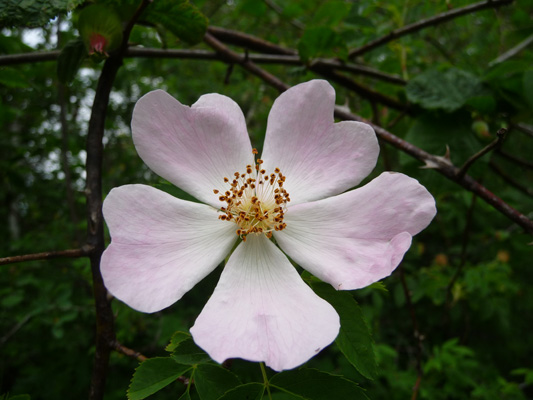 The trail led through a nice wooded area with maples, hemlocks and Doug firs. Here and there we found Coast Manroot (Marah oreganus) twining through the understory. It has leaves like a grape vine and these strange little white flowers to assure you that they are NOT grapes.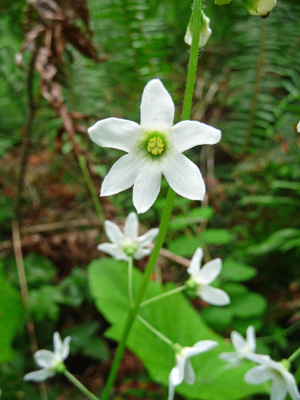 There were also huge expanses of twinflower (Linnaea borealis) another flower that I saw for the first time when we were in Alaska.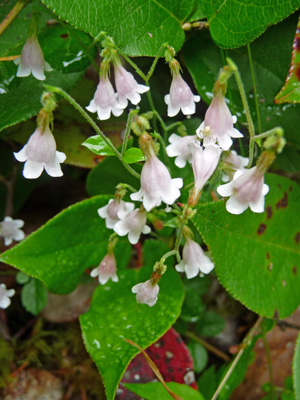 I spotted Columbia lilies (Lillium columbianum) in bud early on in the hike but didn't find one in bloom until we were almost done.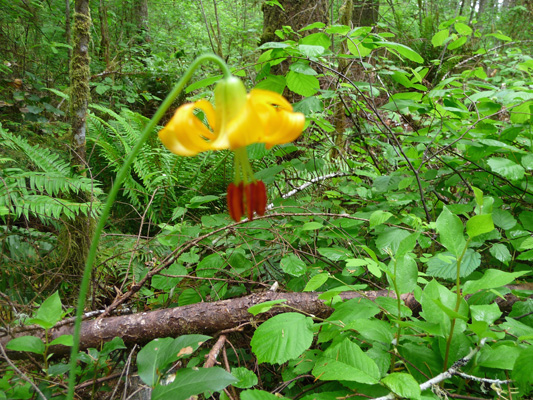 The trail eventually meets the river and you get several nice views of it before you're through. And Walter found a bench to sit on too.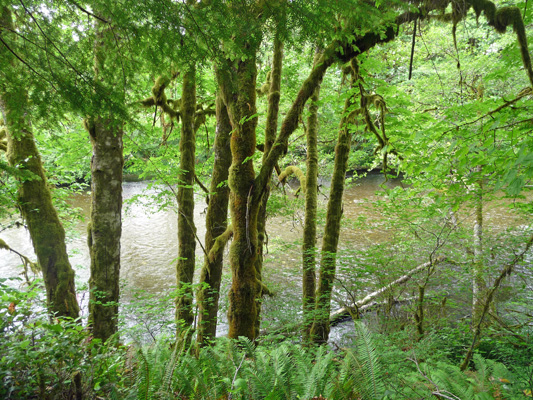 Just before the loop trail ended I found this wood rose (Rosa gymnocarpa) in bloom. They're not very big flowers but still fun find in the woods.
After a damp morning and a cloudy early afternoon, the sun came back out which mad things kind of humid. Walter fell asleep sitting in the sun and then retreated to the bed for a REAL nap.
We've been living in the trailer now for 3 weeks and find it very comfortable and easy to live in. We've unwound from the move and are both actually pretty rested now.