We left Eugene, OR on Monday July 14th and headed over the Coastal Range to the Oregon Coast. It was cloudy in Eugene when we left but the sun came out as we hit the mountains and it was lovely and sunny when we reached the coast. We had to wait a while to check into the campground at Jessie M. Honeyman Memorial State Park but once we made it through the line, we were happy to hear that our spot was vacant and ready for us. It wasn't 1 pm yet, which is check out time so we were lucky.
We set up camp in our spot in the D loop—water and power connections and showers in the restrooms at the center of the loop. The state campgrounds along the coast tend to have a lot of bushes and these provide privacy between the campsites but also make things dark. We have a big Doug fir on one side of us and a giant rhododendron by our back door that was so tall that it's upper branches rested on our skylight. That gave us filtered sun at best. It was 65 degrees out—warm for these parts in July.
After lunch, we got the bikes out and took a ride down to the Day Use Area of the park. Honeyman is situated on the edge of the Oregon Dunes National Recreation Area. There are 2 miles of sand dunes between the park and the beach. So you don't go to the beach, you go to the fresh water lakes that are nestled into the dunes. Honeyman has three of these lakes, a small one next to the campground check-in area with some water lilies in it; Cleawox Lake which is medium sized and has a nice day use area; and Woahink Lake which is much larger and is on the other side of Hwy 101 from the rest of the park.
We rode down to Cleawox and watched kids sand boarding (yes this is just like snow boarding without the boots and the chair lifts). I had forgotten the camera. So the next morning we stopped by the day use area to take a photo. You can rent paddle boats, kayaks and canoes to paddle on the lake.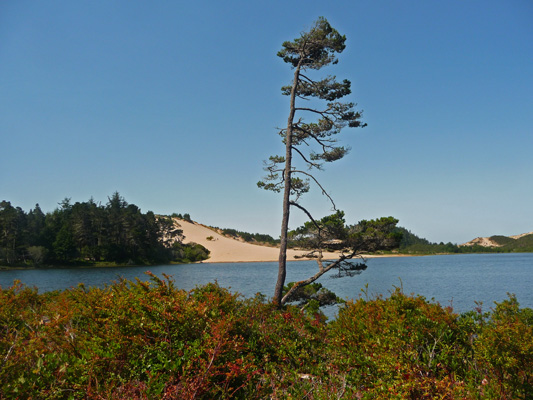 And even at 10:30 am there were a few kids out on the dune getting ready to slide.
After our bike ride we came back and had a nice nap. Hurray for the good life.
The next day we awoke to sun again. Yippee. We decided to go into the town of Florence, just a few miles north of the state park, and use the WiFi at the library. It was nice library with a wonderful fast internet connection. We did some research on our camping options for the weekend (the state parks are full on the weekend). We decided we'd go check out the Whittaker Creek Campground in the hills about 30 miles out of Florence since it looked like it would work for us. As we drove up into the hills the temperature rose from 60 to 75 to 86! Whittaker is a BLM (Bureau of Land Management) campground with access to the Old Growth Ridge National Recreation Trail. This sounded great. However, as is often the case with BLM campgrounds, it wasn't a very appealing campground. To make matters worse, there was only one spot the Airstream could fit into and there were problematic trees along the access road that would block our way.
Back to the drawing board! We drove back down out of the Coastal Range and headed north to Hecata Head for a picnic lunch. It was sunny and pleasant until the last mile and then the fog drifted in. By the time we made it to the parking area at Hecata Head it looked like this with the wind blowing and a temperature of 55. What a difference a few miles can make in these parts (30 degrees over less than 50 miles).
The lighthouse is up on the bluff to the left of the nifty white house with the red roof. You have to hike up onto the bluff to see it.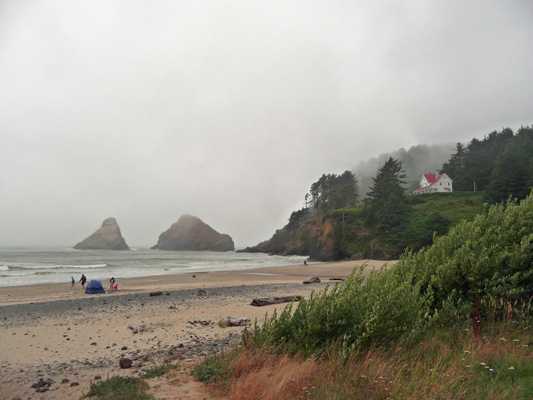 We got out of the truck and did a quick walk out to the beach. Not only was it foggy, the wind was blowing. There's a very picturesque bridge here so I took a photo of it.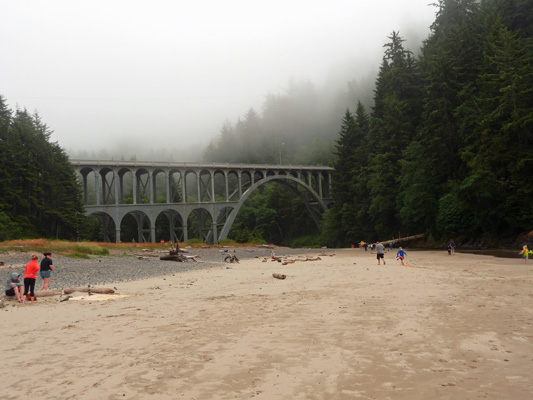 We had our lunch in the truck and decided we really didn't need to do the 1/2 hike up to the light house in the cold fog and wind. So we headed back down Hwy 101. There were folks on bikes going south (the usual direction for both long and short distance bike rides on the coast). About a mile south, the sun came back out and a pull-out gave us a view of the dunes looking south along the coast.
You can see one of the many fresh water lakes over on the left and the coastal fog boiling along heading inland.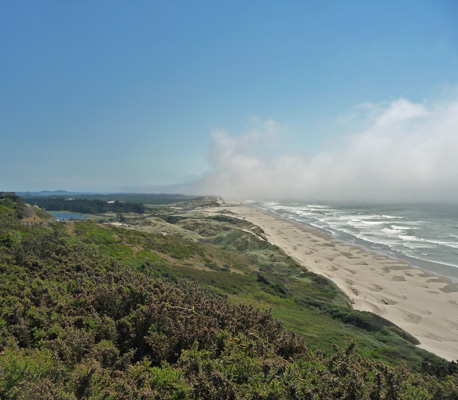 We stopped and toured a couple of the Forest Service campgrounds in the Oregon Dunes National Recreation Area and discovered that they were nearly empty and had sections that were first come first served rather than reservations. Ah ha, a possibility for the weekend! So we stopped again at the Florence Library and did a bit of research to give us a clearer sense of the options. We now have a list of campgrounds where we can probably camp starting on Thursday. Our first choice is Sutton Campground just north of Florence. It has open camp sites (no more bushes!) and an entire loop of good sized spots that are first come first served. We'll head there on Thursday morning and hope to get one.
On Wednesday it was cloudy until about 10:30 when the sun burned through the clouds. We decided we'd take a bike ride through all the campground loops (A through H) before we folded them back up to put back into the truck. There are Yurts for rent in this campground. I stopped and talked to a lady who was staying in one for the week. She said they were comfortable, warm and dry and they'd been renting the same one every year now for 5 years.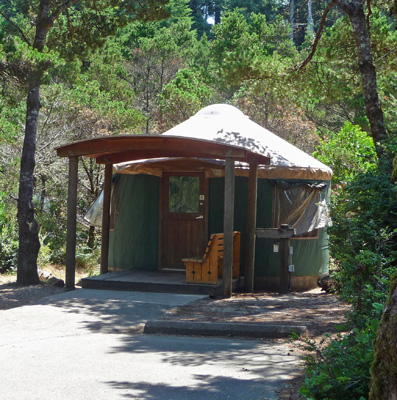 When we got down to Loop A we found the campground hosts out sitting at their picnic table. So we stopped to ask them about their experience. These folks have been hosting one place or another since 2001. They often choose to host in places where there are lighthouses because then they get their spot for free in exchange for giving tours. The duties are light, the hours are well defined and they enjoy it. Here they work 4 to 6 hours a day 5 days a week. They sell firewood. They're the first hosts anyone sees when they come into the campground so they get lots of questions. And they do trash patrol on the road in their campground loop. He also runs the big trash compactor for the entire campground. She said they did one summer at a National Park and they insisted that they put in 30 hours a week. She said doing 6 hours a day 5 days a week was too much for them and they haven't done another National Park since.
When we got back to the trailer we folded up the bikes and loaded them back into the truck. Then made a picnic lunch to take with us over to Woahink Lake across Hwy 101. We drove over and explored the Day Use area and found a nice picnic table in the sun. We had our lunch and then decided to move because it was too windy. We found a children's swimming area that was sheltered from the wind and took our camp chairs down and sat and read in the sun. There was a steady parade of children of all ages with accompanying adults to watch in the designated swimming area.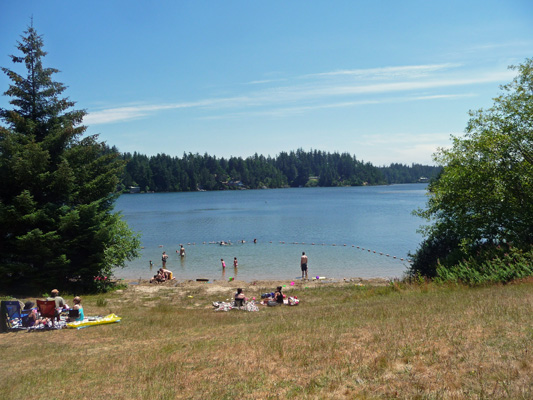 The water was clearly not warm since there was much screeching going on but it wasn't frigid because it was pretty shallow and it was sunny.
On Thursday, we packed up the trailer and motored about 10 miles north to Sutton Campground. We found a wonderful campsite with just enough sun and a great open area for us to look out over from our dining room windows.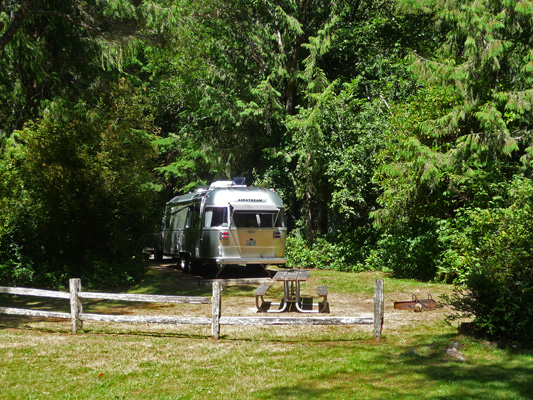 After being in a tunnel of rhododendrons for 3 days we were really excited to have this view.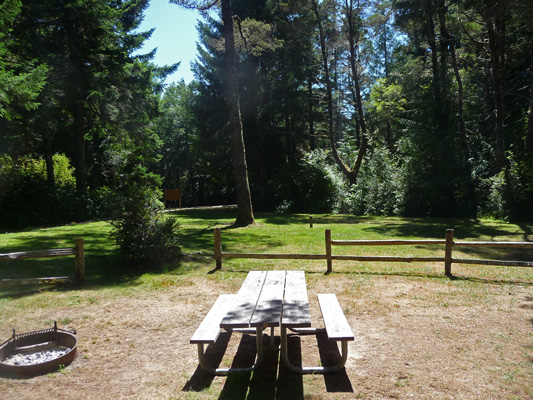 After setting up camp we took a drive out to the end of the road towards the beach and the Holman Viewpoint. The map at the campground seemed to indicate there was a loop trail that we could hike. The signs said there was an ocean view from the viewpoint. Way over on one side where the creek wanders out between the dunes we could actually see a little surf. But mostly what you see are the grass covered dunes.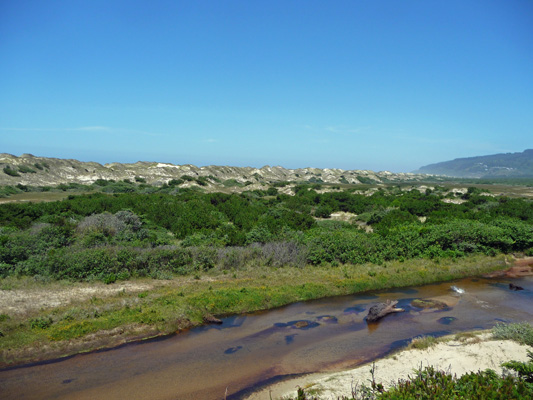 We bumbled around in the bushes a bit and finally found what we thought was the loop trail. It wandered through some very dense undergrowth consisting mostly of salal, evergreen huckleberries, willows and shore pines both big and small. At one point we came across another set of those strange ferns we'd seen up at Neah Bay. But this time there were huge clumps of them growing in the crook of a shore pine branch.
Here's a close up of the ferns themselves. They clearly aren't just juveniles.
There were berries on the evergreen huckleberry bushes.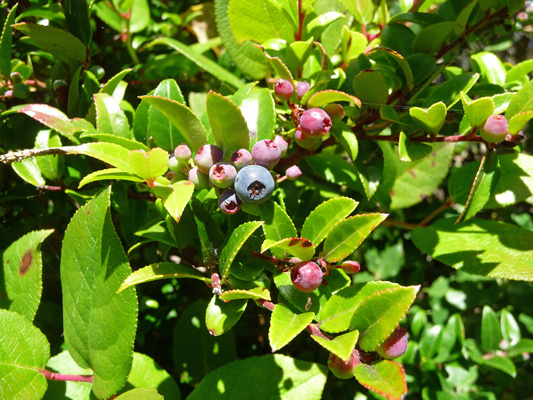 And then there were these strange berries that I'd never seen before. I have no clue what they are.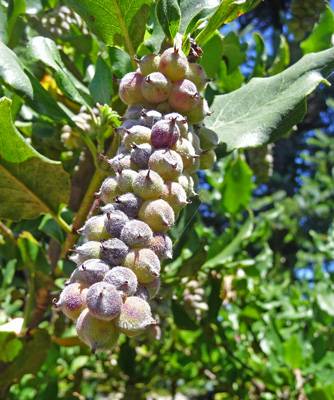 I made Walter stand still so I could take a photo of him in this wonderful tree trunk doorway.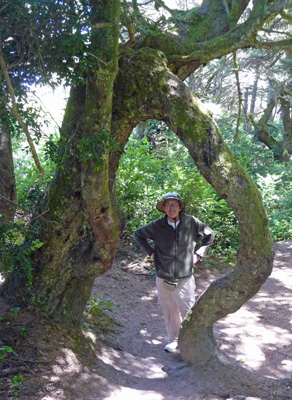 When we went around the next bend in the trail there was this HUGE clump of ferns in another shore pine.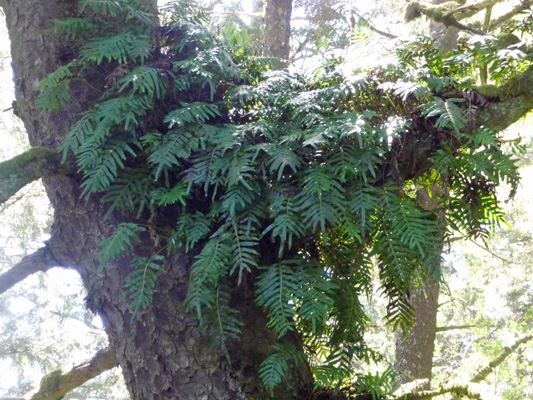 When I get our hot spot back I'm going to do some research on these babies. On the later portion of the trail, Pacific Rhododendrons started to show up. Initially they weren't too tall but as we went on they kept getting bigger and bigger. Some of them were well over 30 feet tall.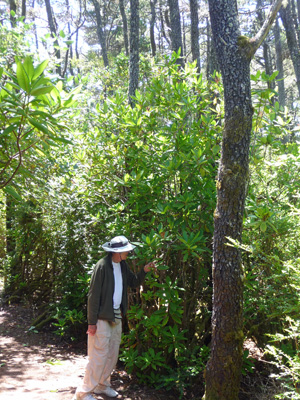 The trail joined the creek and Spireae douglasii showed up in great masses.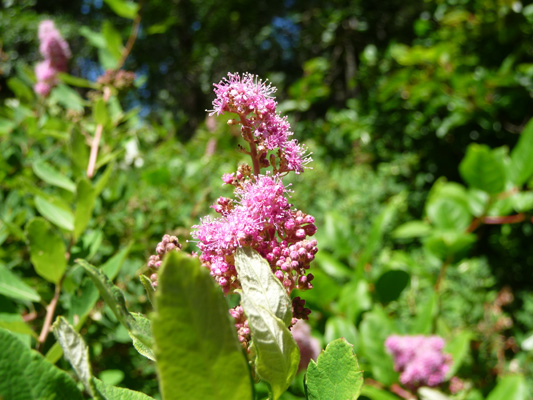 And then there were these shrubs that were about 6 feet tall with small pink flowers. They aren't in my wildflower book. They were about 1/2 inch across and quite lovely.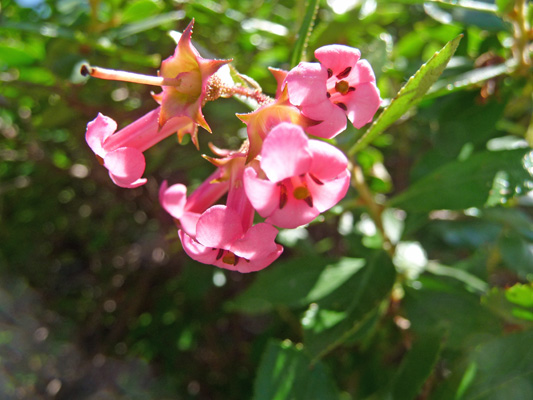 After we'd hiked for a while we began to wonder if the trail really was a going to loop back. We came across some people on a bridge over the creek and asked them where they'd started. The good news is one of them knew that we'd missed the turn (unmarked of course) and sent us back up the trail just a little ways to a spot where we'd stopped to sit on a bench and hadn't noticed the little break in the bushes. We happily followed the trail back to the truck since it had been a bit of a challenging walk with sand, lots of tree roots and many ups and downs.
Both of us are much happier here in this National Forest Campground than we were in the state campground. This happens to us a lot. On contemplation I realized that the purpose of the state campgrounds is to provide families a place for recreation. There are swimming beaches, play equipment, boats and bike paths. Forest Service Campgrounds are focused on providing a place to camp in an interesting place with trail access and maybe boat launches if there's a lake or river. The focus is different. And we seem to fit in better where the focus is hiking rather than recreating.