We left Olympia, WA on Thursday morning November 13th and drove northward (oh no!) to Covington for a warranty repair appointment at our Airstream dealer. Walter was just coming down with a cold and it was cold outside so we just hung out at the local library for a few hours before going back to the dealer hoping they'd be done with the repairs. We finally set out from Covington at 3:30 in the afternoon and drove southward for 2 hours until we reached Chehalis and an odd RV campground, Brazil's RV Park, associated with an RV repair shop in Grand Mound. It was inexpensive and came with full hookups and Wi-Fi so we were happy. It was in the low 20's that night and we were grateful that we hadn't tried to drive down past Portland as we had planned because they had had freezing rain much of the day on Thursday.
Friday we drove south under clear skies with clear roads—yeah. We saw trees still coated with ice on the passes south of Salem OR but the roads were fine. We camped the night in Eugene where it didn't even frost though it was still raining a bit when we got there. On Saturday, we drove south and over to the coast to camp in Crescent City, CA. We usually drive west on Highway 38 and follow the Umpqua River Valley to Reedsport but this time we decided we'd take Hwy 199 from Grants Pass down to Crescent City. We hadn't done that for years and thought it might be fun. It's a much hillier and winding road than Highway 38, though it is pretty. We'll probably stick to Highway 38 in the future even if the other way is shorter.
We spent the night at Sunset RV Park, a rather seedy RV campground in Crescent City. It was cheap which is all you can say about it. They'd had rain and there were lots of huge puddles everywhere but at least it wasn't as cold. I'd hoped that Crescent City had gotten better over the years but it's still a shabby place that I'd rather miss.
Sunday we drove south from Crescent City to Myers Flat—not as long a drive as the previous two days which was a nice break. We even had some sun so we stopped at a view point south of Del Norte State Park. Here's Genevieve and François with the view.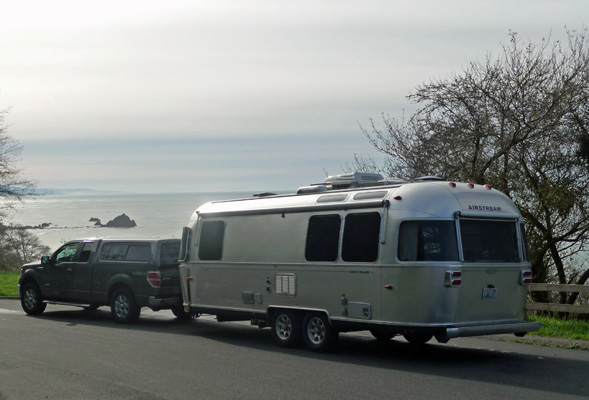 When we got down around the bend I shot this photo from the car window.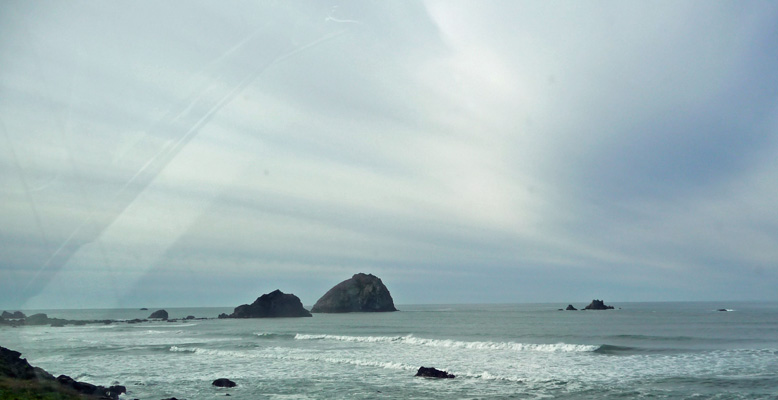 We spent the night at Big Redwoods RV Park, a nice campground that has been nearly completely redone in the last 6 months. We had a view of the Eel River. They haven't had a lot of rain but there was some water in the river.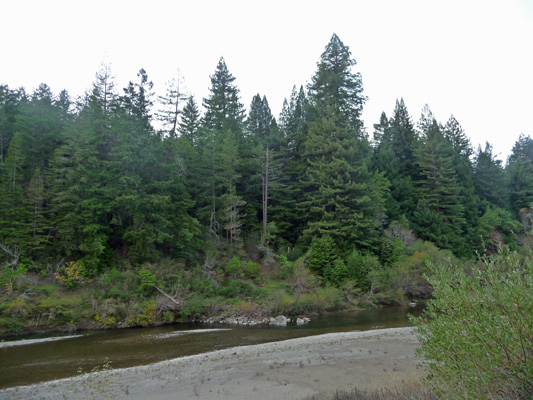 Monday morning November 17th, we drove south through the last of the Redwoods and I shot this photo through the front windshield. Highway 101 winds its way through the groves like this dodging trees as it goes. Over the years the trees have gotten bigger and bigger and are encroaching on the road. The solution to this problem? Put up signs that say "Road Narrows."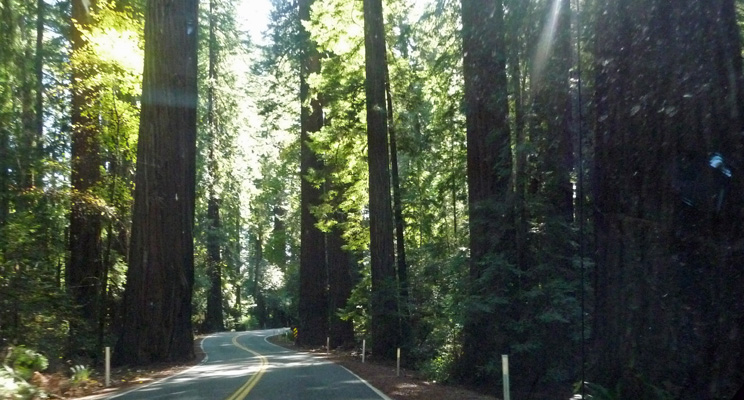 We spent 3 days in Santa Rosa at the Sonoma County Fair Grounds RV Park. It's a big gravel parking lot with full hook ups and no Wi-Fi. It was sunny on Monday and Tuesday but by Wednesday the first of 3 storms to hit the area had arrived. We visited with some of Walter's family (thanks so much for the great dinner, Jeff and Nancy) and had dinner with our friends Tom and Sally from our Massachusetts days (wonderful Chicken Cacciatore, Sally).
Thursday morning it was pouring when we got up. By the time we had broken camp, we were both soaked from the edge of our rain jackets down. Yuck. We drove south though San Francisco in rain that really didn't let up until we got south of Monterey. By the time we reached Pfeiffer Big Sur State Park it was only raining lightly. We drove around the nearly empty campground looking for a spot that we could easily get into and in the end found that there were actually only 2 spots in the place that we could get the Airstream into. One was open and available so we grabbed it. There aren't any hook ups here and it was cold and pretty dark so we wrapped up in a blanket and took a nap.
The next morning we had sunshine and clear skies! Here's our lovely campsite complete with California Live Oaks.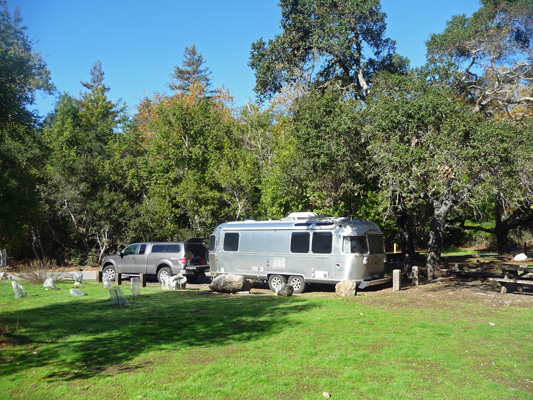 After getting gas ($4.65 a gallon, yikes) we drove south along Hwy 1. Every once in a while there's a Vista Point and we pulled out at this one south of Nepenthe.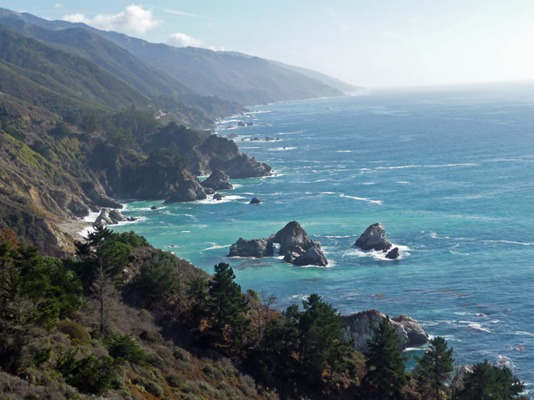 This is about as classic Big Sur Hwy 1 as you can get. If you look carefully at that big sea stack you can see that it's got a natural arch in it. Can't see it? Well how about now?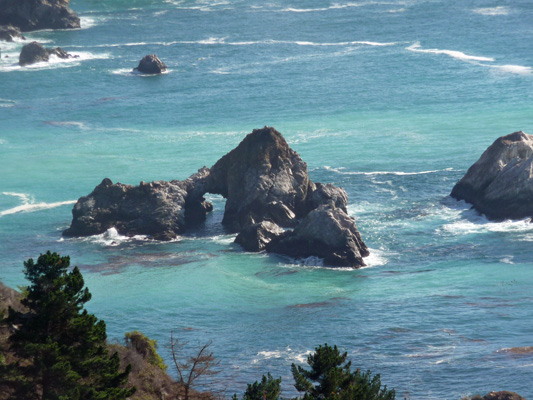 And yes, that's really the color of the water. The maroon patches are kelp.
We continued southward to Julia Pfeiffer Burns State Park. There's a short hike out to the site of what was once called The Waterfall House. On the way you get a view of the waterfall as it heads for the ocean.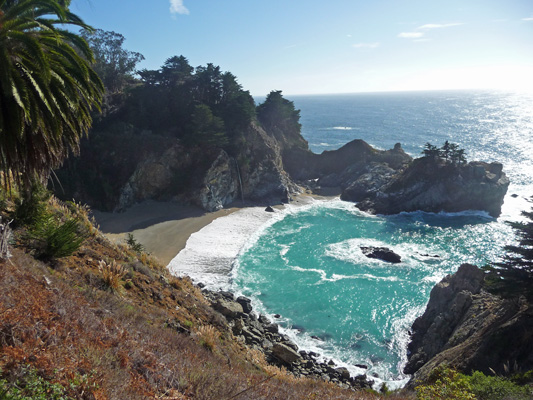 Here's a close up of the waterfall.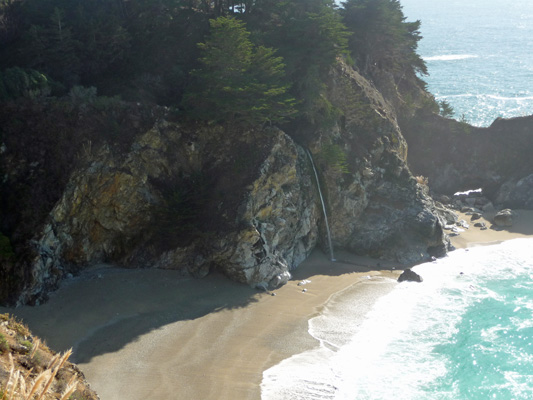 Years ago the waterfall really did go straight into the sea. But there was a big landslide in 1983 that sent a huge amount of sand into the ocean just north of here. Some of it ended up washed up into the cove here and now there's beach for the waterfall to land in.
When you get to the end of the trail (where The Waterfall House used to be) you get a gorgeous view north along the coast. Imagine having this view from your front patio!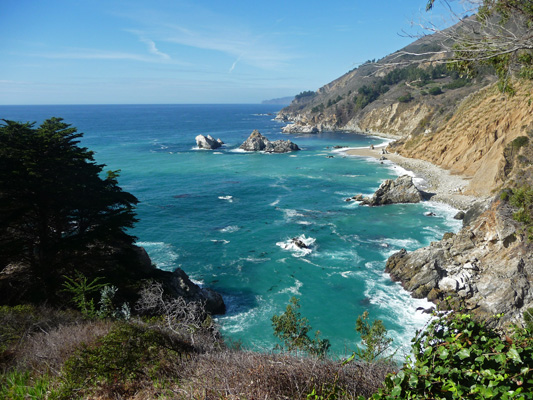 I think that this is one of my favorite views in the whole world. Here's a close up of the sea stacks.
Can you imagine such a gorgeous day after it had been rainy the day before? And then guess what? The next morning, it was raining again. When we drove southward on Saturday morning you couldn't even see the ocean let alone these gorgeous views. It continued to rain until we reached San Simeon and then aside from one brief sun break it was cloudy and foggy all the way to Morro Bay.
We got one of the last campsites at Morro Dunes RV Park which is right across the street from the beach. We awoke Sunday morning to SUN! And this gorgeous view from our campsite. That's Morro Rock in the background.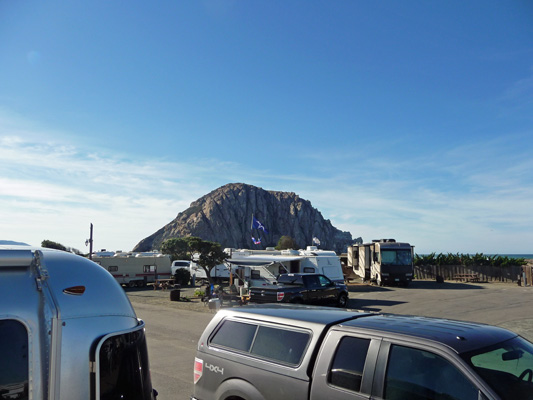 It was in the low 70's and breezy when we set out on a beach walk. We crossed the road and went up the sand dunes where there was a little bit of ice plant in bloom.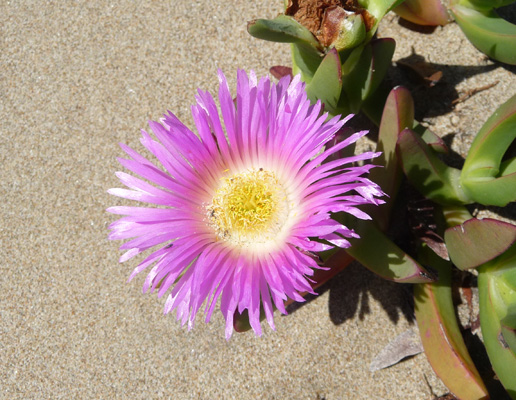 The tide had just turned and the surf was up.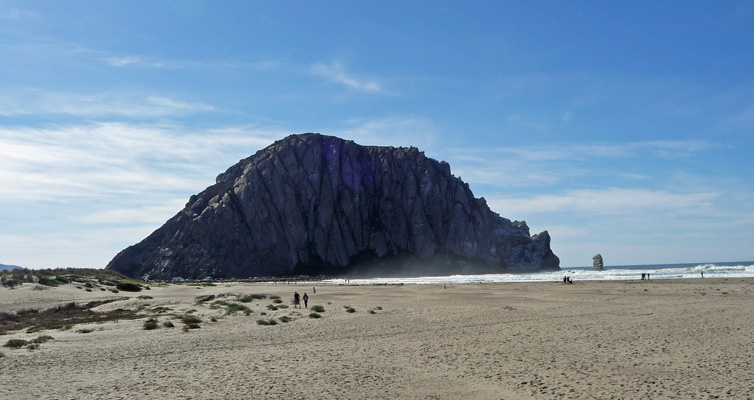 There were a few surfers out trying to catch waves and lots of folks in wet suits playing along the water's edge. The wind was blowing out to sea so the spray from the waves blew up and backwards .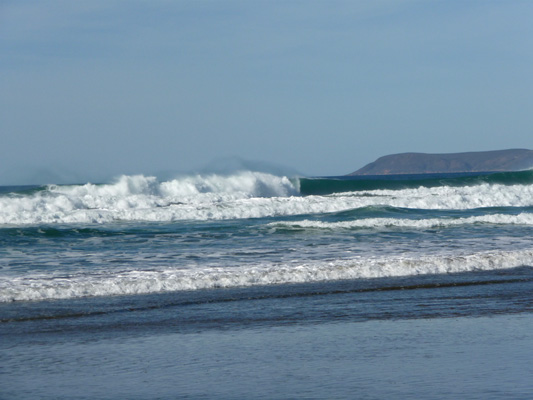 I took more photos than you want to know about, watching the water crash up against this sea stack that is right next to Morro Rock.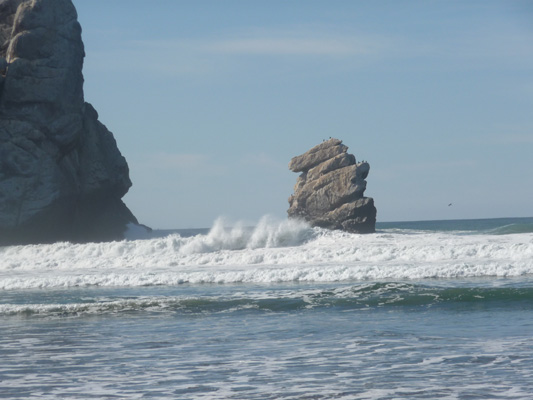 We walked down to the breakwater that leads up to the rock. They won't let you climb on it or try to walk around it. It's just too dangerous and besides there are endangered Peregrine Falcons who live there. But the breakwater is a great place to watch the surf.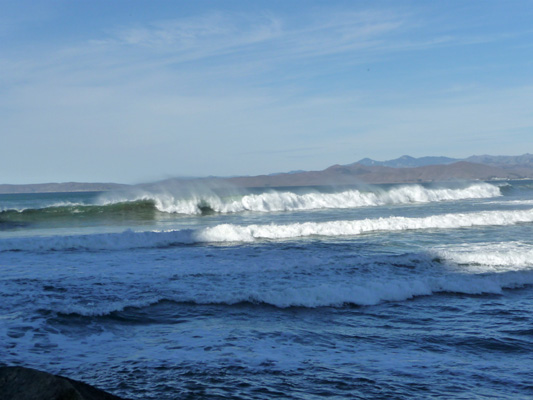 After a nice rest, we continued on eastward to Morro Bay itself.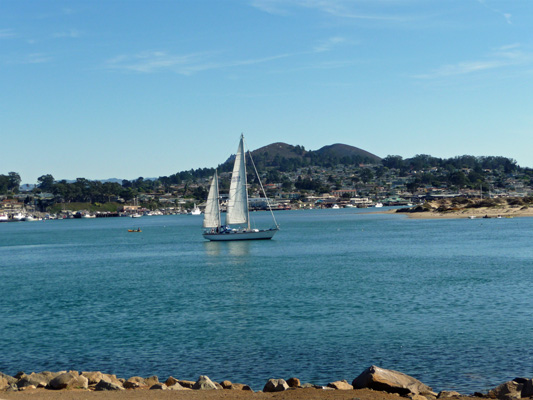 There was a group of 12 or 13 sea otters rafted up together here in the bay.

We sat on a bench and watched them drift around. The people who we shared the bench with said they'd been coming here for years and had never seen this many of them out together and certainly not for the hour that they'd been watching them. As far as we could figure out, they were sun bathing. We walked on and explored the waterfront with it's t shirt stores and sea food restaurants. On our way back I shot this photo of Morro Rock and the bay. Morro Rock is one of a line of 7 old volcanic plugs—the others being hills in the area.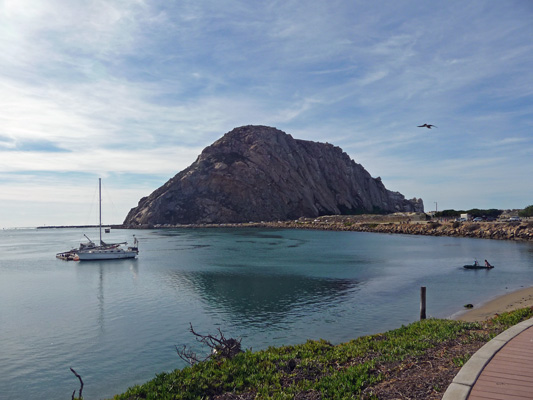 When we got back to the area where we'd seen the sea otters they were busy briskly swimming from out in the bay back to the place where we'd seen them before. Here you can see that their rear flippers are really stirring up the water.

They do the 'back stroke' and make there way on their backs with their heads leading and the front paws crossed on their chests.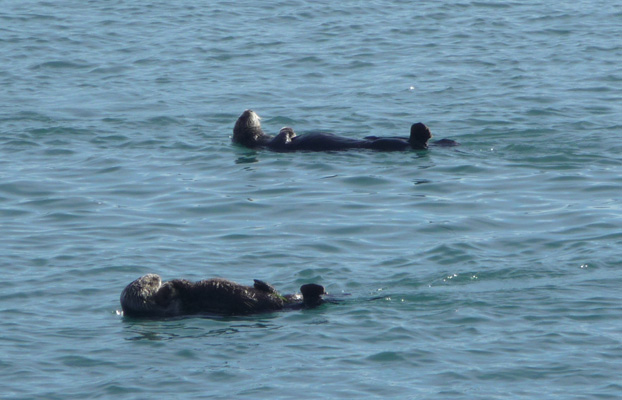 You can see several of the other volcanic plugs when you look east across the bay.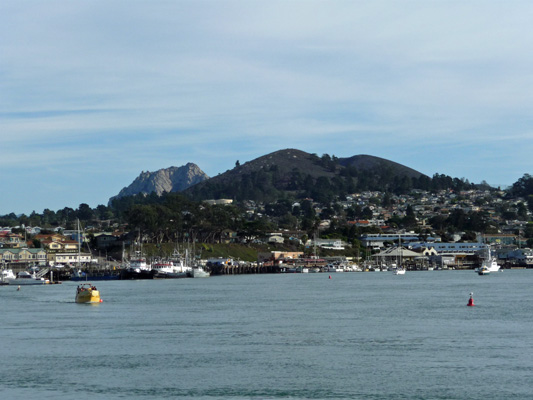 We came back and Walter had a nice long nap while I processed my photos. Then early in the evening I joined the rest of the sunset worshippers over on the sand dunes to watch the sun go down.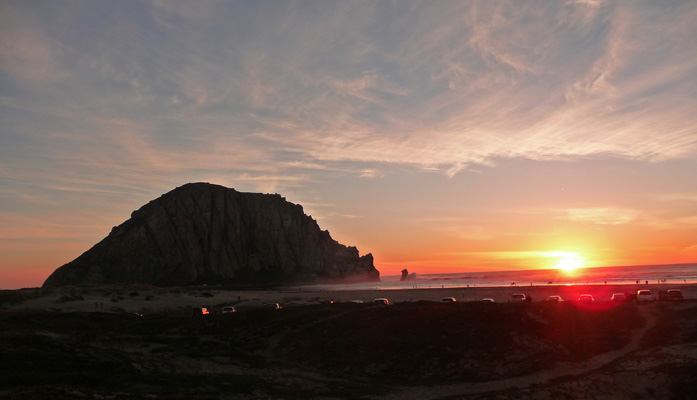 The surf was crashing away even better than in the morning.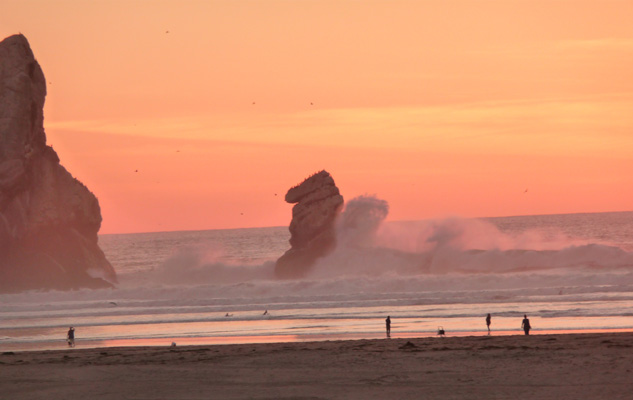 The color just got better and better long after the sun had sunk into the ocean.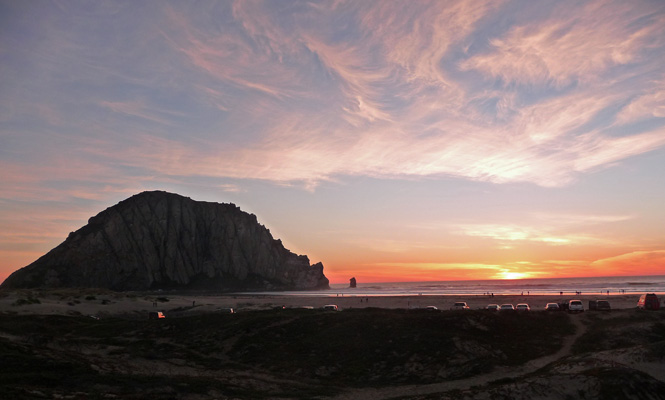 We had intended to continue our trip down the coast but we discovered that southern Californians go camping for Thanksgiving! Refugio State Park, just north of Santa Barbara, was booked solid starting on Monday straight through the weekend. Oops. So instead we're heading to the desert. We'll spend 2 nights in Mojave (we need to do laundry) and then head into Death Valley for the long holiday weekend. Only one of the campgrounds there takes reservations so all the other campgrounds are first come first serve. If we can arrive fairly early on Wednesday, we shouldn't have any problem getting a spot (we hope). May the campground gods continue to smile on us!