June
July
August
September
October
Silver Falls June 2014
We spent Jun 25th at Rasar State Park, a wonderful new state park (1999) just west of Concrete WA. We had water and power, showers, a cell phone signal and the hot spot was working—really uptown! After taking my shower I decided that I'd wash off the heavy layer of mud that had accumulated on the running boards of the truck when we went exploring at Kulshan.
I got the truck clean and decided to wash the trailer's front windows too. I clearly was getting tired because instead of walking around the truck (which was still hitched to the trailer) I stepped over the hitch to get to the windows on the passenger side and caught my sandal on a wire that runs from the truck to the trailer (the break-away cable). There I was standing on one foot with a bucket and a hose in my hands and a wire caught between my toes and the sandal. I shook my foot and then fell over in slow-motion, skinning my elbow (the one I broke in the accident of course) and landing with my knee (the one I broke in the accident of course) on top of the hitch. Ouch. I ended up with a bloody elbow, a goose egg on the inside of my knee and a sore muscle on the outside of my calf just below my knee. I iced the goose egg and put Walter's LED light on the outside of my knee and hoped for the best.
The swelling went down quickly and I was only a little gimpy the first night. I could help with breaking camp the next day and drove okay (of course the hurt knee is my driving leg). By day two, I was okay to climb a few stairs and walk short distances. Just no big hikes for a little while for sure.
On Thursday June 26th, we headed east out of Rasar for a drive over the North Cascades Highway (Hwy 20). It was sunny when we started out but by the time we began to go up Rainy Pass it was pouring. How appropriate! We stopped for lunch between Easy Pass and Rainy Pass and I shot this photo of the snow on the nearby peaks.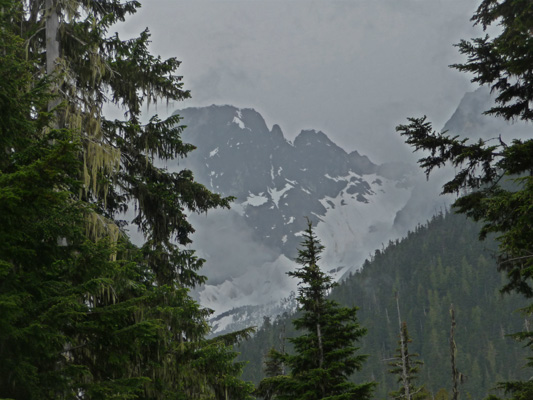 There was snow on the ground in the shady areas between the trees here and tons of snow along the side of the road as we went over Rainy Pass (4800 ft) and on up Washington Pass (5472 ft) and down the other side. We'd looked at the weather forecast before we headed out and it looked like our best chance to be out of most of the rain was to go to Entiat which is south of Lake Chelan but north of Wenatchee. It was a long drive but it was dry when we arrived and we got a HUGE campsite at Silver Falls campground –28 miles up the Entiat River Road. The campsite could easily hold two big rigs and in most Forest Service campgrounds it would be labeled as a double site and cost double but not here. We set up camp and paid our money for three nights –$18 with our Golden Access Pass (It costs $12 a night to camp here for normal folks. The Golden Access allows you to camp for 1/2 price once you're over 62).
On the 27th it was mostly cloudy with a few sun breaks. We decided to take a drive up to the end of the road and check out the campgrounds along the way. There are lots of nice places to camp along the river if you have a tent or a small trailer. There are even a few big sites at Cottonwood Campground at the end of the road, though you have to drive 4 or 5 miles on dirt road to get there and the campground feels pretty primitive. There are a lot of dead Lodgepole Pines that have fallen victim to Bark Beetle there so it's a little stark.
On the way back we stopped at Entiat Falls.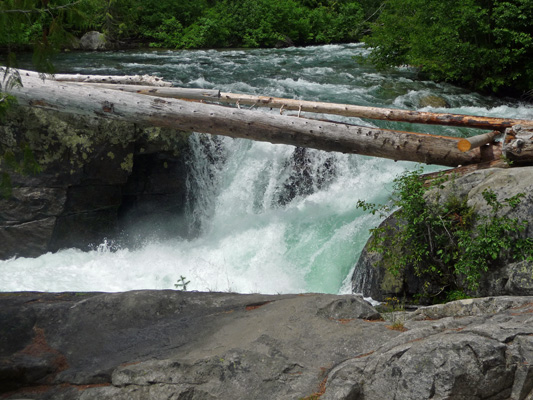 These are the main falls but to the far left of these there's a second smaller section that shoots out in a great squirt.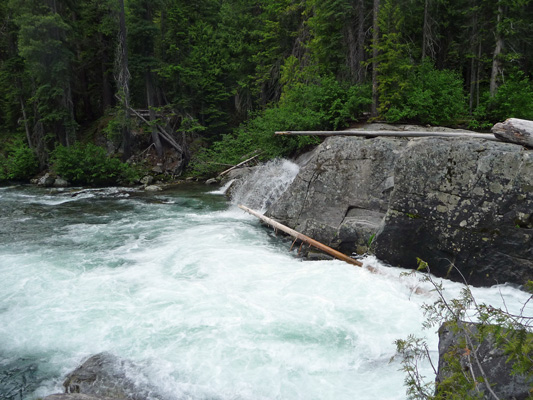 Here's a close up so you can see better.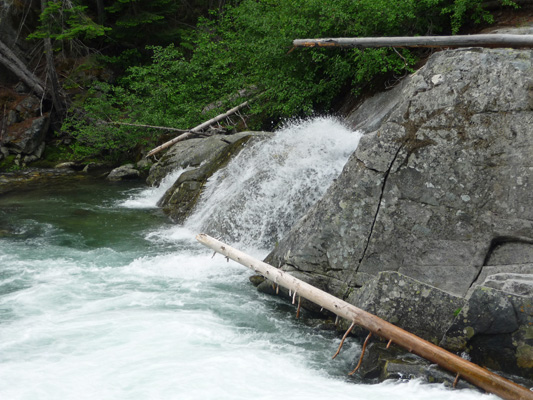 We wandered around on the banks of the river a little and I spied this lovely Queens Cup (Clintonia uniflora).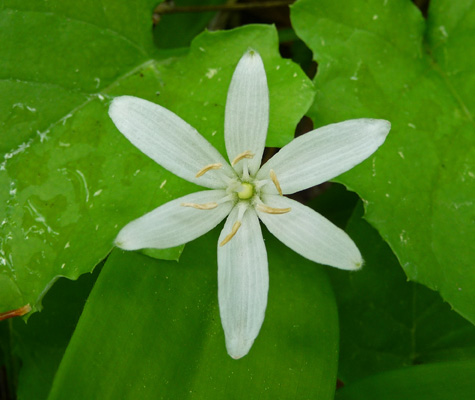 Across the road from Silver Falls Campground is a wonderful hike up to Silver Falls. The trail was constructed back in the 1930's by the CCC and has wonderful stone stairs and artistically constructed bridges. I knew the my knee wasn't up to the hike (sniff) but we did go up the first set of stairs to the first bridge to get a photo of one of the cascades.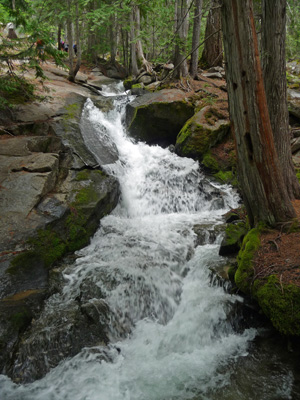 We followed the alternative trail back down and came to yet another cascade.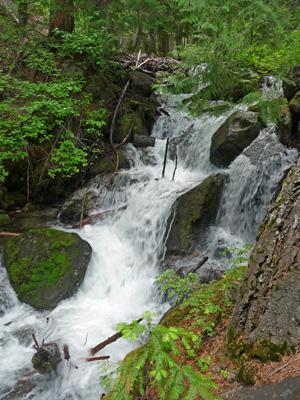 I looked up after taking this shot and there was Walter looking happy and handsome as ever—and without his hat for a change.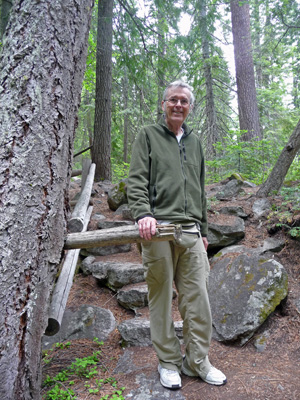 This last little cascade is right before the creek goes under the road on its way to the Entiat River.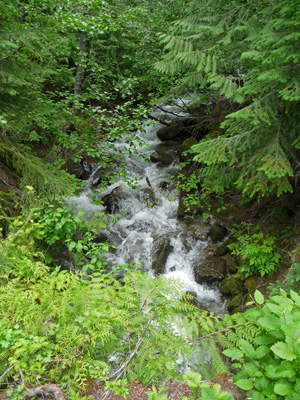 I spied a lush patch of Star False Solomon's Seal (Maianthemum stellatum) on the way back to the truck.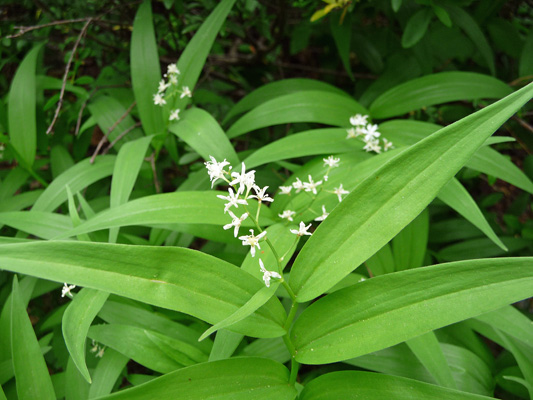 The ranger/camp host was out wandering around and we stopped to talk to her. She's an employee/volunteer with the Forest Service. They provide her with a cabin with propame stove, hot water heater and refrigerator and a solar panel to run the pump so she has water and a shower. This is her 3rd season here. She starts in April and continues until things slow down in September or October. They pay her $600 a month to cover her living expenses. She wears a Forest Service uniform so she looks official. And she does EVERYTHING—cleans the bathrooms, patrols the campsites and trailheads, enforces the rules and does rescue and anything else they ask of her. She clearly loves it. She views it as her vacation. Her husband comes out on weekends and spends the month of July out there with her. Her older son was with her during the week.
We spent Saturday hanging out at the campground. We explored the 'kid trails' through the woods and walked the campground loop a couple of times to keep me and my gimpy knee moving. It was partly sunny so we sat out in our campsite in the sun and read. I think we're officially unwound!
Sunday was sunny and gorgeous on our drive towards Seattle. However the clouds closed in just east of Snoqualmie Summit and we had rain as we came down the western slope. We were in Issaquah/Preston at Blue Sky RV Park for a couple of days. Walter had a dentist appointment Tuesday. We did errands and laundry Monday and I'm happy to say that while I'm impatient about it, my knee is continuing to feel better every day. I trooped around two grocery stores and Fred Meyer and I was hardly sore at all.