We spent June 13 through 16th at Indian Creek Campground on Rimrock Lake in the southern Cascades. It was cloudy and cold much of the weekend. The lake was full of white caps and the campground was full of campers even though it was cold and wet.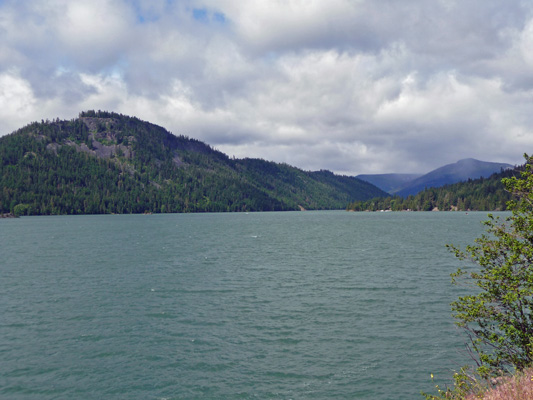 Friday we huddled in the trailer and even ran the furnace once or twice before we retreated to bed. The next morning it was still cold and wet so we drove into Yakima (east of the mountains) to use the WiFi at the library. When we left the campground it was 52 degrees. When we arrived in Yakima it was 75 already. What difference a drop of a couple of thousand feet and a few miles makes.
Our Casita really didn't use much power when we were dry camping. The Airstream is another matter entirely. It's monitoring systems can use up the power of our two batteries in a week. The furnace is propane but the fan portion of the furnace eats power like crazy. Even without the furnace we can't stay anywhere more than a few days without power. So we decided that we needed a generator if we were going to continue to dry camp through the summer. We were lucky to be in Yakima where there's a lot of demand for generators. The nifty little Honda low noise lightweight generator Walter wanted was sitting on the shelf waiting for us at Coastal Farm and Ranch when we visited. They did a free initial service (put oil in it and a little gas to make sure it would start) and while we waited they served Walter a free burger for Father's Day and only charged me a quarter for mine. Such a deal. The generator was on sale and came with a $50 gift card so we went back in the store and bought a new gas can and other accessories and still had a little left on the card when we were done.
We went home and hooked up the generator and it charged up the batteries in under a hour. It's so quiet you can barely hear it inside the trailer. When we dry camp we should be able to run the generator for 1/2 hour a day (using 0.2 gallons of gas) to keep the batteries charged up. [Update: We've found if we run the generator for 1/2 in the morning and 1/2 in the evening we can keep the batteries in the 'safe zone' of more than 50% charged. We've begun to think about a small solar panel to use to keep the trailer fully charged in the day.]
We'd planned to take a hike to Conrad Meadows near the Goat Rocks Wilderness area. But it was still cold and wet on Sunday so we went east again and found our way to Meeks Table, a secret location a neighbor told us about years ago. I would never have been able to find it again, but Walter remembered how. We made it through the first part of the hike okay but the going got rough for us as the trail got steep with lots of loose scree. My knee doesn't like steep uneven ground like that and was beginning to complain towards the top. And on the next curve I found Walter sitting on a rock looking wiped. The altitude had gotten to him. So we turned around and made our way back down. It was a good thing all around because when we were half way back to the truck, it was raining pretty hard. We were wet but not soaked by the time we reached the truck.
I still found time to take a few photos though. There are wonderful stands of Ponderosa Pines. The area had been logged a few years ago but they left the big pines to grow bigger.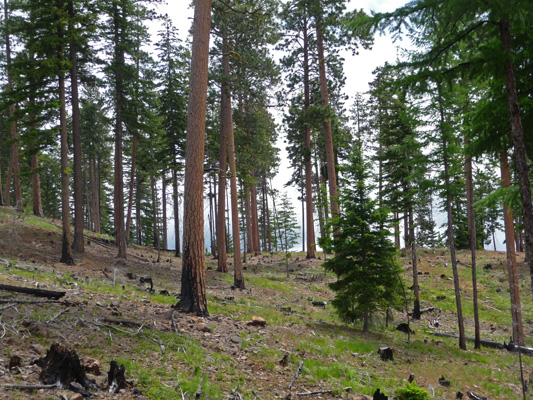 We crashed around in the bushes a little trying to find the trailhead (the location of which we'd forgotten) and I stumbled across a patch of lupine with rain still resting at the centers of their leaves.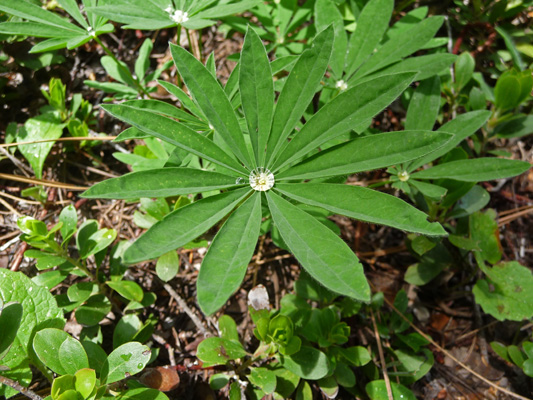 We found the trail because we saw a pair of hikers coming down from the table and watched the direction they were going. We headed in that direction and ran into them shortly thereafter just as we reached the trail. They told us that the bitterroot wasn't in bloom (too bad they're wonderful) and it hadn't rained much on them.
We headed on up the trail which is pretty steep in places. It opens up now and then and you get views looking south and west towards the mountains. There's still a lot of snow up in the Cascades even on the eastern slopes.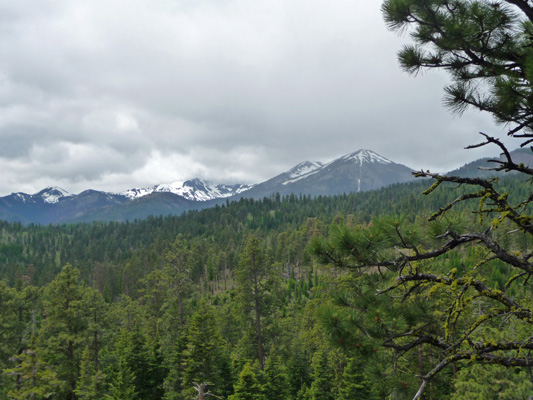 In amongst the rocks and scree I spied a little yellow daisy I had to stop and take a photo of. I think that it's a Desert Yellow Daisy (Erigeron linearis).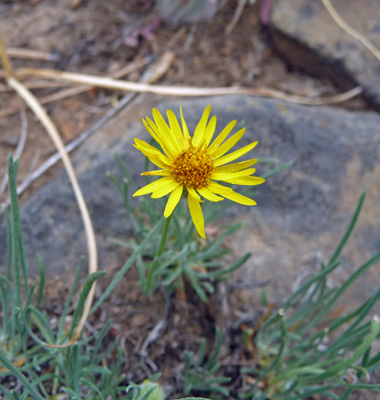 There was lots of wonderful buckwheat in bloom. I think that this is Eriogonum umbellatum var polyanthum but I could easily be wrong.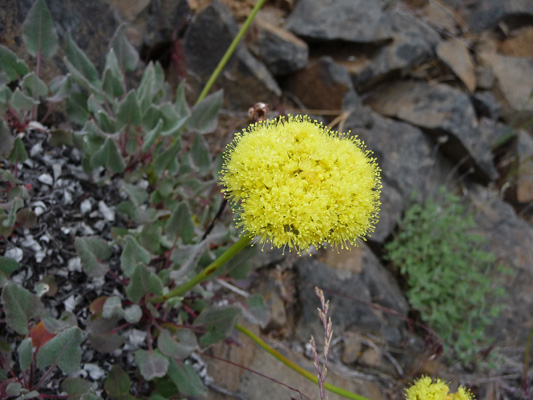 There were lots of these in bud. I think they may be a saxifrage of some sort. The have a rosette of multi-lobed leaves at their bases and then the flower stalks are a good 6 inches tall. It think that they are Heuchera racemosa.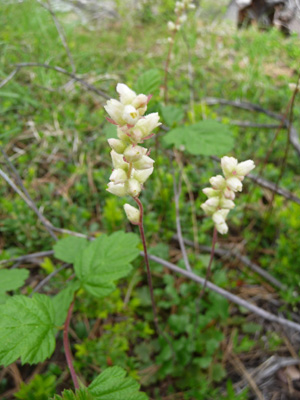 These low lying shrubs had really sweet smelling flowers and I have no clue what they are. They were maybe 3 to 4 feet across with tons of small flowers with 5 white petals and yellow centers.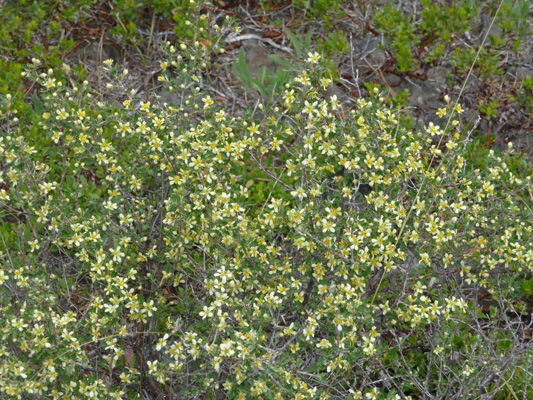 We made it nearly to the top of the trail before we pooped out. The Ponderosas up on the table are HUGE.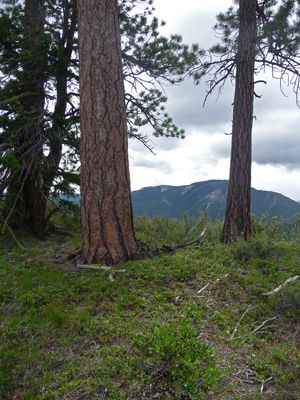 Going back down the trail I stopped to take a photo of some Indian Paintbrush. I wonder if there is anywhere in the west that the stuff doesn't grow. How many hundreds of photos of Indian Paintbrush I have I taken? I don't want to know. I just love it.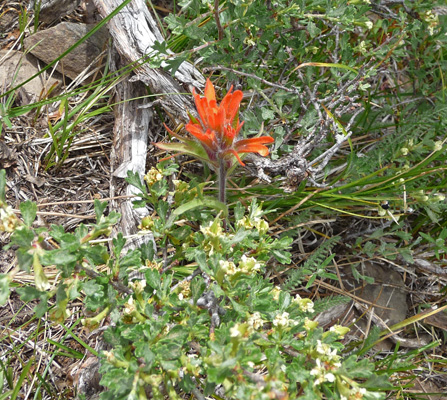 There was one tiny clump of Lanceleaf stonecrop (Sedum lanceolatum) growing nearby.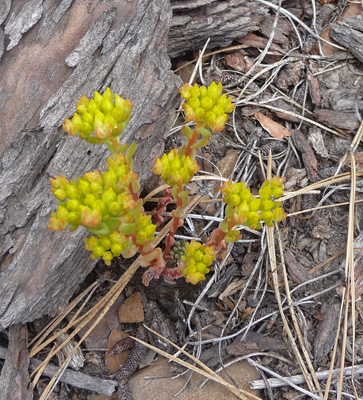 And there was this lush patch of Penstemon growing up above the trail.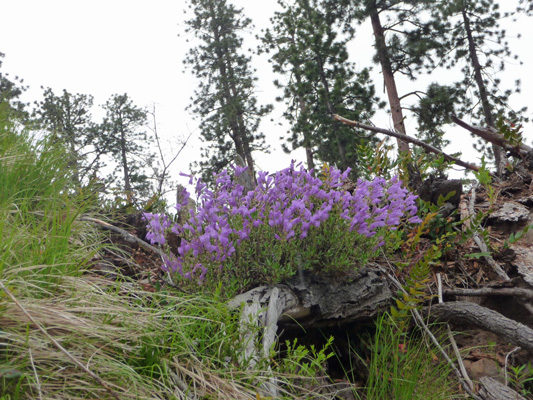 We made it back to the truck a little wet but happy and then drove down to a little lake to have lunch. Walter thought that he'd seen a sign that indicated that the road we were on went on over the mountain to US Hwy 12 where we were staying. So we went on adventure to see if he was right. The road ended abruptly as did the other spur we found. But we got to see masses of these yellow flowers in bloom.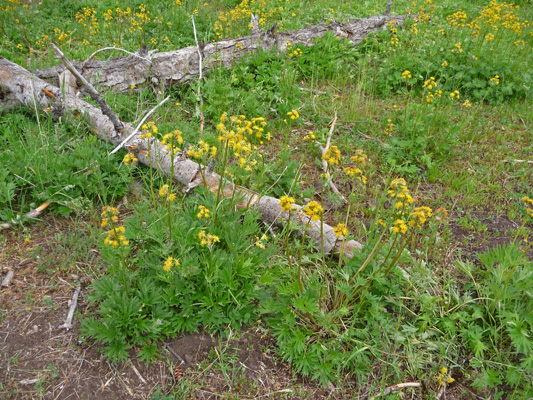 They're composite flowers but have leaves like a delphinium.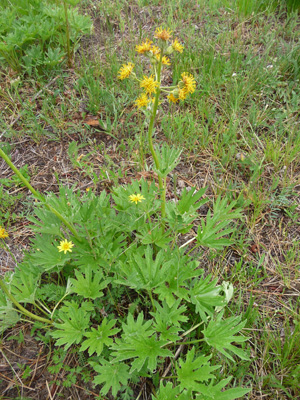 And they aren't in the one wildflower book that I have with me.
We turned around and drove on down the mountain passing masses of lupine blooming in amongst the Ponderosa Pines with a bit of sun break to boot.

It was still cold that night and we awakened to find that it was only 47 in the trailer the next morning. When we went over White Pass (elevation 4500 ft) you could see that there was fresh snow up at about 5,000 ft. And the truck said it was only 38 degrees outside.
We'd hoped to camp at La Wis Wis during the week, but it was wet and only 45 there when we drove through to check it out. In addition, the big trees have encroached on the campground road so that we could barely make it through (inches to spare) so we decided to go on down the road for some power and internet for the night.