It was a picture perfect day in Crescent, OR when we woke up on Sunday October 19th. We packed up the trailer and motored about 30 miles north and a little west to La Pine State Park just north of La Pine, OR.
There was only one campground loop open (with about 50 sites and a number of cabins) and it was about 3/4 full when we arrived a little after noon. We found a nice side pull through site away from most of the hub bub and set up camp. We registered, made a picnic lunch and set off to enjoy the sunshine and nearly 70 degree weather.
First stop was McGregor Memorial Viewpoint in the state park. It gives a lovely view of the Deschutes River as it makes one of it's many twists and turns. I couldn't resist the Ponderosa Pine here with its roots hanging onto the bank for dear life.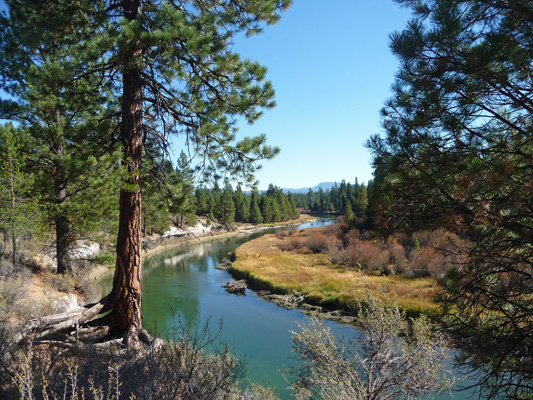 Further up stream there was an even bigger Ponderosa with 1/2 of its roots hanging off the cliff.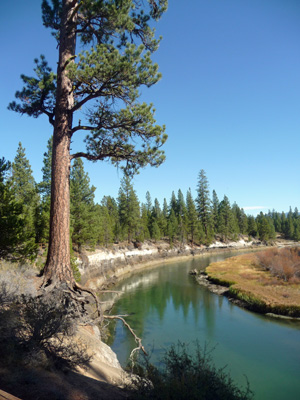 From here we drove a little further along the park road to the turn off marked Big Tree. There's a short but somewhat steep trail that leads down the hill to Oregon's largest Ponderosa Pine. Seeing the large lumps and bumps on its trunk, Walter said that explained why he has all the lumps and bumps that he has.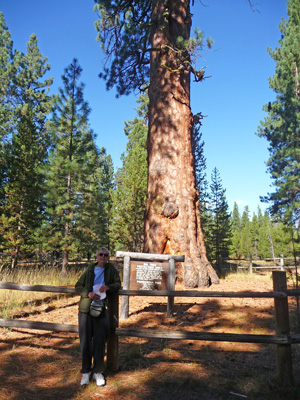 They estimate that this 192 foot tall tree is over 500 years old. It's nearly 9 feet in diameter.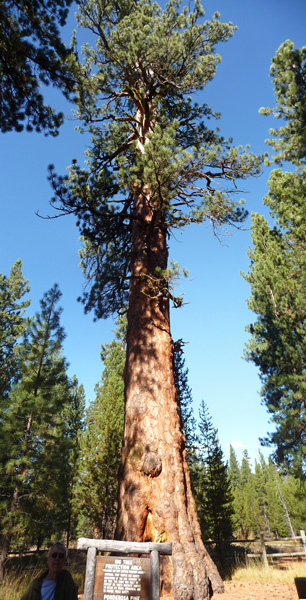 We followed the signs for the loop trail which took us down to another view of the Deschutes River.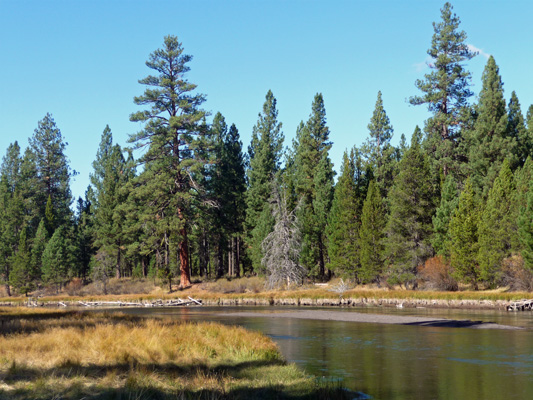 Having completed the loop we motored out of the park and up Highway 97 towards the Lava Lands Visitor Center, the 'low lands' portion of Newberry National Volcanic Monument. You may remember that we visited Newberry Crater back in July when it was 98 degrees down here in the lowlands but lovely and cool up at the crater. The Visitor Center and the Lava River Cave were both closed for the season. But the hiking trails out onto the lava flow were open. So we took the Trail of the Molten Land trail which is a paved trail that goes up out onto the lava flow itself. Pavement is a good thing since the lava is really hard on the soles of your shoes.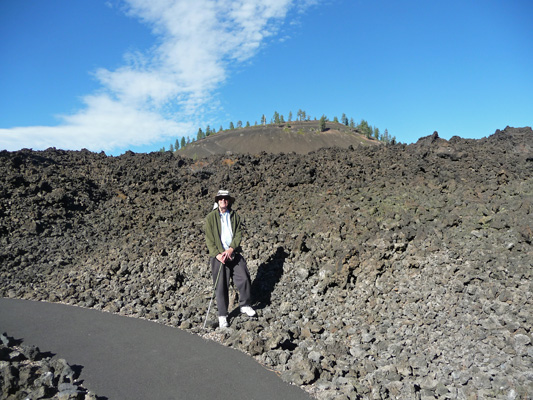 This lava flow was formed by the eruption of Lava Butte, the cinder cone in the background of this photo. The flow is over 10 square miles and blocked the Deschutes River in 5 places—the site of 5 waterfalls today.
The trail winds up hill and gives you a nice view of Mt. Bachelor and the Sisters mountains.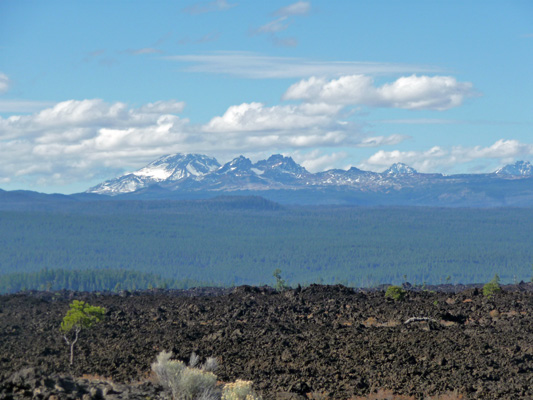 You can see that there are a few hardy little trees and bushes making a toe hold on the lava flow. It's not much progress in 7,000 years but hey, it's a start.
This is Lava Butte which is 5,020 feet tall. The surrounding area is about 4,400 feet elevation.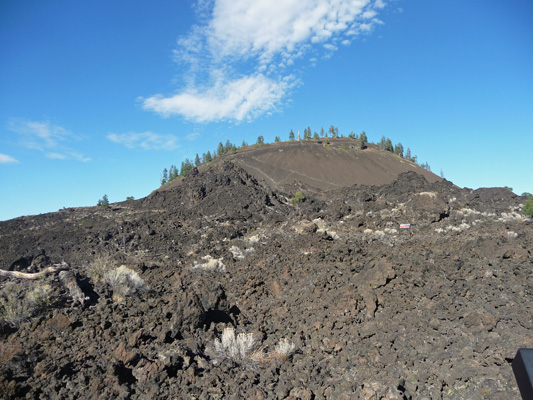 There's a road that takes you to the top but it was closed for the season too.
I took this panorama shot from the top of the trail looking west. We walked the trail down below before it took us up the final turns to the top.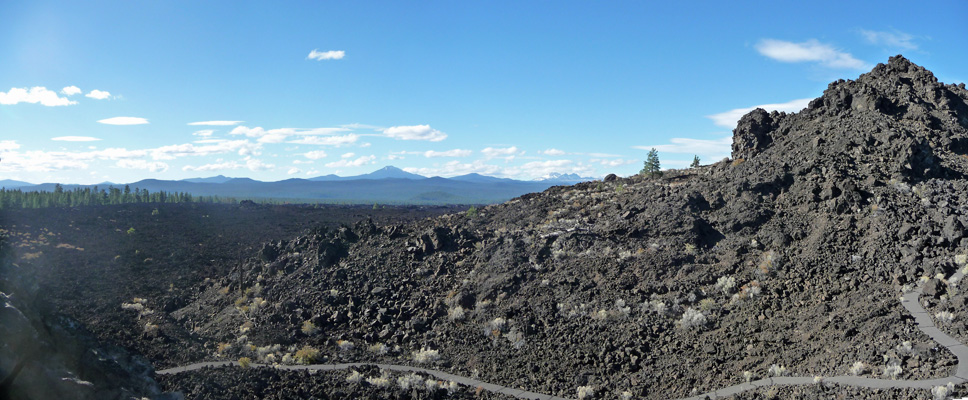 Now here's an oddity for you: lava balls. They were formed just like snow balls as small bits of lava rolled down hill and picked up more debris to grow bigger and bigger before the came to rest and cooled here.
We had our picnic lunch and decided to follow the road out to Benham Falls which was only 4 miles away. The literature said that it was only about a 1/2 mile hike to the falls so we thought what the heck. There were tons of folks on bicycles on the bike path out this way and we felt lucky to find a parking space in the parking lot next to the Deschutes River.
There were aspens that had turned gold that we could see from the trail along the river.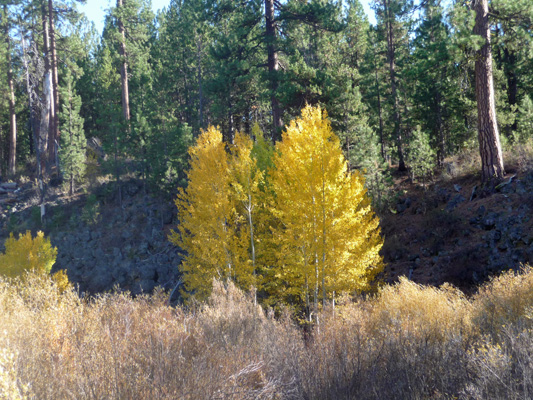 The trail goes across a bridge and then follows the course of the Deschutes as it winds along. We were beginning to flag some (it was late afternoon and we had done a bunch of walking/hiking already) when rapids appeared.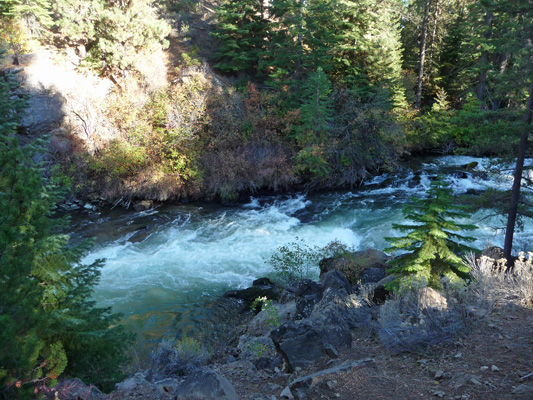 Followed by steeper rapids.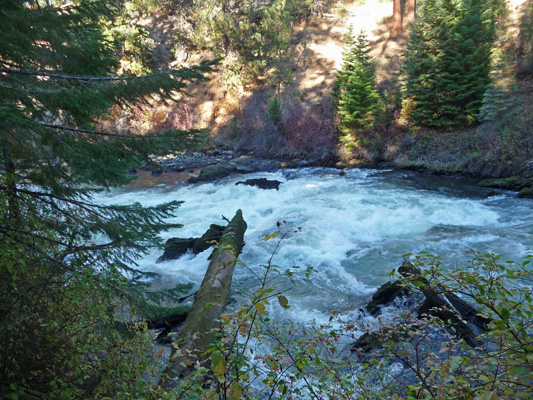 And the falls.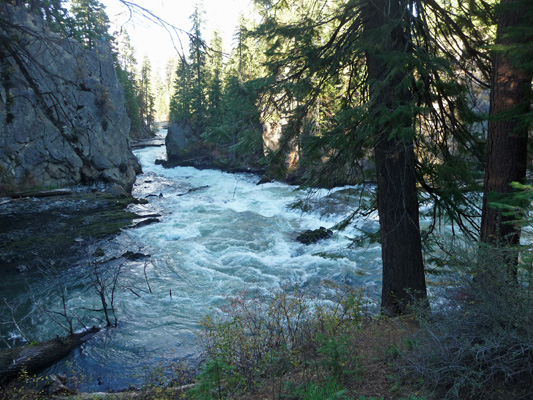 It's very pretty but seems from this angle to be more like a cascade. Walter sat on a log with this view and I followed the trail further on only to discover a parking lot full of cars right next to the viewpoint of the falls! We have no idea how you can reach this parking lot but clearly there were a lot of folks who did know because it was full. I took this photo from the first of the overlooks and decided that from this angle it really does look like a waterfall. This is one of the waterfalls created when the lava flow from Lava Butte blocked the Deschutes River. The river is slowly working it's way through the lava and basalt deposits.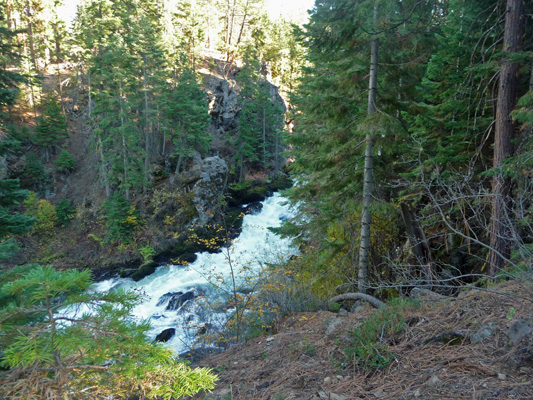 The trail continues downhill and I stopped some folks to ask if there was more waterfall down below. The folks coming up said no, this was the main attraction, so I turned around and went back to join Walter.
There are lots of mountain bikes on this trail—it's dirt but pretty hard packed—which means you have to watch where you're going or you'll get run over. They weren't riding really fast which helped but you still had to keep careful watch.
The light on the river was gorgeous as we came back out into the grassy area.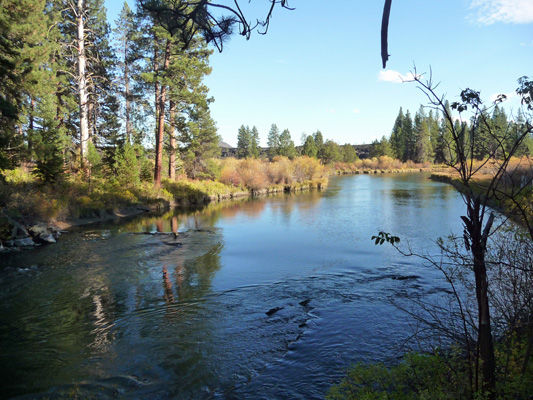 That grey-black streak at the horizon is the lava flow and we're over 4 miles from Lava Butte.
We got home tired and happy with time for Walter to have a nap before dinner. It was a good thing that we packed the day as full as possible because the clouds came in that night and we had rain and temperatures in mid 50's on Monday. We took advantage of the poor weather to do some grocery shopping up in Bend.
We'd hoped to move on to Tumalo State Park just outside of Bend on Tuesday but it's closed for a construction project (they're replacing the bathrooms during the off season) so we stayed at La Pine one more day enjoying some more sunny (if not warm) weather.
On Tuesday we awoke to a cold damp trailer and cloudy skies. It was only in the low 40's outside and our little heater was working overtime trying to heat up our big living space. We have a nice furnace too but it uses LOTS of propane so we try to heat with electricity when we have an electrical hookup.
There were little patches of blue in the sky so we decided that we'd keep our plan to stay at La Pine for yet another night. While we were packing a picnic lunch the sun came out—yipee! We drove down into the town of La Pine and found the Ace Hardware Store and bought another little ceramic heater so that now we have one for the bedroom and one for the living room area. We also picked up some cheap winter hats and gloves since we were headed for a little hike and it was only 45 degrees outside.
We drove north of La Pine State Park to Vandervert Road and then took South Century Drive south about 6 miles. We crossed the Deschutes and then just past the sign that said La Pine State Park next left, we turned left on the dirt road that was otherwise unmarked. We bumped along on the washboard road for about 3/4 of a mile until we came to a large parking area on the left just before the bridge over the Fall River.
We donned our hats and gloves and set out on the trail along the river. There were lots of fisherman trails down to the water and we followed them a while until we came to a fly fisherman. Walter thought that the falls might be right there at the bridge because there was a bit of a rapid there. But I was arguing that it had to be further along because the trail description we had said it was 1/4 mile away. We asked the fisherman (who sadly hadn't been seeing any fish) and he said the falls were further down stream.
We hiked a little ways further through the woods and sure enough came to the falls.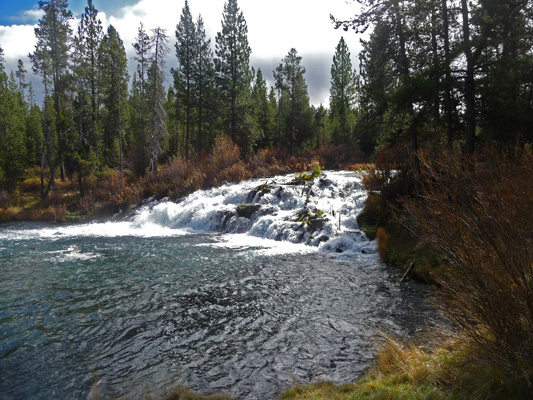 It had been sprinkling a few minutes earlier but we were lucky and the sun came out.
In fact, the sun was so bright I had some problems taking photos from this angle.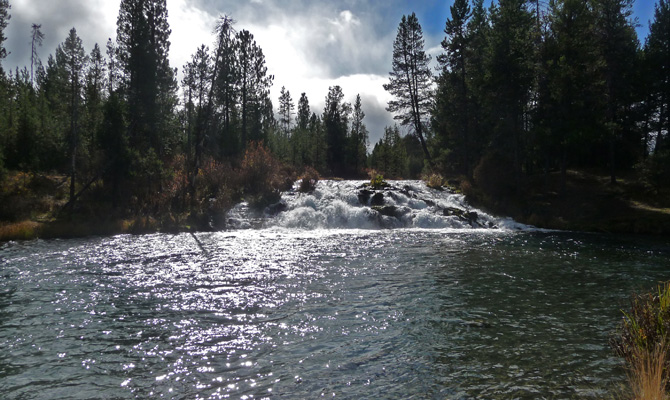 We wandered around a bit, and then hiked back and talked to the fisherman about his gear and his chances. He said that he'd been here in June and the river had been WAY down. That's strange because it is mostly a spring-fed river that retains a consistent flow year round. Maybe the springs were blocked somehow back in June.
Having finished our little hike, we drove north though Sunriver, the big resort/housing development just north of here. It was built on the grounds of Camp Abbot, a WWII Army base, and it's very upscale and full of trendy shops and restaurants and very nice houses and condos. It's under 15 miles from the Mt Bachelor Ski Area so it's popular both winter and summer.
We had our lunch in the park in Sunriver where it was still only 46 degrees with occasional sun breaks and then motored home to set up our new heater!
On Wednesday we headed to Prineville Reservoir State Park which was warmer since it's at only 3,000 feet (we were at 4,400 feet in La Pine). It was 62 but a bit windy when we arrived so the juniper trees were dropping berries all over the place (including our roof, plunk, plunk, plunk).
The main campground at Prineville was closed for paving (just the month of October) but the smaller Jasper Point Campground out a nearly the end of the road was open. We drove the loop twice and decided on a spot with a bit of a lake view.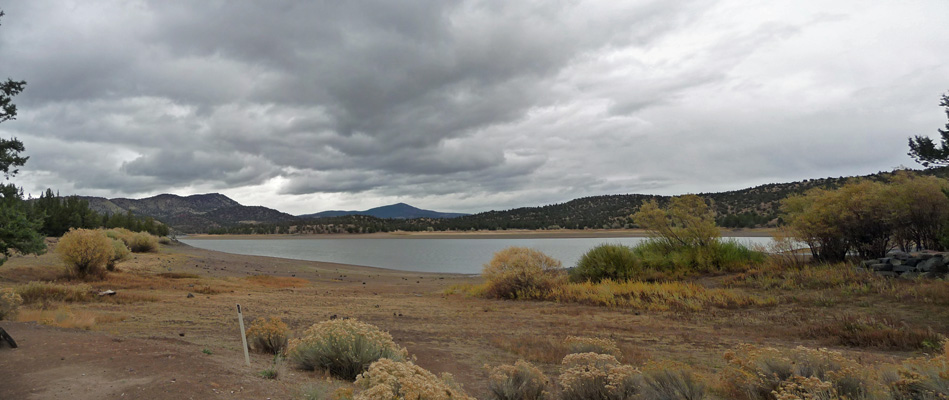 It only took us a couple of tries to get Genevieve parked. The camp host came by as we were setting up and we spent some time talking to him. He and his wife hosted here last summer for a few weeks when they were short of hosts and then came back last October to host in the main campground. They did a stint here in March too. They sell firewood, check the bathrooms for toilet paper and trash every few hours and pick up trash in the campground. There were only two other rigs besides ours in the campground so he didn't have a lot to do. Part way through our conversation he asked if we'd ever thought of being hosts. I guess we really do look and sound like the type. We told him we planned to host next year and that only got him talking more.
In talking to hosts in the Oregon State Parks, they all seem to be very happy. If we don't get a position with one of the National Parks we'll be sure to apply in Oregon. The nice thing about them is that you can sign up for a month at a time so you can move around and not have to stay in the same place all summer.
We finished setting up camp and settled in for a quiet afternoon. The only wildlife we saw was a large cotton tail rabbit at dusk.
We had a bit of rain in the night and a couple of sun breaks but mostly it was just cloudy on Thursday morning. We set out to take a drive at about noon when it was in the high 50's. We had a little bit rain now and then on our drive but nothing serious. We drove out to the end of the road and looked at the resort that was closed for the season, then drove the paved roads of a small housing development that's next door to the campground. The state park system just manages the campgrounds here and really doesn't own much land. There's BLM land and Bureau of Reclamation land (associated with the reservoir) here along with some stretches of private land too.
We drove out to the boat launch where the main campground is. It gives you a nice view of the interesting green cliffs across the lake.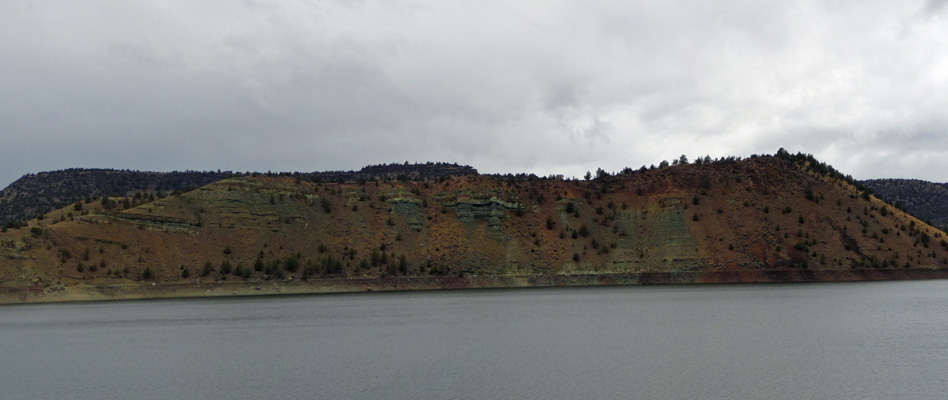 We saw some deer along the road and then we saw a small herd of them bedded down on the grass in the campground/picnic area.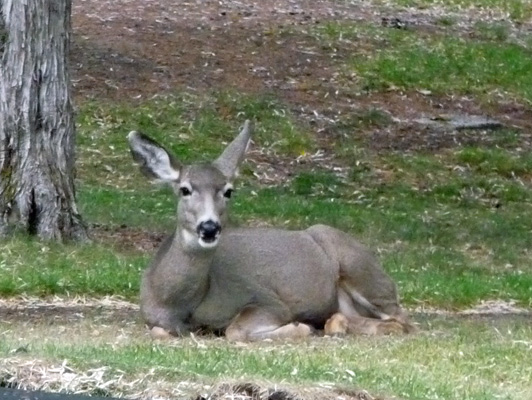 We counted 15 of them in all.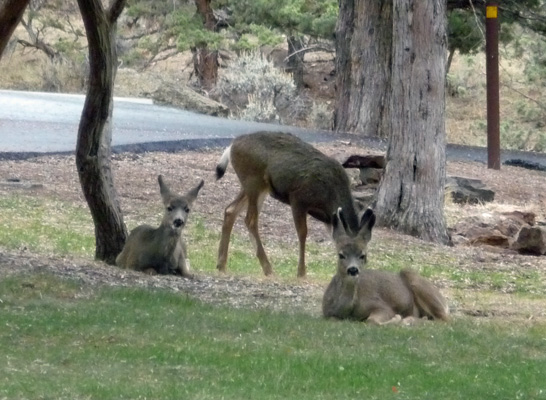 On the way back out from the main campground area we stopped at a turn out so I could take a picture of the red rocks across the inlet.
Later in the afternoon we took a bit of a hike. We followed the dirt road that borders Jasper Point Campground and goes out into the Prineville Reservoir Wildlife Area out as far as Owl Creek Campground. It's steep in places but not a bad road really. We discovered that the red and purple 'sand' is really gritty clay and very sticky. Many of the juniper trees had berries on them and the rain made everything smell of junipers and sagebrush.
Owl Creek Campground has an accessible bathroom and parking area but all the campsites are walk-ins down the hill towards the lake.
Here's the view up lake from the parking area.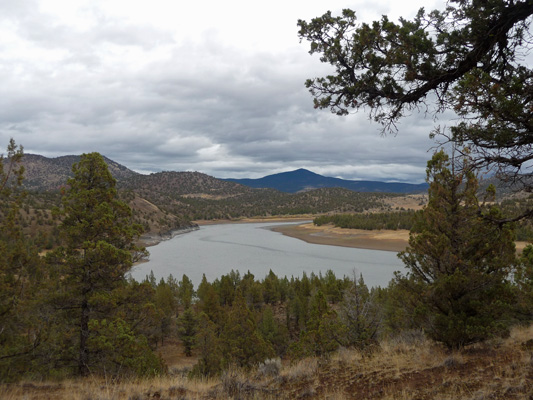 We headed downhill towards the lake and I passed this great old juniper with 2 holes all the way through its trunk. They were big enough I could have stuck my hand through them.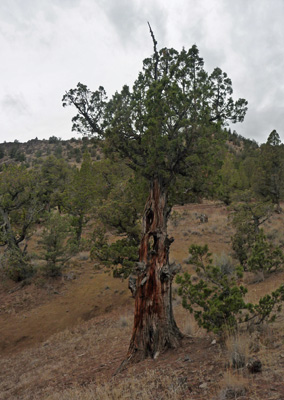 Here's the view down lake from the campground area.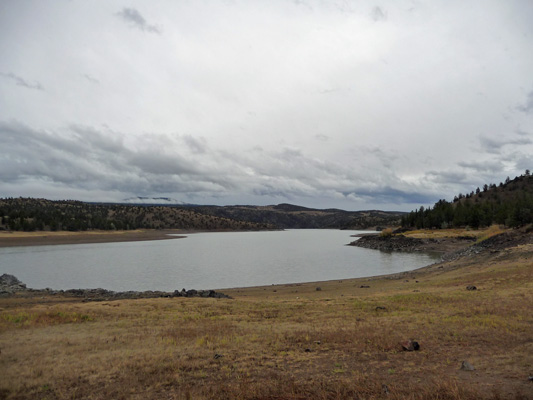 We found a nice gravel/chipped rock trail to follow on our way back. It wasn't as steep as the road and was much more interesting to walk on. There were these sweet little succulents growing next to the trail.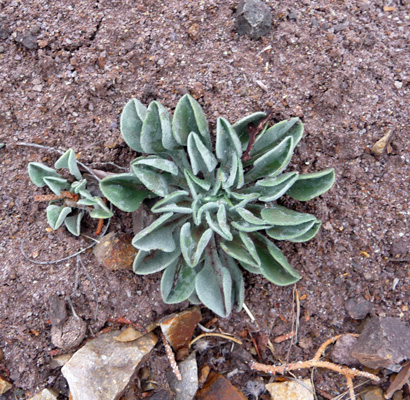 And here and there both along the road and the trail we saw rocks with moss on them—in the desert!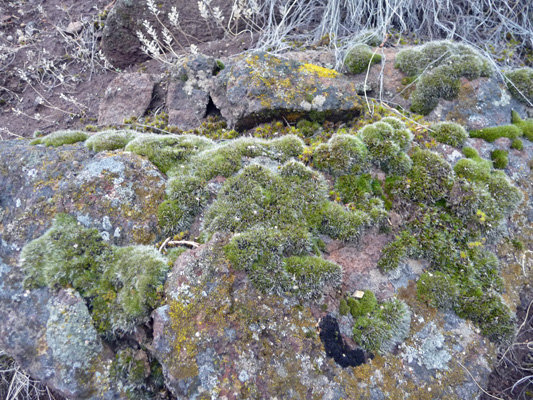 As we walked under the branches of a big juniper we startled an owl who swooped away right over our heads. Now that's a great way to get the old heart to pumpin'.
There were honkers (Canadian Geese) flying in formation over our heads and coming in to spend the night on the lake. And we saw another rabbit (this one looked more like a jack rabbit) in the campground. The trail it turns out, starts at the end of the overflow parking in the campground. We'd walked right by it, on our way up the hill to the road.
We sat and watched the geese for a while before retreating to the trailer. And then just before 5, the sun came out and lit up the lake. I stepped out onto our stairs and took this shot of our view.