It was another drop dead gorgeous day on Friday June 6th when we broke camp at Bogachiel State Park just south of Forks.
We drove south to Ruby Beach in Olympic National Park, a little slice of paradise on a sunny day. Even if you only stop in the parking lot you can get a wonderful view from the viewpoint at the top of the trail.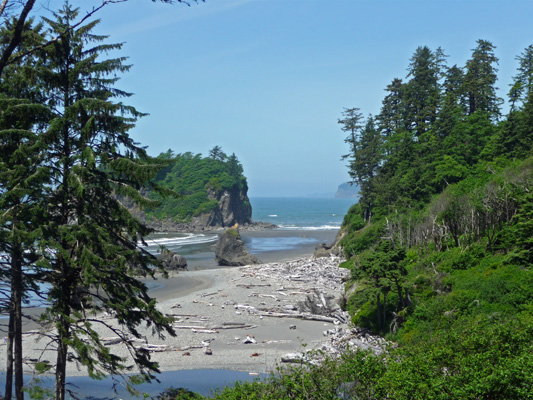 But it only gets better if you take the hike down to the beach.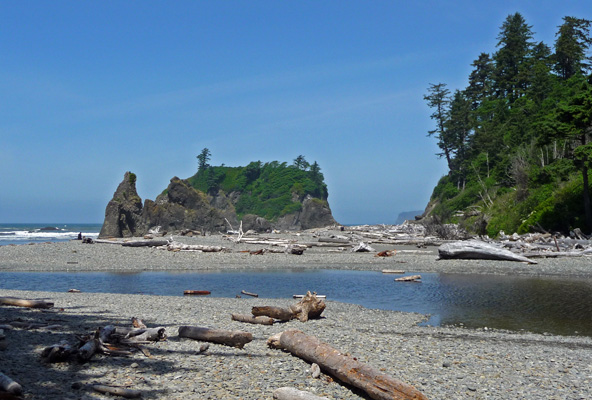 That's a creek that is bisecting the beach. Since the tide was out, it was pretty easy to cross the creek on some driftwood logs and head out towards that lovely lump of rock out there.
But first we had to go past all the piles of rocks that people have made with the wonderful flat beach stones that you find here. They cover the logs all up and down the beach.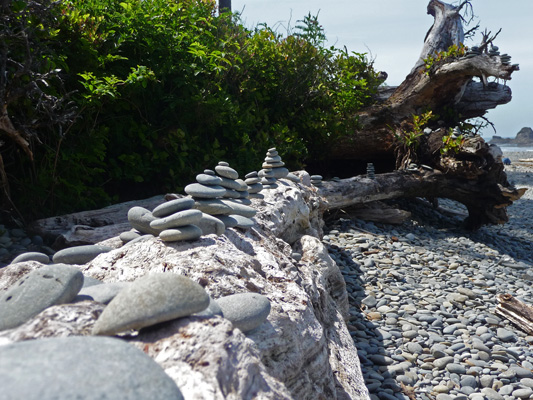 This was the one we saw with the biggest number of rocks in the stack—8 is pretty good.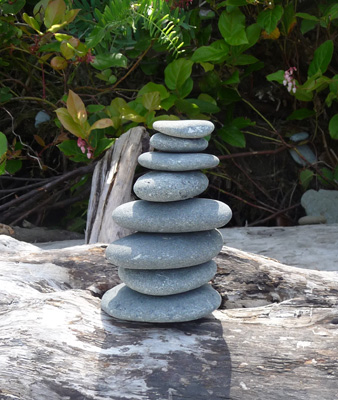 The tide was going out and there were lots of folks climbing on the rocks on the right hand side of this photo.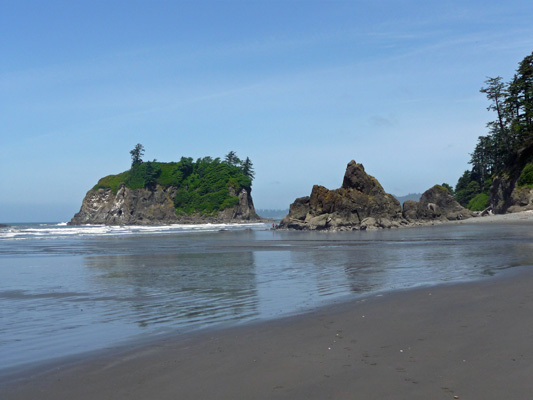 A family stopped us and asked us to take a photo of them and in return they shot this picture of us standing in front of great sea stack with a window in it.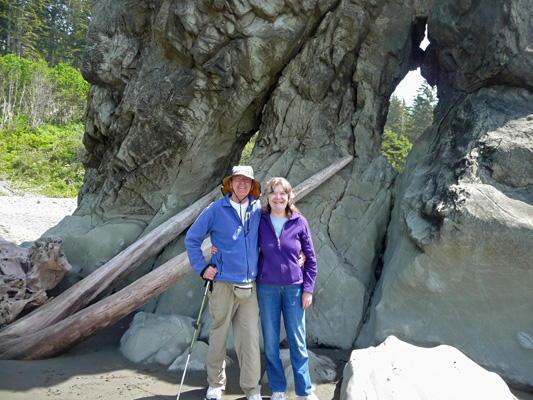 As you walk up the beach (north) the rocks seem to move around changing of the view all the time.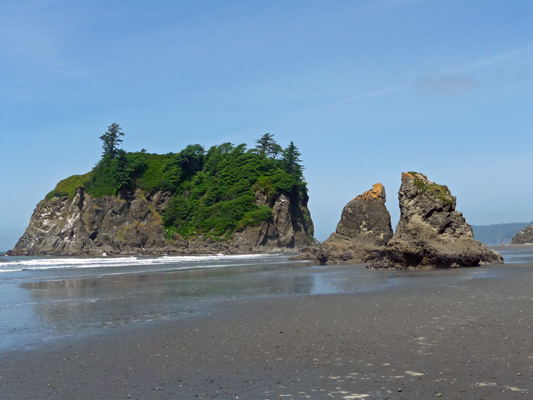 There are mussels around the bases of all of these rocks but we didn't see many good tide pools.
Walter sat down on a log and I hiked a bit further up the beach and noticed some orange up on the hillside.
When I got closer I discovered that they were patches of Indian Paintbrush. I've seen these lots of places we've visited over the years but I don't think I've ever seen it at the beach before.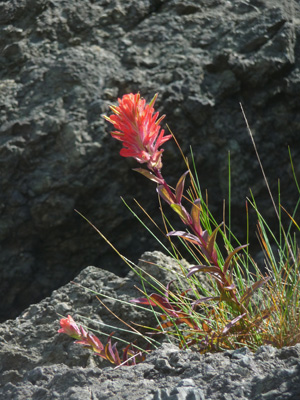 When I was further up the beach I took one more photo and sure enough the sea stacks had moved once again.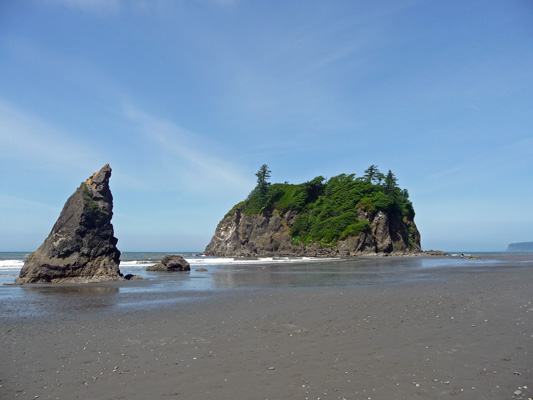 Walter was patiently waiting for me on his log when I came back, watching a young woman climb back down that big set of rocks everyone had been climbing on.
I managed to stack 8 rocks on the log next to him.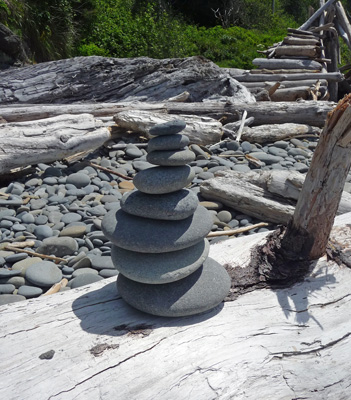 But the pile went down when I added the 9th.
The view southward on the beach isn't as spectacular as it is to the north but it is still pretty swell.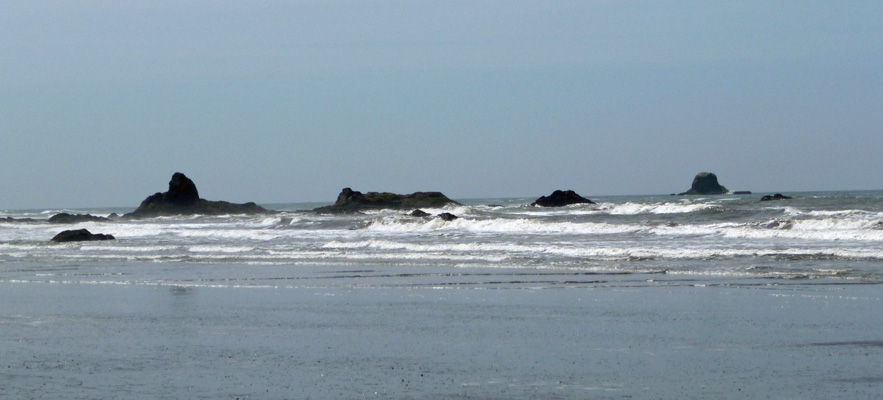 I climbed around on the big climbing rocks to get this photo through a 'window' out to sea.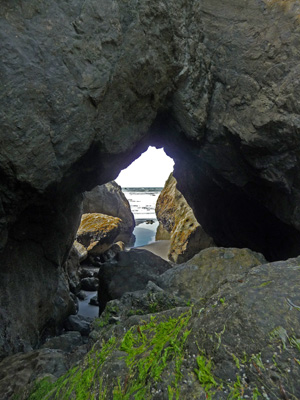 Here's another 'window' shot this time through the windows in the sea stack we were standing in front of for that photo earlier.
From Ruby Beach we motored on down to Kalaloch Campground (also part of Olympic National Park) and wonders of wonders actually found a campsite with a partial ocean view. We had been concerned about simply finding a spot big enough for the Airstream so we were really excited to get the bonus of a view too. There are a few big RV type ocean side campsites and often times they have folks in them who are staying for a week or more. The people across from us came over as we were setting up and offered us their sites since they are leaving tomorrow morning. But so were we. Ah well, we were happy with what we got.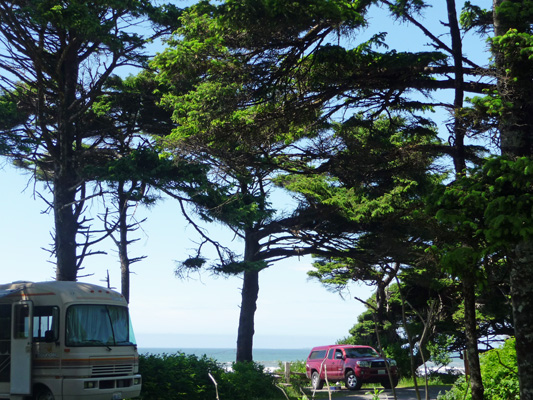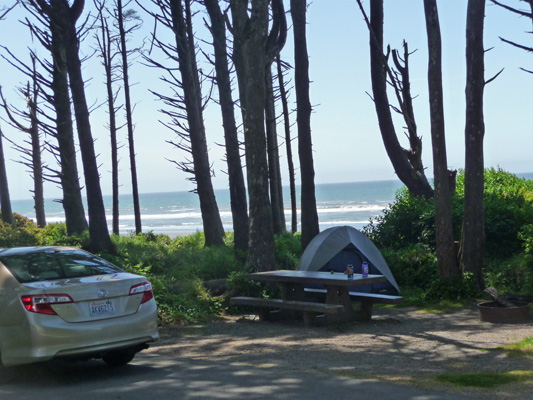 After lunch I took a hike down to the beach. It's a wide sandy beach that accumulates a lot of driftwood over the winter.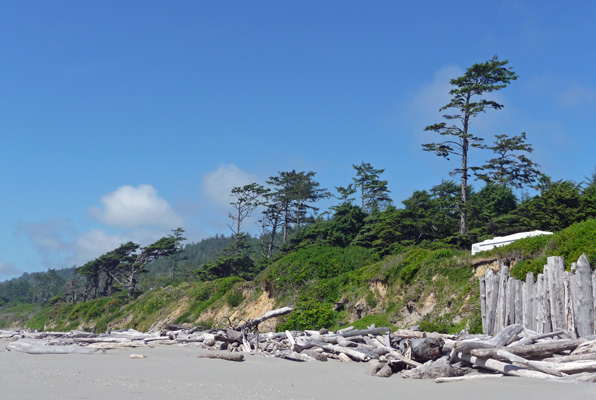 Here's a view of the driftwood pile that you have to climb over to get out onto the beach.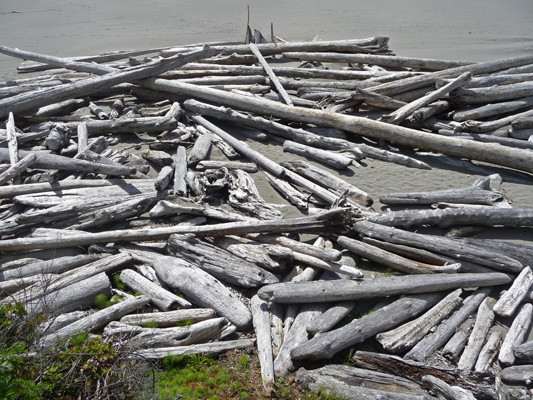 I walked down the beach and found this old tree hanging onto the cliff by its 'toenails'.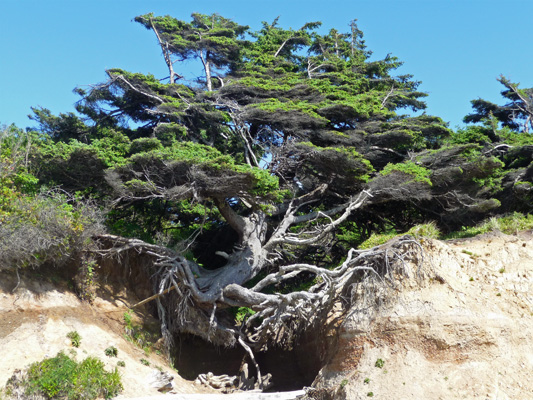 By dinner time, the fog bank had started to drift towards shore and the wind was whipping the surf into white caps.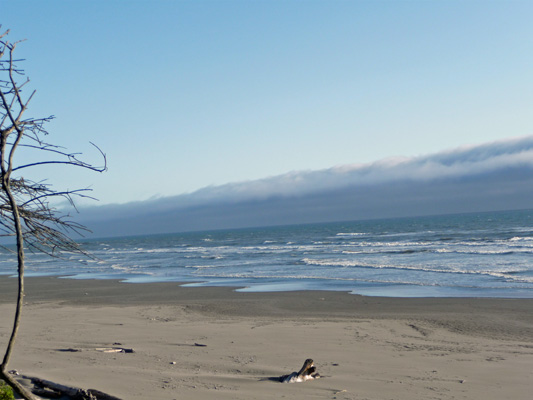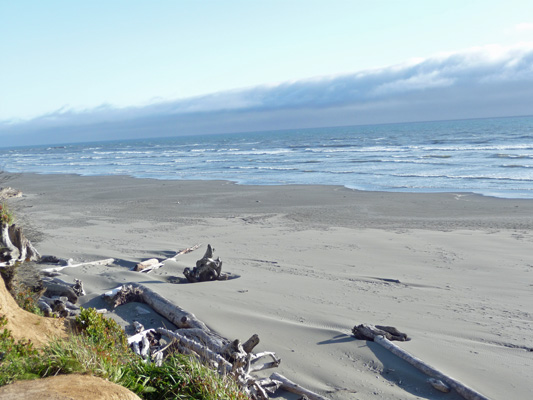 This was our last day of precious sunshine for a few days. We count ourselves very lucky to have such gorgeous weather while exploring Olympic National Park in June.