On Sunday August 24th, we drove north away from Mt. Rainier on Hwy 410 to the town of Enumclaw to go grocery shopping and do laundry. It wasn't a real exciting way to spend the day but the empty refrigerator and empty underwear drawers demanded it. We then went a few miles further north to Kanaskat-Palmer State Park to camp for 2 nights. There's nothing real special about the park but it served our needs. It's on the Green River and in the spring is a popular place for white water rafters. There were quiet a few folks camping there and since there aren't a lot of hook up sites we'd made a reservation so we'd have electricity for a few days. Then that night at 11:45 pm, these incredibly loud sirens went off. We looked at each other wondering if we were supposed run for high ground. They went on and on and then stopped. At about midnight, we heard an aid car run it's siren for a little bit and we guessed that the loud siren was a call for Volunteer Firemen. Yikes.
On Monday August 25th, we drove north to Monroe to pick up 5 weeks-worth of mail (and 6 packages) that were waiting for us at our mail box. We did some other errands while we were at it and then drove back to Kanaskat-Palmer via the back roads which was kind of fun. Thank goodness for Carmine, the Garmin, who made sure we didn't get lost.
On Tuesday August 26th, after emptying our waste tanks and topping up our water tank, we drove south on Hwy 410 back to Silver Springs Campground. We had hoped to get the same campsite we'd had over the weekend but someone had moved in while we were gone. Them's the breaks. We tried parking in three different sites before we found one we could actually manage to get into and when we were done we felt as if we'd really earned it, so we took the afternoon off.
On Wednesday August 27th, we got up and ran the generator and packed a picnic lunch and once again set out for a hike at Tipsoo Lake. This is the hike we'd tried to do on Saturday but all the parking lots were full. On a beautiful clear sunny Wednesday, the parking lot was only about 1/2 full and there really weren't that many folks out on the trail. The picnic tables were full though.
The flowers in the meadows around Tipsoo were mostly done blooming but it was still a nice short hike. You can approach the lake from about 3 sides, we came at it from the main parking lot on the west end.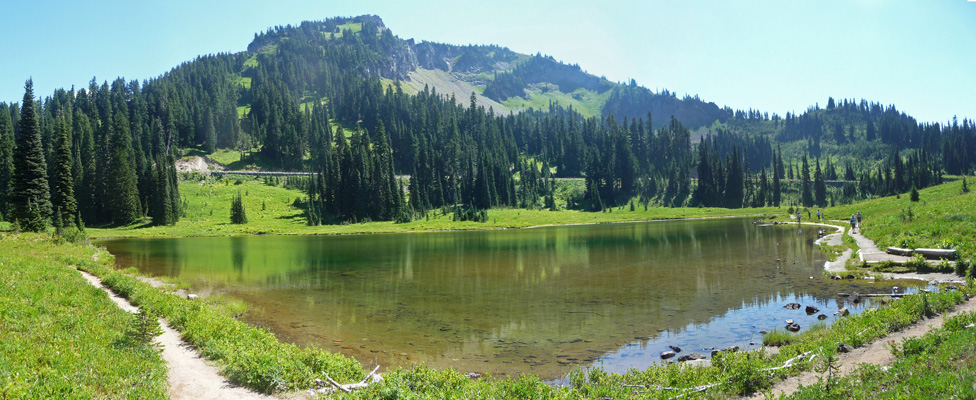 We went clockwise around the lake. There was one good patch of wildflowers up on the north end of the lake—asters and paintbrush.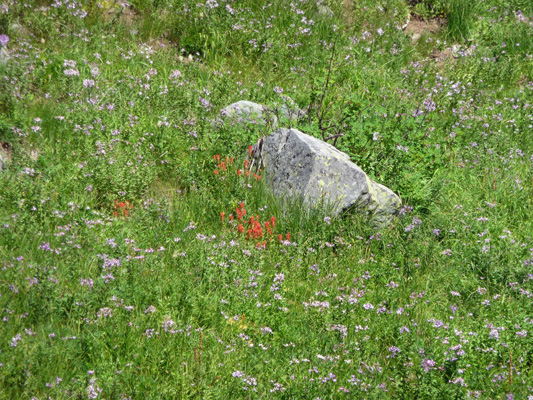 When you get to the east side of the lake you begin to get a view of Mt. Rainier, though as is often the case, she was playing peak-a-boo with the clouds.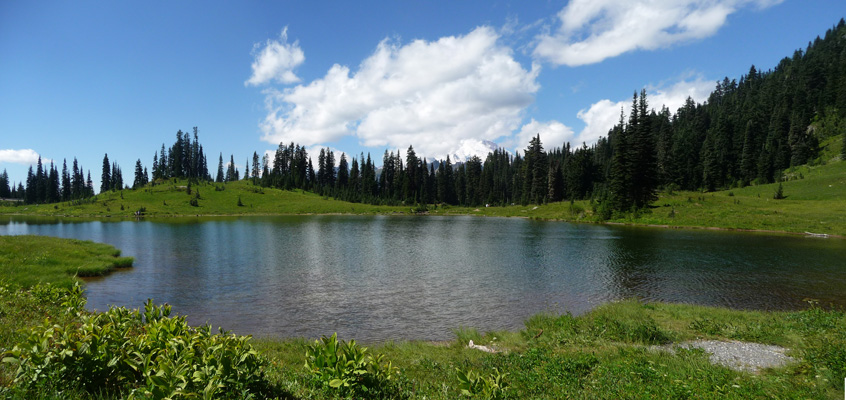 A bit more of her peaked out as we made our way around.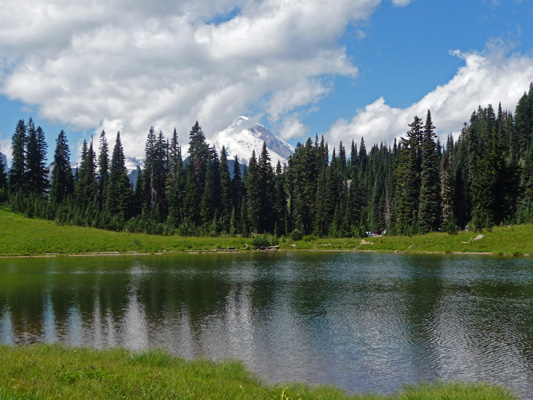 And then finally when we were on the south shore she made a nearly full appearance.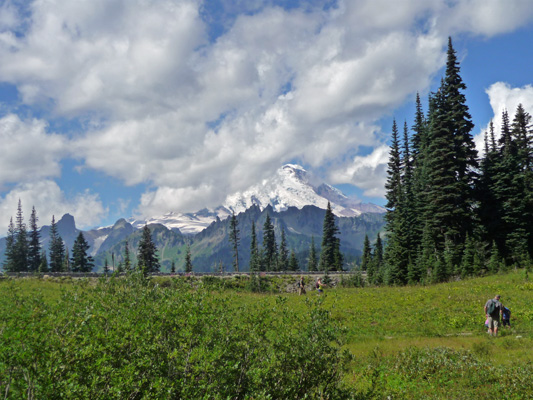 Mt. Rainier isn't the only feature worth looking at here. There are nifty crags to the north.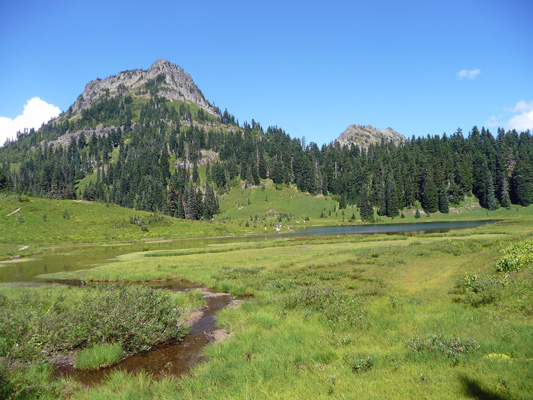 Along a small stream I found some Great Purple Monkeyflower (Mimulus lewisii) in bloom.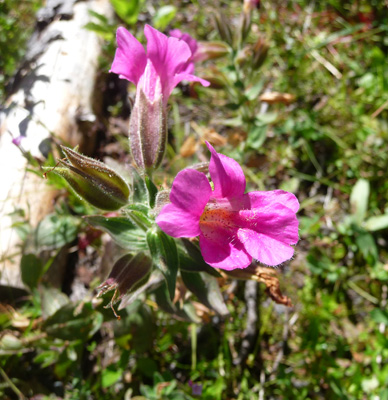 There was magenta paintbrush here and there.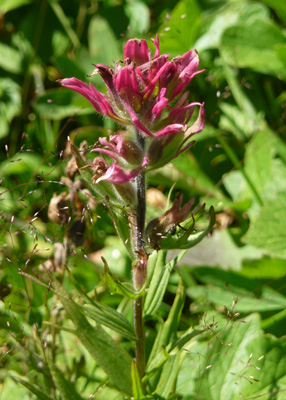 And the grass in the lake itself seemed to be in bloom which was fun.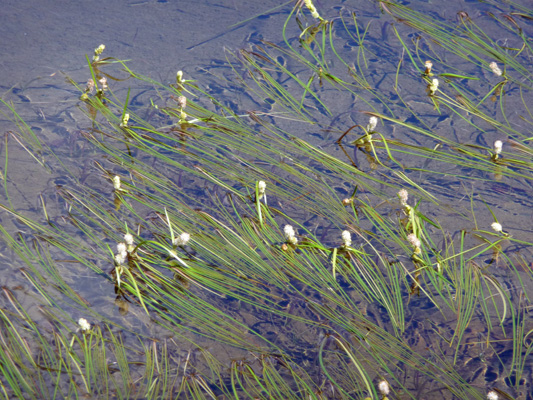 But best of all there were tadpoles in the shallows along the southwest side of the lake.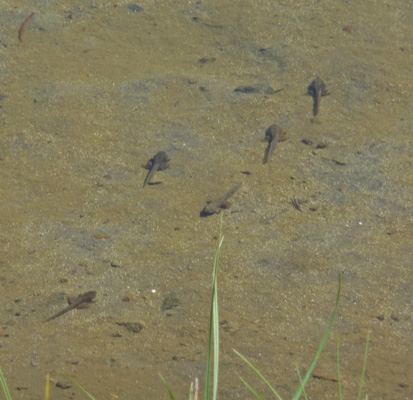 They skittered around like crazy but I managed to get a close up so you can see his legs. It won't be long before this guy is a frog.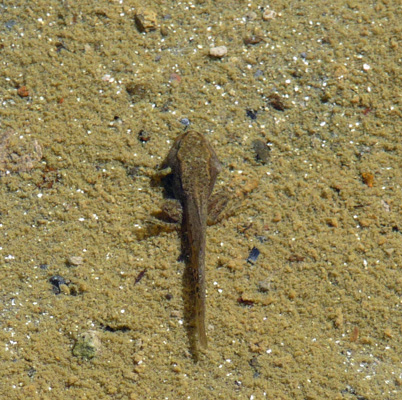 There were Mountain Ash berries starting the ripen too.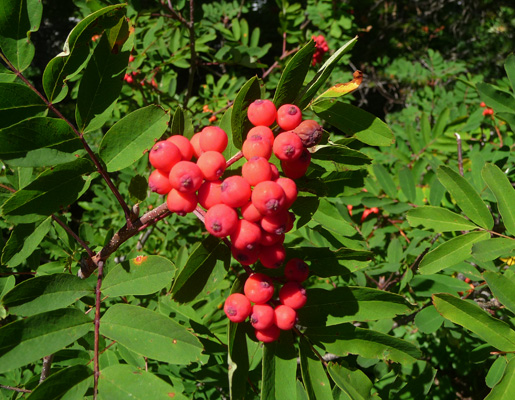 Since this had only been about a 1/2 mile hike we decided we'd stop off and visit Crystal Mountain Ski Resort on our way back to the campground and see if there might be somewhere for us to hike there.
The parking lot was pretty full and folks were lining up to pay $22 a piece to ride the gondola to the top of the mountain. We decided we'd pass. But I did take a photo of the gondola line.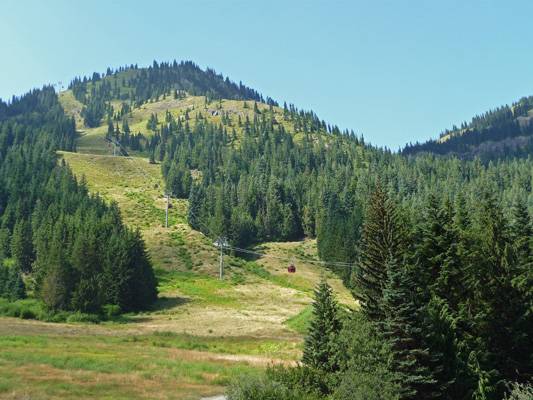 And a close up of a gondola car.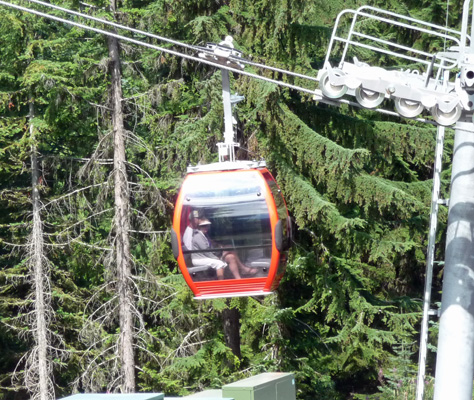 They had a great display of flowering baskets along all the railings at the entrance.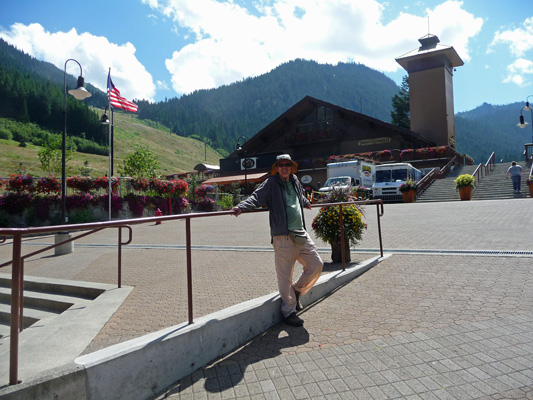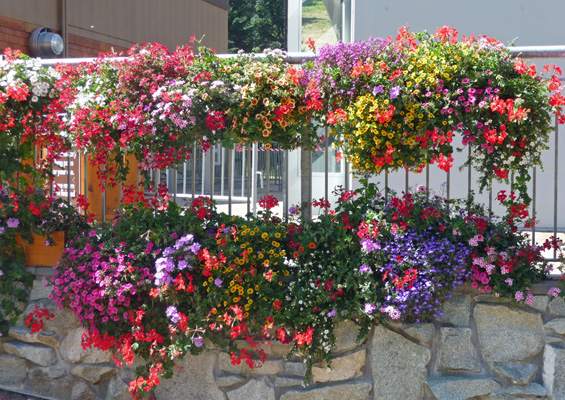 We wandered around and examined equipment trying to figure out what it was all for and stopped in the gift shop which had a lot of folks buying stuff. I on the other hand, had to take a close up of these purple petunias that we outside the gift shop door. Such a yummy color.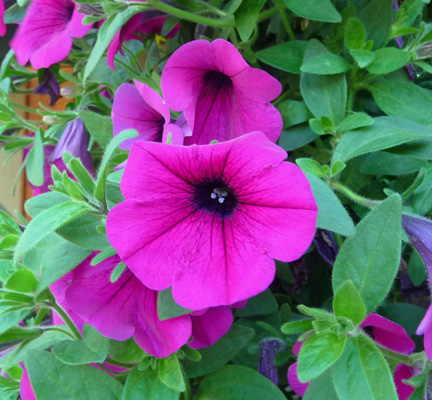 It was hot out in the sun at Crystal and the few trails we could see just wandered out into the grassy area between the lifts, so we bagged it and we went back to Silver Springs and had our picnic lunch at our picnic table in our campsite. With so little hiking actually happening, I then took a little walk down to the actual Silver Springs which were over by our last campsite. The water just gushes out of the side hill here and forms a very lively little stream.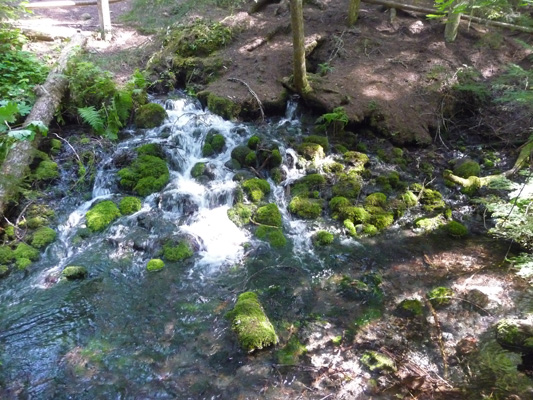 On the way back to the trailer I noticed more mushrooms. It's definitely getting to be that time of year.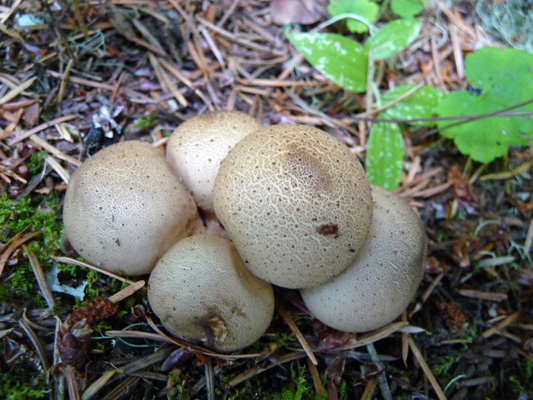 On Thursday August 28th we got up and packed up the trailer so we could set out to find a place to camp for Labor Day Weekend. Holiday weekends can be a real challenge when you don't have a reservation and we were a little concerned since the first-come-first-serve campsites at Silver Spring had already filled up. Our original plan had been to go to Bumping Lake which is off Hwy 410 on the east side of the mountains. It's a very popular campground since you can waterski and fish on the lake. We decided that Pleasant Valley Campground which was a few miles before you get to the Bumping Lake turn off was worth checking out since it had a number of open sites and is on the American River rather than a lake, so we set out to stop there on the way.
They are working on trying to reduce rock falls along the upper reaches of Chinook Pass on Highway 410 so we got to wait for nearly 1/2 hour while they worked pulling down boulders off the mountainside. This is the view from the car window as we waited. We're headed down into the valley below along the American River.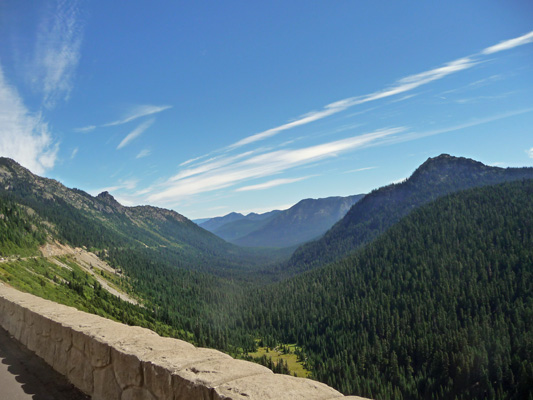 We pulled into Pleasant Valley Campground a little after noon and found all of their first-come-first-served sites open and available. Whoo Hoo! We tooled through the campground and found a great site at one end of the campground with only one nearby site. It was easy for us to back into and relatively level and more than big enough for Genevieve. So we grabbed it.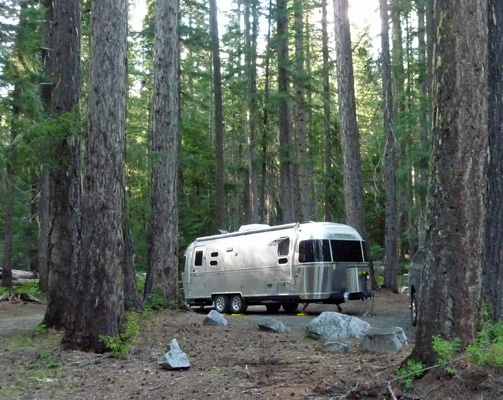 We breathed a sigh of relief, knowing that we'd be very happy to camp here for the long weekend. Ahhhh.
We set up camp and then walked along the campground road to go and register. There's a lot of this flower that looks appears to be a naturalized for of Batchelor Buttons in bloom both along the road and in the meadows next to the river.
When we came back, we wandered through the campsite next to us and found this lovely view of the American River.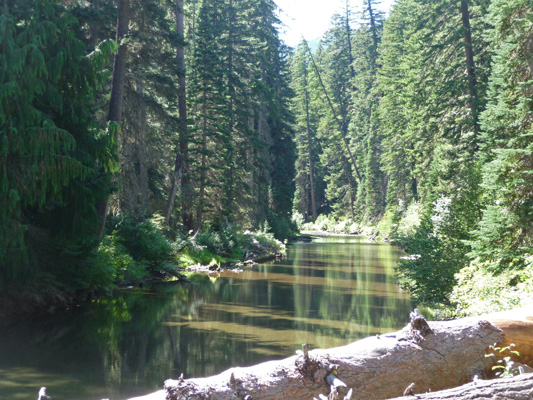 After lunch I went out exploring to figure out where the trail went that starts at the back of our campsite. There's a dry creek that looks like it can be very raucous in the spring and a number of ant hills.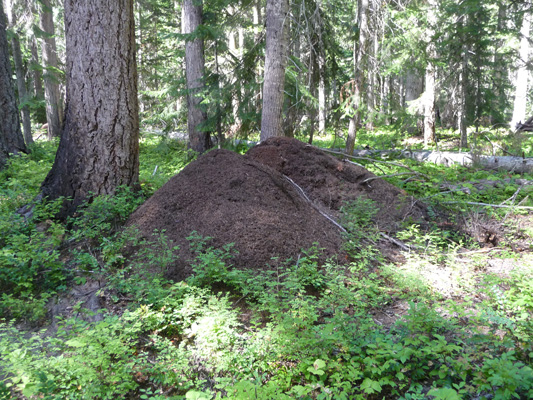 As you can see, these are not your ordinary little ant hills. These babies are over 4 ft tall and crawling with ants. The darker color on the upper portion of this hill is all ants.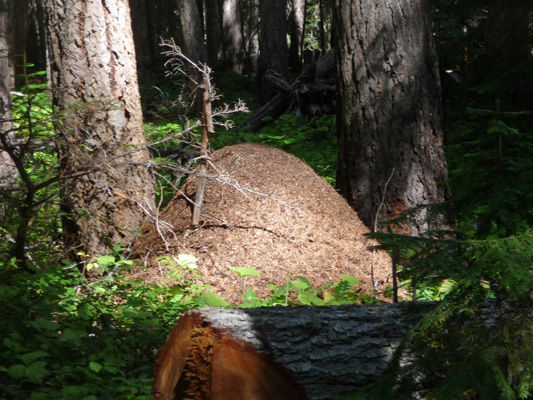 Just before dinner, we went out for one more campground stroll. Walter had noticed some elk scat down at the other end of the campground and wanted to look for tracks. So off we went. We didn't find any elk—though we did find lots of tracks—but we did spy a number of chipmunks.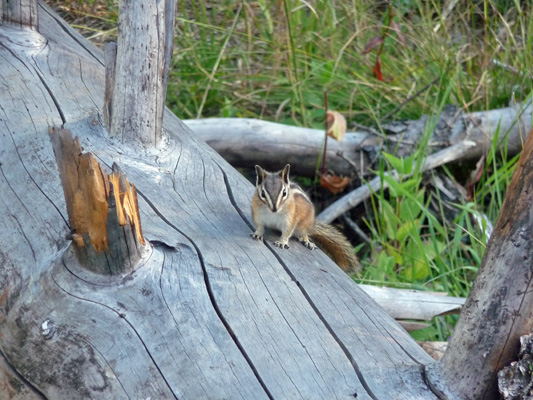 You can tell this little guy is a chipmunk and not a golden-mantled ground squirrel because he's got strips on his face.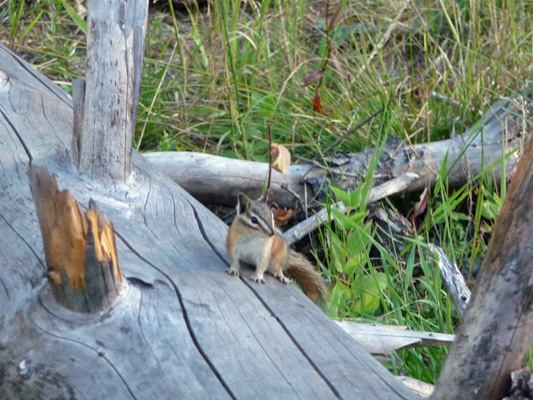 When we came back to the rig I noticed that the reflections in the river were even better now that the shadows were gone so I took another photo.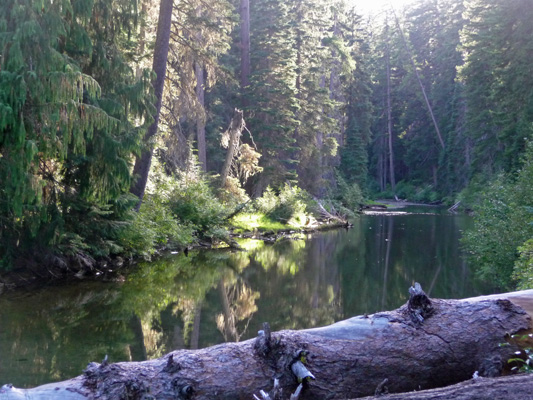 There were only 5 other sets of campers in the campground on Thursday evening (there are 16 sites and no host) and they were all in the other half of the campground so we literally had our half to ourselves. Quiet, peaceful and beautiful.
The campground host from up the road stopped by to put up our registration ticket and we went out to talk to him. He's been a campground host for 17 years and this is his last year. He manages not only our campground but two others which means he's got 66 campsites and 9 bathrooms to tend to. He'd been originally assigned to Gold Basin just east of Granite Falls with a host site with full hookups. But the day it was supposed to open (after he'd done all the cleanup and prep work of course) the Forest Service came and closed it down since it has a high risk of a catastrophic landslide like the one that had just happened at Oso just north of there. So instead, they sent him down here to a camp host site with no hook ups and with 3 campgrounds to take care of. He was not pleased since he'd done this same assignment with another company about 6 years ago and knew what he was getting in for. But at this point he's a short timer. He'll shut Pleasant Valley and Lodgepole Campgrounds down on September 7th and be done with it. He, like most campground hosts it seems, spends the winter in Quartzite AZ.
On Friday August 29th, we had sunshine in the morning but by noon it was cloudy. The forecast was for a 20% chance of thunderstorms after 11 am. So the clouds weren't a complete surprise. It had just been a long time since we'd had a cloudy day. We ran the generator, took showers in the trailer (something we finally tried and liked just a week or so ago) and then set out on an expedition. We drove about a mile west back up Hwy 410 to the Union Creek Trailhead.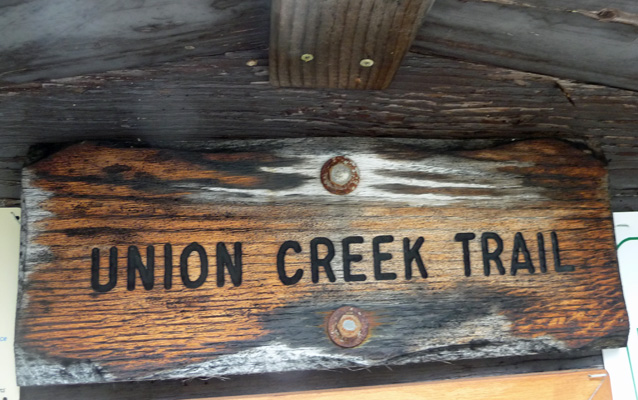 Our old Wenatchee National Forest map said that there was a waterfall not that far up the trail and sure enough there was a map at the trailhead that agreed.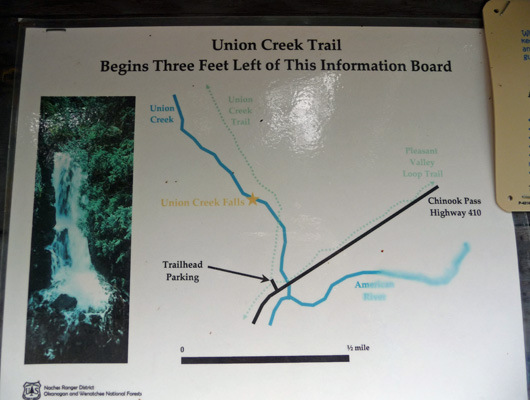 I found it very amusing that they so clearly told you that the trail started 3 feet to the left! I can't tell you the number of times we have crashed around in the bushes trying to find trails near these signs. I suppose they did this because the Pleasant Valley Loop Trail goes through the parking lot and they didn't want you to get lost.
The trail made a gentle climb through the forest past many more big ant hills. In fact you could see lines of ants crossing the trail at regular intervals. These woods are alive with ants.
After about 1/4 of a mile or so the trail descended to the creek and ended. You could see it start up again across the creek but there was no bridge.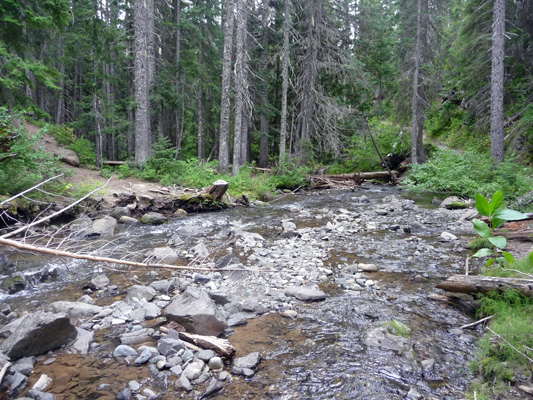 A young intrepid hiker might take to rock hopping here but it didn't look real safe to us. I climbed out on a few rocks to take a photo up stream and it was a slippery proposition.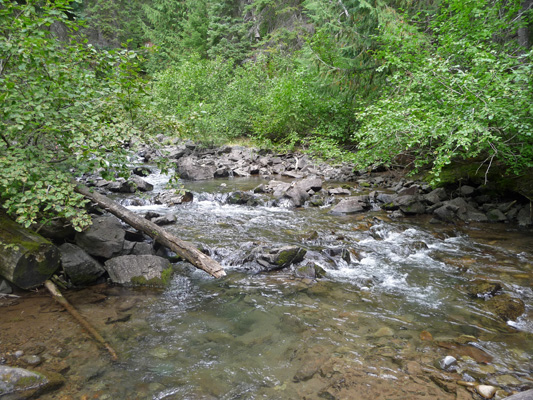 We both went up stream as far as we could but found no joy there either. So we decided we'd give up and turn around. As we came back up the trail I noticed a rope across the river over a fallen tree.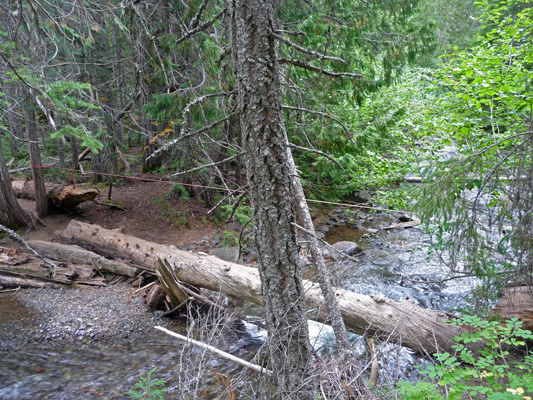 A few years ago (before the accident) this would have been greeted with glee and a "let's go''. We looked at it and looked at each other and then looked carefully at the approach to the fallen tree.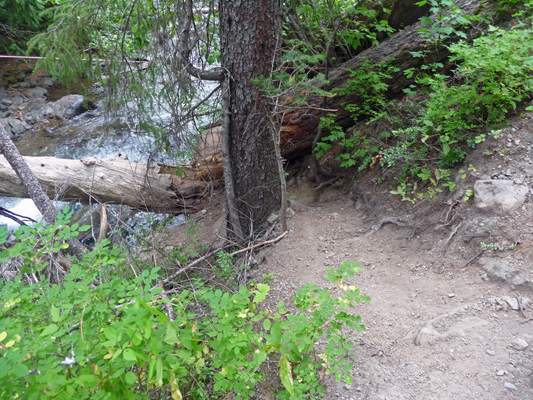 And Walter said "no way." I had been spared! Pre-accident, he wouldn't have thought twice of scurrying down that loose soil and gravel, around the tree trunk and up onto the log. I would have probably ended up on my behind going down, worried about falling into the river. Now we're both to aware of the cost of falls and have had enough nice hikes and adventures this summer that we don't need to risk it to see another waterfall.
As it turns out we probably only hiked 3/4 of a mile. Ah well. We drove on up the highway to Lodgepole Campground and checked it out. It's a nice campground where the road and the campsite parking areas are paved. There are side-pull throughs that would have been big enough for the Airstream. The Forest Service literature says that there's a 20 foot limit here but there were much bigger rigs than that here and plenty of sites big enough for a 26 to 28 foot rig.
Then we turned around and drove down the highway to Hells Crossing, the next campground past us. It's a small, unpaved campground with two loops, one on each side of the American River. They aren't connected inside the campground. You have to go out onto the highway to get to each half. The sites are small, rough and uninviting but there are a couple of sites right on the river. Minor detail, they are also right next to the highway.
By the time we started the drive back to Pleasant Valley it had begun to rain lightly. Nothing serious but enough to run the wipers. The folks who had reserved the site next to ours had arrived. It appeared to be a 'man weekend'—grandpa, dad and a 7 year old or so boy and a 6 month old puppy. They had a couple of tents and a cook stove and a cooler. Quiet neighbors on a damp afternoon.
Saturday August 30th, we awoke to clouds again. It was in the 50's and we broke down and ran the furnace at breakfast time because it was only 57 in the trailer. For an outing we drove east on Hwy 410 to the turn off for Bumping Lake and scouted Soda Springs Campground (our 2nd backup for the weekend). It's an oddly laid out campground on the banks of the Bumping River. There were a few spots that the Airstream would have fit in but we had no buyers remorse regarding our choice of Pleasant Valley. The Forest Service allows dispersed camping along both the American and Bumping Rivers. There were a few folks camping here and there along the highway and the American River. But nothing in comparison to the tons of folks (in large groups) camping here and there along the Bumping River.
We drove through Goose Prairie with it's large Boy Scout Camp and on out to the Bumping River Campground where we had originally hoped to spend the Labor Day Weekend. It's a nicely laid out campground with paved roads but the forest in this area is very dense Lodgepole pine and so it feels kind of like scrub rather than the nice open woods we had at Pleasant Valley. There were lots of open campsites (both Reserved sites folks hadn't showed up for and First Come First Served sites). Only a very few spots in the lower campground have views of the lake.
The lake is a natural lake that they built a dam on in 1910 to increase it's water holding capacity to provide irrigation water to the Yakima Valley. After a hot dry summer, it had been drawn down a long way and you could see the 100-year-old stumps along the shoreline.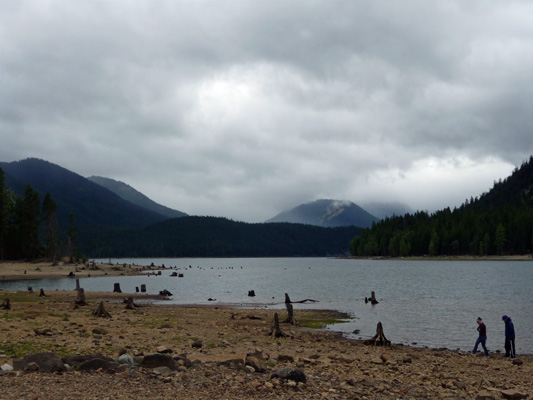 We only saw one boat out on the lake though there were 4 trailers in the boat launch parking area.
We drove over the dam to check out the Bumping Lake Marina and Campground (nothing to write home about) and then made our way back out to the highway. It rained lightly off and on and when we got back to the highway you could tell that it had rained pretty hard there while we'd been off exploring. We visited a bit with our neighbors. Indeed they were grandpa, dad and son and were waiting to be joined by the other son and his wife. Grandma and mom don't like to camp. They had been out mushroom hunting and had a large basket of chanterelles. We all thought it seemed to be early but hey they were gorgeous and clearly ready to eat.
It was cold on Saturday night and the trailer was only 52 degrees when we got up and we used the furnace again. The good news is that there were breaks in the clouds and we actually got a bit of sunshine. After our morning chores we drove on down back to Hells Crossing to the parking area at the trailhead for the Pleasant Valley Loop Trail and the Goat Peak Trail.
On the way stopped for the third time at the viewpoint along the road to take a look at Fife Peak. Third time was the charm. It was finally entirely out of the clouds. It's the edge of an old volcanic caldera that blew up 25,000 years ago or so and is pretty cool looking. Clearly volcanoes in the Cascade Range have a tendency to blow up, points in fact: Mt. St. Helens, Crater Lake, Newberry Crater and now Fife's Peak.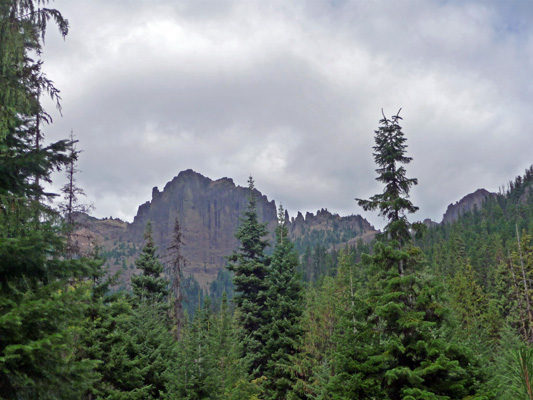 We parked at the trailhead along with a number of other cars and set out going west on the portion of the Pleasant Valley Loop Trail that runs on the south side of the American River. We hadn't gone 20 yards when we came to a sign denoting that we were entering the William O Douglas Wilderness Area.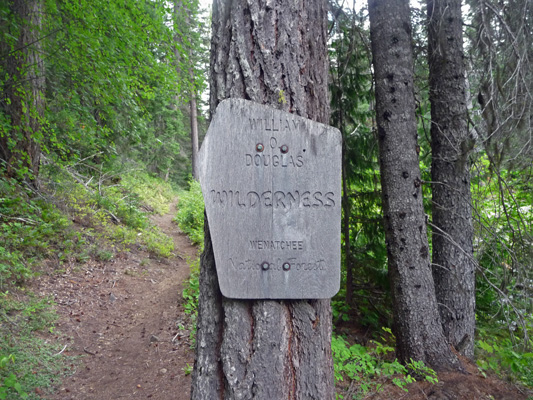 The trail is a bit beaten up because there was a lot of evidence that a LOT of horses use the trail. Still it was a nice gentle rolling up and down trail that follows the river.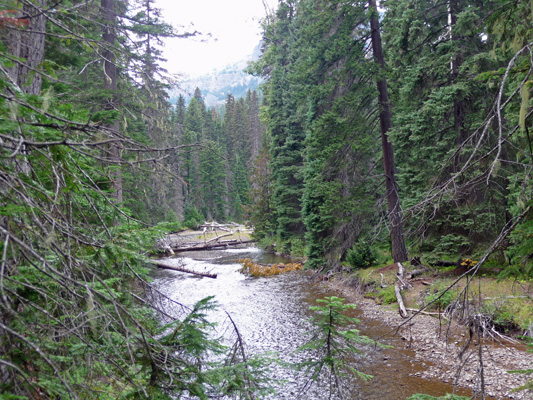 At one point you pass a large talus slope. If this is any indication of the steepness of the Goat Peak Trail (which starts UP hill at the same trail head) I don't think I want to give it a try.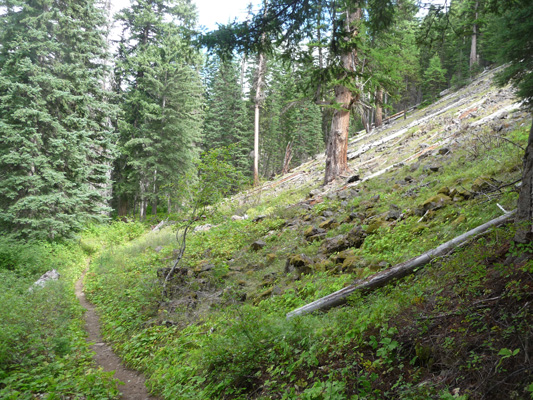 We saw a lot of mushrooms along the way. This kind always remind me of pancakes. Clearly they had only broken through in the last few days since they still had dirt on top of them.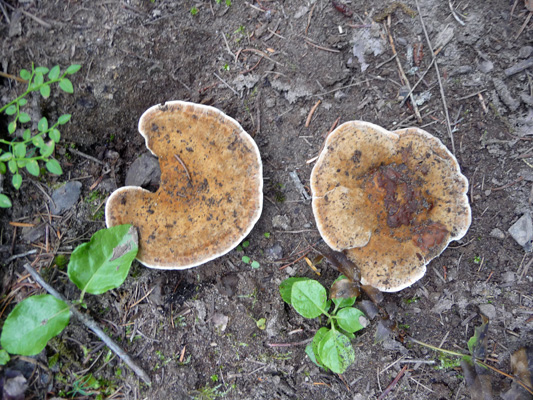 We wound through the open woods catching sight of the river from time to time.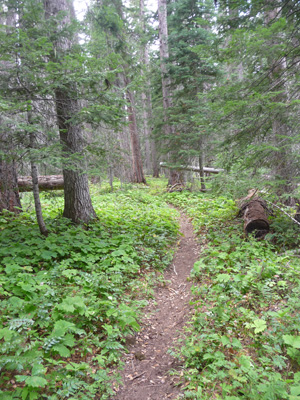 And one point there was a little spur trail that took us right down to the river's edge.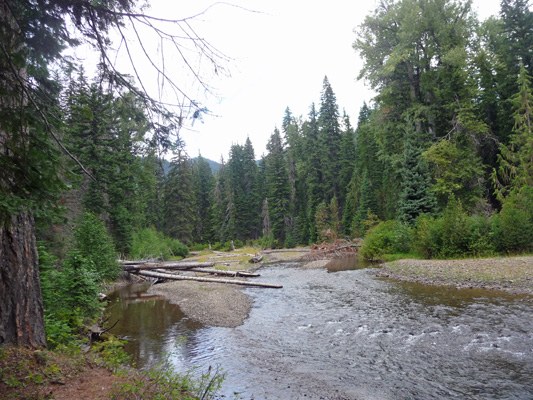 We hiked for about 45 minutes and then turned around and came back. While the trail is a loop, it's a 13 mile loop, which is a bit much for our taste. The other thing that's kind of weird about this trail is that while you are hiking in what is designated Wilderness, you can hear cars on the highway on the other side of the river. Most of the trails into the Wilderness that we take head directly INTO the wilderness. This one runs along the edge. So we saw folks camping on the other side of the river and even saw traffic on the highway from time to time.
But the fungus did make it a worthwhile hike. And besides, it warmed us up!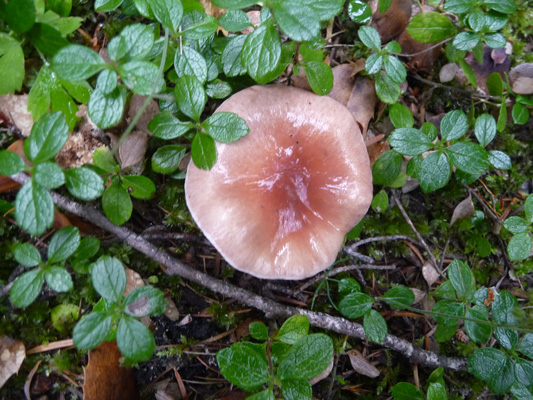 When we got back to the campground, Walter stopped by to talk to our neighbors and two of them came over to see the trailer and oohed and aahed at it, which always makes us both feel good.
If the weather had been warmer we might have spent another day here, but with it cloudy and cold (it didn't get over 58 on Sunday), we decided that we'd mosey over to Ellensburg on Monday to camp at an RV resort, check the weather and figure out where we'll go next.