On Monday December 29th, it was sunny and gorgeous, warm but not hot at Agua Caliente County Park on the western edge of Anza Borrego State Park east of San Diego. Anza Borrego is a HUGE state park the encompasses a marvelous variety of desert and mountains. Agua Caliente, is a very nice county park with a great campground (tents, partial hook ups and full hook ups and a number of nice new cabins); 3 hot springs that feed an outdoor pool, a kids wading pool and an indoor spa; and several nice hiking trails.
We've visited here twice before and always enjoyed ourselves. By Monday the population in the park had gone down since many of the tent campers had headed home and not all of the hook up sites were full. There's no cell signal of any kind here so we packed up the computers and motored 3 1/2 miles north to the entrance of Vallecito Regional Park where there was a good Verizon signal for our hot spot (and no the Sprint phones didn't work). We checked our email, I sent out my last report to you all and Walter made sure that yes indeed, the Seahawks had won their game on Sunday and ended up the #1 seed—home field advantage through the playoffs, he he he.
From there we drove south on Imperial Highway (S-2) to the turn off to Indian Gorge. This is a dirt track (read sand and the occasional boulder) that winds across the desert and up into a canyon. The road gets pretty narrow and rough the further you go in. I wouldn't recommend taking a low clearance vehicle up it. We were okay as long as we went very slowly in our 4 wheel drive pickup. We drove about 1.8 miles to a wide space in the road next to a sign that read Torote Canyon. We pulled in and parked to be greeted by this great view.

There was this gorgeous huge ocotillo in full leaf.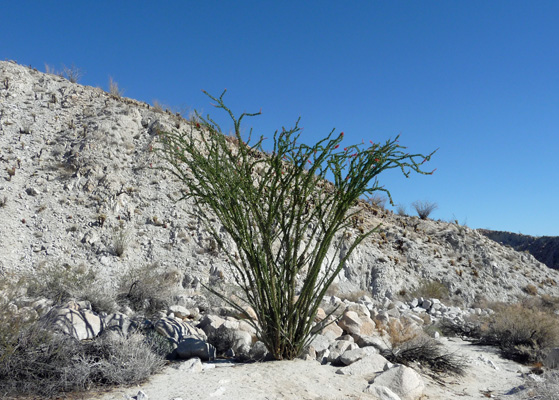 And the whole top was dotted with blooms.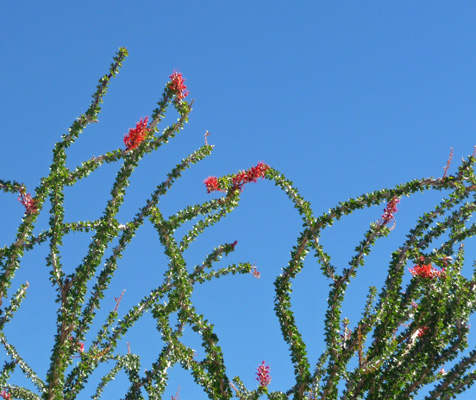 We put on our hiking boots and pulled out our sticks because our trail guide said there was some boulder scrambling ahead. At the trailhead someone had hand written "Torote" on the board where once upon a time there had probably been an information sign. At the beginning of the trail we were met with this unusual sign.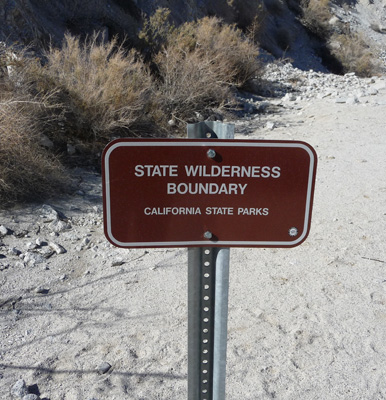 We've been in federal wilderness areas but I don't think I've ever seen a state wilderness sign before.
We'd seen a number a very large barrel cacti on the drive in so I wasn't surprised to see this little fish hook cactus nestled into a rock along the trail.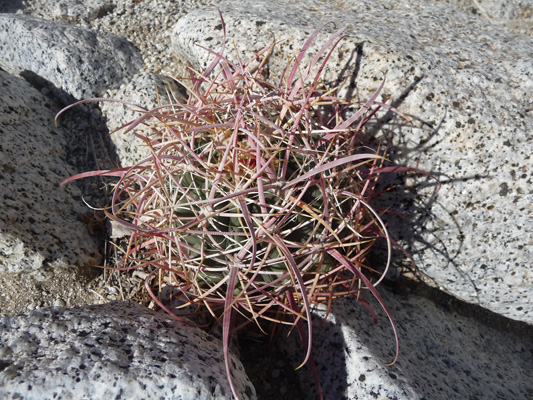 The trail follows a sandy wash up the canyon with ocotillo studding the canyon walls. In less than 1/2 mile you come to the first example of a Torote or Elephant Tree (Bursera microphylla) up on the canyon wall.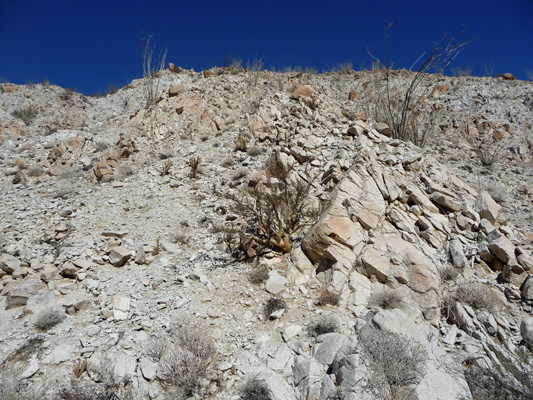 These unusual trees weren't even discovered and named by botanists until 1937. They are fairly common in Mexico in Baja and Sonora but are very rare north of the border. In fact they are found only in about 3 spots in Anza Borrego which marks the northern-most extent of the plant's habitat. They're Spanish name is Torote which means twisted. They're called elephant trees in English because of the bulging folded 'skin' of their trunks.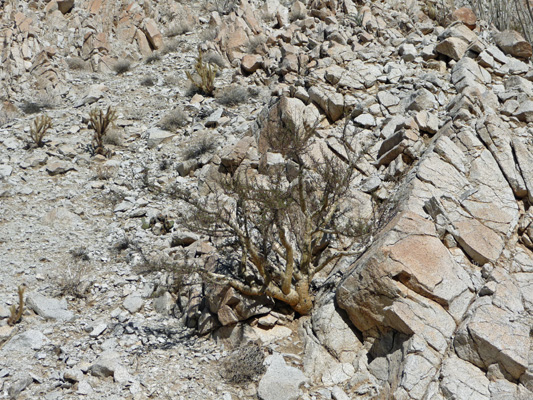 As you continue scrambling over boulders and up the canyon you see more and more of them doting the canyon walls. The trail guide talked about a 'herd' of them here but I'd really just call it a scattering of them. We came to the head of the canyon which was blocked by a large fall of boulders that were really more than we wanted to scramble over. Our trail guide had talked about the cool bark and the cedar smell of the foliage of the Torote so we really needed to get up close and personal with one. The problem was the nearest one was up the side of the canyon a ways.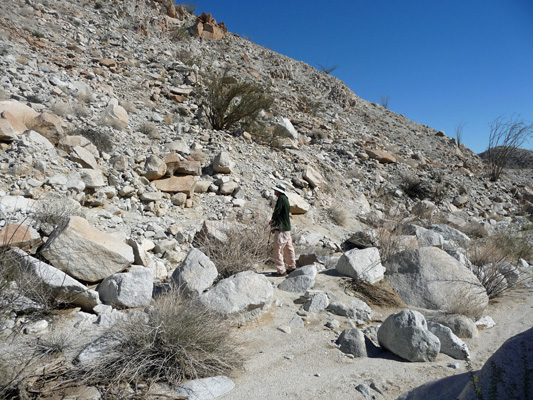 Walter studied the area and suggested that I give a particular line a try. So off I went. I made it without too much trouble.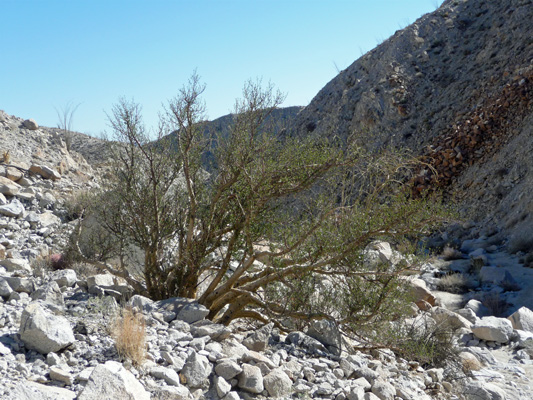 After I reached the Torote and turned around, there was Walter sitting happily on a rock down at the bottom. I guess he'd enjoyed watching me climb and decided he really didn't need to do it himself.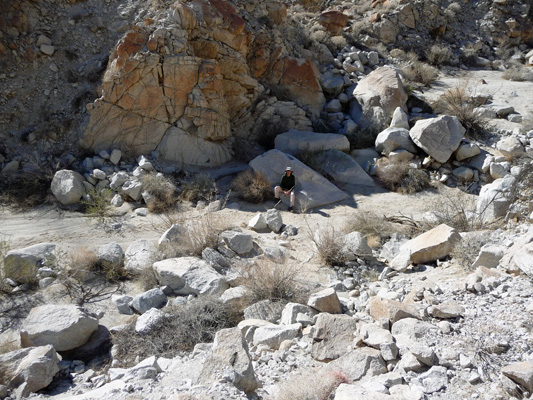 The bark of the Torote is really pretty cool—scaly and wrinkled and peeling.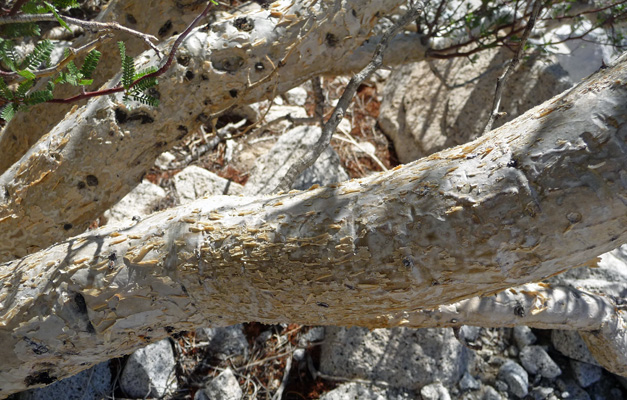 And the foliage is lovely and very pungent—a bit like a cedar but different.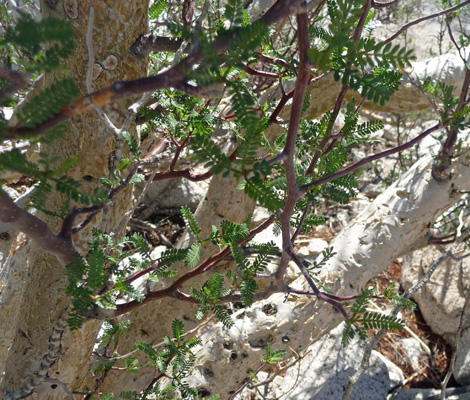 If things get too hot and dry, the tree will shed it's leaves to conserve water.
I made it safely back down without sitting on any of the cactus or tripping over any rocks—down is always harder for me than up. And then we made our way back down the canyon.
There were regular cholla (not to be confused with teddy bear cholla which are fuzzier) dotting the canyon floor.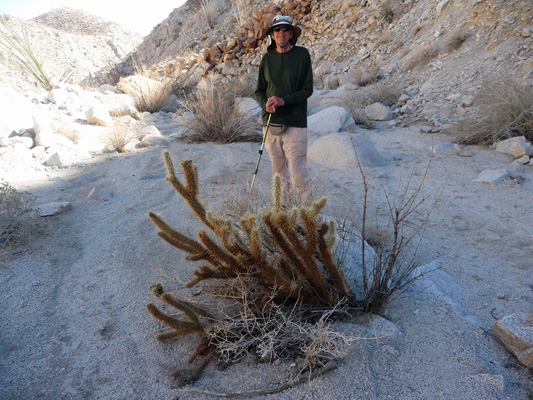 And chuparosa (Justica californica) in bloom here and there. There were butterflies feeding on these and I've seen humming birds go for them too.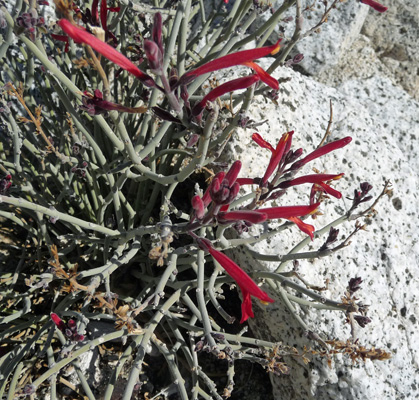 We drove on back down the sandy road towards the highway and I stopped to grab a photo of the mountains to the northeast. I think that these are the Vallecito Mountains.
We met one vehicle as we were coming back out but thank goodness it was after the track widened a bit and there was someplace for me to pull over.
We turned north on S-2 and decided that we might as well stop at the turn off we'd seen several times now that said "Well of Eight Echoes." If the State Park folks have gone to all the bother to put up a sign, grade a bit of road and put up a barrier to keep you from going further out into the desert it should be something pretty special, don't you think?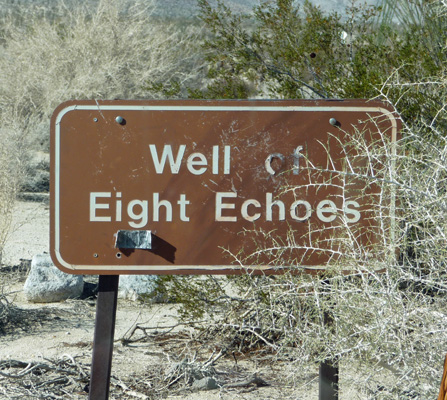 Well here it is. It's the top of a well head, that they've put long screws across to keep folks from dropping things down. When we called down it, we got one echo. When we banged on the side, we got one echo. I guess so many people have dropped so much stuff down it over the years it's not as deep as it used to be. Either that or someone ran off with 7 echoes.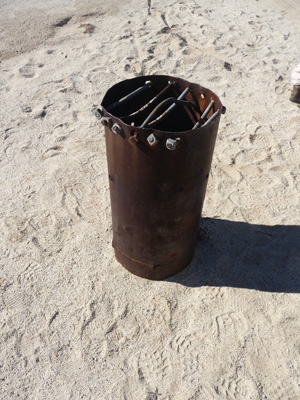 We went back to the trailer and had lunch, watched some folks jockey a 36 foot long fifth-wheel trailer into the spot next to us (a real impressive process) and then went up to the hot springs to soak in the spa. The spa area is indoors with sliding glass doors that open to help cool the area off. The water is about 102 so you can sit in it for a long time. We bobbed around and talked to some folks from Cottage Grove OR who used to live in the Bend area and after an hour had turned to prunes so we got out and had a shower.
The plan for the day on Tuesday December 30th was to do a few periodic maintenance chores (check the battery water, the air in the tires and flush the water heater) and then go for the Moonlight Canyon hike that starts at the Agua Caliente campground. Everything was going along smoothly. We didn't need to add water to the battery and we'd remembered to turn the water heater off so it would cool off before we drained it. But then as Walter was checking the air in Genevieve's tires he discovered that she had a screw in the back tire on the street side. It had gone straight in and when he tried to unscrew it, the tire began to hiss and lose air.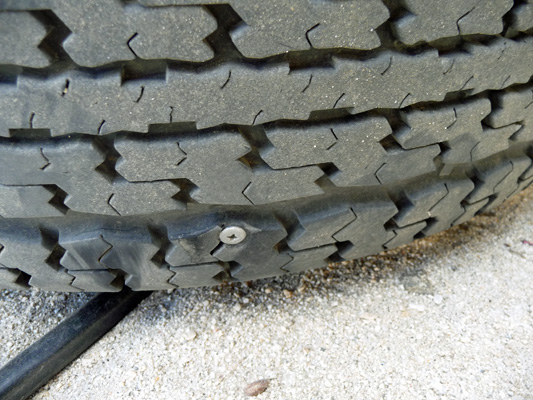 So the question was, were we up to changing the tire or should we try to find someplace to repair it in Borrego Springs the next day when we drove through there? Walter ruminated on the question as he checked the other tires and decided that he'd try and see if we could get the lug nuts off. He crawled into the back of the pick up and got out the lug wrench. By himself, the lug nuts wouldn't budge. But with one of us on each side of the wrench, we could loosen them no problem. Next question, could we get the spare tire out from under the front of the Airstream? With a little help from our next door neighbor who had come over to watch the proceedings, it came out with no problem. Okay, we're a go for the project.
The nifty thing about having 2 wheels on each side of the Airstream (instead of the total of 2 on the Casita) is that you don't need a jack to change your tires. All you have to do is build a little pyramid of leveling blocks and drive the good tire on the problem side up onto it which raises the flat tire up off the ground enough to change it. So we hitched the trailer back up to the truck and the pulled forward up onto the pyramid.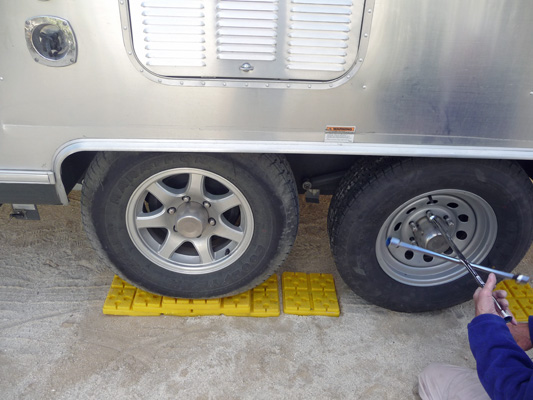 We took off the lug nuts, and the tire came off, no problem. Getting the spare back on took a little work but not having it very far off the ground helped. Then Walter put the lug nuts back on.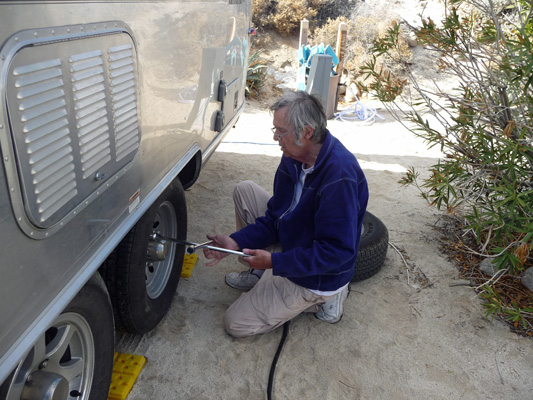 It took 2 of us the tighten them back up but that wasn't bad. Then we had to unhitch the trailer and set everything back up. And finally, we had to put the flat tire back under the Airstream—which was a little tricky but not too bad. Talk about a big win. There's nothing like being able to change a tire to make you feel strong, able and competent. Besides, the old guy next door who has been full-timing since April was totally impressed. He said would have had to call AAA.
Having celebrated this great win, we still had the chore flushing the water heater to do. And while we were at it, I decided I might as well sweep and wash the floor inside. By the time that was all done, neither of us was up for a 1 hour hike with 350 foot elevation gain. Ah well, that just means we have an excuse to come back to Agua Caliente once again!
It was clear and sunny through all this but there were clouds coming in. In fact, for a number of hours we were surrounded by clouds but had a patch of blue sky above providing us with sunshine. But by about 3:00 pm the clouds finally blocked out the sun just before it disappeared behind the hill. And by 5 we had some sprinkles but the real rain didn't start until about 9 pm that night. There's really nothing like the sound of rain on the roof of an Airstream!
It rained about half the night and we awoke to a winter wonderland up on the hills and mountains around us.

The fellow in the rig behind us had a rain gauge out and said we'd gotten 1/2 inch of rain in the night. That's a lot rain for the desert—especially in the winter.
There was this sweet little rock wren all puffed up and bobbing back and forth on a rock by the trailer.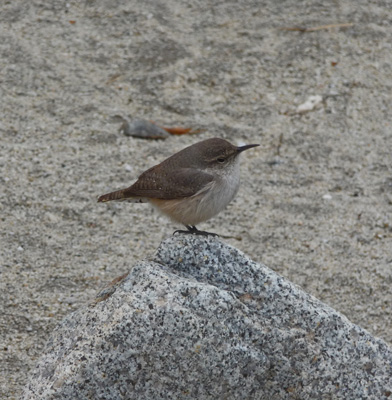 Our reservation was up at Agua Caliente so it was time to move on. Our plan (we do make them even if they get changed with great regularity) was to go boondock north of Borrego Springs. But we were pretty sure that there'd be snow on the passes between us and there so we decided to go south instead.
There was snow on the Sawtooth Mountains to the west as we drove south through Anza Borrego.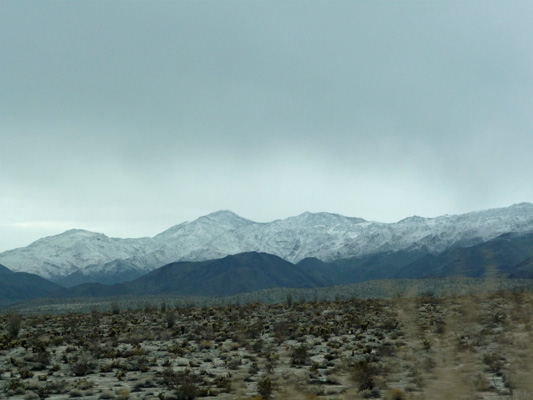 And it was only 43 where we had thought we'd boondock just south of the park. We knew it wasn't going to warm up much that day and it was due to clear off in the night and get COLD. So we kept going south.
By the time we got to Ocotillo and saw that the Jacumba Mountains which go all the way down into Mexico were also coated with snow we knew we'd have to reconsider boondocking that night.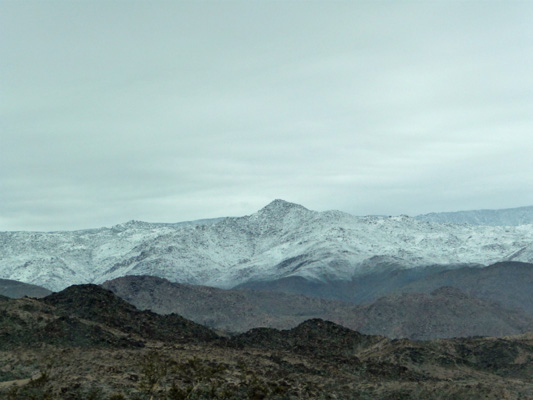 They were busy making electricity in Ocotillo with the wind turbines there.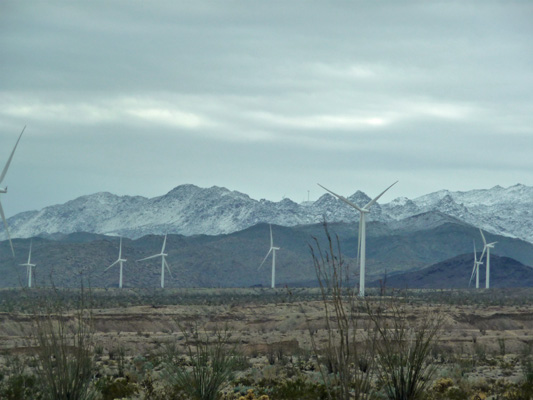 After looking at our various camping resources, we decided to head to El Centro (at sea level) and find a place to camp with electricity.
We ended up at Rio Bend RV and Golf Resort, a very nice place a few miles west of El Centro. It's just south of the freeway out in amongst the agricultural fields. They grow lots of broccoli and lettuce in here this time of year. We got a back-in spot with a full hook up ($25 a night with Passport America). Their Wi-Fi was working fabulously which was a real treat after having no signal at all in Agua Caliente.
Walter went to work right away and found a tire place in El Centro where we could replace the Airstream tire if it couldn't be repaired. The hitch was that it was New Year's Eve and they were closing at 3 pm. So we hopped to it and got the tire out from under the trailer, loaded it into the back of the pickup and drove into El Centro. They took one look at the tire and said they could fix it. They had it all fixed in no time at all. And they didn't charge us anything either (though this is pretty typical when you come in with a nail or screw in a tire). We motored back, reinstalled it under the trailer and had a late lunch.
Rio Bend has upscale cable so Walter even got to watch a bowl game (or two or three or more) over the next few days. Go Ducks! Go Dawgs (no they didn't win but hey he got to watch)! Go Pack 12! Hurray for College Football.
We spent a quiet New Years Eve—no fireworks, no gun shots, no hootin' and hollerin'. We watched them drop the ball on TV, drank a glass a champagne and went to bed.
I decided to start the new year clean so I did laundry and then took a walk around the RV resort while Walter watched the Oregon Ducks annihilate Florida State in the Rose Bowl.
Our campsite was one row over from this lovely little pond.

There was a very noisy goose guarding the pond. I expected it would come after me and try to chase me away but it just stood there and honked. It looks like it has a damaged wing so maybe that's why it wasn't aggressive. Anyone who has ever been chased by a goose knows what I'm talking about.
There were a trio of mallards making time across the pond.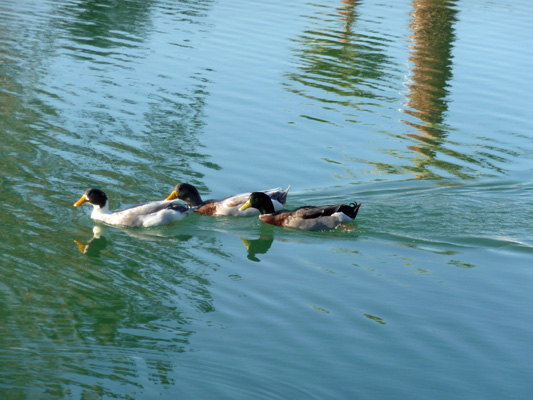 I noticed this nice reflection when I got to the far end of the pond.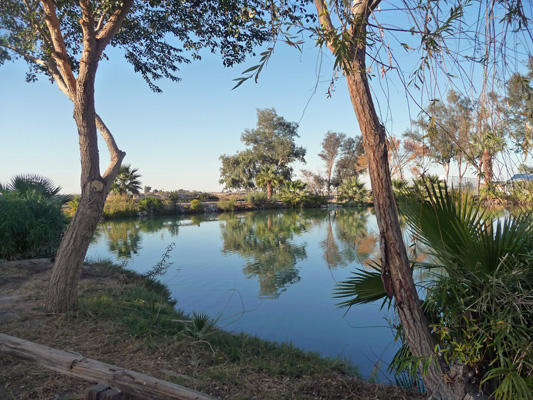 The park itself is nicely landscaped and they had a great collection of Euphorbia tirucalli 'Flame' that looked very happy.
While I was doing laundry I had noticed someone carrying ice and bowls of things over by the pool and couldn't figure out what was going on. It turns out they have happy hour on Thursday and Friday afternoon/evenings out by the pool.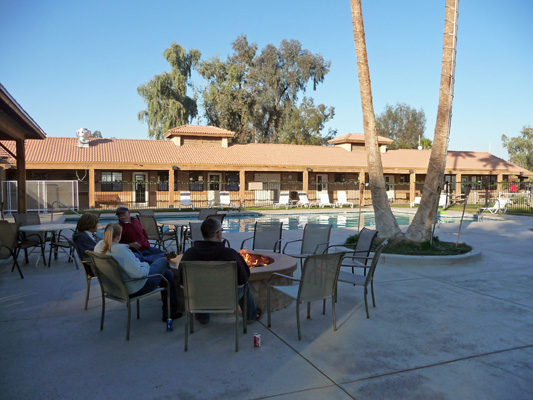 The pool was really warm (the ladies do water aerobics in it at 9 am most mornings) and there's a nice spa too.
I walked to the far end of the park where you could see what I think is Signal Mountain down across the Mexican border.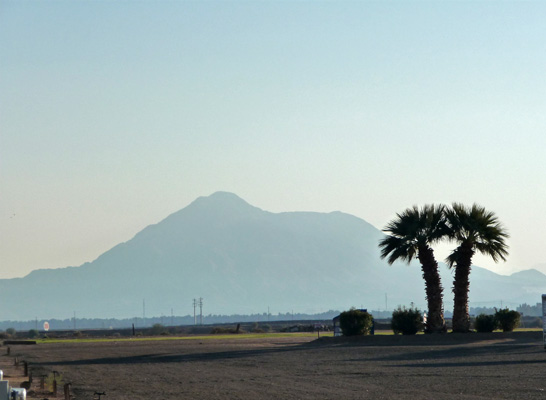 On Friday January 2nd we drove into El Centro and went to Costco—our first trip there since October—and then on to the grocery store. After lunch, I went for a swim in the very very warm pool and then sat in the hot tub before heading for a nice warm shower.
One of the things I found really entertaining at Rio Bend was the fact that people pull their golf club carts around behind their bikes! There were a few electric golf carts here and there but mostly we saw folks doing this.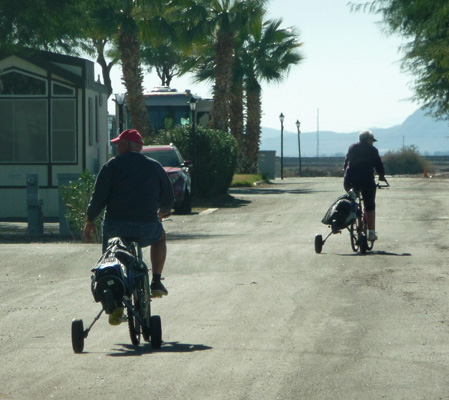 We had a very enjoyable 3 days at Rio Bend RV and Golf Resort and I highly recommend it if you have Passport America. Otherwise it's kinda spendy at $50 a night.
On Saturday January 3rd we loaded up the trailer and headed back up to Anza Borrego. The forecast had the weather warming steadily (both in the day and at night) and we thought that we could handle a night or two of cooler weather there.
We headed for a boondocking area that is known as Pegleg. It's named after an old prospector and tall tale teller from the mid-1800's who hung out here. There's a parking lot here where some people boondock along with an official California historical marker dedicated to Pegleg Smith. And then there's the people's memorial. The sign says that if you're going to go looking for Pegleg's lost mine to add 10 rocks to the pile.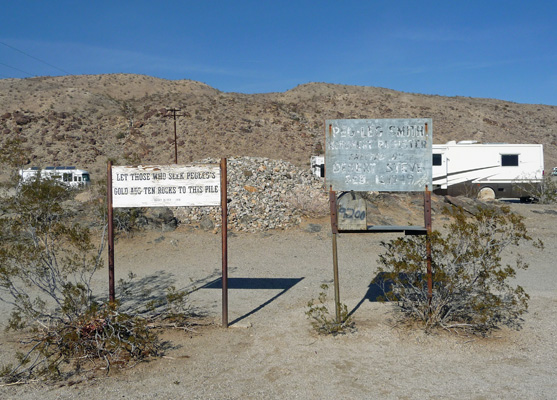 We took our photos, reconnoitered a bit and decided to go back eastward on the highway a ways to an open area where people were parked scattered along an arroyo.
We found a nice spot and parked the trailer so we'd have a view.
We put out the solar panels and then just hung out for the afternoon watching folks go by on the little dirt road nearby. One of the things we spied was a flock of Airstreams (7 plus on non-Airstream 5th wheel) parked down the hill. From the blogs that we follow we think that there are a number of bloggers hanging out together down there. We decided we didn't need to be that social (they party a lot) and were happy in our quiet spot up on the hill.

In the late afternoon the view got better as the shadows developed on the mountains.

We didn't have much of a sunset but I did catch the almost full moon as it came up over the mountains.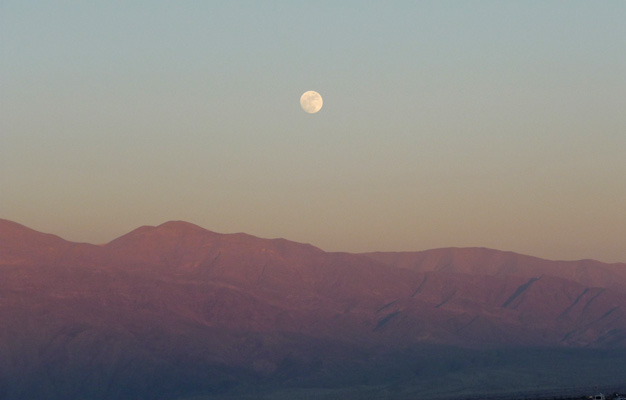 Pretty nifty, I think.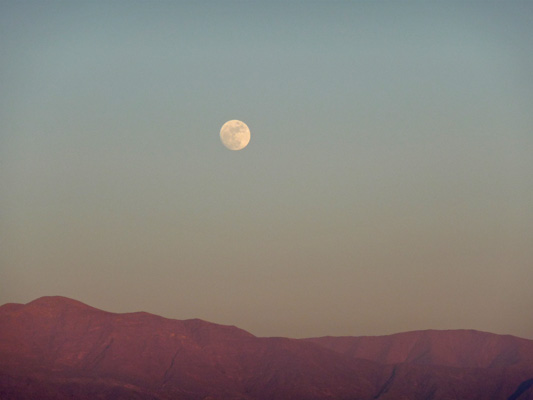 While it was in the 30's that night, we did just fine and didn't need to run the generator come morning.
Follow our next adventures from the 2015 Adventures page. Happy New Year!