On Sunday July 6th Walter and I left Lower Falls Recreation Area and motored south towards the Columbia Gorge. It was warm and clear when we came to a great viewpoint so we stopped to grab a few shots of Mount St. Helens. Aside from draping her top with a few wispy clouds she was out in all her glory. Seeing her flat top always makes me wonder how incredibly beautiful she must have been before she blew her top and lost the top 2,000 ft of her crown.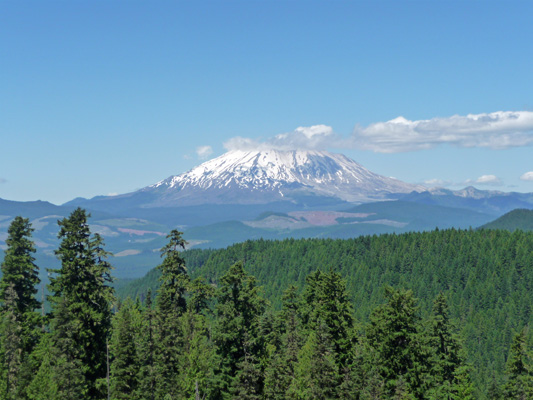 It was hot (90's) in the Columbia Gorge and the wind surfers were out with both board-mounted sails and parasails in all colors. It was gorgeous but I was driving and so we have no photo for you. Hot weather like this isn't our cup of tea (especially me) but we needed a day with power, showers and internet so we grabbed one of the last spots at the Bridge RV Park in White Salmon (the only RV park for miles). It's wedged between Hwy 14 (which runs along the Washington side of the Gorge) and the train tracks that run along the edge of the river. It is also less than a block from the bridge that spans the Columbia over to Hood River Oregon. It wasn't very noisy in the afternoon but at night it was something else between the trains and the trucks on the highway.
We turned on the air conditioning and cooled off. But it's so noisy that we always end up turning it off and opening the windows. Usually when evening comes it cools down outside and that works. Not this night. It stayed warm and so did the Airstream. It wasn't down into the low 70's until 6 AM on Monday morning. Walter slept but I don't do well when it's hot so I was awake a lot. At 6 AM the logging trucks starting running on Hwy 14 and it sounded as if we were in the middle of a truck pull! It actually quieted down after a while and we both went back to sleep.
I'd spent the evening on Sunday on line looking for campgrounds above 3,000 feet in hopes of finding a place where it might be cooler. The weather forecast was for warmer than usual weather all through the week and the next weekend. We decided we had the best selection to choose from and the best chance to find an open spot along Hwy 26 in Oregon (near Timberline Lodge).
It was clear as a bell when we set out to go and I took this photo of Mt. Hood as we drove across the Hood River Bridge.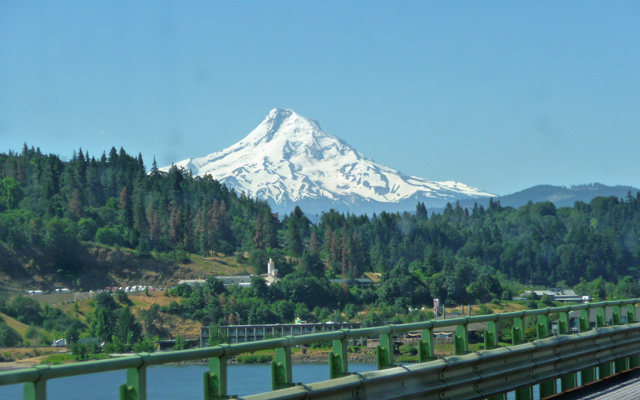 We headed up I-84 a few miles so we could stop for groceries at the local Safeway. When we went to get off the freeway, there were a pair of semis parked along the edge of the off ramp. One of them was nearly blocking the top of the exit where we were supposed to turn. The trucker motioned us forward and I watched on the passenger side but we still managed to get a long narrow scrape on the driver's side of the Airstream (sniff). There's a tiny dent at the beginning of it and then a long very thin scratch down the side. I'm grateful Walter was driving because I would have been VERY upset to have done it and he's just stoical about it. We really had no choice but to go forward and it was a VERY tight fit. When we were done with our shopping and went to get back on the freeway, the semis were still parked there (clearly the one that was blocking the most was broken down) so it wouldn't have done for us to have stopped and refused to pass him. The traffic would have been backed up for miles.
Hood River was full of RVs, boats and people. The grocery store was as busy as I've ever seen a market on a Monday morning. Welcome to SUMMER.
We drove south towards Mt Hood and I grabbed this photo through the front windshield as we headed towards Hwy 26.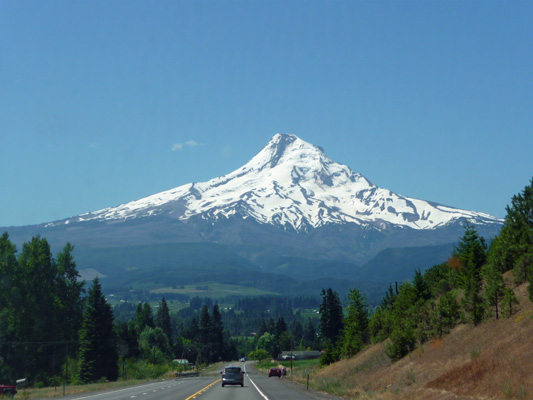 We checked out the Trillium Campground just off Hwy 26 to start with and it was nearly full and had lots of spots with reservation tags. There really wasn't anything left that we'd fit into (and it was Monday!). So we drove on east on Hwy 26 and tried Clear Lake Campground. It was only about 1/3 full and we found a nice pull through spot in the shade. It was about 80 outside when we got there and the trailer was HOT inside. No hook ups here since this is a Forest Service campground. So we opened all the windows and the breeze off the lake took care of the rest. We sat out in our camp chairs until mid afternoon and then were perfectly comfortable inside. Ahhhh, the good life in the mountains.
It cooled off down in the 60's that night and we both slept well. The morning brought another sunny day with temps in the mid 80's. When we ran the generator in the morning, we set up the hot spot and booster and while we had a marginal signal and it said we had internet access (off and on) we couldn't even get our email to download. We're not sure if we have a problem with the hot spot (since we had no internet on it our last day in Issaquah when we had a full signal) or whether the signal here is just too weak. We'll have to test it again when we have a stronger signal. I love technology but it can be a challenge both at home and on the road.
After we ran the generator we took a walk down to the boat launch to have a look at the lake. We have a peekaboo view of the lake through trees from our campsite but we wanted to see the whole thing.

It's a medium sized reservoir that provides irrigation water and so it gets drawn down as the summer goes on. It's pretty full now but it does have tree stumps along the edge even now. We've enjoyed being by the water for the cool breezes but I wouldn't put this lake up near the top of pretty lakes I've seen. There were a few folks fishing on the lake and a number of kayaks and canoes but no heavy traffic which is nice.
The campground itself is pretty nice. It's a single loop with lots of side loop pull throughs. Lots of sites have peekaboo lake views as ours did. There's a boat launch and over-flow camping sites near the day use area.
We spent Wednesday July 9th in Metolius, OR (just west of Madras in Eastern Oregon). It was hot--as in 93. We had the air conditioning on all afternoon and that helped. We finally went through all the troubleshooting steps to figure out what was going on with our hot spot. I spent nearly an hour on the phone with Straight Talk and they finally came to the conclusion that the hot spot is faulty. We get to wait for them to send us an email with the authorization to ship it back, figure out how to get it shipped and then we get to wait for them to receive it and send us a new one. Since it will go to Monroe (our only shipping address) and then we have to have it forwarded to someplace where we'll be for more than a day, it may be a while before we have a working one again.