We had a busy week September 4th through 11th but it wasn't very photogenic.
We spent Tuesday and Wednesday September 4th and 5th in Burlington, WA at the Burlington/Anacortes KOA. Their WiFi worked really well most of the time and that allowed me to plan out our journey for September and October and make reservations in the places that we thought we needed them. The phone signal was a little weak, so I had to stand outside to talk for a couple of phone calls but when I was done we had a nice itinerary planned out. We'll be working our way down through eastern Washington and Oregon over to the Boise area. Then we'll head east to Craters of the Moon National Monument for a couple of days and on to Grand Teton National Park for 3 days. From Grand Teton we'll head south into Utah and over to Great Basin National Park just over the border into Nevada. Then we'll head further south to Sedona for a few days. We'll spend the last 2 weeks of October in Show Low, Arizona in the White Mountains northeast of Phoenix.
Thursday September 6th, we packed up and drove south on I-5 to Everett and then east on Hwy 2 to Monroe and the RV-2 campground at the Evergreen State Fairgrounds. The fair had ended on Labor Day so the campground was pretty much empty. We had a 6-day reservation with just water and electricity (they have no sewer hook ups but they do have a dump station) so we were trying to be conservative with our water use so we wouldn't have to hook up and trundle to the dump station during our stay (which we managed to do). Our cell phones worked fine with the booster here and we had a nice fast data signal too most of the time.
I had been looking forward to shopping in Monroe in a familiar grocery store since we had lived there for 27 years. Thursday afternoon we stopped by the Fred Meyer near the Fairgrounds only to discover they were in the middle of a major remodel and not only did I not know where anything was neither did the staff. As I stood in front of the temporary deli department at what used to be the seafood counter, I wryly smiled and told the guy that we used to live in Monroe and now lived on the road and I had been looking forward to shopping in a familiar grocery store. He replied, "That is so funny! I'm sure you don't think so, but it's hysterical." I had to agree with him that it was a wonderful cosmic joke. On Saturday, we discovered that the Safeway (where I usually shopped) had just gone through a major reset and it was just as hard to shop in as any other Safeway on the road. If you go away for 4 years, everything will change!
Thursday we did errands and I got my hair cut. Friday I had lunch with my friend, Lisette, and Walter stayed home and had his hair cut. Saturday we visited our friends, Peg and Gregg up in the High Rock area, did our grocery shopping (scavenger hunt again) and had dinner with our friend, Julie.
The Fairgrounds RV campground is conveniently located for us and it's only $25 a night. Besides that, there is usually a spot open which you can't say for any of the other RV parks in the entire Seattle area. However, it does come with a major drawback: the racetrack. Thursday evening starting at about 3:30 in the afternoon, they have motorcycle motocross practice until about 9 pm. Friday they had folks driving stock cars of some sort for many hours.
But Saturday is the big day. There are NASCAR races then, rain or shine every Saturday. It turned out that the first round of a championship series was scheduled for Saturday night. By 9:15 am there were lots of toy trailers filling the entry for the north gate. And by 9:45 they were 3 or 4 lanes deep and lined up nearly all the way to the street.

My guess was that check-in must be at 10 am. But I was wrong. The lines continued to grow until they finally opened the gates at 11 am right on schedule—by then Walter had looked things up on the internet and we knew we were in for a full day of practice runs before the REAL races began some time after 6 pm.
We were gone for most of the day and by late evening it was cool enough for us to have all the windows closed which cut out most of the noise.
Sunday is drift racing day. There aren't as many competitors so there was just a little traffic in the morning but they race all afternoon squealing their tires as they drift around the corners. I find this much worse than the vroom vroom vroom. Somehow deep inside some part of me cringes every time I hear the tires squeal ready for the crash that is sure to follow. We attempted to take showers in the Fairgrounds but the bathrooms were locked so we drove on over to our old favorite YMCA where they kindly let us take showers as their guests for the day. Blissful hot water! In the afternoon we met up with our friends, Margaret and Dennis, to catch up on life.
The Drift races continued into early evening but it's amazing what a pair of headphones can do to help with the noise! Walter watched TV (and fell asleep) with his on and I listened to music on my computer and neither of us noticed the races were over until we started to see the big trailers leaving on their way home. It rained with some vigor on Sunday night which was a refreshing change—we'd had a little the night before but this was the real deal.
Monday September 10th, we drove south to the town of Sea-Tac to pick up my new autoharp. My old one had become unplayable when it's string anchor began to rotate out of the instrument body. So I ordered a new one from d'Aigle Autoharps. Isn't she lovely?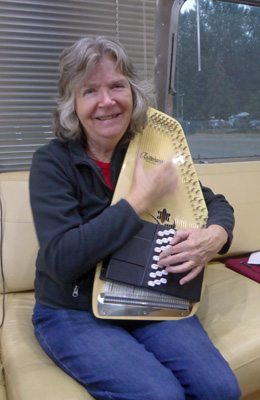 She has a wonderful clear sound too and is super easy to play because the chord bars are arranged ergonomically rather than in the traditional pattern. I love it. It may take me a little while to get use to the new chord positions but this is a major improvement.
From Sea-Tac we worked our way back north stopping at places like PCC (I do miss it so much), Trader Joes, Whole Foods and Costco. Then I got to spend nearly an hour finding a place to stow all the goodies we bought but we won't need to do any 'civilization shopping' again until after we're back home in Sahuarita
Tuesday September 11th, we went and saw our beloved dentist, Ellie Tabaraie, in Overlake to get our teeth cleaned. Thank you, Ellie and staff! It rained as we drove to Redmond but it wasn't bad on the way back.
I grabbed some lunch and then headed next door to the Starbucks in the Fred Meyer to meet with an old web client. And the skies opened up and it POURED buckets. I was soaked (with my raincoat on) in just the quick dash from my car to the door. The skies were black and the thunder was crashing but I didn't see any lightening.