On Tuesday July 24th, we set out from Twin Creek Campground on Hwy 93 in Idaho to take a drive. There's a 1/2 mile of dirt road before you come to Hwy 93 and as we bumped along we both gasped, "Moose"! There was a mama moose and a calf starting to cross the dirt road down near the highway. She saw us and turned around and by then I had my camera out and just clicked since I was sure I didn't have time to zoom in.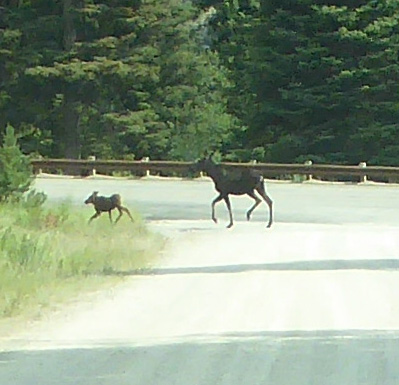 When we got down near the highway we stopped and I got out and managed to get a shot with my zoom lens as they headed up the hillside.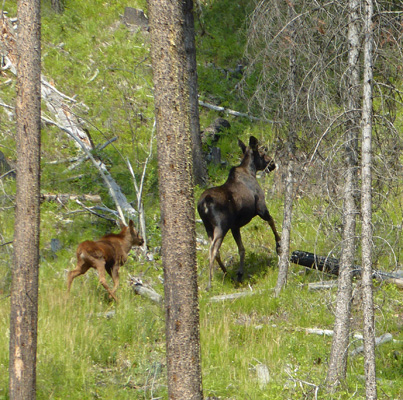 What fun! We went all the way up into Canada and didn't see a moose. And here we are in Idaho and we get to see a mom and her calf. Yes!
We drove on south on Hwy 93 and after about 10 miles the terrain started to change. At the little town of North Fork the highway began to follow the main branch of the Salmon River (before that we got glimpses of the North Fork) and the trees got fewer and the hills got browner. After about 25 miles we came to Tower Rock.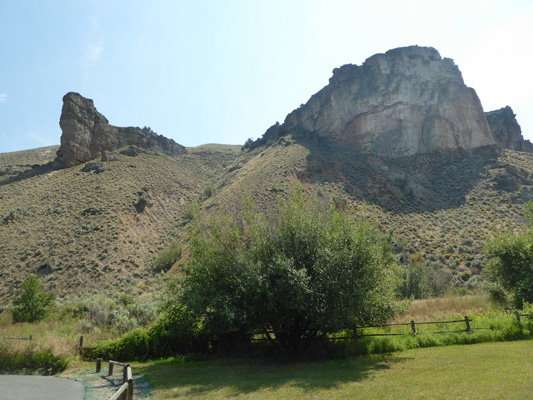 This is a site where Lewis and Clark camped as they were trying to find a way over the mountains. Lewis followed the Salmon a ways and decided it was impassible since the canyon was one rapid after another—this being the section of the Salmon known as the River of No Return because there are so many rapids.
We had thought we might camp at the BLM (Bureau of Land Management) campground here so we stopped to check it out. It's all paved and level but there isn't a tree in the campground and it was HOT and would only get hotter. There are a pair of small boat ramps (good for rubber rafts) and I stopped at one to take a photo of the Salmon. It's broad and pretty smooth through here but once it turns west it's a thrill ride I guess.

Having decided that we'd need to find someplace else to camp for the next few days we headed back up to Twin Creek and on up the dirt road to see what we could see. We got a nice view of Twin Creek itself.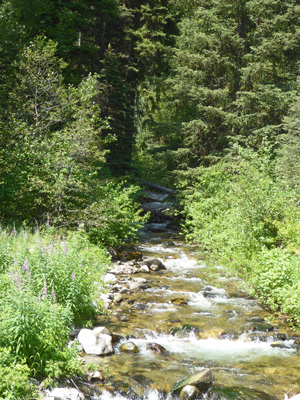 Then the road got narrower and narrower as it climbed up the mountain. After a good long while we found a place to turn around and on the way back down I stopped and got a photo of the Indian Paintbrush in bloom along the road. It was tall and bushy, quite different than the usual short kinds we've seen.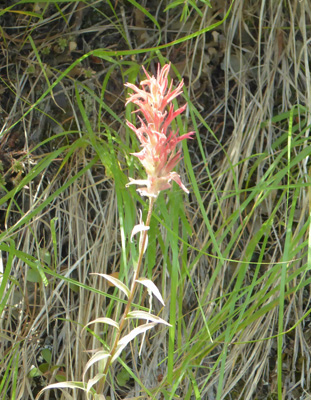 It got into the mid 90's that afternoon and the solar panel did a nice job of charging up our batteries (we got full sun from about 10:30 am to 5:30 pm). We stayed inside and read and were grateful that it started to cool down once the sun went behind the trees. It was already down to 72 outside by 8 pm. It's good to be up at 5,000 feet!
Wednesday July 25th, we packed up and drove south on Hwy 93 towards Salmon, Idaho where we figured we'd find a cell signal. Right after we got past Tower Rock the valley opened up and sure enough we had a signal. We called Challis Hot Springs RV Park and got a reservation for Wednesday, Thursday and Friday nights and then drove on. The road takes you through high desert (it's mostly 3,000 to 5,000 feet) with an occasional Ponderosa Pine here and there and cottonwoods along the Salmon River. I took this photo when we stopped to change drivers.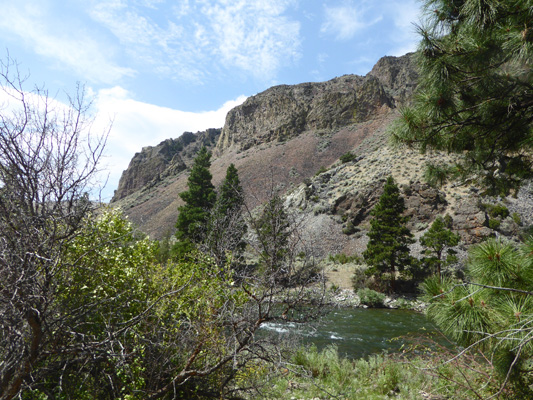 The road winds a bit through the canyons and then comes out into ranchland and the little town of Challis (population 1,000). We drove through town and down Hwy 93 a little ways to Hot Springs Road and followed it about 5 miles out to the Challis Hot Springs RV Park. We got a back-in site with water and electric (which we got to pull through into since the spot behind us was empty). It had a nice view of the surrounding hills which reminded both of us a bit of Death Valley.

They have a hot pool which runs 104 to 108 degrees and a larger pool (think swimming pool) that runs 95 to 100. Our site was in the shade of a big old weeping willow which was good news since it was in the high 80's when we arrived and got up into the low 90's. The shade really helped.
Their WiFi worked and was pretty fast and our Verizon cell phones worked (on roaming). No TV but hey, we knew we were in the middle of nowhere!
Thursday July 26th, we drove back towards Challis and I took a photo of the mountains looking westward.

This is old silver and gold mining country. There was a gold rush in the 1880's followed by a silver rush too. The mountains here are full of old mines and ghost towns. The state park system has control of much of it in the form of a large park called the Land of the Yankee Fork. The Visitors Center is in Challis where Hwy 93 meets Hwy 75. It's mostly a mining museum so we took a pass and drove on out Hwy 75 to the turn off for Bayhorse. We bumped along a fairly wide (almost 2 lanes) dirt road to the site of the Bayhorse Ghost Town.
Along the way we saw these strange yellow flowers growing in the rock scree.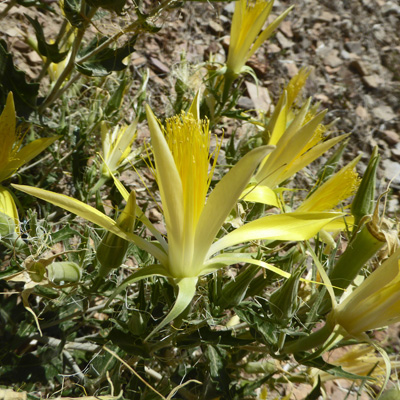 They turn out to be Yellow Blazing Stars (Mentzelia laevicaulis).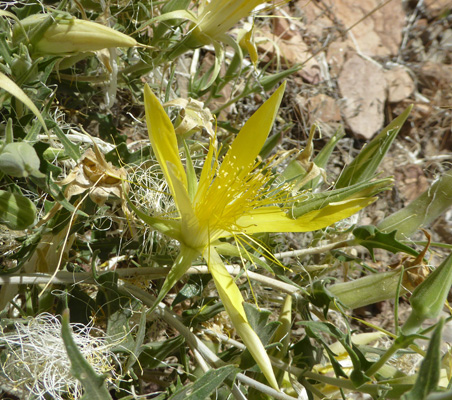 We parked and paid our $5 car fee and set out to take the walking tour of Bayhorse town. The ranger arrived and gave us a little intro to the history of the place. The town grew up around the Bayhorse Mill which was built in 1882 to process lead and silver ore. In addition to the mill there was a smelter which required large quantities of charcoal. They built a set of beehive charcoal kilns which provided employment not only to the folks who ran the kilns but lots of loggers who cut the wood to make the charcoal.
Here's a shot of the Bayhorse Mill. It ran for a number of years and then shut down. Investors arrived in 1919 and rebuilt (and repainted it) and it ran again for several more years before shutting down for good.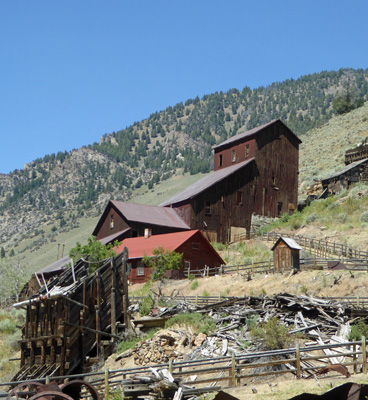 On the walking tour the first stop is the Bayhorse Hotel.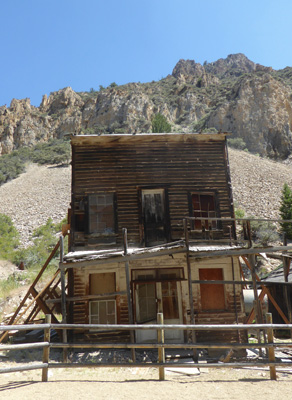 It had rooms upstairs (rented by the hour) and a saloon and café downstairs.
Next up is the stone front of a building (the rest is gone) which they think was a secure storage building for things like dynamite.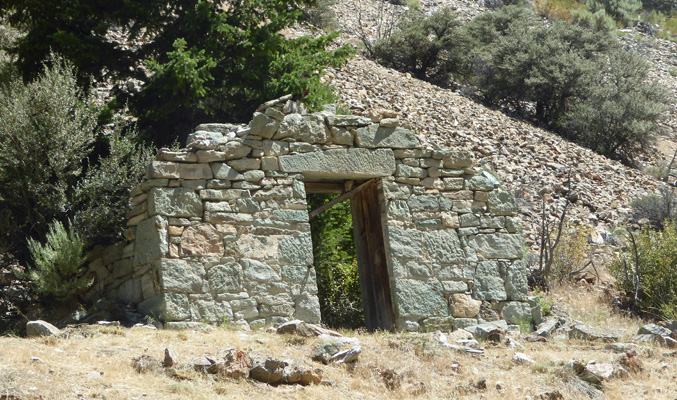 This house was made from logs that were hewn on both the inside and out and probably built in the early 1880's.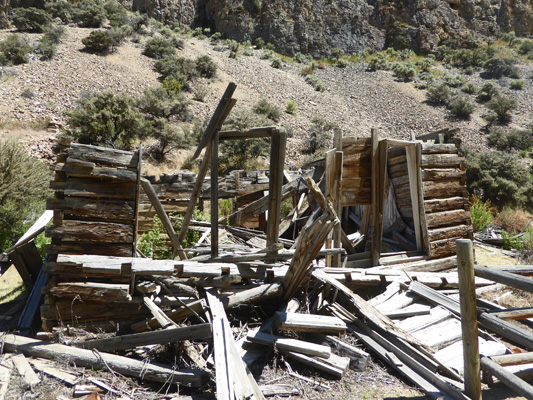 Bayhorse was closed to the public for years and the state parks didn't get control of it until it was in pretty bad shape. At this point they are doing their best to just keep it from deteriorating any more. This residence is going to get a major renovation next year when they remove the roof and chimneys, cinch the building back up square and put a new roof on it. Originally it was only one story and the second story was added later so the enclosed staircase is on the outside of this side wall.
Here's another view of it.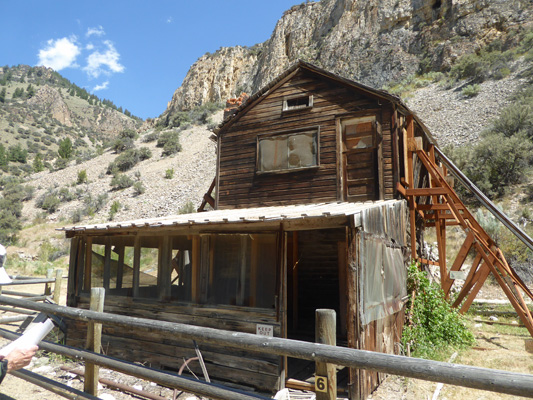 The last building on this end of town is another log home with logs hewn inside and out.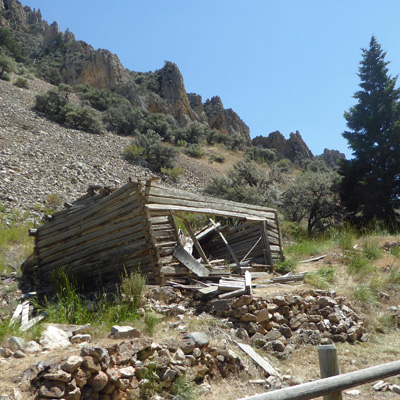 On the creek side of the road there was a barn where they had stored their hay for their horses. They'd covered the roof with flattened tin cans to keep it dry. But one year the creek flooded and washed out the rock rubble foundation and the building toppled over.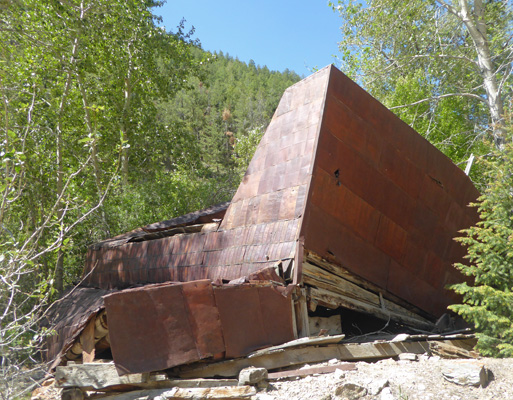 Along the way, there were golden currants (Ribes aureum) which were almost ripe .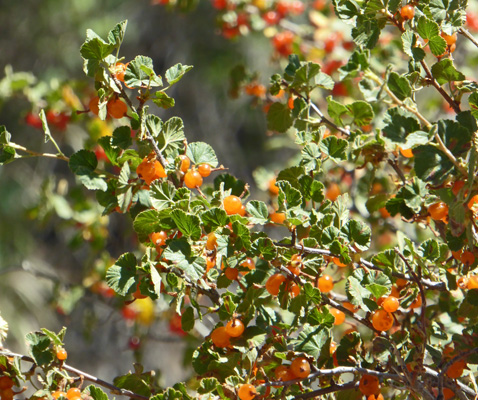 Up the hill towards the mill you pass the stone building known as the Wells Fargo building. It was constructed to handle heavy loads—ore perhaps?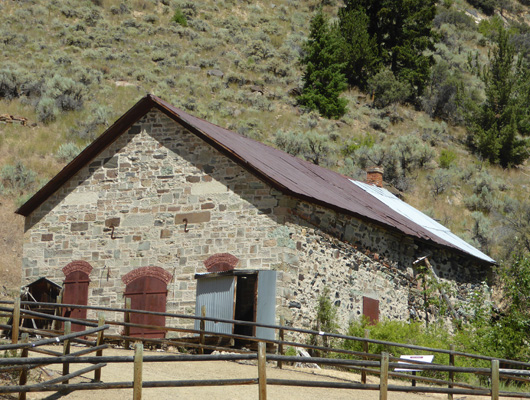 By this point it was HOT in the sun so we climbed into the truck and turned the air conditioning on. We drove a short ways up the road to the beehive kilns.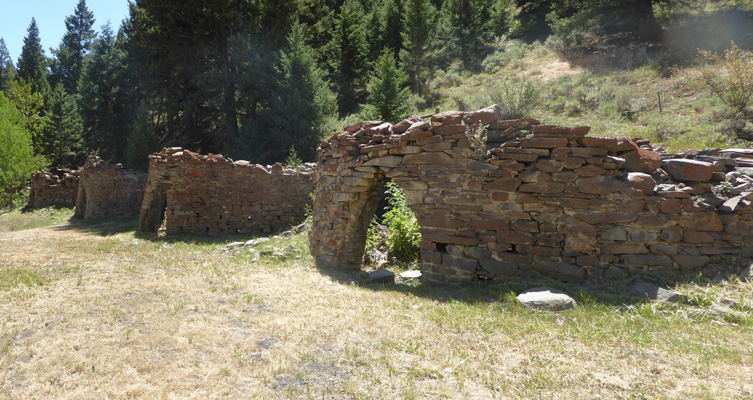 They're not in as good shape as those we saw in Death Valley a few years back but they're still cool.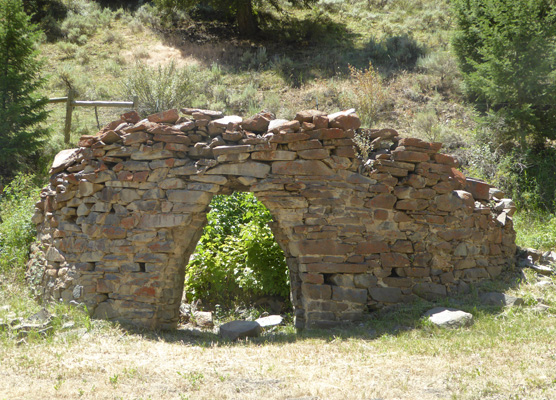 While I was taking this photo I noticed a little critter scampering along the top row of bricks. It turned out to be a golden mantled ground squirrel.
It wasn't lunch time yet so we decided we'd take the 4-mile drive on up to Big Bayhorse Lake. The road was one very narrow lane. The good news is that it didn't have a lot of potholes or rocks. The bad news is that it had no verge which made it a little hair-raising to drive. We met a number of vehicles on the way back down and finding a place to let them pass was an interesting process.
You gain over 2,000 feet in elevation so it's pretty steep too. Along the way the vegetation changed remarkably and we started to get more and more flowers. There was a pull out near a small meadow and I stopped and got out and shot some photos. The sun was super bright which makes close ups a real challenge but some of them came out okay.
There were drifts of White Mariposa Lilies (Calochortus eurycarpus)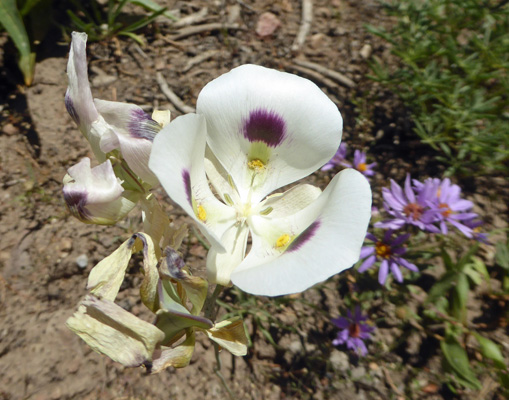 And lots and lots of Cushion Buckwheat (Eriogonum ovalifolium).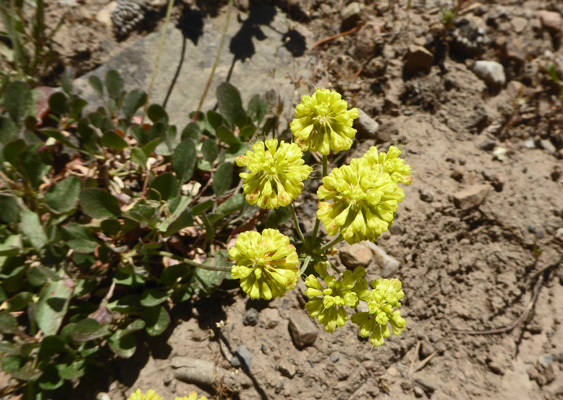 The lupine was still in bloom too.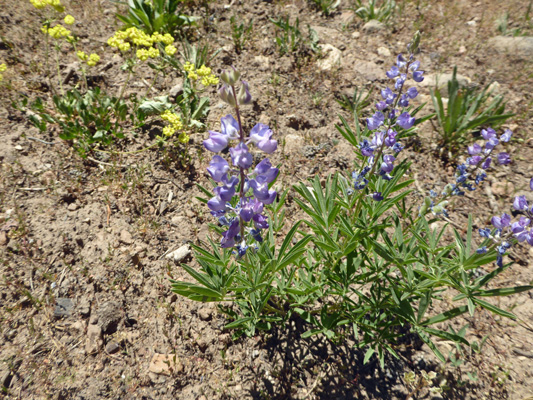 And there were lots of Showy Asters (Erigeron speciosus).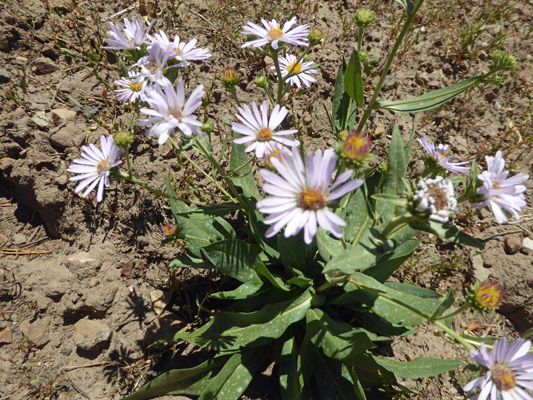 Farther along we saw lots of paintbrush too.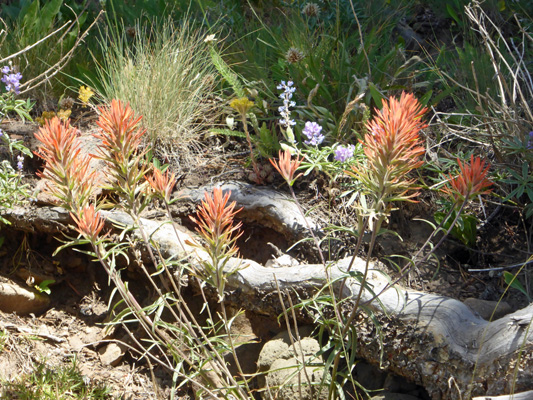 Big Bayhorse Lake is a lovely little lake with a small Forest Service campground that is free. Of course you have to pull your trailer up an awful road and I'm really glad I didn't have to find a way to pass a trailer or RV! There were people out fishing on the lake, kayaking and canoeing and kids playing on the dock and in the water too.

It was wonderfully cool—only in the mid-70's but really hot in the sun.
We had our lunch with this lovely view and watched the fish jump and the people play and then made our way back down the mountain. On the way I stopped and made a photo of what I believe is Rocky Mountain Goldenrod (Solidago lepida).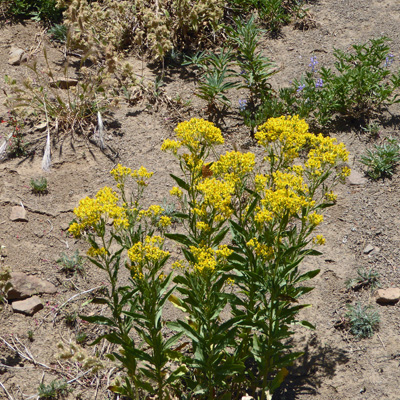 We passed the ruins of what the internet says was a 'tram base'. From the side it looked like a barn but there are cables coming out this side so they must have been bringing ore from higher up since we were right next to the creek.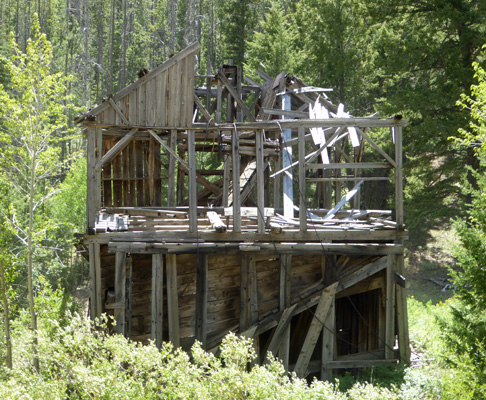 We also passed the tailings from a mine with a small building next to them.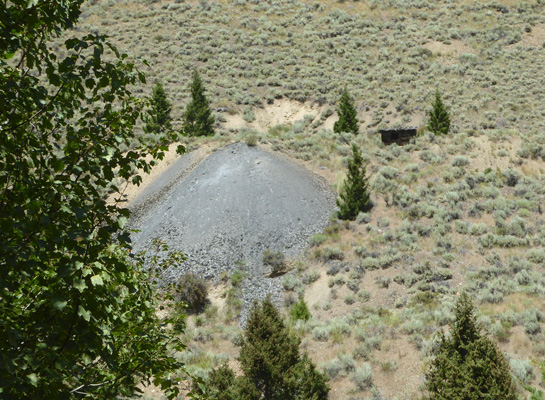 As we came down the hill we got a different view of Bayhorse.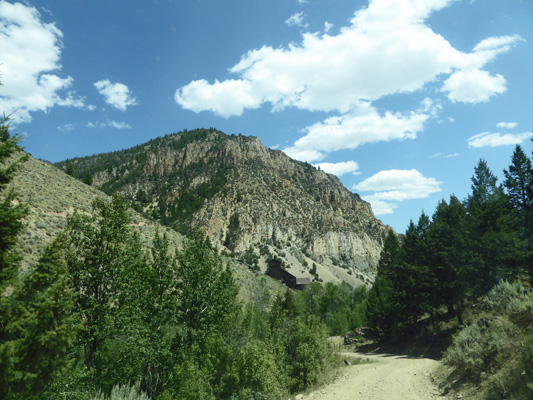 Here's a close up of the mill.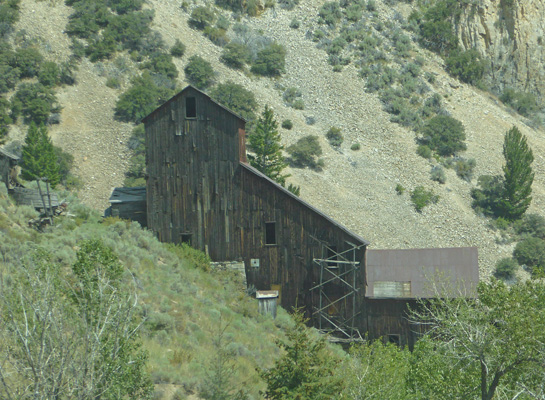 We drove on back to Challis and then back to the trailer. On the way, I stopped and shot a series of photos of a young osprey in a nest that was along Hot Springs Road. Here's a profile shot.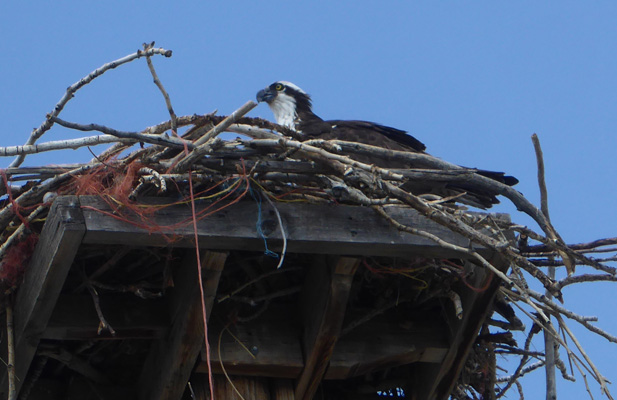 And in this one he was looking right down at us.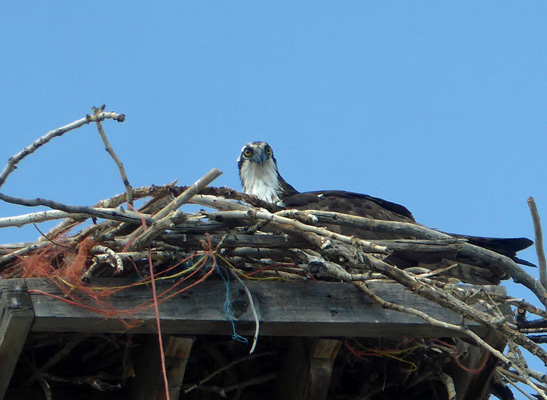 It got hot enough to run the air conditioning late that afternoon (electricity is such a wonderful thing when it's hot). But we had the windows open again after dinner and I ran out and took a couple of shots of the moon as it rose over the mountains to the east.
Here's one that's just a bit closer up.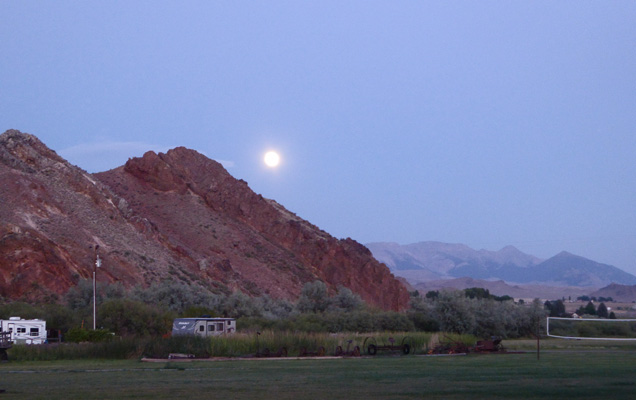 On Friday, we had to change spots so we could stay our 3rd night. We packed up and waited for the folks who were in our new spot to move and then were lucky enough to be able to just pull through into our spot. It was level both ways (yippee) and since we hadn't planned to go anywhere we didn't even bother to drop the trailer (something we haven't done for ages). We could see the Salmon River from our spot so I went over and took a photo up river.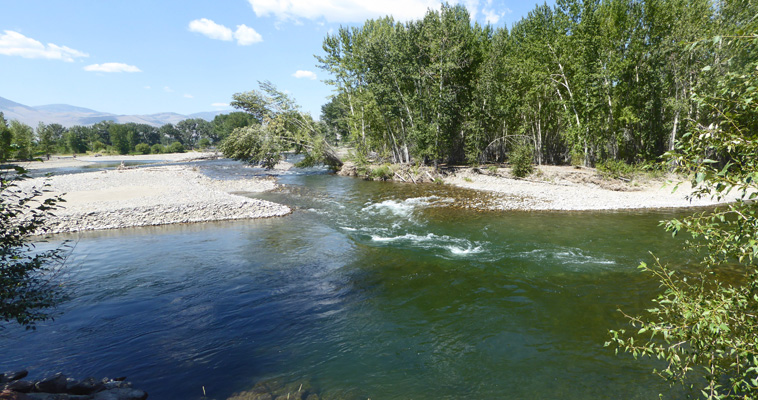 We ran the air conditioning again in the late afternoon and we had clouds late so it didn't cool off as much as it had the other nights.
On Saturday July 28th, we packed up and drove up Hwy 93 to Hwy 75 and headed west following the Salmon River as it winds out of the mountains. When we stopped to change drivers after about an hour I took a photo of the river.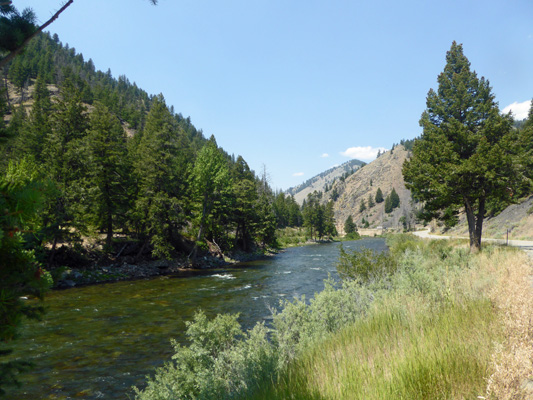 We saw our first boats on the river just around this bend and shortly thereafter we began to see river rafters. It was Saturday and clearly there were lots of folks who had come up into the mountains to run the Salmon! There are lots of outfitters in Stanley and I think that they were all booked solid.
We stopped for a moment in Stanley and I took a photo of the Sawtooth Mountains.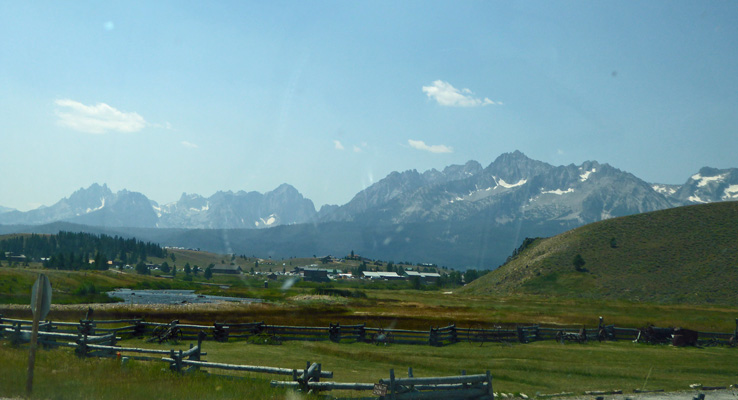 Hwy 75 turns south at Stanley and we followed it about 20 miles south to the Smiley Creek Lodge and RV Park where we had a reservation for a full hook up site for 3 nights. This is a pretty rough campground but our spot turned out to be fine with a view of the woods out our back windows. No TV and their WiFi was down. In fact, even their phone was out. And there's no cell signal either.
We set up camp and after lunch I did the laundry and Walter took a nap. That evening we had a little bit of a sunset caused most likely by the smoke drifting into the area from fires to the west.
Sunday July 29th, we drove north on Hwy 75 back up to Redfish Lake just south of Stanley. It was a beautiful day with a high just below 80. And while folks were leaving by the droves (it was Sunday after all) the parking lots around Redfish Lake were pretty much full. We found a spot in a 2 hour parking lot by the Visitor Center. We went in and got a very nice map of the Sawtooth National Recreation Area ($3) and I took a photo of the lake from their back deck.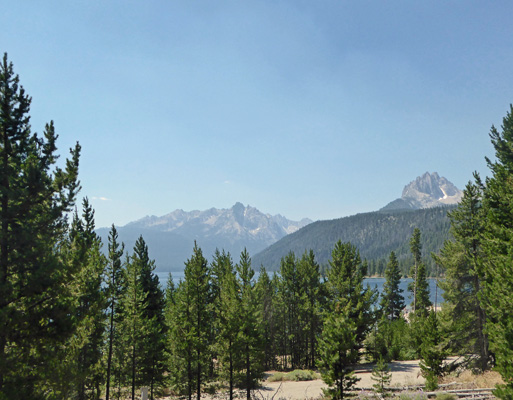 There were Rosy Pussytoes (Antennaria spp.) in bloom.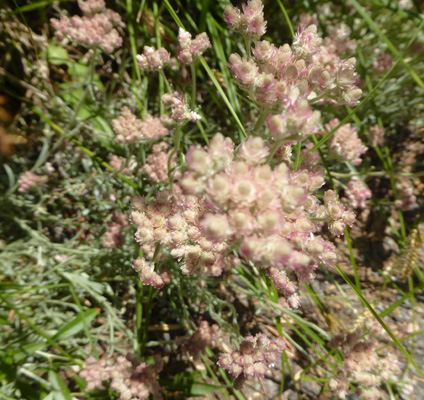 We found our way down to the beach and got a lovely view of the Sawtooths and the lake.

The little beach we found turned out to be the dog beach and this fellow was taking his dogs out on his SUP. The little black and white guy wasn't too sure about it all and kept running back and forth through the guy's legs. It was his first ride. The little white one just sat down and enjoyed the ride.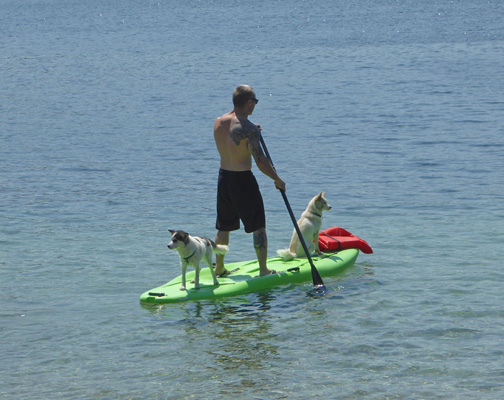 We followed an old paved road westward around the lake to the Redfish Lodge. This is the happening place on the lake (the only commercial endeavor) and they had a beachside grill with a long line of folks waiting to order. They have a nice white sand beach and it was full of people. There would have been more but there was nowhere for all the cars coming into the parking lot to park.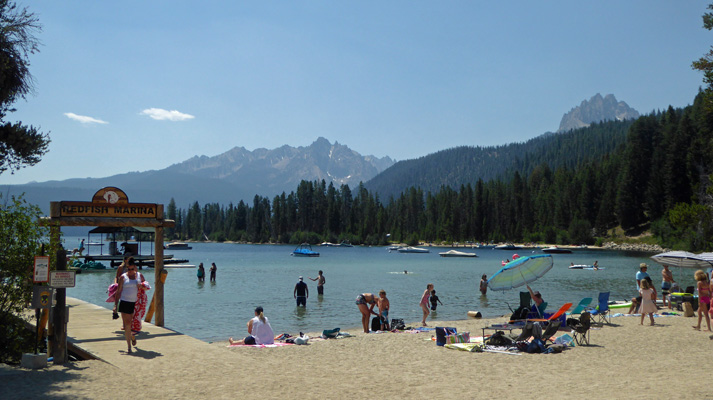 They rent boats and SUPs of all sorts here and the lake had a lot of people out playing on it. Walter was feeling the altitude (6400 feet) so he sat in the shade and watched the people while I took a walk out along the road toward Point Campground and Day Use Area. Here's the view from along the shore.

I made my way through part of the campground (it's a tenters only campground where they only allow vans and small camper shells but no trailers or RVs) and out onto a trail that followed the shore and around the point.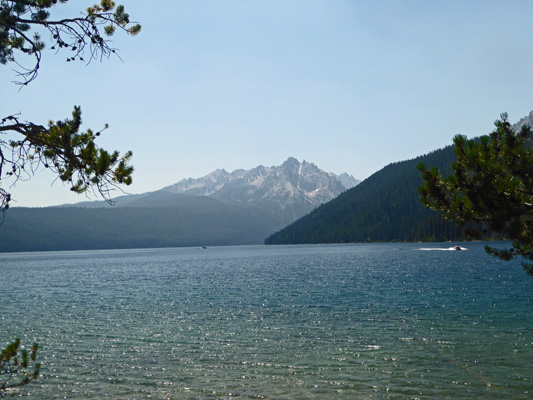 There are a couple of small docks in the Day Use Area and there were folks out playing on the beach and the docks. And of course the Day Use Area parking lot was full. I made my way back to the Lodge and Walter reported that the line at the outside grill had remained the same length the entire time I was gone and not a one of the deck chairs on the veranda had ever been empty.
We made our way back to the car and I took a photo of what I'm sure is Silvery Lupine (Lupinus argenteus) in bloom along the trail.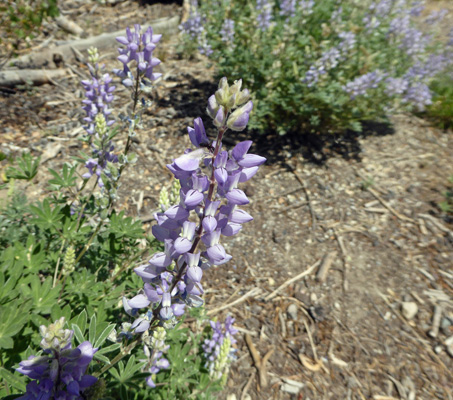 It was coming on towards lunch time and we knew we'd never find a parking spot at any of the picnic areas on Redfish Lake so we drove south towards Pettit Lake and followed the washboard dirt road for 2 miles out to it, only to find that it's Day Use Parking lot was full too. Sheesh. We did however find a little wide spot in the road to pull over so we could eat. Can you tell it's the height of summer? We certainly can!
Monday July 30th, we set out to explore Alturas Lake just north of us. It has a paved road out to it from Hwy 75 so we followed it to the first Day Use Area and got out to explore.

The winds must have changed direction because the skies were much clearer. This lake is super clear. You can see the bottom out for quite a ways.
We walked along a short trail and enjoyed the views. Here's a closer panorama shot of the north end of the lake.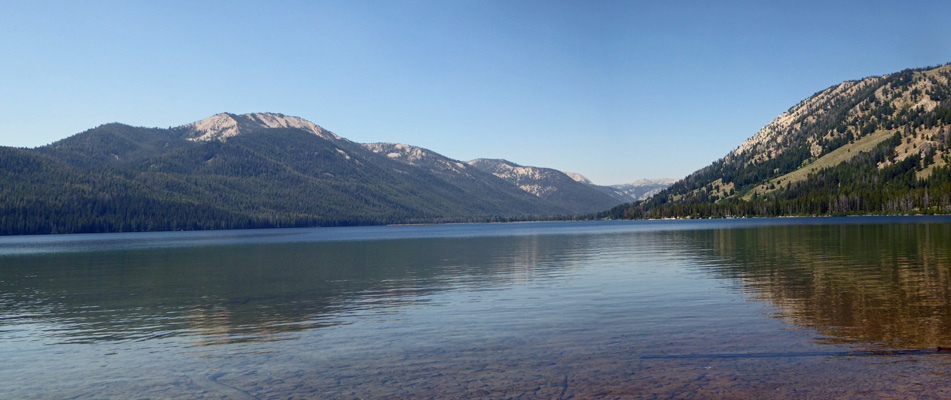 There was Hardhack (Spirea douglasii) blooming along the trail.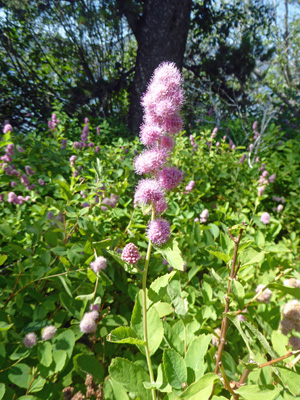 We checked out the campgrounds around the lake (Smokey Bear, Northshore and Alturas Inlet) and along the way we saw a grouse.
Alturas Inlet Campground takes reservations and it was pretty much full. This part of the lake has a nice sandy beach and a BIG Day Use area which had lots of folks using it—but there was still plenty of parking. There were boats (they have to launch down at Smokey Bear) and SUPS, and water toys galore.

It was in the mid 70's and the water must have been pretty cold because there was only one kid in the water. Right at the edge in the shallows it was warm to the touch but the rest looked like it was deep and cold.
Here's a view off to the west.

And to the east.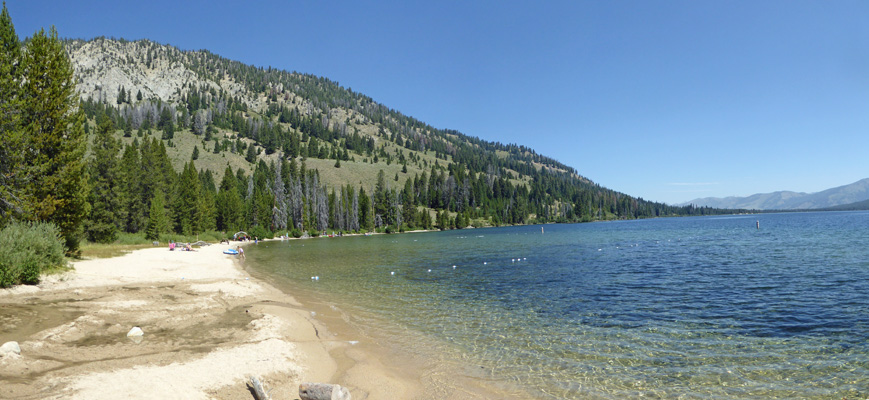 Along the road some of the yellow buckwheat (Eriogonum spp.) had turned a lovely rose color.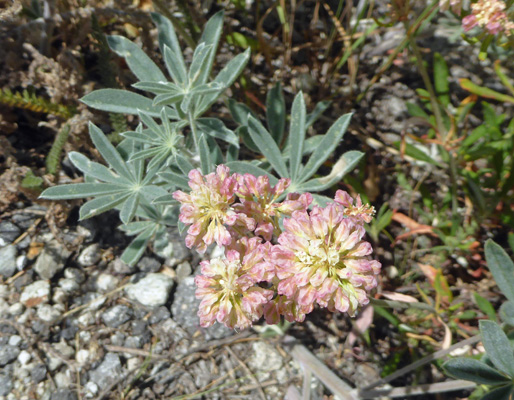 We followed the Forest Road out where it turned to dirt and finally ended at a trailhead.
On our way back towards Smiley Creek we decided we'd try to find the Historic Site of the original Sawtooth City. It took two tries but we did finally find Beaver Creek Road (FR 204) and followed it to a sign that said we'd arrived at the historic site. Gold was discovered in the area in 1879 and by 1882 Sawtooth City was on it's way to being a booming metropolis. By 1886, 200 miners were employed here. But the boom didn't last and operations were suspended here in 1892.
We drove around a bit and found one small log building.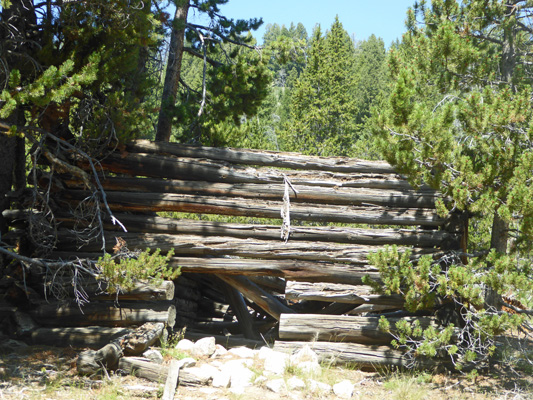 Then we came to a long open area that reminded us of the town site of the Pocahontas Mine Town we'd visited in Jasper. And just past that we found two more log buildings on a little spur.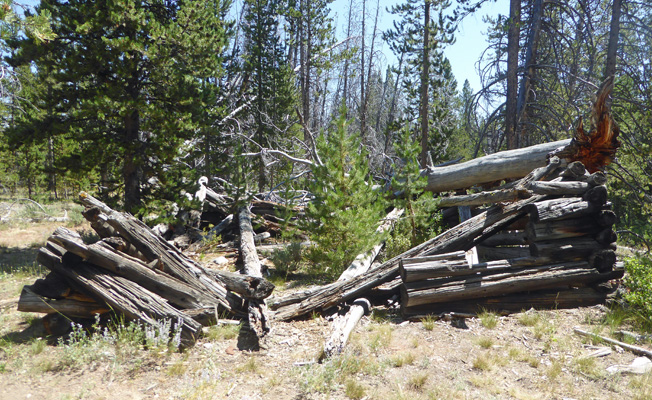 This town has been abandoned since 1892 so it's not surprising that there's not much left.
Here you can see how the logs were hand hewn at the corners to make the notches when they built the house—Lincoln Logs!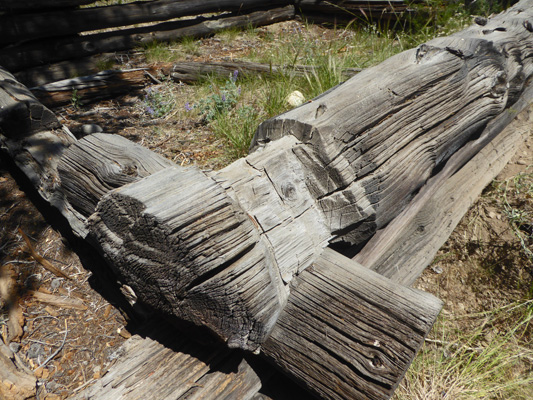 On our way back to the highway we went through a wide open prairie and Walter spied a pronghorn out in the grasses. We'd seen 8 them crossing the road just about here on Saturday when we arrived.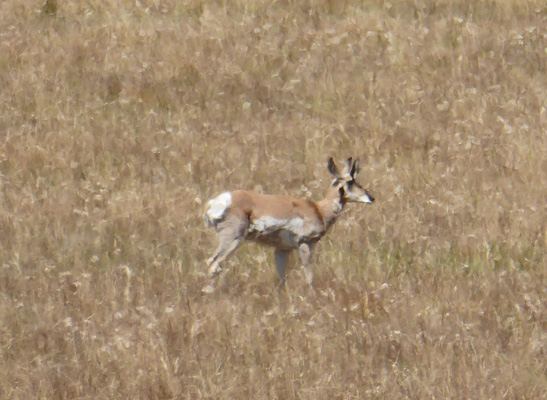 On Tuesday July 31st we broke camp and drove south on Hwy 75 towards Ketchum and Sun Valley looking for a first-come-first-served campsite in the Big Wood River area of the Sawtooth National Recreation Area. We found a nice long site with good sun for the solar panel in the Wood River Campground. We only got about an hour of sun before the clouds came in which at least kept the temperatures down. No cell service again. We're in the mountains after all.
It was smokier down here than in Smiley Creek. The Camp Host told us that there was a fire burning about 20 miles south in Hailey and that it was heading northeastward. By the time we stopped by at the SNRA Visitors Center in the late afternoon they said that the fire had grown from 22,000 acres to 35,000 acres in a day and had just entered the National Forest at its southern border. So we expect smoky weather for the next few days at least.