On Saturday July 23rd, we drove north on Hwy 93 through Missoula and then north a ways further to the Garden of 1,000 Buddhas. This is a Tibetan Buddhist garden that is built based on layer upon layer of symbology.
You park a ways way and as you walk towards the main garden you come to 8 stupas. These represent 8 specific events in the Buddha Shakyamuni's life.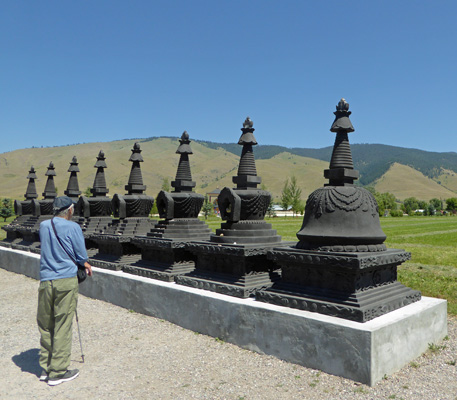 All but the first one have a Buddha set in the face. There are signs that tell folks not to leave rocks or coins on the statues but we saw them everywhere in the garden.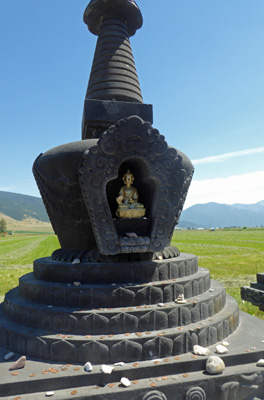 Next we came to this lantern.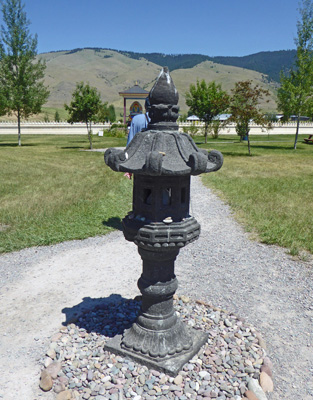 Inside you can see a large quartz crystal.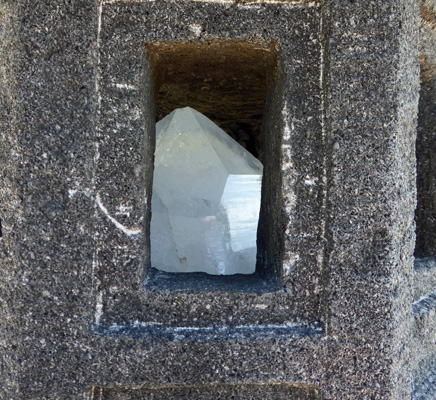 Just before you enter the main garden you come to the Offering Mandela which had everything from a Batman action figure to rocks and coins left on it.
People had also left offerings on this large rock with a wonderful quote from Buddha on it.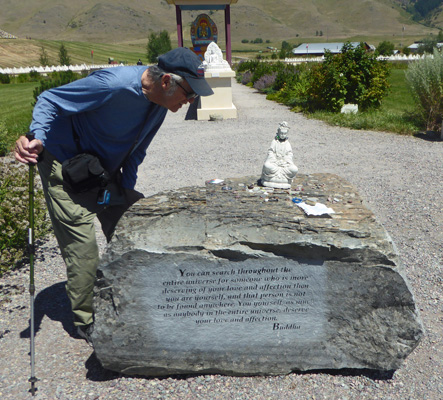 The garden is circled by 1000 stupas which represent the enlightened mind. Each one has a statue of Tara, a female Buddha, inside.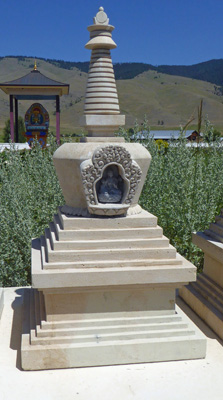 Here's a close up.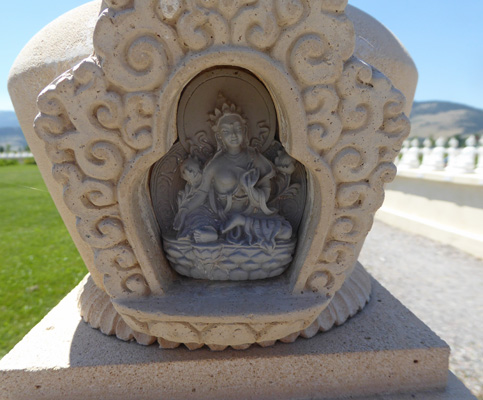 The stupas march off into the distance in a circle around the garden.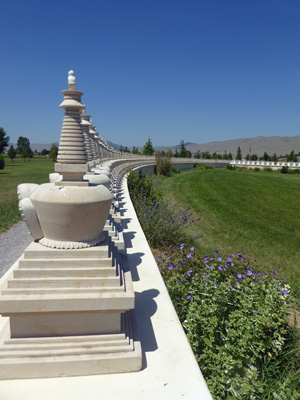 The 1,000 Buddhas sit in 8 spokes of the circular garden. They represent the 1,000 Buddhas that have been prophesized by this aeon.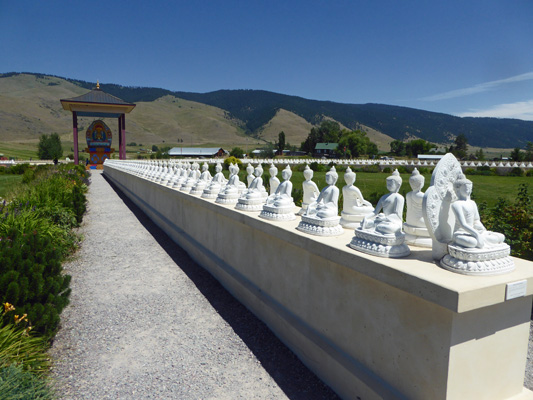 We found a prayer wheel along the walkway at the center of the garden. There are also plaques with the Heart Sutra in 8 languages around the circle at the center.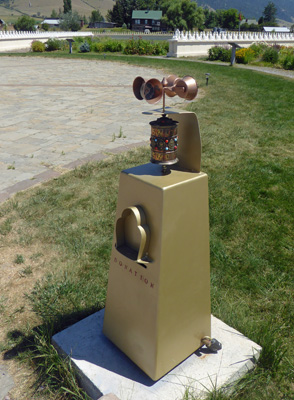 At the very center of the garden is a huge statue of Yum Chenmo, the Great Mother.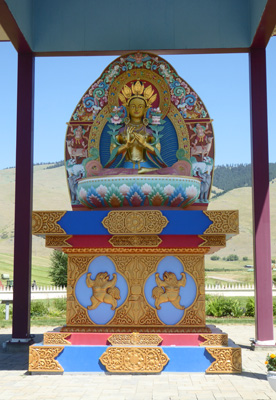 Here is the back of the statue.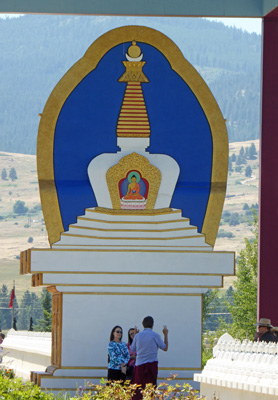 I stood at the center of the garden and tried to capture the setting. This is looking northwest.

And this is looking southeast.

There is a Prayer Flag Mound up on the hill to the north.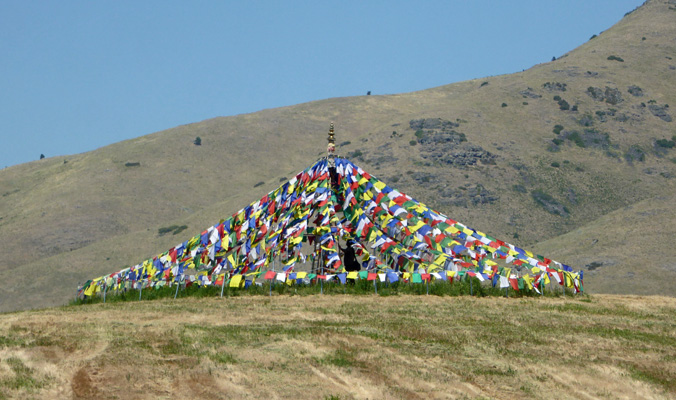 The pond on the north end represents the Vajrayarana Teachings established in Tibet by Guru Rinpoche.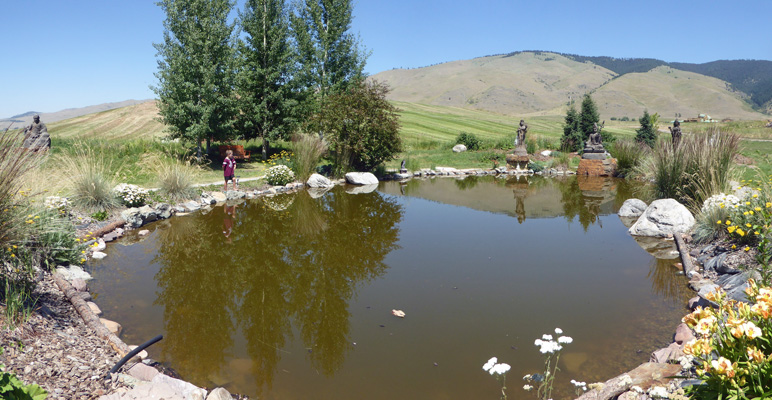 The little boy here informed us all that there were FISH in the pond—small goldfish.
There was another prayer wheel in front of the pond.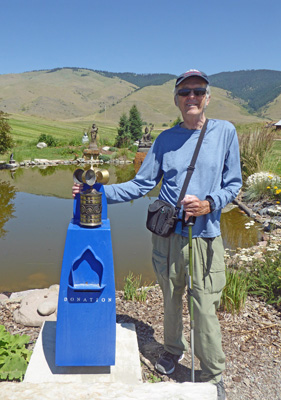 Here's a close up.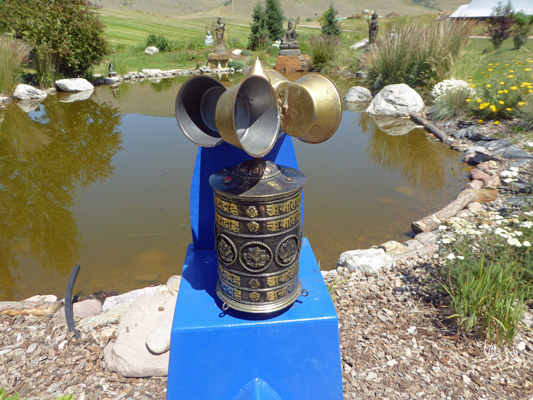 The statues are of key figures in the teaching.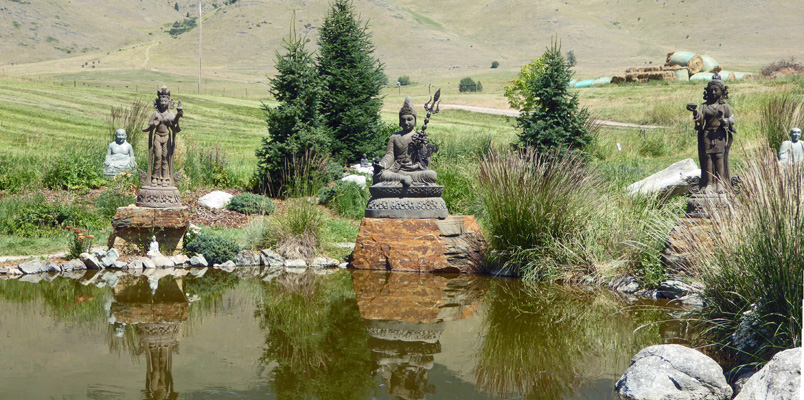 The large rocks that were engraved with quotes and messages were my favorite part of the garden. This one was especially nice.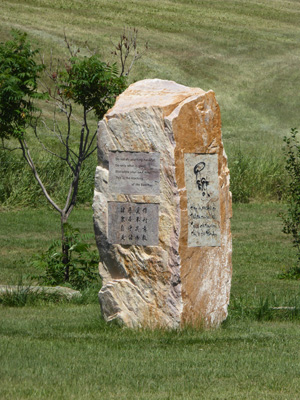 This one was along the walkway on the outside of the garden.
There were 8 different large Buddha statues (with different symbology) at each of the 8 directions on the outside of the garden.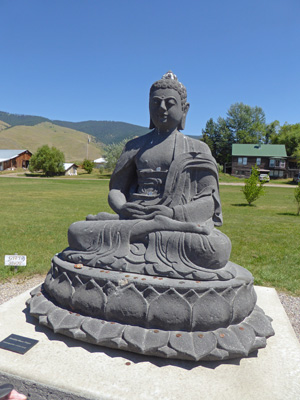 There were an awful lot of layers to this place and I suspect most of it was lost on us. But we enjoyed the visit.
From here we drove north a ways further on Hwy 93 and then took Hwy 200 to the turn off for the National Bison Range. As we drove north to the range we spotted a big nest on a pole and there was someone home, waiting for mom! There were at least 2 young ospreys but this one is the only one we got a good view of.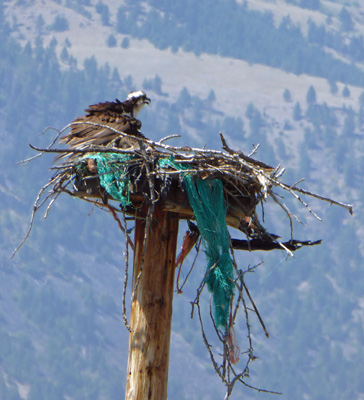 Not far from here we spied our first bison. There were at least 60 of them in this herd gathered around some dust wallows.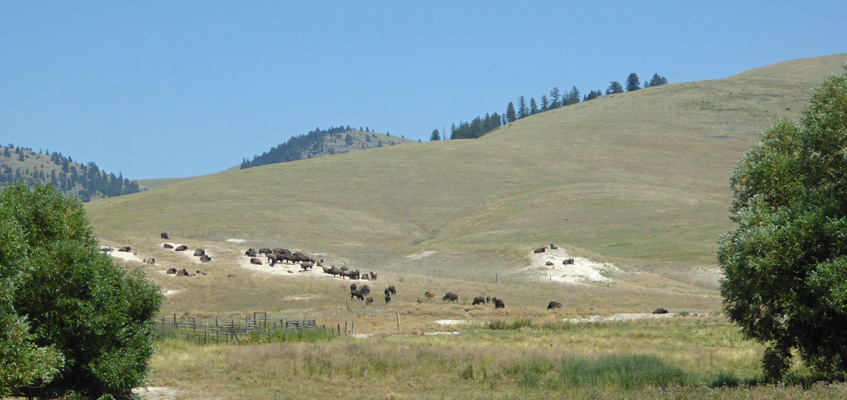 And there were red dogs (calves) too.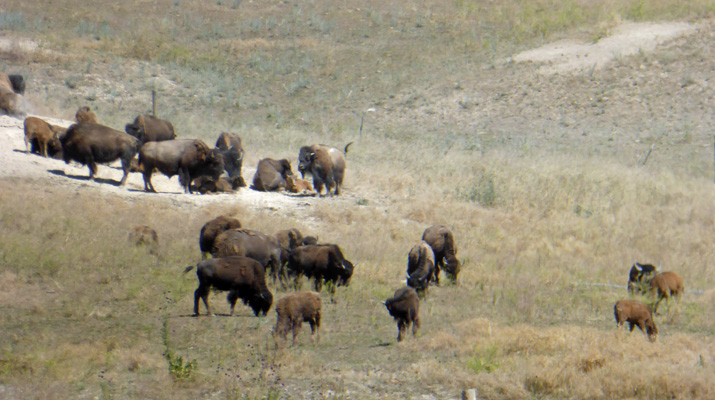 Mating season starts in late July so they may have been starting to gather for the festivities.
We drove on to the Visitors Center where the view to the east was pretty nice.

They have a HUGE pile of antlers and Walter had to have his photo taken with them.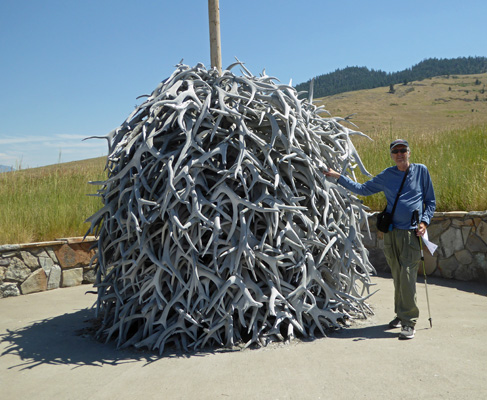 The range was established in 1908 (when Teddy Roosevelt was President) to try to preserve the bison which by that point had been nearly wiped out. They've been successful because there are now thousands of them on public and private land throughout the west.
There are three roads you can take through the range. One is a short loop that any kind of vehicle can take (including trailers). The other two make up a 19-mile 2 hour trip through about 1/2 of the range. It's dirt with 10% grades so they don't allow trailers, RVs, motorcycles, bicycles or ATVs on it.
We decided to take the long loop and see what we could see. First stop was a nice view of the Flathead River.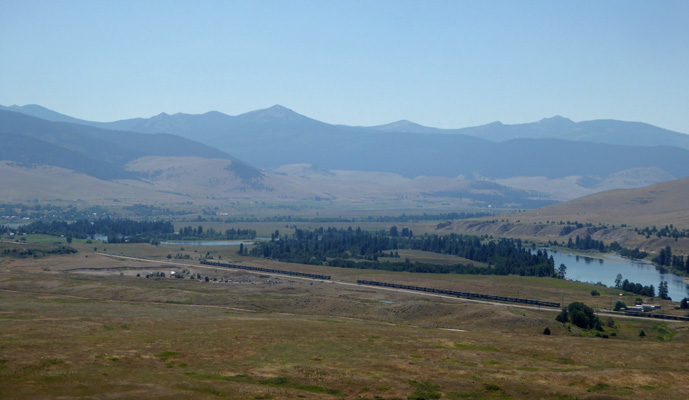 We found a shady spot where we could pull over and we had our lunch. There was Wild Bergamot (Monarda fistulosa) in bloom in the meadow near a creek.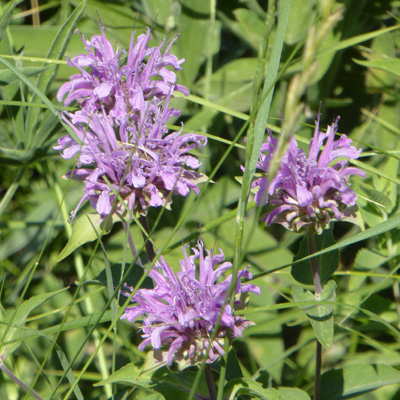 Shortly after our lunch we came to our first lone bison along the road.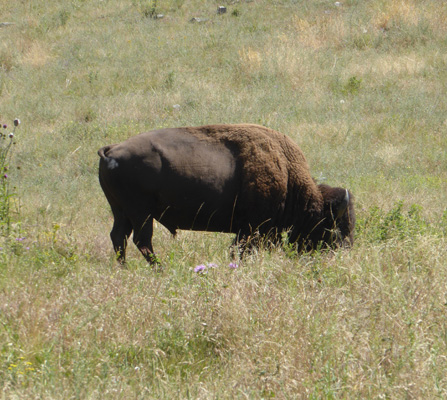 We saw several more, sometimes hidden in the grasses or with their backs turned to us. At one hairpin turn, there were folks pulled over and we realized that there was a young bear making his way across the hillside.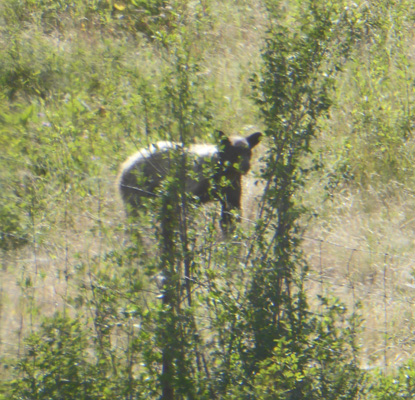 He was on his own so we suspect that he was two and mom had just kicked out on his own.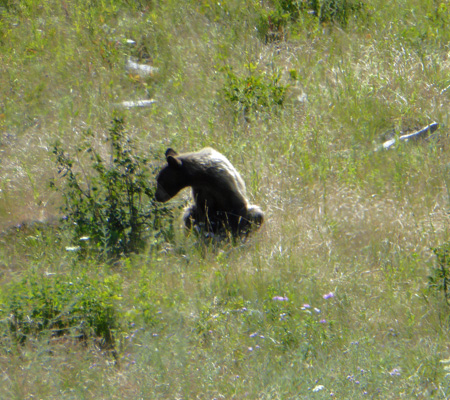 He put on a nice show and lots of folks got to see him which is nice. The people in front of us on the road had Massachusetts plates and they were super excited to see him.
The High Point of the drive is 4,700 feet and gives you a great view of the mountains--and yet another lecture about Glacial Lake Missoula which reached from here across northern Idaho all the way to Sandpoint. The water filled this valley and when the ice dams broke the water rushed across Eastern Washington to form the scablands and carried glacial erratics all the way down into the Portland Oregon area.

On our way down from High Point we saw a big mule deer buck that initially we thought was an elk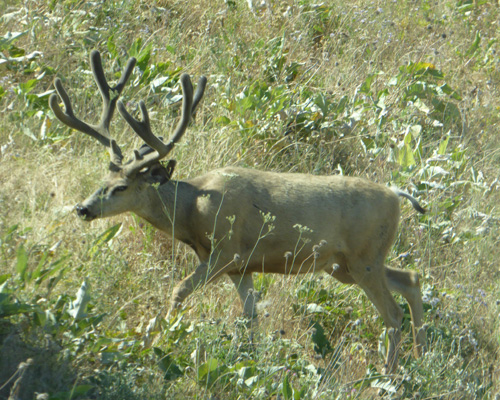 We saw another I didn't get a photo of and then there was this young guy bedded down under a tree.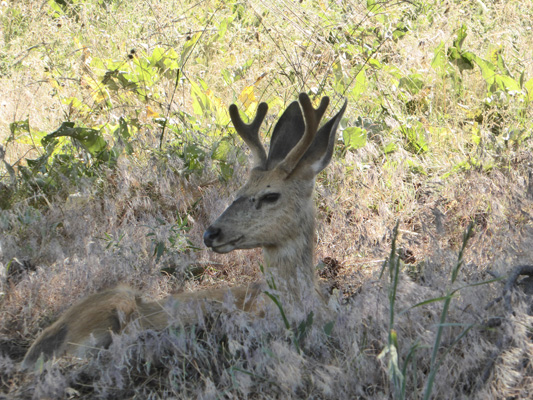 Out in the flatter prairie area we spied a group of 4 pronghorns—I only managed to get 3 of them in the photo.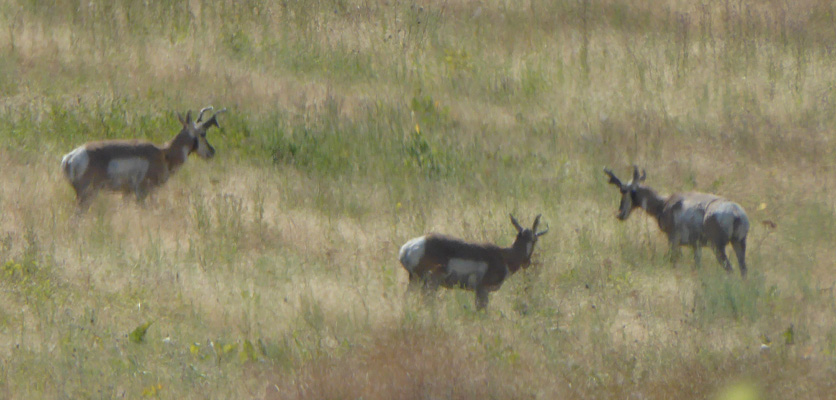 And we got yet another good sized herd of bison too.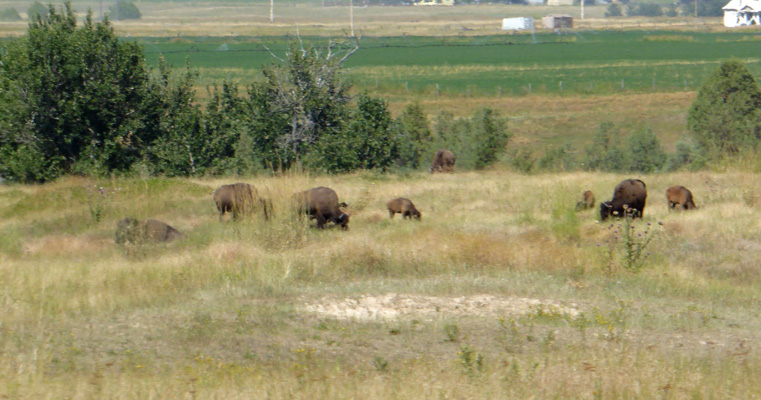 This big guy was sitting on a rise guarding his wallow.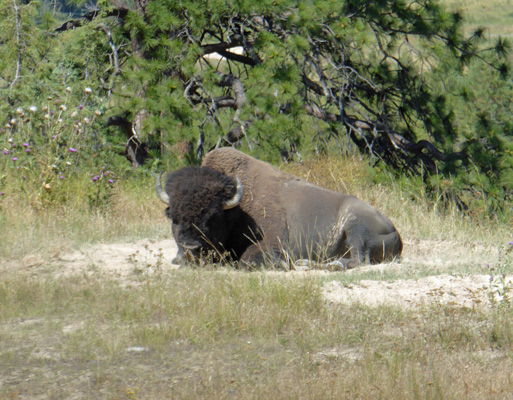 And this fellow was all by himself down by the river.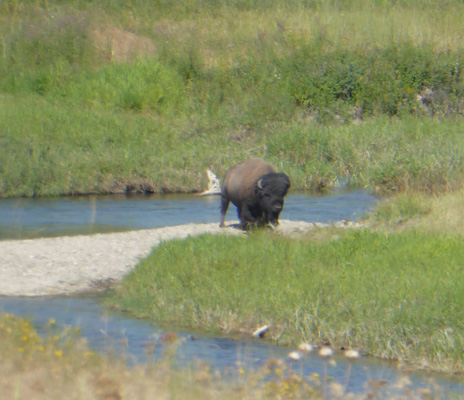 We saw an elk down by the creek but he was behind some trees. And then there was another small group of 4 or 5 bison with this one off by himself.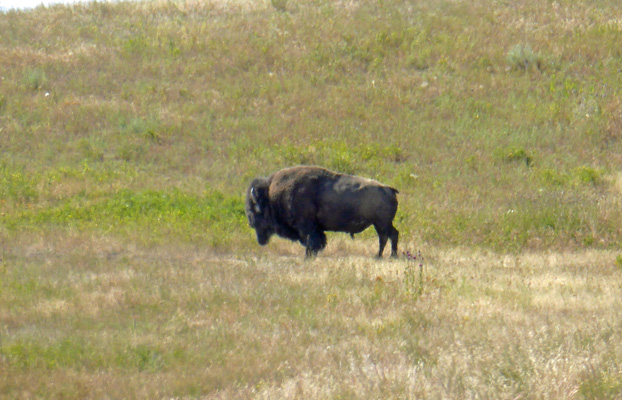 We stopped at the Visitors Center to use their restrooms (and report the bear sighting) and then saw a white-tailed deer on our drive homeward.
This was a highly satisfactory outing. And we both recommend The National Bison Range if you're ever in either the Missoula or Flathead Lake areas.
Sunday July 22nd was dedicated to errands and grocery shopping.
Then on Monday July 23rd, we packed up and drove south on Highway 93 through the Bitterroot Valley.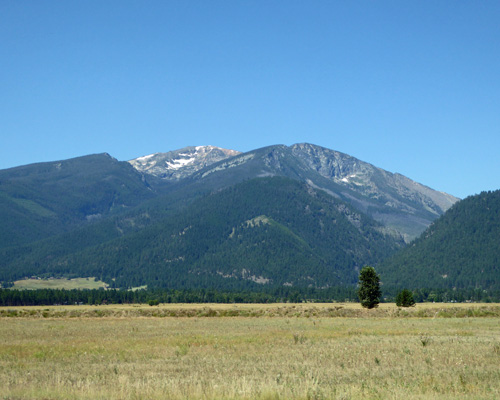 We traded drivers about an hour south of Lolo and I took a photo of the view to the west.

Not long after, the road began to climb up over the Lost Trail Pass (just shy of 7,000 feet) and back into Idaho. We drove on to the Twin Creek Campground just a short ways from North Fork. This is a very nice Forest Service Campground with 40 spots many of them plenty long enough for us. We found one with some sun for the solar panel which turned out to be level both front to back and left to right. We set up camp and paid our $5 a night camping fee (Senior Passes rule!) and settled in glad that there was a bit of a breeze because it got into the low 90's that afternoon. There was no cell signal here (no surprise there) and no trash service. It's the first place we've camped that was a developed campground that hasn't had any trash. I guess it's just too darned far from anywhere for them to get a truck out and the rangers don't want to do it.