On Friday September 28th, we packed up and headed south on Hwy 89 from Headwaters RV Park north of Grand Teton back through the park one more time. Each day we were there we thought that that was the peak of the fall color. But each day it got a little bit better. This little section of the drive started out just yellow and now it had turned gold with some red around the edges.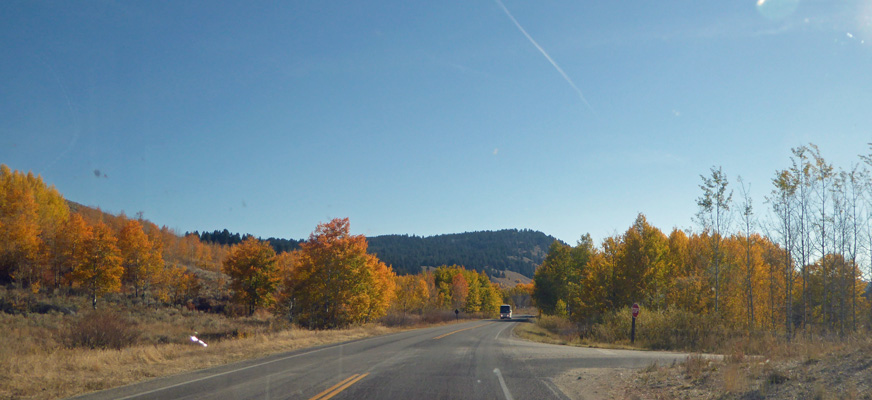 We sat in a long construction jam for about 45 minutes in the south section of the park and then easily made our way through the town of Jackson where we were both delighted to see these white water rafting bears on the roof of an outfitters store. Walter slowed down just a little so I could take their pictures as we drove by.
They just look like they're having such a great time.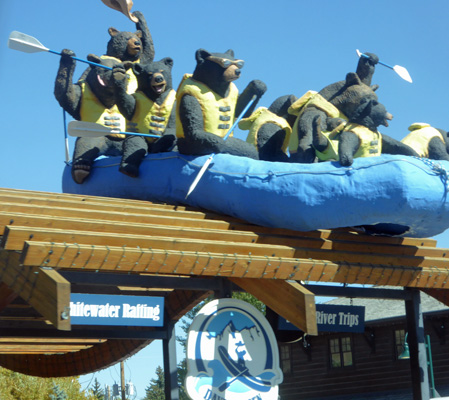 Hwy 89 goes through some range land where the gold color had gone from meh to wow in just a few days.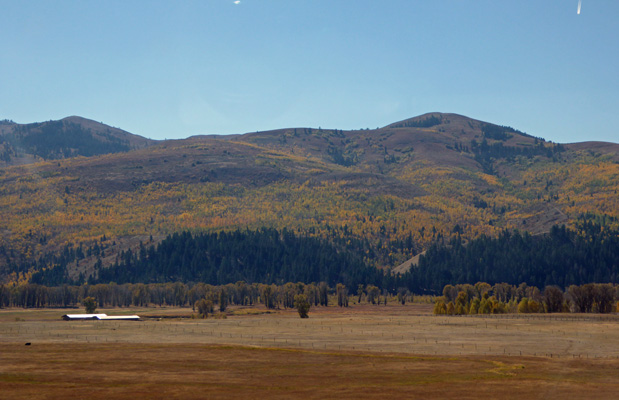 Hwy 89 follows the Snake River and the red fall color in the canyons had showed up in the 3 days since we'd driven up to Grand Teton.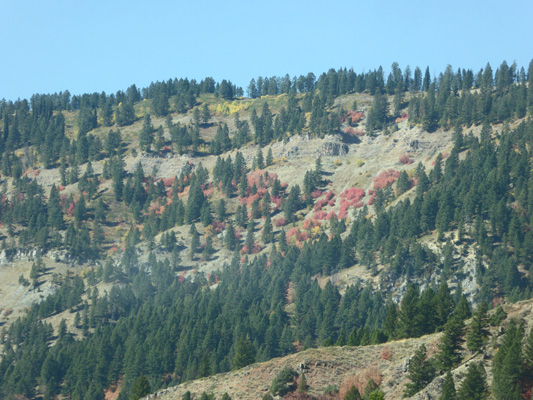 We stopped to change drivers along the canyon and I got this shot of the color on the canyon walls we'd just passed.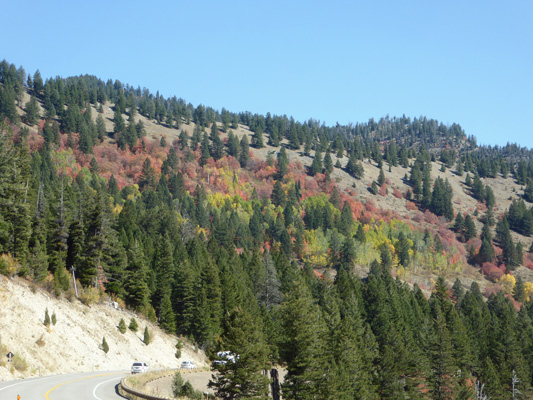 We drove on following Hwy 89 into Idaho and the little town of Montpelier and the Montpelier Creek KOA just 2 miles east of town. We got a nice pull through full hook up site for two nights and set up camp.
They had WiFi that worked pretty well and we spent the afternoon getting caught up on our email and what was happening in the world. Saturday we took the day off. Walter watched football and I got caught up on a few things and we had a nice warm day with a temps in the high 70's.
Sunday September 29th, we packed up and followed Hwy 89 into Utah, past Bear Lake and down through Logan and over to I-84 where we went south to Ogden.
More gorgeous fall color greeted us as we drove south through the Bear Lake Valley.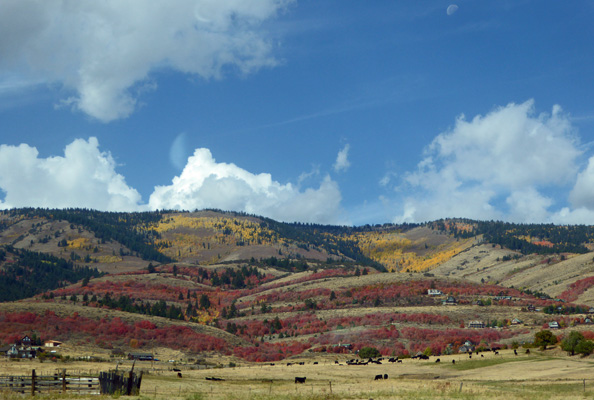 Each little town presented us with more lovely color.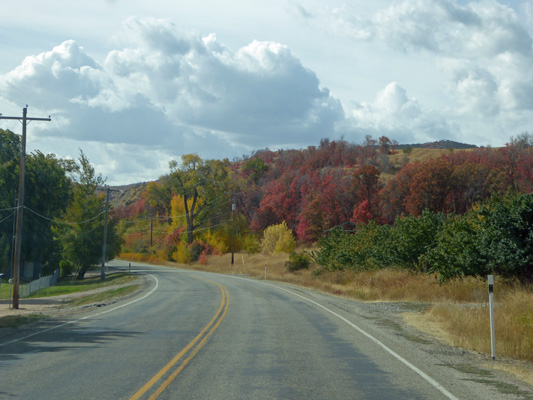 We got a bit of a view of Bear Lake as the road climbed east up over the mountains.
Hwy 89 takes you over the pass towards Logan Canyon with even more lovely fall color. Some of the quaking aspens were peach colored rather than just yellow.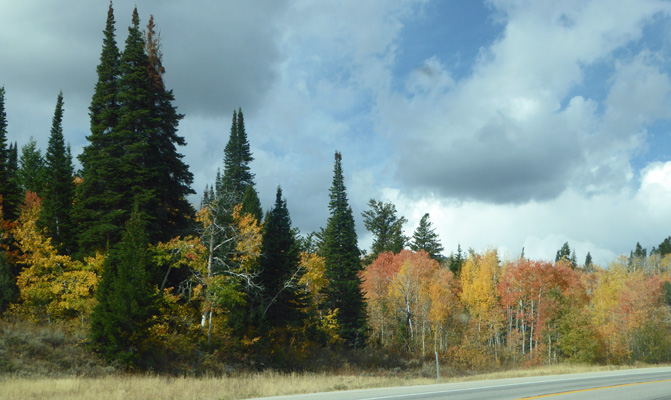 And others were touched with gold.
The view when we crested the pass was awesome.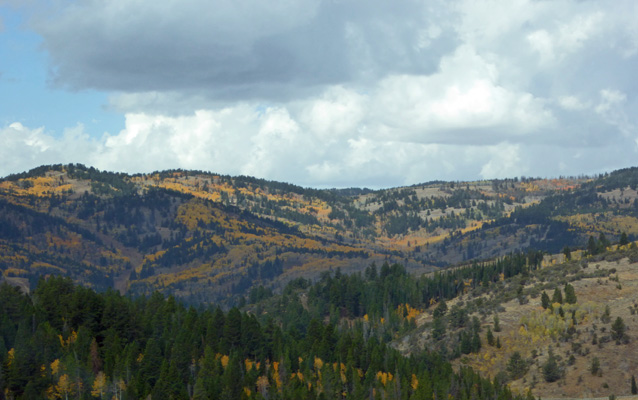 There were places where everything that was deciduous had turned yellow.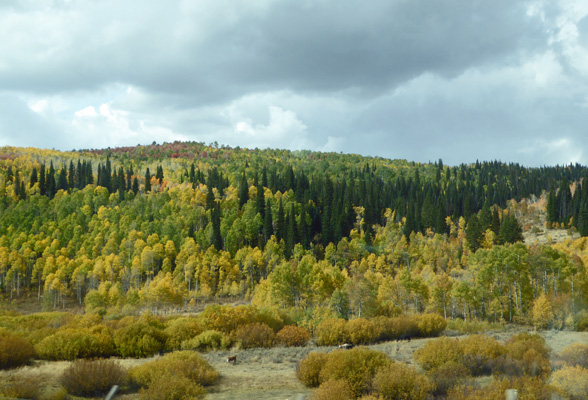 The highway is really steep and Walter of course had the truck in 2nd to deal with the grade. Partway down the grade the check engine light came on. And then it began to blink! I pulled out our users manual and it said that the blinking light meant the truck was misfiring and we needed to take it in to have it fixed or it could damage the catalytic converter. He slowed down and the blinking stopped but the check engine light remained. Okay. We stopped to change drivers and I took this last photo of the fall color before I began to drive.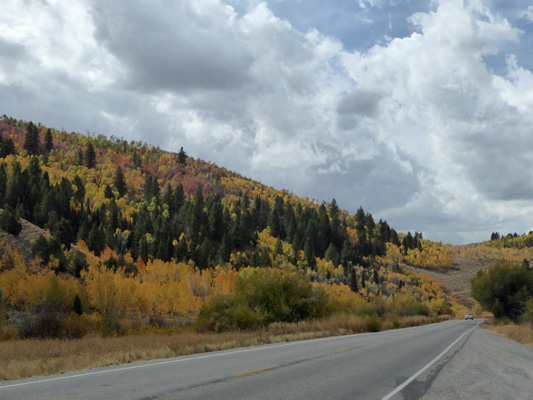 When I turned on the truck the check engine light had turned off. Oh good! But it wasn't long before it was on again and then any time I tried to accelerate up a hill it would start to blink again and the truck would sputter and I couldn't go any faster than about 35 MPH. We went up each grade in the emergency parking lane and would manage to get up to speed okay when going down hill. We limped into Brigham City where Carmine the Garmin instructed me to get onto I-15 south. I tried to accelerate to get on the freeway and couldn't get up to speed. We limped along and just before it was time to get off it was up to 55 MPH again. Sheesh.
We turned off the freeway and checked in at Willard Bay State Park just north of Ogden at about 1:30 pm. And they wouldn't let us check in because their check in time is 3 pm. So we paid the $15 Day Use fee and went and parked in the boat trail parking in the Day Use area and had lunch. At 3 we checked in and got a nice side pull through full hook up site for 3 nights. The good news is that the cell signal here was pretty good and even better with our booster.
While we were waiting we did a bit of research and found the local Ford dealer in Ogden. Walter made an appointment on-line for Tuesday morning at 8 am (the earliest available appointment) and we settled back to hope we didn't have a major problem.
We set up camp and I did a bit of research on-line. The problem we were having wasn't something new and unusual. In fact, it sounded like we just needed new spark plugs. The truck had over 91,000 miles on it and Ford doesn't have you change your plugs for 100,000 miles. These wonderful computerized vehicles are designed to go into what is called Limp Mode when the computer gets readings outside of a safety range. Misfiring, which causes the check engine light to blink, can also put the vehicle into Limp Mode. Limp Mode doesn't allow you to do more than 35 to 45 MPH and seriously impairs acceleration uphill. Without the codes from the computer we couldn't know what the problem was for sure but it certainly helped to soothe my mind to know that this wasn't a major failure and that we might just need a tune up.
We camped at Willard Bay State Park back in the spring of 2016 but that time we camped at the South Marina Area. This time we got a spot in the Cottonwood Campground in the North Marina Area. Here's the view from out our side windows looking east.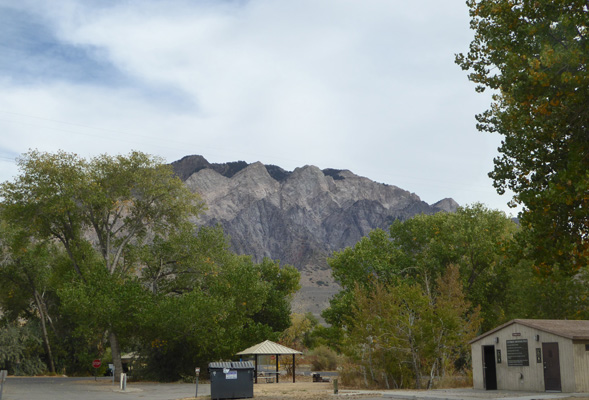 Monday we went into Brigham City (a bit closer than Ogden) and did laundry and grocery shopping and while the check engine light was still on the truck acted find.
We got up early on Tuesday October 2nd and took the truck in at 8 AM for our appointment. When we started the truck up that morning the check engine light had of course gone off. Sigh. The dealer has a shuttle service and they sent us back to the trailer to wait since it was certainly going to be at least 2 hours if not longer before they had information for us.
The forecast had rain in it from remnants of Hurricane Rosa (which made landfall down in Baja and brought rain north through Arizona all the way to Utah) but it was still only partly cloudy when we got back to the trailer so I walked the Nature Trail to clear the cobwebs. I took these photos with my phone since I forgot to bring my camera with me.
Staff here at the park had spent much of the previous day stringing what looked like Christmas lights all over the campground. But when I walked the trail I discovered Halloween decorations so maybe the lights were dual purpose! In fact, later we saw a poster for the month-long fright lights walk so I guess so.
At the end of one of the side spurs there was a zombie.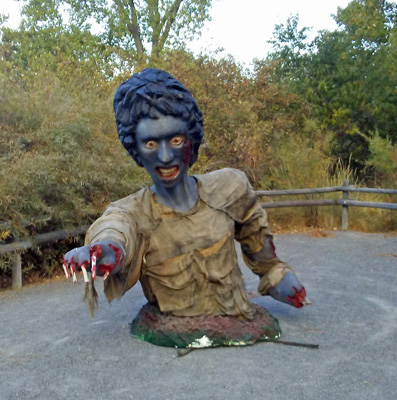 There were roses with strange brown puffs growing on them. I've never seen them before. The internet says that they are moss galls created by a tiny wasp that lays its eggs in the rose stems in the spring. Weird.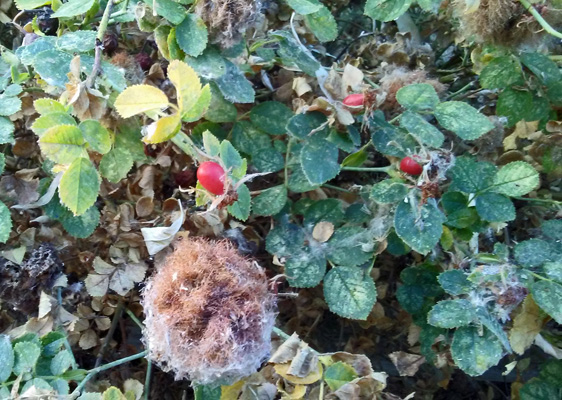 When I went back towards the Day Use Area I found a zombie hand. Note the Christmas lights draped on the fence.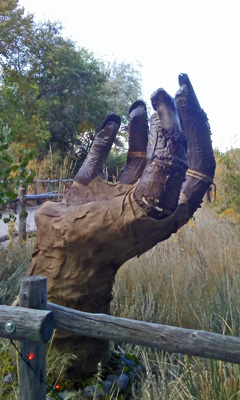 Out in the open in the Day Use Area there was a full-sized Headless Horseman. I bet the horse's eyes light up at night.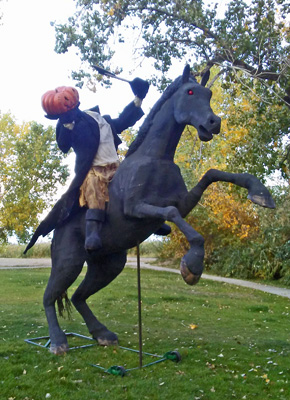 If you follow the trail out past the headless horseman you get a view of Willard Bay on out across Great Salt Lake and the mountains beyond.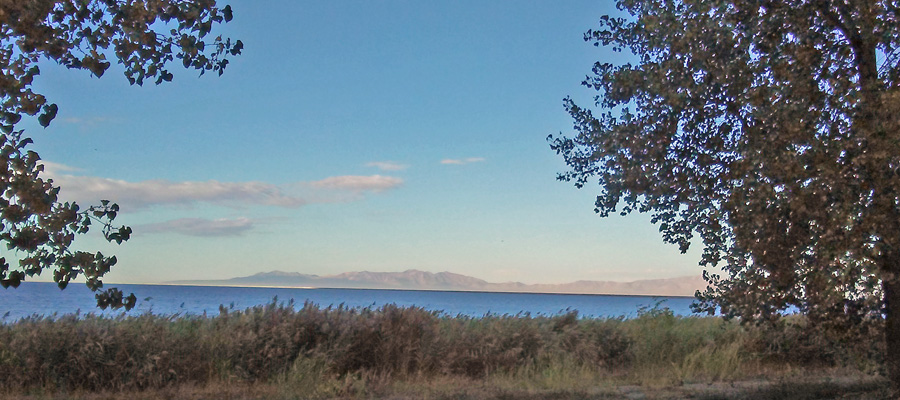 We spent the morning fidgeting waiting for the phone to ring and of course it didn't. Walter called the service department at 12:45 only to be told that the mechanic had gone to lunch but he would be working on our unit soon. Finally at 2:30 they called. The truck had been misfiring for at least the last 10 start ups and needed new spark plugs. They might have it done that afternoon but for sure they'd have it done in the morning and then the shuttle would come and get us so we could pick up the truck. Hooray. We'd asked them to look at another problem we've had over and over again with our airbag light and their fix involved having to order a part that wouldn't come until Thursday (and we've already had that replaced once and it only worked as a fix for a short time) so we took a pass on it.
We didn't get a call before the end of the day but the rain finally arrived about 8:30 in the form of a rocking and rolling thunderstorm with more wind the rain. It rained off and on in the night but it had stopped by morning. We didn't hear anything so Walter finally called to ask about our status about 9:00 am. It would be another hour or two before it was ready. Oh joy. We puttered around and got the rig as ready as possible to leave since we were supposed to be out of our spot by 2 pm because someone had a reservation for it. Walter talked to the camp host about our situation and he said they'd work it out if we couldn't get out on time but that if we were still there at 3 pm we'd have to pay for another night.
Finally at about 10:30 we heard that indeed the truck was finally ready. BUT the shuttle wouldn't be able to pick us up for 45 minutes to an hour. We finished battening the hatches and walked to the park entry to meet the driver. At almost exactly 11:30 he showed up to drive us back to the dealer. We paid our money, struggled to get the drivers seat readjusted (it's power and the passenger seat isn't and we'd forgotten how it worked) and got back to the trailer by 12:30. We hooked up and managed to head out at just before 1 pm. Whew.
We headed south on I-15 down through Ogden and Salt Lake until we reached the little town of Nephi where pulled into the Jones High Country RV Park on the south edge of town. We got a full hook up pull through site for only $25 a night with our Good Sam card. This was the deal of the month for sure! We decided we were unlikely to go anywhere on Thursday since it was supposed to be cool and rainy and we both needed a real down day so we didn't even bother to drop the truck.
Their WiFi worked great the whole time we were there and Walter found lots of TV over the air. We had thunder storms most of the night but it stopped raining by about 10 am. We strolled around the campground mid day but aside from that it was a really quiet day, thank goodness.
The weather forecast called for a series of storms coming one after another for the next few days with snow levels down to 7,000 feet. Originally we had planned to go from Nephi west to Great Basin National Park over the border into Nevada to drive up Wheeler Peak to see the Bristlecone Pines there. However, Wheeler Peak is over 11,000 feet and the idea of hiking a 3 mile trail (with 600 foot gain) at over 10,000 feet didn't appear to be a great idea. We haven't done that much hiking these past few months and even if I left Walter at home I wasn't sure I'd do that well at that high an altitude so we changed our plans. Now we have reservations at Bryce Canyon for 2 days next week where if I'm lucky and it doesn't snow, I'll be able to hike the 1 mile Bristlecone Pine Trail that's only at 9,000 feet.
So instead of heading east on Friday to Great Basin we headed south on I-15 to Beaver UT for 2 days and then on to Bryce on Sunday.