We had partly sunny skies when we set out on Wednesday June 13th to explore Kootenay National Park just west of Banff. We picked up Hwy 1 North from Banff back up to Castle Junction and headed west on Hwy 93. The views to the west brought us more gorgeous snowy peaks.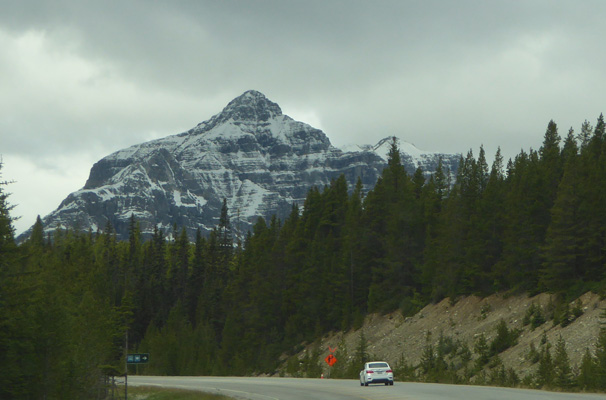 Kootenay is just over the top of the Continental Divide into British Columbia. We had to stop at the top for a bit of construction so I got a photo of the mountains.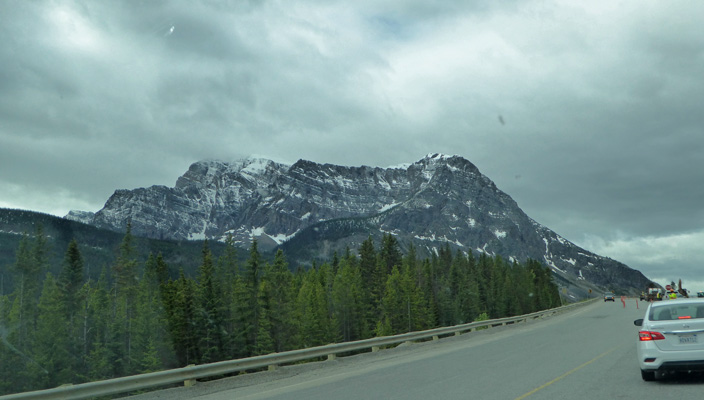 The road slowly loses elevation after that giving you great views as you go.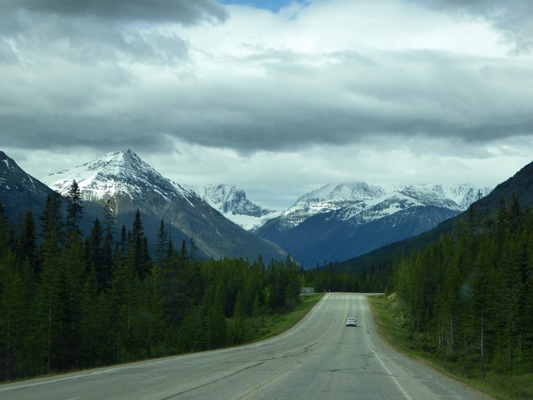 Walter spotted a deer on the side of the road and slowed down so I got a slightly fuzzy photo of it drinking from a puddle before it bounded up the hill away from the highway.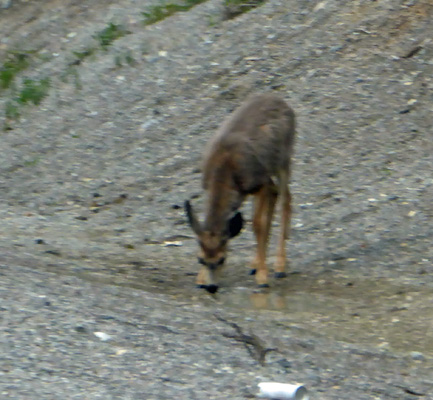 Not far into the park we stopped to do the short hike in Marble Canyon. The trail takes you down for a view of the confluence of Tokumm Creek and the Vermilion River.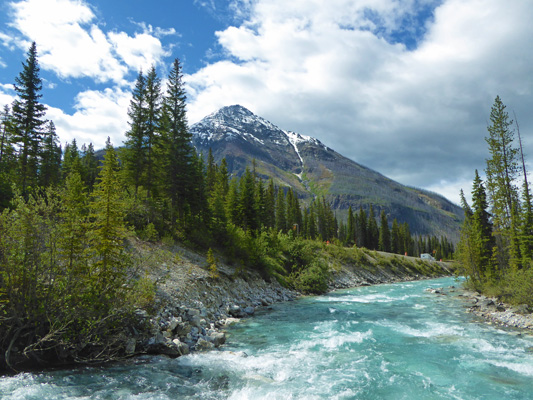 Both are crystal clear but have enough glacial silt to make them a gorgeous aqua color.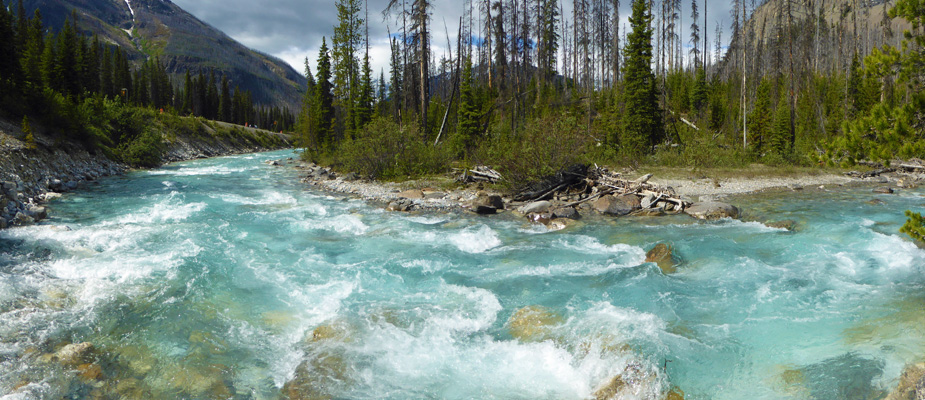 The trail takes you up along the banks of Tokuum Creek as it cascades down the hill.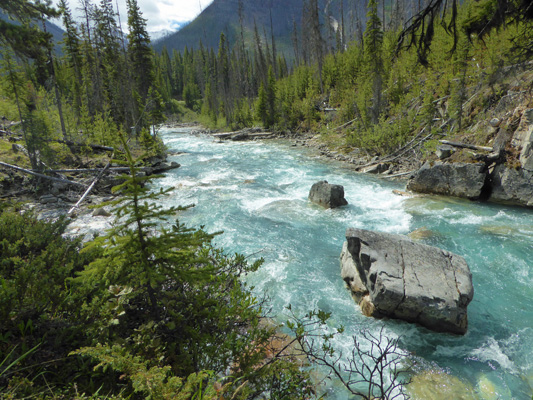 Tokumm Creek has carved its way through layers of limestone to form a sheer-sided canyon which is misnamed Marble Canyon since there's no marble here. The resulting canyon is spectacular.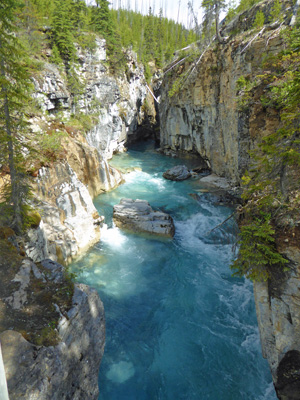 This view is from a bridge that takes you over the creek. The view down stream is pretty nice too. There was a huge fire here in 2003 that burned out this entire area. So there are lots of short trees and lots of snags and big open views.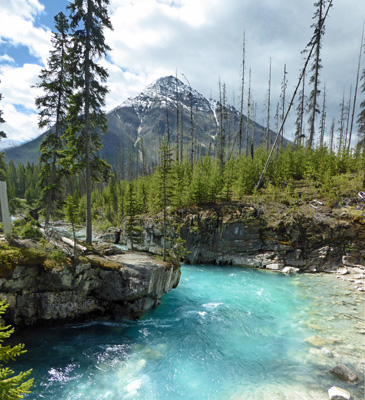 The canyon is so narrow and deep that most of it is in shadow which makes photos really challenging. But it's a fun hike that has bridges that cross over the chasm regularly and a trail you can follow on either side. There were lots of wild strawberries in bloom.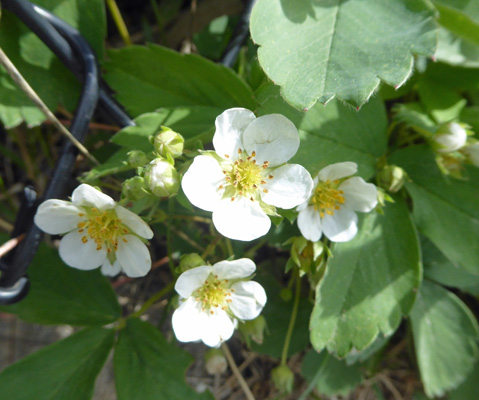 And there were red chairs when we got to the top.
There were Twinberry (Lonicera involucrata) in bloom along the way.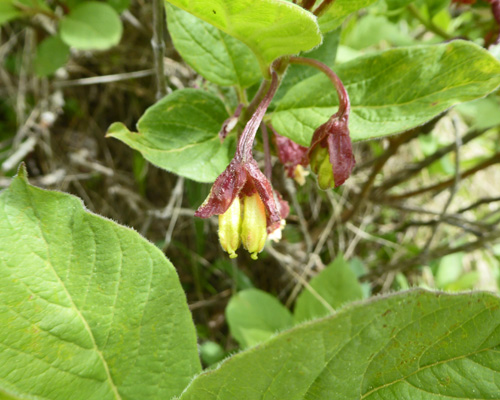 And if you follow the trail just a little ways farther past the red chairs you come to a waterfall!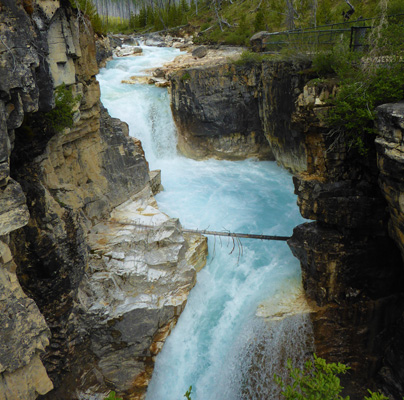 Out on the edge of the viewpoint I found these pretty little flowers. They were about the size of a dime.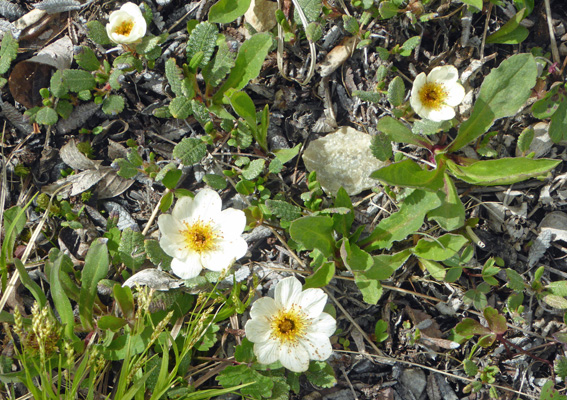 And Walter found a perfect bench made of Burgess Shale.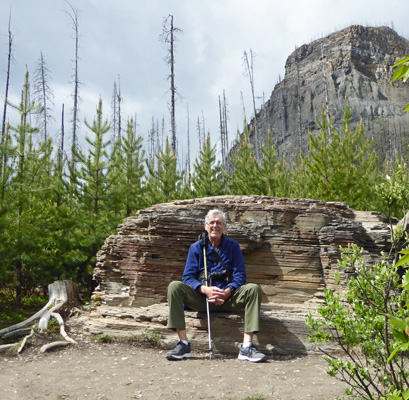 Important and very very old fossils have been found in the Kootenay Burgess Shale which helped extend the story of evolution on the planet.
Every once in a while you could see interesting patterns in the bottom of the canyon as the water rushed by.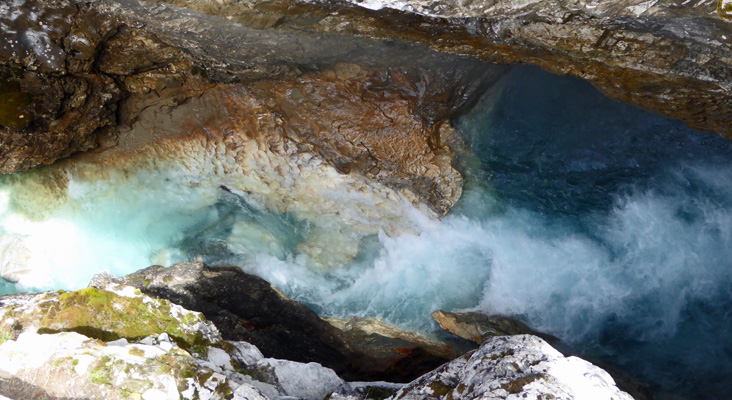 I even managed to get a shot of the deep turquoise water and the sculpted canyon walls as we made our way back down the trail.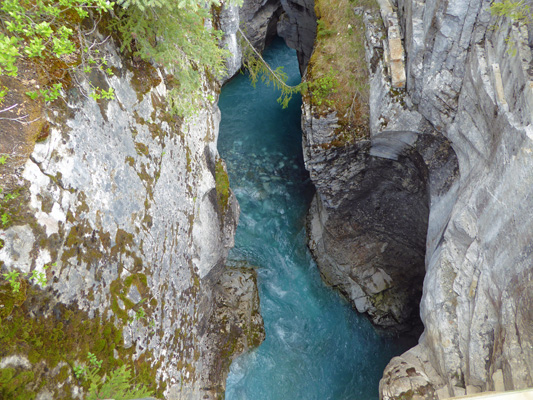 I couldn't resist taking one more shot of the canyon as we crossed the final bridge across the creek.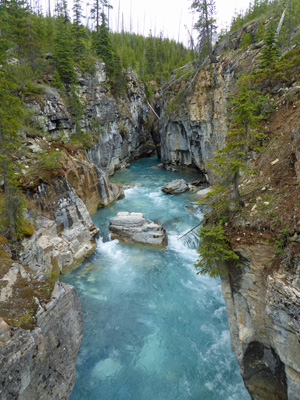 The colors were just so wonderful.
After finishing this highly satisfactory hike we drove just a few kilometers further down the hill to the Paints Pots Trailhead. This is an even shorter trail (less than a mile) that takes you through some nice forest and wet lands where I found Heartleaf Arnica (Arnica cordifolia) in bloom.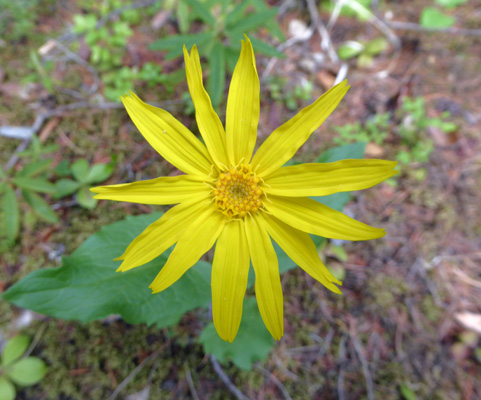 And this plant that just may be what is known as false huckleberry.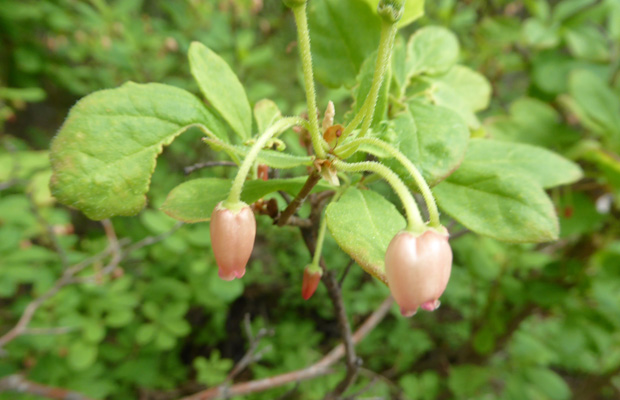 Plus a shrub with nice white flowers that looks like it might be some sort of ninebark.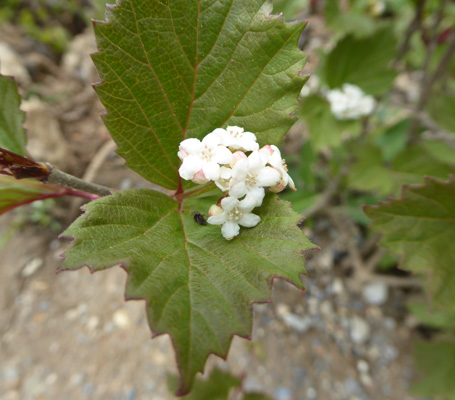 Eventually the trail takes you out to the Vermillion River.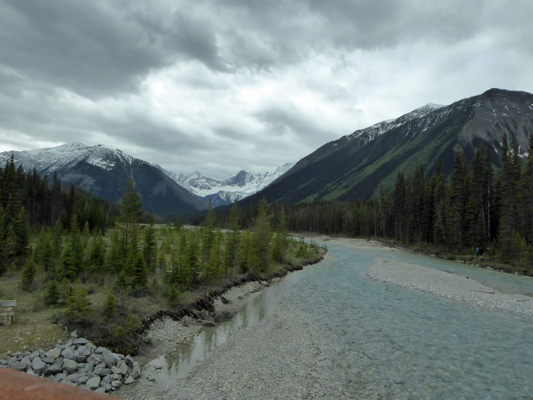 Here's a close up of the mountains off in the distance. Yum.
We took the bridge to the other side where there were lots of Labrador Tea (Rhododendron groenlandicum) in bloom.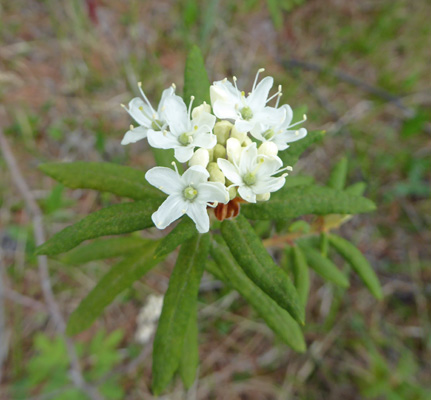 Walter spotted these lovely little purple/blue flowers that turned out to be Common Butterwort (Pinguicula vulgaris).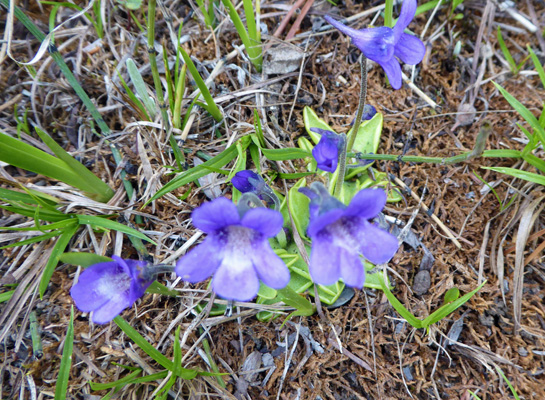 After a short walk, you finally arrive at the paint pots, an ochre deposit that the First Nations Peoples used to decorate both objects and themselves with. You bake the ochre and then mix it with bear grease to make paint basically.
It's not often you get an orange reflection photo!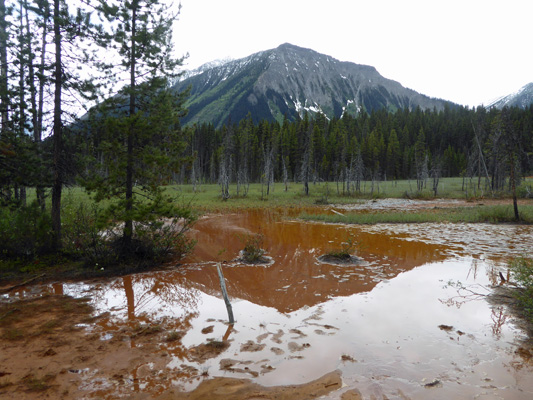 It was really muddy and the trail continued on a bit. Walter found a bench and I went on through an orange-puddled meadow.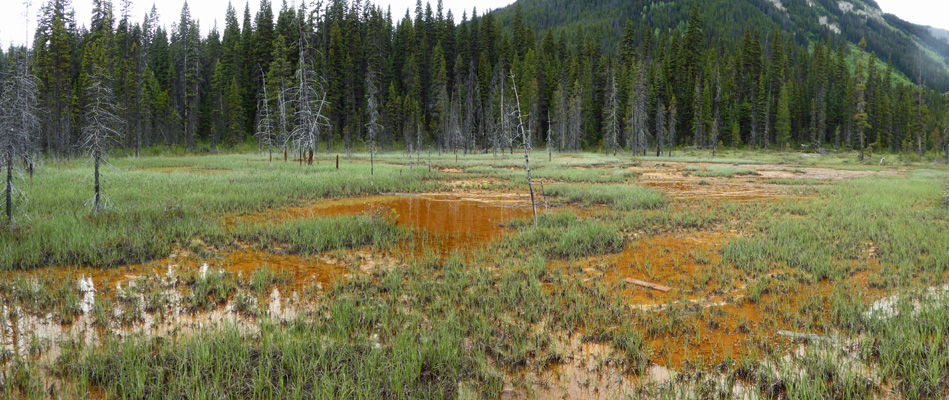 They had put single 2 x 4s down over the deeper mud patches and it was a bit of an obstacle course for a while until I made it to a make-shift boardwalk over a very wet patch. There were both adult and child barefoot human prints along with lots of boots and dogs.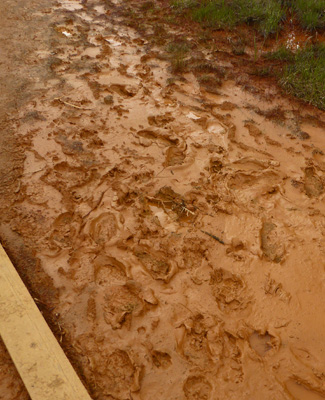 And just a few of this pale lavender flower which turns out to be Bird's-eye Primrose (Primula mistassinica).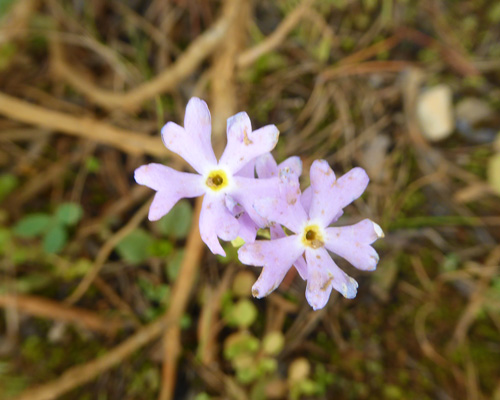 They mined ochre here at the turn of the century but mining stopped in the 1920's when they decided to exclude mining from National Parks.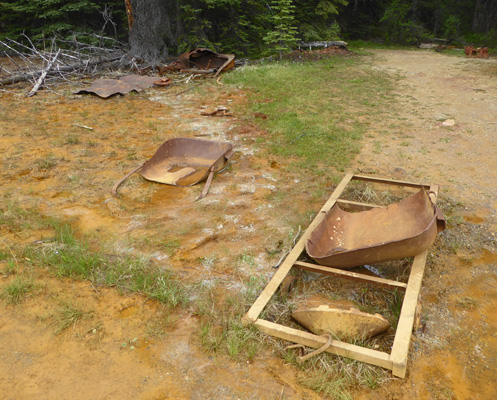 There are springs here (along with rainfall) that makes for all the water. But in addition there's a nice little creek that drops a bit into the ochre deposits to make for interesting colors.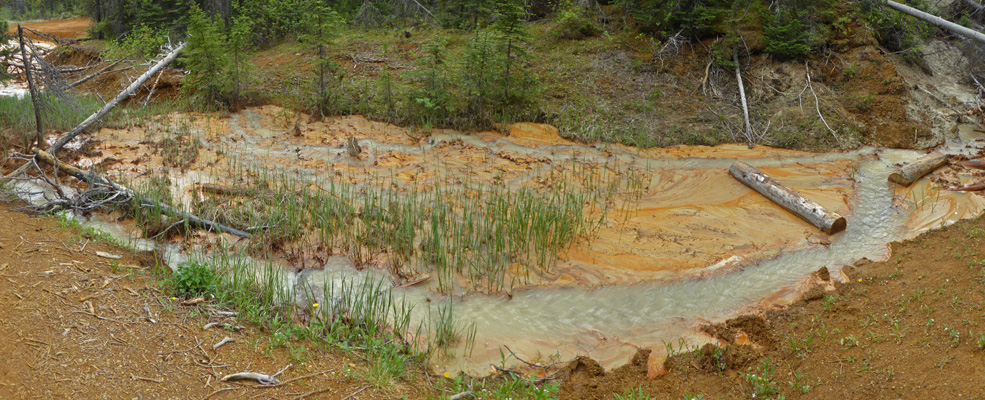 In some sections it looked like a barista had gone to work to swirl the patterns.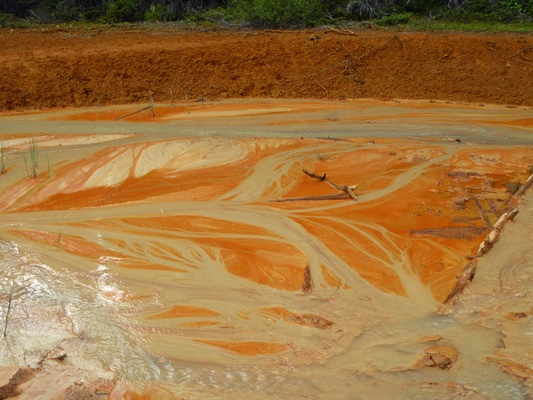 Walter was all rested up when I got back (and glad he hadn't had to balance he way across the 2 x 4s).
We hiked back through the woods and I took a photo of the very sturdy high-sided footbridge across the Vermilion River.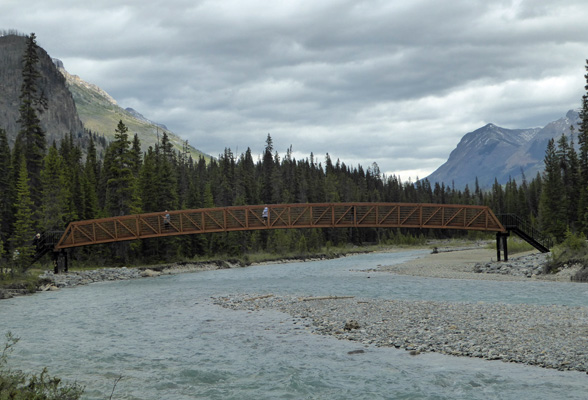 There were all kinds of willows in bloom along the trail. I loved the catkins on this one.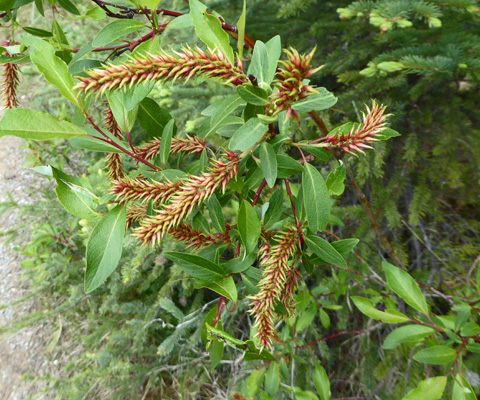 And I couldn't resist taking a photo of the handprints (and graffiti) on the bridge supports left by folks who had been playing in the mud.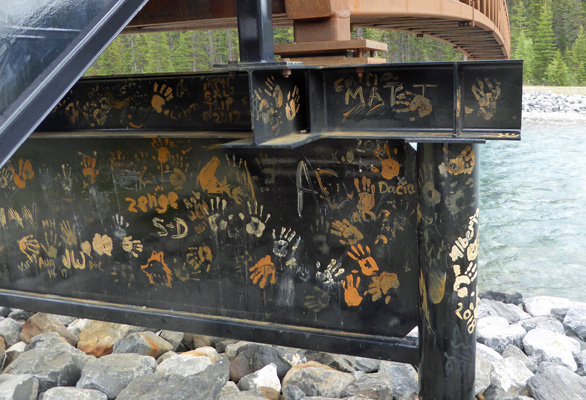 We took the alternate route on the way back (a supposed handicap route that was still pretty steep and the gravel was pretty deep which would have meant you'd need an all-terrain wheelchair) and found one lone Ladyslipper (Calypso bulbosa) in bloom. The yellow spot is different from the ones that grow in the Cascades but everything else about it looked the same.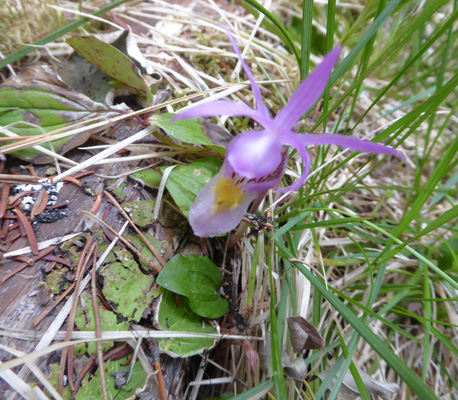 From here we decided we'd had enough and turned back towards home. Highway 93 continues southwest to Radium Hot Springs but it's a long way (over 50 miles) and we'd done a lot of driving the previous few days so we opted not to do the drive. Instead, we headed back to the Banff area and had our lunch overlooking the Vermilion Lakes and Mount Rundle.
That afternoon we took showers at the shower house in the campground which had pretty warm (but not hot) water. It had actually gotten close to warm as the sun came out that afternoon and the trailer was warm enough for us to open the door for a little while.
It rained in the night and continued to rain off and on most of the day on Thursday June 14th. We decided to drive to Canmore (10 miles southeast on Hwy 1) to do our grocery shopping and try to find some free WiFi at the library since downtown Banff on a rainy day sounded beyond crazy. Canmore was pretty busy too since it was their Farmers Market Day. We'd found the library using Carmine the Garmin and it turns out the library had moved into a new building and Carmine didn't know. Since we couldn't find parking near the address we had for the library because of the Farmers Market we went ahead and did our grocery shopping at the Safeway (Sobey's). And on our way back to the highway I noticed that this big fancy new building was labeled library along with a number of other things. Their HUGE parking lot was nearly full but we found a space and went in and used their WiFi for a while.
But it was laundry day too so we needed to get back, put the groceries away, have lunch and do laundry. So having checked our email we hustled back to the campground and after lunch headed over to the Laundromat that is just down the road from the campground. And there was plenty of parking—hooray. It wasn't cheap (washers were $4 and dryers $1 for 20 minutes) but there were plenty of available washers and dryers even though there were a lot of folks doing laundry. It was a very international group with Brits, Germans, South Americans and Americans all doing laundry (there may have been some Canadians too but they were being quiet about it). Even better I discovered there was very fast free WiFi available too so I actually managed to get a few other tasks done while waiting. Whoo Hoo.
It never made it over 45 degrees that day and it was mostly 42 or cooler. But the sun did come out in the early evening for a few minutes.
Friday June 14th, Walter got up early and drove back down to Canmore to get the oil changed in the truck. The light that tells you it's time to change your oil had come as we drove back to Banff the day before and he'd found a place that was a first come first served shop via the local newspaper and had called them. They said the least busy time was 8 am to 11 am. So he got up early and went down to get it done. He arrived before they opened and was the 6th car in line! They told him it would be about an hour and a half so he found his way to the Safeway around the corner to have a snack. By the time he was done they were telling people to come back on Saturday or Monday so it was good he went early. He was home by 10:30 and we fed him breakfast.
Rain was predicted for the afternoon (it didn't show up until 6 pm) but the sun was breaking through by 11 am so we drove the short distance down Tunnel Mountain Road to the Hoodoos. This is a short little trail out to view a cluster of 4 hoodoos along the Bow River.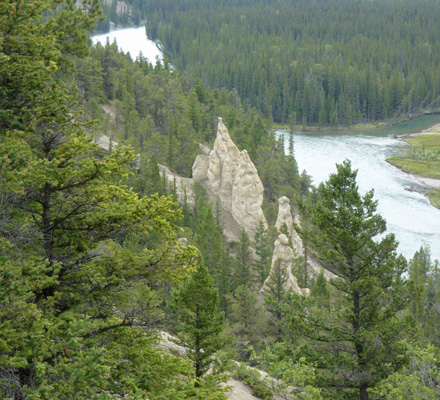 It's a popular stop for the bus tours so there were quite a few folks out and since we were just out for a stroll we slowed down and enjoyed the sun breaks and the walk.
There were a few Starry Solomon's Seal (Maianthemum stellatum) growing the shade of pines.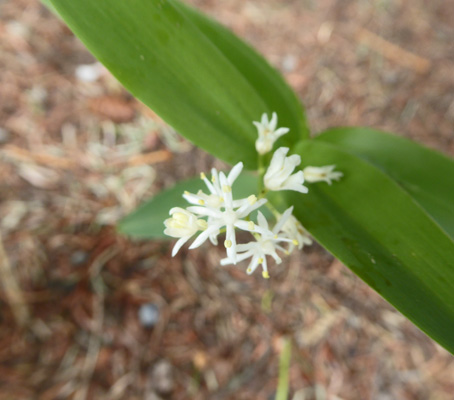 And there was a whole bank of these gray-leaved shrubs covered with fragrant yellow flowers. The bus driver for the bus tour said they were willows. He figured he was safe saying that since there are 56 different varieties of willows in the park. However I've never seen a flower like this on a willow so I took his suggestion with a grain of salt. It turns out to be Silverberry (Elaeagnus commutata).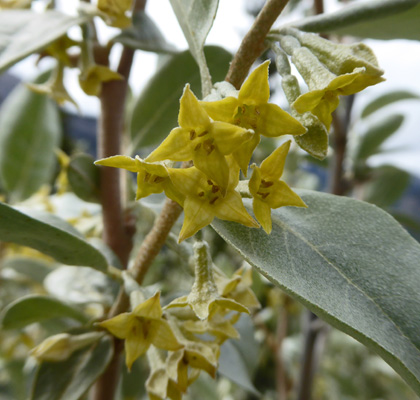 There was lots of this Milkvetch (Astragalus spp.) in bloom along the trail.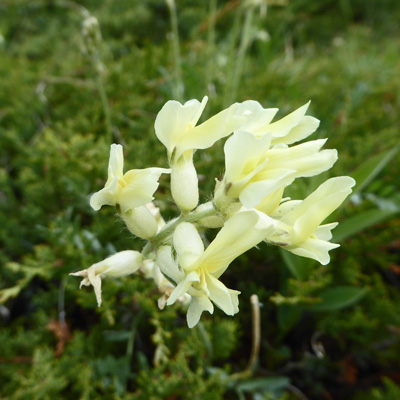 And a few Pink Pussytoes (Antennaria spp.) too.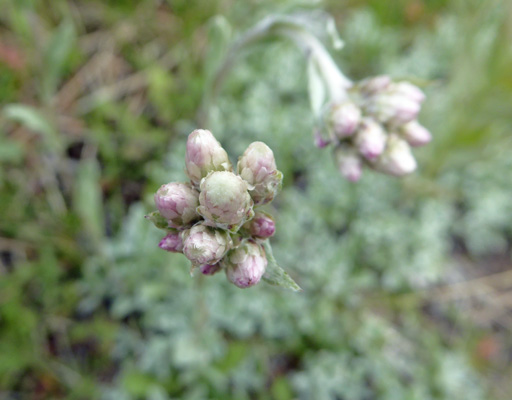 The trail continues on out along the rim above the Bow River Valley and gives you a lovely view of the river as it winds its way along. That's Mount Rundle across the way with a bit of new snow that fell the day before.

There were red chairs too.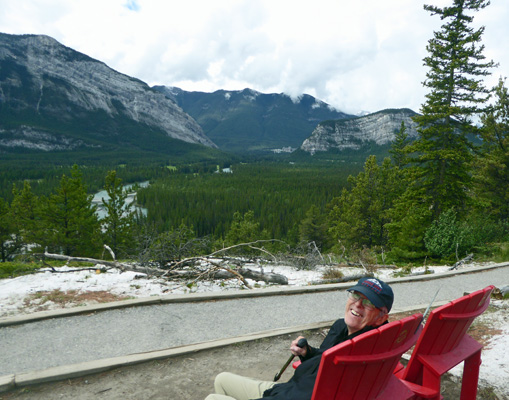 And of course I had to get a photo of Walter in yet another red chair.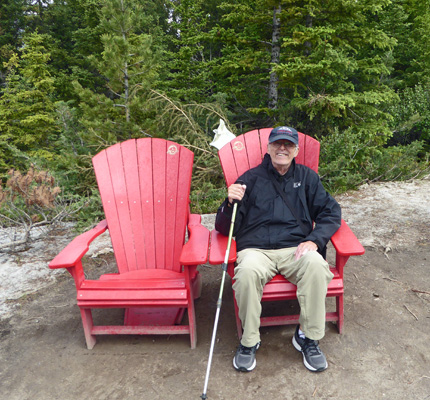 Way across the valley you could see the Fairmont Banff Springs Hotel.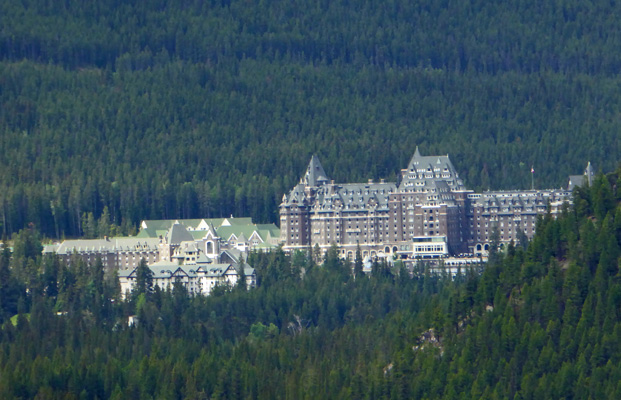 There were lots of Shrubby Cinquefoil (Dasiphora fruticosa) in bloom too.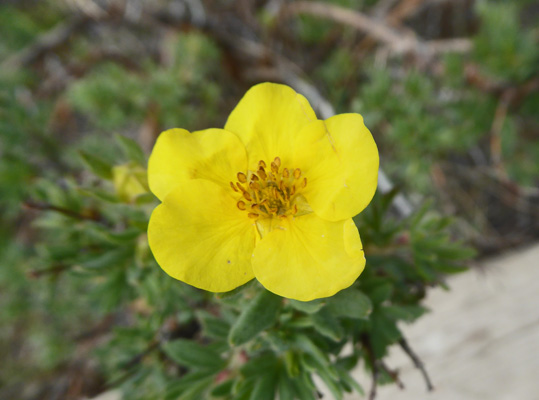 The trail took a turn and we got a great view across the river of the whole span of mountains on the other side of the Bow.

Walter found a nice bench and we were enjoying the view when he noticed what looked like elk down along the bend of the river on the right.
Sure enough, with my telephoto I found 4 elk (including a calf) on one side of the river.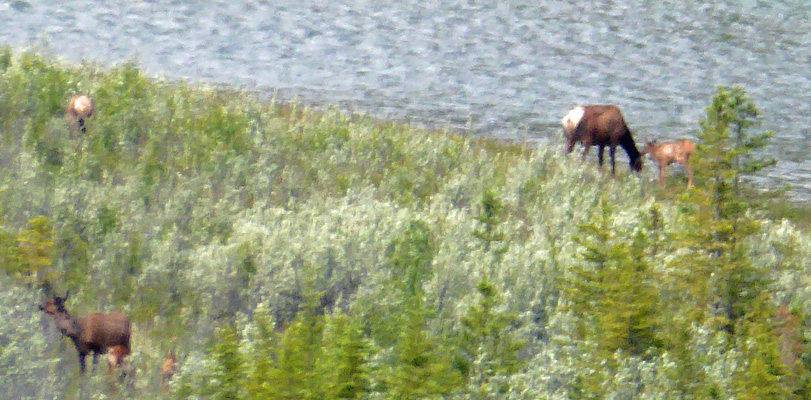 And seven more (many of them bedded down in the grass) on the other side of the river.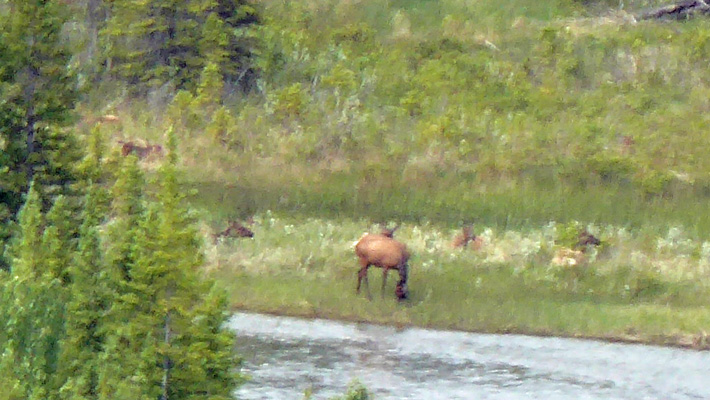 On our return trip we got to watch one of these crossing the river. It moved so fast it was across and gone before I got my camera out.
Out at the end of the trail we got to watch the river rafters come down the Bow after having disappeared around a bend further up stream.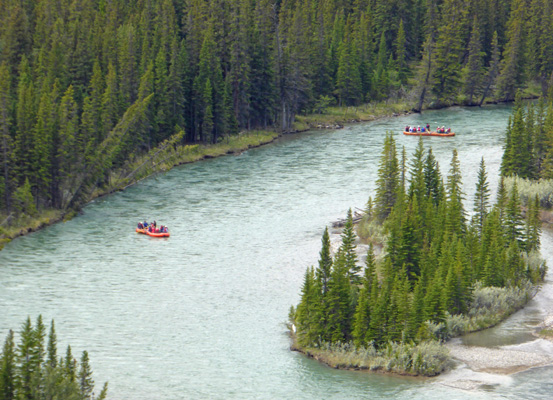 A red squirrel came and watched with us for a few minutes.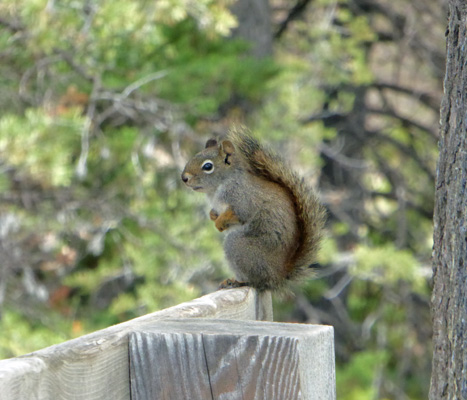 There were even a few wild roses in bloom that we found our way back.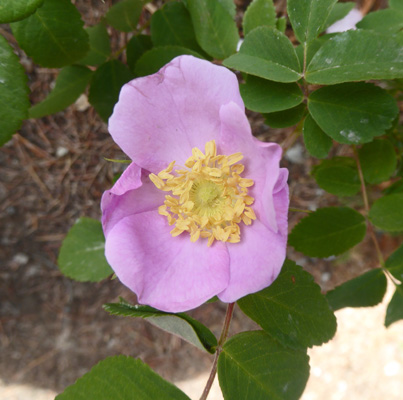 One of the folks we talked to along the trail had seen bighorn sheep at Two Jack Lake the day before—they had been right there on the road. So we took another drive on the Lake Minnewanka Road and didn't see any big horn sheep but the sun was out at Two Jacks Lake.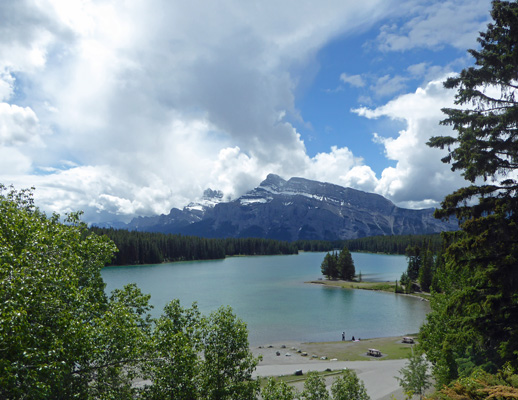 We went back to the trailer and Walter had a well deserved nap and I enjoyed having the trailer door open while the sun lasted.
On Saturday June 15th, we broke camp, dumped our tanks and refilled our water tank and headed up Hwy 1 to drive the Icefields Parkway to Jasper National Park.