On Thursday May 24th, we packed up at Badlands National Park and drove east on I-90 to Rapid City, SD. We took a round about route to the Rapid City/Black Hills KOA (I refused to believe the GPS which was a mistake). It being almost Memorial Day, we were happy to find a spot there for 2 nights so we could do laundry and grocery shopping.
The park was full of lilacs. They had an entire hedge of them near the office and they were in full bloom.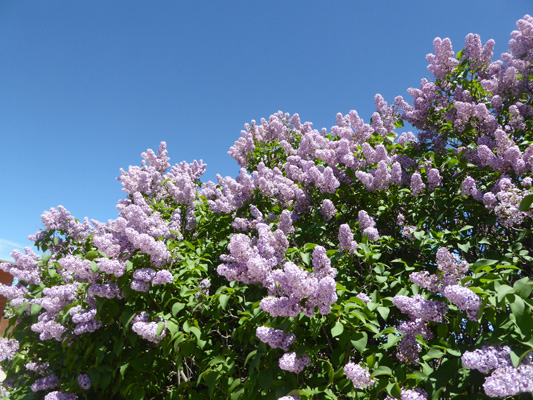 They were fragrant but not overpowering which is all that I ask of lilacs. When I was in grad school there was a block-long hedge of lilacs along Brattle Street that was so loud that I would hold my breath and run so I wouldn't get dizzy from the darned things. These were just right.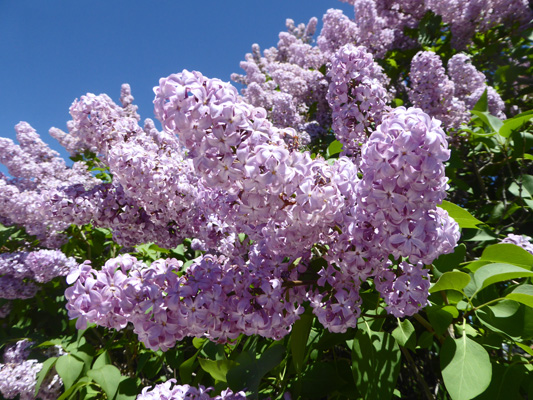 We settled into our pull through full hook up site ($49.6 a night with our KOA card discount) and spent the afternoon using their very functional WiFi. It was a good thing we did because the next day it hardly worked at all. Walter managed to get some TV over the air (he'd only gotten PBS while we were in the Badlands). It was in the 80's and we were parked in the sun so we had all the windows open. That evening I did the laundry in their nice laundry room while listening to kids have a rousing loud game of foosball in the game room next door.
On Friday we did grocery shopping after driving through the heart of downtown Rapid City. They have statues of all the presidents (Obama is due to be installed this summer) standing on the street corners (one president per corner so there are no turf wars here). I was driving so I didn't take any photos.
However I couldn't resist taking a photo of the Prairie Berry Winery display in the grocery store.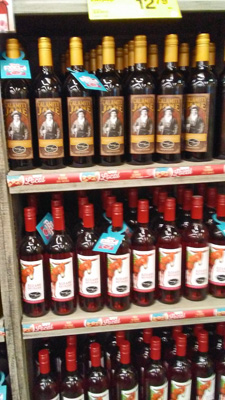 They have Calamity Jane Red, Red Ass Rhubarb, Lawrence Elk and Wild Bill (a blush) plus some with not so outrageous names.
The produce department was unusual too, especially for a place like Rapid City, SD. They had dragon fruit (we've only seen them once or twice in our travels) and they had Green Jackfruit which was a totally new one for us (and all the other folks wandering around the produce department).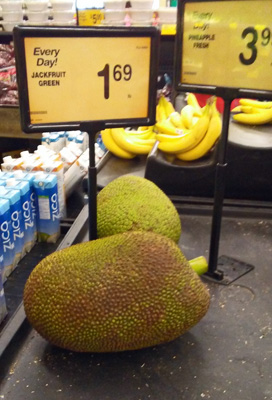 I asked the produce guy if they were sweet. And he said they were about as sweet as a pineapple and you could slice them or roast them. Turns out they have the texture of pulled pork so some folks use them as a meat substitute. We took a pass since they were bigger than our heads.
That afternoon it warmed up and we put up all our awnings. We had a thunderstorm in the afternoon (very little wind) so the awnings meant we could keep the windows open and watch it rain. The pool opened that afternoon for the summer season and since we were directly across from it (note to self this is not a good idea in hot weather) we got to listen to the wild games in the pool all afternoon and evening. The kids were clearly having a great time since there was so much yelling and screeching but we were both very relieved when they booted them all out at 9:45 that night.
There were lots of motorcycles revving it up out on Hwy 44 (just a block away down the hill) but that quieted down about 11 so we slept fine.
The kids were back in the pool by 9:30 the next morning as we packed up to go on Saturday May 26th. We picked up I-90 going west out of Rapid City and took it across the state line into Wyoming and then turned north on Hwy 14 to Devils Tower Junction were we turned onto Hwy 24 to Devils Tower National Monument.
Along Hwy 24 there's a nice turn out (with historical information sign) where you can take a nice shot of Devils Tower without risking your life on the road.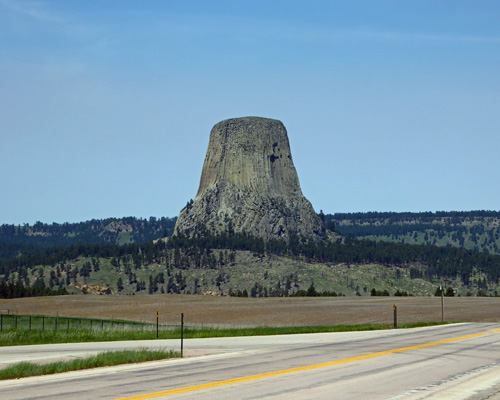 The green tinge is due to lichens growing on the rock face. We drove on to the Devils Tower KOA which sits RIGHT at the entrance of the monument. We pulled into their parking lot and the line to get into the monument backed up so far you couldn't get back out of the KOA parking lot! But the view was great.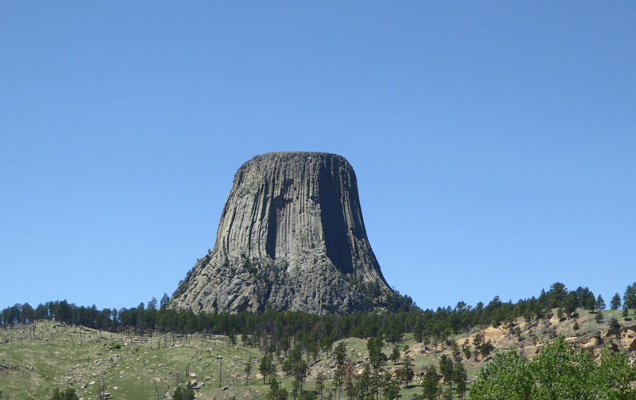 We had a reservation for a water and electricity site for 2 nights. While they weren't full there were a lot of folks here because of the Memorial Day Weekend holiday. With our KOA Card discount we paid $51.20 a night. KOAs aren't cheap but sometimes they're the only game in town.
We backed into our spot and low and behold we had a view of the tower from our site.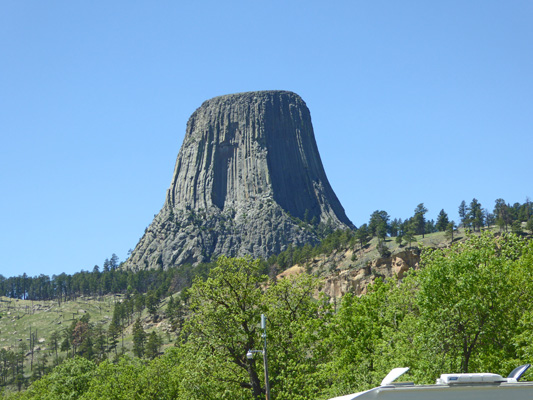 It was in the high 80's by 1:30 when we set up and by mid-afternoon it was 94 degrees outside (only 93 inside because we had some shade and the awnings out) and we turned on the air conditioning. It may be noisy but it makes such a difference when it's hot. Their WiFi was intermittent—sometimes fast and sometimes non-existent but by mid-evening it was fine. And there was no TV at all.
Under normal conditions we might have taken a drive into the monument but it was just too hot and the forecast was for temps in the 70's the next day (rain in the afternoon) so we just huddled in the air conditioned trailer for the afternoon.
It was sunny the next morning so we got up a little earlier than usual and were in line at the entry gate at 9:00 am. Entry here is $20 per car but of course our Golden Access pass got us in for free. We drove the 2 miles of road to the Visitors Center parking area and found a perfect spot right in front of the Visitors Center. The first lot was filling up but the other lots further away were still empty at 9:15. Since it was a pleasant temperature we decided we'd do our hike first and check out the Visitor Center when we got back. We took the Tower Trail (the most popular trail in the park) which is a fairly easy 1.3 miles of paved trail. You go up a short steep section and get a nice view of the tower.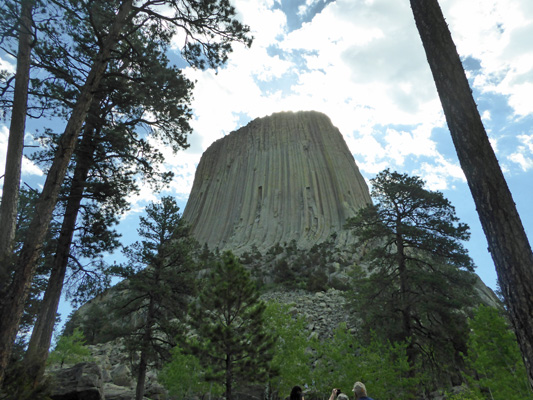 We took the trail in a counterclockwise manner. It wound out of the trees to give us a view of the tower with the boulder field at its base.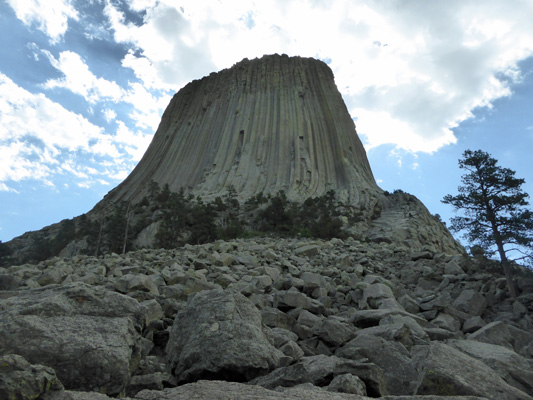 There's an overlook with a view across the valley—good rangeland once upon a time. Back in the day, they drove cattle from Texas and New Mexico up here for summer grazing.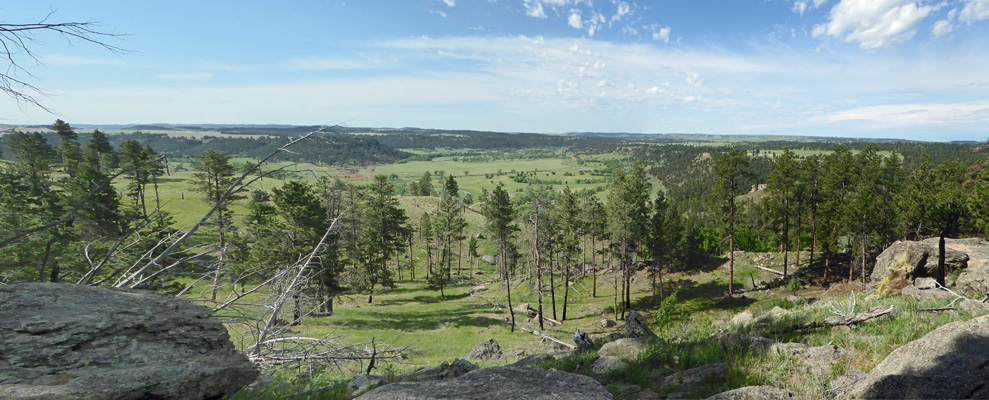 Here and there I saw some patches of Fringed Puccoon (Lithospermum incisum).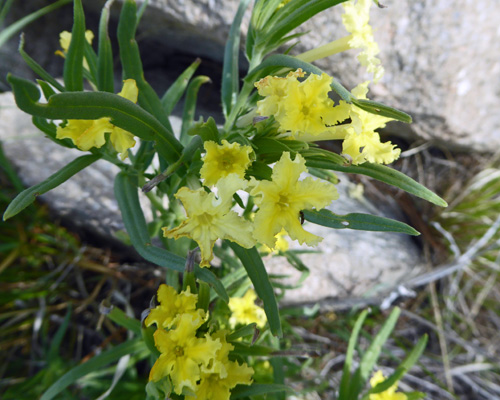 And lots of Leafy Spurge (Euphorbi esula) (which turns out to be an invasive weed at least in North Dakota).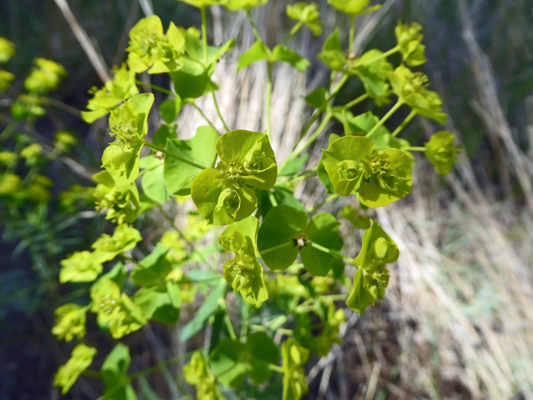 We could hear a woodpecker hammering away (that turned out to be a flicker) but in the process of looking for him we spied this Red-headed Woodpecker flitting from snag to snag.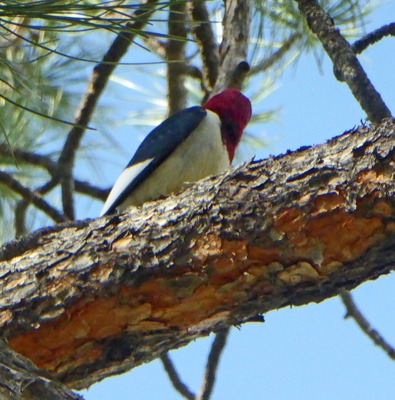 He has a very distinctive white pattern on his back in addition to the very red head.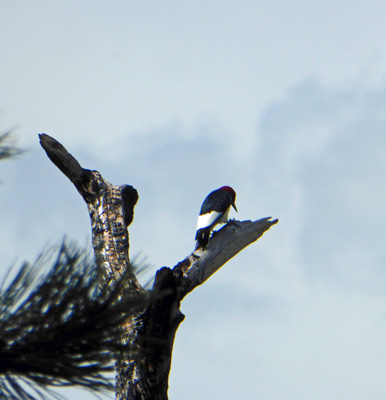 About this point we noticed folks looking up at the tower and pointing and sure enough there were rock climbers.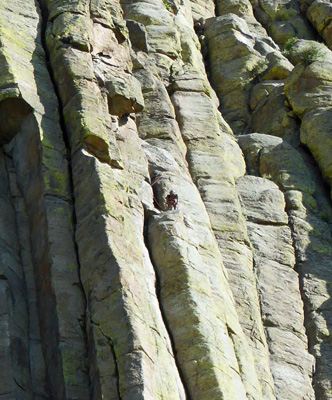 We spotted about 8 of them on this approach.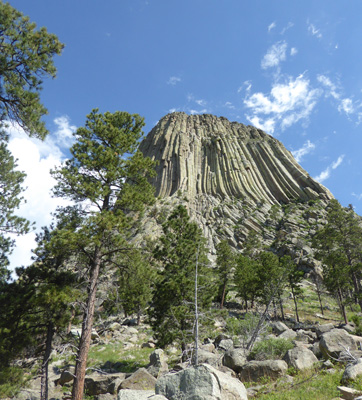 And two of them were near the top.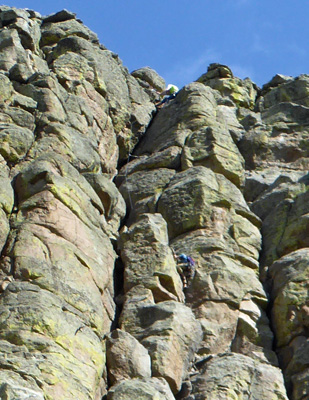 It takes most climbers 4 hours to make the climb but the fastest ascent was 18 minutes! They tell folks to allow 5 to 6 hours for the whole process.
We went around the bend and started out to another view point when Walter spotted a bullsnake in the gravel. We stood and watched and he made his way across the paved path right in front of us.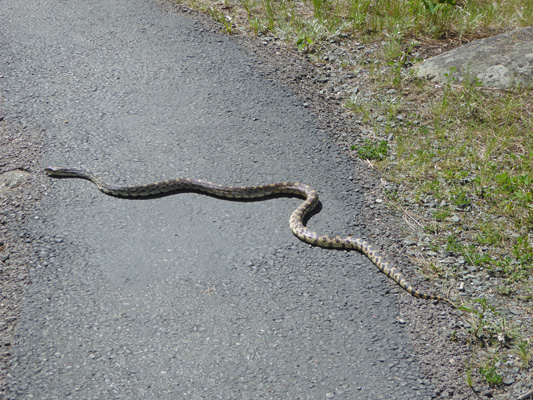 Here's a shot of his head. These guys are also called gopher snakes. They're non-venomous and eat baby rattlesnakes so the parks folks really like them.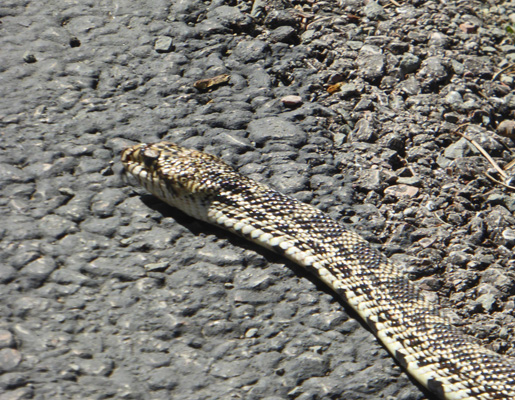 The Tower Trail is really set up nicely. It gives you views of the tower from all sides, places to watch the climbers and benches here and there to enjoy the view.
I was also pleased with the flowers. Here are some Thread-leaf Phacelia (Phacelia linearis).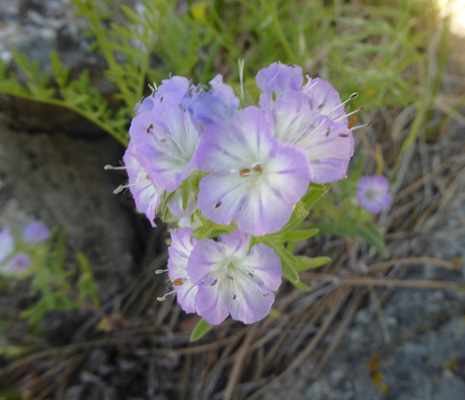 The tower does look quite different from each side.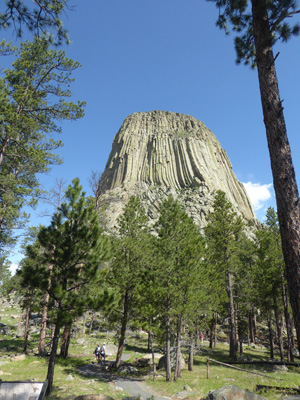 The south and southeastern faces are the most popular with climbers. We saw a number more on the southeast face.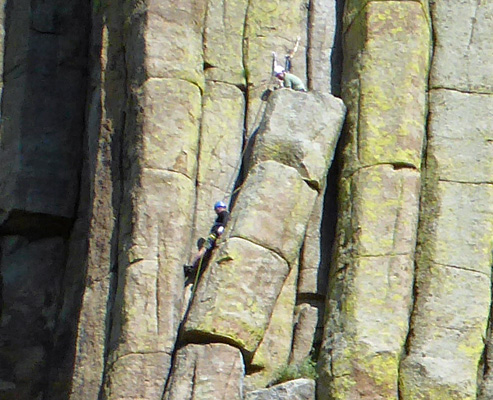 Meanwhile I found some pussytoes (Antennaria spp). It turns out there are 8 varieties of pussytoes that grow here and I wasn't careful enough with my photos to tell which one this one is.
And there were huge swathes of field chickweed (Cerastium arvense) which is a lovely flower even if it has a weedy name.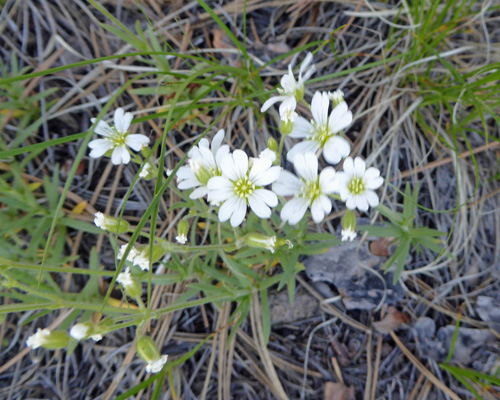 We spied yet another set of climbers arriving at the top via yet another route. It turns out there are over 220 climbing routes so it's not surprising we saw folks in so many different spots.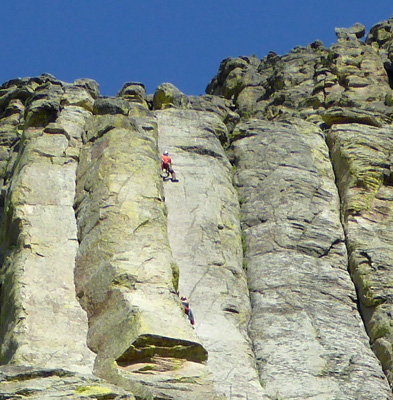 The eastern face looks really different—kind of swoopy!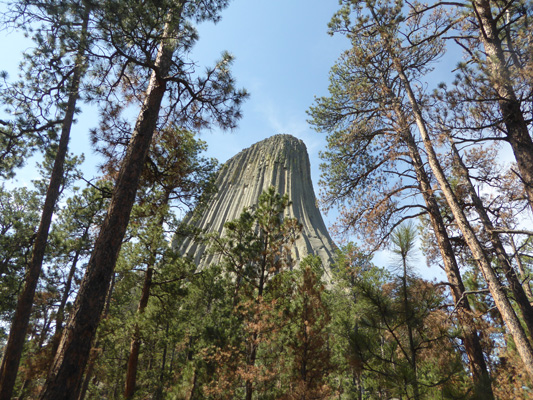 The geology of the tower is pretty interesting. About 50 million years ago molten magma was forced into sedimentary rocks above it and then cooled without coming to the surface. The rock itself is called phonolite porphyry which is relatively rare on the surface of the Earth and found only in a few places worldwide. The sedimentary rock has eroded way revealing the tower. The columnar rock formations (the longest and widest in the world) are caused by natural cracking of the igneous rock.
Along about here we found a bench and were sitting in the shade of the Ponderosa Pines enjoying the view. A gaggle of about 15 park rangers came briskly walking along with a civilian in their midst. He stopped in front of us and said hello and asked us where we were from. We told the tale of being full time RVers, so we were 'from here today'. He smiled and introduced himself as Ryan Zinke, the Secretary of the Interior! He asked us how many of their 400 plus parks we'd visited and I said I didn't know but that we were close to having visited all the National Parks you could drive to. And he admitted as how there weren't a whole lot of RVs in places like Gates of the Arctic up in Alaska (there are no roads to it at all). He's not one of my favorite people in the world (being a conservative fellow promoting oil and mineral leases on public land, in favor of drastically raising prices at National Parks and having proposed reducing the size of a number of National Monuments) but his parting line was pretty good. He said, "I trust you are doing well," nodding at my 'Life is Good' t-shirt. "Life is good. But Public Lands are better." And off he went. We sat and looked at each other and all I could think was, "That was weird."
We carried on and I stopped and took this photo of the one and only Crow-footed Violet (Viola pedatifida) I had seen.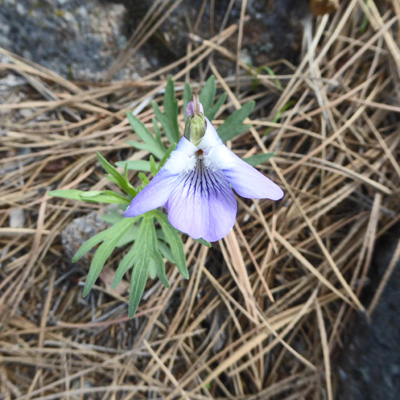 By the time we got back to the parking lot, Zinke and his entourage were gone but this 1959 Chevy Impala was parked in the handicapped parking.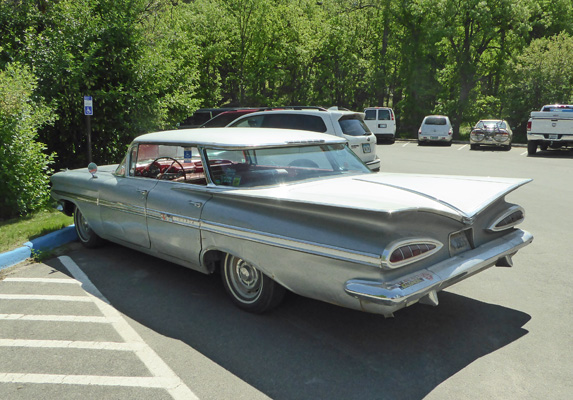 My mother bought a brand new 4-door 1959 Chevy Biscayne when I was 8 years old. She replaced it 1966 with a 1966 Pontiac Tempest and my sister drove the Chevy until she got married and then I inherited it when I was 16 and drove it until it died when I was 21. It had the biggest trunk I've ever seen and I packed it full of my worldly possessions when I went off to college in 1969. We called the car La Bombe. It had manual steering and was real interesting to park!
We went into the Visitors Center and learned about all those climbing routes and when we came out I stopped to take a photo of the view.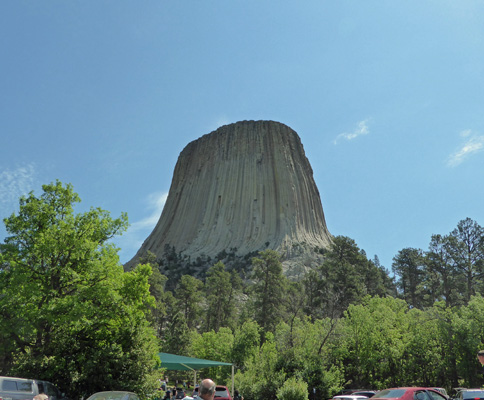 And we noticed that there were 4 climbers (and 2 more climbing out the of the boulder field) starting up this face of the tower.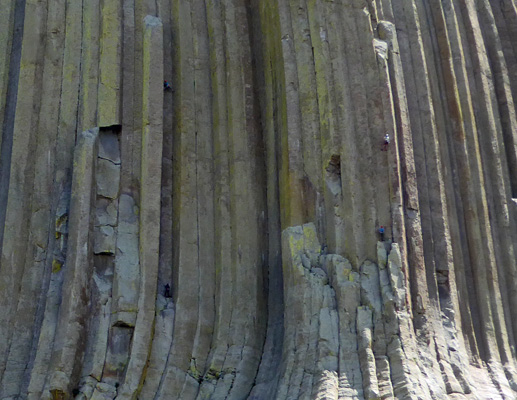 We pulled out of the parking area a little after 11 and not only was the main lot full but the lots further down the hill all looked pretty full too. We were really glad we'd come early to avoid the crowds.
We drove down the hill, toured the campground (which was by no means full—it's first come first serve and has no hook ups) and then stopped to watch the prairie dogs not far from the entrance. This guy was sounding the alert chirping over and over and over again.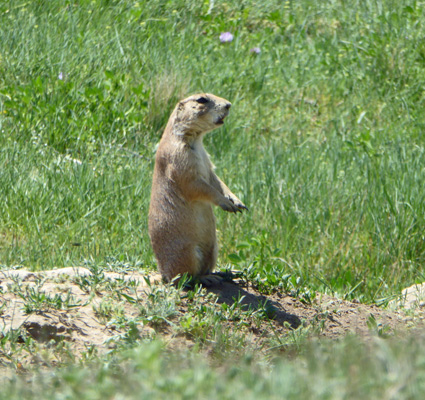 Lots of them were up on their hind legs here. I don't know if it was because there were so many people in the pull outs right next to their town or just because it was beautiful day.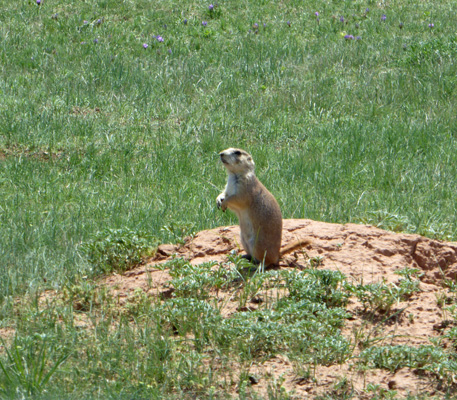 On the last turn before you get to the entrance there is this swath of deep red hillside. It's called the Red Beds.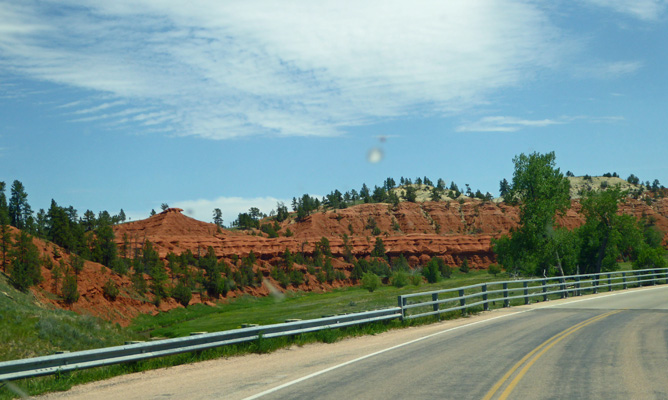 The Belle Fourche River runs right through here. I was real surprised to see this deep red rock down at the base of the tower where everything else is brown or pale red.
We rolled out of the entrance at 11:30 and look at the line of cars waiting to get in! It went on past the KOA and around the bend.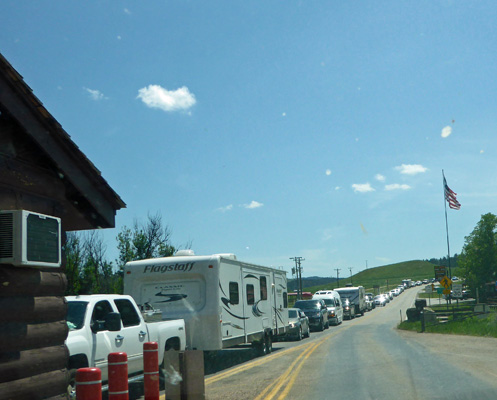 Someone made an opening for us so we could get into the KOA and we went back to our rig to enjoy the afternoon. It got into the high 70's and was pretty breezy. We had showers (their showers were very nice) and enjoyed having the WiFi actually work for much of the afternoon!
That evening we have a very odd, very brief sunset.
While I was out I took this photo of the Rotel that was parked in the space next to the bathrooms. These odd vehicles provide tours to Germans who want to see America (they have them all over the world actually) on the cheap. They ride in the front bus part during the day and sleep in little cubicles in the back at night. And it appears there's a big kitchen that opens up on the side. We saw two of these near Valdez when we were in Alaska.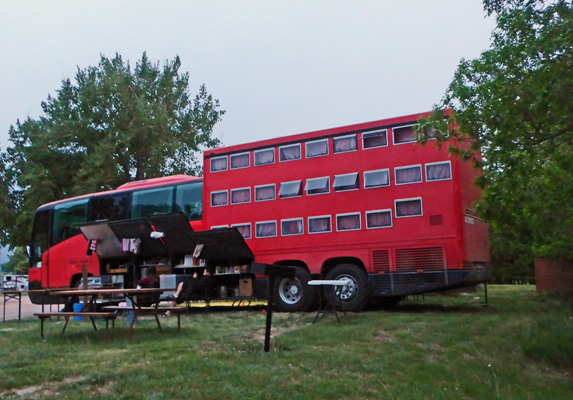 Monday May 28th, it was cloudy (it had rained most of the night) and Devils Tower was playing hide and seek with the clouds.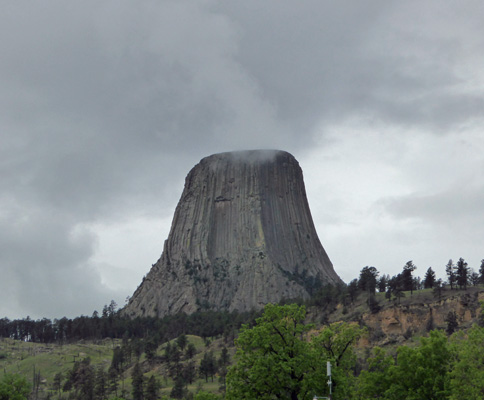 We packed up and after topping off our water tank and making sure that the black and gray water tanks were empty, we headed north on Hwy 24 to Hulette and then northeast on Hwy 112 into Montana where we picked up Hwy 323 and then Hwy 7 until we hit I-94 where to went east into North Dakota. We got off I-94 in Medora to enter the south unit of Theodore Roosevelt National Park. In over 200 miles of driving we went through a whole lot of ranch land; saw a lot of pronghorn (and lots of cattle); and saw a few very small towns.