Wednesday September 12th, we packed up in Monroe, WA and headed down Hwy 203 to I-90 east in Preston. It had poured just before we broke camp that morning but we had only a sprinkle or two once we hit the road. The clouds were hanging on the mountains as we approached Snoqualmie Pass.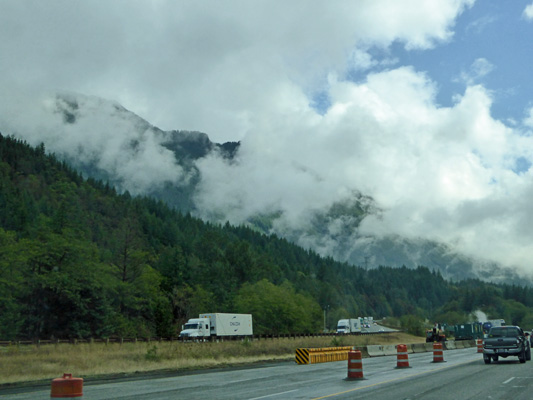 And you could see some fall color (probably blueberries) up on the upper reaches as we reached the top of the pass.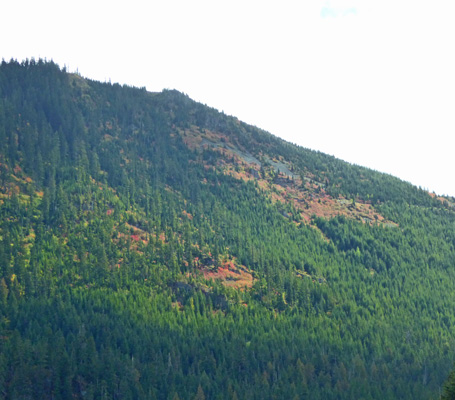 From I-90 we picked up I-82 in Ellensburg and went south to Yakima and the Yakima Sportsman State Park where we had a 3 night reservation for a pull through electric and water site. We had a decent cell phone signal so our hot spot worked and Walter found a number of local TV stations.
It was partly cloudy and pleasant in Yakima and we enjoyed taking the afternoon off. Thursday was our official down day. We puttered around home and then took a stroll through the campground. These mushrooms had popped out of the ground over night.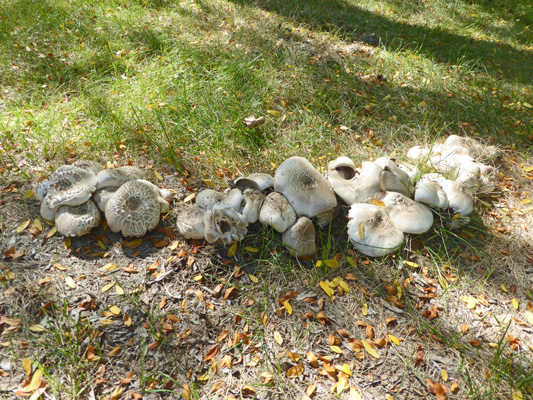 We saw lots more of them under the trees as we continued on.
We followed the campground map out on a spur trail and ended up climbing the side of a dike to a nice gravel trail. Along the way I saw some phlox (maybe some escaped Phlox paniculata) still in bloom.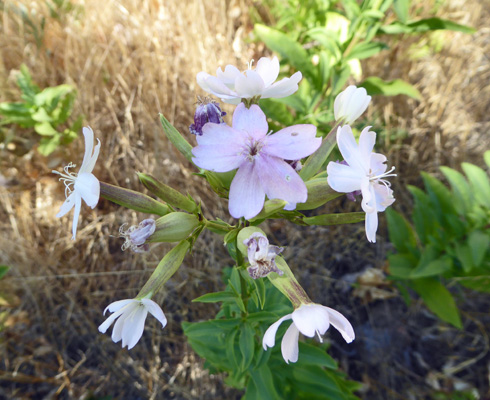 We strolled along until we found another spur (and carefully came down the rocky face of the dike) to take us back to the campground. Along the way we saw lots of rose hips.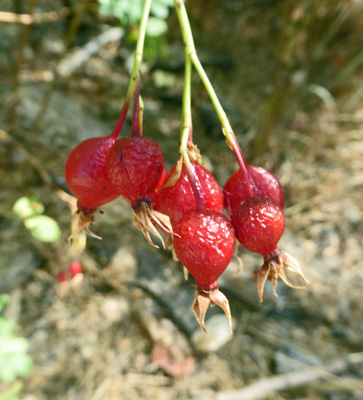 We spent the afternoon playing music. My new autoharp is super easy to play and it won't take long at all to learn the new chord positions. Yippee.
It was a lovely day with temps in the high 70's. Just the perfect kind of day for a day off.
Thursday we went into Yakima and did laundry at a great Laundromat called the Lost Sock. And I didn't even lose a sock. In the afternoon, we bought shower tokens at the pay kiosk ($1 gives you two tokens worth 6 minutes of hot water) and had showers. They clean each separate shower room by hosing them out so everything inside (including the benches, the floors and the walls) was wet but at least they were clean. Walter had lots of hot water and I had just past lukewarm. But we were clean!
Friday September 14th, we packed up and headed south on I-82 through the Tri-Cities area and across the Columbia River into Oregon where we picked up I-84 east to La Grande, Oregon. Just south of La Grande we turned off and puttered 5 miles farther to the Hot Lake Lane and the Grande Hot Springs RV Resort. We got a full hook up site for 2 nights and went to set up. Initially I couldn't get the power to work. Walter pitched in and he had no success either. So I drove back to the office and arranged to switch sites. Of course by the time I got back, Walter had diagnosed and fixed the problem so we didn't need to move. So I got to go back to the office a third time and tell them we weren't moving.
They advertise on their website that they had great WiFi. Well, it was okay in the late afternoon but by evening it was so overwhelmed you couldn't even sign on. It worked again the next morning and then once again petered out in the afternoon. Just too many people with too many devices using too much bandwidth. Our phones worked so when all else failed we could use the hot spot when we needed to.
Walter found some decent TV (a little from Idaho, a little from Spokane, WA and a little from Oregon) and all was good. He got to watch some college football and the Huskies beat Utah—go Dawgs. It was cloudy but it didn't rain so what the heck.
We camp hosted in this area in September 2015 and know the area pretty well so we didn't have high expectations for an outing.
Sunday I strolled around the campground and stopped to take a photo of Hot Lake (the source of the geothermal power and hot water at the campground).

There's a channel that directs water from the lake over to the main office for the campground (along with the swimming pool and spa) and there's a little bridge that goes over it with a path that leads to a little pond.
It had white water lilies in bloom in it.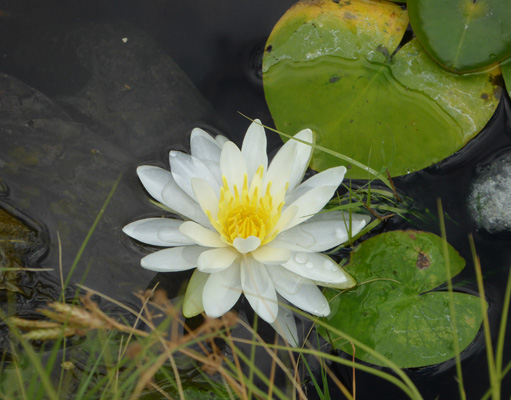 And when I stepped near the edge to get a closer shot of the lilies I disturbed a water snake who took off across the lily pads.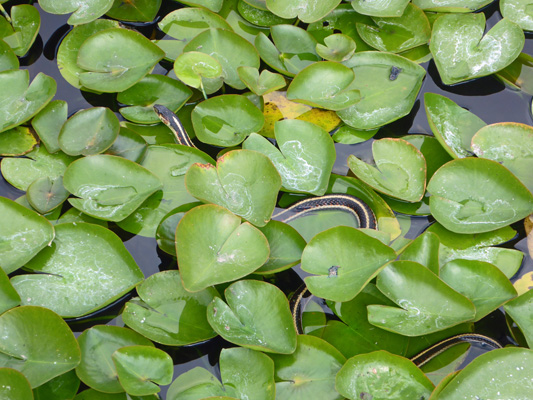 It was a pretty day with scattered white clouds against a clear blue sky. The view across the valley towards the Blue Mountains was very pretty.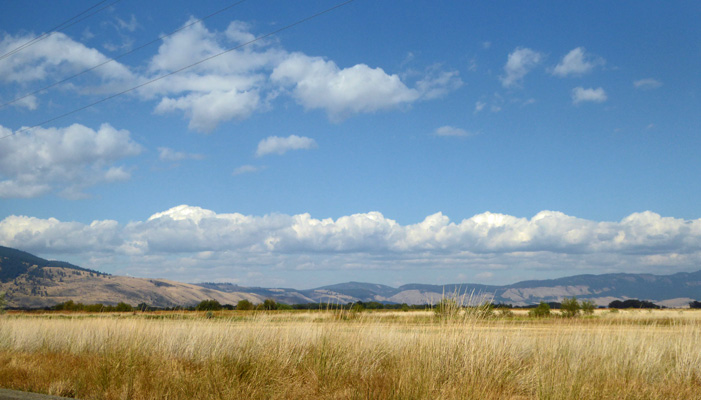 After a bit of pro football we were ready for our outing for the day. First off we drove the 5 miles back to I-84 to get gas. Then we went exploring around the edges of the Ladd Marsh Wildlife Refuge. The refuge consists of 6,000 acres of wetland that was set aside back in 1949. At this point it is the largest remaining bit of wetland in northeastern Oregon. It was pheasant hunting season so we saw a number of pheasant along the main road but we didn't see any as we drove the dirt road along the perimeter of the refuge. And because there were men out there with guns we didn't really want to take a hike.
There are ponds here and there and lots of grassland.

On the way back to the campground we stopped at the old original Hot Lake Springs facility. This was a major medical spa at the turn of the century and was still going strong into the 1930's. For a time it was known as the Mayo Clinic of the West. There was a wood structure in addition to this big brick building but it burned down in the mid 1930's.
There have been serious efforts at restoring the place (in 2003 it had no roof or windows or doors) but they seem to be stalled since everything looked pretty much the same as it did 3 years ago when we visited last.
Hot Lake still steams at the source of the springs.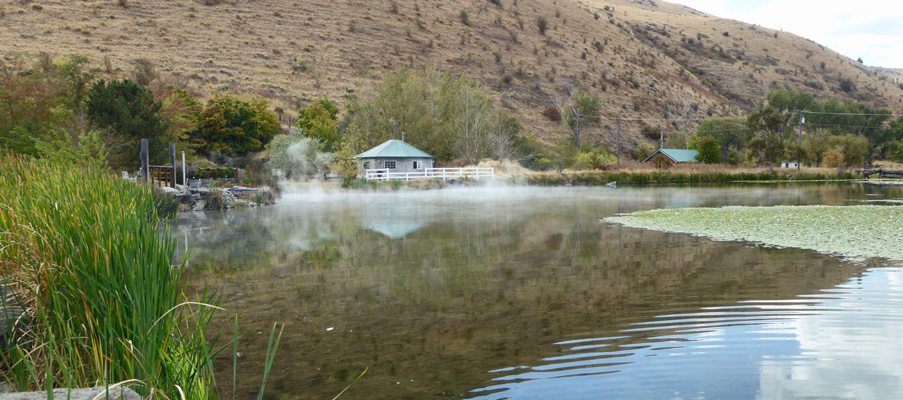 The water was so still it reflected the clouds perfectly.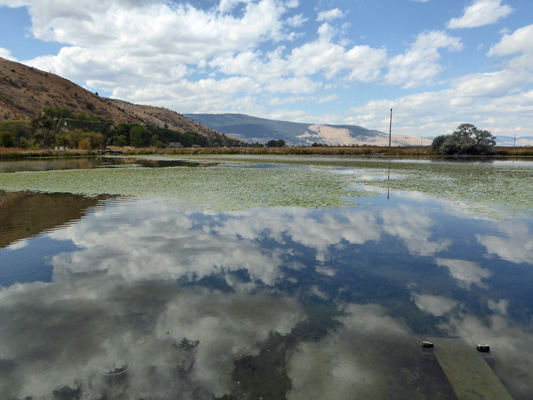 The white water lilies were in bloom on this end of the lake but not down on the end by the RV park. You can't see it but the RV park is straight ahead on the other end of the lake.
So of course I had to take another reflection photo of the hills in the lake.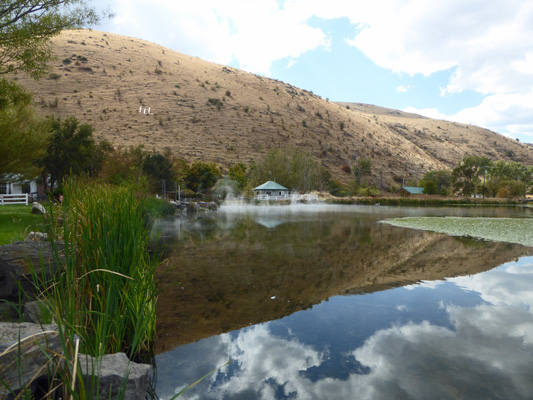 There was a peacock out strutting his stuff.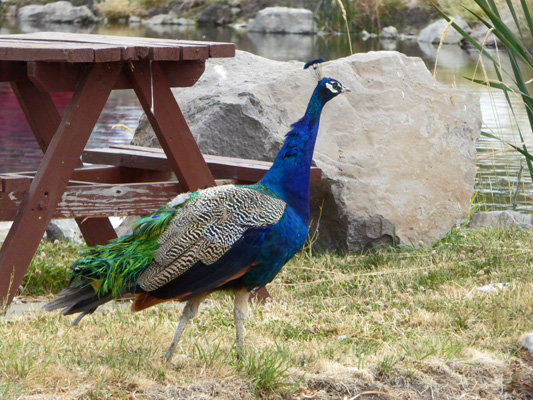 And just as we were getting ready to leave a mama duck waddled across the road over to the smaller pond with her 15 babies behind her.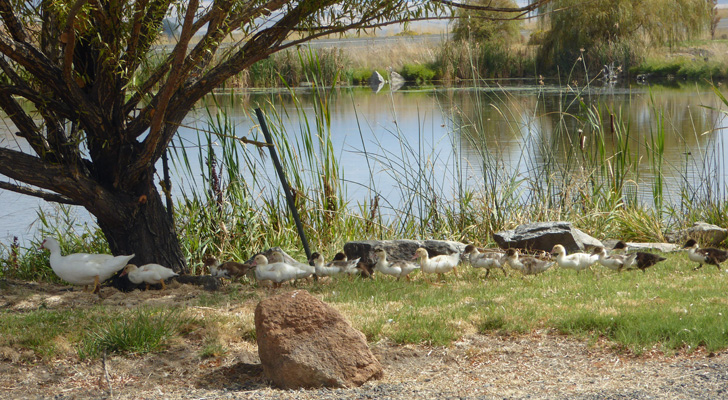 This was a low key outing but hey, we're in low key mode at this point.
After lunch I had the thought that I should check to see if there were openings at the RV park in the Boise area where we'd planned on staying the next 3 days. Good thing I did. They were full and had been every night since spring. This seems very typical of parks in metropolitan areas. There are lots of folks living in trailers and RVs in the cities now and they keep the RV parks really full.
We took stock and I checked to see if there were openings at Farewell Bend State Park, an Oregon park not too far from the Idaho border. No problem—there were 65 sites open with water and electricity that were big enough for us. Then we checked the distance to Twin Falls and decided to look for something there for Tuesday and Wednesday. Once again, no problem. We got a reservation (on-line) at the Twin Falls KOA. While I was at it I made reservations for Thursday through Monday too! Those along with the reservations we already had at Grand Teton would take us through the 27th of September. There are way more people on the road these days (even in September) so reservations seem to be a good idea even though we never used to bother with them this time of year.
Having taken care of our housing issues we went over to the pool area and took a soak in both the 95 degree pool and the 103 degree spa. There is really nothing like a good soak to help you unwind. And we had the place to ourselves which was heaven. The water comes from Hot Lake and they cool it down before putting it into the pools. It has a faint sulfur smell but nothing serious.
Monday September 17th, we packed up and drove 90 miles south on I-84 to Farewell Bend State Park which is just a short distance off the freeway.
Off to the west the Blue Mountains were showing off why they're called what they are. The settlers coming west on the Oregon Trail named them because from the distance they look so blue.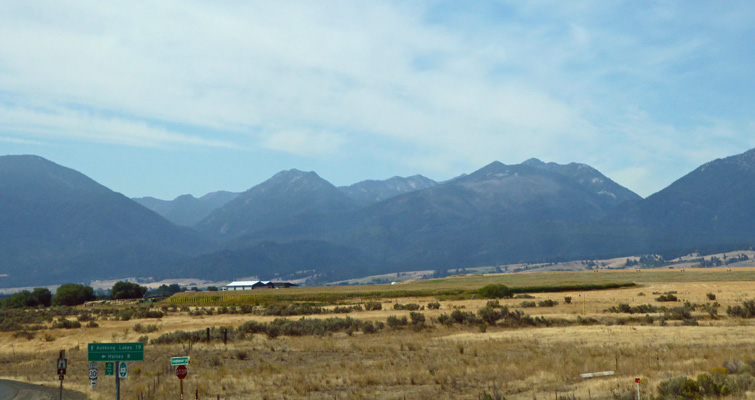 Farewell Bend is along the Snake River and is the point where the Oregon Trail left the Snake to make its way over the Blue Mountains. So it's the bend in the river where the settlers said farewell to the river.
We got a nice side pull through spot (the campground was pretty darned empty) and decided not to drop the trailer since we were only going to spend one night.
We got all set up and reset the clocks (this little bit of Oregon is in Mountain Time) and when we went to make lunch Walter discovered that the refrigerator wasn't on. It was displaying E0 again! It hadn't even been 3 weeks yet since we had it fixed from the last time it displayed E0. This time it was a bit different in that it displayed the error message all the time. Before it only displayed it when you pressed on the on/off button. After lunch, Walter went out and tinkered with it but couldn't figure out what was wrong. The tech who fixed it before had said that the J2 connector was loose and he'd tightened it up. All the signals were right coming out of it and we couldn't get it off so he'd tightened it up all right! And no amount of wiggling and removing fuses and the like made any difference.
The cell signal at Farewell Bend was marginal. Sometimes it was two bars of 3G. Sometimes it was 1x and every once in a while it would say it was 4G but there'd only be one bar. Needless to say with a signal like that getting info about repair places wasn't easy. So we decided we'd drop the trailer and take the truck to the next town to get ice and hopefully a better signal. Just as we were about to pull out (having gone through the process of dropping the trailer of course) I noticed an ice machine by the Camp Hosts. And when I hiked over it was actually open and you could pay for your ice on the honor system like fire wood. Yippee. By then I'd gotten a bit of info from my phone so we decided to focus on seeing if we could call someone in Twin Falls (where we were headed the next day) since it was now 4 in the afternoon (we'd lost an hour after all changing time). With a bit of a struggle I found a Dometic repair place and called only to get their voice mail. Sigh. We left a message and then Walter went and bought 2 bags of ice while I got things ready to transfer into the coolers.
At least this time the frig wasn't packed full of food and two bags of ice were enough to start. We certainly know how to do this drill, it's just not a lot of fun.
By the time we got all of that handled neither of us had any desire left to take a stroll through the park to explore things. So Walter took a nap and I wrote this missive.
Tuesday September 18th, we got up early in hopes of hearing from the RV repair place in Twin Falls. No dice, so I called them after breakfast and actually go a person! And they could see us on Wednesday to try to fix the problem. At least we didn't have a to wait a week for an appointment. Then we packed up one more time and headed east on I-84 through Boise and on to Twin Falls (200 miles total) to the Twin Falls/Jerome KOA. They had the left hand turn lane into the park closed and we ended up having to do a looooooong detour to find a way to turn around but we got there without a hitch, whew. We had a reservation for a pull through water and electric site for two nights. We set up camp without dropping the truck since we were going to be taking the trailer in for the fridge repair the next morning.
Their WiFi worked great (for a few hours and then did the usual slowing as the park filled up) and our phones worked too. They also had cable TV so things were pretty civilized.
Wednesday Sept 19th, we got up early and were on the road (with trailer in tow) to the RV repair place by a little after 8 am. Carmine, the Garmin, in her great wisdom directed us to a cornfield instead of the actual location of the repair shop (she ignored the south in the address). We continued on hoping to see it when the street turned from north to south and couldn't find it. We called but once again they didn't answer their phone. So I used my phone to ask Google Maps to show us the way and when we got near the address we slowed down and sure enough there was the place set way back off the street behind some houses!
The owner wasn't there but his tech was and he got out his meter and his tools, did some tests and then got the J2 connector off and when he put it back on, the fridge lit up. He pulled it again concerned that this might be an indication that the power board was dying. In the end, he decided the wires weren't lined up right in the connector, fiddled with it and called it good. The good news is that we got to stand there and watch him do it and so now we know how to get the darned connector off so we can fix it ourselves next time. He took pity on us and only charged us for 1/2 an hour (instead of their usual full shop hour) since we'd only been there 20 minutes and we were on our way back to the KOA by a little after 9.
We dropped the trailer and set up camp again and then set out to go visit Shonshone Falls just to the south of us. On the way we stopped at the Twin Falls Visitors Center where they told us that there wasn't any water in the falls this time of year! It all goes to irrigation and after months of no rain it's just a trickle. Ah well. I did go out and have a look over the edge of the canyon and took a photo of the Perrine Bridge which spans the canyon and the Snake River below.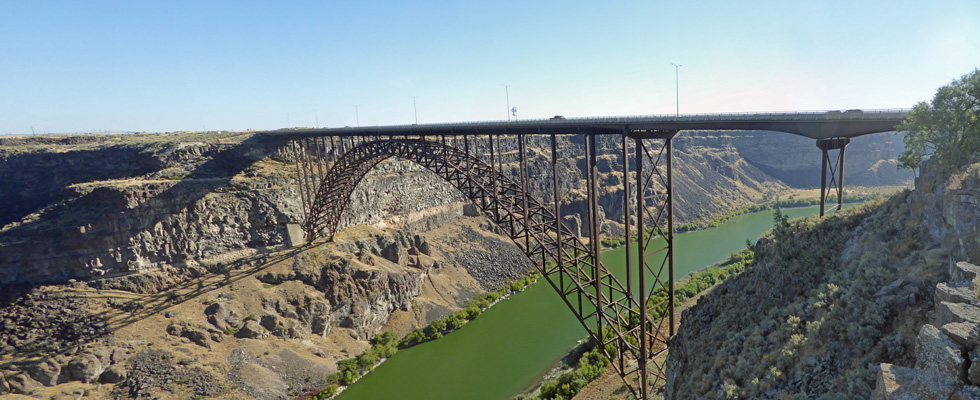 Looking west you can see a lovely green golf course build in the canyon bottom off in the distance.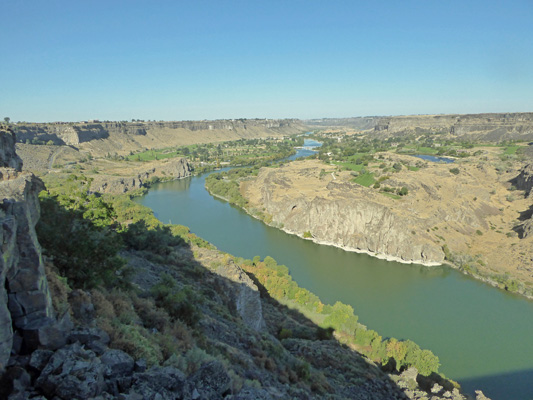 There were some base jumpers (parachutists who jump off of things like the bridge or the cliff) stuffing their chutes and we waited a while to watch them jump but gave up after a while since no great progress was being made.
Instead we went and did our grocery shopping and then went home and loaded all our food BACK into the fridge which had had plenty of time to get cold while we were gone.
By this point we were both pooped so we took the afternoon off.