It's been a full 4 weeks since I last wrote. The first couple of days after the movers arrived with all of our belongings were spend unpacking and unpacking and unpacking. The house smelled musty from all the boxes that had been in storage for 3 1/2 years (ah the smell of old cardboard) and so did our linens so I ended up washing all the sheets, towels and blankets as I unpacked. Thank goodness for our new high capacity high efficiency washer and dryer.
By Tuesday December 19th, we'd unpacked enough that we could move from the trailer into the house. I managed to cook dinner without totally losing my mind trying to find stuff and we spend our first night in the house. The next night it was below freezing and the house barely cooled down at all. What a difference stick construction and insulation makes when compared to an aluminum trailer with just a small layer of insulation. YES!
Wednesday we finished unloading the trailer and made the first steps towards winterizing it—getting the food out and the refrigerator cleaned out. Thursday was a break from the move-in process since Walter had an appointment with the cardiologist at 9:15 am. We learned that his echocardiogram had been normal and that his Holter Monitor had just shown a whole lot of PVCs. So the doctor asked if Walter was up to having a stress test that day right in the office. He said, "yes", and we just went down the hall where they hooked him up to the EKG system and had him walk on the treadmill. Every few minutes they increased the speed and the incline and by the last few minutes he was trotting up hill faster than I'd seen him go in a very long time. Nothing untoward happened during the stress test so he basically passed it. But his PVCs went WAY up at the end (most people's PVCs go down with activity but not Walter's) and they had trouble seeing what else might be going on at that point. So the cardiologist (who had observed the last 2/3s of the test) decided they would do at PET scan to be sure Walter had no blockages in his heart since that could be causing the PVCs.
That was scheduled for January 2nd and I'll take care of any suspense by telling you that the results came back at the end of that week showing no blockages at all. Hip Hip Hooray, Walter has a healthy heart that is having huge numbers of PVC's for no reason that they can figure out. Ummm, okay. He now has a follow up appointment with the cardiologist on February 14th (Valentines Day, a truly heart-friendly day, don't you think?). At that point they are supposed to prescribe some drugs that will hopefully get a handle on the PVCs without causing any undue side effects.
On Friday December 22nd, our niece, Amy came down from Phoenix to visit and help with the unpacking. We put her to work unpacking decorative objects and she managed to fill an entire bookcase full of pretty things. We had a great time admiring all the goodies friends and family had given me over the years and I tried not to panic about where in the heck I was going to put it all! At this point, about 2/3s of it has found an appropriate place and the rest will settle soon. It's amazing how much space this little house actually has!
Saturday, Amy and I took a walk out to the clubhouse and back and then up around some of the streets in our part of the development, looking at frost damage (bougainvillea's don't like frost) and people's Christmas decorations. Amy went home in the early afternoon and I took a nap!
Christmas Eve and Christmas Day were low key, though I did still spend some time unpacking. All those boxes sitting in the living room and office drove me crazy I admit it. Christmas was a gorgeous warm sunny day and we even had a bit of a sunset to boot.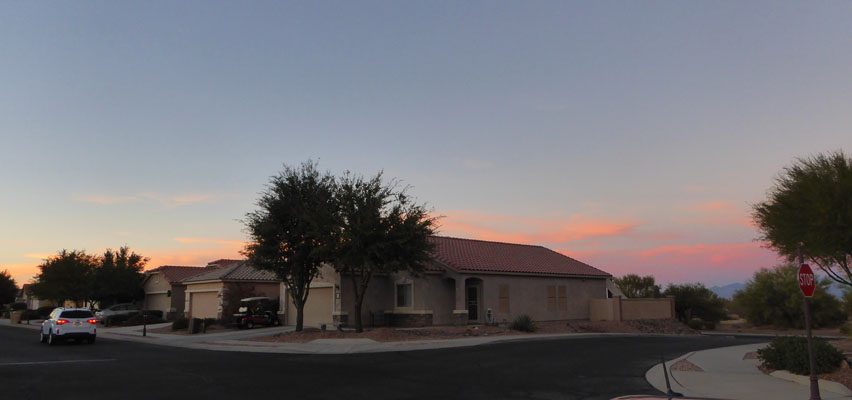 This was taken from our back wall out onto the intersection of W Via Cerro Colorado and Via Cayetano.
A day or so after we moved in, Walter loaded up the dishwasher and hit the start button. The dishwasher made that familiar sound they do when they start up and we went on about our day. That evening, I opened it up to get something out and discovered dirty dishes. The darned thing hadn't run. We fussed with it for a while and discovered that it was the original dishwasher and thus 11 years old. Since they only last 10 to 12 years we decided we wouldn't bother calling a repair guy and instead we'd buy a new one. I did the research and discovered that Consumer Reports gave the Bosche dishwashers high marks, and that they especially liked the lower end models as a Best Buy. We found one on sale at Lowe's so on Tuesday December 26th we drove up to south Tucson and stood in line with all the other folks who had had appliance issues over the holiday. The model I'd picked out wasn't on the showroom floor and turned out to be a special order. So after some hemming and hawing we opted for a model they had in stock and went through the process of paying for it and arranging for installation. They warned us that most of the installers weren't working because of the holiday and that it could be 6 business days before someone called to schedule the install. I didn't hear anything by the end of the next week so I called and they eventually got back to me with a date for the NEXT Friday, January 12th. Ah well. We'd been hand-washing dishes for the last 3 1/2 years, what's another couple of weeks?
After this we drove over to Home Depot to look at bar-b-ques. Consumer Reports really liked the Nexgrill stainless steel grill that Home Depot carries (another Best Buy) and obviously so do many shoppers. While they had 3 floor models they had none in stock. No problem, they ordered us one on-line with free delivery. This turned out to be MUCH better than picking it up at the store since it was pretty big and heavy and getting in and out of the truck would have been a struggle. They delivered it Thursday afternoon, a day earlier than we expected.
Wednesday and Thursday we spent the days getting the trailer ready to put into storage. We cleaned the inside, checked the tires, drained the tanks and blew the lines with compressed air. By Thursday afternoon she was all ready to hibernate for a few months.
Meanwhile, I'd set up my desktop computer and gone through the process of updating Windows which was a loooooong process. Think of all the updates Windows has gone through in 3 1/2 years. I transferred my files from my laptop to the desktop (which was quite the process too). And my Carbonite backup was so far out of date it has taken it weeks to work its way through all the files.
Friday we started another glorious sunny warm day with the assembly of the new bar-b-que. This thing had a LOT of parts with lots of packing material.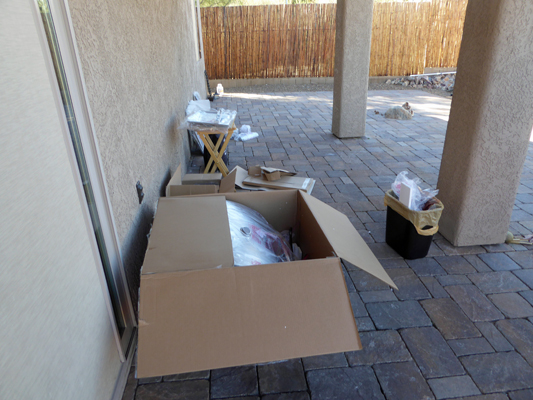 We started with the base and worked our way through the 30 plus steps to get it all together.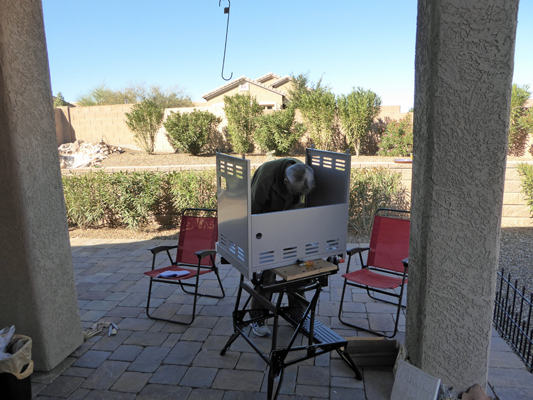 The instructions were pretty good but there were times that just figuring them out gave us an excuse for a break.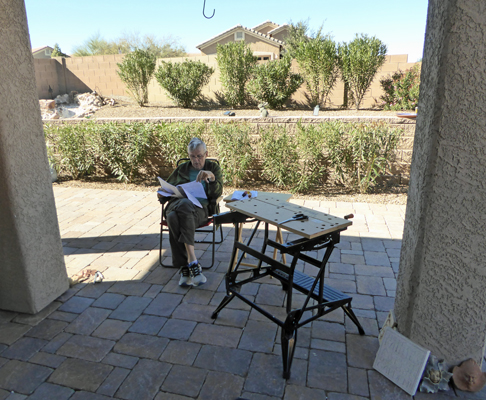 I won't say we got it all done without a hitch but it went pretty smoothly and it looks pretty good.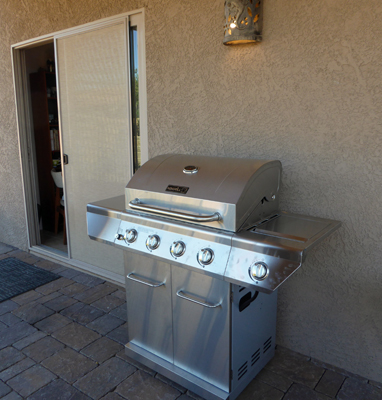 Our bathroom had come without any window covering and no frosted glass so I ordered some pleated blinds on-line and they finally came on Friday. We spent a bit of time trying to install them (the tools in the garage weren't unpacked yet so we were a bit handicapped) but Saturday morning we finished the job when Walter managed to find the right sized molly inserts for the screws.
It's funny. They are the perfect color to match the shower curtain in daylight but they match the floor tile at night!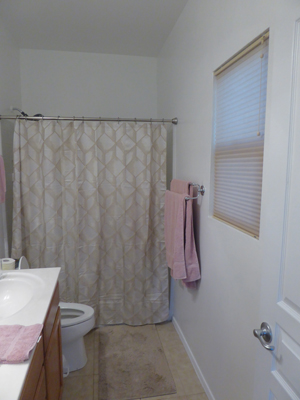 Once we got the blinds installed we headed over to Green Valley RV Resort to pick up Genevieve to take her to the storage lot. We got her parked just fine but in the process we discovered that the fresh water tank drain plug was leaking. We'd turned the petcock to drain it and then closed it when we were done and yet there was water coming out when the trailer wasn't level any longer. Oh oh. These particular petcocks are plastic and notorious for breaking. Oh goodie, another trailer repair in our future!
Walter had found a solar battery charger to keep the trailer's batteries charged up while she was in storage. He hooked that up with the panel sitting on the kitchen table looking out the back windows.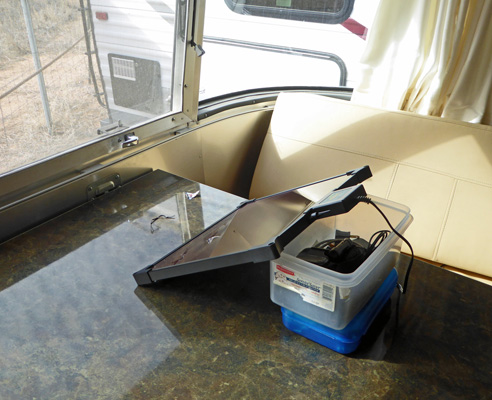 Then he ran the cord up to the 12V outlet and plugged it in there.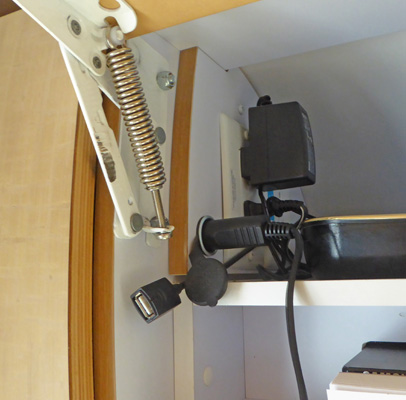 The RV storage lot is across the road from a large pecan orchard. There were what appeared to be clusters of nuts still hanging on the trees. So I stopped to take a photo.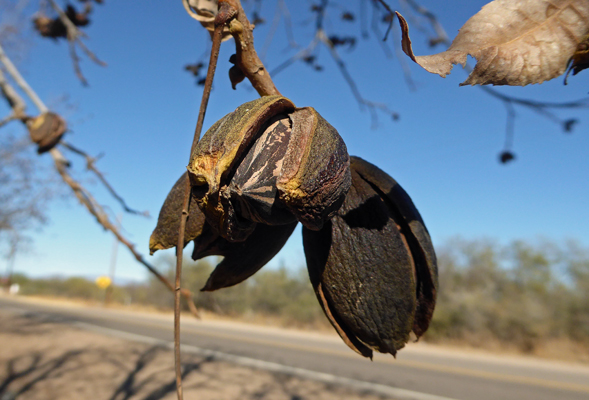 I don't know when they harvest them but they surely were getting ready to drop out of the trees. Here's what the nuts look like when you open up the pods.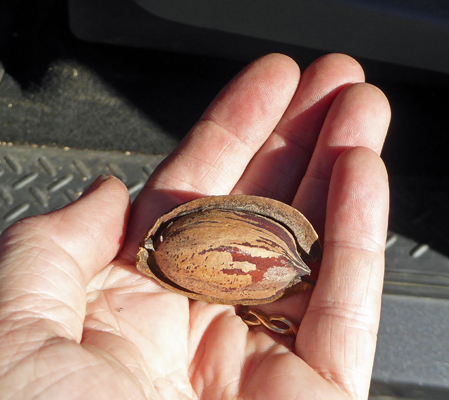 On our way home we picked up a new propane tank for the bar-b-que so Walter could test it out making kebabs the next night. It worked great and I did salmon the other night and it was wonderful. So the bar-b-que was definitely a win.
Later that night a miracle occurred. I managed to get our Canon Pixma printer to work after it hadn't been used for over 3 1/2 years. I'd taken the ink cartridges out when I packed it up and hoped for the best. When I unpacked it and put in new ink cartridges it produced pretty spotty prints to start with. But after running the cleaning cycle a few times and re-calibrating, wonders of wonders it began to work perfectly. Given that our little HP mobile printer will start clogging up when you don't use it for a week or two the fact that the Canon came back to life after all this time is truly amazing.
Sunday was New Year's Eve and I celebrated by unpacking the last of the boxes in the living room. That included opening up all the mirror boxes that had all of our hanging pictures. My oh my do we have a lot of stuff to hang on the walls. I've distributed most of it around the house and have been contemplating its position so we still haven't hung anything yet. But I'm getting close.
We stayed up and watched the ball drop in New York even though it was on time delay. They have no big New Years deal in Tucson so the local stations didn't have any coverage. I missed watching the fireworks over the Space Needle!
Happy New Year to all. May 2018 be kind to us all. On New Years Day, I made what I call Rich Bean Soup. It's a 10 bean soup recipe with ham hocks, chicken and sausage. It cooks all day and makes the house smell marvelous. It also makes enough for an army which means that there's soup in the freezer! In Monroe at this point in the year I'd have 5 or 6 different kinds of soup in the freezer but just having the room to have this beloved soup is enough to make me happy for now.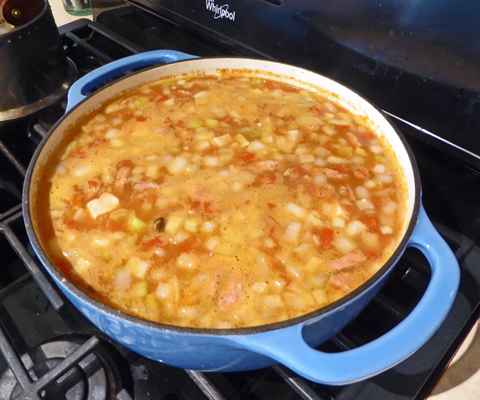 To finish off the day I managed to unpack the last of the boxes inside the house. What a great way to start the new year.
On Tuesday January 2nd, Walter had his PET Scan in the early afternoon. As noted earlier, the results came back that Friday that he had no blockages in his heart. Yippee. We'd brought a picnic lunch with us since Walter wasn't supposed to eat before the PET Scan and we decided we'd head out to Sabino Canyon since it wasn't all that far away. It was yet another gorgeous warm day and there were lots of folks out since the kids weren't back in school yet. We found a parking spot without a hitch. Here's a view from standing in front of the truck.

We found a picnic table to have our lunch and a roadrunner found us soon thereafter.
He made a complete circuit around us and even hopped up on the bench across from us at one point. Clearly he associates picnic tables and people with FOOD.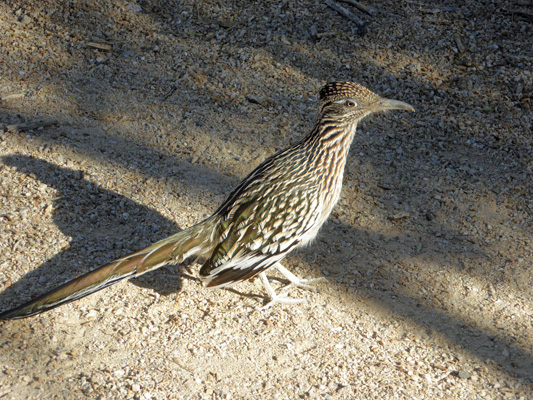 I was in sandals and we weren't dressed for hiking but we decided we'd ride the tram up to the top of the canyon as an outing. The canyon itself is on Forest Service land and the tram is run by a concessionaire. For $10 a head you can ride up the canyon, get off, hike as much as you want and then get back on and off as many times as you want (going either up or down). The ride is about 3 1/2 miles and only takes about 20 minutes. It starts down in the desert with hills covered with saguaros.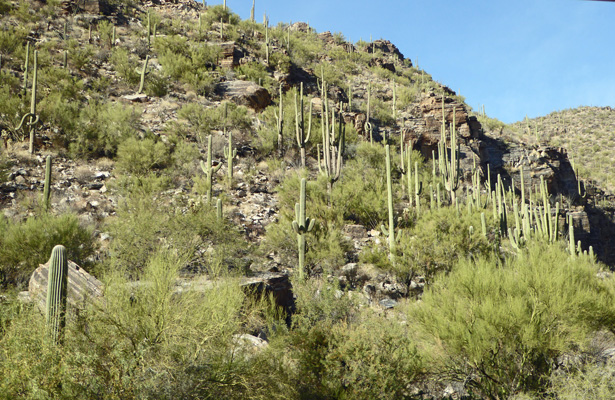 About half way up you get a view of this lovely rock formation which was nicely lit by the afternoon sun.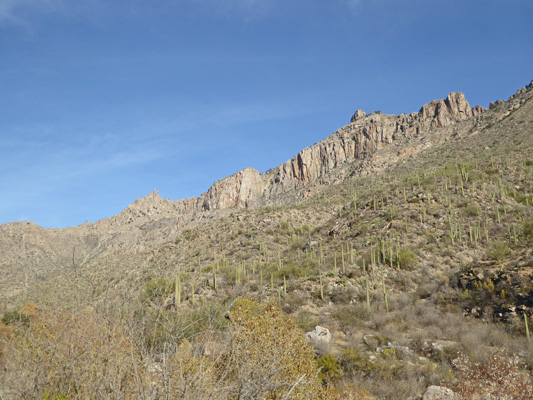 At the top I got off and shot a photo of the last of the formation off on the left.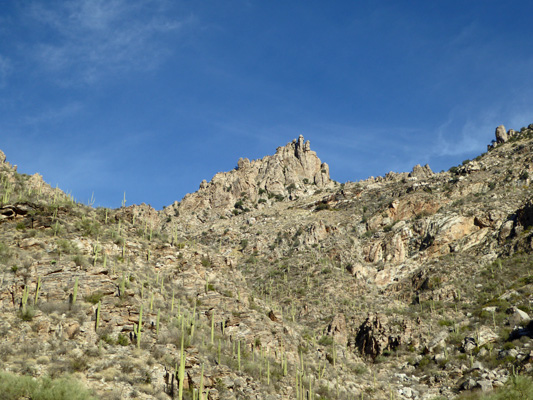 There are 9 stops and last spring we hiked from stop 9 back down to stop 2. This time without proper footwear, we opted to get off at stop 8 and hike down to 7. This takes you through part of the canyon with cottonwoods which still had some fall color.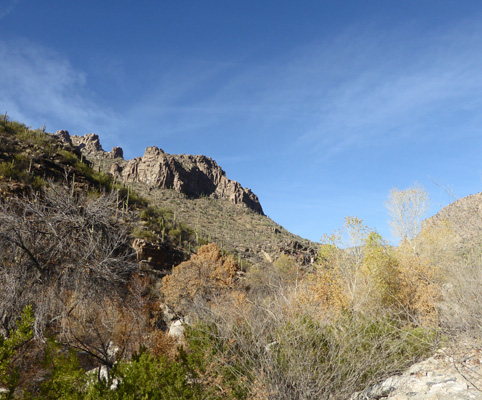 Along the way we got a different view of the nifty rock formations.
And then we found the bench at stop 7 and enjoyed the view while we waited for the tram. There were lots of great saguaros.
A bit of fall color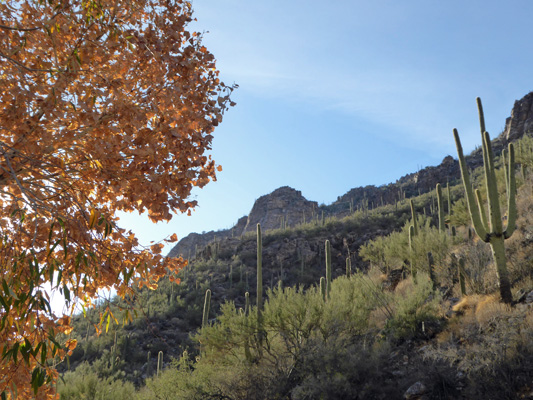 And straight up the hill some great rocks.
The tram going uphill came first so we hopped on it and road back up to the top and then back down again. It was great to get out and enjoy the great outdoors. And it was a beautiful day for it. There was almost no water in the canyon this time. In February 2017, there was so much water that it was running over the roadways and we had to rock hop and wade on our hike back down. But things have been really warm and dry here this winter so there's not been much snow in the mountains yet.
That evening I took a bath and when I pulled the plug, the toilet began to burp. And the water in the tub stopped dropping. Then the water began to rise in the toilet! And we discovered that the master bathroom toilet was rising and there was several inches of icky water in the shower. Oh joy! In time the water slowly dropped and I lay in bed listening to the sewer line gulping as it ran under the house. We called the plumber (after going up to check the recommendations in the handyman book in the clubhouse) and wonders of wonders he could come that afternoon. It turns out that because we're at an intersection at the bottom of a small rise that we have a sewer backflow device at our sewer cleanout o keep the sewer from backing up into our house if there's a problem in the main line. Since the house had been empty for more than a month, the flapper in the backflow protector had dried out and gotten stiff and was clogging the line. The plumber replaced the flapper and cleared the line and we were back in business. He gave us some advice for maintaining it over the summer (AFTER the last time you use the toilet when you go to leave for the summer, run the washer and put a couple of bathtubs worth of water down the line to make sure everything has cleared past the flapper so it doesn't dry up in a lump and clog the line).
Thursday we began to unpack the boxes in the garage. It wasn't a huge job and we took our time. By Monday January 8th we had actually unpacked the last of our boxes and had pretty much everything stowed away!
Saturday January 6th, we went out to check on Genevieve. The solar panel had done it's job even though we'd had a cloudy day or two. The battery wasn't fully charged but it wasn't too far from it which was great news. We made an attempt at changing the petcock on the fresh water tank.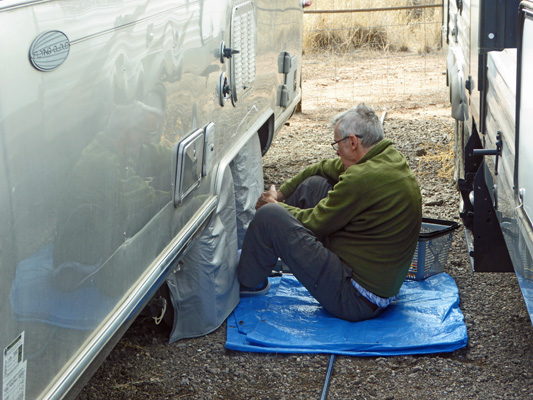 But while we got the screws out okay the valve itself wouldn't pull out. It turns out (from our research on the Airstream Forum) that there's a hose clamp on the other side of that metal plate and no way in our case to get to it. In some models there's an access panel on the underside of the trailer. I climbed under and had a look but no joy. So it's back to the drawing board on this problem.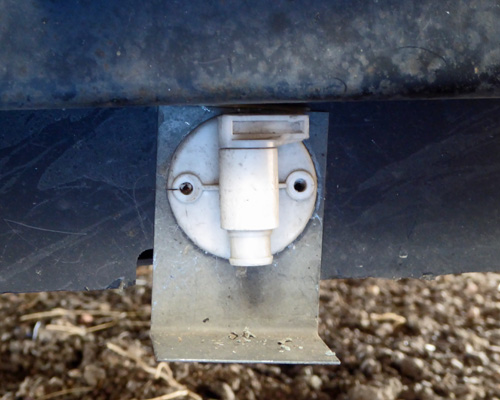 Sunday we worked on the garage some more and Monday I unpacked the very last of the boxes and found a place for just about everything. Whoo Hoo! Let's all dance and sing and celebrate! There was still a low level of chaos everywhere because of the clutter but things were coming together.
By this point I was beginning to feel as if life was coming back under some semblance of control after a month of moving hubbub. So I took a step into the 21st Century and got a Verizon smart phone. The trip to Seattle and back without my laptop convinced me that I couldn't put it off much longer so I took the plunge. My phone number transferred over on Wednesday January 10th and I spent much of the afternoon trying to figure out how to get the phone set up and working. 4 days later I can say that I actually have made a call or two, set up my voice mail and email and know how to answer the darned thing! It's a start at least. We are officially cord cutters. We won't have a land line and we don't have cable TV—just our Cox internet and a Roku.
Friday January 12th, the dishwasher installer finally arrived late in the afternoon and quickly installed our new Bosche dishwasher. It works like a dream and is really quiet too. In fact it's so quiet that they have a little red light that shines on the floor so you can tell it's running.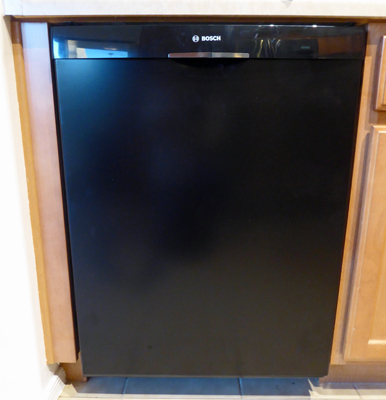 Saturday we made a trip up to Home Depot to get some lumber for a little project to make 'booster seats' for our bedside tables since they are awfully low next to our extra-thick mattress. Instead of going up the freeway, we took the back way along Mission Road. It takes you out through the desert behind all the copper mines where you can once again see nifty rock formations and mountains. And then through the San Xavier Indian Reservation and past the lovely Mission San Xavier Del Bac.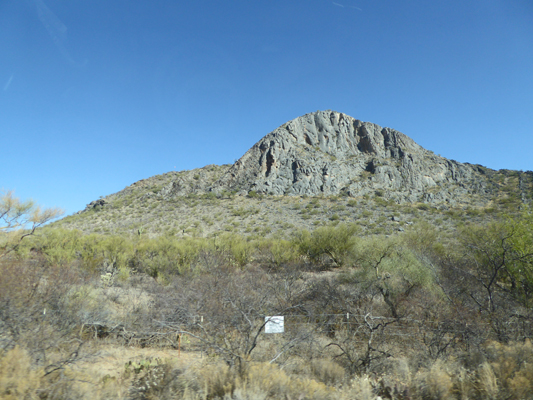 Once we were done with Home Depot, we stopped by the RV storage place and made another try at finding a way in to repair the petcock on Genevieve's fresh water tank. We pulled out panels inside and found all the plumbing but still couldn't get close to the place we'd need to get to so we could replace the valve. Ah well, crawling around on the floor is good exercise right?
A couple of days before I'd finally gotten it together to put up our hummingbird feeder. They found it within an hour or so and have been chasing each other trying to establish ownership ever since. Saturday afternoon I managed to get a photo through the screen door. Sunshine and hummingbirds. Yes!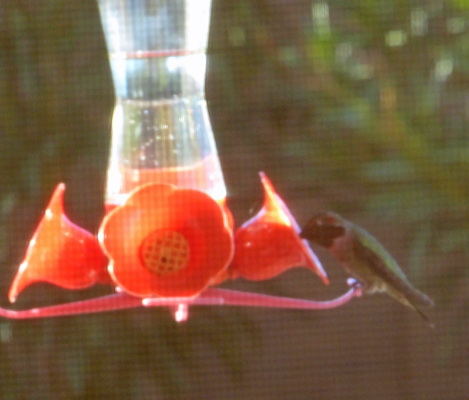 We've had a busy time of it since we arrived in the Tucson area back on the first of November but we've gotten a whole lot done! Things should start to slow down a bit now that we're unpacked and almost settled in. We still have a couch and a bit of patio furniture to buy. Walter has bought us pickle ball equipment and we'll go out soon and Walter will hit balls and I will chase them (I am not stellar at games involving moving objects). We're also just about ready to start a regular pattern of going to the gym now that most of the heavy lifting is over.
Life is good and living in a house again is a pleasure.