On Tuesday July 31st, we drove south from Smiley Creek Lodge (south of Stanley ID) on Hwy 75 up over the pass towards Ketchum and Sun Valley, Idaho. Near the top of the pass there's a great view—the Bethine and Frank Church Overlook. It was a bit smoky but Photoshop helped me remove the haze to give you a better look of the mountains.

We were headed to a series of First-Come-First-Served Forest Service campgrounds about 20 miles north of Ketchum. We drove into Wood River Campground (our first choice) and found it nearly empty on that lovely Tuesday. We picked a nice long site that was pretty easy to get into and had plenty of sun for the solar panel. The camp host came to warn us that it was a pretty warm site but we said we thought we'd be fine with our awnings out and we were. We paid for 3 nights (at $8 a night with our Senior Pass) and settled in to enjoy the afternoon. The Wood River runs through the campground and there were lots of folks fishing in it.
It was smoky because of a fire to the south of Ketchum in Hailey but nothing too bad. We took a drive down to the Sawtooth National Recreation Area Visitors Center and got some literature about the area and talked to them about the fire.
On Wednesday we drove into Ketchum to do grocery shopping and to use the WiFi at their very nice library. The town was pretty crowded (nothing like Banff but still it was high summer and parking was at a premium). The grocery store was very high end. I don't think I've every seen so many varieties of goat cheese outside of a cheese store!
Thursday August 2nd, we drove back down to the Visitor Center area and then just a couple of miles east on a dirt road to the Murdock Creek Trailhead. It was clearer than the day before and it was only in the low 70's when we set out on our hike.
There was Sticky Geranium (Geranium viscosissimum) all along the trail.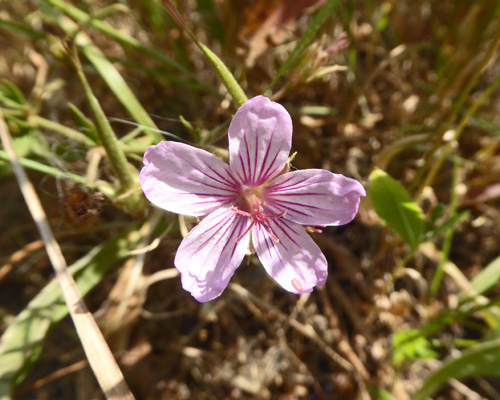 After just a short distance, the trail takes you into the Hemingway-Boulders Wilderness. This is just one of 4 huge wilderness areas in this part of Idaho.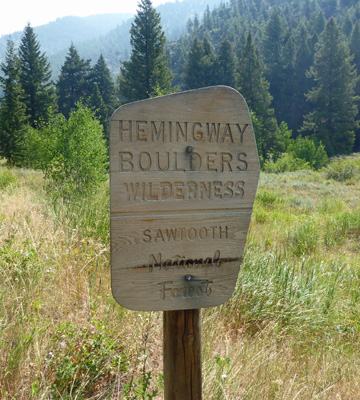 The trail winds past some interesting rock formations.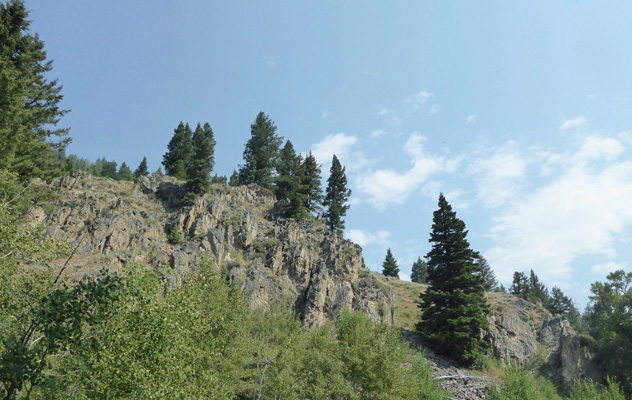 And over a nice bridge spanning Murdock Creek.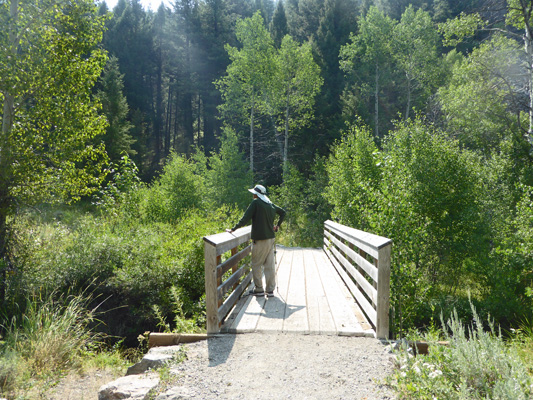 There were big swathes of Western Horsemint (Agastache urticifolia).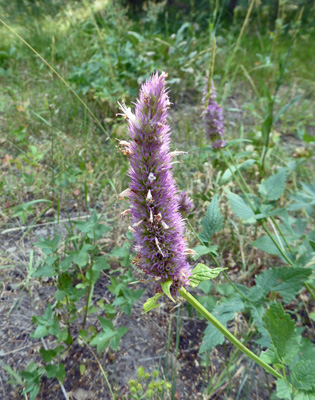 And they were full of butterflies. You could count 20 to 30 of them at any given moment.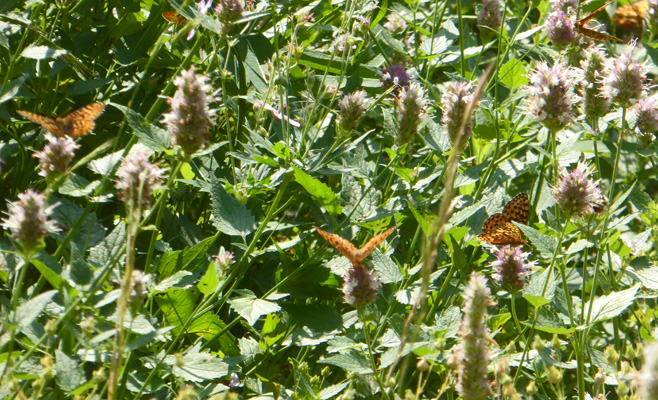 One of them even stayed still long enough for me to get a photo.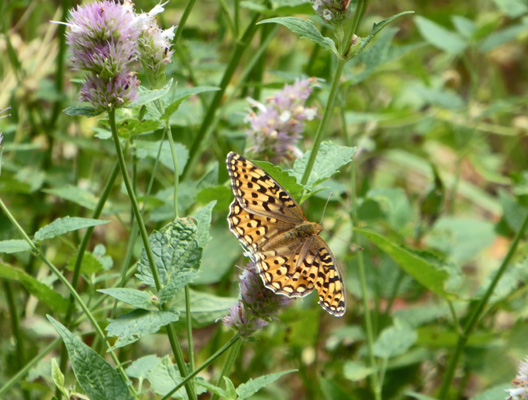 The creek burbled along right up to its banks.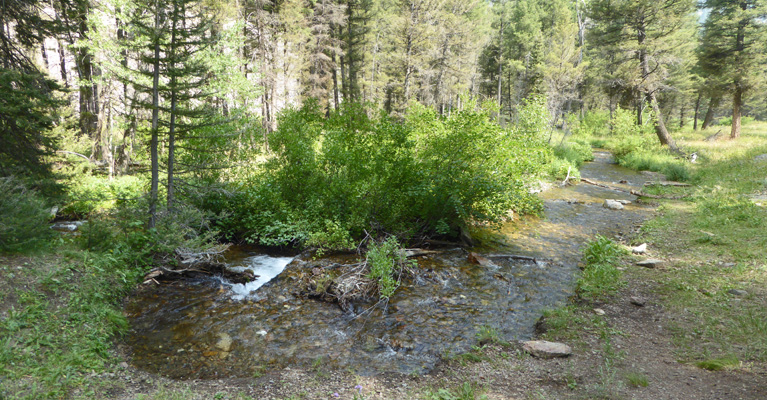 While the trail feels like it's pretty flat it was actually going gently up hill so the creek had some gravity working with it.
I found a different kind of butterfly resting in the pathway.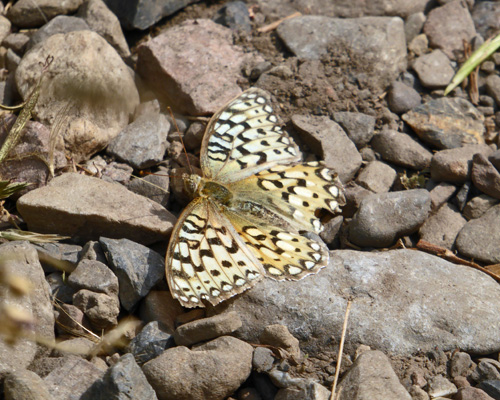 The first mile of the trail is supposed to be wheelchair accessible. It was plenty wide enough and it was paved in gravel but I think you'd need an all terrain wheel chair to do it.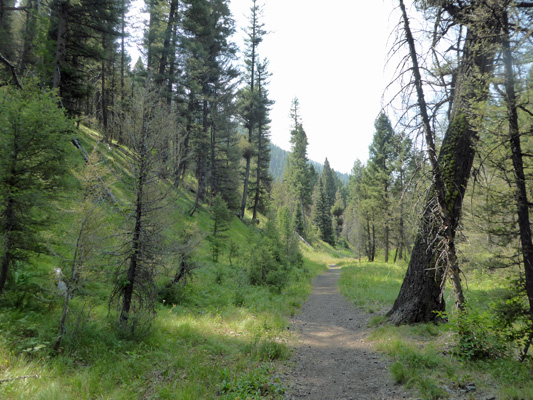 There were lots of asters along the way. In fact there were two kinds. I think that these are Thickstem Asters (Aster integrifolius).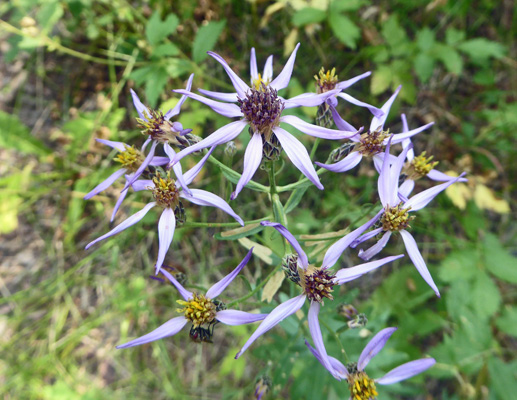 But there were too many choices and I didn't have enough details to figure what kind these are.
The trail crosses yet another bridge giving you a nice view of the creek.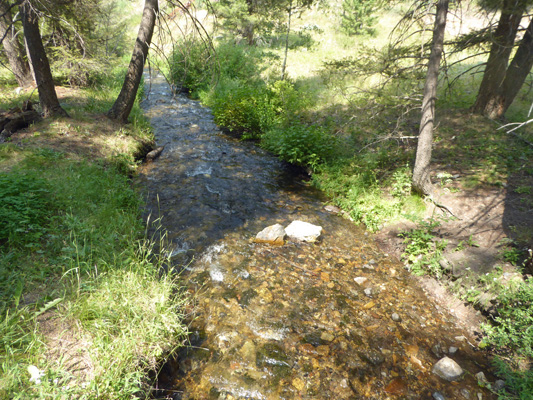 And then the trail begins to narrow. By the time it turns the corner the creek looks narrower too.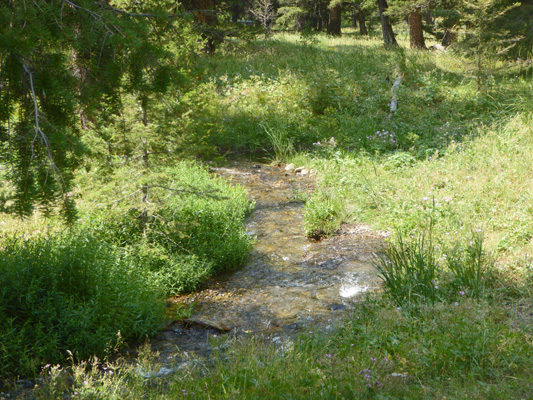 The trail passes through a small meadow and at the end of it we turned back.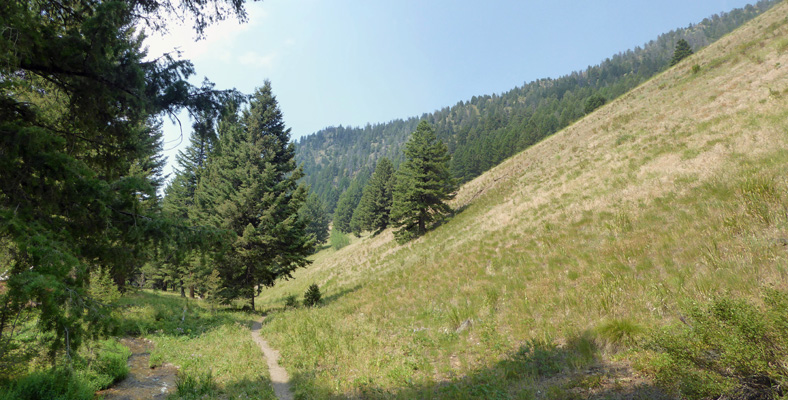 Friday August 3rd, we packed up and drove back north on Hwy 75 and turned west in Stanley on Highway 21 until we reached Bonneville Campground where we had a reservation for 2 nights.
I managed to grab a photo of the mountains to the east on the way north on Hwy 75.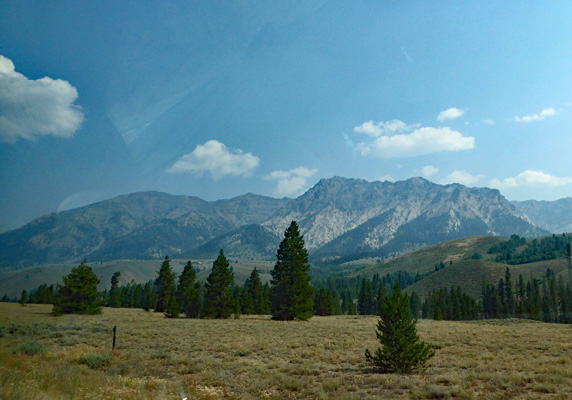 Bonneville is a popular campground because there are hot springs here. We hiked over to take a look (I forgot my camera) and were not terribly impressed. Very hot water streams out of the hillside and runs down to Warm Creek. Folks have built little stone circles in the edge of the creek to create ponds to sit in that mix the hot steaming water (my guess 110 to 120 degrees) with the creek water. The trail down was very steep so we took a pass.
The view of the river from the RV section of the campground gives you an idea of how steep things are.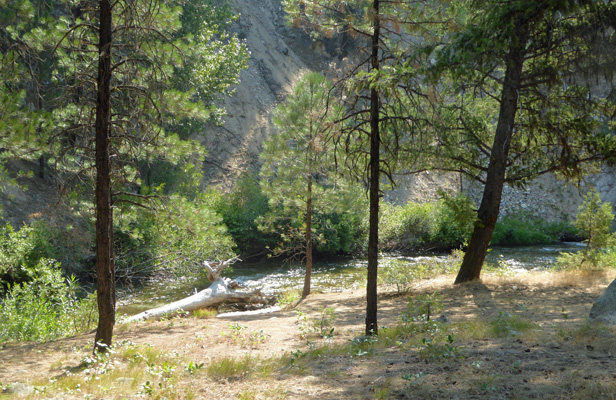 On Saturday we packed a lunch and set out to take the drive to Bruce Meadows. On the way we stopped at the Grandjean Overlook and since it wasn't too smoky I took a photo.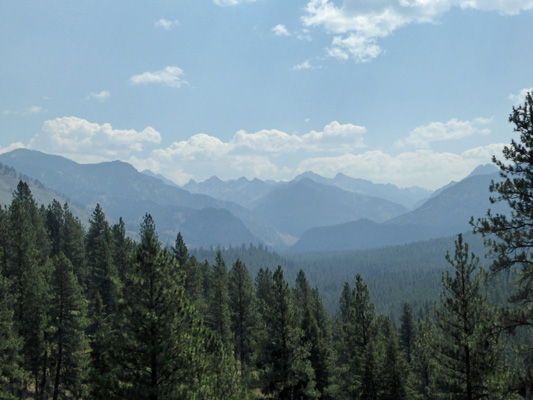 The drive out to Bruce Meadows is a dirt road which had an unusual amount of traffic on it. The road goes out to a number of lakes and reservoirs and must also take you out to the River of No Return portion of the Salmon because there were lots of flatbed trucks (both empty coming out and full going in) with rafts on them on the road.
In the early summer, the meadows here are no doubt gorgeous but the flowers were pretty much done except for asters. We were looking for wildlife but aside from a few ground squirrels and birds we didn't see anything. We stopped and had lunch at the Bruce Meadows Rest Area and I took a photo to give you an idea of the terrain.

On Sunday August 5th, we packed up and headed east on Hwy 21 to Hwy 24 (no longer very scenic because of a huge burn) and on to Hwy 55 where we turned north to Cascade. It being Sunday the traffic going south on Hwy 55 was really heavy. It's a very twisty road and heavy traffic makes it that more challenging but we made it through without any problems.
We had a reservation at Sage Bluff Campground at Lake Cascade State Park. I had mis-read the description and thought that we had a water and electric hook up. But it turned out all we had was water. But we had LOTS of sun and a water view so we sucked it up and set up camp for yet another 4 days without electricity (9 days straight which I think is a record for us in the Airstream). As it turned out this was the best solar exposure we've ever had. Our batteries got fully charged and we had no problems recharging devices and still keeping the batteries at full charge at the same time.
Here's the view from our back windows.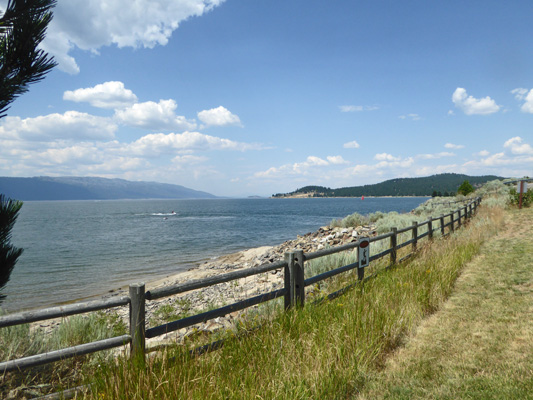 It was in the low 80's and we had a nice breeze. There was some smoke in the air but on the whole visibility was pretty good.

There was a sailboat with a red sail running up and down the lake.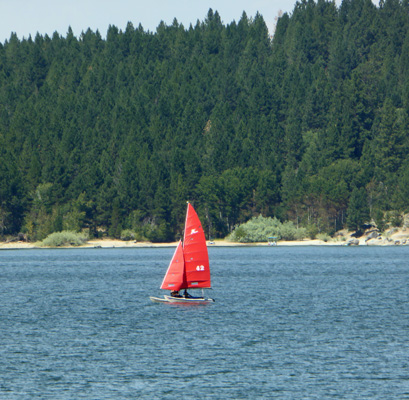 And the folks hanging on before they headed home on Sunday night were out with their jetskis.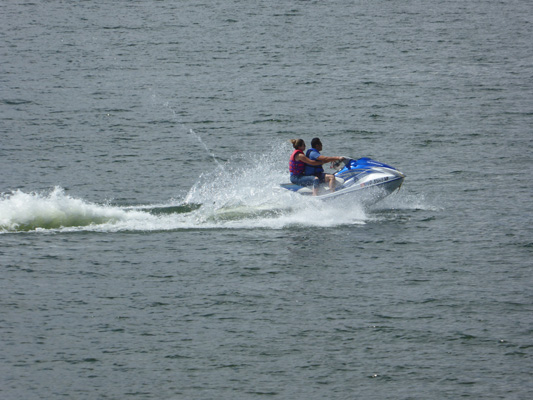 The smoke made for a bit of a sunset that evening.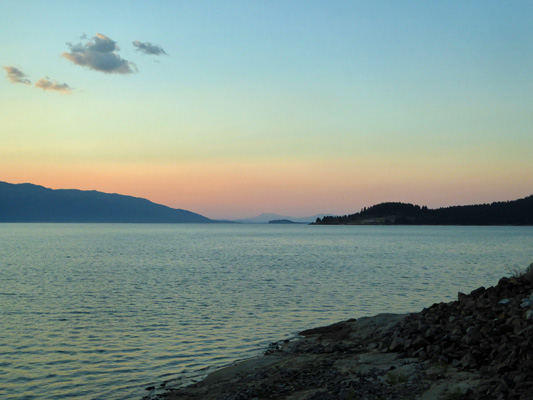 Monday morning the lake was mirror smooth.

We took our time in the morning making sure all our devices were charged up and then headed to Donnelly to do our laundry (this was where I always did my laundry when we were camp hosts and they have free WiFi too). After the laundry was done we drove up to McCall to the hardware store to pick up a few things and then had lunch overlooking Lake Payette.

McCall was pretty busy but we did manage to get a parking spot near one of our favorite beaches.
We had a lovely afternoon back at the trailer with a gentle breeze and pretty clear skies. That evening the sun turned everything orange as it set behind the mountains.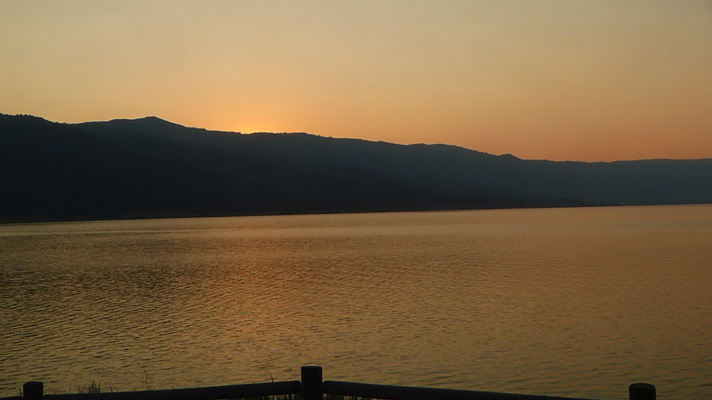 And then the lake turned pearly pink and lavender and stayed that way for over an hour.
Tuesday August 7th, we spent much of the day visiting some friends who we met as camp hosts here at Lake Cascade. They were just settling in for a short stint as replacement hosts at the Crown Point Campground (they had spent the first session at Huckleberry and then gone a trip to Yellowstone and now were back). They had a lovely shaded site and we sat and talked and even got to see a couple of the park staff who stopped by while we were there. It was hotter that afternoon and there was little or no breeze. We didn't have much of a sunset even though the smoke levels were higher than they'd been.
Wednesday August 8th, we drove up to McCall to do our grocery shopping and we found out why things had gotten so much smokier in the last day or so. There was a fire just west of the mountains here and the smoke was coming up over the mountains and filling the valleys here. Visibility in McCall and Cascade was way down though it didn't smell smoky yet. We swung through Sugar Loaf Campground (where we hosted in 2015) to check out the lake levels. The lake is higher now than it was when we first arrived at Sugar Loaf in mid-July 2015. Clearly there hasn't been as much irrigation demand (and they had more snow last winter) than in 2015. On the way out I spied an osprey nest with an adult and 2 chicks. We'd seen a bald eagle as we had driven into town but it's hard to photograph flying birds from a moving car!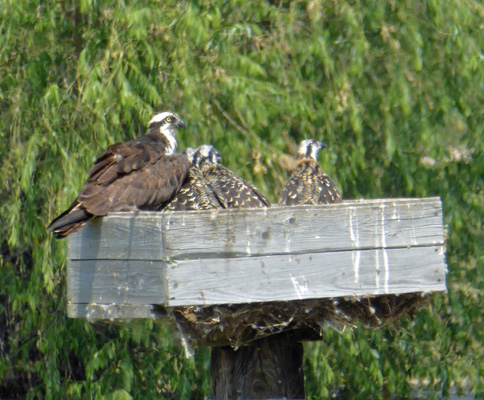 It was due to be in the mid 90's that day so we went home and had a quiet afternoon trying to stay cool.
Thursday morning August 9th, Walter woke up coughing. It had gotten much smokier overnight. We closed up all the windows and that helped him a bit. As we were packing up later in the morning I took this shot of the lake to show you how much smokier it had gotten.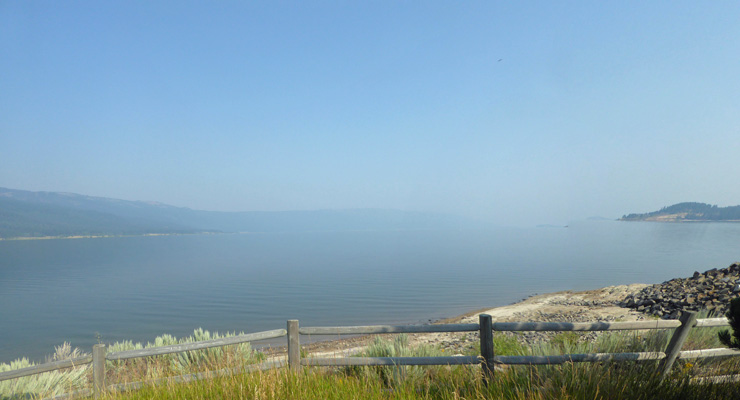 It even smelled smoky by this point. Once we were all packed up we headed north on Hwy 55 and then turned north on Hwy 95. We got to drive through an area that burned earlier in the week just south of Riggins but all was well. It was 98 degrees in Riggins and all along the Salmon Canyon and we were very glad we were not planning on dry camping along the river without air conditioning! Instead we carried on up White Bird Pass (where we had to turn off the air conditioning because the engine began to overheat) to the town of Grangeville and the Bears Den RV Resort where we had a reservation for 3 nights. It was still smoky here but not as bad as down south. Not only did we have power!!!! but we had WiFi and cable TV too. And our cell phones worked too. Wow, civilization for sure.
We picked up an hour since Grangeville is in Pacific Time while Cascade and the rest of Idaho south of Riggins is in Mountain Time so we were set up by early afternoon local time. As the afternoon wore on our weather station recorded 102 degrees in the dappled shade outside our rig. We had the air conditioning on (thank goodness) and it took hours before we got down into the low 80's.