On Friday Jun 8th, we packed up at Evergreen Campground in Havre, Montana and headed northwest from Havre on Hwy 232 to the Wild Horse crossing into Alberta, Canada. As usual the crossing into Canada was uneventful. This is a fairly remote crossing so it wasn't busy—just one car in front of us and they were just finishing up when we arrived.
The map makes it look like there's a town at Wild Horse but there's nothing but the Canadian Border Crossing building and then a very straight road through 50 plus miles of fairly flat farmland. Then you pass through the Cypress Hills Interprovincial Park where there are some trees and rolling hills. Another 20 miles or so takes you up to the Trans Canadian Highway (Hwy 1) where we headed northwest through Medicine Hat (proudly advertising themselves at the Gas Town) and on to Brooks (which is in oil country). We trundled through Brooks on surface streets and out to the west side of town into farmland and down a dirt road for about a mile to the Westside Campsites—which were right where the GPS said they'd be, whew. The more obscure the location the more wary we become. Sometimes Carmine sends us to odd places.
This is a pretty basic little campground with tent sites, power only sites, power and water sites and full hook up sites (some of which are pull-thrus). They have a self-check-in kiosk and no staff. We drove around and decided that the power only sites had the most shade and managed to easily get ourselves parked in one. The power turned out to only be 20 amp (a regular outlet that we had to use an extension cord with to get to the trailer). They only took cash and thank goodness we had some Canadian money left over from last summer with just the right mix to pay the $27 for the power only site for one night. After a quick lunch we asked Carmine the Garmin to find us an ATM machine and she took us back into town (a big 1 1/2 miles) to a Scotia Bank where we could get some cash (and change) so we could pay for our second night. We both felt as if we'd won a big one when we'd managed to complete that process successfully. One less thing to worry about, YES! Funny how changing countries, money, and measurement systems can raise the stress level a bit.
It was in the low 80's so we opened up all the windows and were grateful for the shade. Our Verizon Pay-as-You-Go phones don't work in Canada so we had no hot spot or cell phone. There appeared to be WiFi in the park but it required a password and it wasn't posted anywhere. Walter tried lots of possible combinations for passwords but never found one that worked. He also tried for TV over the air and didn't find any. Brooks isn't the center of the universe and is still 90 miles east of Calgary so I guess it's not surprising.
We had some fun neighbors out our back windows. Four horses. Two of them posed for me while the other two were off in their pasture. Pretty much everyone in the campground came to visit them over the course of the afternoon and evening and they were fun to watch for us too.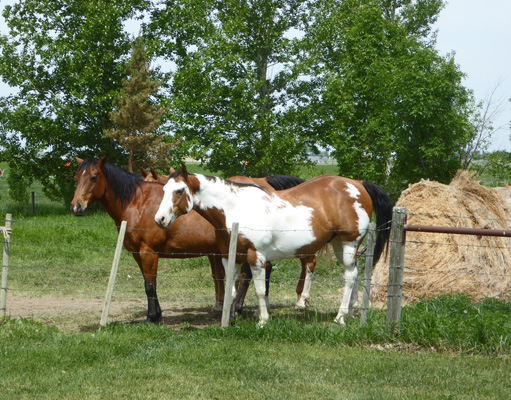 Saturday June 9th, we drove into town to a store called The Source so we could reactivate our Virgin Mobile Canada phone from last summer. That required a new SIM card ($10) and paying for a month's usage ($35 for 250 minutes within Canada and unlimited world-wide texting). After wading through the paperwork and putting the new SIM in, we still had to wait 1/2 an hour before the phone would work. This is the joy of pay-as-you-go phones.
The Safeway was just across the street so we went and bought our groceries and sure enough when we were done the phone worked. Victory! Sobey's, the Canadian chain we'd liked best in the Atlantic Provinces, has bought the Safeway stores at least in Alberta so shopping here was more like shopping at Sobey's than Safeway but that was fine. We got gas ($1.24 a liter which is $4.71 a gallon but remember, the exchange rate is still pretty good here so take at least 20% off if not 25% off. And yes it's still expensive).
It was hot already by the time we got back and it continued to heat up reaching 93 by mid afternoon when the thunderstorms arrived. Then within half an hour the temperature was down to 60 and the trailer which had been up at 90 was down at 80. It blew and banged and boomed and we had a little hail and a lot of rain. It quit by 8 or 9 o'clock and then began to rain lightly in the middle of the night and was still raining when we got up on Sunday morning.
We had breakfast and glory of glories the rain stopped by the time it was time to pack up. It was muddy and only 55 degrees but at least we didn't have to wrangle cords in the rain.
We made our way back to Hwy 1 and headed west through farmland and suburbs and then downtown Calgary. There was a by-pass but Carmine insisted that heading straight through town on Hwy 1 was the best way to go so we trundled through the heart of the city. It rained a bit off and on but nothing serious. The clouds were beginning to lift a bit as we headed out of town and into the mountains so we could even see a little bit of snow.
There was a pull out at Lac de Arc so I stopped to get a photo of our first taste of the east side of the Canadian Rockies.

Then I turned around and took a photo of the mountain on the other side of the highway.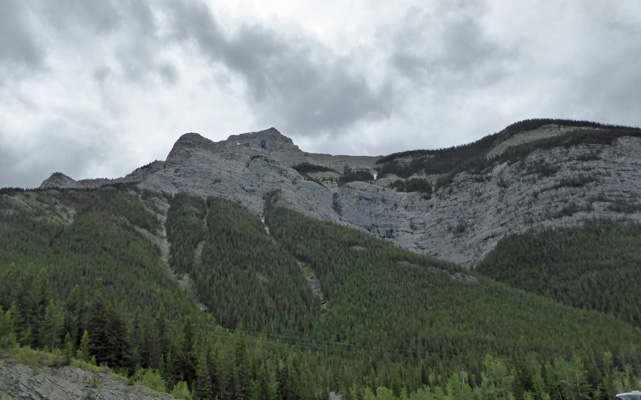 There's a long narrow valley here that takes you into the mountains without having to go UP that much. It's really remarkable. The town of Banff (and the campground where we camped) is under 4800 feet.
We got into Banff National Park a little after two and stopped to buy our Discovery Pass which is basically an Annual Pass that covers the entry fees for all National Parks in Canada. Last year these were free in celebration of the 150th anniversary of the founding of the federation. But this year the senior version cost $57.90 each plus tax. Unlike US National Parks the Canadians charge you a per person per day fee so after 7 days the pass pays for itself. Since we'd be in Banff for 6 days and Jasper for 5 days, it was a must.
We had a reservation for a power only spot in the Mount Tunnel Village II campground just outside the town of Banff. Since check-in time is 2 and we got there at about 2:30 we had to wait a bit. But check-in was quick and easy. We stopped at the dump station to empty our tanks and fill up our water tank since we only had an electrical hook up. Then we set up camp in our side pull through spot. The campground has mountain views but with the clouds everything was pretty foggy looking. We had lunch and then decided we'd head to the Visitor Center to get some free WiFi access.
Oh boy, what an experience. The town of Banff was a zoo. This is the shoulder season so it's not supposed to be very crowded. Ha! There were RV's and buses and cars everywhere. The sidewalks were full of people and finding a parking spot was a challenge. Walter was a real trooper and managed to find a spot on the street across from one of the official parking lots which was tiny! It turns out what they really want you to do is park on the north edge of town and take the bus into downtown.
We hiked through a light rain (did I mention it was 46 degrees?) through a huge shopping and hotel district and at last came to the Visitors Center. Ummm. It was a combined National Park and Banff Hotel and Visitors Bureau. People were lined up trying to find hotel rooms! There were four waiting room type seats next to the gift shop area and that was it. We sat on the floor until one of the seats became available and then I perched on some stairs while Walter sat in the one available seat since sitting on the cold hard floor really made his body hurt. The WiFi was near impossible to sign onto. With some struggle I got on but Walter never got on. In the end he checked his email on my laptop and I looked at Facebook on my phone which pretty easily signed onto the WiFi. Let's just say while we got what we absolutely needed to do done it wasn't a super enjoyable process.
We did manage to get a hiking guide and a few other pamphlets from the National Parks info racks and then hiked back to the car. We were both in a state of shock that a National Park could have such a huge busy tourist-packed commercial place at its heart. Wow. It makes Yosemite seem nearly sedate in comparison (and it was super crazy the last time we were there).
It was cold overnight on Sunday night with a low of 37 degrees. It was slow warming up since it was cloudy so we took our time getting going too. It was 44 degrees when we set out at about 10:30—not exactly balmy! We drove the Tunnel Mountain Drive which takes a sharp turn at Surprise Corner. There's a little parking lot which was full and so I hopped out while Walter waited in what turned out to be the tour bus parking area. And of course while I climbed the stairs to the overlook, a bus came up and Walter got to drive around the parking lot (very slowly) while I snapped this photo of the Fairmont Banff Springs Hotel across the river.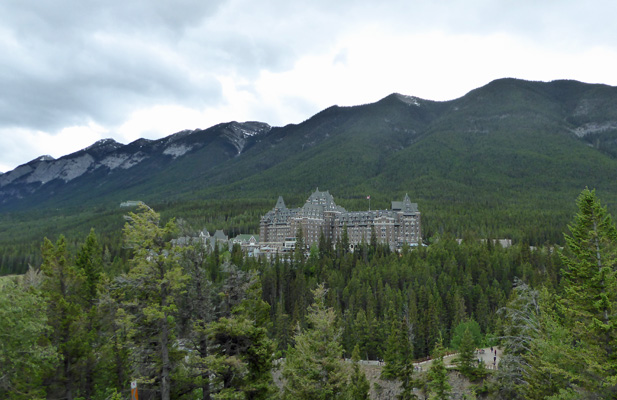 In the early days of the Canadian National Parks they built a number of these big fancy chateaus—one here since this was the first Canadian National Park; one up at Lake Louise and one at Waterton Lakes across the border from US's Glacier National Park. As I headed quickly back down the stairs to the truck it started to spit snow!
We drove on down the hill, and through the edge of town so we could go over the Bow River and out to the hotel (by mistake) where we turned back to go across the river again to drive the Golf Course Road where there were supposed to be elk. It's an old premier golf course (built in the early 1920's) that Walter said looked to be a very challenging one. The setting certainly is spectacular.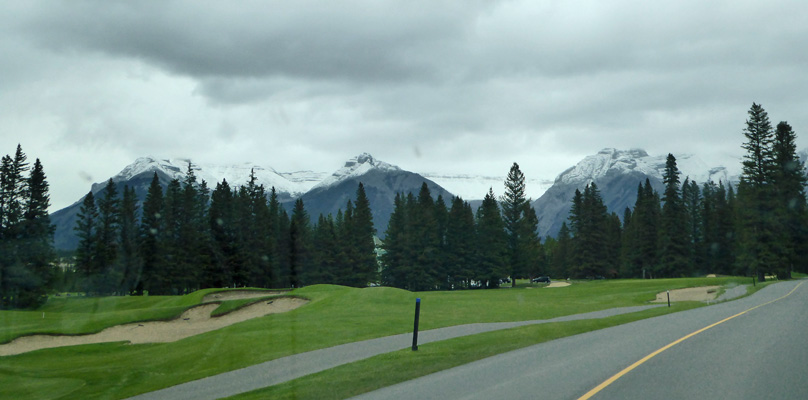 And there were people out playing and the golf carts didn't have enclosed sides either. Brrrr.
Here's a view of Tunnel Mountain from the Golf Course Road.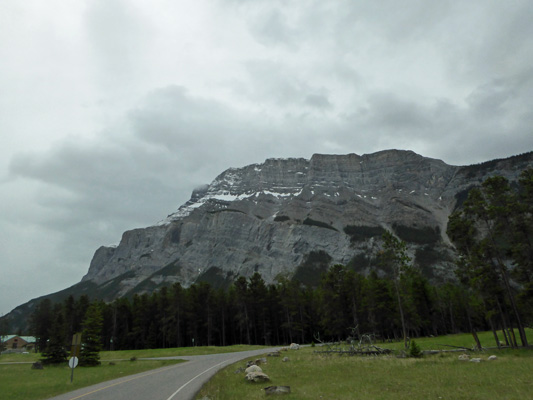 The road loops off through the trees and past the river and through a couple of meadows that were perfect elk habitat but all we saw was a coyote. Ah well, it was a nice drive and we were safe and warm inside the truck.
We stopped at the Bow Falls parking area to have a look at the falls.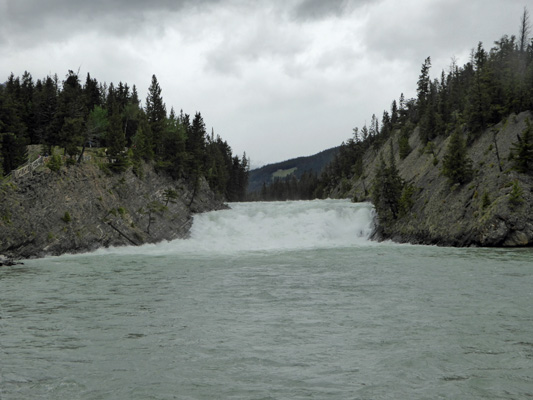 The river was pretty much at full spate. There weren't big concerns about flooding since much of the snow in the mountains had already melted from warm weather in April and May but it sure looked full to me.
The crazy thing was that even though it was only 45 degrees there were people setting out to go white water rafting!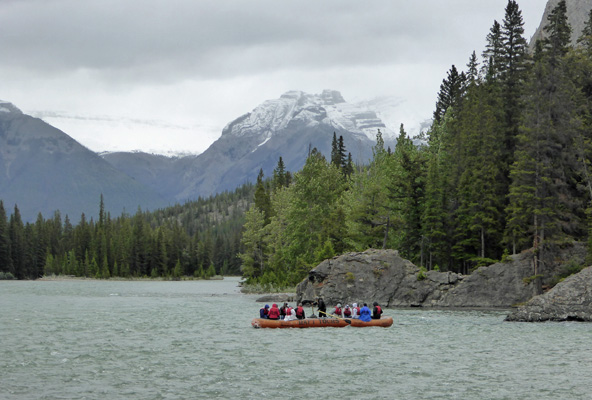 I guess if you made your reservations you go no matter what the weather. But gee whiz it looked awfully cold to be out on the water without a dry suit on. I suspect they don't loose folks into the water often since it's didn't look like there were any rapids. But still...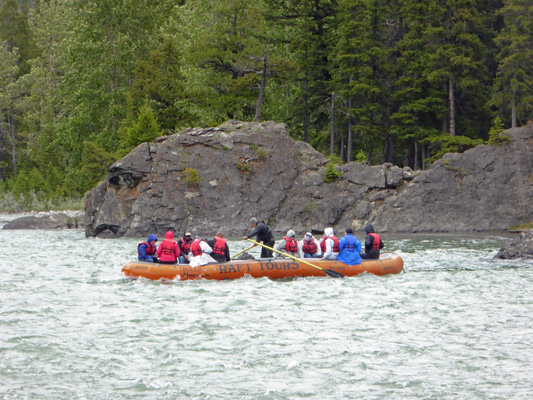 We'd passed a bus parked next to the river on the Golf Course Road so they don't really go very far and it is a gorgeous setting.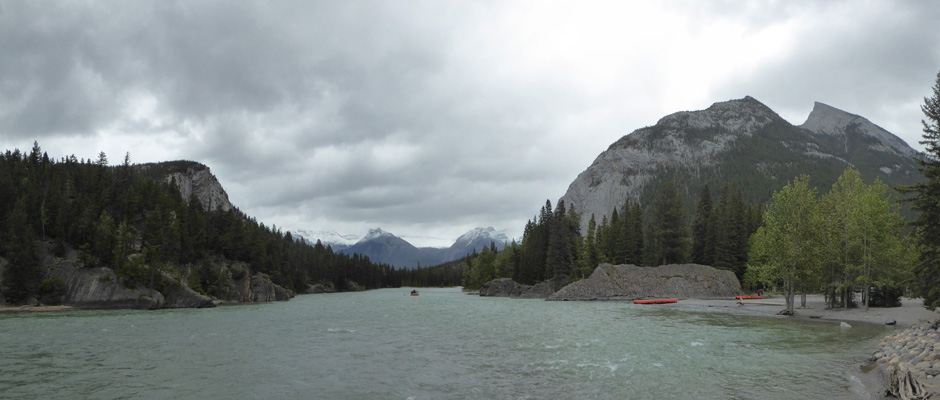 Here's a close up of those mountains in the middle.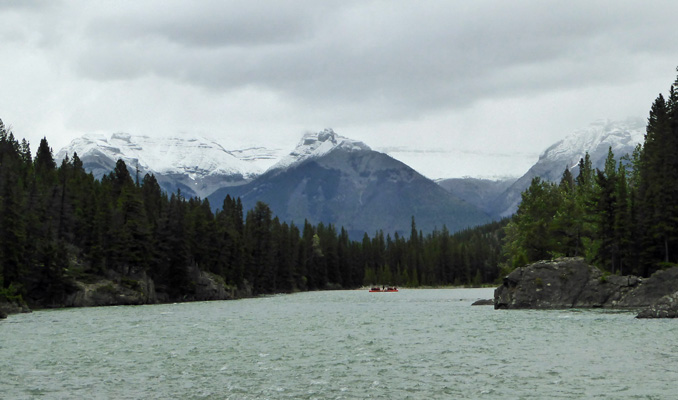 We drove on back through town and I took this photo of what I think is Mount Rundle while we waited at a red light.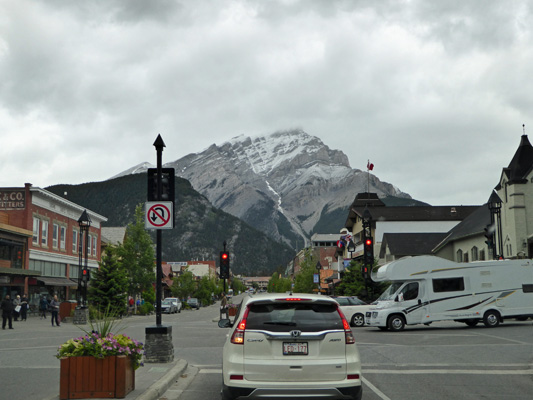 We drove out of town and along the Lake Minnewanka Road which is supposed to be another great wildlife drive. Along the way we got some great mountain views. We pulled over and I got out to take this photo to our rear.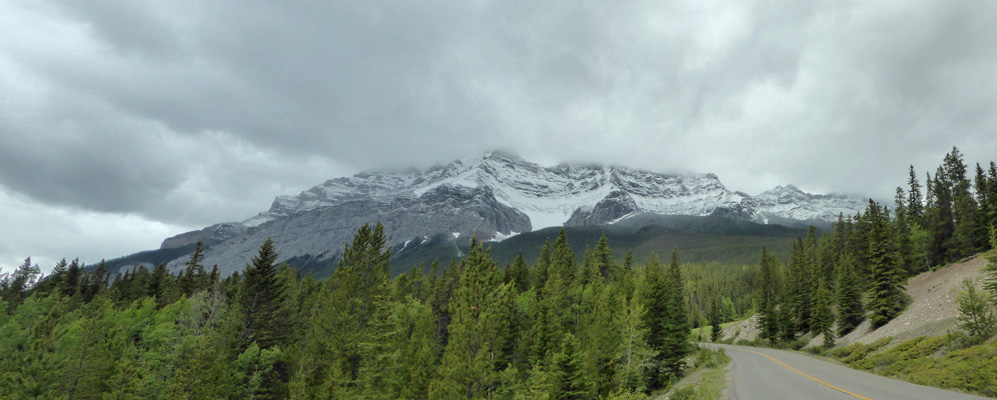 And this to our front.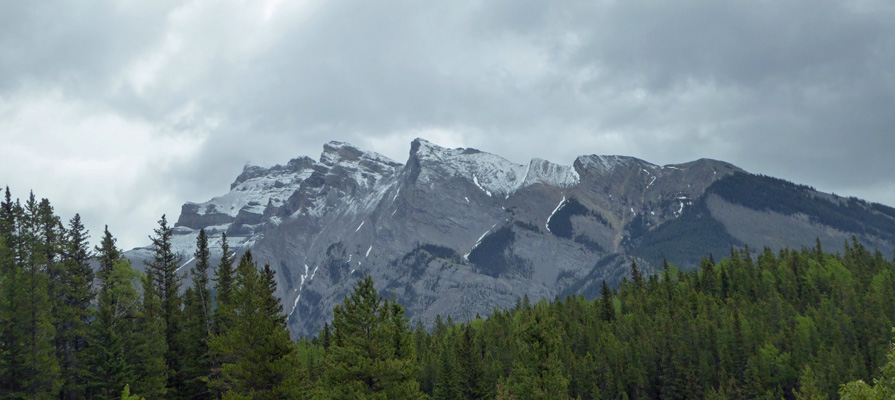 Lake Minnewanka is a reservoir and is the only lake in the park where they allow motorized boats. There were tons of cars parked at the Day Use Area and I suspect that was because people were taking the boat ride out across the lake. I just stopped along the causeway to get a shot. And nobody even beeped at me for stopping a moment.

Then when we made it across, I stopped at a pull out to get another shot. There were brief sun breaks and the lake turns a lovely emerald/aqua green in the sun.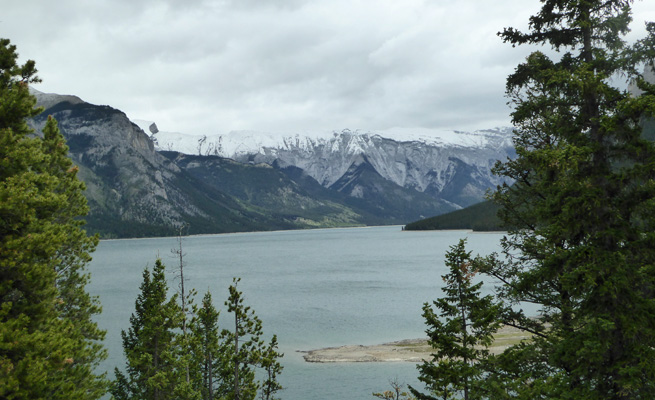 There's a shuttle bus that runs along the Lake Minnewanka Road and there were people out waiting in the wind. They looked cold. No one was out having a picnic at Two Jack Lake either.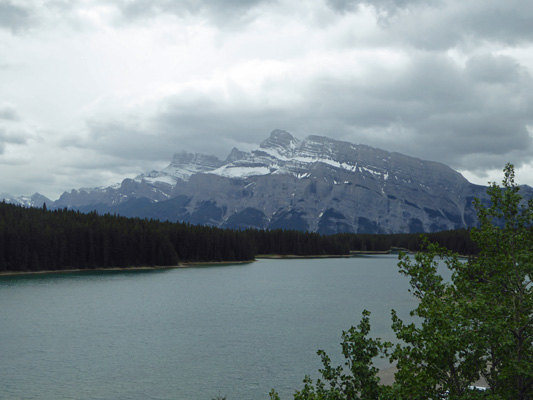 The road completes it's loop and you get a view of a small ribbon of falls that cascade down a rock face. I don't know it's name but it was pretty.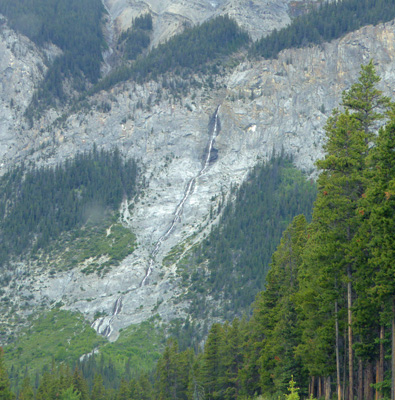 The view looking westward was nice too.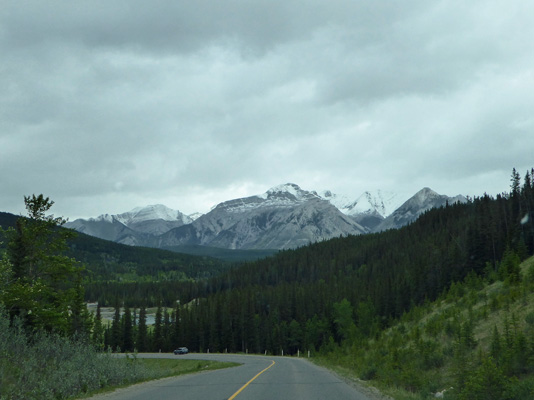 There were cars stopped down at the bottom of the hill and we couldn't figure out why until we got closer. Wildlife!!!! There was a cow elk strolling along eating grass.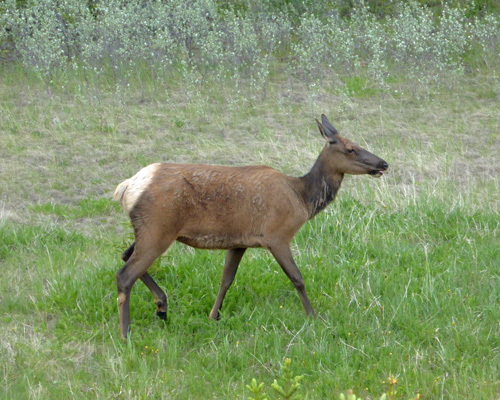 We had planned to do the hike around Johnson Lake but the road was closed so we couldn't get there. Ah well, it was only 46 at that point and neither of us thought it sounded fun.
Instead, we hopped onto Hwy 1 and went north (the signs say west but you know how highway signs are) a little ways to the Mount Norquay exit where we went west to take the Vermillion Lakes Drive. This road takes you past a series of shallow lakes with great views of the mountains. There were lots of bikes and folks out walking even though it was cold and windy. In fact, there were two young women putting a kayak away who had been out on one of the lakes. They said it was cold.
Here's Mount Rundle from a very different angle than we saw it in town.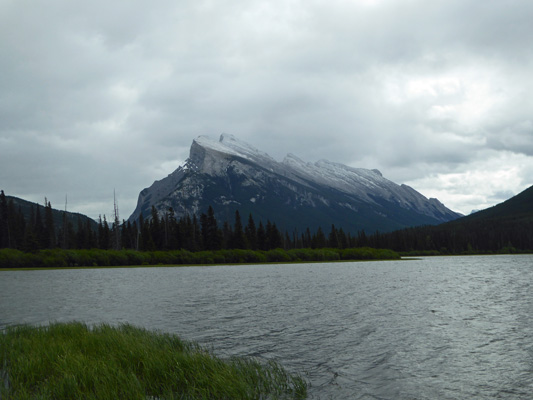 It's not hard to imagine that this mountain was formed when a fault broke and the whole land mass was thrust up on one side. That long face on the right looks like a canted dance floor on the Titanic as it was sinking.
The view across the lakes is pretty nice too.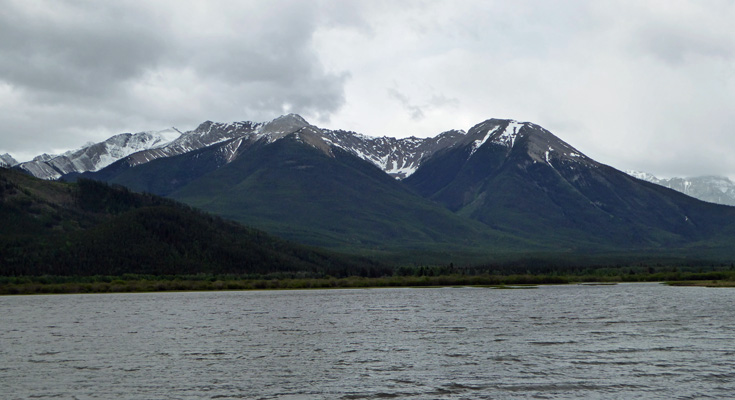 While I was taking this photo I noticed a black bird out on the water. It was a loon! It spent very little time above water since it seemed to be fishing for something but I managed at last to get a picture. I have heard loons in a number of places we've visited and seen them once or twice but this is my first decent loon photo.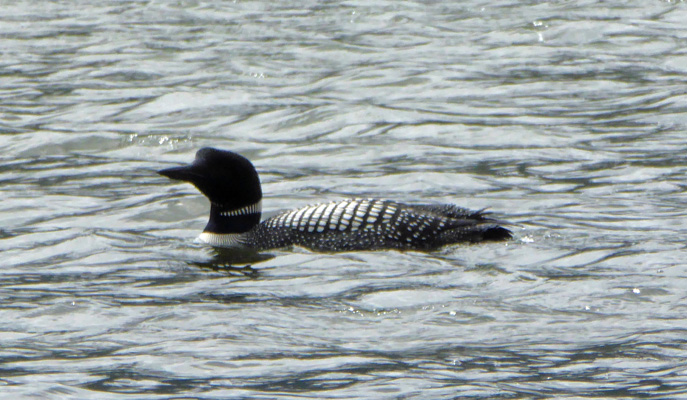 An older gentleman, noticing me taking my photos asked me if I knew what kind of bird it was. I said, "It's a loon." "Good," he said, "I just wanted to make sure you knew what it was." I guess our Texas plates indicate we might be clueless tourists. And of course seeing a loon is a great Canadian thing since their one-dollar coin has a loon on it and is known as a loonie.
We drove to the end of the road and I found what I think is Western Virgin's-bower (Clematis occidentalis) entwined in a bush next to the parking area.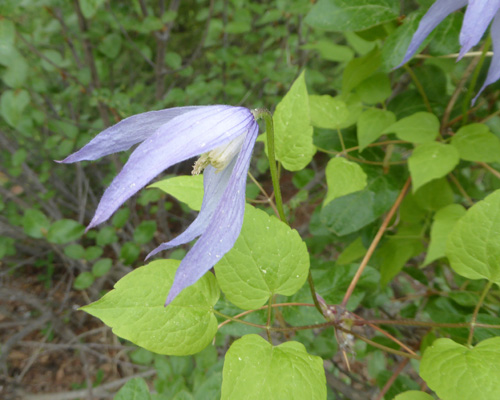 And I got a rather iconic photo of Mount Rundle.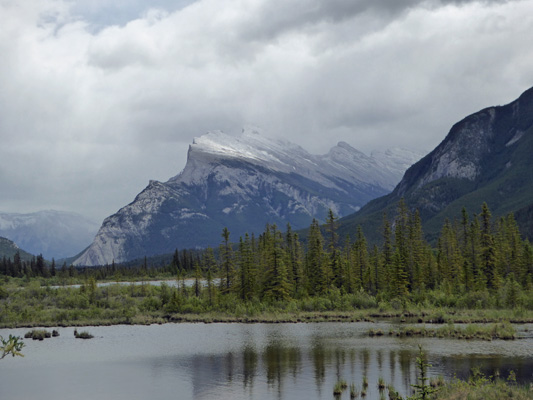 If there hadn't been any wind this could have been a great reflection photo. But it was pretty breezy.
We drove back the way we came and got back on Hwy 1 going north just a ways further to the Bow Valley Parkway exit. The Bow Valley Parkway is the original road that took folks from Banff to Lake Louise. It's known for it's wildlife. In fact, they keep the southern portion of the road closed from 8 pm to 8 am daily from March 1st to June 23rd to help promote the peace and health of the wildlife in the area. It's a lovely drive but we didn't see any wildlife.
But we did pull off at a picnic area that had red chairs and a lovely view of the Bow River.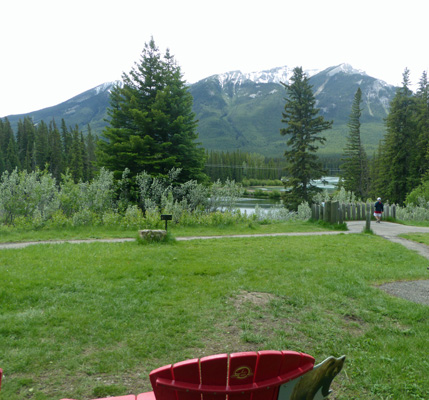 It was still only 47 and it was windy. There was a big group of people having a picnic and they were all standing up and eating because the concrete picnic benches were so cold.
One of the most popular hikes in the park is along this parkway and they have electronic signs to tell you how many open parking stalls they have in the parking lots as you approach the trailhead. There were TONS of cars parked along the side of the road too. When we went by at 1:30 they had 15 open stalls and there was a long line of cars waiting to fill them up. Talk about taking a hike with hundreds of your closest friends!
There's construction along here too and I took this photo of Castle Mountain while we waited in traffic control.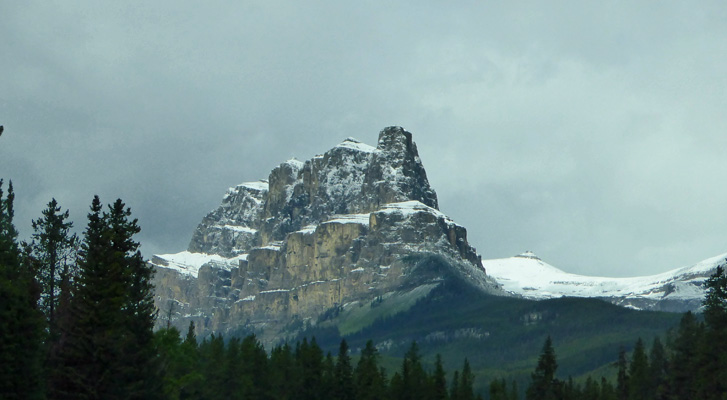 We had hoped to get gas at Castle Junction but their very old (as in classic) gas pump was out of order. We sat in the truck at the picnic grounds at the lodge there and had our lunch with this view of Castle Mountain.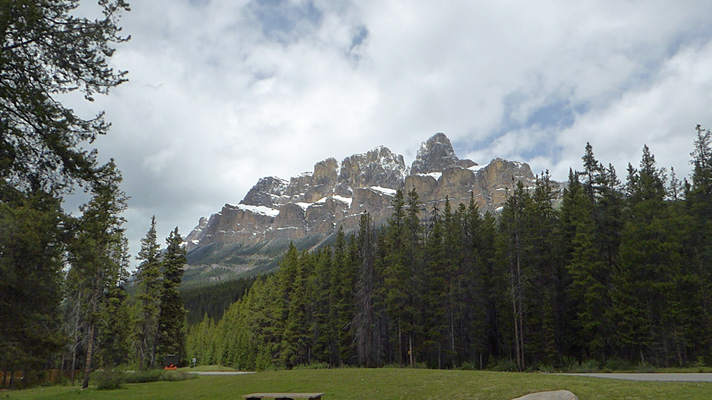 We hopped back on Hwy 1 here and headed south towards Banff to get gas. Along the way we stopped at one of the turn outs to use the rest rooms. And I spotted some wild roses in bloom in the parking area. The "Welcome to Alberta" signs that you pass when you cross the border say that Alberta is the land of the wild rose.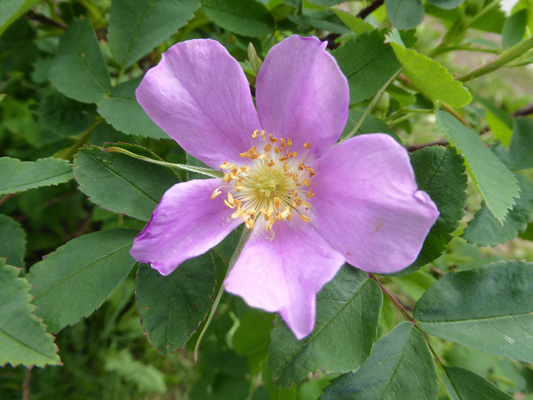 I followed a little trail out towards the highway and found some Indian Paintbrush in bloom.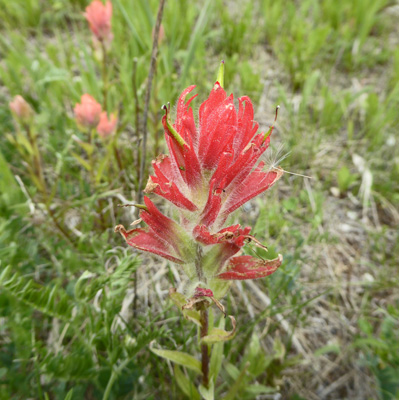 And I got a great view of one of the many wildlife overpasses that they have in the park. They've put high fencing up along the highway to funnel the wildlife over these lovely wide deeply planted overpasses.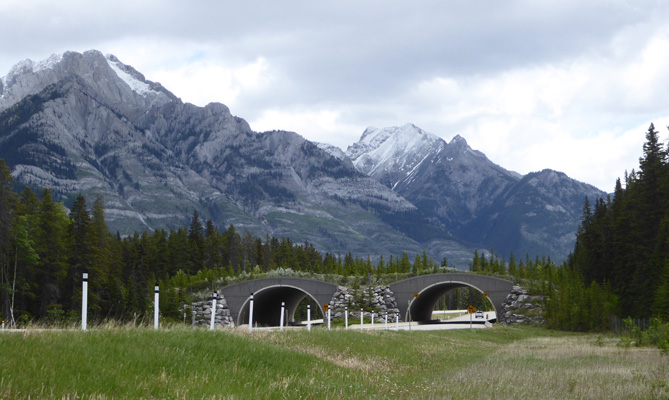 And they work great. The wildlife stay off the highway and can move much more freely from one side to the other. A win-win all around. We saw new ones farther north the next day and ones being constructed in Yoho National Park in BC too.
Having successfully gotten back on the highway without getting us killed (they don't have long on-ramps from these turn outs) I decided that since the sun was out I'd take the turn out with the view over the Vermillion Lakes and Banff. That's Mount Rundle once again.

And off to the east the sun was lighting up these snowy peaks. We had quite the mix of weather during the day—spits of snow and rain, wind and an occasional sun break.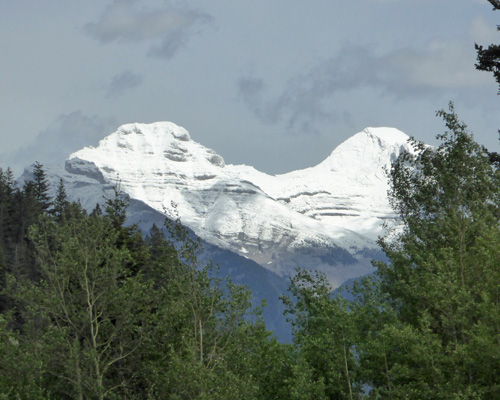 There was a Columbia Ground Squirrel out posing for photos. We saw several more of these up by Castle Junction while we ate lunch.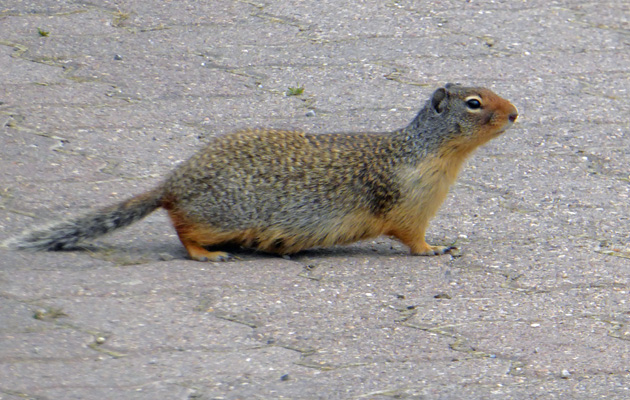 We got off in Banff and with the help of Carmine the Garmin managed to find our way to a gas station. Here's the view at one of the stop signs in town—Mount Rundle again. It may be a crazy crowded town and the parking may be awful but what a setting!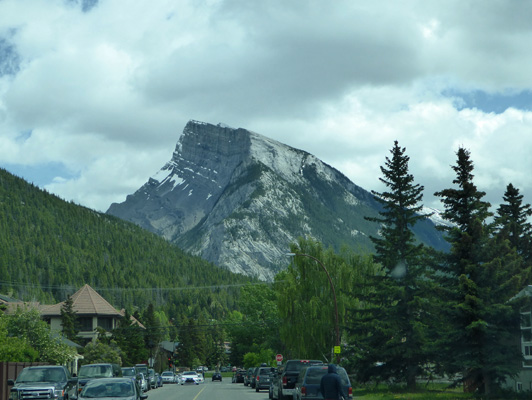 On the way back to the campground we opted to go just past the entrance to the campground to the overlook for Tunnel Mountain which turns out to be another red chair view.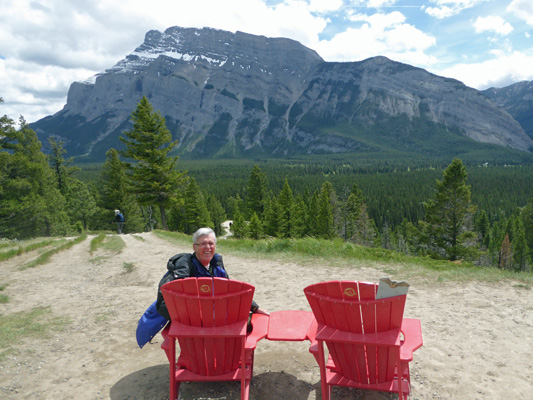 Even with the sun out it was windy and cold. Hiking below 50 degrees has never been something either of us enjoyed and after months in Arizona our blood is way too thin for it. It was time to head home.
We came home to sun breaks and great views in the campground. There are enough trees so no view is unobstructed but we could see mountains in all directions. Here's our most unobstructed mountain view to the north.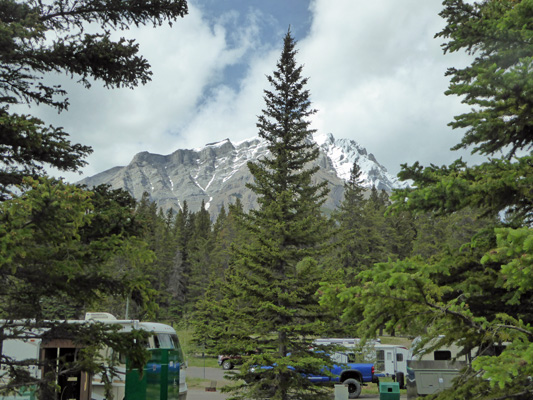 Once the sun came out the temperature climbed to about 52 but it got windier. We were happy to spend the afternoon inside. Walter managed to find a bit of analog TV over the air including CBS which is a bit strange. So he watched TV while I processed all these photos.
It was cold again that night (42 degrees) and we decided we wanted to get up early on Tuesday June 12th to try to beat the crowds up at Lake Louise. So I was up at 5 am to turn the heat on and we were both up at 7 am which is WAY earlier than we normally get up. We hit the road at about 8:30 and the sun was out! Here's the view looking east as we drove out Mount Tunnel Drive towards the highway.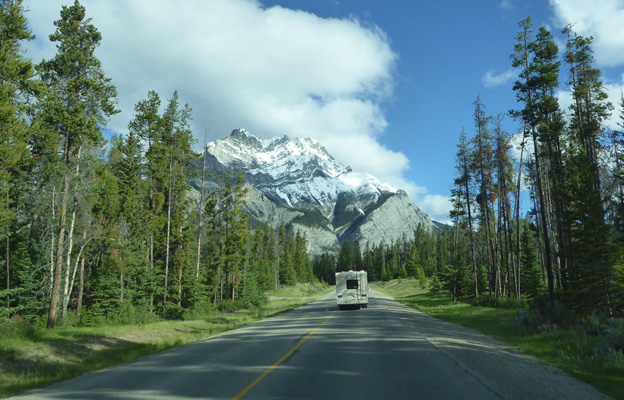 It was still only 45 degrees and windy. The clouds never went away but we certainly had way more sun than we'd had on Monday.
We headed north (or west if you believe the signs) toward Lake Louise which is about 45 minutes north of Banff. Every once in a while the sun would light up the mountains.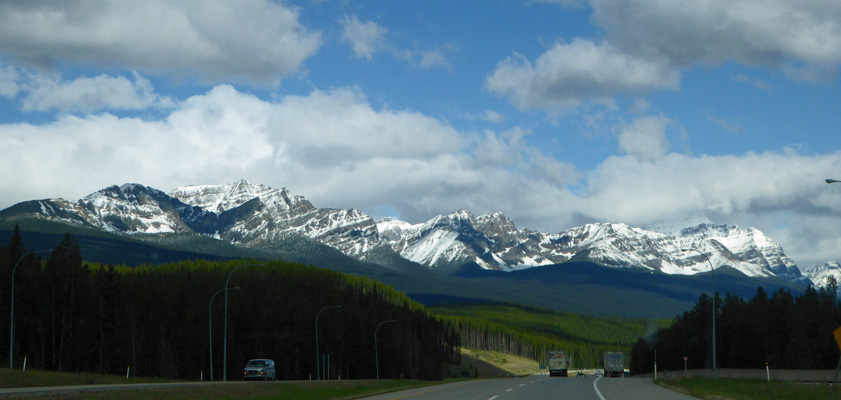 We arrived at Lake Louise a little after 9 am. And the parking lots were nearly full! We managed to get a really nice spot which clearly was available because some early bird had just left. It was still cold so we bundled up with hats and gloves and then hiked down to the lake to find crowds of people all along the north shore enjoying the view.

Walter waited patiently while I snapped photos. Can you tell it was cold?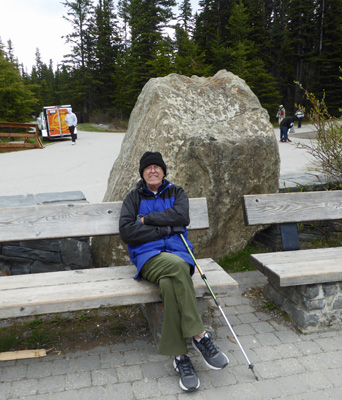 I got him to pose in front of the lake. At least the crowds were polite and not so thick that you had to include strangers in your photos. Later on this photo would not have been possible.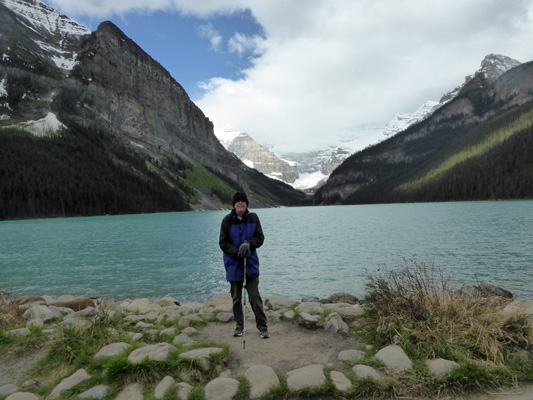 Then we took the hike that goes along the west shore of the lake. Every once in a while the sun would peak out and the lake would turn aqua like Ross Lake in the North Cascades.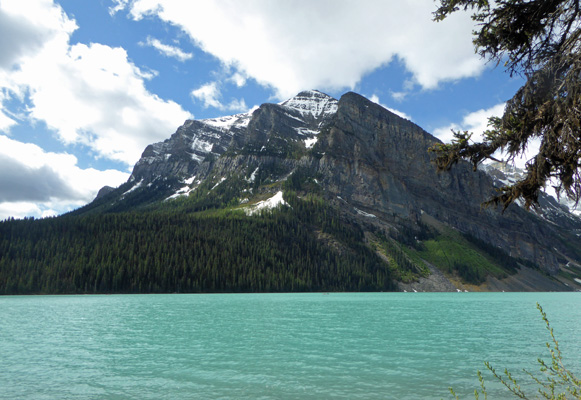 There was a bird out on the water (along with tons of swooping swallows) that turned out to be a Canada Goose.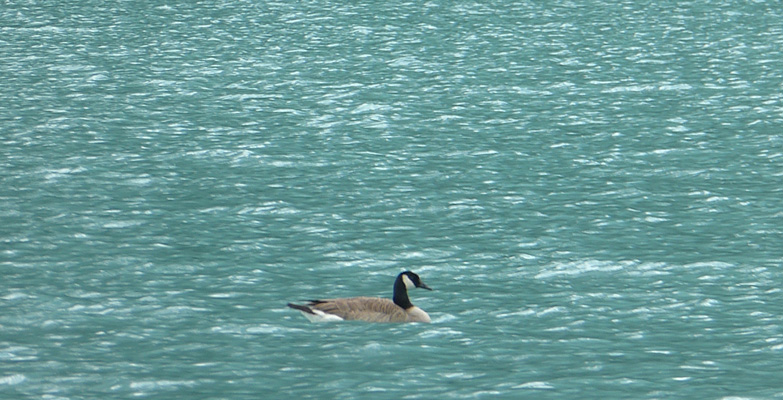 There were benches along the trail and after a while Walter found one he liked and waited while I went round one more bend to take a photo of the Fairmont Lake Louise Hotel back across the lake.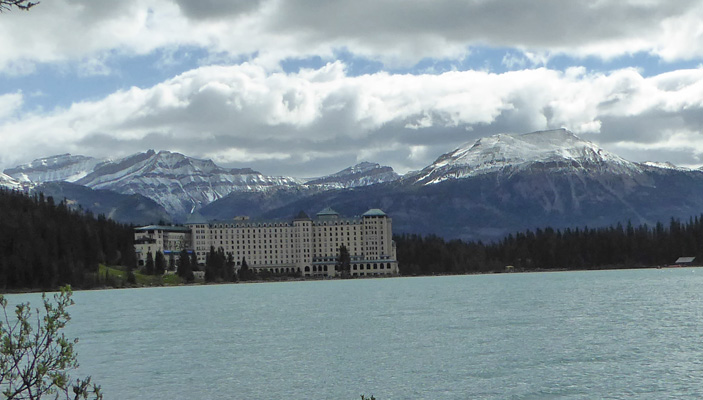 On the way back I realized that these little white flowers were not the same as the wild strawberry flowers I had seen earlier.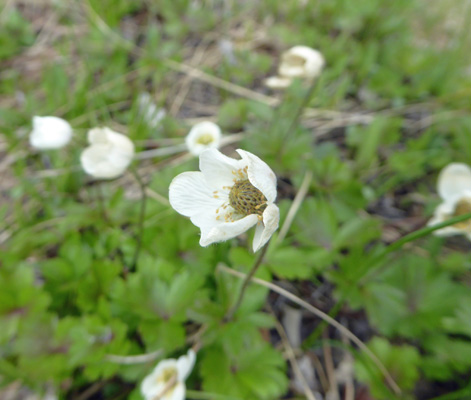 By the time we made it back to the hotel area the place was swamped with people. They of course arrive by the busload (and via train) in addition to cars and shuttle buses. We walked through the woods on the Fairview Trail to get back to the truck and I spied some Meadow Anemone (Anemone canadensis) in bloom on the forest floor.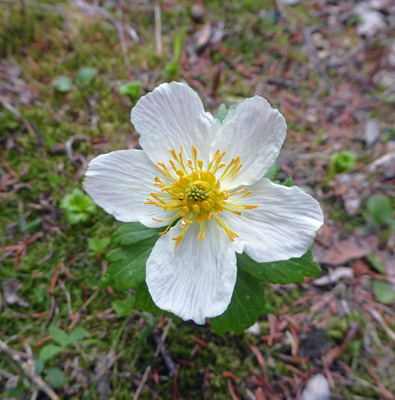 When we rolled out of the parking lot they were monitoring cars so that they only let in enough cars to match those leaving so things were close to full. There's a big overflow lot about 3 km south on Hwy 1 and they bring folks in on shuttle buses. But still there were cars everywhere. Later in the day when we looped through Lake Louise the signs said the parking lots were full. And when we drove past the huge overflow lot it was about 1/2 full. And this is considered the shoulder season before it gets REALLY busy.
Our plan was to net go out to hike around Moraine Lake but the parking lot there was full already when we had driven by the road out to it at 9:15 and it was still full at 10:30 when we left Lake Louise proper. So we shrugged and headed north and then west on Hwy 1 toward British Columbia and Yoho National Park.
There was construction at Kicking Horse Pass so we got to wait in line for a while which allowed me to take a photo of the mountains there.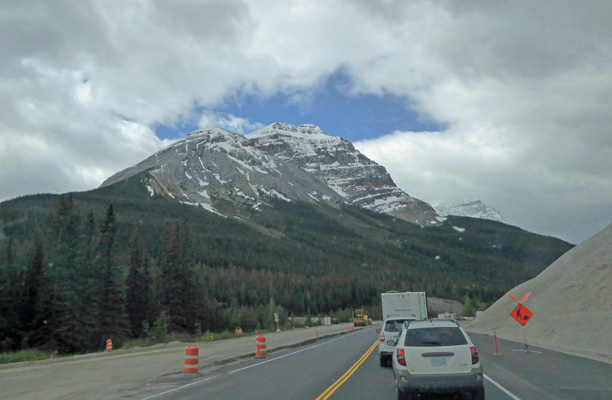 The Trans-Canada Railway goes over this pass and to aid the trains they built spiral tunnels here. You can't see the spirals but you can take a photo of one of the tunnel entrances and read all about them at an overlook.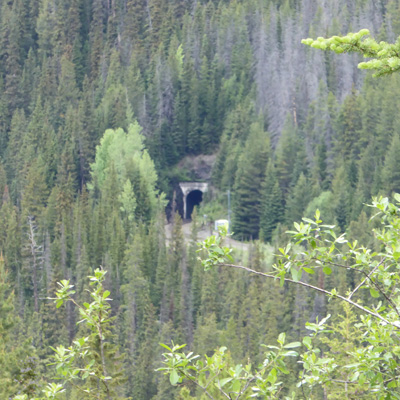 Our next stop was to be Takakkaw Falls in Yoho National Park. We got off the highway okay and followed the road up a ways and began to see signs that said that the campgrounds were closed. When we arrived at the Confluence of the Yoho and Kicking Horse Rivers we discovered that the road up to Takakkaw Falls was closed. Sigh. So we got out and had a look at the water. I climbed up on a rock to get this photo of the Yoho as it ran towards the confluence.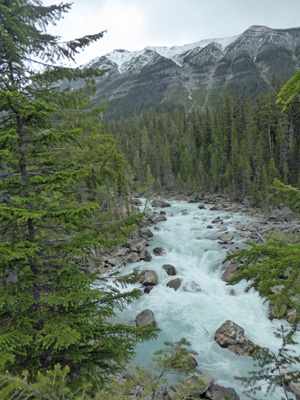 The Yoho is glacier-fed and very white/aqua. The Kicking Horse has come a longer distance from the glaciers and has dropped much of its sediment so it was clearer. But the confluence was behind the trees so it didn't make a good photo.
There were shrubs in bloom near the parking area. They looked familiar but without internet I can't tell you what they are.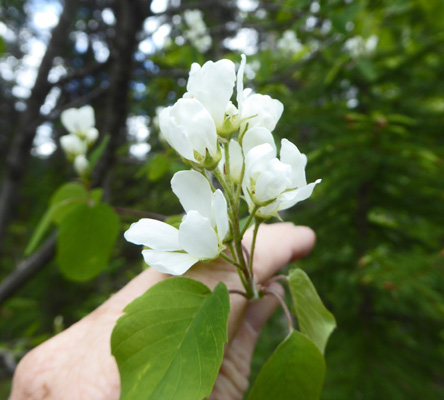 I discovered that the campgrounds were closed because of avalanche debris and that the road is known to be steep and awful so it may be closed for the same reason.
We turned around and headed back down the hill. I stopped at the bridge over the Kicking Horse River to take a photo of the river.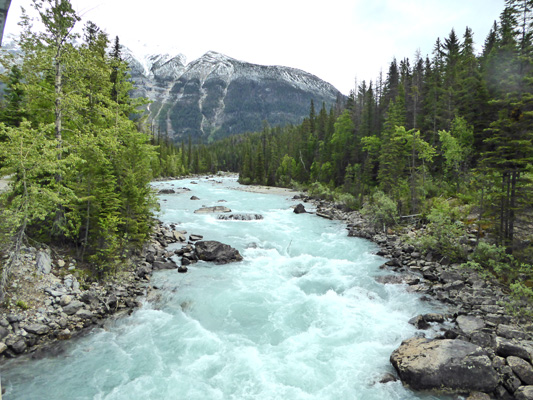 Having struck out at the falls we decided we'd continue on west on Hwy 1 to the Emerald Lake exit and have lunch at Emerald Lake. It's a pretty drive with a great view straight ahead as you go towards the lake.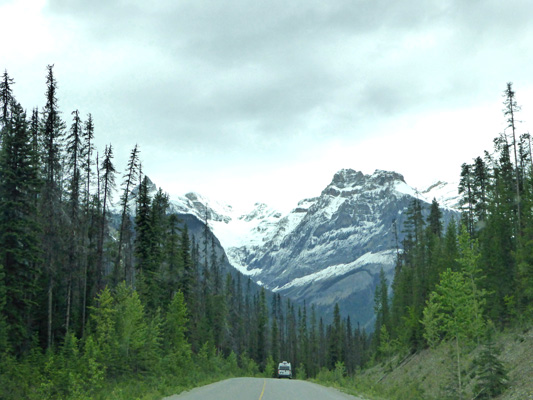 When we arrived the rather small parking lot was full and there were people parked along the side of the road for about 1/4 of a mile. So we found a spot to park and had lunch in the car since it was still only in the high 40's. Walter decided he'd seen enough of the lake when we drove past it looking for a parking spot so he took a pass while I hiked back up the road to the lake.
It's a pretty little lake surrounded by mountains.
There were people out in canoes (which you could rent at the boathouse).
And I liked the view to the west along a narrow arm of the lake.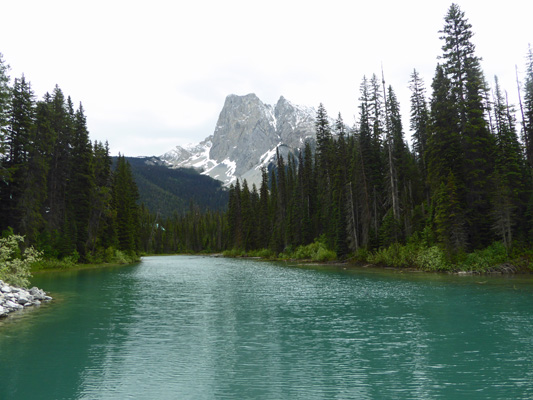 There's a lodge here with a restaurant that was open though the patio was closed since it was still too cold. And there were busloads of folks trying to take photos of each other and a few selfie sticks to round things out. There were people with backpacks heading out on the trails that start here too.
As I headed back towards the truck I realized that even the view from the parking lot towards the lake was great. That's the restaurant in the lower left hand corner.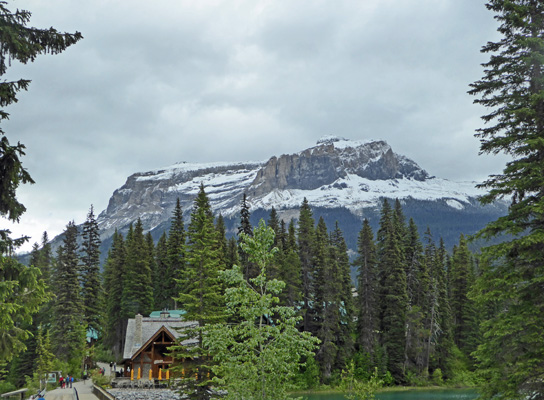 I hiked back to the truck and managed to get out of our parking spot without anyone swooping down to grab it before I got out! The view southward as we drove back to Hwy 1 was lovely too.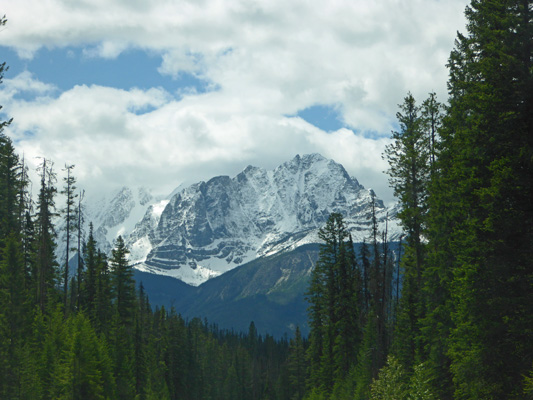 There is most certainly not a shortage of large snow-covered high peaks here.
Once back to Hwy 1 we headed east back towards Alberta and got to wait in the construction zone for about 20 minutes this time. We decided we'd drive the northern section of the Bow Valley Parkway that we hadn't done the day before. So we got off in Lake Louise and turned east over the highway only to discover that the Bow Valley Parkway entrance was closed here for construction. Okay! So we got back on Hwy 1.
Walter spotted a black bear out in a grassy area by the highway but I missed him while I was trying to figure out why there were all these vehicles pulled over and people walking along the verge (duh)—but hey I was driving. So we decided we'd drive the section of the Bow Valley Parkway between Castle and Banff once again to see if we could see more wildlife.
As we got off Hwy 1 and headed east we spied a waterfall up on the hillside.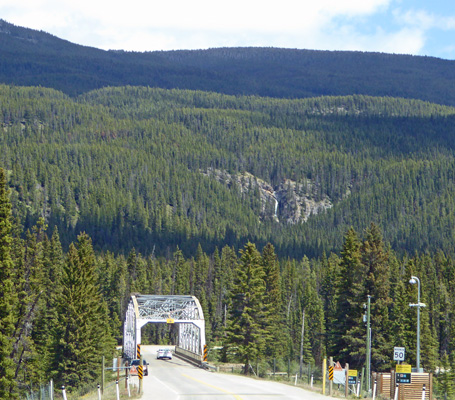 We think that it's Upper Johnson Falls (since the trailhead to it isn't that far from here).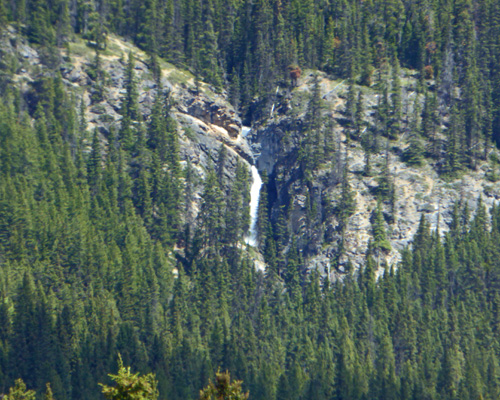 This time we were rewarded with a wildlife sighting as we drove the parkway. It always helps when there's a big cluster of cars pulled over on both sides of the road and people out of the cars pointing up the hillside. There was a black bear making his way across an old burn.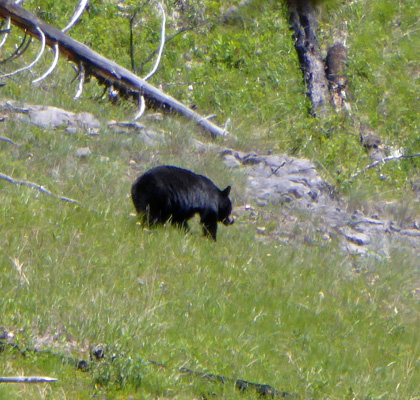 I even got a shot of him hopping over a fallen log.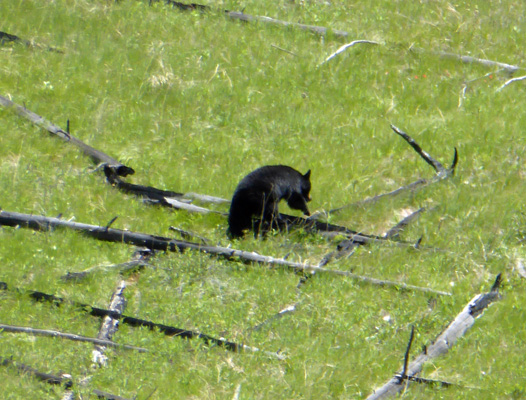 He disappeared after I'd shot just a few photos. We think he went down into a draw.
We drove on home happy but tired. The sun came out for a while in the late afternoon and the temperature hovered around 60 before dropping again as clouds came in.