After days of cloudy weather with rain on most of them we finally had a mostly sunny day on July 4th in Newport, WA. The temperatures were in the mid 70's and it was a perfect day for a hike.
So we drove north about 15 miles on Hwy 211 to the little town of Usk and then went east about 8 miles to the South Skookum Lake Trail which takes you around the lake.
There's a nice little campground here and even though we had our Golden Age Pass we had to still pay the $5 Day Use fee because it's run by a concessionaire. We've run into this once or twice so it wasn't a surprise. The campground was nearly empty—just goes to show that when 4th of July is on a Wednesday the more obscure little campgrounds still have space—of course you have to drive for 3 1/2 miles on a dirt road to get there ...
It's a pretty little lake.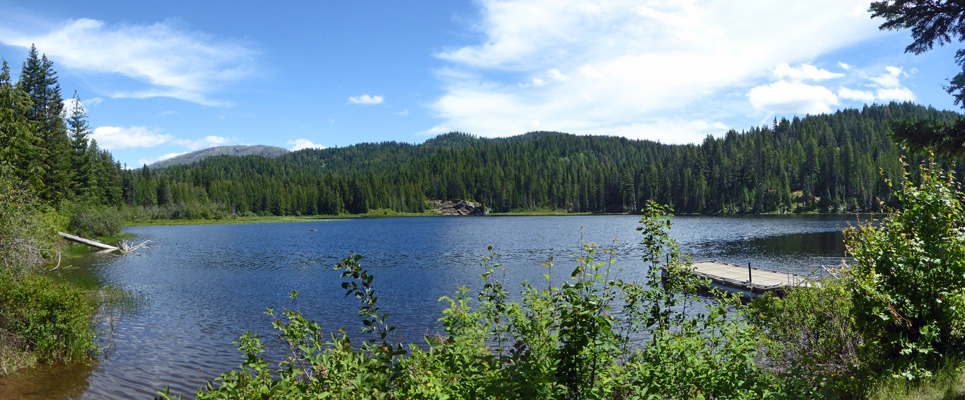 There's a primitive dirt boat launch and two nice little docks where people can sit and fish or just enjoy the sun.
The turtles were out enjoying the sun on a log in the middle of the lake.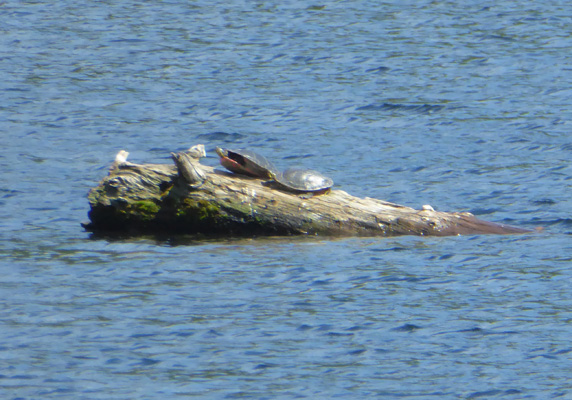 The trailhead is right next to the boat launch. The trail is about 1.6 miles and mostly flat. It heads out into the woods and there were lots of nice flowers, including some really tall Bog Wintergreen (Pyrola asarifolia).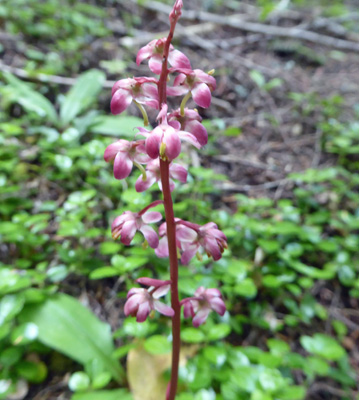 And there were lots of what I think were pine drops (Pterospora andromedea) just coming up. They weren't in bloom yet so I can't be sure. They looked like bleached asparagus mostly and many were just nobs breaking the surface of the forest floor.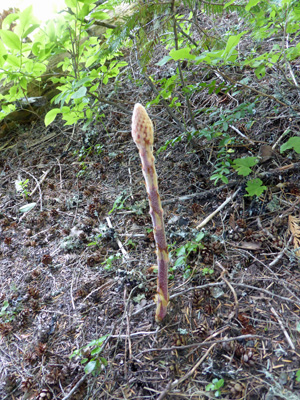 There were small patches of Twinflowers (Linnaea borealis) too.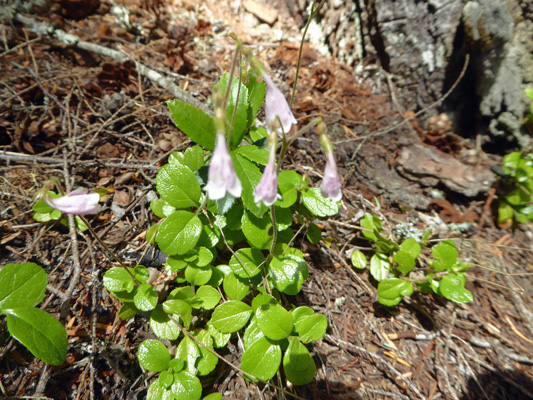 There was a nice little inlet where we could see some yellow pond lilies (Nuphar polysepala) in bloom in the water.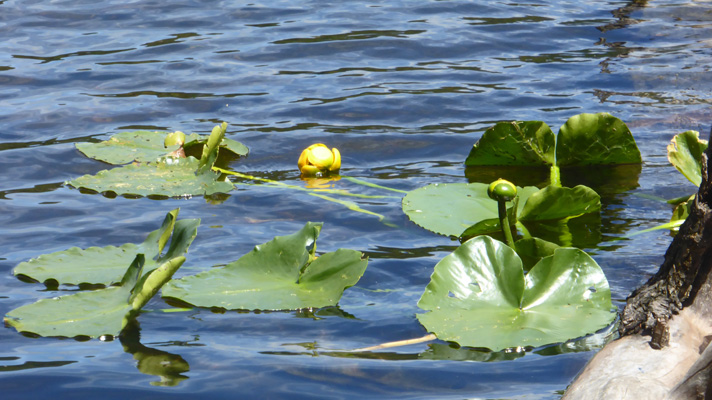 And there were a bunch of turtles out on a log.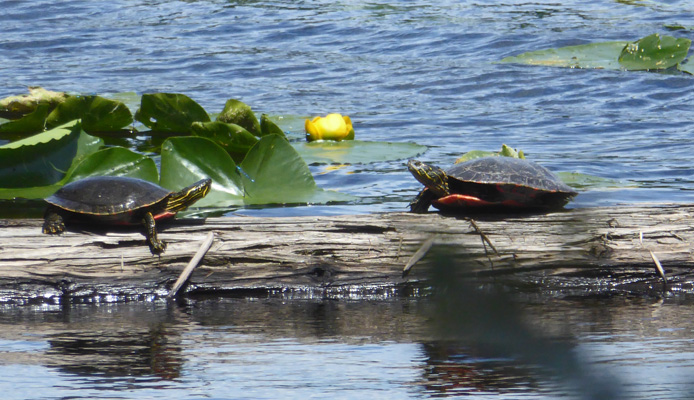 The trail headed back into the woods where my old friend the Foamflower (Tiaella trifoliata) was in bloom. I've found this flower one of the hardest to photograph so this little picture is a win.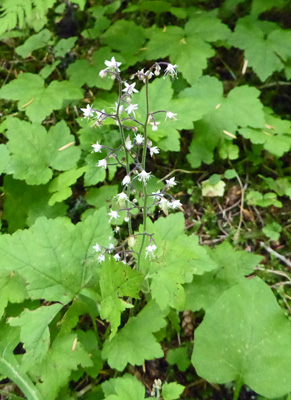 There were a few Marsh Forget-me-nots (Myosotis scorpioides) in bloom in a marshy area we crossed on a bridge.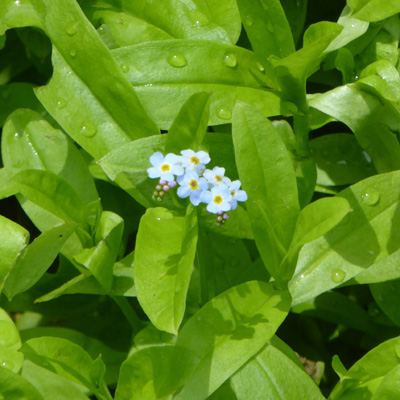 Back in the woods we saw some perfect examples of what I call coral fungus.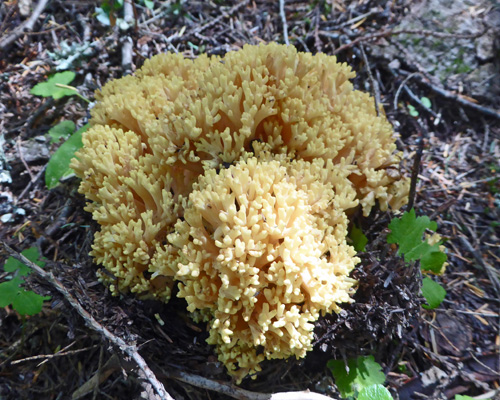 There was one just breaking the surface and then another smaller one too.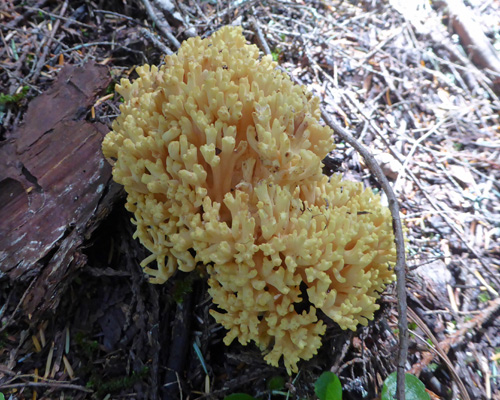 There were also Columbia Lilies (Lilium columbianum) in bloom in little sunny spots.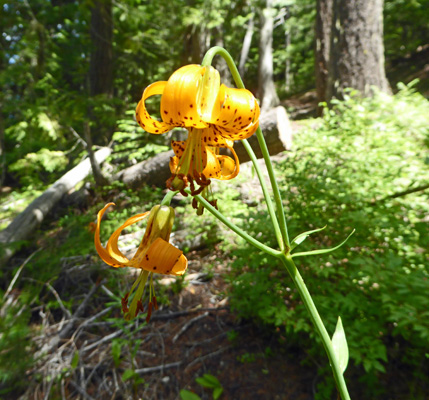 In the deep shade there were still Queen-cup (Clintonia uniflora) in bloom too.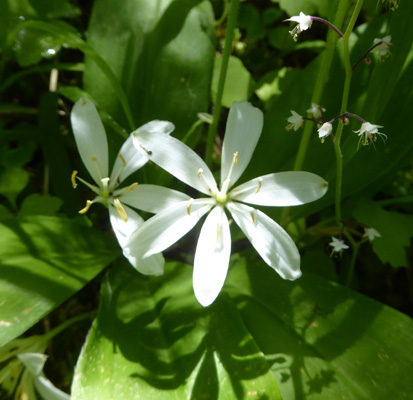 The trail description I found on-line said that the bridge on the main trail was out and we should take the alternate route. But we saw no signs for the alternate route and it turned out that the bridge had been replaced with a nice new solid one.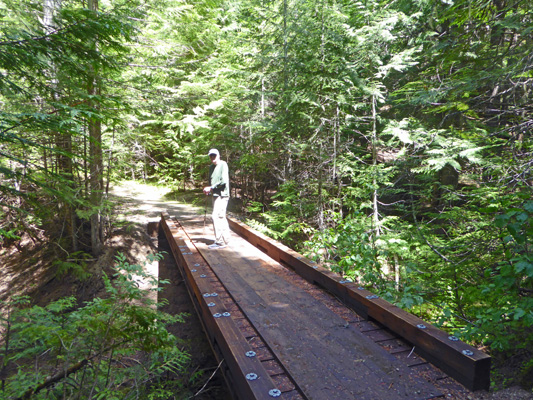 There were some large pancake-like mushrooms in the last stretch of the trail.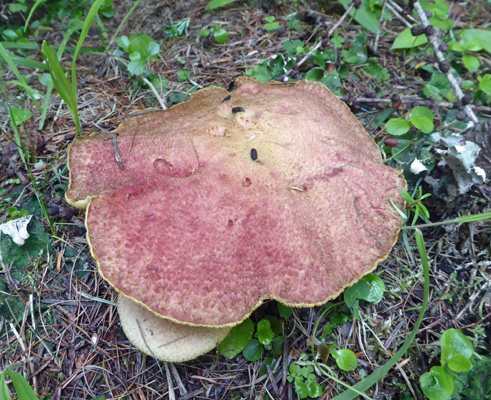 We crossed another bridge (and found a nice bench to sit on for a while). The view up the creek was sun-dappled.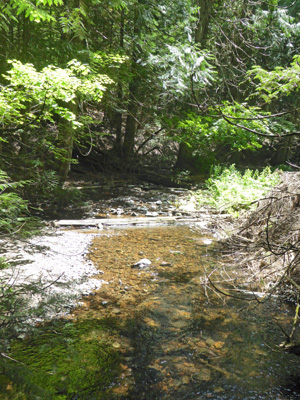 Here and there I saw some Green Wintergreen (Pyrola chlorantha).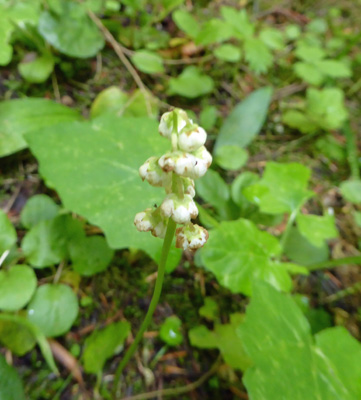 This was a nice hike and it only took us about 50 minutes.
We then took our lunch back down to the lake and sat at a picnic table and enjoyed the view. In the process, we spied an old fire tower on the top the mountain across the way.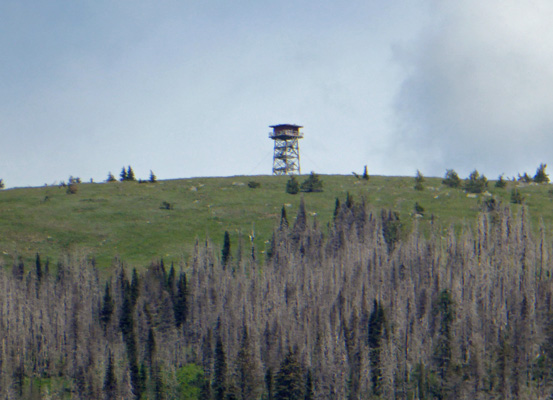 The view from up there must be gorgeous.
Clouds came in as the afternoon went on and we had a few drops of rain but at least we had nice enough weather to get out and enjoy the woods.
Thursday July 5th, we had to change sites (we'd made three 3-day reservations trying to figure out what to do for the long holiday period and so we had to move twice during our 9 day stay at the KOA in Newport, WA). So we packed up, drove to the dump station to dump our tanks and then had to wait until about 12:30 to get into our new site—which turned out to be the site we had been in the first 3 days. By the time we got set up, the temperature had risen to 85 and was heading to 93 that afternoon. We turned on the air conditioning and hunkered down for a few hours. Then took a drive north along Highway 20 following the Pend Oreille River northward. I'd forgotten my camera so I took a stab at using my phone. I managed to get a decent photo of the river.
There are big stretches where both sides of the river are lined with summer cottages and docks. But this section didn't have any.
We also stopped and I did the short hike to up to Sweetwater Falls. But I couldn't get the camera to focus on the falls while I danced around trying to avoid the mosquitos. In the end I got a blurry photo and 5 bites on my feet and ankles—I think that the mosquitos won that round. We followed Highway 31 up to the town of Metaline Falls and then circled back along Sullivan Lake before rejoining Highway 20.
It was a nice break and a lovely drive. And the trailer was cool when we got back since we'd left the air conditioning on. It was in the 80's on Friday the 6th and we had rain late that night and then it was in the 70's on Saturday.
Our stay in the Newport area was mostly focused on making it through the holiday weekend with a place to stay (the park filled up entirely on Thursday the 5th and was pretty darned full the rest of the time too) and spending time planning out where we were going for July.
By Saturday we had the laundry and grocery shopping done and our itinerary for all of July was planned out with reservations where they were available—the Planning Princess has been busy. We'll be dry camping in Forest Service campgrounds a good deal of the time with just enough stops in RV Parks to assure that our batteries get charged and the laundry gets done and hopefully we get a little WiFi now and then.