Saturday October 13th, we were camping in Flagstaff at the Flagstaff KOA. In the morning it was cloudy and we got ourselves together and got our shopping done fairly early. Just as we got back to the trailer and began to unload our groceries it began to pour. It let up a little now and then but it basically rained all afternoon. The folks in tents next door to us huddled under tarps looking cold and wet and we sat and shook our heads.
The rain stopped by early evening and folks were out huddled around their campfires in the cold. It was only after we left that we learned that this was the end of the Fall Break in Arizona so folks were out camping come hell or high water. It got down to close to freezing on Sunday morning but it was partly sunny and warmed up into the low 40's by the time we packed up to move on. We headed south on Hwy 89A DOWN the switchbacks into Oak Creek Canyon and Cave Springs Campground about 10 miles north of Sedona.
We were early because check out time at the KOA was 11 am and it only took us about 30 minutes to drive to Oak Creek Canyon. But we were lucky. Our spot had been vacated and we could check in even though check out time wasn't until 1 PM. We had a 3 day reservation for a rather short back in spot with no hook ups (this is a Forest Service campground after all). We had to park the truck diagonally across the front of the spot so it wouldn't stick out into the very narrow roadway. We got all set up and the sun went away and it began to rain. The temperature dropped down into the low 40's and stayed that way for the rest of the afternoon. We talked about going into Sedona for dinner but decided against it because we really didn't think we could get the truck back into it's tight spot in the dark—there were rows of boulders lining our spot on both sides.
Monday October 15th, it was sunny—hooray—with temperatures in the high 50's. We packed a lunch and headed down through Oak Creek Canyon to the Forest Service Information Center in the canyon where we got a great map so we could navigate the area. We drove down through Uptown Sedona which was full of tourists but not super crazy and then out on Hwy 89A into West Sedona. On the advice of the information lady at the Forest Service Info Center (she was a Sedona native and really knew her stuff) we turned south on Lower Red Rock Loop Road. There were nice red rocks just across the road from us as we began our scenic drive and there was a place to pull over so I did.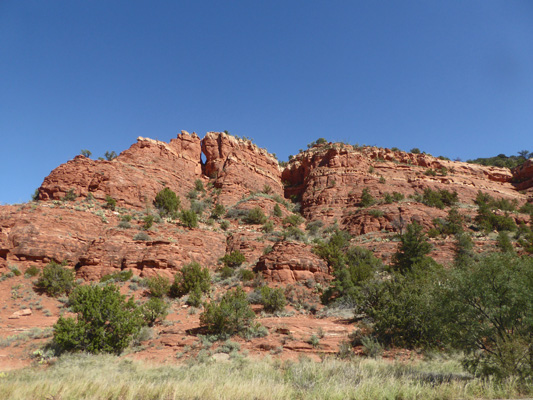 The road takes you south through some not real exciting territory before it heads east and up over a rise where the view opens up before you.

The Cathedral Rocks hung there in the middle looking marvelous.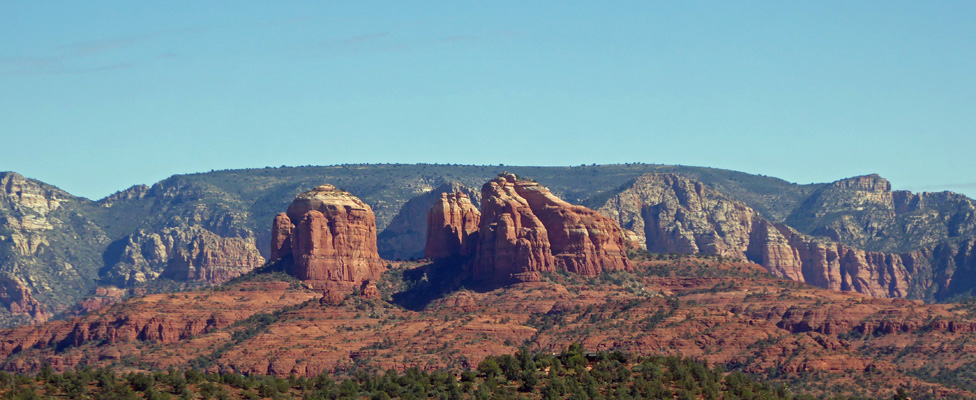 We turned into the Red Rock State Park when we came to it, wanting to revisit a place we'd enjoyed when Walter did The School for the Work in the fall of 2002. All these years later neither of us recognized much of the place! But we had a good time exploring the Visitors Center and then took a stroll on one of the trails and got yet another view of Cathedral Rocks.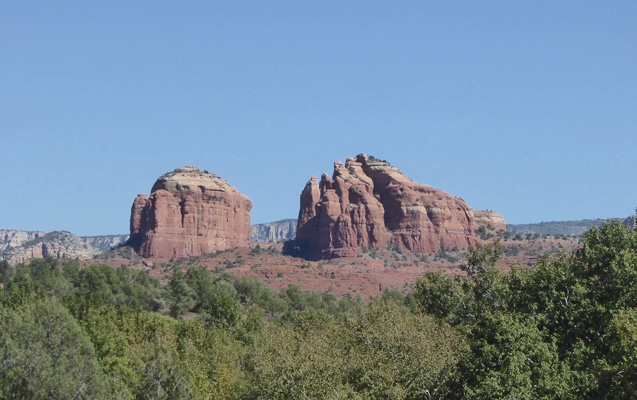 Oak Creek runs through the park and there are bridges that cross it to allow you access to the rest of the trails in the park. I wandered out on the one bridge that was open to get a shot of the very muddy creek. Up in Oak Creek Canyon there wasn't much water but what water there was, was clear. Not so down in Sedona.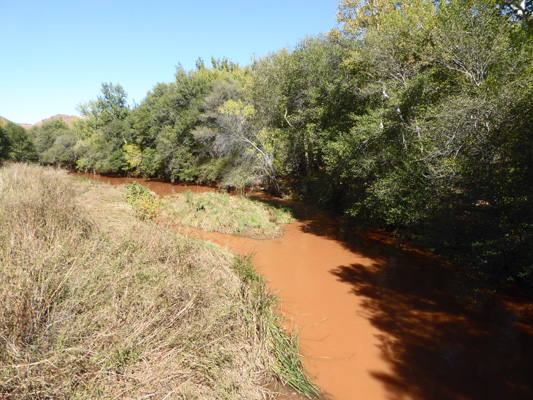 A little tiny lizard skittered across the gravel path and then stopped so I could take his photo.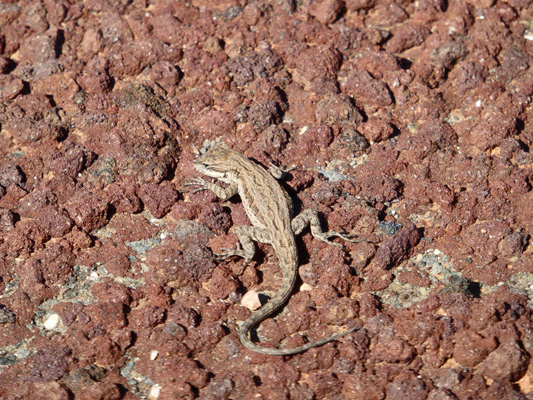 The view west along the trail was rather nice.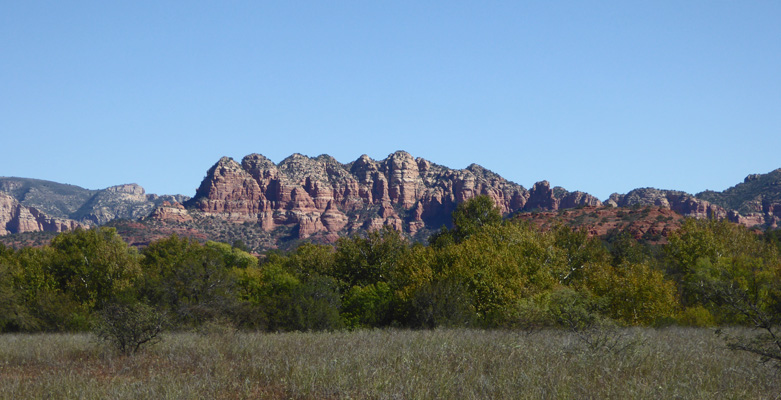 Having finished our stroll we headed back on the loop where we connected up to the Upper Red Rock Loop Road. This takes you northward with a super view of the Cathedral Rocks from yet another angle.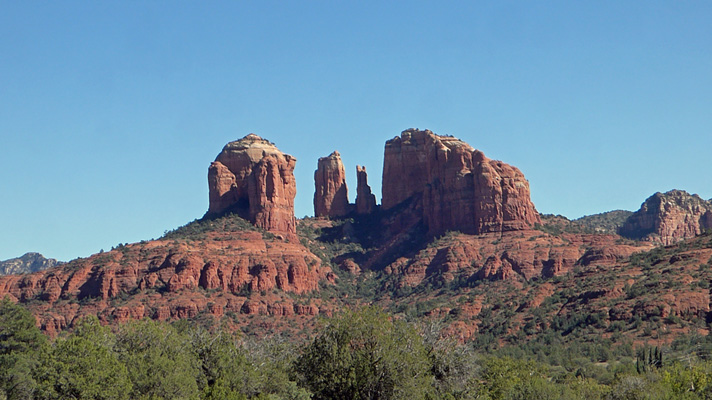 The road headed back up hill and we came to a pull out with a super panoramic view. I climbed out onto the ledge and took this panorama shot.

The loop road takes you back to Highway 89A where we headed back eastward and I shot this photo as we went.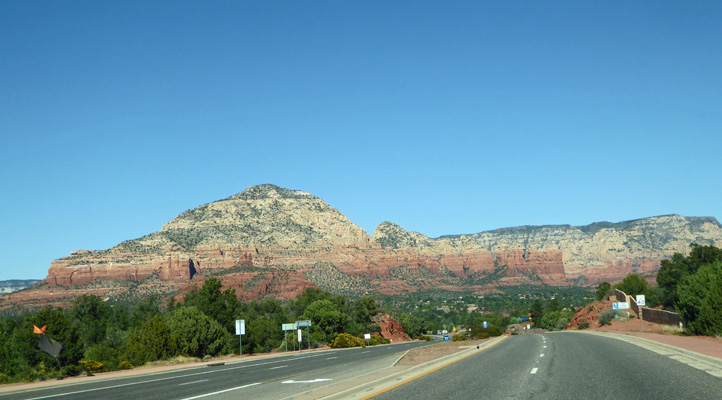 We went south on Hwy 179 at the Y in town and then turned east on Schnebly Road until the pavement ended where we pulled into the trailhead parking lot to have lunch. It was in the mid 50's and breezy so we had our picnic in the car. But I got out to shoot pictures of the rocks. The views in this area are pretty spectacular. You get these lovely rocks to the north.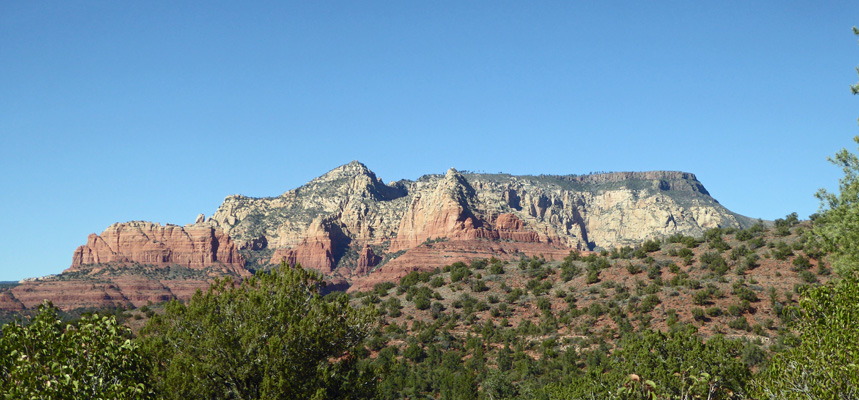 And these to the west.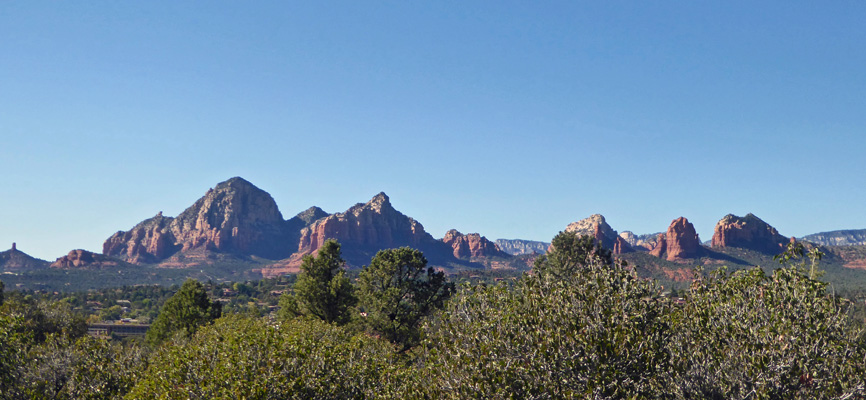 These are to the southeast in the Munds Mountain Wilderness.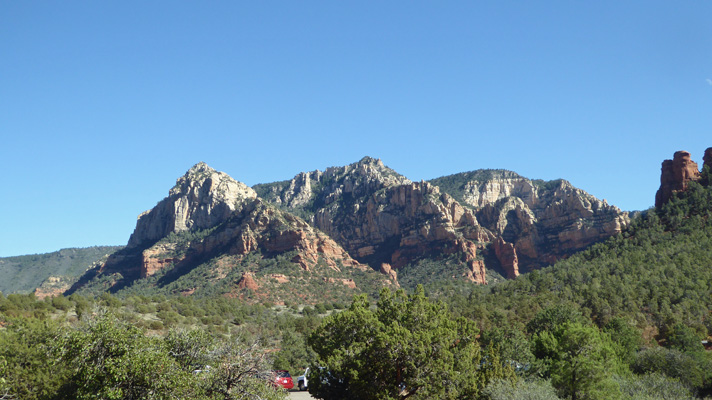 I followed a trail a ways and got a different view of the rocks to the northeast.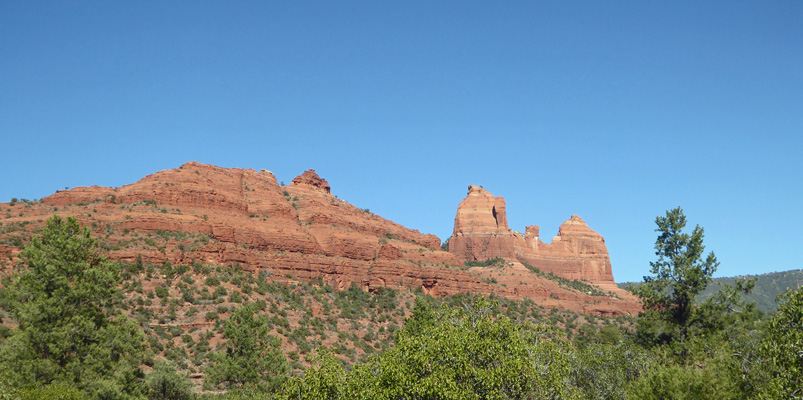 And on the way back to the car I shot this photo to the south with the little crescent moon hung in the sky.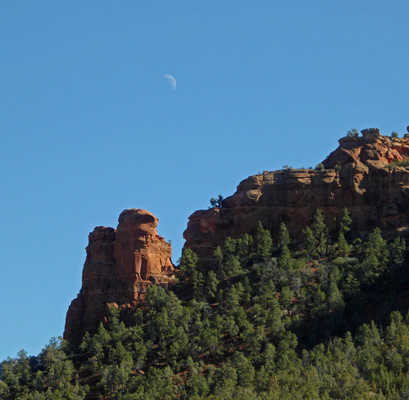 Since it was still only mid-afternoon we headed back to Hwy 179 and went south to see the sights in that direction. There's a series of pull outs with trailheads along the way. None of the parking lots are very big but since things weren't crowded there were parking spots. From one I shot this photo of Courthouse Butte which was to the south of us.
And Bell Rock which is south of Courthouse.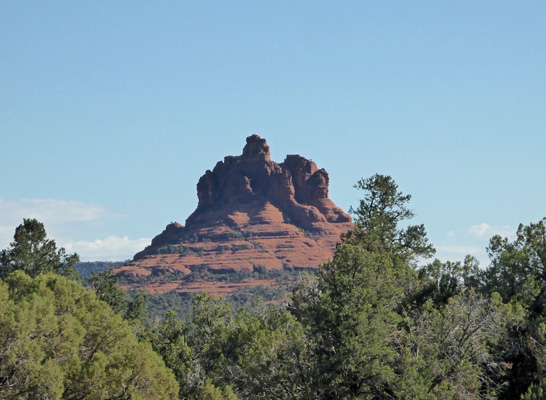 I don't know the names of the other rocks you could see from here but they were still lovely.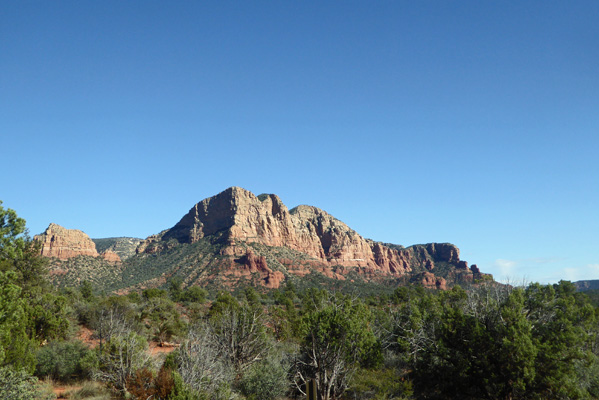 And the afternoon sun lit things up nicely.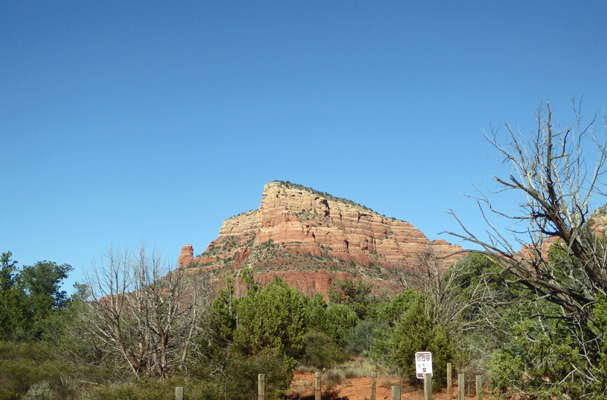 We continued on down through the Village of Oak Creek and then stopped at the US Forest Service Visitor Center where they have a really nice overlook with a sign that gives you the names of all the formations.

From left to right we have Castle Rock, Bell Rock, Courthouse Butte, the Red Cliffs and way over on the right Lee Mountain.
We turned back northward on Hwy 179 until we reached the turn off for the Chapel of the Holy Cross. Their parking lot looked really full so we just stopped and I took this photo of what I think is a formation called 'the Two Nuns' before we turned around and beat a hasty retreat.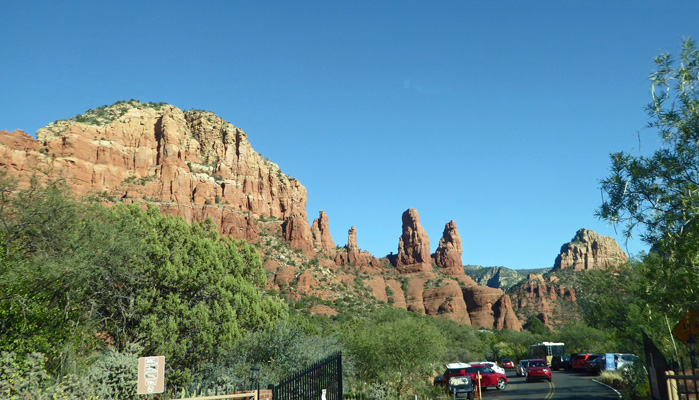 This section of Hwy 179 is one rotary after another. When we came through Sedona during Spring Break in 2016 the traffic was bumper to bumper all the way through them all. This time it was flowing fine and we slowed down just a little at some of them so I could grab a photo as we went.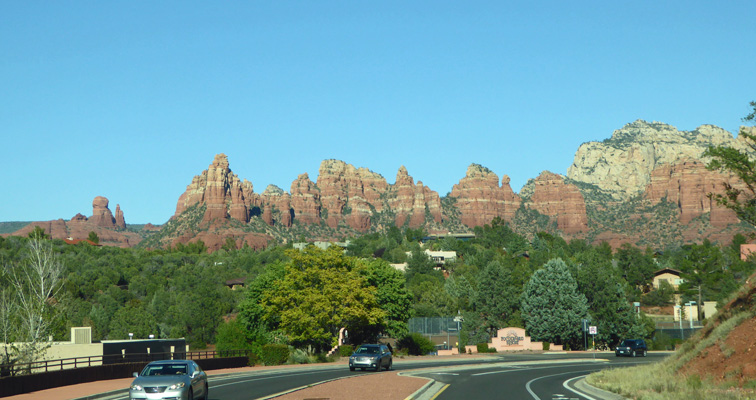 We stayed at what is now called the Poco Diablo Resort (the pink sign straight ahead) back in 2002 for The School. Nice view, huh?
The road turns and you get yet another gorgeous view.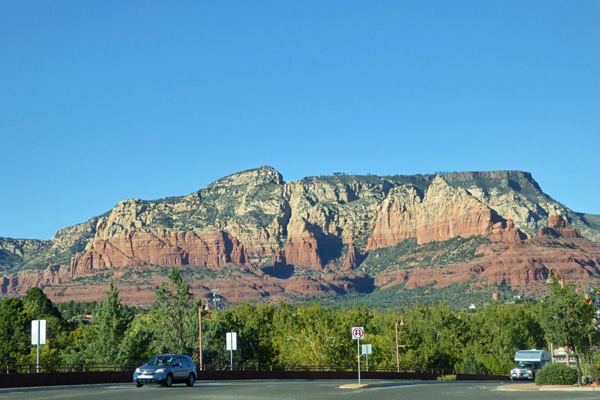 This was a lovely day. The temperature was pleasant (though it could have been warmer) and the sunshine and blue skies were really a welcome change.
The forecast was for more rain on Tuesday and a high of 40! So we decided we'd forego our last day in Oak Creek Canyon since it is no fun dry camping in the cold and wet. It had gotten down to 33 in the morning and one of the camp hosts said it had snowed for a while when she was first up. It didn't stick, thank goodness. But it was cold nevertheless when we packed up to leave. We headed north on Hwy 89A back up Oak Creek Canyon and saw a number of cars coming south with snow on their roofs. Oh oh. The rain began to splat on the windshield as we climbed the switchbacks and it was snowing (but not sticking to the road) as we drove into Flagstaff to pick up I-40 east towards Holbrook.
It began to snow in earnest once we got on I-40 and you could see that there had been an accumulation of about 3 inches in town and for about 30 miles east. I managed to take a photo through my wet side window of the snow.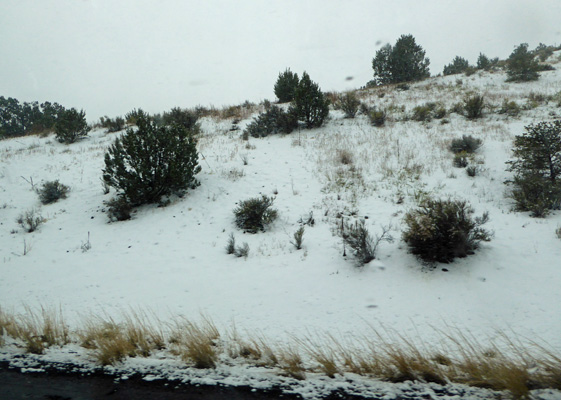 The snow switched to rain after about 30 miles and it was just raw and wet when we pulled into the OK RV Park in Holbrook, AZ. This is where we stayed our first 2 nights out back in May so it seemed we had come full circle just 2 weeks short of 6 months on the road. It rained off and on all day and night but we had good WiFi after 2 days of no cell signal in Oak Creek Canyon and Walter enjoyed the cable TV too. Since we had no plans to go anywhere in the icky weather we didn't bother to drop the trailer which made setting up (and breaking down the next morning) all that much easier.
Wednesday October 17th, we drove south on Hwy 77 to the town of Show Low and the K-Bar RV Park where we had a reservation for a 2 weeks stay so we could explore the area with the thought that we might spend the summer of 2019 there.
It was cold and you could tell that they'd had snow the day before because it was still piled up in some of the parking lots. We got a spot right next to the office so the WiFi worked great (it doesn't work well in the rest of the park) and the tech guy came and installed a de-scrambler box so Walter had really great cable TV with LOTS of sports stations for football! After lunch we headed to the post office to get our mail (my absentee ballot hadn't made it into our last batch of mail) and then we drove south on White Mountain Road to see if we couldn't get some information on the towns of Pinetop/Lakeside which are just south of Show Low. The temperature finally broke 50 which was wonderful and we even had a sun break or two.
We found the Chamber of Commerce Office and got a map and other info and then drove north to visit, Juniper Ridge Resort one of the RV/Park Model Resorts on our list.
On Thursday we had some sun and it got into the high 50's. I did laundry and we went into town for some errands and a visit to another RV resort (not as nice as the first one).
On Friday it was foggy to start but it burned off by about 11:30 (when it was still only 47 degrees) and then warmed up steadily as the day went on. We had the oil changed in the truck and then drove back to Juniper Ridge north of town to look at their amenities and the lots that were available for rent next summer. They have LOTS of amenities including a 2-room gym, showers with steam and dry saunas, a pool big enough for lap swimming, a spa, billiards and pools rooms, crafts, quilting and ceramics rooms including a kiln and a clay slab rolling machine and an entire separate room for glazing. There's also tennis, pickle ball, horseshoes, and bocce ball and croquet lawns and an 18 hole executive style golf course.
We drove the streets with our list of rental lots (there were ten of them) and decided we liked this one the best. When we got home we sent an email off to the owners and put our dibs in to rent it for 4 months from May 24th (just before Memorial Day) until September 24th. That will allow us to do a bit of traveling in May and late September and October but to stay put all summer here in the White Mountains where the temperatures run 20 to 25 degrees cooler than down in Phoenix and Tucson. AND it's only 200 miles from our home in Sahuarita.
Here's the view that we'll have from our dining room windows for the summer.

That's the green for the 15th hole in between the two arms of the pond which means that this grass will be green for the summer too. There are fish in the pond and a fishing dock just down around the bend to the right. The lot has a big concrete pad for the trailer and the truck and a patio area for us to sit and enjoy the view.
We're both excited about the spot and think that renting for a summer should give us a real sense of whether this is an area where we want to settle for the summers.