We spent Friday August 17th to Monday August 20th at the Newport/Little Diamond KOA just outside of Newport, WA north of Spokane. It was a really exciting visit including laundry, a trip to Spokane to pick up Walter's prescriptions and a trip to Newport to go to the grocery store. Whoo hoo. Saturday it was smoky enough as we drove down to Spokane so that it looked like it might be foggy or something. Sunday was a different matter. It was so smoky you couldn't see the sun at all. The temperature was forecast to get up into the mid 80's but it only got to 73 because there wasn't any sun. By the end of the day, air quality had moved from unhealthy to hazardous. Everything smelled like smoke and all the cars and RV's had a fine sifting of smoky dust. Ick. And they were telling everyone to stay indoors. That's easier said than done when you live in a trailer and it's all the same air thank you very much.
Needless to say we stayed inside as much as possible and hung out and read. The campground, which hadn't been all that full to start with really emptied out on Sunday and so it was super quiet Sunday night. It was empty enough on Monday morning that we actually got a bit of bandwidth on our hot spot. Cell service here is really unreliable. I tried to make a call on Saturday and had to stand outside to be able to hear anything.
Monday August 20th, the air had cleared some. The sun was out enough to cast orange shadows and warm things up a bit. We broke camp and drove north on Hwy 211 until it joined Hwy 20 where we continued north and then west. We drove through Kettle Falls where there was a fire that had been stopped on one side of Hwy 20 just saving the town. Needless to say there were lots of "Thank You Firefighters" signs everywhere. We continued on to Hwy 21 near Republic, where we turned north a short ways to Gold Mountain RV Park where we had a reservation for 3 nights. The night before we had considered changing our plans for the next week or so if we could find a place to go to avoid the smoke. Perhaps things were better west of the Cascades? No. In fact, it was as bad or worse west of the Cascades as it was where we were.
The WiFi at Gold Mountain is very good and so we had an opportunity to research things thoroughly and there seemed little point in changing plans since the air quality everywhere was bad. While it looked to improve west of the mountains a day sooner than east there were no signs of it getting tremendously better anytime soon anywhere in the northwest. There are just times when things are beyond our control and no amount of ducking and dodging makes it any better! With Labor Day only 10 days away changing plans would be complicated so we opted to stay the course even though we knew that it would get smokier when we got to the Twisp area later in the week because there are several fires in the area.
Tuesday August 21st, I decided to be noble and defrost the refrigerator and freezer. It all seemed to go smoothly and I got the process done in about an hour or so. But at lunch time Walter noticed that the light in the fridge wasn't on. Upon closer inspection, we realized that the fridge hadn't come back on when I'd pushed the button to turn it on when I was done. When we tried again we got an E0 error message. Oh goody.
We pulled out the manual and then got onto the internet and found instructions to troubleshoot the problem. The first thing folks wanted us to do was replace the fuses so we drove to the local auto parts store to buy the right ones. We came home and discovered we had the wrong ones (5 amp but not the right length). BUT when Walter pulled the old ones they were still okay so clearly the fuses weren't the problem. By this point it was getting late in the afternoon so we called the nearest Dometic refrigerator service center (in Omak, WA) to see if we could take it in for repairs. Sure, they had an opening on Wednesday August 29th (just 8 days away). Oooookay, not exactly what we were hoping...We sat and talked about it and decided that was our only real option if the problem wasn't a loose wire that we could fix. So we called back and made the appointment in Omak since we'd be in Winthrop just 30 miles away come next Wednesday (it turns out that was as the crow flies. It's actually a 50 mile drive).
Then we drove back to town to the local hardware store and bought a big 50 qt. cooler and 3 bags of ice and went home and unloaded the fridge into it and our other 2 coolers. I was not pleased. Things have been just a bit hard of late and one more thing kind of pushed me over the edge. Not to worry, I recovered after a bit of a cry and carried on. I even realized that I could put ice in a plastic basin on the top shelf of the freezer and use it as a cooler too!
After dinner Walter spent some time troubleshooting and found nothing wrong with the connectors and wiring. I stood outside at dusk with him and talked to the neighbors and ended up with 20 mosquito bites on my feet and arms! Such a juicy morsel I am. And of course Walter didn't get one. The next morning, Walter continued on with the troubleshooting as I did the laundry and still didn't find the source of the problem. We'd found the service manual on line and following their recommended steps it looks like we need a new control board (there are two and of course it appears we need the more expensive of the two). We can only hope that the service guy has actually ordered the parts he promised so that it will be a quick fix when our appointment time actually comes.
The smoke was better on Wednesday, enough so that the sun was fully visible and the sky was almost blue. That meant the temperature got up over 90. With all our food in coolers, we ran the air conditioning to help prolong the life of our ice (and our food). Late in the afternoon we went back to town to pick up another bag of ice and I shot this photo of the view looking south from the main drag.
As you can see, even on a 'good' day everything is hazy.
We stopped at the local heritage park on our way back out of town. The Hecla Mining Company took 2,000,000 ounces of gold out of the area between 1941 and 1989.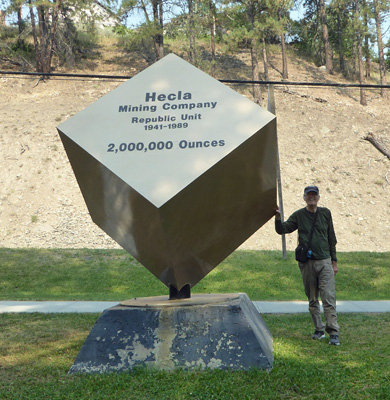 This pillar shows the relative amounts of gold various other mining companies took out of the Kettle River area between 1990 and 2015, totaling 2,678,299 ounces.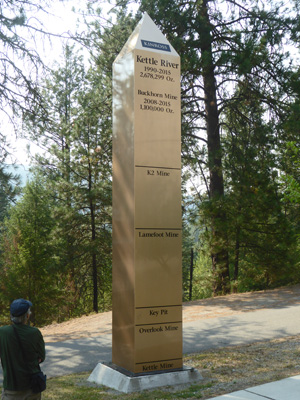 Somebody got rich but it wasn't the town of Republic, I'll tell you that. It's a sleepy little town with old western store fronts. It's about 1/2 the size of Winthrop but without the tourist draw so there aren't any cute restaurants or gift shops. But they do have everything a small community needs including a hardware store, a drug store, a decent grocery store and an auto parts store.
Thursday August 23rd, I unloaded the big cooler and drained it and then repacked it. Then I added yet another bag of ice across all the coolers. It's amazing what an exercise in 'being present' not having a refrigerator is. I get to pay attention to the ice situation. I get to try to remember which of the 4 places anything we're looking for might be. And I get to monitor the status of all the food to make sure it's not going over the hill. And I got to replan our meals to use up the most perishable things first. Being on the road requires great attention. Living with coolers requires more attention.
It was MUCH smokier on Thursday morning. The sun was just a dim yellow ball in the sky.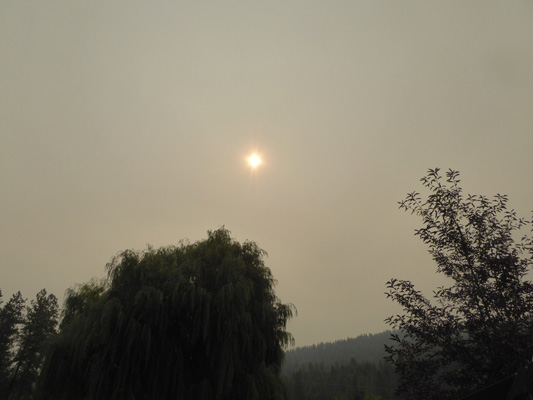 We packed up and headed west on Highway 20 to Tonasket and then turned south on Hwy 20/97 to the Riverside Cutoff Rd that takes you southwestward to Conconully Road and on to Conconully State Park. Along the way I shot this photo of the smoky view. There were fires to the west of here so it smelled strongly of wood smoke.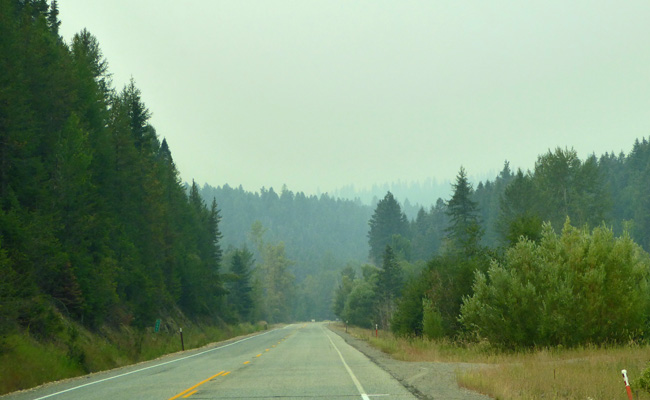 Conconully State Park sits on the shores of Conconully Reservoir and Conconully Lake and is popular with fisherman. The hook up section of the main campground was just starting to fill up when we arrived—yes on a Thursday! We had a 3-day reservation for a back-in water and electric site that gave us some shade (though there was little or no sun so that wasn't an issue) and backed in to a nicely treed area. The smoke continued to roll in making the sky a strange peach color and we settled in to enjoy yet another afternoon inside. We checked our phones and found we had one bar of 1X. With our booster it would go up to two bars and then disappear to no signal. Since Verizon had said there was no signal here we weren't surprised and just turned the darned phones off.
After lunch Walter took out his traveling guitar to play for a while.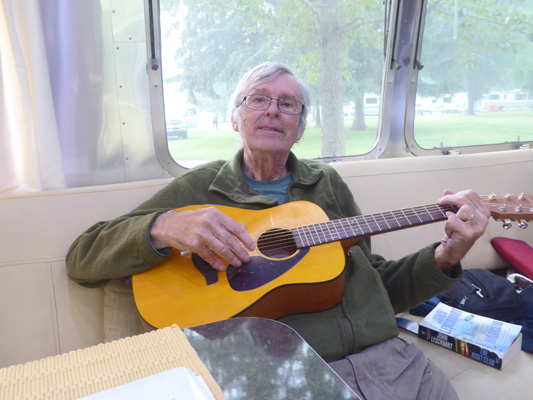 I couldn't decide between these two photos so I give you both of them.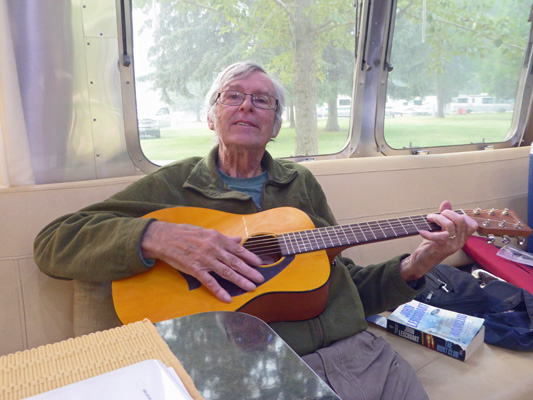 When we were done singing and playing we decided we might as well take a drive and see the sights even if it was smoky.
We drove out to the West Camp area where they have a few cabins and some pull through hook up sites. There were 4 deer out in the grassy area where the reservoir had retreated over the season. This one perked up when I got out of the truck.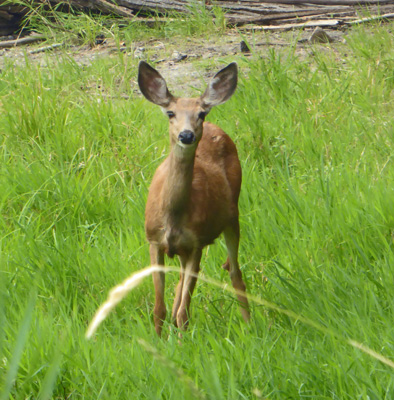 But the others all just continued to munch away.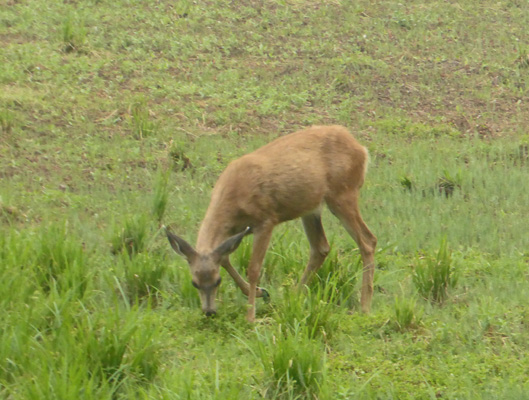 The view across the lake was kind of sad because it was so smoky.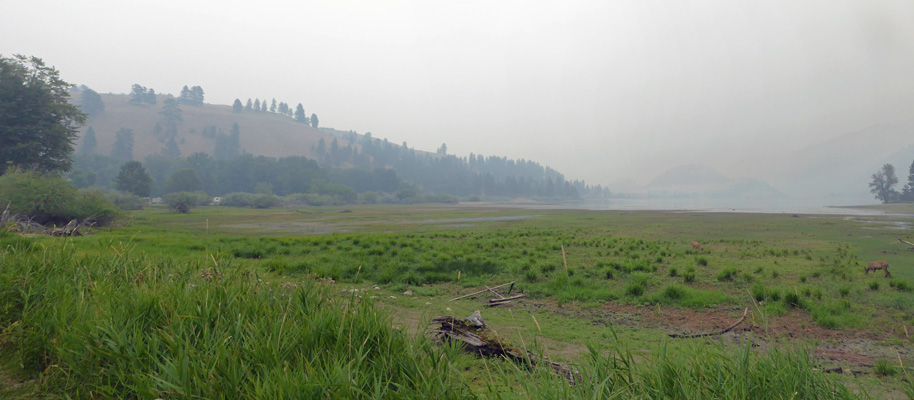 Off in the distance on the right there's a nice set of round hills that you can hardly see.
Kind of spooky, huh?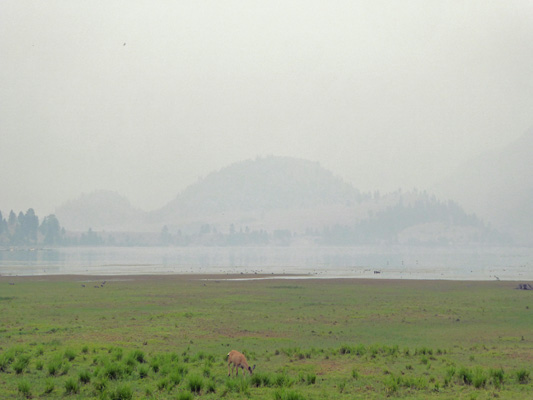 We drove a few blocks back towards town (it's a real little town) and got gas (we will not talk about how much it was a gallon) and then drove out to the upper portion of the reservoir which they call Conconully Lake. Here's the view looking eastward.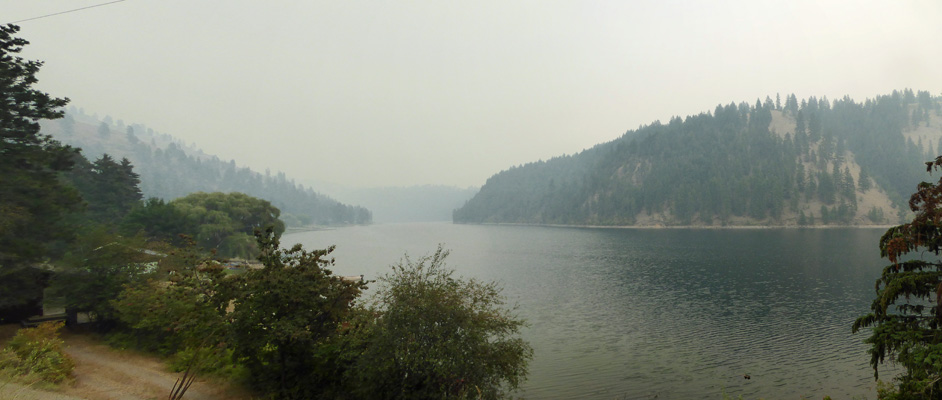 There's a boat launch and a third little campground that seemed to have hook ups for small camping units—nothing we'd want to try to get into. I hiked out onto the boat loading dock to get a photo looking west. And with this shot I caught the sepia tone that everything had when there was just the right amount of sun peaking out.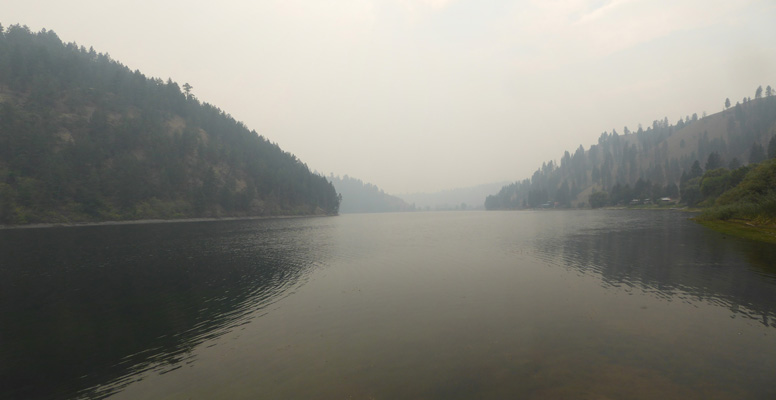 We drove back to town and turned northward to find cattle out on the road. It was just two mom's and their calves.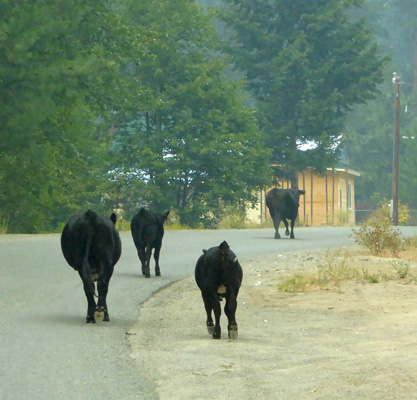 We drove out along this road until we were in the National Forest and then turned back at the Cottonwood Campground. It had 3 campsites but one was closed due to mud from a leaking water faucet. On our way back, the cattle were still heading up the road so we can only hope that they were headed homeward.
The sun peeked out several times in the late afternoon and turned everything orange. It sure was strange looking.
The smoke cleared a little bit in the late afternoon when the wind came up so it was a little bit clearer on Friday morning August 24th. I went through the drill of draining coolers and got rid of the last of the leaky ice bags that I'd started with on Tuesday. I bought more ice from the state park office and now had all the ice in 1 gallon Ziploc bags which don't leak (or not much anyway). By this point we'd eaten enough of our food that I got things down to two coolers and the freezer compartment of the refrigerator which helped reduce ice demand a bit.
The smoke thickened up as the morning wore on and was as bad as the day before when we set out to take a stroll around the campground. Walter found some literature about the area in the park office including a forest service map of the area that allowed him to find us a short outing for the next day at least. There is a replica of a small log building at the entry to the state park. It was the first county courthouse for the area. Pretty upscale, huh? Conconully was the county seat for a while.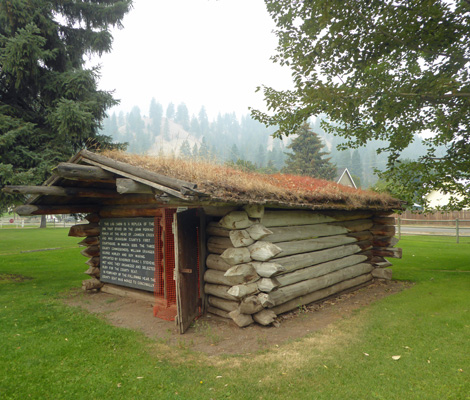 Clouds came in as the afternoon wore on and that combined with the smoke meant the sun disappeared giving us a high of 72 for the day—a nice change from the heat the last few weeks.
It was mostly cloudy and really smoky on Saturday August 25th and it worked hard just to break 60 degrees. When we opened the trailer door to head out for our outing it smelled really strongly of wood smoke and there was fine ash on the truck that blew in my face when I opened the door. We drove out the road on the west side of the reservoir and stopped to take a photo of the view looking down lake.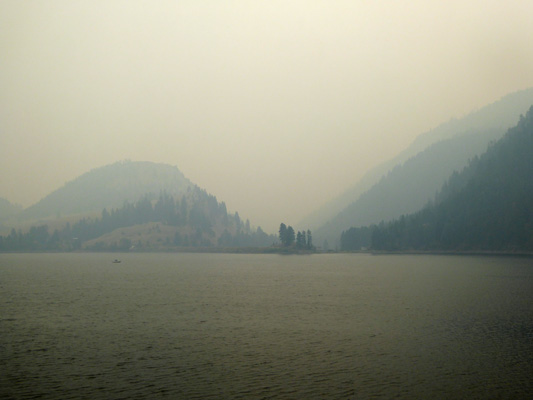 We followed the road up the hill and into nice stands of ponderosa pines and then out a ways into the National Forest. The road is paved and in pretty good shape which seemed a mystery given it doesn't really seem to go anywhere but over to Winthrop. We turned around when we hit a spur road where it was safe to make a U-turn and drove back to town and went south along the reservoir to the 'south unit' where there's yet another campground and a small gravel boat launch. There were only a couple of the campsites that were inhabited.
Then we drove around town up and down many of the streets so I could take photos of the wooden 'quilts' that were mounted on the main street buildings and lots of homes.
My guess is that they were all done by the same artist whose style has evolved and changed over the years.
There were three that we saw that were simple quilt squares like this.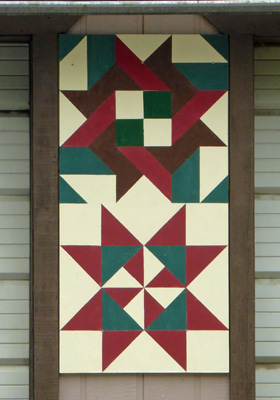 Then there was a series with quilts with a silhouette in the middle.
Like this pioneer wagon.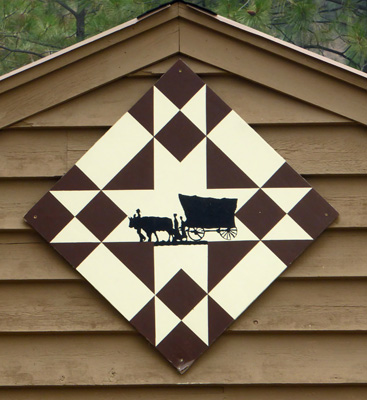 This ATV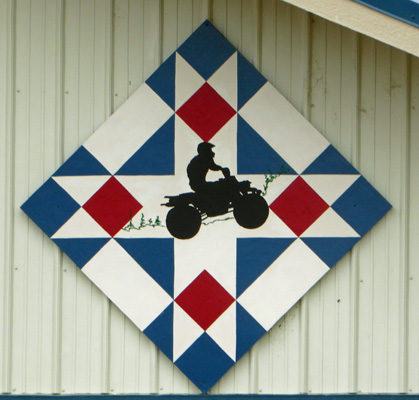 This wildlife group
And this Native American.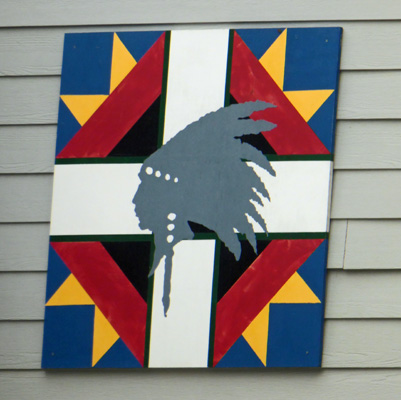 Then there were ones that were more complex with pieces of the quilt textured to look like gingham fabric.
There was a miner.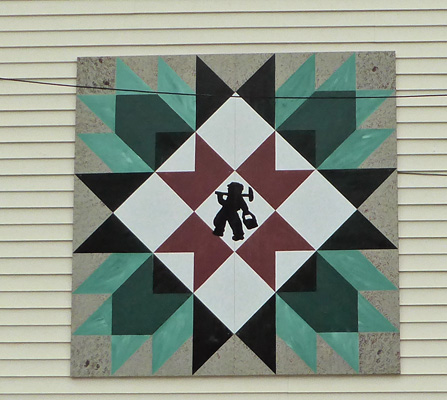 A pine branch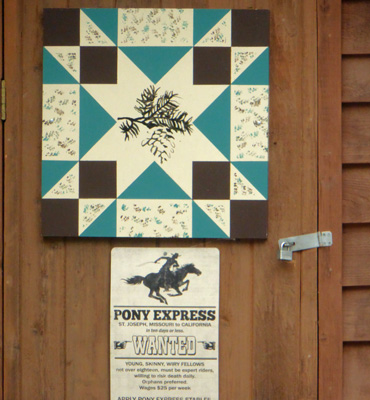 More wildlife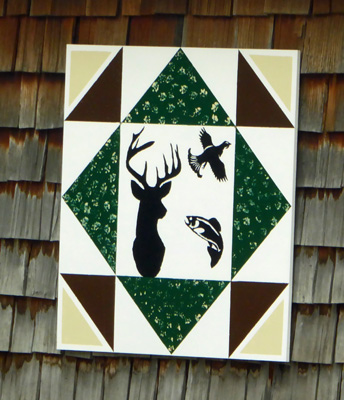 A salmon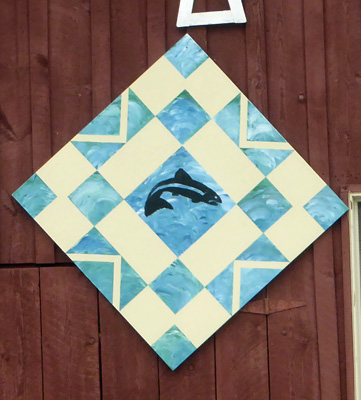 The Pony Express Rider at the Post Office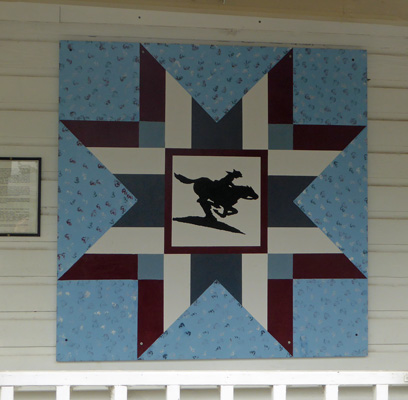 And some quail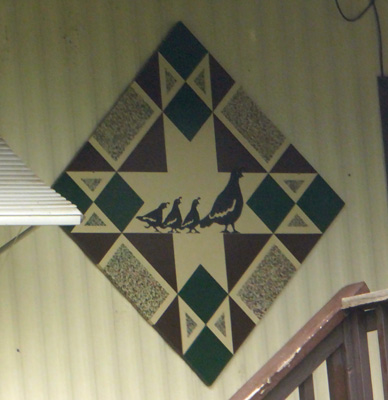 The most complex of the textured quilts was on the Community Hall on the main drag.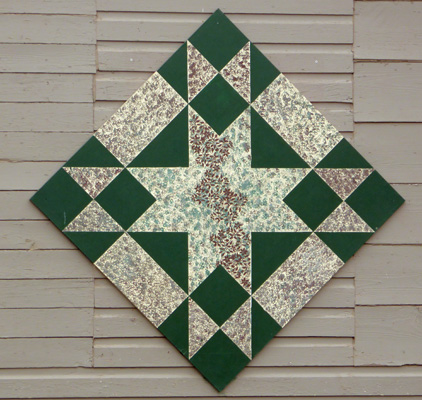 Here's a close up of the texturing. Just driving by on the first day I was sure these were done with some sort of fabric transfer but it's all brush work.
I think that the flowers may be a stencil but the rest is all sponge or brush work.
Unlike Grangeville where they had a map to help you find the quilts, here you just drive around. We saw at least 16 of them and I'm sure there were a few more that we saw on Thursday and didn't find when we looked again on Saturday.
We came back in time for lunch and then wonders of wonders about 3 pm it started to sprinkle and then actually rain lightly! We haven't had real rain since around 4th of July. I'm sure was very welcome out on the fire lines where having damp conditions and temperatures in the high 50's is a major boon especially after weeks of hot dry weather.
It actually rained for a couple of hours and then was damp and misty the next morning too. We packed up one more time and headed back to Hwy 97 in Okanogan and then south to Pateros and Hwy 153 where we turned west just a couple of miles to Alta Lake State Park. Then things got interesting. I missed the turn into our campground loop and there wasn't a turn around to get back. We ended up driving along a narrow little road with nowhere to turn around. I lost faith that we would find a place to turn around at the end of the road (wherever that might be) and pulled over opposite a piece of property with a semicircular drive. I looked at it and knew I wasn't brave enough to try it. And Walter said he could do it.
And then things got dicey. We managed to clear the trunk of a BIG ponderosa pine only to run the passenger side of the trailer into the eave of a little 8' x 8' shed. Oh no!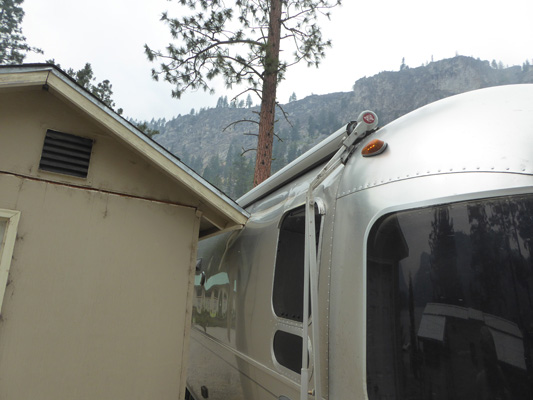 The awning arm had been bend over and broken of at the top and we had a gouge in the trailer. And we'd started to lift the roof off of the shed! But worse than that we were good and stuck. The neighbors came a-running and next thing we knew they had cut a the corner of the shed's roof off. They were sure this would do it and of course managed to get us even MORE stuck. We couldn't drop the trailer because we were wedged UNDER the eaves of the shed. So they cut more of the eaves off.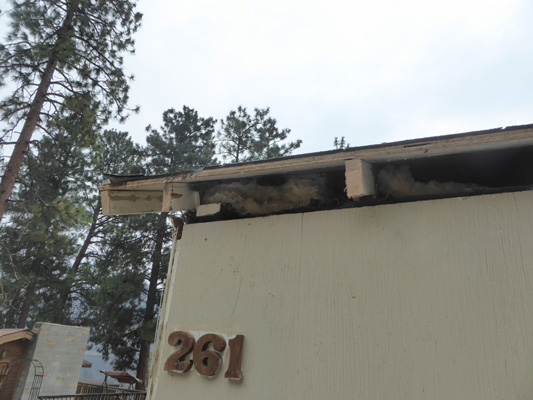 They wanted us to try to move the trailer one more time but this time we said no and dropped the trailer, repositioned the truck and managed to pull the trailer out just fine. Whew. Along about this time I realized that none of these people actually owned the shed. It belonged to their neighbors! They were SURE it would be fine and what could we say but thank you for all your hard work? They had our insurance info to give to the actual owners and waved us on.
Needless to say we were both wrecks. We got the trailer back to the campground and parked and set up okay and then just sat and looked shell shocked at each other. The inside of the trailer is fine. We popped on rivet in the bathroom. Big deal—not. And the outside while it looks bad hasn't lost it's integrity so it won't leak.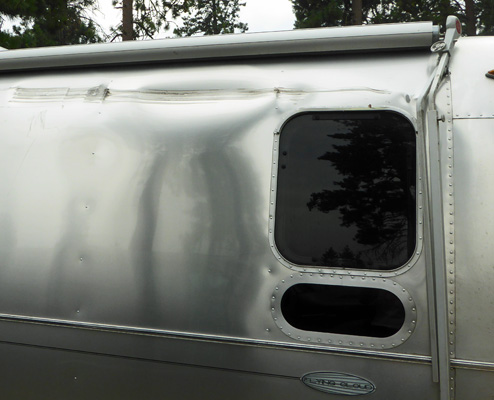 The awning is a goner. We had to take off once piece (which came off easily) and duct tape the pieces on this end so they don't swing loose. It will need to be totally replaced from the looks of it since that part with the red ZipDee on it has ripped off the end. And the side supports have come off at both the top and bottom.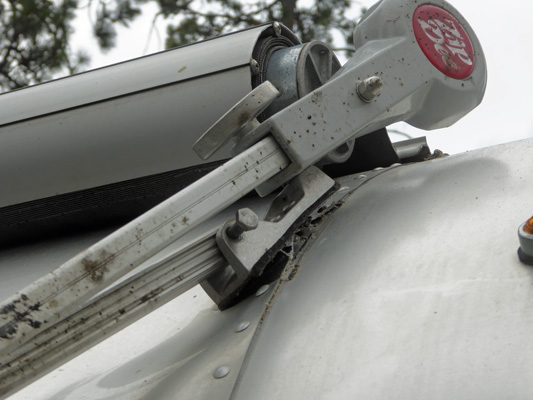 We played coulda-shoulda for a while. Then "I'm so sorry" for a while. And then moved on to repair contingencies.
Let's just say it wasn't a great way to spend a Sunday afternoon. I have been having a hard time being on the road this summer and things like this and the broken refrigerator aren't helping. I recover in a few hours but let's just say it's not as much fun as I'd like.
Alta Lake State Park is an old favorite of ours. We used to come here in April and have the place to ourselves. A forest fire ripped through here in 2014 and wiped out 42 houses along the golf course on the north end the lake and burned up most of the trees in the campground loops not on the lake. But right next to the lake all the ponderosa pines made it through and everything is still lovely. Here's the view of the mirror smooth lake on our way back into the park after our adventure.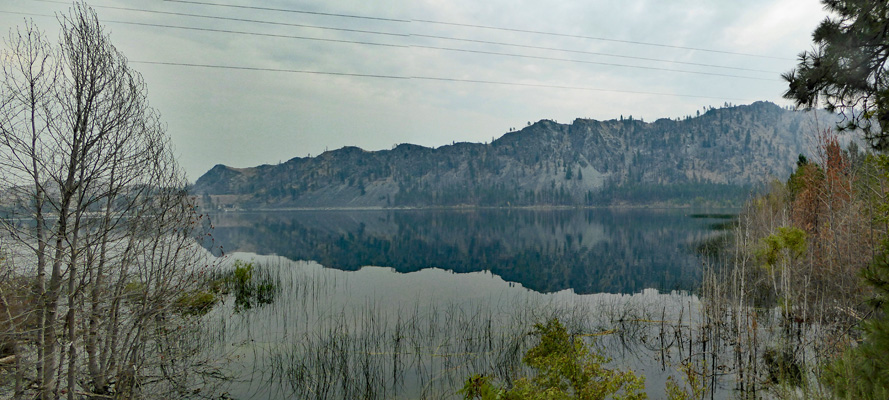 The rain had cleared out a lot of the smoke but we still had clouds and some haze and it mizzled for several hours in the early evening.
While we had a cell signal at Alta it was only 1 bar of either 3G or 4G (depending on what moment it was). With the booster we could get our email and do the basics but we really didn't have the bandwidth to handle photos. The park has free WiFi but on Sunday evening it wasn't doing much. Walter managed to get a little bit of local TV including Sunday Night Football (though he didn't turn it on until it was almost over).
Monday morning we awoke to BLUE SKIES, white puffy clouds and a brisk breeze. No smoke! We've been in smoke for week now. What a treat to have blue skies. The park's WiFi worked fairly well and I managed to file our insurance claim on-line (something I couldn't do with either our hot spot or their WiFi the day before). I even managed to upload photos of the damage.