On Monday August 27th, we had a gorgeous sunny day at Alta Lake State Park with blue skies and puffy white clouds.
Here's the view from our kitchen windows.

There were only a few other campers which made it all the more soothing to have a lake view that seemed to be all our own. Out the back windows you could see up the steep hills to the west.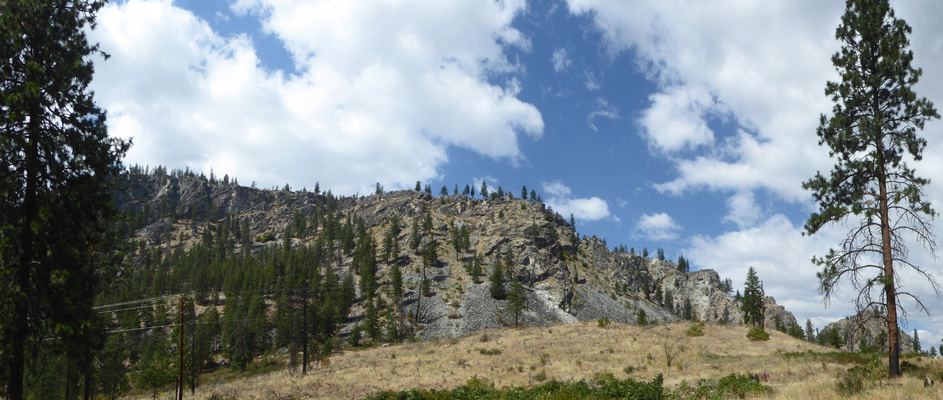 In past years, we've hiked the trail that takes you up to the top of the ridge. But this year we just needed a recharge day after such a stressful day on Sunday.
We walked down to the lake shore so I could take a panorama shot.

The lake was totally full with trees around the edge that have grown in dry years but are drowning this year.
We walked around the shoreline and stopped to check out the snack bar and store. They had ice for sale which we decided we'd pick up the next morning to hopefully stretch us until Wednesday when we had an appointment for the refrigerator repair. The day use area here is lovely with a nice swimming area and lots of green grass.

Tuesday morning I had a call from our Foremost Insurance (trailer insurance) claims representative. I had to play telephone tag with him because even though the phone was on I'd missed his call—the joys of a one-bar cell signal. He was wonderfully informative and efficient. It turns out that the photos I'd sent him were sufficient for him to do the damage assessment for our claim. We wouldn't have to figure out how to meet up with an appraiser which was wonderful news. He had 10 years worth of experience with trailers and knew how Airstreams worked and how important it was to have a good shop work on them. He also understood that it was very likely that they could find more damage when they went to do the repair and explained how that would work.
Walter and I had talked about it between us and had decided the best thing to do was to wait until we got back to Tucson and have Oasis RV Tucson do the repair. They are the folks who did such a great job for us when we were rear-ended in February 2017. We double checked on-line to be sure they were still in business so we set things up with Foremost for Oasis to be our repair folks. All I needed to do for them was to send them a photo of our VIN number and all would be good.
Of course, the WiFi wasn't working very well but after about 4 tries I finally got the photo sent off to our claims rep. Whoo Hoo. I just love it when things start to go smoothly again.
We broke camp and headed up Hwy 153 to Twisp (where it was smoky) and then picked up Hwy 20 north to Winthrop (which was FULL of cars and people) and then northeast a little ways to Pearrygin Lake State Park where we had a 3 night reservation for a full hook up site in the west campground. This campground used to be a private resort and is laid out a little differently than most state parks. Each site is basically a square with a place for your rig and a fire circle and picnic table beside it. The power runs off poles down the middle—not the usual thing for state parks at all.
Our spot had a little slice of a water view even though we were in the 2nd row and there were really not that many folks there at all.
It was a bit smoky but not bad. I checked for a cell signal and we only had one bar. I had a phone message (the one from the morning hadn't been cleared) and I could call out but I had no data even though it was a 4G signal. Odd. After lunch we strolled over to the camp store and the camp host there said that she had Verizon and had no data either. She had to go into Winthrop for that. Ah ha! Something new for us.
Walter called Oasis RV that afternoon and set everything up for us to bring the trailer in for repair with them when we get back to Tucson in early November. It was such a relief to have it be so simple.
That evening the smoke gave us an interesting sunset.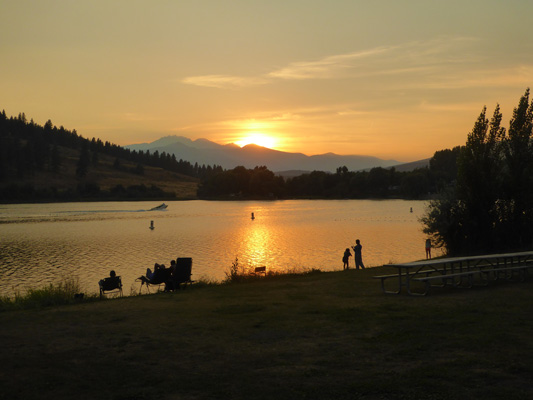 Once the sun set completely there wasn't much color though. Ah well, it sure was pretty while it lasted.
Wednesday August 29th, we got up at 0 dark thirty, battened the hatches and hit the road with the trailer (leaving our camp chairs to hold our spot) before 7 am. Downtown Winthrop was full of fire trucks and crew trucks converging from all directions. It turns out that the morning briefing is at 6 am and they all haul out just before 7. The big fire camp is just west of town so when shift change comes they're coming through from both directions. Wow was it a traffic jam. We followed Hwy 20 east over Loup Loup Pass to Okanogan and then north to Omak. We were early (of course) and had checked in and were waiting by a little after 8 for our 8:30 appointment. While we were waiting, our Foremost Rep called and let us know that our trailer insurance doesn't cover the damage to the shed! That has to be handled by our Auto Insurance. The good news is that we have Farmers (who owns Foremost) so he could just send that part of the claim over to them rather than us having to make another claim. And so it goes.
The refrigerator repair was done in 1/2 an hour! It turns out that there were a couple of connectors that were loose and once he had pulled them, cleaned them and tightened them up, presto it worked again. It's easy when you know how! We rolled out of there before 9 am. Whoo hoo! We drove a mile or so farther north to the Walmart so we had a place to park and then got our computers out and used the hot spot to pick up our email and do some other business. Then we headed back down Hwy 20 over Loup Loup Pass again and back to Pearrygin. It had been clear in Omak and it was clear in Winthrop but it had been really smoky in Twisp (where there are fires to the north and south).
It had only been 46 when we hit the road at 7 am and it was still only 56 when we got back so we celebrated our victory with hot chocolate—something we haven't even considered for months. It warmed up quickly after that and got into the mid 80's in the afternoon. I emptied out the coolers and reloaded the refrigerator once it was cold and gave the last of our ice to the folks next door to us. Yippeee. No more morning ice drill.
We saw a lot of deer while we were at Pearrygin. In fact, the mule deer herd in this area (the Methow Valley) is the largest in Washington. They come out in the morning and again in the evening to feed on the lawns at the park and all around the area.
Thursday August 30th, it was even clearer than it had been the day before. It was warmer than the day before (fewer clouds) too and the kids were out in the lake and boats were being launched well before 11 am when it was still in the low 60's. I went out and took a photo of the clear view (you could really see the mountains!!) and the festivities.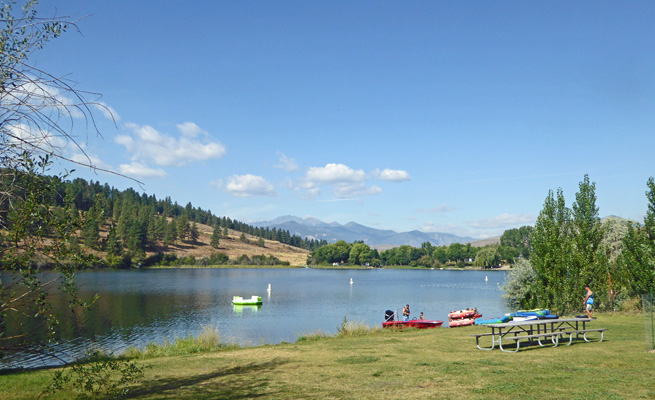 There were kids in that yellow/green floating raft/couch/boat who had swum out. A couple of women were heading out on SUPS and a fishing boat was about ready to go out for a spin.
We headed over to Twisp to do the laundry and grocery shopping. Usually Laundromats are less crowded in the morning. Not this one! They had a crew of 6 people working to wash tons of fire fighters' laundry. Each load was done separately with little name tags on the machines and baskets and bags. The place had 9 front loaders (plus some jumbos they weren't using) and they were all going as were all the dryers. We arrived at 11 and they said the washers would be available at noon. So we went next door and got gas and then did the grocery shopping. Sure enough the washers were available at noon but the dryers were all still full for nearly another hour! There was nowhere open to fold your laundry and just about the time things were starting to settle down a whole crew of NW Americorps kids came in to do their laundry and take showers. It was a zoo. When I finally got it all done at 1:30 I was shot. But Walter found a butterfly on the pavement for me to photograph so all was good.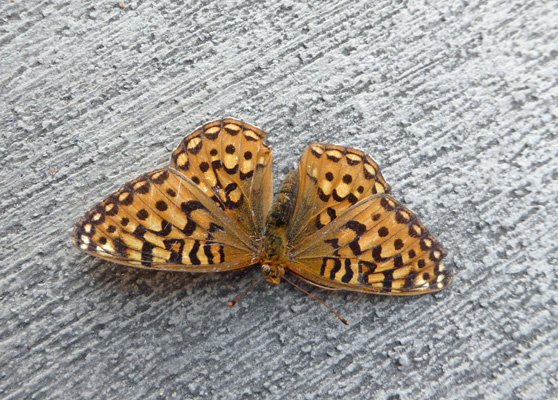 It got clearer and clearer as the day went on because we had a nice brisk breeze from the west blowing nice fresh air from Western Washington. It was a pleasant 77 degrees and we had showers in the nice warm shower house with HOT water—worth the 4 quarters for 7 minutes of bliss.
Friday August 31st, we packed up and headed back into Winthrop. It was so clear that we even had a nice view at the turnoff towards town.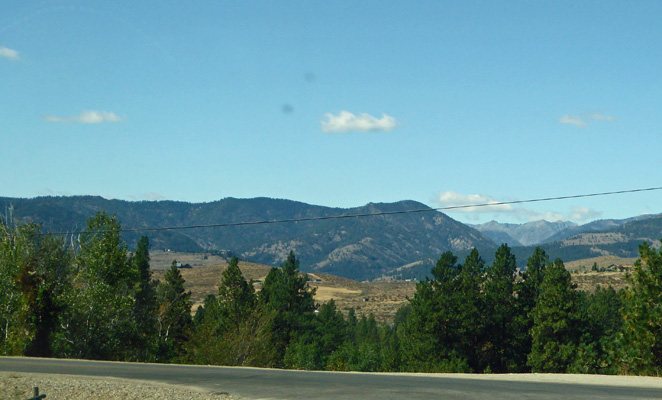 In Winthrop, we picked up Hwy 20 west past the huge fire camp—RVs and then acres of tents. The road winds its way westward through Mazama where we got our first nice views of the Cascades.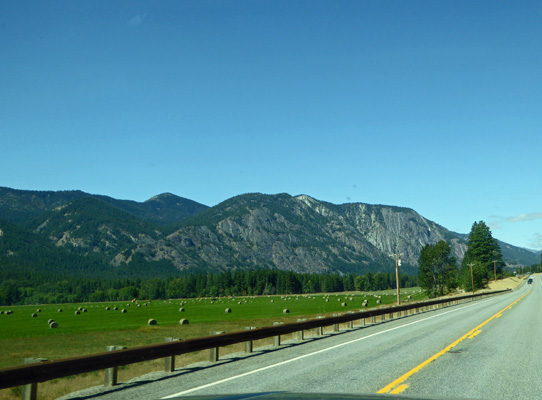 Hwy 20 climbs into the North Cascades and the views just keep getting better.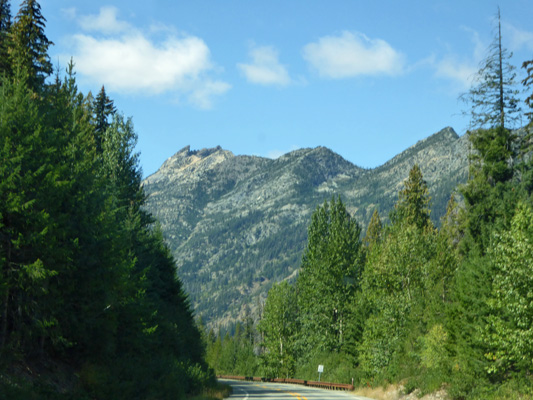 These are tall craggy mountains that stick well above the tree line.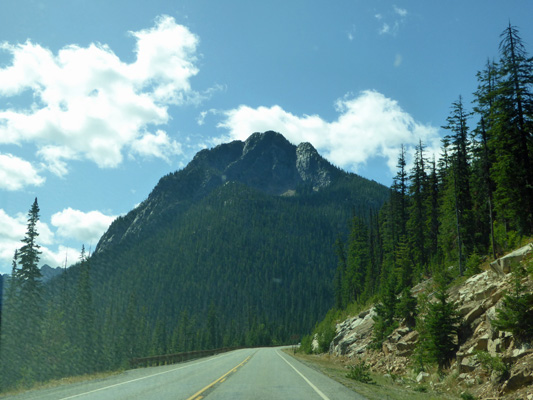 There was still snow on the north faces.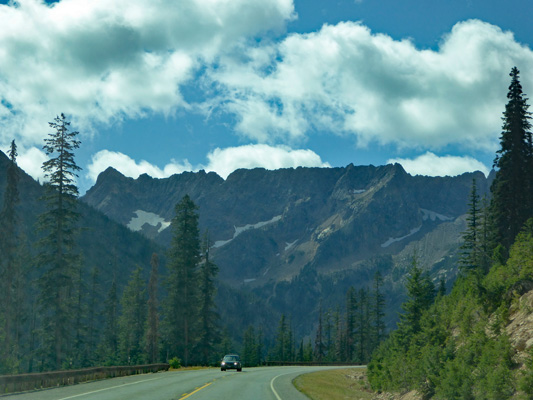 As we came around this curve I had to shoot a whole series of photos to finally get this whole section in view.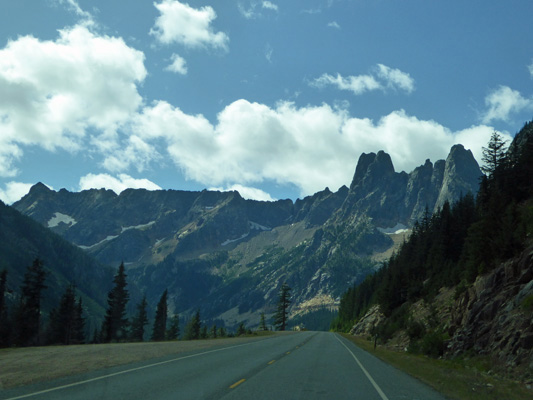 At Washington Pass you get this great view looking southeast. Now THOSE are mountains!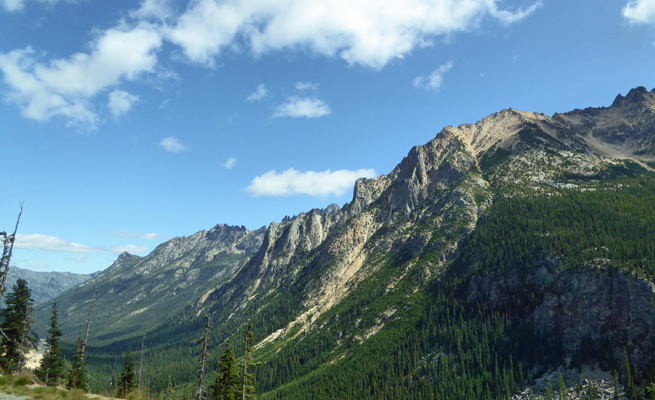 We changed drivers shortly after this and I started to drive so no more mountain photos. However I did insist on stopping at the Diablo Overlook. I realized as we approached it that it literally was one of my favorite views in the country so I of course I had to stop to take one more set of photos. We had some clouds on this side of the mountains so it wasn't perfectly sunny but the colors were still marvelous.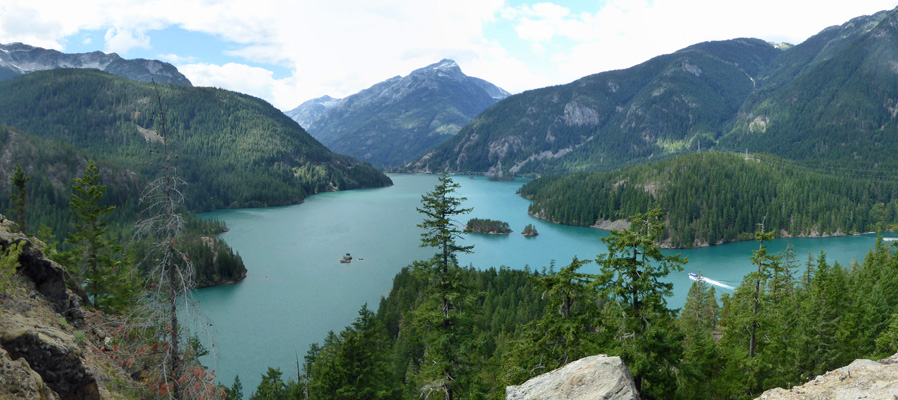 I hiked around the viewpoint to get a wider view.

And then took a photo along the inlet down to Colonial Creek where there was more snow on the north faces.

When the sun is out the water is emerald green but it was still pretty swell.
We drove on to Newhalem which is the site of the old Seattle City Light company town where crews lived when they built the 3 dams that form Gorge, Diablo and Ross Lakes here in the North Cascades. The Visitor Center for North Cascades National Park is just west of town along with the Newhalem Campground where we had a reservation to dry camp (no hook ups—this is a National Park after all) for 4 nights covering the entire Labor Day Weekend.
We set up camp, had lunch and then drove over to the Visitors Center (about 1/2 mile away) to pick up a map and literature and to watch the movie. This time instead of one movie about the park they had a series of shorts about issues in the park. All of them were great and very informative—grizzly bears, glaciers, chert tools to name a few.
Saturday September 1st, we drove back into Newhalem and over to the Gorge Powerhouse. It was late morning and we got a parking spot in the small lot without a problem.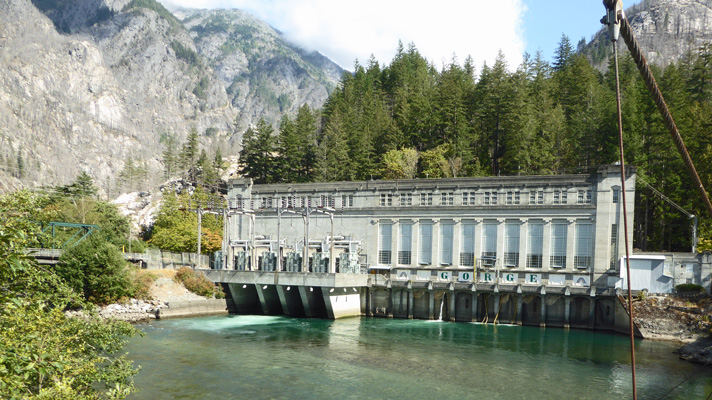 Behind the powerhouse there is a trail up to Ladder Falls but first we had to visit the interpretive center about the powerhouse. One turbine was running (they were running water out on the left from it) and they had a bunch of folks in hardhats on a tour. The Gorge was the first of the dams and this was the first of the power houses so its small and not used as much as the other two. My photo of the turbine didn't come out—there was wired safety glass and my camera decided that it needed to focus on it instead of the turbine.
But I did get photos of the nice hanging baskets that were near the entry.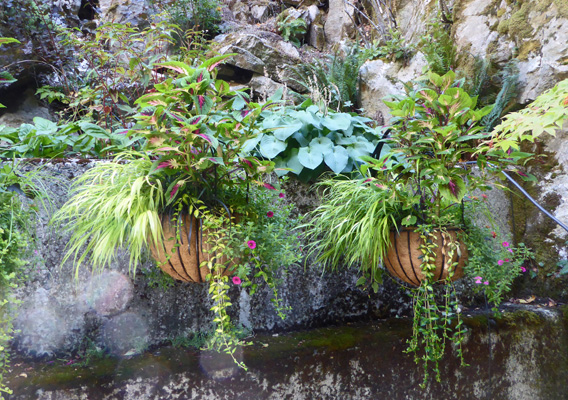 There were huge gardens planted here in the 1930's and restored again in the 1970's but clearly they don't have a big enough crew to tend them now. They were pretty overgrown and things were dry so I suspect the irrigation system needs work.
We followed the trail/stairs up the hill along Ladder Creek where you can see a series of cascades.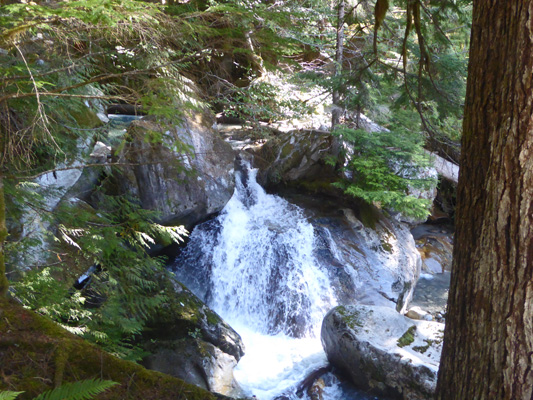 There's a nice bridge that you can take out over the creek.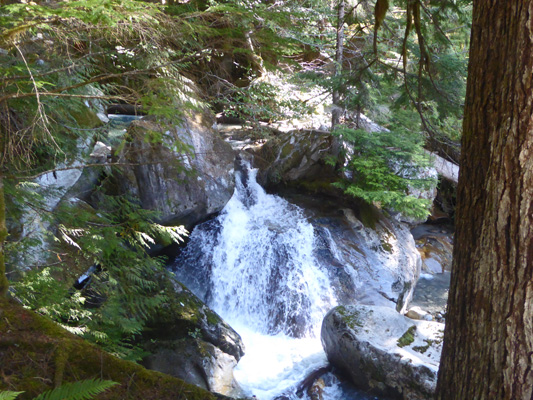 After many more stairs you come to a view of the lower falls.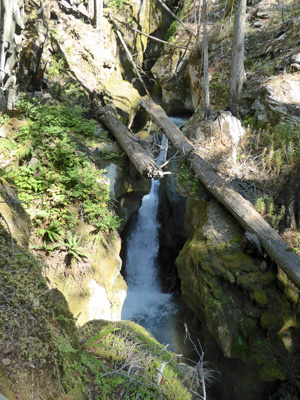 The Richardson Fire burned through much of this area in 2015 (right up to the edge of the campground in fact) and stopped on the far side of Ladder Creek. So there are lots of fallen trees now. And that makes seeing the upper falls harder.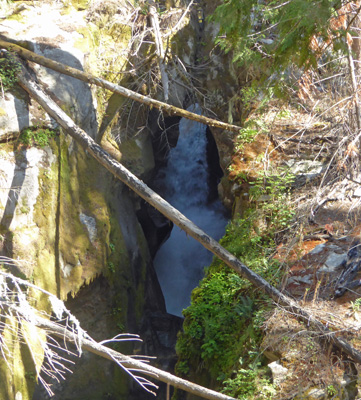 We followed the trail through the 'gardens' and I have to say I was not impressed. But hey it was a nice idea once upon a time.
The trail takes you back past the Interpretive Center and then past the one bit of garden that was still in bloom—some nice red roses.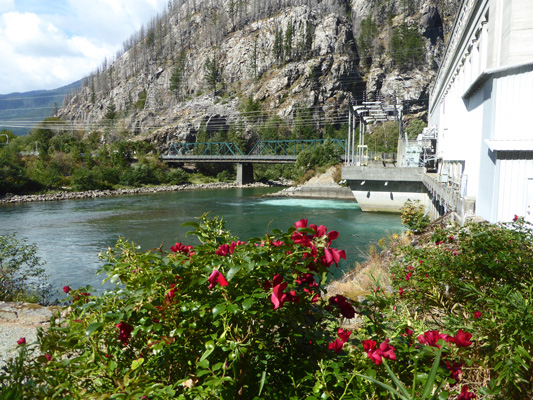 There's a cool suspension bridge that takes you back to the parking area.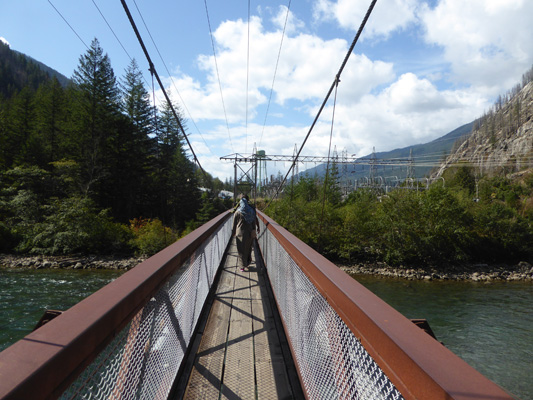 And gives you a good view of the Skagit River as it leaves the powerhouse area.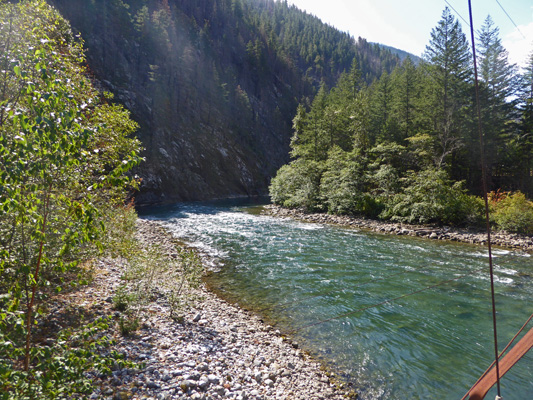 I took this panorama shot of the powerhouse area and the burned mountainside across the way.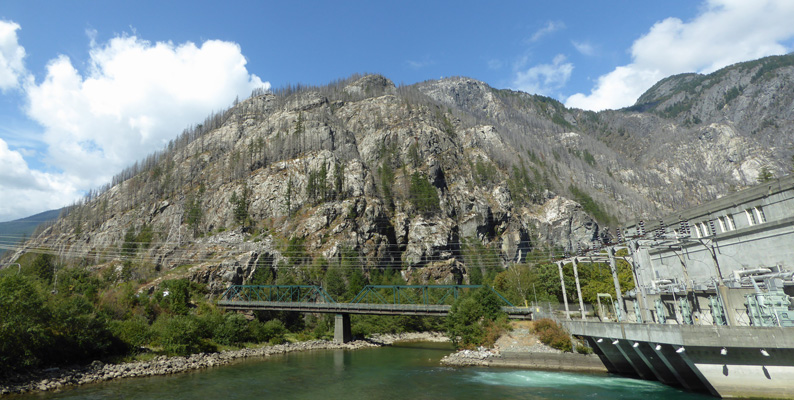 The folks at the Visitors Center said that the fire was started by a lightening strike and pretty much burned until the fall rains and snow came.
We drove back into Newhalem proper and I stopped and took a photo of the General Store, in business since 1922. It now sells sandwiches and hot dogs and supplies to campers and tourists on their way over Hwy 20.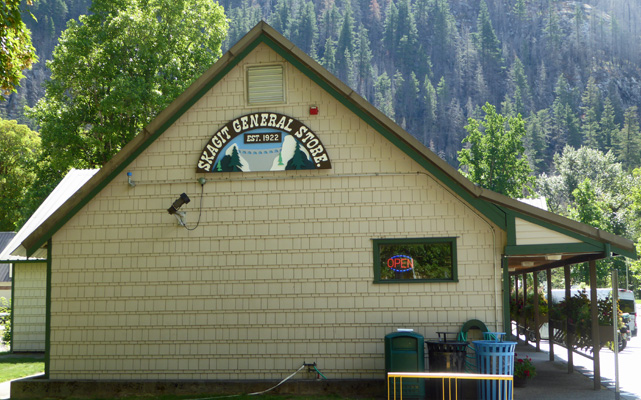 In the 1920's and 30's Seattle City Light had a rail line to bring construction materials out for the dams and tourist rode it too. The rail line is no more but one of the engines remains.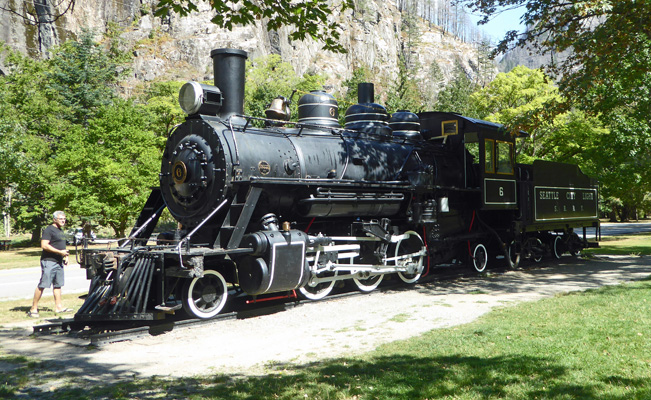 You can climb up into the cab and ring the bell—and people did it pretty much constantly while we were there.
The flowers in front of the store were really nice.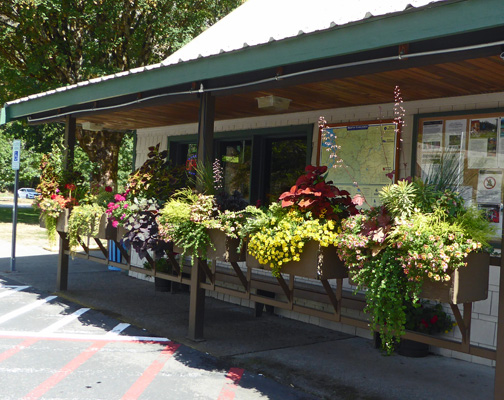 It was so wonderful to be back on the wet side of the mountains where you see coleus and flowers other than geraniums and petunias.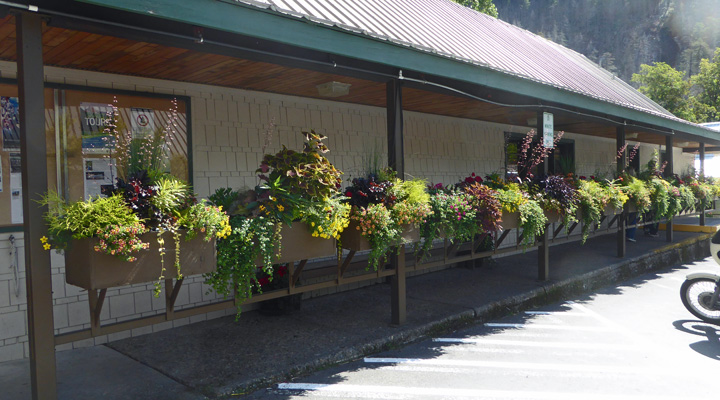 When we first arrived on Friday we had had a 4 bar 4G signal that worked pretty well. But by Saturday morning we had no data again. So we thought we might try going west to Marblemount where it might be better. So we drove 10 miles west to find that all we had as 1 bar of 1X!
On the way back I stopped and took a photo of the Skagit River as it burbled along. It has the same rock flour in it that makes Diablo Lake that marvelous color. Thank you, glaciers!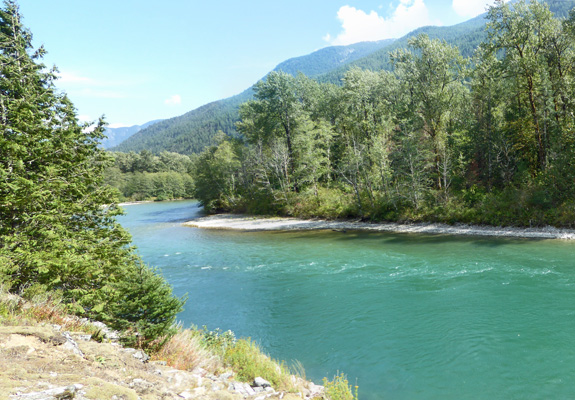 By the end of the day we had decided that the cell phone problem was just too many people for the bandwidth of the tower. I could call out just fine but data was mostly non-existent, though the phone would update now and then.
Sunday September 2nd, was another beautiful day. It was sunny and in the high 70's and just delightful. We stayed close to home by taking the River Loop Trail that starts in the campground itself.
The trail goes through 2nd growth forest where I saw a number of deciduous trees with these strange seed clusters that I'd never seen before. It turns out that I think this is a not fully ripe seedhead of a Pacific Dogwood (Cornus nuttallii).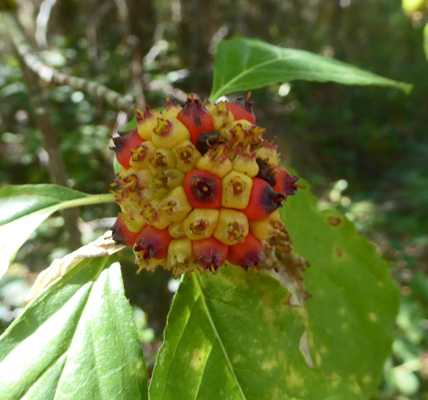 One small section of the trail went through the burn and then turned to take you down by the river. On south side of the river the water was very shallow and clear. And then on the other side of a small gravel bar the deep green water rushed by.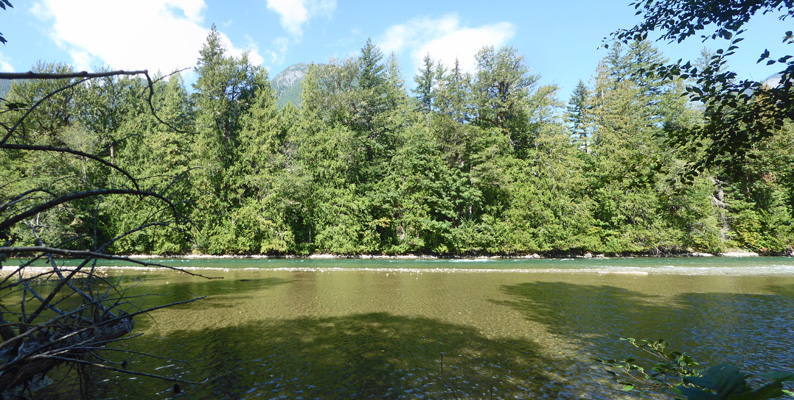 Looking up river we could see a bit of the Cascades.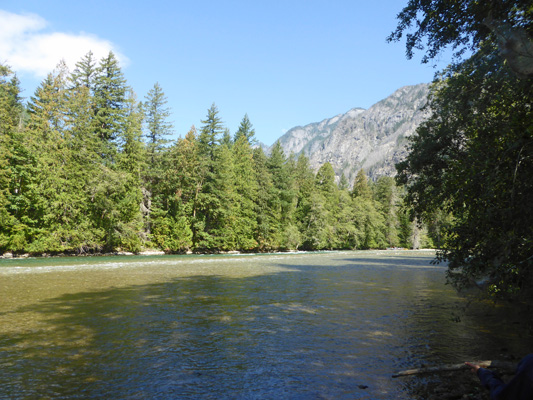 There were a group of rafts up river from us on the far shore and when we continued on around the trail we got a good view of them all and got to watch one of the boats launch on down the river.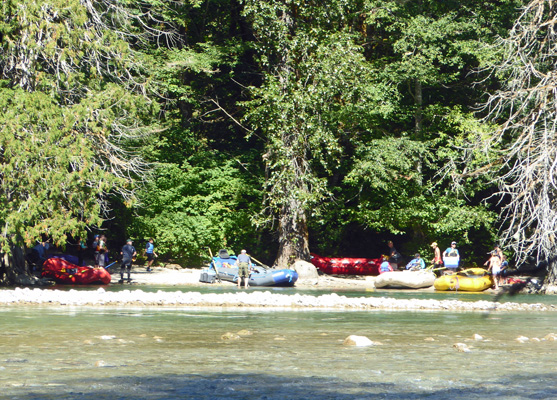 The forest in this section was mostly old growth with a few old Western Red Cedar stumps from back in the early days. The moss was thick and lovely.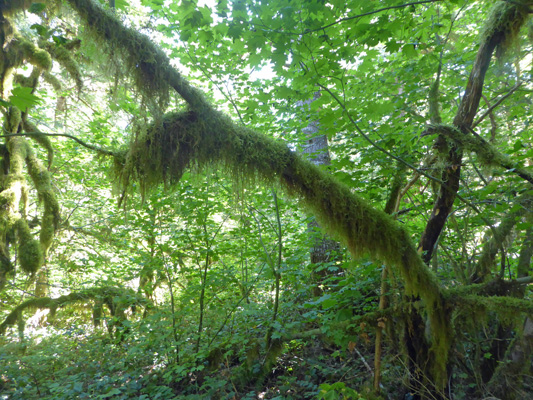 And there was even some fresh shelf fungus.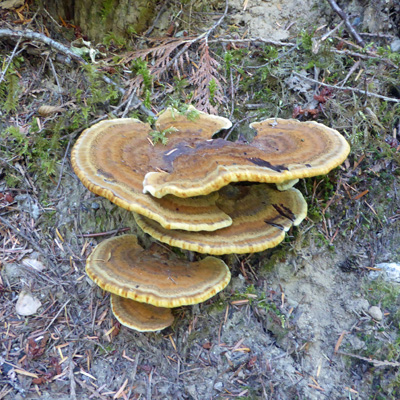 We came around a bend and the entire forest floor was covered with sword ferns. So I made one more stab and trying to capture the magic of the rainforest.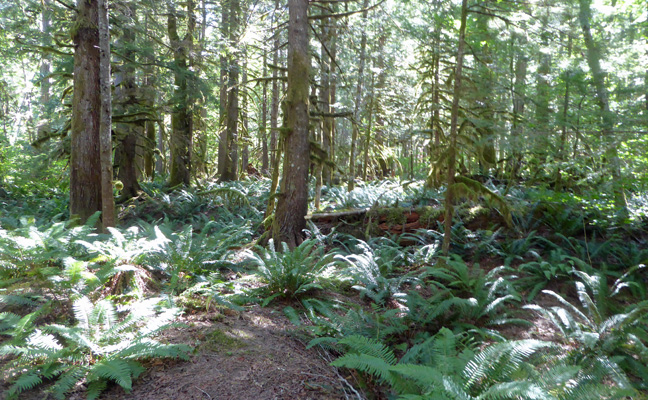 Back at the end/beginning of the trail I noticed that the blueberries had already begun to turn color—fall is coming!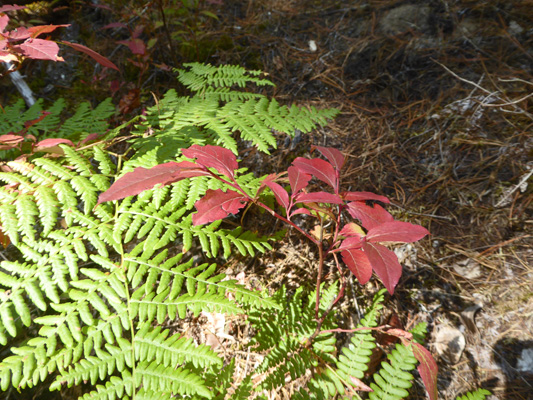 This was a lovely hike (mostly flat) and we both really enjoyed it.
It got warm enough in the afternoon that we even opened up the vents and windows—a high of 78! Simply marvelous.
Rain was forecast for Sunday night and Monday morning but we only got a few clouds and not even a sprinkle. By mid-morning the sun was back out and we had big white puffy clouds around the edges. The data on the phone worked a bit better—folks were packing up to go home. We packed a picnic lunch and once the generator was done running (we ran it 1 1/2 hours in the morning and then again in the evening while we made dinner) we headed out on our outing for the day.
We drove west to Marblemount on Hwy 20 and then turned onto the Cascade River Road which follows the river back into the mountains. Much of the time the river is WAY below in the canyon.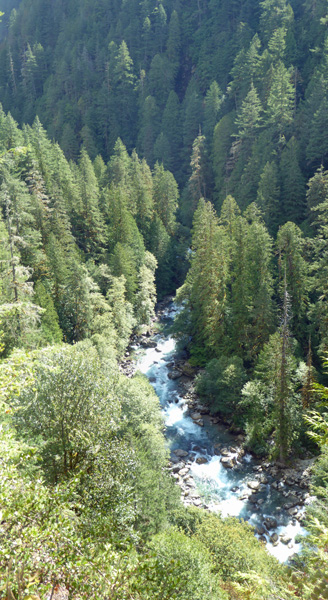 We stopped at and wonderful overlook with a view of the mountains. You could see that there was still snow at the upper elevations but there were too many clouds to make a good photo.
We drove on until the road turned to gravel and continued all the way to the Mineral Park Campgrounds (there's an east and a west campground). We pulled over so I could go back and take photos of the North Fork of the Cascade River as it went under a bridge. Uphill it bounced and burbled.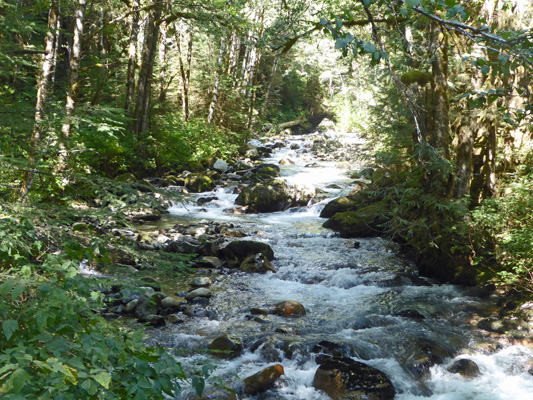 And downhill it spread out a bit before heading around the bend.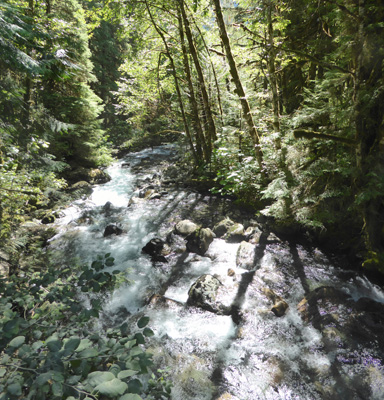 The campgrounds were empty save for one party of 3 and we found a nice spot with a view of the river. We took out our patio chairs and sat in the sun and watched the river. Walter looked for wildlife but all he could come up with with a flycatcher going after the occasional dragonfly.
We moved to the shade when we got hot and had a picnic lunch before bumping our way back down the gravel/washboard road and on back to the campground. It was another lovely day with temperatures in the mid 70's and mostly sunny skies. The light has shifted angles so it's beginning to look like autumn is on the way.
On Tuesday September 4th, we got the great news that the folks whose shed was involved in our accident near Alta Lake had decided not to lodge a claim! One more hoop taken care of. Once that was handled, we packed up once again and took Hwy 20 west to Burlington and the Anacortes/Burlington KOA for two days of a full hook up site where we could do laundry, get caught up on our email and internet tasks, plan our travels for September and October and get ready for our 6-day visit to Monroe.