November has been mostly about household projects and interesting wildlife encounters. Our first weekend back in the house I spent a lot of time dealing with our pond. It had ended up full of water because of the heavy monsoon rains and then of course it had 6 months worth of leaves that were brewing in all that water. When I drained it I discovered that the mesh filter over the outtake had a big (fist sized) hole in it so that leaves were now clogging the pump. I spent a lot of time getting all the leaves out and then installed a new piece of mesh (it was just a piece of window screen) by gluing it onto the wall (the hard part of this process was figuring out what kind of adhesive to use). Then I installed a piece of heavier weight mesh over it (on little hooks) to protect the finer mesh.
All this entailed trips to the hardware store and lots of sticky gloves. Right after I had successfully refilled the pond and was proudly going to show Walter the results, I stepped out of our back slider onto the patio. Walter said, "Watch out" and I turned and screeched as a gopher snake hopped over the door sill and slithered behind the bookcase in the dining area. This book case is FULL of cookbooks and decorative objects. So first we unloaded all the breakables and then removed all the books so we could move the bookcase. We pulled it away from the wall and found no snake. However when we rotated the bookcase so it faced out the door onto the patio, Walter knelt down and sure enough there was the snake hiding under the kick plate area of the bookcase. Walter took his Easy Reacher (trash picker) and pulled him out.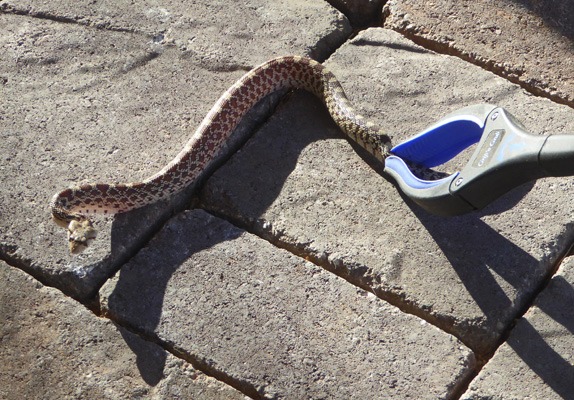 Once I'd taken his photo, Walter deported him over our side fence into the wash.
Somehow after this little adventure the full pond wasn't all the exciting any more. Duh. So we put the bookcase back in place and I DUSTED (holy smokes) and then put everything back. Sigh.
Later that week we'd worked through enough of our to do list so that I felt I could do an outing to Civanos Nursery up in Tucson. Back in April before we left for the summer, I'd submitted a plan to the Architectural Committee to add some plants to the front yard. I wanted to get them in before the soil dried out any more since it was still pretty moist from the rains. I hadn't found what I was looking for at the two little nurseries in Green Valley so a trip to a bigger place was in order.
Civanos is a lovely nursery but still small by my NW standards. There is nothing like shopping at Molbaks for 30 years to give you the impression that every other nursery in the country is awfully little. I had a list with 17 items on it and they only had 10 of them. But that was just fine because it turns out that desert plants at a nursery are EXPENSIVE. Those 10 plants (nothing bigger than a 2 gallon can) cost me over $350!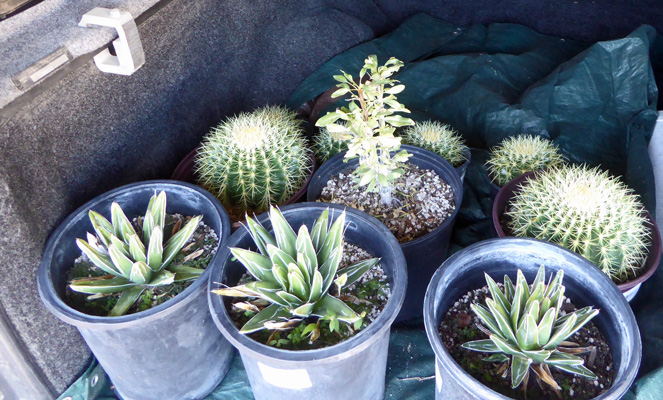 The three spiking things in the front row are Queen Victoria Agave (Agave Victoria-reginae). The barrel cacti with the yellow spines (in two sizes) are Golden Barrel Cacti (Echinocactus grusonni). And the strange shrubby looking one in the middle is an ocotillo (Fouquieria splendens) that cost $90. The ones that were 3 feet tall already were $110 and were going to be much more work to plant so I left them at the nursery—a couple of weeks later I saw ones that had been legally dug from the desert up in Phoenix that were huge and cost about $40. But I was glad not to have to try to dig a hole big enough for them let alone wrestle the huge prickly creatures into said hole.
All of these plants have sharp pointy edges. I'd never planted anything thornier than a rose bush so this was going to be interesting.
I spent the next couple of days digging holes with my mattock (a pick-axe like tool I used a lot in my rocky soil in Monroe) and managed to get all these guys in the ground with only getting pricked once. Hurray for leather gloves.
Here are the agaves at home by the front patio.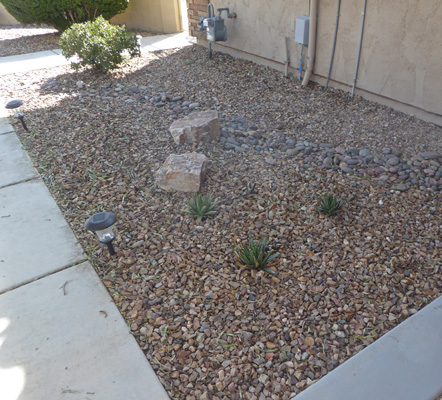 And the golden barrel cacti out by the saguaros. Funny, the looked much larger in their pots.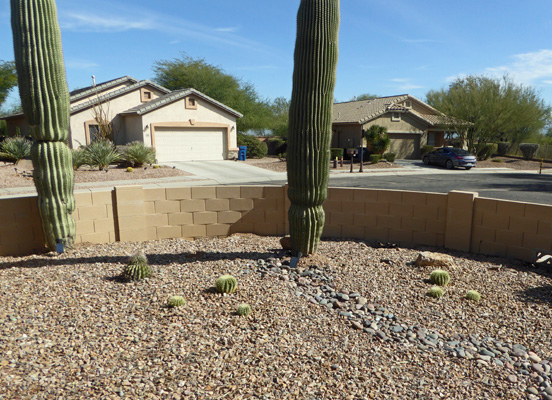 Sunday November 11th, I was out on the back patio and guess who I found had returned? Yep, our friend the gopher snake.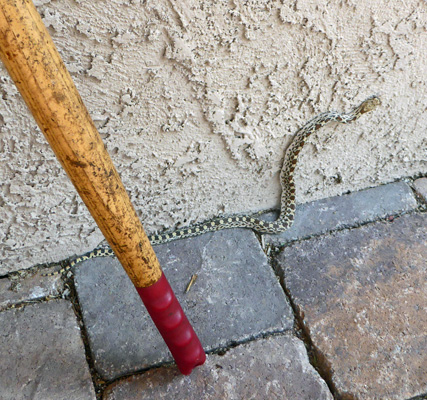 And we discovered WHY he was hanging out on the back patio that evening when we opened up our barbeque so Walter could use it to make dinner. When I pulled off the nifty canvas cover we'd installed before we left (to keep it clean in the weather) and lifted the lid, I discovered a pack rat nest. Ick. I went and got Walter and when we lifted the lid again, the rat looked right at me. I screeched and he ran. He had built a nest of grasses and cacti pieces on the grill racks and the grease guard below was filled with mesquite seeds and pods. Double ick. We spent an entire afternoon later that week cleaning and disinfecting the barbeque (it's VERY clean now) and since then we haven't seen the snake. They have very poor eyesight and hunt via their sense of smell. No doubt he was hanging out waiting for the rat (and his pups) to come by. He was MUCH smaller than the rat but the pups would be been great I guess. Nature in action once again—ick.
Having weathered that set of wildlife encounters I was ready to tackle another gardening project. The oleanders in our back yard grew incredibly over the summer. I'd trimmed all of them back to the height of the walls behind them. The ones along the patio had doubled in size.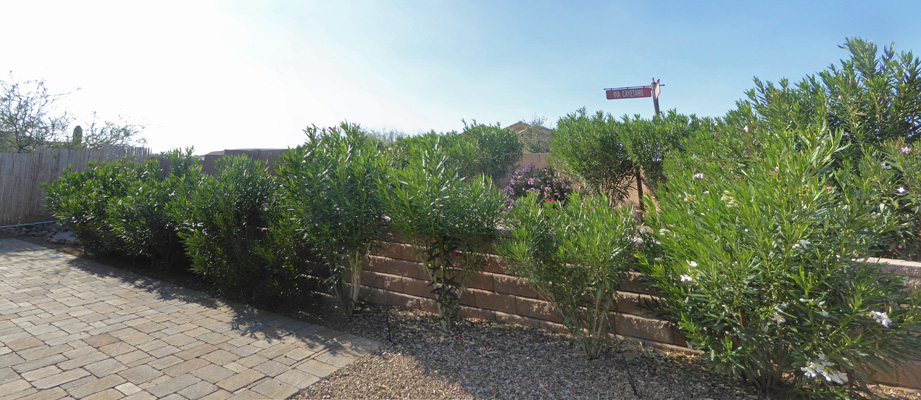 Not only were they getting seriously tall they were getting really bushy too down by the pond.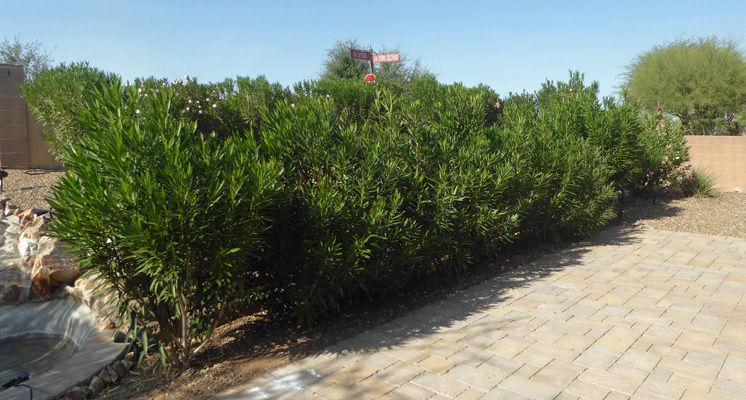 Unless I wanted to spend my life trimming oleanders every few months it was time to pull them out. I watched a video on YouTube (I love the internet) of two guys digging out a HUGE oleander and decided I could handle the job. I started with the smallest one, hacking it down to a stub and then digging up the root ball. Once again my favored tool was my mattock. And I had the whole thing out in under 20 minutes. Yeah Team. The next one I tried ( a few days later) was the biggest of the lot. It had a double trunk and it was HARD work since it had several big taproots. But I got it out, even if I was pretty tired when I was done.
In just over 2 weeks, I managed to get the first six out and we could see the retaining wall again!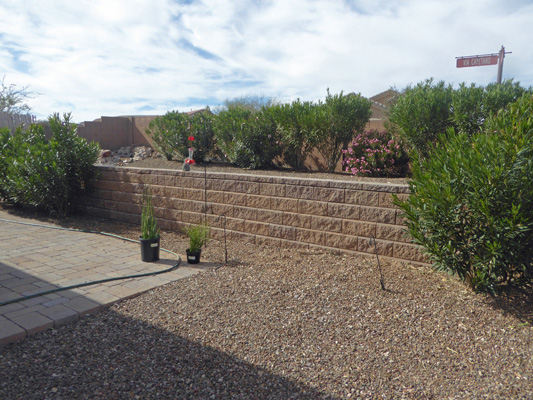 Given that there are 21 oleanders to take out (there are two dwarfs along the back wall that I'll leave in for now), this is a long term project. But it's one I can do on my own for which I am truly grateful. We've started working out in the gym again and that plus planting cacti and digging up oleanders is giving me plenty of exercise.
November 13th, Walter went out after dark to check our mailbox. On his way back up the front walk he spotted a centipede and came and got me so I could see too. He's got 19 pairs of legs and the divided tail and a pair of antennae. He's a Giant Desert Centipede. He was about 6-7" long. They bite and put out venom that's about like a bee sting but only if they think you're prey or you really harass them. This guy was hurrying across the front walkway headed for the rocks and spent a lot of time in the expansion joints between the blocks of concrete.
Just think of all the interesting stuff we're missing because we don't wander around in the dark much! I regularly see javelina prints in the wash but I've not seen one yet because they too are mostly nocturnal.
On November 14th, Mother Nature put on a 360 degree sunset show for us. Here's the view off to the west.
And to the east

And to the south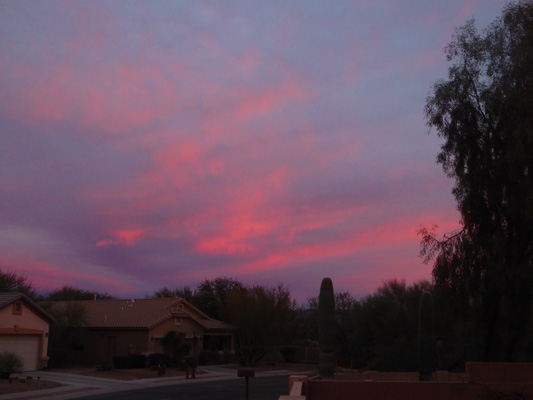 We've begun to settle into a routine again. We go to Silver Strummers and make music on Tuesday and Friday afternoons. And we've started to go to the gym for a while before we go to Strummers. In between I dig up oleanders and we handle other projects.
The week of Thanksgiving I discovered that our irrigation system didn't seem to be running. Walter, my hero, diagnosed the problem as a worn out solenoid and we just had to make a trip to our local ACE Hardware to get a replacement (under $10) and presto he had it fixed again. I wish all our household adventures were that easy.
On Wednesday November 21st, we headed north to Avondale, AZ just west of Phoenix to spend the holiday with our niece, Amy, and her dad, Mike. It was just the four of us but boy did we cook up a storm and have a feast! Turkey, dressing, mashed potatoes, mashed yams, gravy, green beans, peas and onions and of course my mother's pumpkin pie recipe made into individual custards because the family gave up pie crust years ago. Add a few football games and a nice evening walk and you have a marvelous Thanksgiving.
Friday November 23rd, we made the trip to the Desert Botanical Garden on the east side of Phoenix near Scottsdale.
We began our exploration of the garden in the Butterfly and Hummingbird Gardens. They were freshly planted with flowers for the winter. This bed was full of hybrid penstemon.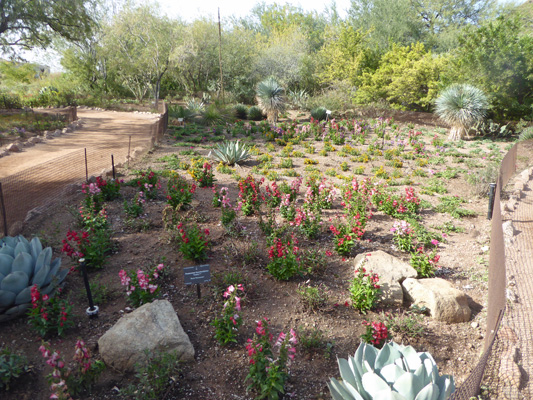 This bed of Mistflower (Concolinium greggii) was aflutter with Queen's butterflies.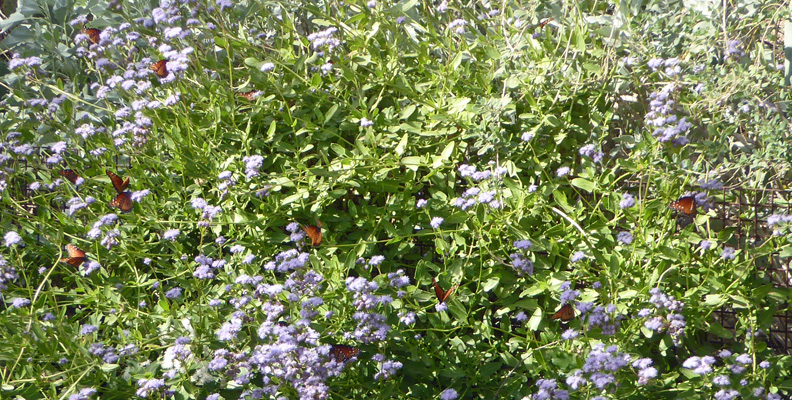 Here's a pair of Queen's butterflies up close and personal.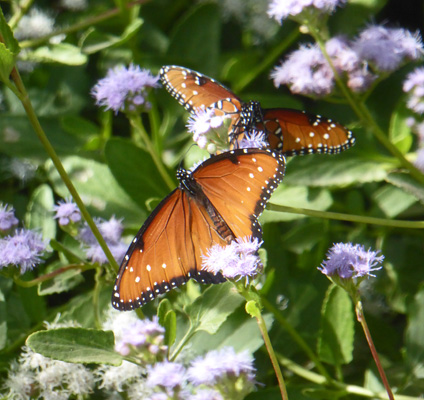 There was a curved bill thrasher sitting on top of a large cholla.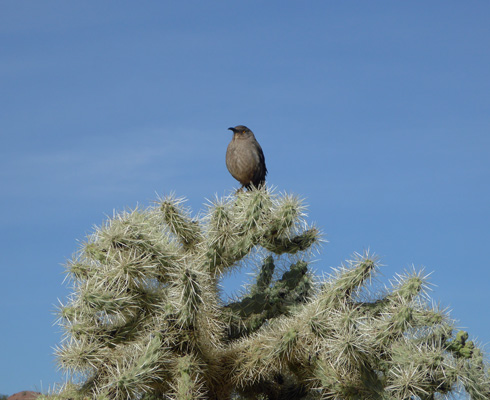 We wandered the paths and I liked this view through the trees and across the gardens.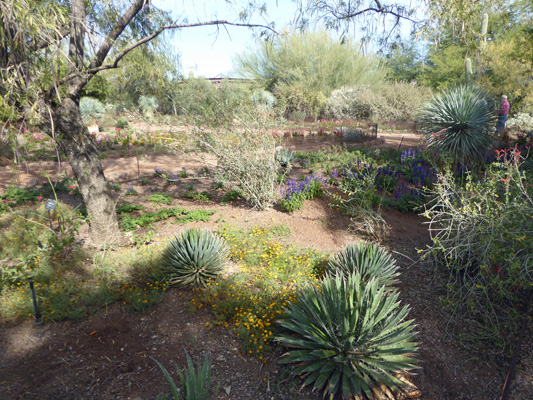 From here we wandered on out through the main garden towards the Herb Garden. There was a HUGE Mexican sunflower (Tithonia fructicosa) in bloom there—a good 12 feet tall.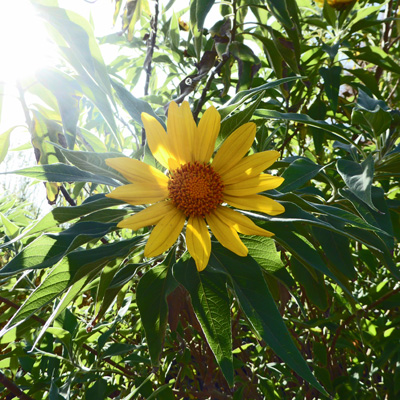 And there were planters of ruby Euphorbia trigona like those I'd seen a few weeks earlier in front of the Trader Joe's in Tucson. These are only hardy down to 25 to 30 degrees but I think I might have to have one just for fun.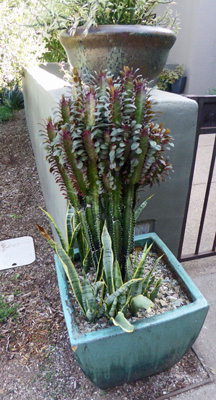 There was a hummingbird feeding on the purple sage flowers.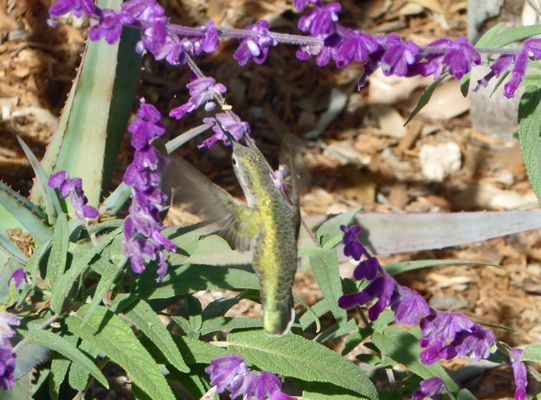 And the Monarch butterflies were feeding on the white flowers in a shrub I didn't recognize.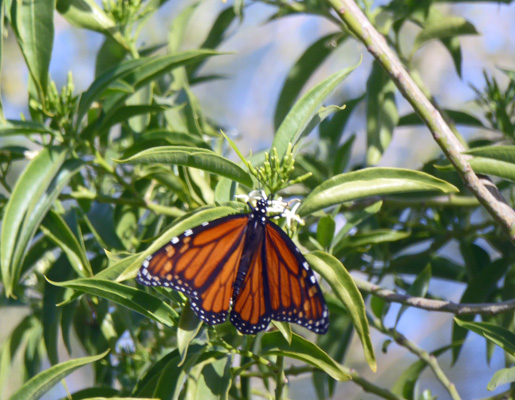 As were the Queen's butterflies too.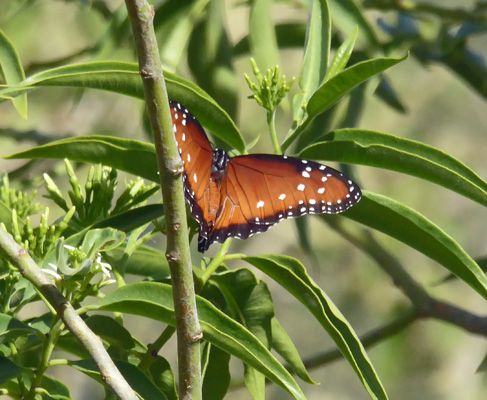 Walter stopped and posed next to the cactus sundial on our way out of the herb garden.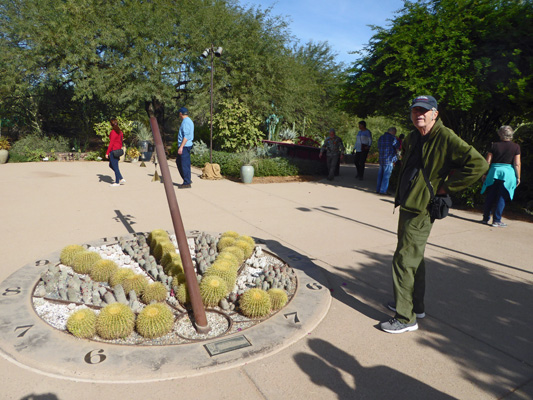 Along the path these Angelface Wedgewood-Blue Angelon (Angelonia angustifolia) caught my eye and I took a photo of them so I could identify them later. They make me think of both snapdragons and penstemon and the colors are great.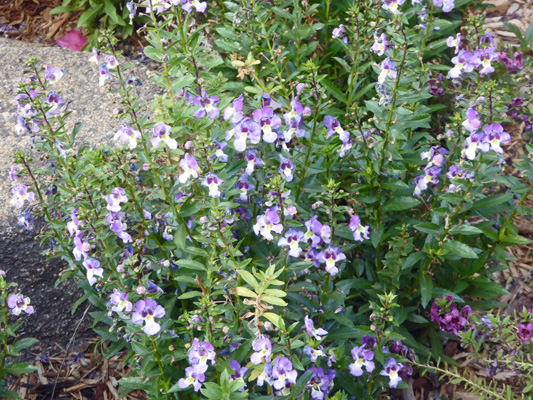 There was a new Contemplation Garden along the way and we stopped to enjoy the water feature and the view. Walter found the bench that wasn't full of water. You can see that the water starts just past him on the left.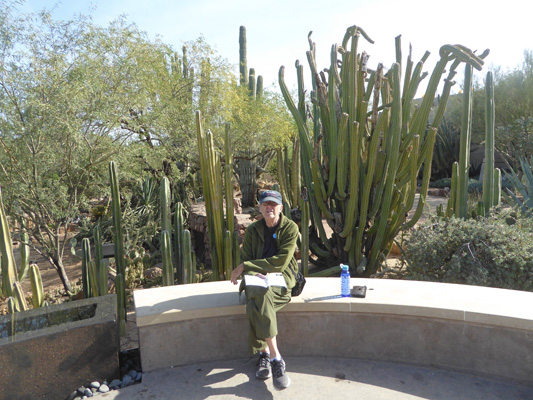 And here are Amy and Mike with the water and the view.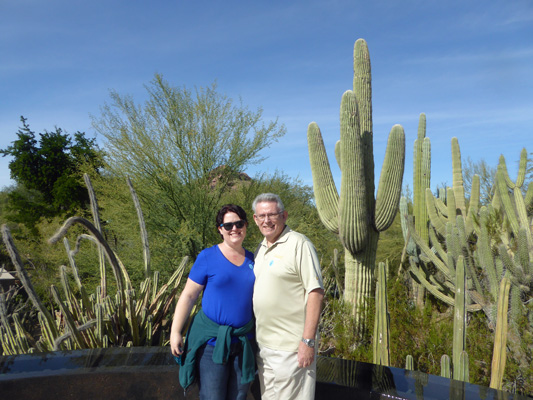 These Butterfly Iris (Moraea polystachya) from Africa caught my eye blooming in a wash where there were lots of yuccas. Fall is not when I expect to see iris but these babies turn out to normally bloom in late summer and fall.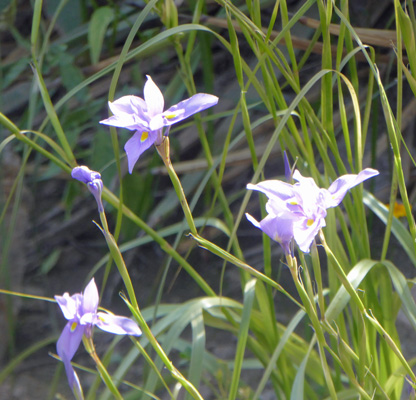 We had lunch at Gertrudes, the café in the garden, and a cactus wren came to check us out from the stacked stone wall next to our table.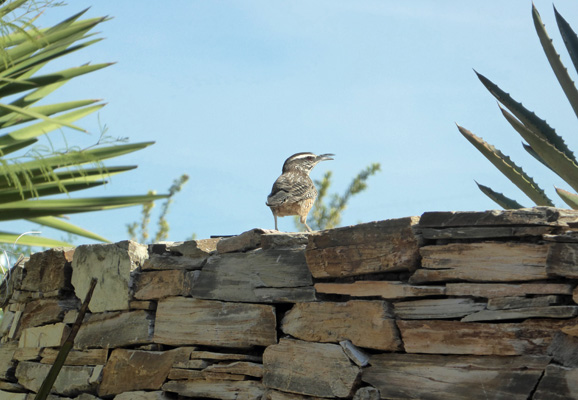 It was a lovely day. The temperature was about 72 and it wasn't very crowded at the garden. I guess everyone was off shopping at Black Friday sales. We went home and Walter got to watch the very snowy and very thrilling Apple Cup between Washington and Washington State which the Huskies won once again. As a result they won the PAC-12 North championship and moved on to the PAC-12 playoff game on November 30th in San Jose.
We drove home on Saturday November 24th. Once again the drive was an easy one.
We had a week full of errands and appointments the last week in November. But as a result, the to do list is now pretty short which is a relief. I made a stop at the Home Depot on the way home from having our cracked windshield replaced and managed to find 3 more of the plants for the front yard and began to collect things to replace the oleanders along the back patio.
Here are the 3 new Artichoke Agaves (Agave parryi truncata) snugged (and freshly watered) into their new spot near our front walkway. They'll get to be 3 feet across or so and about 2 feet tall when they're grown up. These were only 1 gallon cans so they're not real big.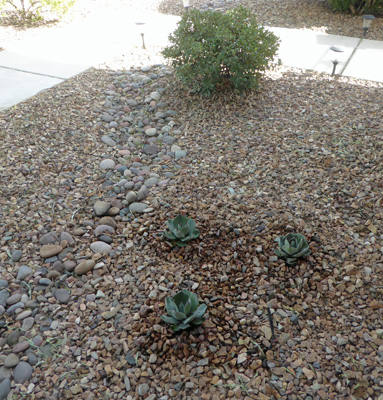 I'm having a lot of fun learning about a totally new pallet of plants that grow here in the Tucson area. Now I'm just praying that we don't have a really deep cold snap this winter so my new plants don't get shocked too badly. Most of the ones I've picked for the back patio are only hardy down to 25 degrees so let's hope this isn't one of those freak years where it gets REALLY cold.
Thursday November 29th, I made a turkey so we could have leftovers to make things like enchiladas, Tetrazzini and turkey soup. It browned up nicely so I had to take a photo of it.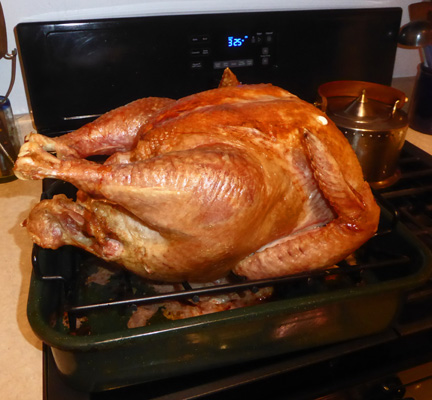 Then while I was waiting for the bird to finally get done I looked out and saw the sky on fire. We were due for rain late that night and we had just the right number of clouds for a lovely Arizona sunset.