December was about doctors appointments (all those yearly duties), getting ready for Christmas and my ongoing project to remove the forest of oleanders that the previous owner of our home here in Sahuarita planted.
Early in the month a mockingbird began hanging out on the top of the stand that I'd installed to hold our hummingbird feeder. Unlike the Lesser Goldfinches who actually try to drink from the feeder he just sat and gave us 'the look.'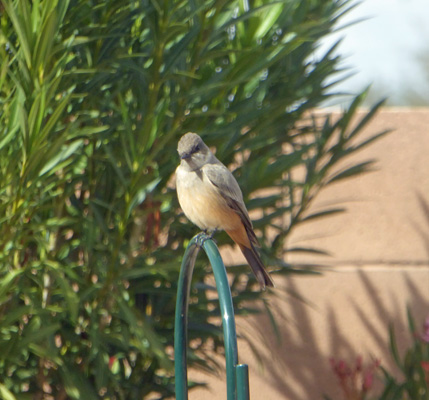 December 5th we had a marvelous 360 degree sunset. It started with pink out the front of the house to the south.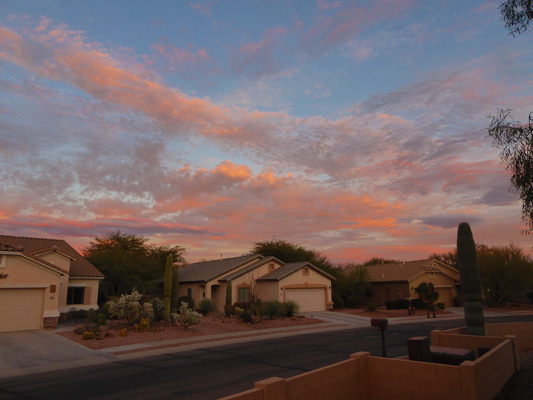 I ran around to the back fence area and caught the color to the east.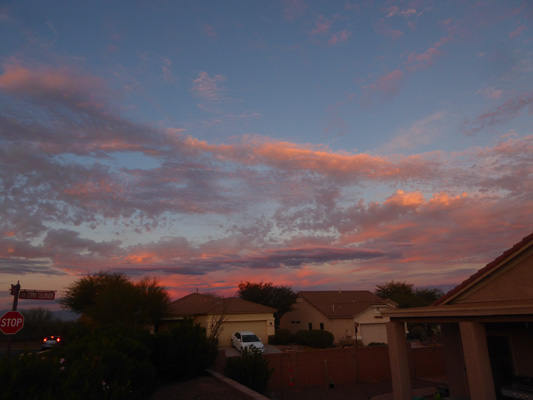 And then took in the view to the west.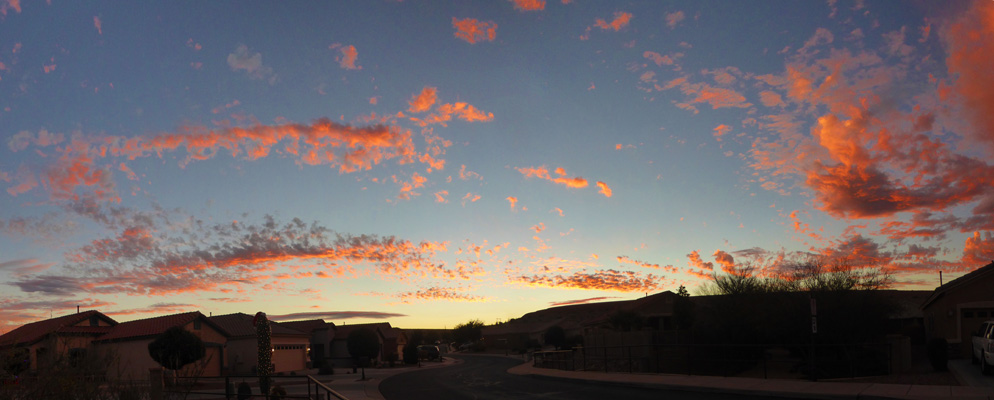 But it was the most spectacular to the north.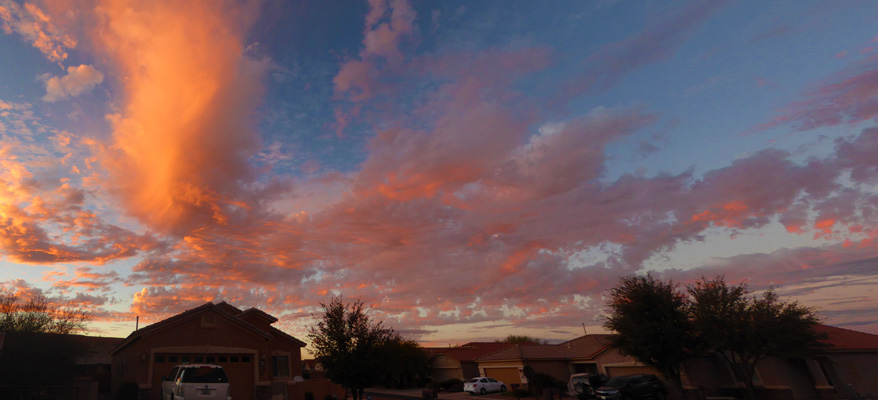 And by leaning back I caught that big plume of a cloud as it stretched up above me.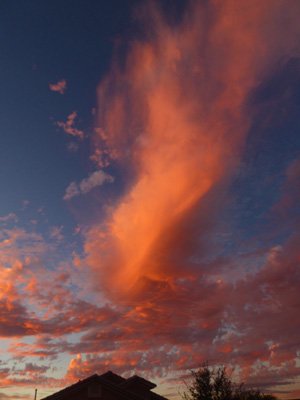 On December 12th, I pulled out the last of the eleven oleanders on the patio level in the back yard. This one put up quite a fight because of that big side root. With the removal of this bush I was now half way done with the job that I had begun back on November 13th of removing 22 oleanders . So maybe by the middle of January I'll be done!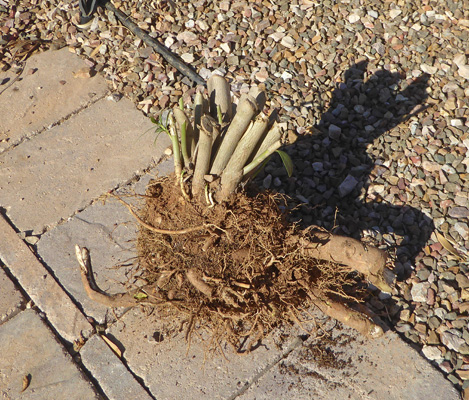 Just to remind you of what things looked like when I started here's a before photo.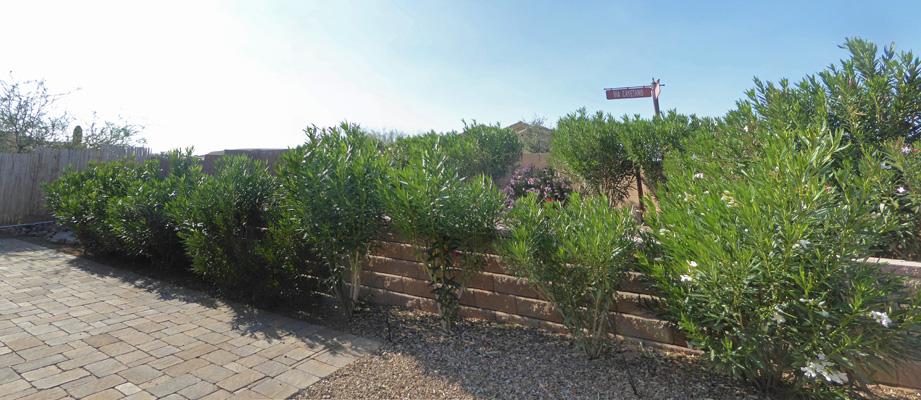 And here's the after shot with a few of the plants that I had begun to collect as replacements.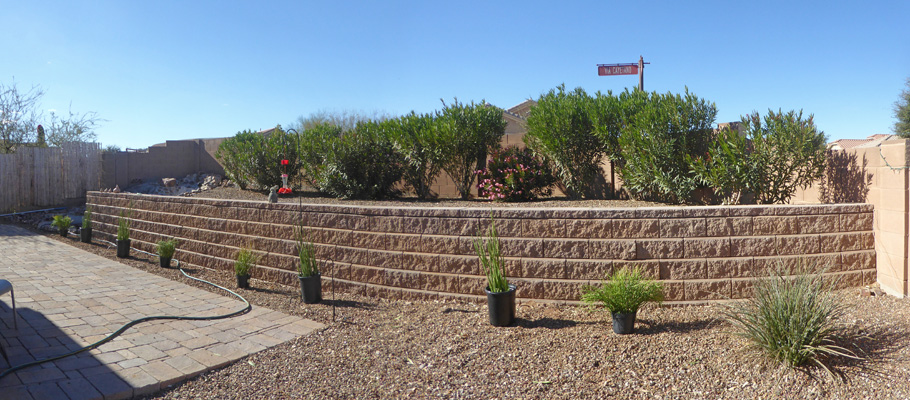 Here's another before shot from down by the pond.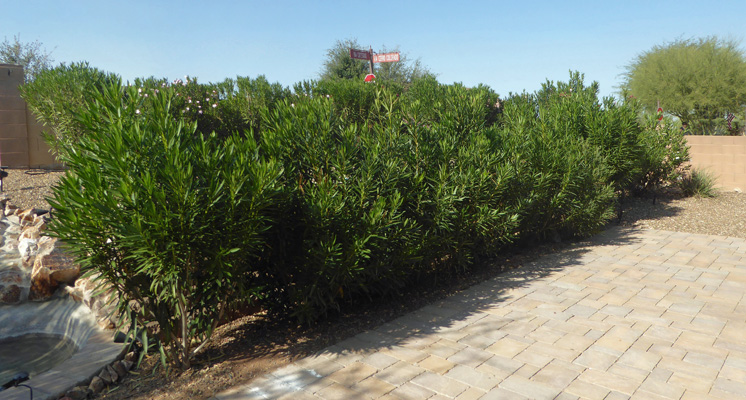 And now I won't be fishing oleander flowers, seed pods and leaves out of the pond!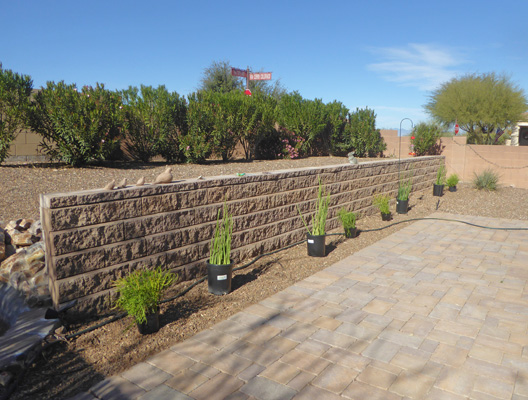 Friday December 14th we got out our Santa hats because we were going to be playing Christmas Carols at Silver Strummers. The flash went off so Santa's SW Elf looks a little pale but you should still recognize him.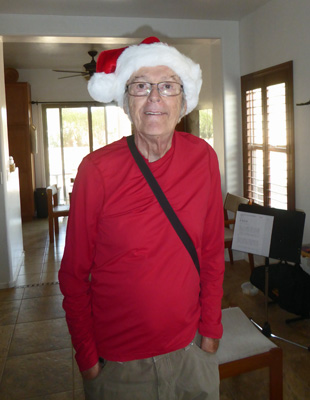 That evening Rancho Resort was having it's Christmas Parade. Folks decorate their golf carts and side-by-sides with lights and decorations and drive all the streets in the resort. Our across the street neighbors spent much of Wednesday afternoon decorating their side-by-side and then putting the finishing touches on it on Thursday and Friday. When they pulled it out onto their driveway Friday afternoon I went over to take photos.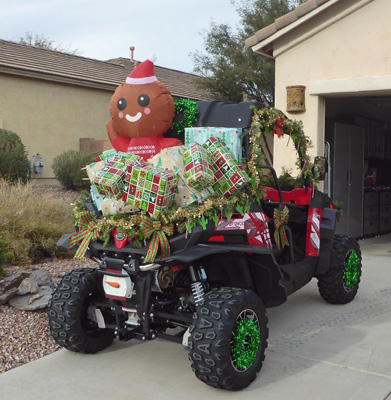 Ruth started collected decorations just after Christmas last year shortly after they got their new toy. And she just kept on going and going and going. There were even saguaro cactus lights that she'd found back home in Minnesota.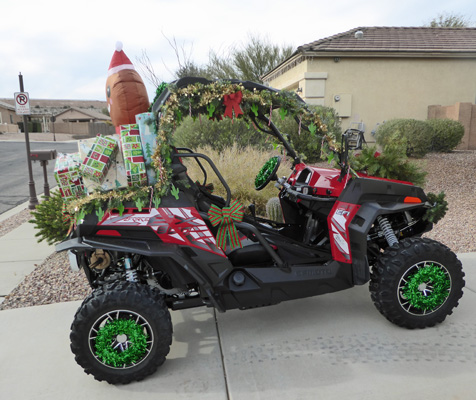 The greenery was fresh and went on their front door when they were done.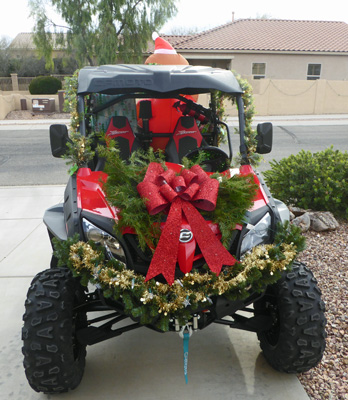 And to no one's surprise they won first prize.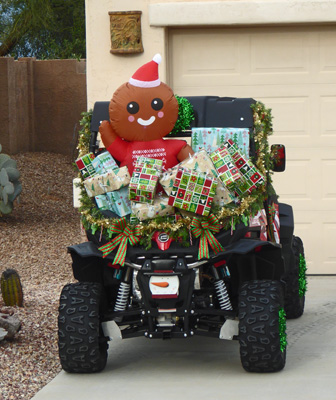 Just about 5:30 the 12 or 13 lighted golf carts and side-by sides came by honking their horns. We stood at the back corner of our lot and watched them roar by. You can see our neighbor's rig here on the far left—they were first in line.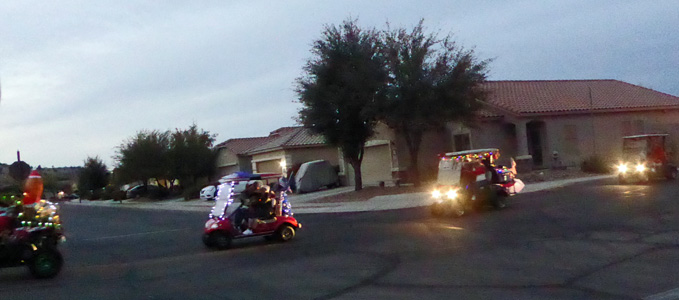 There was more than one Santa including one on a small motor bike making sure no one missed the turns.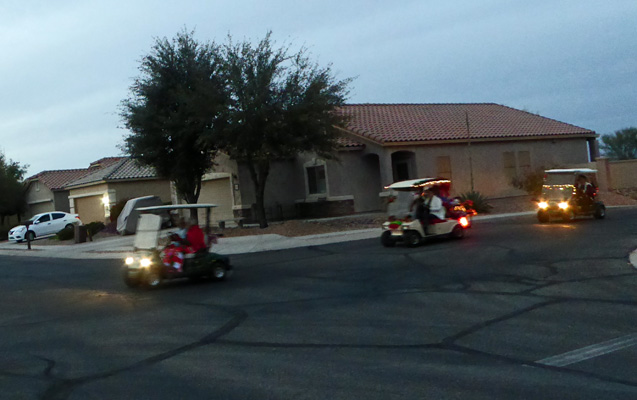 It didn't take long but it was fun waving to them as they went by. They came back by a little while later when they came back down the hill and turned up the street.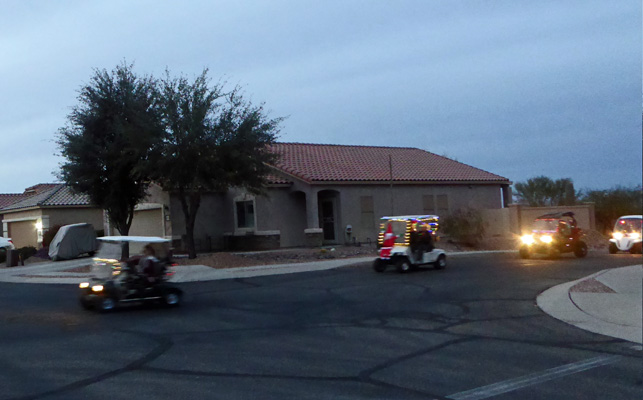 While I had the camera out I took a photo of our neighbor's house across from our back yard. They're in the 80's and had the help of a grandson to put up the icicle lights which are blue and white.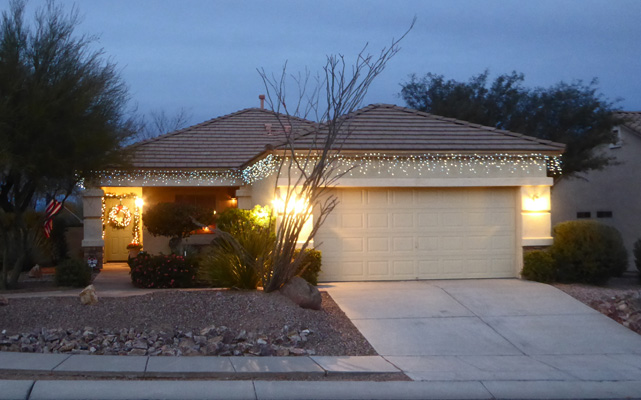 On Friday morning I had gone out to tackle the first of the oleanders on the upper level. For the first time, I didn't get the stump out on the first try. I worked for over an hour and wasn't even close. I put in another hour or so the next day and still no joy. So on Sunday December 16th, I had Walter come out and pull on the top of the stump so I could reach the big huge roots at the bottom. And we WON!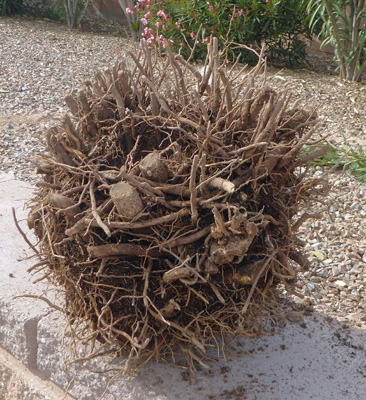 This thing had more middle-sized roots than all the others I'd done combined so it looked like a darned hedgehog. Boy, was I happy when we got it out. Even after pulling as much dirt as I could off it, it weighed so much it took real effort to heave it into the trash barrel.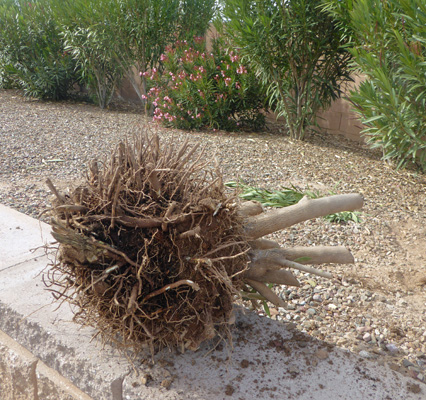 The next morning, Walter noticed we had a visitor hanging out on the screen of our office window. I went out and took photos. He was a praying mantis! And he hung out there all day so I had a chance to take photos of him when the light was better in the afternoon. He was gone then next morning though.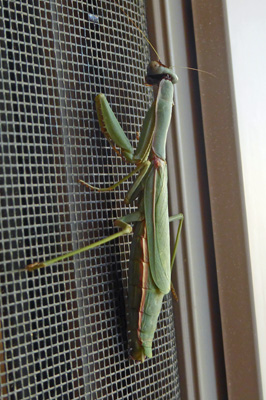 I was a little late getting out to take a photo of the nearly full moon on the solstice but I still got a photo of it with a bit of sunset pink off to the east.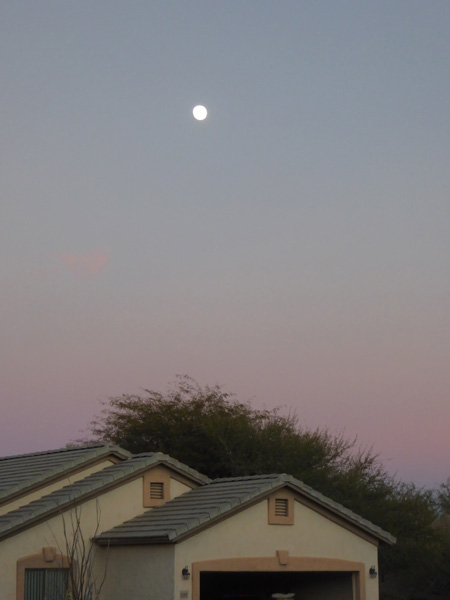 The next day, I finishing planting all the replacement plants for the patio. What we have here are 4 Lady Slippers (Euphorbia lomelii) which are the tall green guys who will get to 5 feet tall and produce red flowers the shape of a lady's shoe, 4 Sticks of Fire (Euphorbia tirucalli) which are the bushy green guys and will get bright reddish orange every winter and get to be about 4 feet tall, 2 candellila (Euphorbia antisyphilitica) which are gray green and get about 3 feet tall. And last but not least there are 2 totem pole cacti (Lophocereus schottii monstrosus) which are the little short green points and will get up to 12 feet tall eventually but it will take a while. None of these plants have thorns or stickers which makes them great for next to a patio like this.

Sunday Dec 23rd we had a blazing sunset that only lasted a little while. But in the process I got a photo of the saguaro next door (on the west of our backyard) that is all lit up and has a Santa hat and face too—yes they get out on a ladder and wind the lights around and around and around it. Not me!
On Christmas Eve and SW Elf (aka a roadrunner) came to check out places for Santa to land.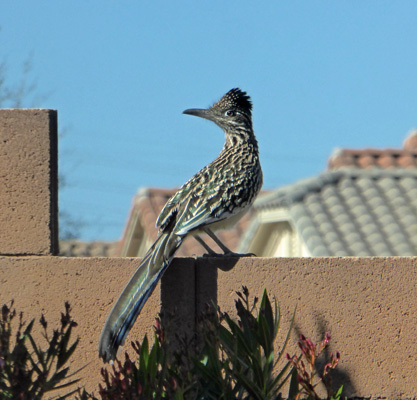 We had a nice low key Christmas and then late Christmas night we even got 1/2 inch of rain—a real gift here in the desert.
Sunset on December 27th brought a quick pink blush to the southeast and nothing else—odd. Those clouds that were coming in yielded yet another 1/2 inch of rain that night so we'd had an inch if rain in just a week which is lot for the desert in the winter time.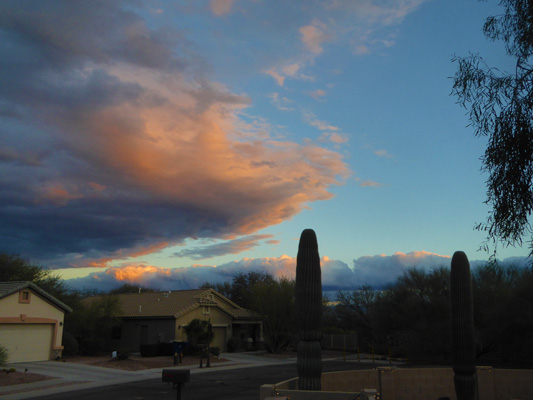 We had a hard freeze warning for Friday night December 28th and since I'd only had all those new plants in the ground for a few days I decided to do what I could to protect them even though they are all supposed to be hardy down to 25 degrees. Yes, it gets that cold here! We're at about 2,700 feet elevation and on the average we get 4 to 6 nights of frost a year—most of it in late December and early January but it can freeze as early as mid November and as late as mid February.
I had some Remay (floating row cover) left over from gardening in Monroe and that will give about 3 or 4 degrees of protection so I put that on the least tender of the plants and then put blankets on those that were more likely to get damaged. I'm glad I did since it got down to 26 degrees by 7 AM the next morning. I took the blankets off once the sun lit this section up and had to put them back on again because we got down to 29 on Saturday night.

I'd forgotten to bring the hummingbird feeder in and it froze solid. No harm done since it wasn't full. We let it defrost a while and then took it back out because the hummers were buzzing around the pole looking for it. The next night I actually remembered to bring it in.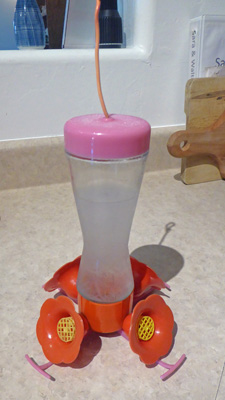 I've kept working on my oleander removal project and on Sunday December 30th I was down to only 6 more to remove! I've begun to see the light at the end of the tunnel. While it's provided a very good workout 3 or 4 days a week, I admit that I'm looking forward to being done.
I hope that all of you had a wonderful holiday season and that the New Year brings you joy and peace.