Right after I wrote you last, Mother Nature put on a lovely Arizona Sunset show, painting the sky pink to the northwest of us.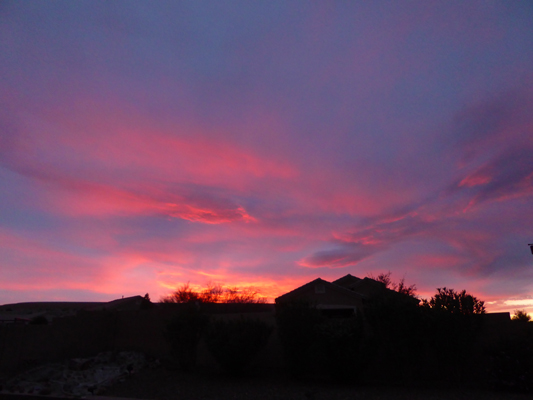 We spent the next few days getting ready to take the Airstream out of storage and go on a little trip to San Diego. Having lived in Genevieve continuously for 3 1/2 years, we'd never had to load her up for a short trip and so it was a little strange. We backed her into our driveway to load her up. She's too tall to fit in the garage but she does fit on the driveway pad.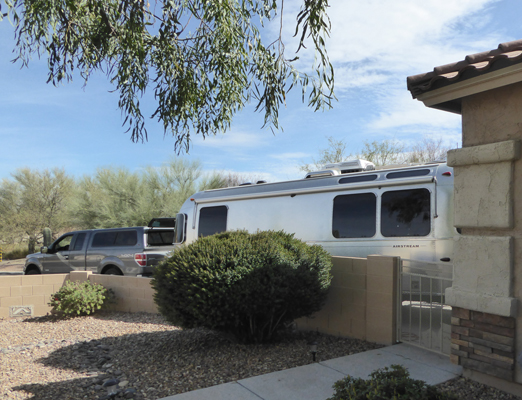 And truck only hangs out into the street a little bit.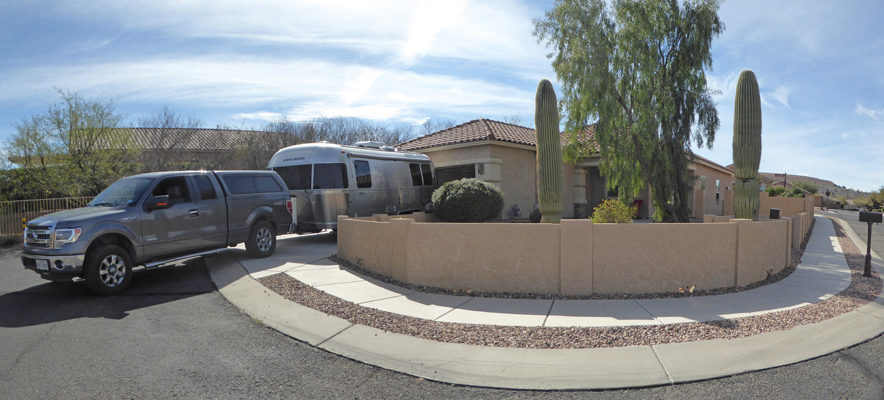 The refrigerator was acting a little funny blinking at us when it was on LP gas but we didn't think much about it since we had her plugged into power while we loaded up. Once she was all packed, we took her over to the clubhouse and parked her there for the night since it's against the rules to leave her in the driveway.
The next morning we took the truck back over and hooked up and I ran back to check the frig. Sure enough it wasn't working. Oh goodie.
But to cheer us on, just as we got ready to pull away I spied a Vermillion Flycatcher on a wire in the parking area.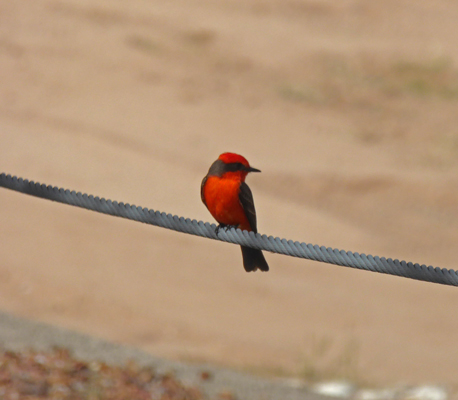 We drove about 200 miles that day (stuck in traffic on I-10 in Tucson because there was a big accident with fluids spilled all over the road) and ended up camping at Copper Mountain RV Park in Tacna, AZ just east of Yuma. It's a new park and was only about 1/2 full. We got a nice pull-through full hookup spot and only paid $16 with our Passport America card. Their wi-fi worked great--whoo-hoo. We plugged in and got the frig working again and made lunch. And discovered that a) we had a leak under the sink and b) that the kitchen faucet wasn't working. Oh joy.
It was warm so I opened up our vents and some windows and discovered that the bedroom Fantastic Fan vent wasn't working right either. Oh yes, and the big storage drawer by the door had come open when we were driving and that didn't bode well either at least we could use a bungee cord to hold it in place until we got home.
The frig turned out to be an easy fix. We'd had the propane off for 3 months and there was air in the pipes. I lighted the burners on the stove and presto the frig started to work on propane again. Ahhh. We had jugs of drinking water to use so we just disconnected the outside water, turned off the water pump and 'camped out'.
We motored on the next morning and arrived at Santee Lakes Recreation Preserve in Santee, CA in the early afternoon. We've been camping at Santee now for 15 years. It's not cheap (but hey this is San Diego) but it's a lovely park and not far from our daughter Tracy in Poway. We set up camp. It was in the 60's and just perfect. We had lunch and then headed to town to the Lowe's to try to find the missing parts that we thought were the problem with the leak under the sink. We'd pulled our water filter out when we winterized and it appeared that a washer had come out and we hadn't noticed it. And of course we'd thrown the filter away.
Lowe's didn't have what we were looking for so we went on to the Home Depot a few blocks away and we found a washer we thought might work. And then I used my Smart Phone (for the first time to do research) to find the nearest True Value Hardware which was in Lakeside just few miles east. There we found some brass connectors for the water filter (the last 2 filters had come with the right connectors on them but not the current ones of course). We happily went home and discovered that the washers weren't the right size. sigh
One of the odd things about Santee Lakes campground is that the Verizon signal there is minimal. My old Sprint phone worked fine there but neither of our Verizon phones worked well at all. I managed to leave a message for Tracy but when she called back the call kept being dropped. We could text though so we arranged to meet for dinner. After dinner, Tracy took us to her local Home Depot where we bought some O-rings that we thought would help. They turned out to be too small. So we got up early the next morning and headed back to the Home Depot in Santee. They didn't have what we were looking for (we'd discovered that what we were missing was no ordinary washer or O ring—it was a domed one). But the guy who helped us sent us back to Lakeside (just down the street from the True Value) to an RV supply place which he thought could help us. At first the assistant told us that we'd have to buy a whole new connector and then his boss came out, opened one of those little parts drawers and handed us the exact little washer we needed—all for 72 cents tax included. Victory. They didn't have the connectors for our water filter but at least we could put the by-pass back in and it shouldn't leak—and in fact it worked like a charm. But the brass fittings leaked on the water filter so we put off dealing with the water filter until we got home. That is still a work in process but FINALLY yesterday Walter found some on the internet and ordered them so we should be okay soon.
This was March 24th and the 65th birthday of my beloved stuffed bear, Growly. Don't you think they should give him Social Security?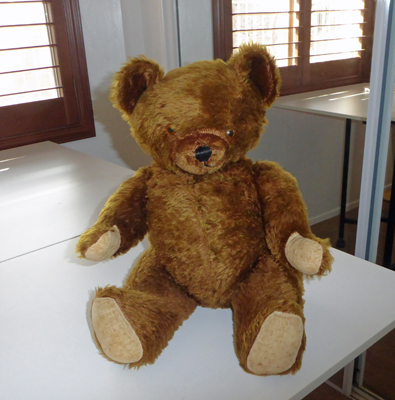 My father bought him for me when I was 2 and yes, he actually growled for many years. You had to tip him backward and then when you tipped him forwards he would growl. I was afraid of him for a couple of years—he was nearly as big as I was. But he's held up marvelously. He stopped growling completely when I took him to Massachusetts for graduate school. He never was a cuddly bear—he's stuffed with sawdust but I think that is what has given him his longevity.
We spent the day on Saturday at a baseball ticket party that Tracy attends every year. A group of people buy a pair of season tickets (fantastic seats) and then divvy them up at the party. It was great fun—a bit like playing bingo with them going through each date and asking who wanted it and if two folks did they had to guess a number (Bingo)--and there was great junk food AND fresh asparagus from the Imperial Valley garden of one of the attendee's mother to take home.
On Sunday we went to San Diego to visit and have lunch with Tracy's (and now our) friend, Karen Valentino. For lunch we strolled down to the corner Greek deli and bought one of everything and brought it back to Karen's house. Yum. Mid afternoon, Walter began to feel unwell so we left and took him home. He slept for several hours and felt a bit better but the next morning he still was under the weather. So Tracy came to Santee Lakes on Monday and we hung out together while Walter slept most of the day. We took a walk around three of the lakes and just enjoyed the day which was in the high 60's. And that night we used a wrench to get the aerator off the kitchen faucet and discovered it had a plug of silt/clay in it. I cleaned it out (it was like good quality clay) and presto the kitchen faucet worked again! And the Fantastic Fan vent was working properly again (self healing means intermittent problems ugh).
Tuesday we had a choice between a trip to the zoo or to La Jolla. Since we still didn't know how well Walter would hold up and it was Spring Break in San Diego (and it was my birthday and I wanted to go to La Jolla) we opted for a drive to the La Jolla Cove area rather than make the big expedition to the zoo. The traffic into La Jolla was horrendous. It's usually awful since there is a bad bottleneck going into town but this time there was construction and Spring Break. Thank you Tracy for persevering and getting us there. We actually found a great parking space and set out to walk towards the Children's Pool Beach.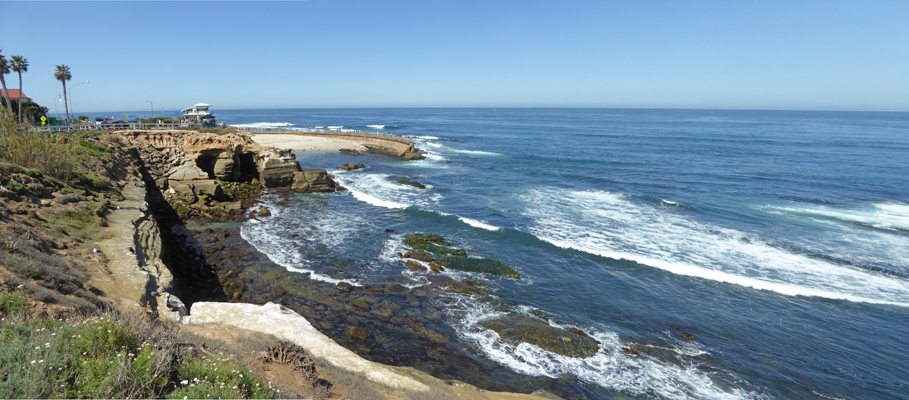 It was a gorgeous day and the tide was out and there were lots of folks out on the little pocket beaches to the north.

The Double Crested Cormorants were sitting on the rocks with their crests elevated. I don't think I've ever seen them look so distinct before.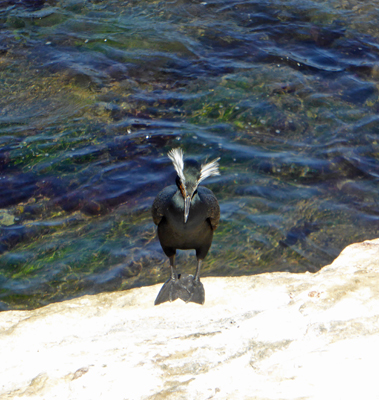 There were grounds squirrels out along the way too. They live mostly in burrows under the ice plant that grows on the cliffs.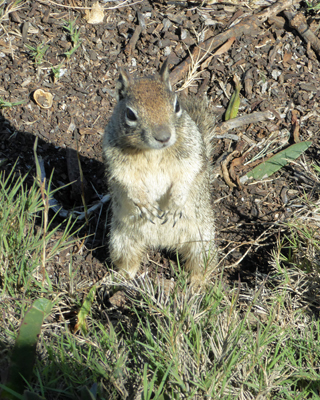 When I was a kid the Children's Pool Beach was the safest place for kids to play in the water. They had built the breakwater to create the sheltered little cove and we all loved to swim and play there. But sometime in the 70's or 80's the Harbor Seals (who are a protected marine mammal) began to take over the beach. When they're there people can't use the beach. And after many years of arguing it was finally decided that it was theirs forever. In January we often see newborn pups here. But by this point it's hard to tell the juveniles for the parents.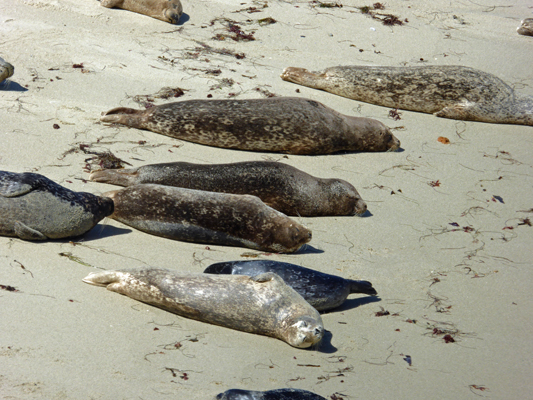 They bask on the sand and on the rocks.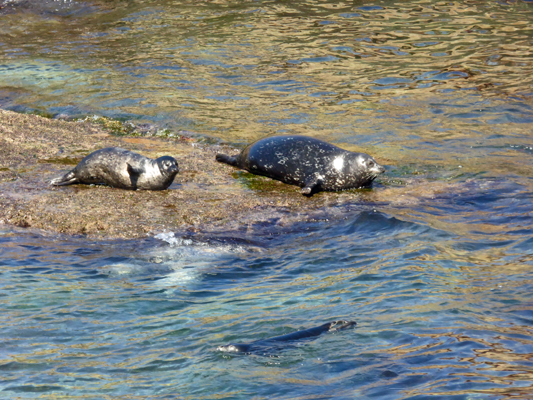 And swim in the water and put on a great show for the people.
Here's the view from the walkway at the top of the Children's Pool Beach looking northward.
We continued southward for the view of the beach beyond the Children's Pool.

We've seen whales in this area some years but not this year.
Here's the view from this same spot looking north back to the Children's Pool.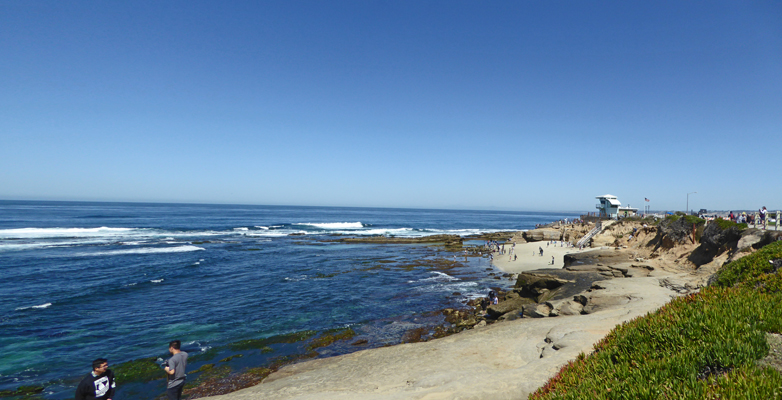 We turned back after a while and eventually got yet another lovely view of the Children's Pool on our way by.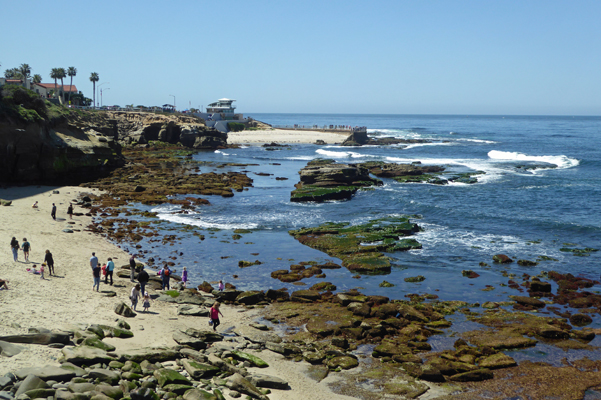 We carried on northward toward the Cove and spied a large herd of Sea Lions on the rocks near the point.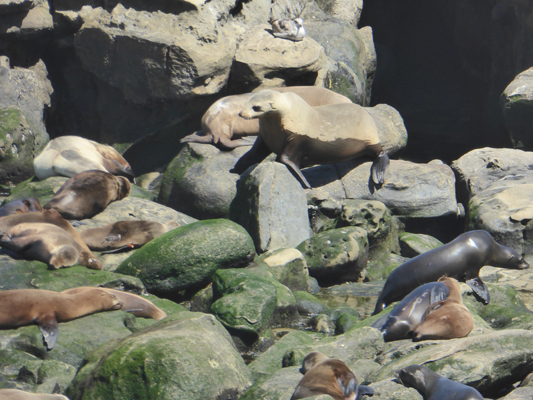 When they are lying about it's not real easy to tell the seals from the sea lions but if you look closely you'll see that the sea lions have ears.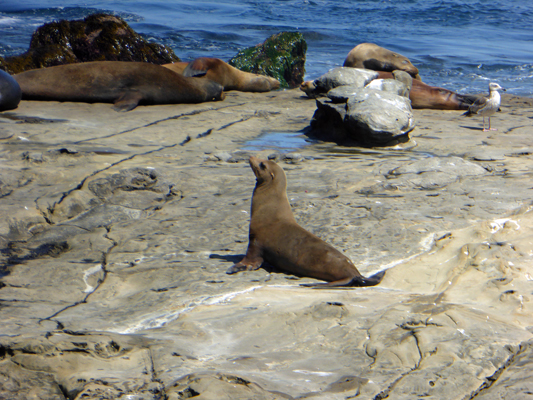 And they love to pose like this which I've never seen a seal do.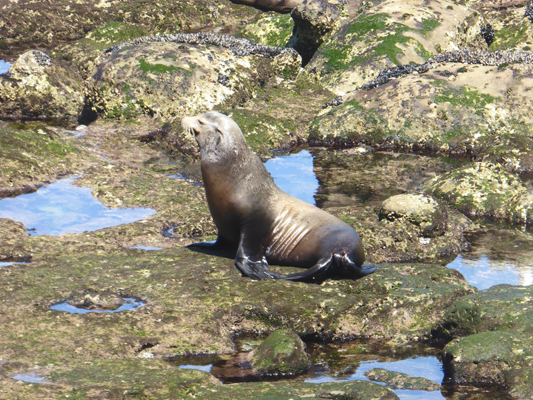 As we headed around the point, we could see rafts of kayaks out in front the the Tennis Club over in La Jolla Shores area.

The red kayaks had yellow paddles which made for a great picture.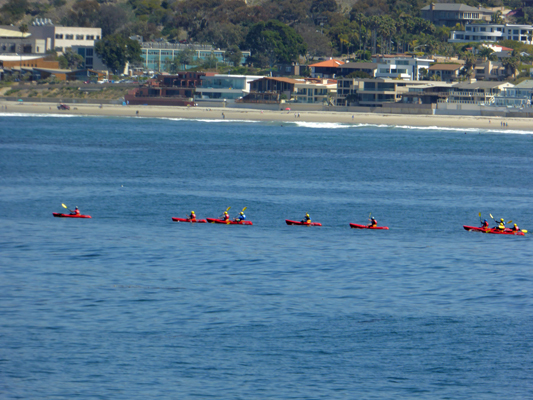 We'd seen this swimmer heading south all the way down near the Children's Pool where he must have turned around because here he came back towards The Cove where he waded out to finish he open water swim.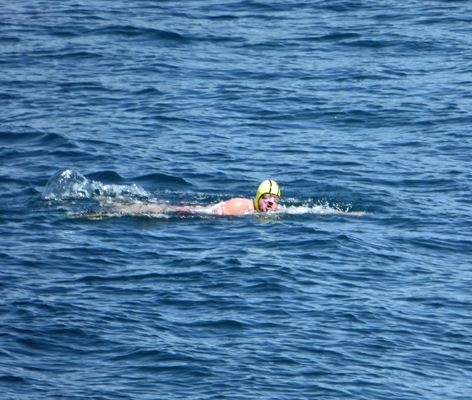 There were more sea lions out on the rocks just before The Cove.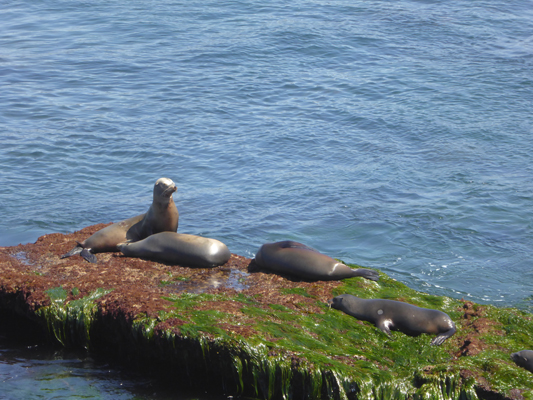 Including this guy who did his best to try to keep the fellow on the right from coming up out of the water. It didn't work though.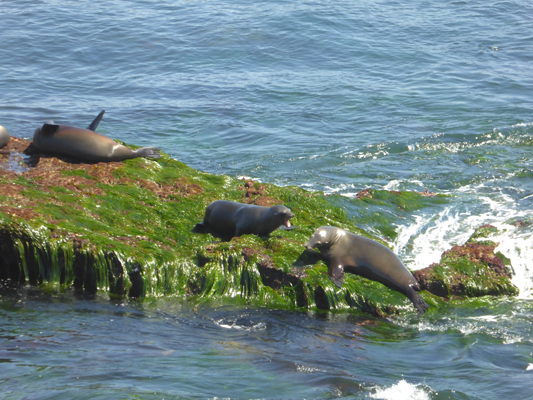 They certainly look like they haven't got a care in the world.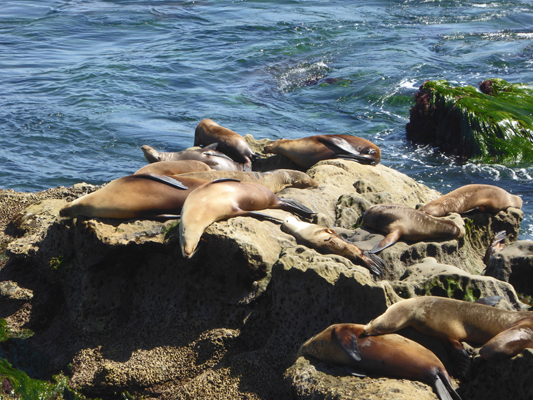 We walked on around the corner where we got a great view of The Cove and La Jolla Shores off to the north. It's hard to believe that La Jolla was a sleepy little village back when I was a kid.
There was another raft of kayaks—white this time—in the inlet just past The Cove.

I have a tradition of taking a photo of Tracy and Walter (here in La Jolla if we come) during our visit.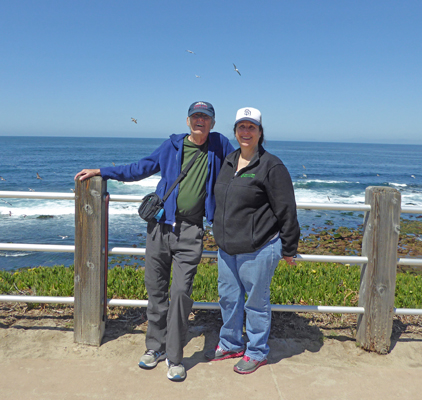 Just as I finished taking this, a fellow (with the same Lumix camera as I have) came up and asked if we wanted to have our picture taken together. So here it is. The Cooke's are smart folks, they were wearing hats unlike me with the wind in my hair.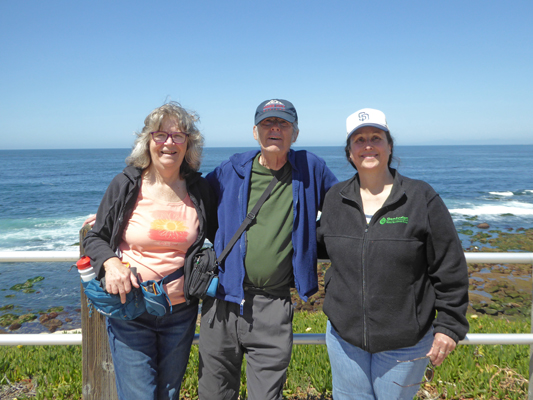 We found a bench to sit on and watch the waves and I noticed that this sea gull had found an interesting perch. The artist who owned the easel was arranging her work for sale on the lawn and the gull just came to watch.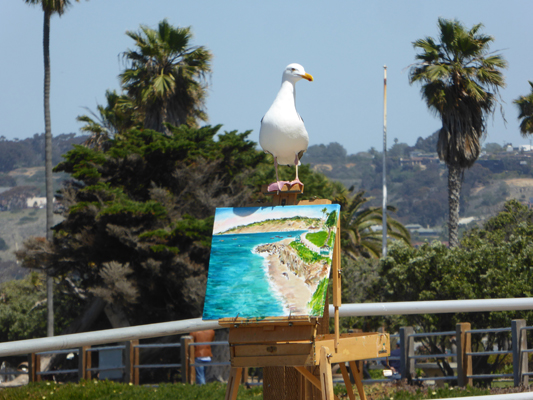 There was a lot of oxalis (Oxalis californica) in bloom along the cliffs.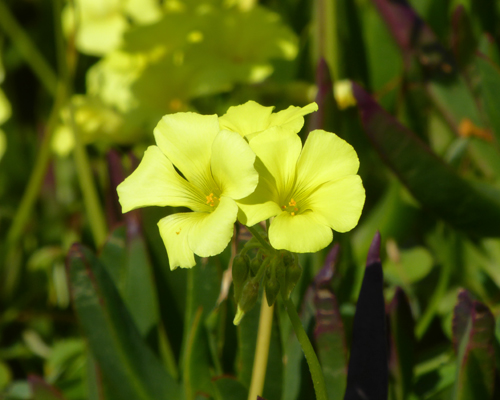 Along with the ice plant.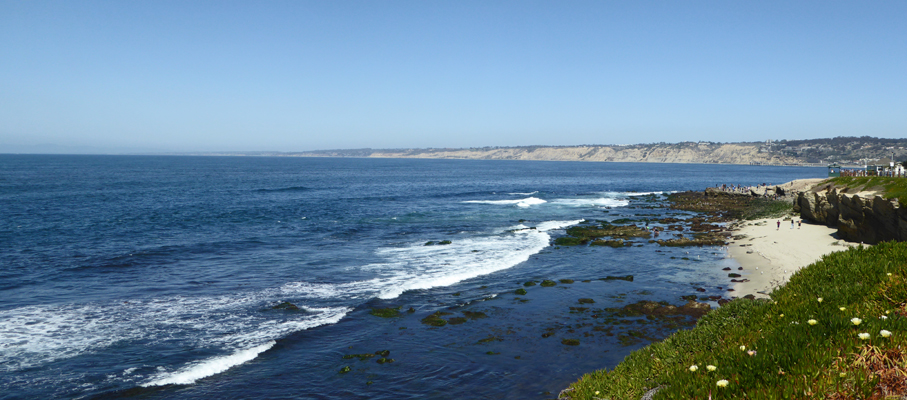 We made our way back towards the car and found a bench and had our picnic lunch. Nice view don't you think?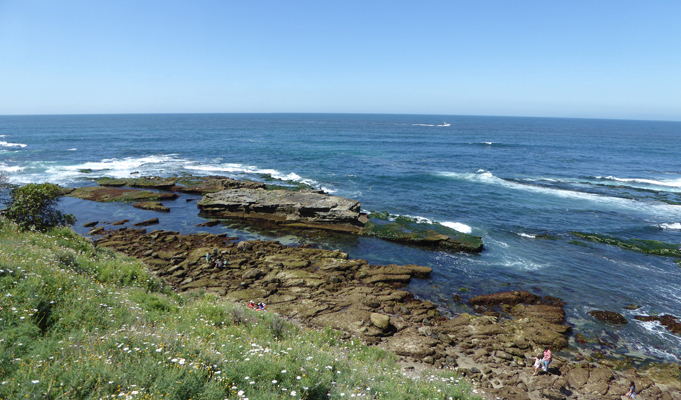 Walter protected his sandwich so no gulls stole it but we did see one swoop down a grab half of a guy's burger down by the Children's Pool.
It was all around a truly wonderful day. Thank you, Tracy, for taking me to the beach for my birthday!
Wednesday March 28th, we packed up and made our way back to Copper Mountain RV Park for another quick night outside of Yuma. It was warm and we actually ran the air conditioning. It's amazing what a difference 200 miles can make when you go inland from the ocean. We returned home safe and sound on Thursday March 29th. We backed the trailer into the driveway and unloaded and put everything away and then took Genevieve back to her storage spot. We'd only been gone 8 days but it was nice to be home again especially since it was hot outside and nice and cool in our well insulated house.
It had been in the 90's while we were gone (yes already) and my little pond had turned bright green in the heat. Ick. I put some chlorine tablets in the little blue floater (on the left) and it cleared up nicely in a couple of days.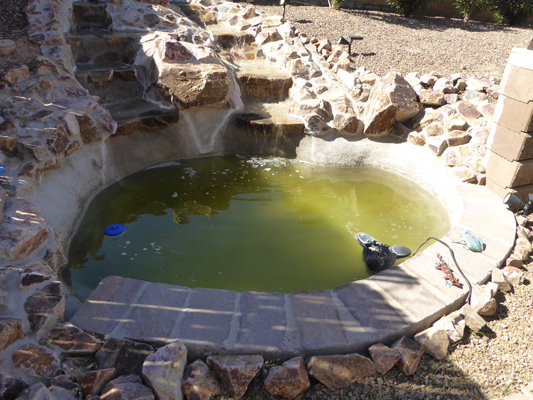 The oleanders had begun to bloom while we were gone. There were now white ones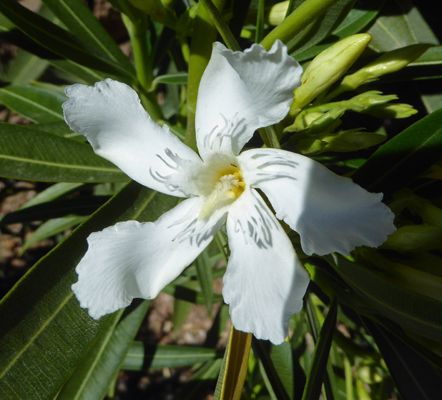 And light and dark pink ones in bloom.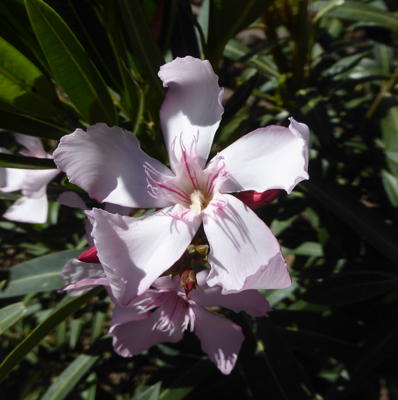 The Silver Torch which had stopped adding new blooms when it had cooled into the 60's and low 70's was back blooming like crazy.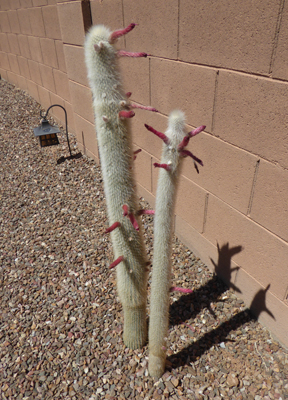 And the Banks Rose that had looked close to dead when we moved in had not only pushed out a ton of leaves but had started to bloom too. These are not big roses. They're each about the size of a dime.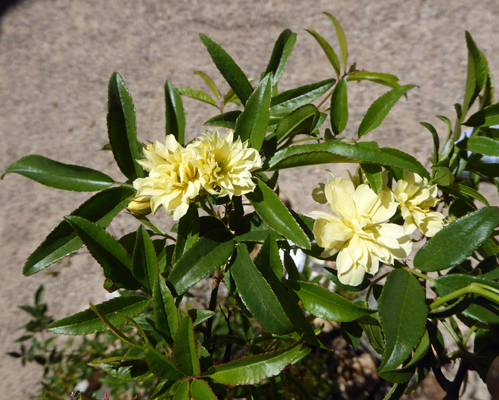 Except for a couple of days in the 70's (and one in the 60's) it's been in the 80's and 90's since we got back from San Diego. That's a bit too hot for us to play Pickle Ball so we've confined our workouts to the gym. I set to work and finished the reupholstering on the dining room chair I'd started in March. Meanwhile Walter had convinced me to get a special staple removing tool to tackle the other 3 chairs. Boy was that a great idea. The first chair had taken hours and I'd managed to stab myself several times with the flathead screwdriver I'd been using. This new tool worked way faster and over the other 3 chairs I only managed to try to gouge myself once and then didn't draw blood! Here's one chair's staples and the famous tool.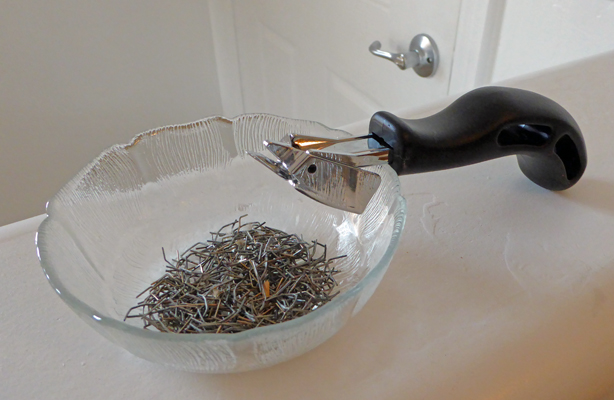 By Saturday April 14th I'd finished all the chairs and had them all back together. I'm glad I did this project but boy I'm not interested in taking up reupholstering as my next hobby. It's way too much work.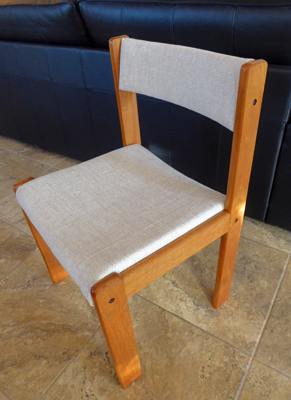 Meanwhile we've been getting ready to depart here on May 1st for a summer of wandering. That means that we have to get Genevieve all ship shape so we've been working on making sure all those little things that went wrong on our way to San Diego get fixed. And we're learning what it takes to 'summerize' a house that you're going to leave empty for the summer.
I've drained the pond and on Friday we had a cool day (high of 68 which meant the folks who live here year round were cold) so I went out and learned to use my new electric hedge trimmer to whack the oleanders in the backyard into submission so that they don't get too tall over the summer. All in all they came out pretty well. A few of them are actually dwarf specimens while the dark pink ones are the more erect ones that can get REALLY tall.

Then I got out our new blower and cleaned it all up. Funny thing. It only took a half hour to trim 23 oleanders. But it took nearly an hour to clean up all the trimmings! The Banks Rose continues to put out lots of flowers.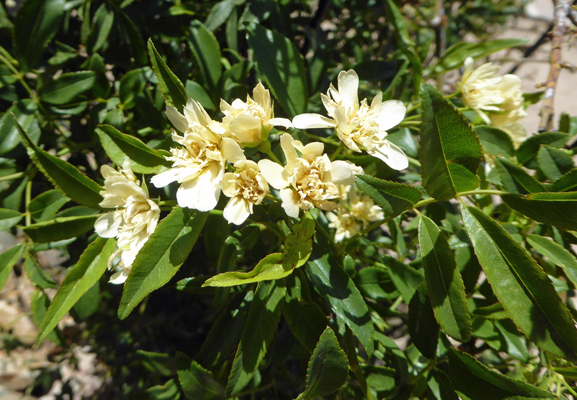 The bottlebrushes in the front yard have put on a lot of new growth and are now starting to bloom.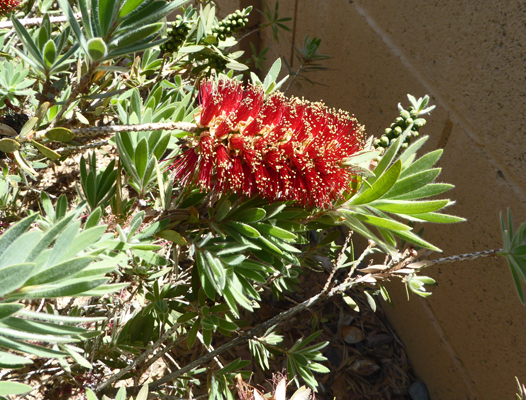 The palo verde trees started to bloom about a week ago. This one at the end of our driveway was near peak Friday afternoon. I love them but they're messy trees (they sometimes lose their leaves several times a year). So it's real nice to have this lovely one right across the way from us.
The ocotillo across the street from us leafed out while we were in San Diego and came into full bloom this weekend.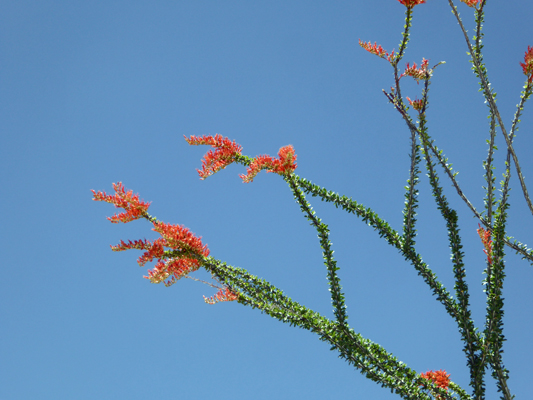 There's another really lovely palo verde just around the corner from us. We get to see it every time we set out to go anywhere.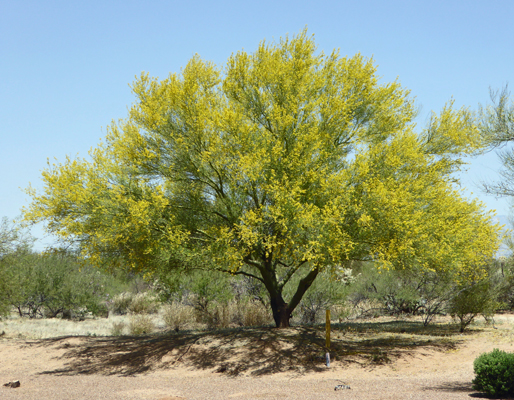 The beavertail cactus are just coming into bloom too. This one was in the yard of a friend up the street from us.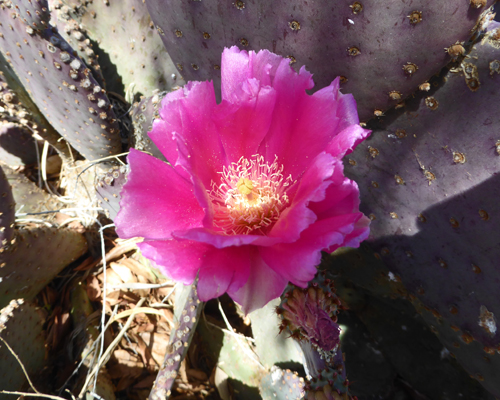 In two weeks we'll be heading out for the summer. We have someone who will watch over the house for us making sure that the irrigation system continues to work and nothing untoward happens inside or out. He's a professional house watcher so he can make sure we've done all the other preparations correctly too.
Sunday I finished our itinerary for the first 7 weeks of our wanderings. Normally we don't do reservations but we're going to be visiting a bunch of National Parks here in the west and even in May and June reservations are a must. So we mapped out our route and figured out the timing and made reservations where they were needed.
Where are we going? Here are the high points: Petrified Forest National Park (AZ), Black Canyon of the Gunnison (CO), Great Sand Dunes National Park (CO), Mueller State Park (CO), Custer State Park (SD), Wind Cave National Park (SD), Mount Rushmore and Crazy Horse Monuments (SD), Badlands National Park (SD), Devils Tower (MT), Theodore Roosevelt National Park (ND), Banff National Park (Alberta), Lake Louise (Alberta) and Jasper National Park (Alberta)—all in about 7 1/2 weeks.
The bulk of these places are new to us. We've been to the Petrified Forest (2 years ago) and to Banff and Lake Louise (30 years ago) but all the others are new. Fun, huh? So you should be seeing lots of fun photos come early May.