On Saturday June 23rd, we packed up in Banff National Park and headed over the Continental Divide into British Columbia on the Trans-Canada Highway (Hwy 1). It was cloudy (though thank goodness the rain was over) so the mountains were mostly in hiding as we drove through Yoho National Park down through the town of Golden and then up through Glacier National Park (yes, Canada has one all of their own) and then through Mount Revelstoke National Park to the town of Revelstoke. We had a reservation for an electricity only site at Revelstoke Campground just east of town.
We'd picked up an hour going from Mountain and Pacific Time so we were earlier than usual checking in and setting up. It was in the 70's and pleasant though a little on the humid side since they'd had a lot of rain of late too.
We'd hoped that we'd have WiFi in the trailer but no such luck. They had decent WiFi but you had to go sit at the picnic tables next to the office to use it. We decided we'd wait until the morning and simply settled down to rest for the afternoon.
Walter had picked up a British Columbia RV Campground guide in the office (along with lots of good info on the Revelstoke area) and he spent some time figuring out where we'd go next and where it might be best to camp. Sunday morning he called (using our Canadian cell phone) and made a reservation for two nights at Cedar Falls RV Park in Vernon, BC.
Then we got ourselves together and headed through Revelstoke to the trailhead for Moses Falls. This was listed in the local hiking guide as an easy 1 km hike. It was only 1 km but it sure wasn't easy. It was super steep, narrow and muddy. It's not really a formally maintained trail so there were lots of super steep places where you had to hang onto a tree trunk to make it down a high step made of jagged rock. We made it to a level area above the falls and Walter stayed there while I made my way down a very steep rock face to what I thought was the bottom of the falls.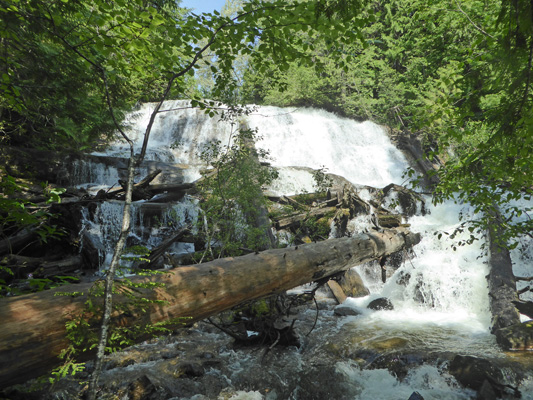 There were some people there who warned that the next bit of trail (it went down a whole lot more) was muddy. I didn't think much of it until I got to the edge of the next drop and it was a mud hole, as were the next several more drops. This was not just a little muddy. This was MUDDY. I had my tennis shoes on—this was supposed to be an easy hike after all. And I had no intention of taking them through ankle deep mud. I'm not even sure I'd have done it in hiking boots. So I turned around and found the same folks up with Walter and VERY happy to see me. They were afraid I'd gotten stuck in the mud and were ready to come looking for me.
We hiked on back UP the trail passing some nice maidenhair ferns and huckleberries that had already set fruit. Even the Starry Solomon's Seal had berries already. There was Fireweed (Epilobium spp.) in bloom in an open area near the top of the trail.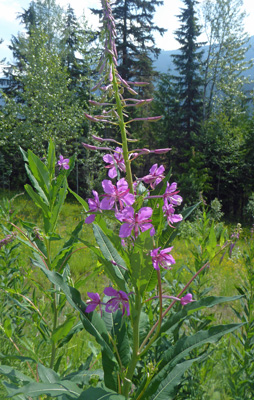 On our way back into Revelstoke to get gas we saw an immature bald eagle sitting in the top of a tree overlooking the dump—they are scavengers after all.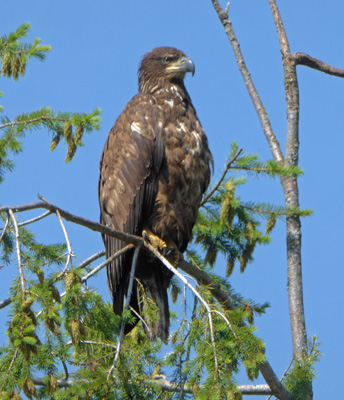 After getting gas (nearly $6 a gallon Canadian) we drove to the entry of Mount Revelstoke National Park on Hwy 1 on the east edge of town to take the Meadows in the Sky Parkway. At check-in they informed us that the road wasn't open yet all the way to the summit but we could go most of the way. I knew that the meadows wouldn't be in bloom yet (they bloom in August like Mount Rainier) so I wasn't surprised that there was still snow blocking the road up at the top (over 6500 feet).
This is a steep road with 16 switchbacks so they don't allow trailers or buses. However, there were lots of bicycles and more than enough cars and a few smaller RVs.
The first turn out along the parkway is named Revelstoke and gives you a great view of the town and the Monashee Mountains across the valley.

Their ski area is across the way. You can see the runs if you look carefully at the center of the photo.
There were Columbia Lilies (Lily columbianum) in bloom at this elevation.
And a green/cream orchid which I think is a Round-leaved Orchid (Platanthera orbiculata).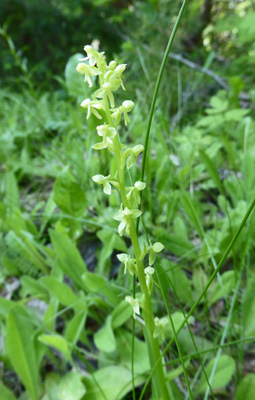 The Monashee Overlook gives you another view of the Monashee Mountains.

Mount Revelstoke is on the western edge of the Selkirk Mountains and we came from the Rocky Mountains the day before. So many mountain ranges so little time.
The Snowforest Overlook explains that they get 75% of their precipitation here in the form of snow (late October through early June). And also gives you a good view of the Columbia River (yes THAT Columbia which will go south to Washington and Oregon). The Columbia begins at Columbia Lake north of here and is dammed here in Revelstoke and again just south of here so that right now there's a big lake out there. Later in the season it will be a thin blue line with green wetlands instead of a lake.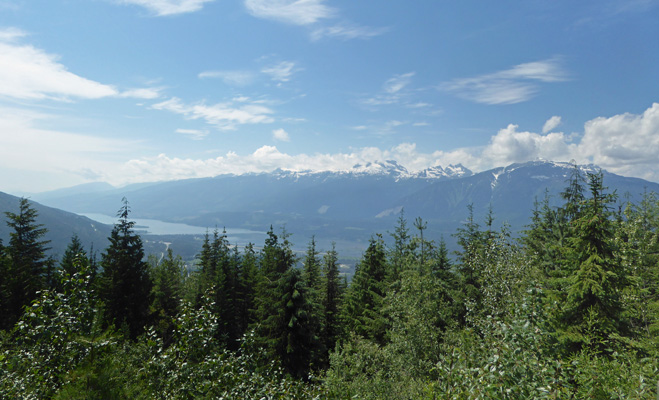 Here's a close up of those lovely snowy mountains.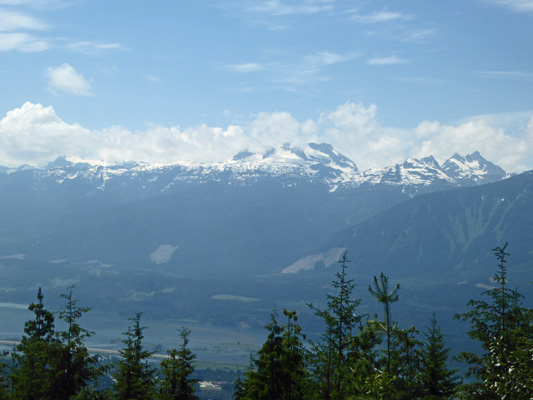 By the time you get to Eagle Pass Overlook you're facing further northwest so the view is different.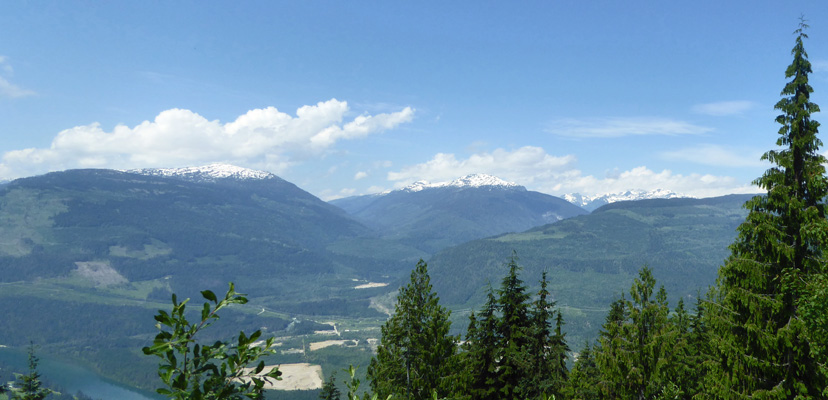 Two switchbacks later the road was blocked by rangers' trucks and there was a tiny paved turn out to use to turn around. Folks were parked on one side of the road so we did too. I got out and took a photo of this lovely little pond with snow at its edge.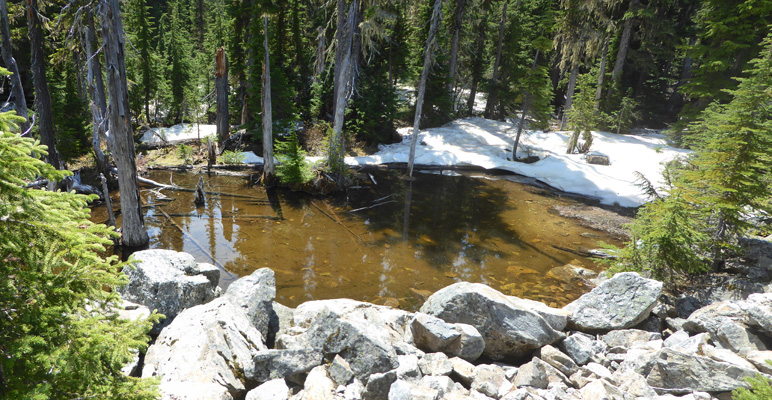 Across the road there was another pond (without so much snow) that clearly had a lot of tannin in it.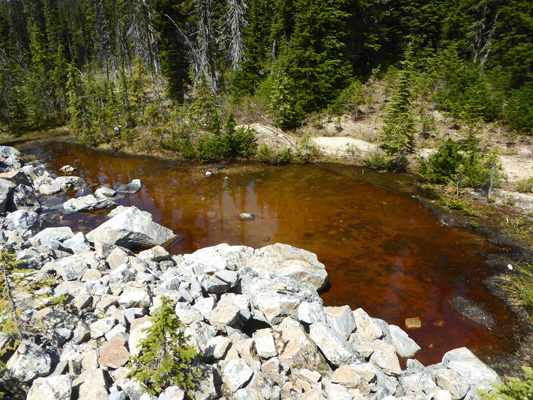 The road was clear past the point where they stopped us and folks were hiking up it. But I suspect that they didn't have a good place for folks to turn around before you hit the uncleared portion of the road. Normally the road continues on for several more switchbacks and another overlook and THEN you head up to a parking area where you can then catch a shuttle bus to the top to hike in the meadows.
On the way back down, I stopped and got a photo of the Mountain Valerian (Valeriana sitchensis) that was only in bloom in a little stretch of the road.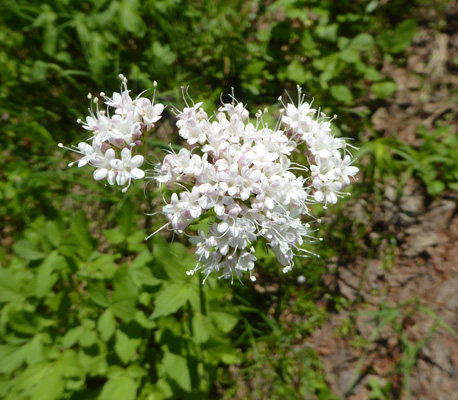 Farther back down there was a pull out where I could get a photo of the Red Paintbrush (Castilleja miniata) that was in bloom from the bottom to about a 1/3 of the way up.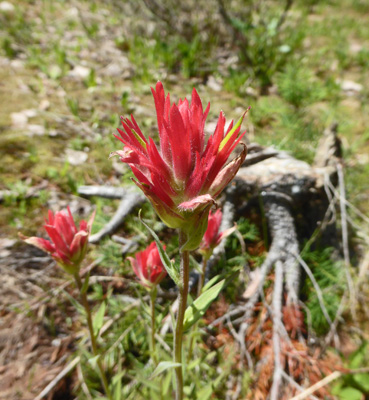 This was a very pretty drive if steep and winding with a few more drivers who wanted to go much faster than the 30 MPH speed limit than I liked but hey what's the fun of a road with lots of twisties if you have to go slow?
We came home and used the WiFi (and made a reservation in Republic, WA for Wednesday and Thursday) and then spent the afternoon at home. It got up into the low 80's and was a little sticky but nothing serious.
It rained pretty hard in the early morning hours of Monday June 25th, and when we got up at 8 am we had no power. The whole park was out. In all our years of camping neither of us ever remember the power going out anywhere so this was pretty amazing. Within an hour, the power was back on so we could run the heater to take the chill off.
We broke camp and headed west on Hwy 1 to Sicamous where we turned south on Hwy 93A along Sushwap Lake. We stopped to change drivers along the lake.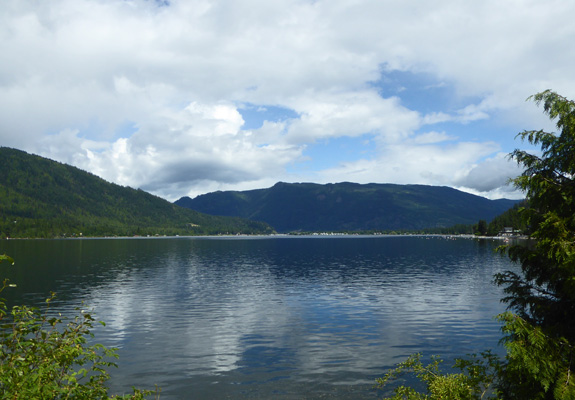 There was lots of chicory (Cichorium intybus) in bloom along the roadsides.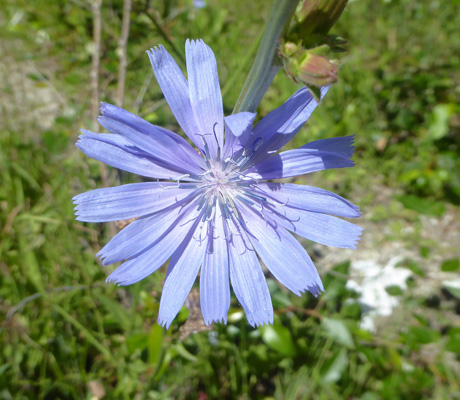 The drive through this area reminded us both a great deal of the Monroe area. There are dairy farms and hills about the same elevation as those between Monroe and Sultan. Things get drier as you go south so by the time we arrived in Vernon it looked more like the country around Wenatchee in the spring. We followed a very twisting route (optimized by Carmine for distance driven clearly) and finally arrived at Cedar Falls Campground on the way to the Silver Star Provincial Park and the Silver Star Resort ski area.
We got a full hook up site in the upper part of the park (its all on a hill) and with a bit of direction from the owner got parked okay. Once we were set up we checked for WiFi and of course this far up the hill there was nothing to connect to. With this park we managed to complete our entire trip in Canada without WiFi in our rig. 18 days without easy WiFi and we both seem to be doing just fine! In fact, I've enjoyed the news fast a great deal.
We had had a little rain during the drive and as we were discussing whether we'd go to town or go for a hike that afternoon it of course began to spit rain again. Decision made! To town and Walmart we go.
We stopped at the office to use the WiFi and managed to pick up our email and check the weather. The forecast was much better for the next day (72 and mostly sunny) so off to town we went.
We awoke to sunshine on Tuesday June 26th. It was still in the low 60's when we set out on our explorations for the day. We stopped by the office to confirm the location of the trailhead for the hike that we wanted to do to BX Falls (just around the corner with the ripped up parking lot) and then checked our email and did a bit of research on the internet on possible places to explore once we returned to the States. Then we headed up the road a short distance to the designated parking area. And sure enough past the chipping pile (they took down a bunch of trees in preparation for enlarging the lot) there was a trail (no signage) which followed along the edge of BX Creek for a short distance.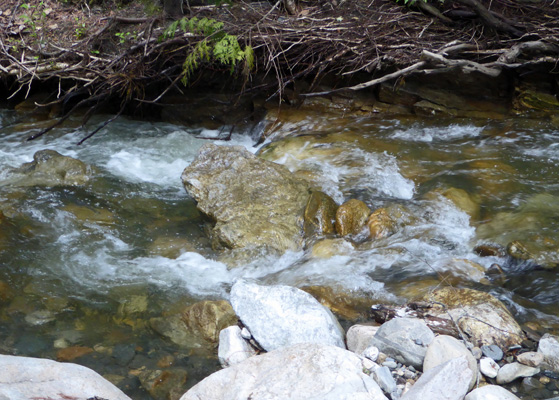 There were a few little white violets in bloom along the creek. They were probably Canadian Violets (Viola canadensis).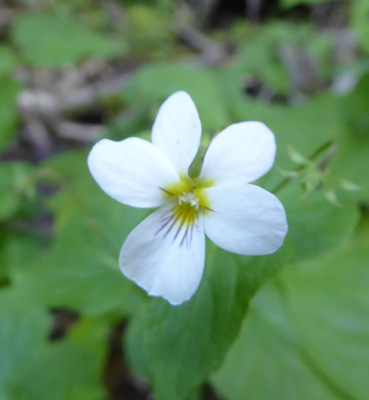 The trail had a number of offshoots so we did some wandering around but we managed to find the main trail again each time and finally descended the many log stairs to the bottom of the falls.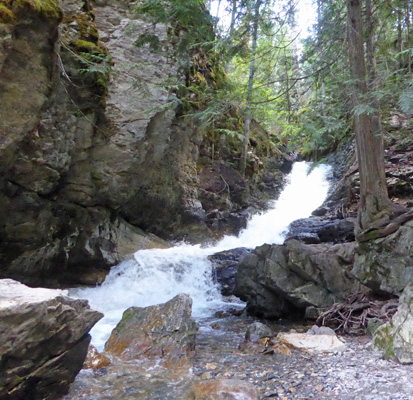 This shot gives you a better sense of scale of the thing.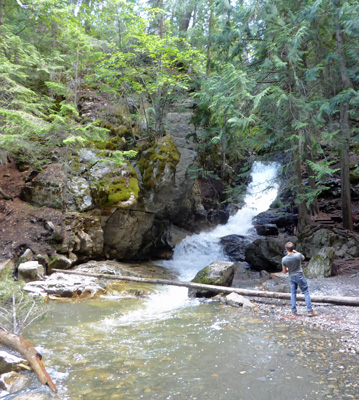 The climb back up was easier than coming down but still some work.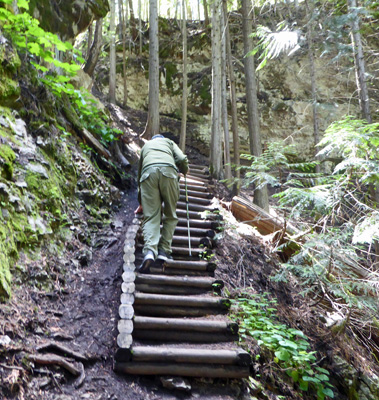 The stairs weren't in great shape but at least going up there wasn't as much chance of a fall.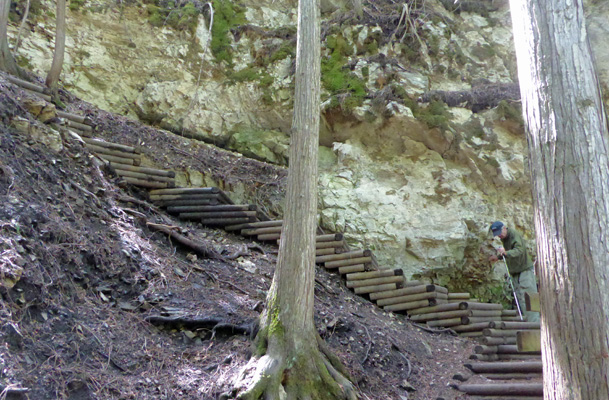 On the way back to the truck, I spied some wild blueberries that were almost ripe.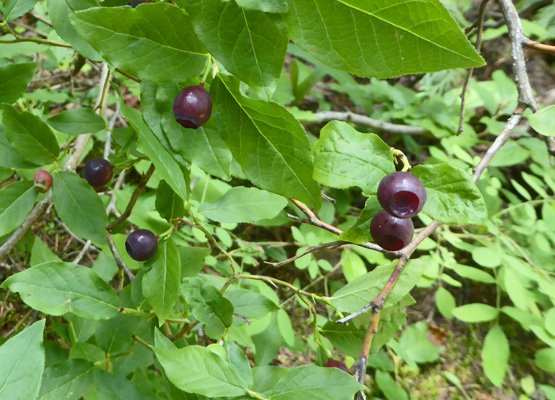 Having finished our hike we drove up Silver Star Road to see the provincial park up that way (it's a cross country ski park) and then continued on up to take a gander at the Silver Star Resort—the local ski resort. This is a residential community with condos, townhouses and little multistoried houses perched on the mountain top. The architectural style was a little strange—a cross between western frontier false front and Victorians. So the places had flat faces and fancy painted-lady paint jobs. Pretty and odd at the same time.
We turned around there and went on down into town to get gas. We stopped by the BX Ranch Park hoping there might be a plaque to explain the BX name that shows up here and there around town but it was an off-leash dog park with no info on its name. Once we had internet again I checked and it turns out that back in the day there was a big ranch called BX Ranch (the owner's name was Barnard and he owned the first delivery service—express—in the area and thus we have BX) so there were waterfalls and creeks and roads and even two regions in town that were named for it. The ranch is no more but the name lives on.
We packed up again on Wednesday June 27th, and headed south on Highway 93A along the shores of Okanogan Lake. The highway crosses the lake at Kelowna (there was LOTS of traffic in Kelowna and lots of traffic lights to go with it). The highway then runs on the west side of the lake and I even got a decent photo of it.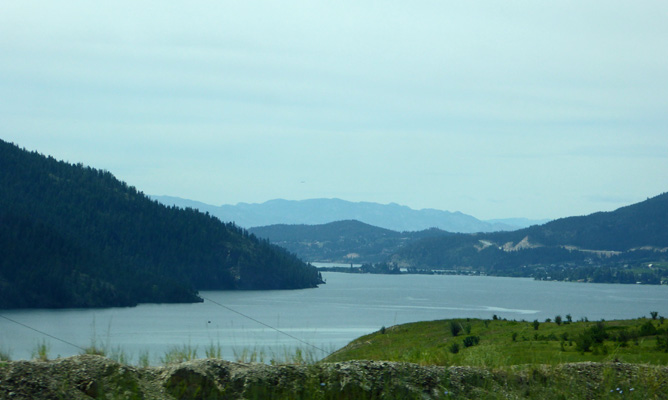 After Penticton we got nice views of Skaha Lake too.
This is wine and fruit country. There were tons of signs for wineries (more as you go south) and the cherries were finally ripe and for sale at the fruit stands south of Penticton. We didn't stop to buy any because we were headed for the border and we haven't had much luck bringing fruit across the border either way.
We crossed the border just south of Osoyoos and for the first time ever they had us pull over for an agricultural inspection. I got out and opened the trailer and pulled out the stairs for the fellow. He opened the refrigerator and shone his little flashlight around in it and then opened the freezer and did the same. We decided that they were more involved in reading us (mostly me since I was driving) to see if we did anything suspicious than they were in actually looking at what was in the fridge. In any case, we passed with flying colors and they told us we could go.
We drove south to Tonasket and then turned east on Hwy 20 to Republic. Just outside of town on Hwy 21 we pulled into Gold Mountain RV Park. It's a newer park (only 4 years old) with super long pull thru spots. Walter had made our reservation on-line so we were all paid up—$37.37 a night tax included. We set up and low and behold their WiFi not only worked but was pretty fast too. And now our phones were working too. Oh the wonders of being back in the USA. Still no TV but hey, Republic is in the middle of nowhere.
It rained a bit off and on the rest of the day but nothing serious. And we actually had some sun breaks the next morning when we got up. We took it easy, enjoying the guilty pleasure of having internet at the kitchen table and then set out to see the sights.
We went north along the west side of Curlew Lake and visited an older RV park that is clearly set up for fisherman. There were a pair of deer at the park's entry when we went to leave. She moved (and I moved clearly) but hey, here's the proof she was there.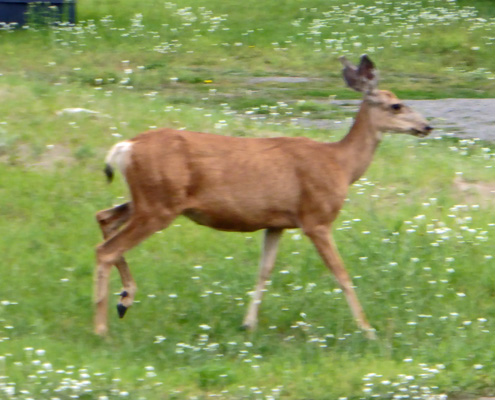 We saw several more on the drive back down the east side of the lake. We stopped at Curlew Lake State Park in hopes of getting a listing of the state parks—no go. But I did stop and take a photo of the lake.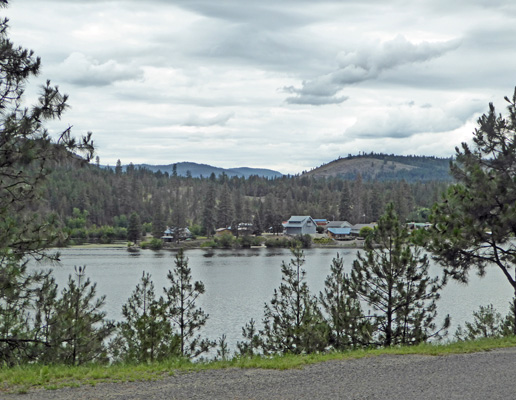 Walter always learns a lot about an area by reading the local promo materials. And we were coming up on 4th of July so he wanted all the help he could get to find someplace for us to stay. We tried for brochures at both RV parks we visited and they didn't have anything so we went into town to see what we could find. We stopped at the Forest Service office and got a single piece of paper about the couple of campgrounds they have locally but that was it. But we did see another deer eating grass on someone's lawn.
It cleared off late that evening but we didn't get to see the moon everyone was raving about. It got colder in the early morning than it had the last few days and the sun was out when we got up. We packed up and headed east on Highway 20 until we hit Hwy 395 in Kettle Falls and headed south until we hit Hwy 2 where we headed east to the Newport/Little Diamond Lake KOA where we had a reservation for the weekend (3 nights). We got a back-in electric and water site (they don't seem to have sewer in the park). The rate was lower on Sunday night than on Friday and Saturday but it averaged out to just under $40 a night which isn't bad for a KOA.
We set up camp and had lunch and then I went and did our laundry. The WiFi here only works at the office area (including the laundry and out at an activity center way away from the campsites). But it was fast when I used it while I waited for the clothes to dry.
Saturday June 30th, we tried using the hot spot on my phone to access the internet and it was super slow. If only one of us was on we could get around a bit. My guess is that the local tower was overloaded with a nearly full campground. It was partly sunny for a little while as we drove north a ways to Usk, WA to look at the Skookum Rendezvous RV Resort. From what we could tell from their website it looked like it might be a good place to stay. It's an RV condominium which means folks own their lots. They have LOTS of sites up for resale and there were 7 of them listed as available for one month rental (the minimum they allow). We arrived at the end of their 'meet the candidates for the board' meeting and sat through a bit of it. Then got the map and drove around. It turned out that only one of the sites up for rent was actually empty. And the process of renting it was more than cumbersome requiring us to contact the owner who then contacted the office yadda yadda yadda. We decided it really wasn't for us. I was disappointed. Not because the place was so great but because I had been hoping we could handle both our desire to stay someplace for a month AND the July 4th problem all in one fell swoop. Ah well. It wasn't time yet for all that.
We went south to Newport and did our grocery shopping at a very busy Safeway and then came home to put the groceries away and have lunch. We figured we could solve the July 4th problem by extending our stay at the place we were in. And sure enough they had openings. We would have to change spots but that was okay since we would need to dump our tanks on Monday anyway and that would require breaking camp so what the heck.
So we made a reservation through July 4th and set out to use their WiFi room to do some research. We'd thought we'd head next to Flathead Lake in Montana and hoped to find a place for July 5th through 12th. We spent quite a bit of time and didn't come up with anything. Sigh. By that point my laptop battery was running low, I was cranky and Walter was tired. So we gave up and went back to the trailer hoping to solve the problem later. This particular form of 'winging it' is new to us. It should be interesting to see how it works out.
Sunday July 1st, we had mostly sunny skies (that gave way to puffy white clouds off and on all day). We headed south into Spokane to shop to restore our stores after 2 months of traveling. That afternoon the park was much emptier than it had been over the weekend and our hotspot actually worked fairly well for a few hours. I spent the time researching and we came to the conclusion that going to Montana was just not going to work. It's gotten too popular and you need reservations nearly everywhere and most of the places were full already for both July and August. We also decided that given how little was available for the coming weekend (we'd found almost nothing and clearly folks are celebrating the Fourth of July holiday starting on the 4th and going through the weekend and not the other way) that we might as well grab the one spot still available here at the KOA. So our 3 day stay here has extended itself to 9 days! This is unheard of for us. We never stay anywhere this long and yet it feels just perfect. If we can't find someplace to stay for a whole month at least we have a week or so in one place.