On Friday August 10th, we were in Grangeville, ID camping at Bear Den RV Resort just outside of town. It was hot by the time we got up and was already nearly 90 when we drove into town to pick up our mail at the post office mid morning. We made our umpty umpth trip to the hardware store and then settled in with the air conditioning on to limp through the day. It just got hotter and hotter and hotter until the temperature topped out at 108. Yes, you read that right, 108. I don't know when the last time I was anywhere that hot. Whew. At least we weren't down in the Salmon River Canyon where it was pushing 115.
The smoke from the fires to the southwest had made its way up onto the plateau and the late afternoon sun turned red long before it set.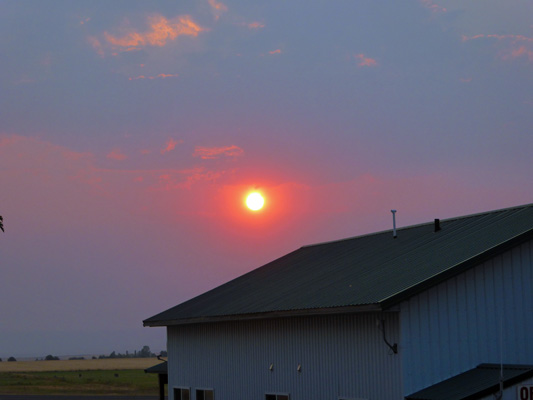 Then then it sank into the smoke like it sinks into a fog bank at the beach with a squared off bottom. Totally weird.
The temperature dropped steadily all evening but it was still 80 at 10 pm (a 28 degree drop from the high) and only got down to about 70 by early morning. The weatherman had promised a 20 degree drop in temperatures for Saturday and we got a 25 degree drop but that meant it was still 93. I did the laundry in the morning before it got too hot and then after lunch we decided we'd go see the sights in Grangeville.
Our first stop was the Visitors Center (AKA the Chamber of Commerce) which was closed. Behind it in a small park was a glassed-in enclosure with a replica of a mammoth skeleton. It was really hard to see the display because of the glare on the glass. The display sign told you to come back at night when you could see it better... The mammoth is there because in the 1990's they uncovered over 200 mammoth skeletons in an old lakebed nearby. Their solution for preserving the site for future generations of scientists was very clever. They flooded it to refill the lake! No more problems with illegal digging for sure and the locals have a lake to play in too.
The only other high point for the area is a Quilt Tour. This was a driving tour of little square painted quilt patterns on area barns. Well, okay, that was at least something we'd never done!
First stop was a pattern called Variable Star which was hung facing out onto the highway on the side of the porch at the Visitors Center. We had to stop and get out and walk around the side of the porch to see it.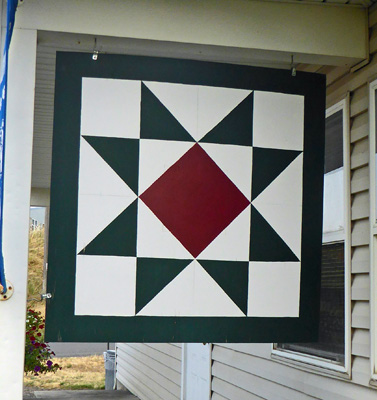 All the others required driving around following not very good directions looking for barns. The next couple were too far away or at funny angles making viewing a challenge but this stop was a nice red barn in town.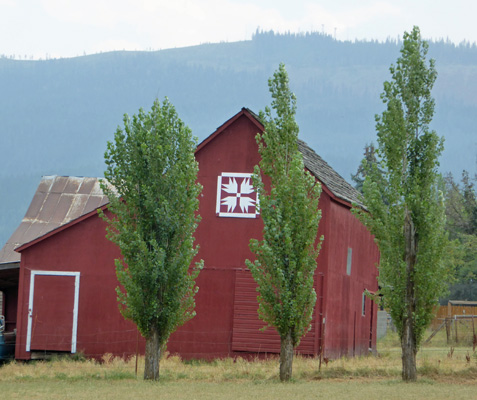 The pattern is called Bear Paw.
We stopped and got gas and then drove out along the highway to the barn at the Bear Den RV Park. This barn faces out on the highway (and there was a gravel pull out where we could stop). It's 100 years old but I don't think the quilt is that old. The cabins on the right are part of the campground.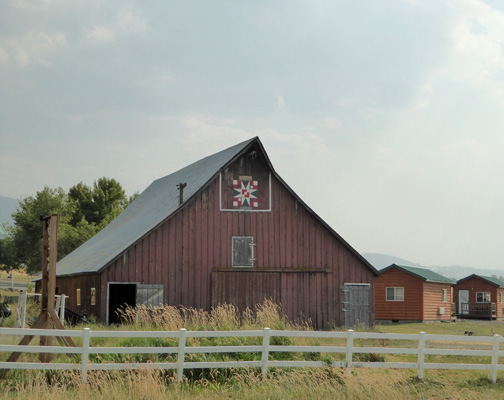 The pattern is called 54-40 or Fight.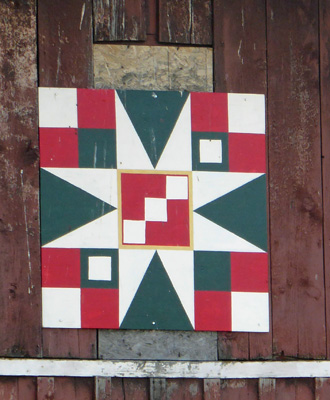 We drove farther out of town to a new barn on a side road.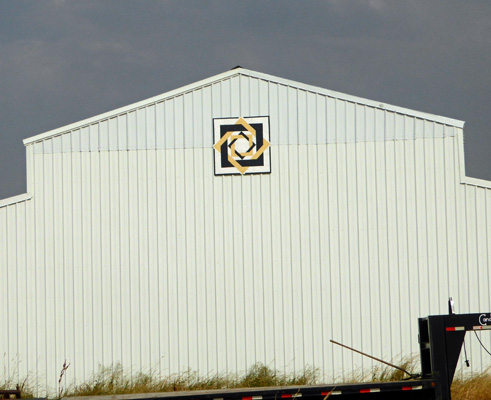 This pretty pattern is called Labyrinth.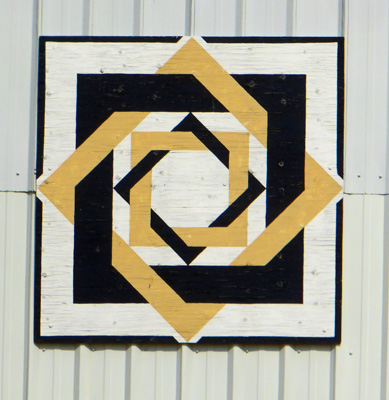 We'd both had enough of the driving scavenger hunt so we went on home. The sun turned red again but it didn't disappear into the smoke bank like it had the night before.
On Sunday August 12th, we had a lovely cool morning. It was still in the high 60's as we packed up to head out of town. We followed Highway 13 east (as we did when we went over Lolo Pass nearly 4 weeks before) and then turned west on Hwy 12 (instead of east to Lolo). We followed Hwy 12 up to Orofino and then turned north up a very winding road over the hills and then DOWN a steep winding grade to Dworshak State Park.
We had a reservation for 3 nights in a mostly shady back-in site with electricity and water. We checked in and when we got to our site someone had parked their pick up truck in it. There was a big party going on nearby and it wasn't long before someone came very apologetically to move the truck so we could park. It wasn't a real easy site to get into (it was perpendicular to the road) but we managed to get in okay in a couple of tries. It was in the sun when we arrived but the shade took over fairly quickly and we were happy to sit with all the windows open enjoying temps in the low 80's. The outside temperature was already in the 60's by 8 pm which was simply heaven.
Just before dinner, I took a quick walk down to the lake (Dworshak Reservoir) to get a photo. It was drawn down way more than Lake Cascade had been (but it may never have gotten full this year since they didn't have snow here until March) and reminded me a lot of Lake Kachess in the Cascades (just off I-90 on the east side of the pass) in August in a dry year.

On my way back I spied a couple of white tail bucks in a nearby empty campsite. One of them stayed still long enough for me to catch a picture.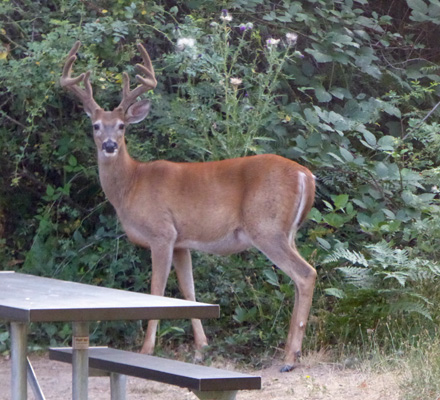 This is no youngster. He's a full 4 pointer. There's not shooting or hunting in this park and the deer know it's a safe place.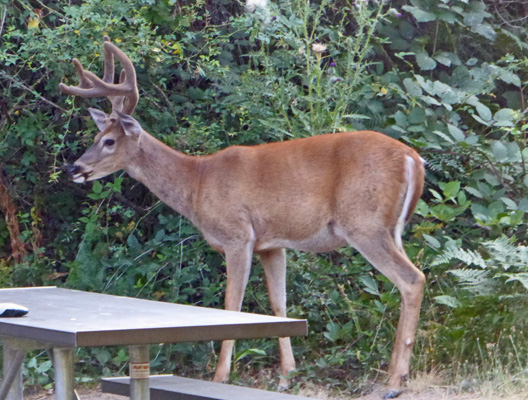 Earlier in the afternoon we'd seen a couple of does moving around in the undergrowth not far from our site. Clearly they didn't mind being around people—though the campground was by no means full like it surely was for the weekend.
It was actually cool when we got up on Monday morning. What a treat. Late in the morning we drove over to the boat ramp area to hike the first part of the Big Eddy Trail which starts at the overnight parking area for the boat ramp. We did this trail in early May 2016 and there were tons of flowers. Not this time!
The trail follows the shoreline for the first few miles.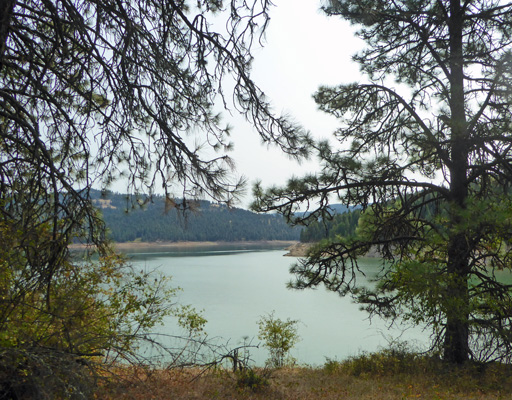 It goes up and down following the contours of the hillsides. In the shade we saw a few harebells (Campanula rotundifolia) here and there.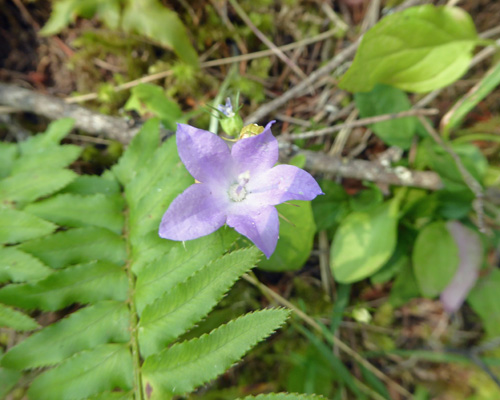 The trail crosses a creek on a nice bridge. No water in the creek this time of year though.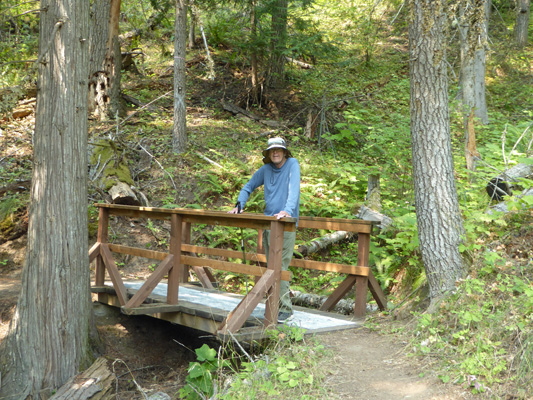 There was a lot of erosion along the trail so there were places where it got really narrow and part of the trail had crumbled down the hill. We both wondered if we might have to turn around when we saw this big tree uprooted on the edge of the trail but we got around okay.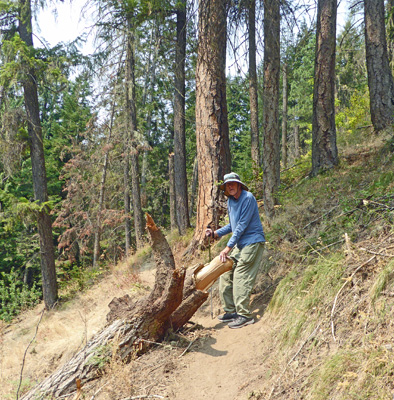 After about 3/4 of a mile you come to yet another bridge that was an Eagle Scout project. It comes complete with a carving on one end.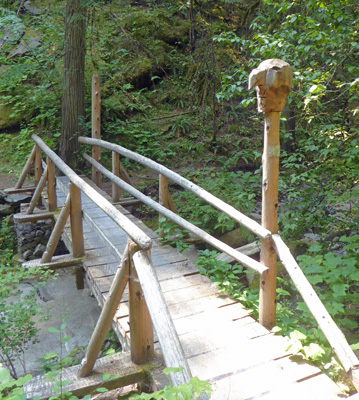 There were a couple of benches here and we sat and enjoyed the shade and the view. There were ripe snowberries.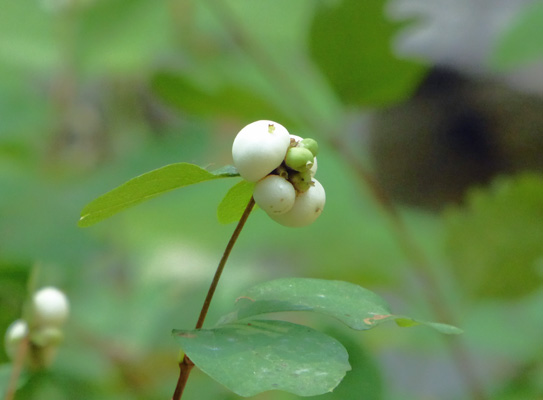 And a butterfly made several passes before it settled long enough for me to get a photo of it.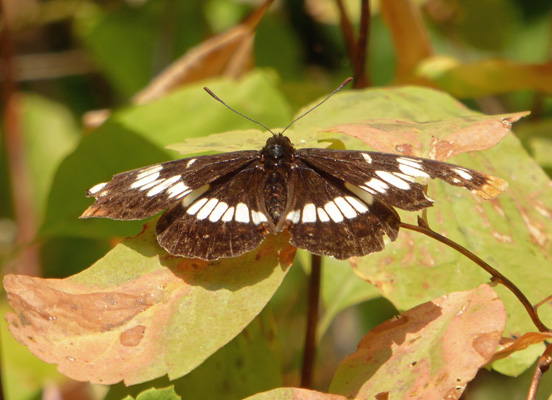 The creek here was burbling along so we even had a nice sound track to enjoy too.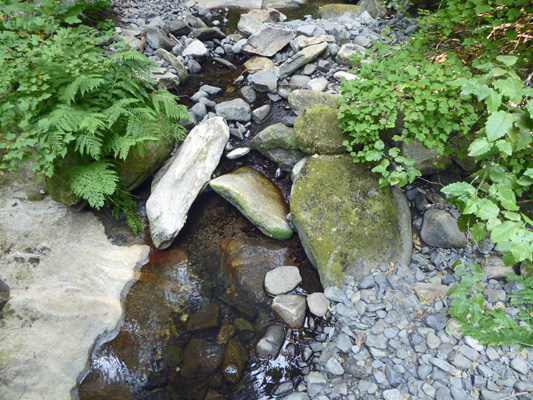 Here's a shot of the view out towards the lake.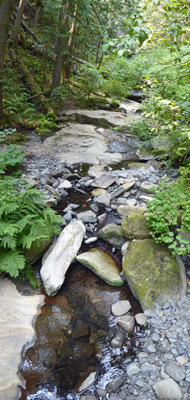 Walter decided he'd hiked far enough and since I knew what came next because we'd hiked this trail before we both turned back.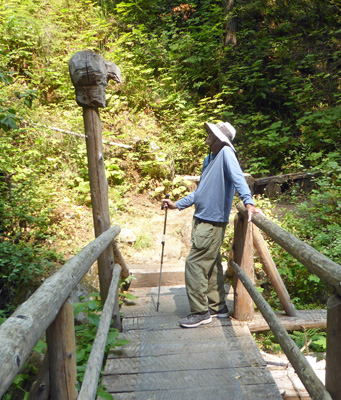 From back up the switchbacks we got a peekaboo view of the lake.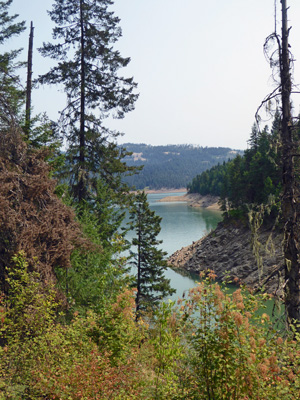 And farther along I managed to capture the interesting green color of the water in this inlet.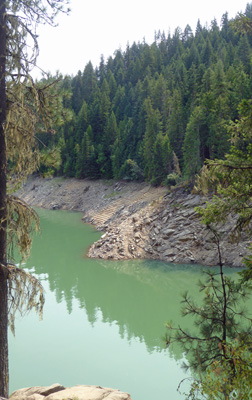 Back towards the beginning of the trail there was a lot of Queen Anne's Lace (Daucus carota) in bloom.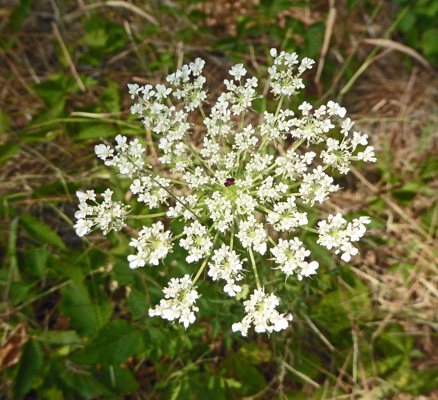 It was warm by the time we got back to the truck though not hot yet. Walter's pulse was doing that weird thing it does now (his pulse rate read about 38 even when we got back to the trailer) but at least he didn't get dizzy or get that funny gray color he tended to get last fall. We've learned to stop often and have him drink more water so he doesn't overheat which seems to help some.
It got up into the mid 80's again that afternoon. Not bad at all since the forecast back on Saturday had said it would be 89 or 90 here on Monday.
We had a number of deer wander through the edges of our campsite and this forked horn buck stood for a while straight back from our kitchen windows. I took this photo through the screen of the open window.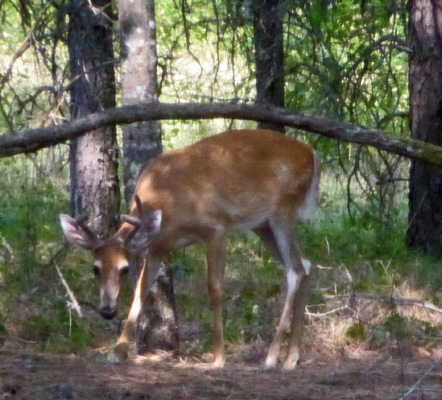 He wandered on around the edges of our campsite and pawed in the dirt and grass and found something to eat.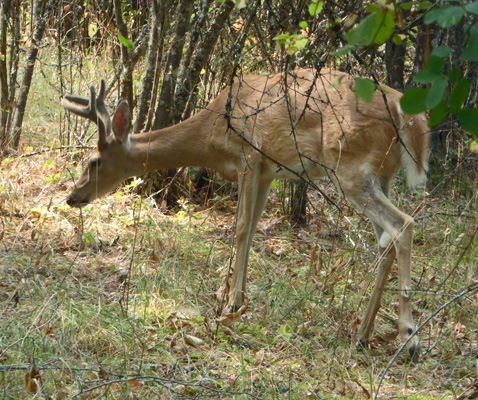 After dinner we decided we'd go out and drive slowly through the park to see what we could see. We saw a big buck up at the top of the archery range at the end of the road but he took off before I got my camera all the way out. This doe was standing in the middle of the road as we came back down. She just stood there and watched us for a long time.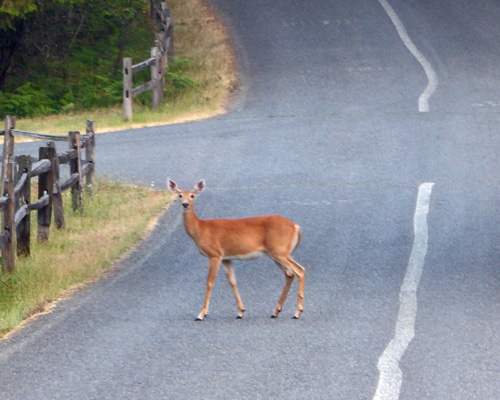 Finally we started to roll towards her and she turned around and trotted back across the road and into the bushes. We'd driven out to the boat launch one more time and looked at how the visibility had dropped as smoke returned to the area—it had been quite clear in the morning. And on our way back past the park entrance these three deer—including a spotted fawn—were eating grass not far from the entrance kiosk. It was pretty dark by this point so the slow shutter speed blurred some of their movement.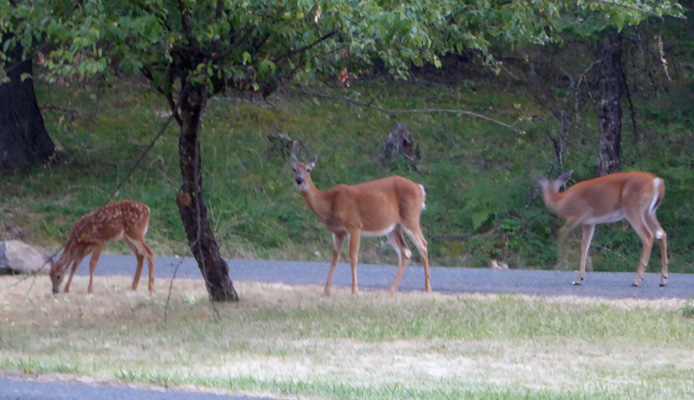 Tuesday was cool again in the morning so we decided to take the one other trail they have in the park—the Placid View Trail. It's a nice little 1 mile loop through an old homestead (complete with apple and plum trees) and then out along the lake and back. There were small rose hips here and there on wild roses in the sunny areas.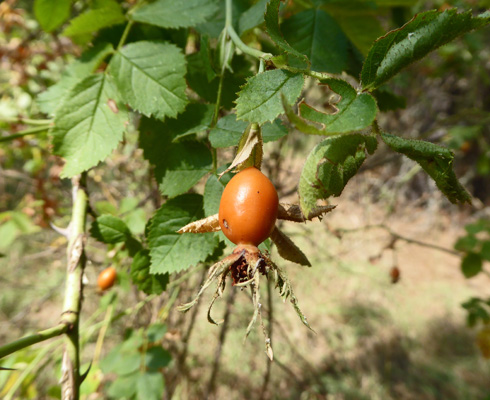 It was much smokier than it had been the morning before—maybe a little better than the night before. So the view up lake was a little fuzzy.

Once upon a time the Placid Loop Trail was a nature trail. So there are signs along the way with engravings of critter tracks. But no ID of them since there's supposed to be a little trail guide you take with you. And of course those are no more. So we'd stop and look at them and guess what they might be but we have no idea if we were right or not.
Back at the end of the loop there was Teasel (Dipsacus fullonum) in bloom with both bees and butterflies hovering about.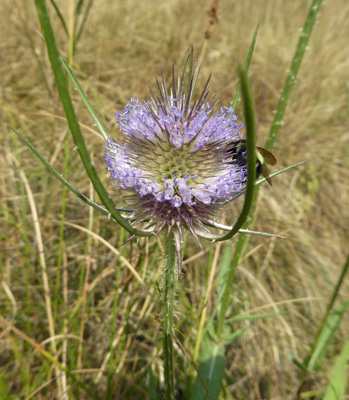 It was 80 by the time we got back and we were glad we had beat the heat.
We had a nice quiet couple of days here. The campground wasn't very full and there's no cell signal so we didn't have any internet and all we could do was sing and read!
On Wednesday August 15th we packed up and headed back up the awful winding road out of Dworshak State Park. There are about 5 or 6 curves that are so sharp that you really don't want to meet another trailer on its way down. We were lucky enough to make it back up on top before we met anyone and both breathed a sigh of relief. We wound our way northward on blue highways until at long last we reached US 95 where we could continue north to the town of Plumber where we turned east to Heyburn State Park.
We had a 2 night reservation for a back-in water and electric site and we got into it first try! It was really smoky here at the bottom of Lake Coeur d'Alene—enough so that the weather app was warning about low air quality and bad visibility. It was in the mid 80's when we arrived and never got much above 86 in our shady spot.
We had a 2 bar cell signal here and so with our booster we had internet again. It tended to be kind of slow (the campground was full) but it was enough for us to at least get caught up on our email.
Thursday August 16th we spent the morning firming up plans for the week after Labor Day. We'll be in Monroe, WA for 6 days handling a few things and seeing as many folks as we can.
We were done with our calls and reservations just before lunch so we packed a picnic and set out to find a place with a view of the lake. Our first stop was the Visitors Center (a very nice new one) where I got a view of the marshy end of Chatcolet Lake.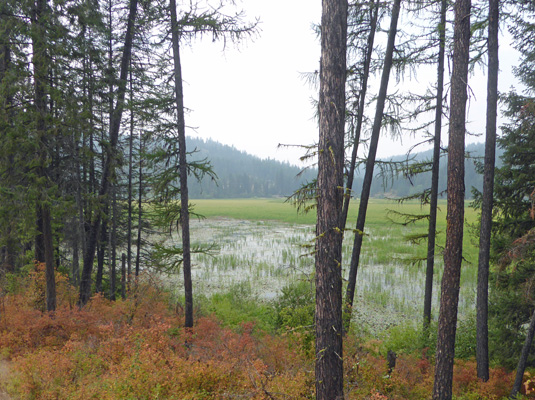 When we were here 2 years ago in the spring this part of the lake was full of water and there was a muskrat lodge you could see. But the dam up at Post Falls releases water across the season to make electricity and the lake is down quite a bit.
However there were lovely pink water lilies in bloom out in this part of the marsh. I suspect they aren't native but they're pretty nevertheless.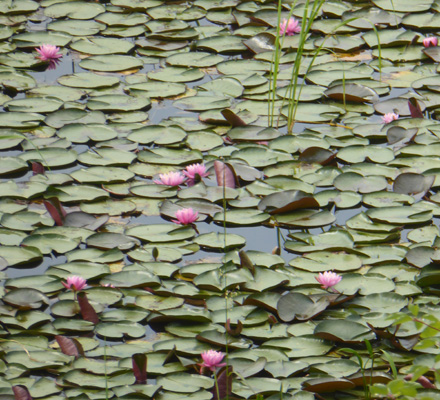 We stopped at a couple of Day Use Areas as we drove along the lake and ended up at the boat launch area near the original town of Chatcolet. The Trail of the Coeur d'Alene goes through here. It's a 50 plus mile long paved bike trail that uses an old railroad bed. It even uses this spiffy old bridge to take you out across the lake.
As you can see, it was pretty smoky.

We had our lunch sitting overlooking the lake and trying to keep the wasps from getting at our lunch. It was in the high 70's so it was pleasant.
On the way back, I decided I'd take the marsh boardwalk out in hopes of getting a close up shot of the water lilies. No luck. There weren't any lilies in this section of the marsh. But I did get this nice reflection shot.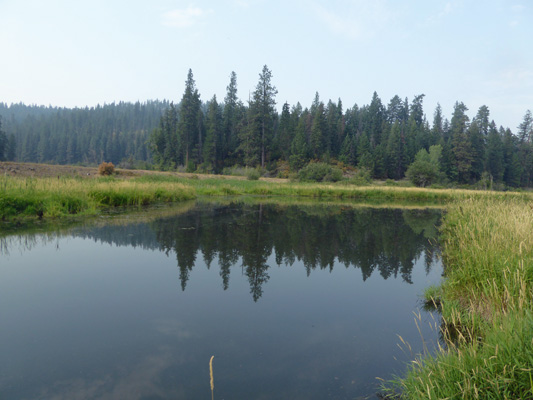 And spied a muskrat swimming really fast across this same section of open water.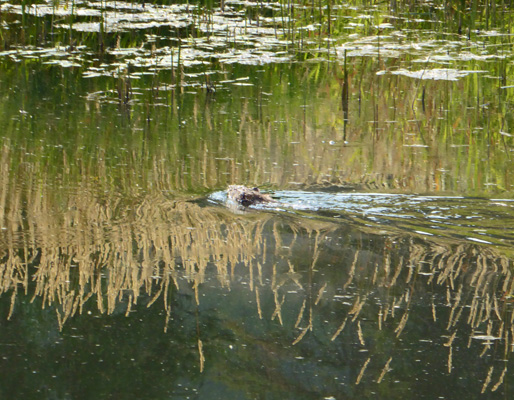 They have beaver and moose here too but I didn't see any.
Between the overcast and the smoke it didn't get that very hot even though my phone said it was 92 just 6 miles away in Plummer.
After a few sprinkles and a minute or two of real rain on Friday morning August 17th, we packed up and headed north again on Hwy 95 up to the Newport/Little Diamond KOA—the same place where we spent the 4th of July holiday weekends. We'll spend 3 nights there before we begin to work our way west along Hwy 20 for the next 2 weeks ending up in Newhalem in the North Cascades for Labor Day Weekend.