On Sunday July 8th, we packed up at the Newport/Little Diamond Lake KOA north of Spokane, WA and headed east on Hwy 2 towards Sandpoint, Idaho. It was a short drive—only about 40 minutes—to our next destination: Riley Creek Recreation Area on the Pend Oreille River. We had a reservation for a water and electric site in this lovely Corps of Engineers campground. While the campground had been full all weekend it was Sunday and folks were heading home to go back to work and it was pretty empty, which was just fine with us. All the sites were freshly graveled and the whole place was really great. It did fill up as the week rolled on and was full on Wednesday night but we enjoyed the quiet while it lasted.
Our site was nice and wide and long but it took some jockeying to get into it because there were trees in all the wrong places. In the end we were very grateful for the width of the site which made it possible to get backed in okay. We got settled in and were thrilled to discover that not only did we have a decent cell signal but when we turned on our hotspot it actually gave us some decent speed. Huzzah! Of course, it helped that the campground was so empty (but it hardly slowed down when the place was full). In any case, it was wonderful to be able to sit at the kitchen table and easily access the internet after 9 days at the KOA with an overloaded cell tower and weak signal.
It was in the 80's and we were happy to sit back and enjoy the quiet with all the windows open.
Monday July 9th, we decided we'd take a drive to explore the area. First stop was the Day Use Area at Riley Creek. I hiked down to the bottom of the boat launch to get a picture of the Pend Oreille River looking west.

And looking east towards Sandpoint. The Day Use Area has a nice little beach and a cordoned off swimming area. And the recreation area has nice paved bike paths too.

We hadn't been to Sandpoint for a really long time (close to 30 years) so we took the time to drive into the heart of town and even went out to the City Beach where the beach was filling up fast since it was due to be in the low 90's that afternoon. There are lots of hotels and restaurants lining the lake in this section of town too. Having explored town we drove on through the little town of Ponderay (which is how you pronounce Pend Oreille) and around to the east shore of Lake Pend Oreille.
We stopped at one of the turn outs along the highway to enjoy the view. There were folks in fishing boats, folks on jet skis and people out water skiing too.

Further south near the town of Hope we pulled over again to get a shot of the pretty little islands that dot the lake through here.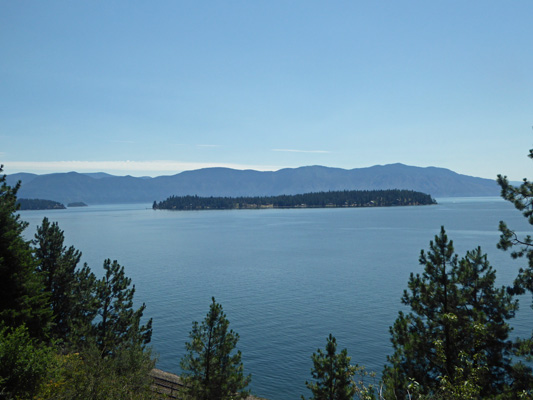 We cruised on by the town of Hope (which has a big marina and lots of nice houses—Sandpoint without all the shops and restaurants) and then out the Owen Peninsula where there are a number of RV resorts including the infamous Beyond Hope RV Park. There's a nature preserve on the end of the peninsula and the locals have put up signs everywhere telling folks not to feed the deer.
They seem to have the run of the place.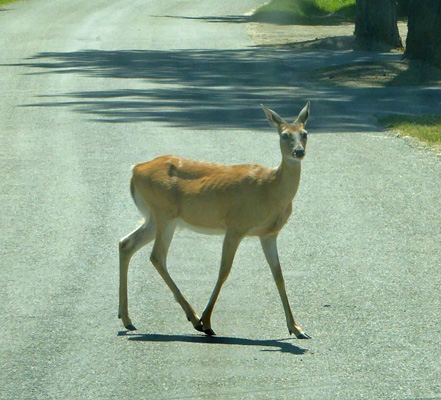 And are all very healthy with nice green lawns to feed on.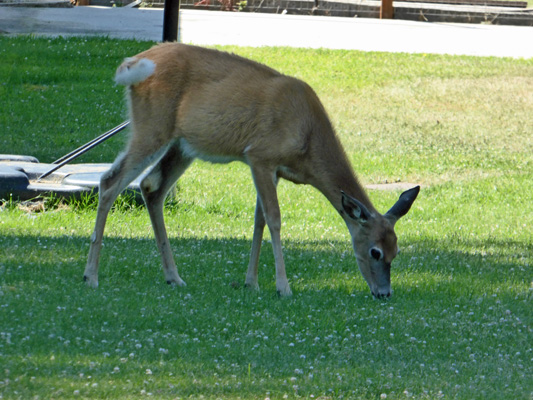 I really like the energy on the east side of the lake. There are ponderosa pines and not a lot of people and the lake keeps things cooler than along the river.
We got home in time to have lunch and turn on the air conditioning when it hit 90. It cooled down by late afternoon and we had the windows back open again by 6:30.
We had rain in the early morning hours and awoke to mostly cloudy skies on Tuesday July 10th. It was in the high 60's as we drove north on Hwy 95 to Bonners Ferry and then west just a short ways to the Kootenai National Wildlife Refuge. We'd read that it was known for its moose sightings and that it had a couple of hikes that might be fun.
We stopped at a big parking area on the south end of the refuge where they provided signage, brochures and these nifty mallard silhouettes that are meant to give hunters a sense of how far away mallards are.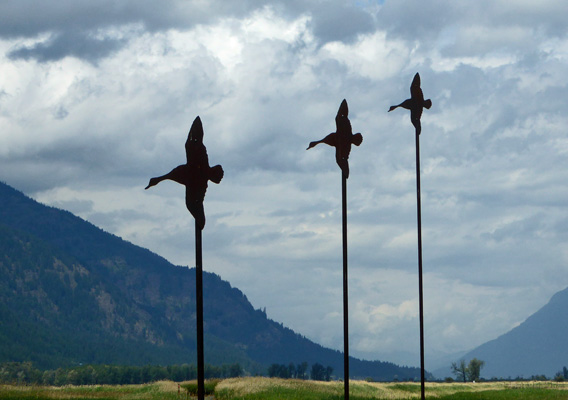 The biggest one is what they look like 20 yards away, the middle one is the 30 yard equivalent and the littlest one represents 40 yards away. This is meant to increase hunter success and decrease waterfowl injuries—and they look cool too.
Aside from this area where they hunt ducks there isn't much access into the heart of the refuge. A road goes around the perimeter and there are 4 trails which are also around the edges. We took the Myrtle Falls Trail which is also called the Story Trail since they've posted the pages of a children's book about the web of life along the trail.
I saw a couple of tiny violets along the trail. They were purple in person but the camera insisted they were blue.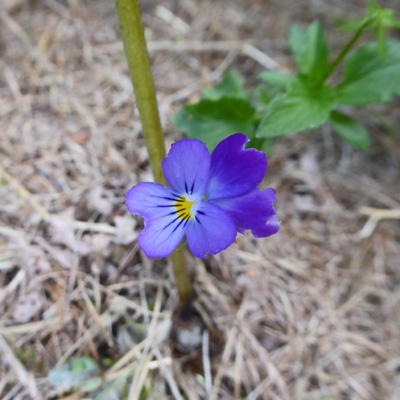 The trail is paved out to a bridge across Myrtle Creek.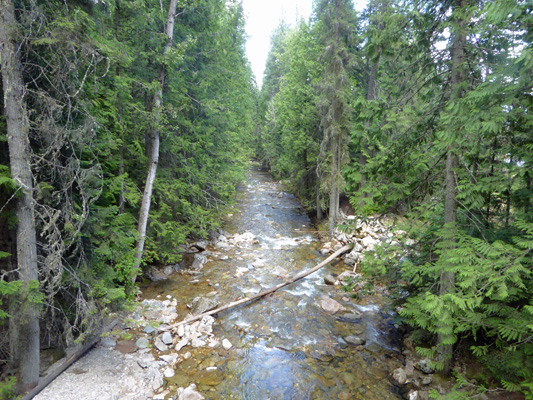 And then turns to dirt and heads steeply uphill as it takes long switchbacks up to the viewpoint for the falls.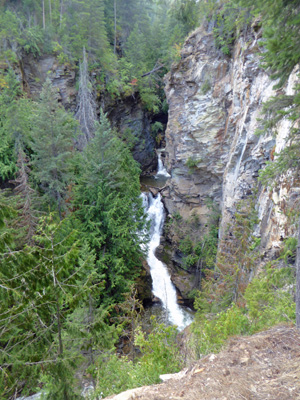 I scrambled around and got a better view of the lower cascade of the falls.
There was lots of ocean spray in bloom along the trail and my old friend Pearly Everlasting (Anaphalis margaitacea) too.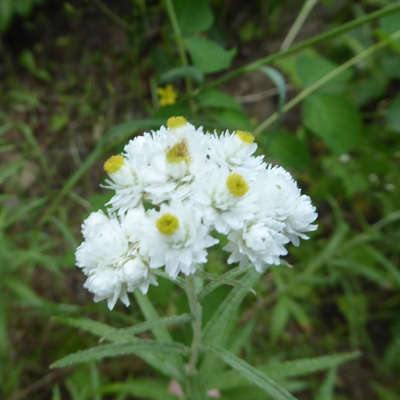 Across the road from the trailhead at the headquarters building there was this very fishy bicycle rack. At long last, a fish that actually needs a bicycle (an old old expression from my youth went "A woman needs a man like a fish needs a bicycle").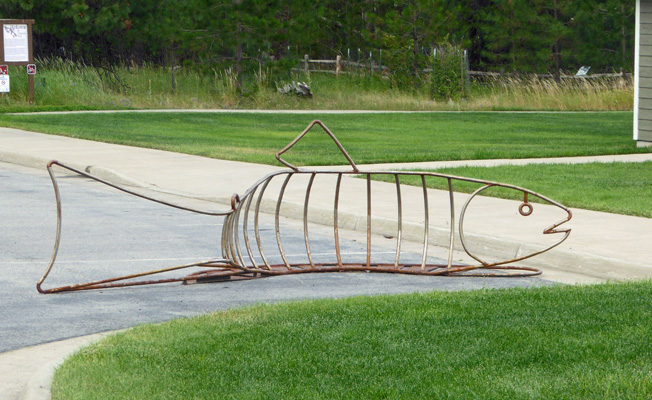 Someone had planted milkweed in a garden bed.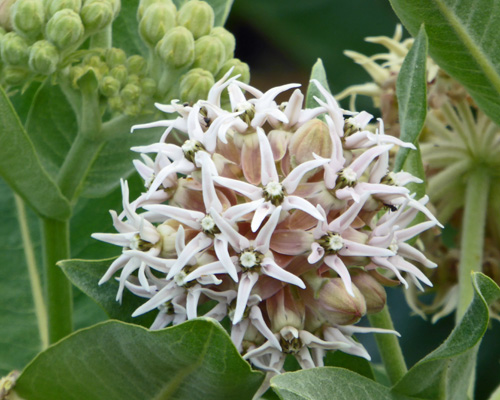 And they'd scattered wildflower seeds in a grassy area and gotten some Black-eyed Susans to bloom.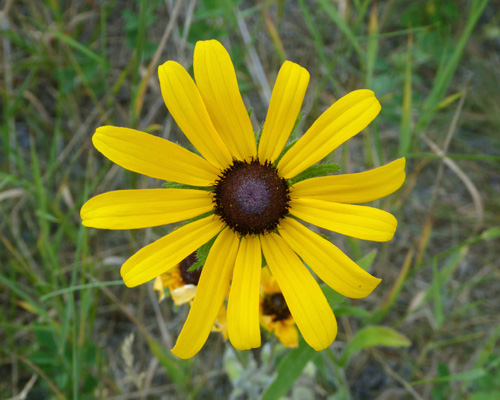 The gravel road that takes you around the northern edge of the refuge starts at the headquarters building and runs on the top of a ridge between Myrtle Creek and Myrtle Pond. Both the creek and the pond were full of Canada Geese and their nearly grown goslings. At a pull out I took this shot of the refuge looking southeast.

They grow grain in the fields that aren't too marshy and leave it for the migrating birds who come here in the fall and spring. We completed the loop and stopped to have our lunch overlooking the refuge from the south.

We didn't see any moose—you really have to get up early or stay out late to see them--but we had a nice outing. On the way back to town I stopped and took a photo of the Kootenay River.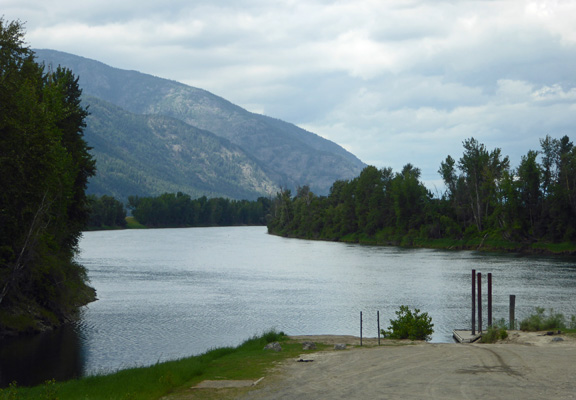 It snakes through the area with many many twists and turns. Wednesday July 11th was dedicated to errands since we were heading our for 10 days in an area with minimal things like grocery stores. Walter bought a six-pack of a local beer he'd read about: Laughing Dog Brewing's Huckleberry Cream Ale. It had a nice fruity flavor but it still tastes like beer.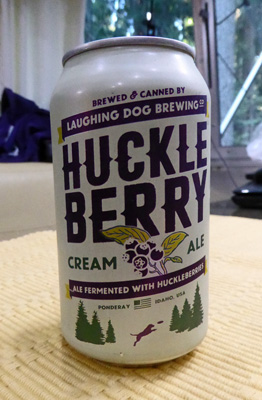 Thursday July 12th, we packed up, dumped the tanks and headed into Sandpoint where we picked Hwy 95 south through Coeur d'Alene, Moscow and Lewiston and then back UP the hill to Winchester Lake State Park just on the edge of the little town of Winchester. It had been 93 as we went through Lewiston (at the mouth of Hells Canyon) but it was only 80 in Winchester when we arrived. Yippee!
We had a reservation for 4 nights in a site with electricity and water. It was a back-in that we got into first try which is always nice. We set up camp and were happy to once again see we had 2 bars on the cell phone. With the booster the hot spot worked just fine. How very civilized. No TV but hey we are 35 miles and WAY up the hill from Lewiston.
Friday July 13th is was HOT from the get go. We went into town to pick up our mail at the Post Office and then went looking for the Laundromat that was supposed to be in town. It is no more. Note to self, do not be surprised when Google is wrong about things in little towns like Winchester (it had the post office and library hours wrong too)! On the way back to the trailer we both noticed the brakes were making that scraping sound that they had made a year and half ago when we needed to have new brakes. So Walter did the research on it and located a Les Schwab tire place in Lewiston that opened at 8 am on Saturday morning.
Our campsite was in the shade in the afternoon which helped us keep below 90 even when it was above that outside and by dinner time it was back down to 75 outside and the low 80's inside without having to run the air conditioning.
We got up EARLY on Saturday morning and hit the road at 7:15 to get to the Les Schwab when it opened at 8. They took a look at our brakes and gave us the bad news: we needed calipers, rotors and pads (basically everything) on both the front and the rear. We were down to bare metal nearly everywhere. Yikes. The truck has nearly 87,000 miles on it and 56,000 of that has been towing. Les Schwab's warranty is for 25,000 miles (or 3 years whichever comes first) and we had 35,000 miles on the last set of front brakes (the rears were the originals). Talking to the brakes guys we came to the conclusion that we need to have them checked at 20,000 miles to see how they're doing. We'd really rather not get down to bare metal again and clearly towing wears brakes out WAY faster than just driving. We'd had new tires put on back in January and obviously Big O didn't check the brakes when they did it!
The good news is that they had a good parts guy locally and they had everything we needed in stock. We had opted to go to Lewiston rather than Grangeville (which is only a mile or two farther away in the other direction and cooler) because Lewiston is a much bigger town and we figured our chances for getting parts were better. We'd had to wait 24 hours for calipers when we needed them in Corning California (in the central valley on I-5) and this time our caution paid off. They had the job done and we were on the way to the Laundromat before 11. We got the laundry done and the truck gassed up and were back at the trailer before 1 pm which was WAY better than we feared it might be. Another bullet dodged, as it were.
It had been in the 90's in Lewiston but it was only 80 in Winchester and the trailer hadn't even heated up too much without the windows open all morning. We had lunch and a nice nap as a reward for a job well done.
For several weeks now, I've been working on reservations for our travels for the rest of the summer and wonders of wonders I've not only found a nice place for us to stay for Labor Day weekend (a real win) but I've managed to find us reservations for the rest of July and all of August—except for 4 First Come First Serve campgrounds we'll be visiting over the next two weeks. These aren't a big worry since they're during the week and mostly in the middle of nowhere. So now (after doing my happy dance) we can settle back and simply enjoy ourselves for the remainder of the summer. Hoozah!
Sunday July 15th was another lovely sunny day—a bit warmer than Saturday. We got it together and went for a short hike along the lake (one that we'd done last time we were here in the spring of 2016). This time of year the lake is a little green with algal bloom but it's still pretty.

We stopped and talked with the folks fishing on the dock who live down the hill in Cul-de-sac and were up just for the day. Then we took the Lakeshore Trail across the bridge where there were lots of folks fishing along the banks and out in small boats. They don't allow motorized boats on the lake so it's nice and quiet. We saw some folks coming back from fishing carrying quite a collection of trout.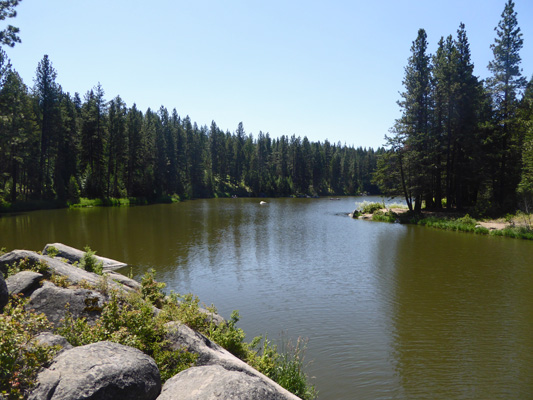 The trail takes you through the woods with occasional views of the lake. There were lots of Common Harebells (Campanula rotundifolia) in bloom.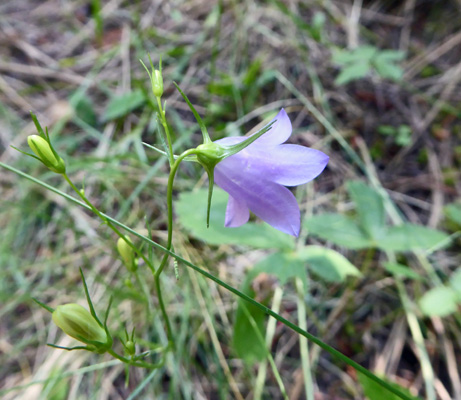 The edge of the trail was carpeted with Twinflowers (Linnaea borealis).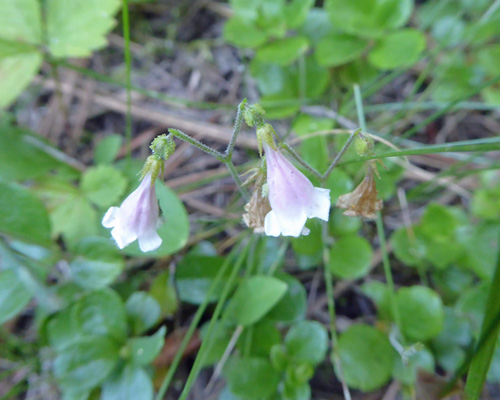 There were Pine-drops (Pterospora andromedea) in all stages of bloom. Some had come all the way up but the flowers hadn't opened yet.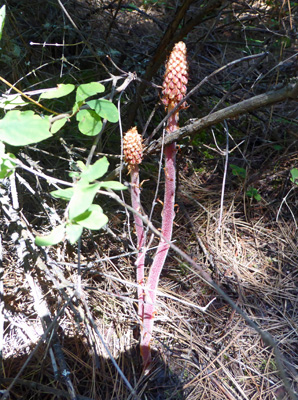 Some were a bit farther along.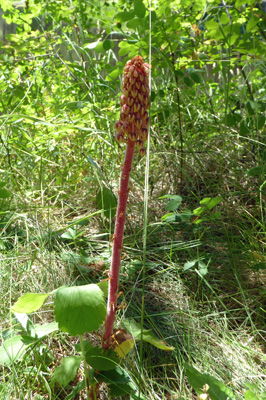 And this bunch which were out in the full sun were in full bloom.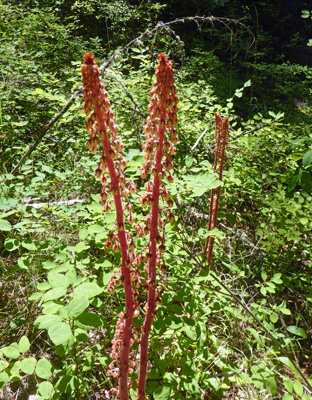 Here's a close up of the flowers.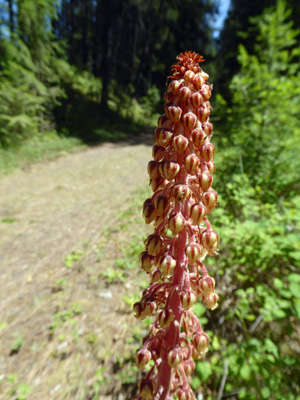 There was Pink Wintergreen (Pyrola asarifolia) too.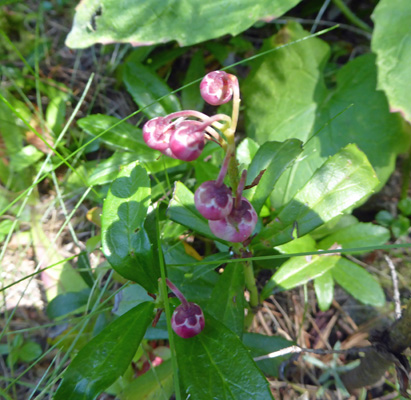 This little pond made for a great reflection photo.
We saw only one lupine still in bloom—it's pretty warm here for them at this point. I suspect that this is Silvery Lupine (Lupinus argenteus) but there are LOTS of different lupine in Idaho so let's not bet the bank on it.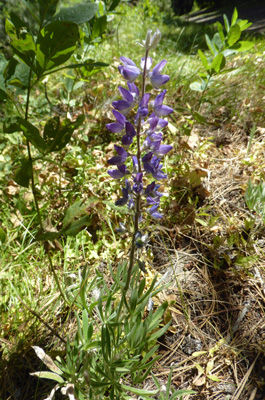 We took the short Eco Trail which is a side trail that takes you up the hill into the more open forest with ponderosa pines. There were a few Showy Fleabane (Erigeron speciosus) in bloom.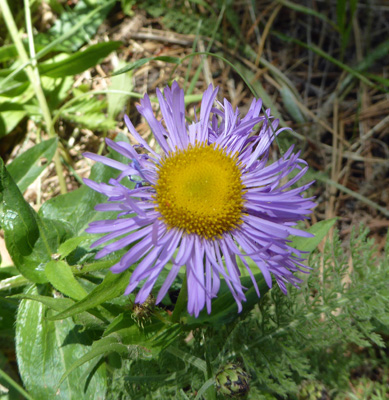 A scattering of penstemon.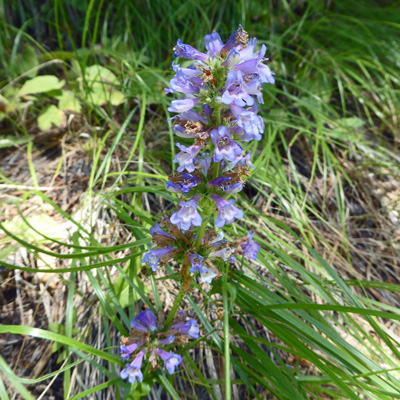 And lots of yarrow (Achillea millefolium).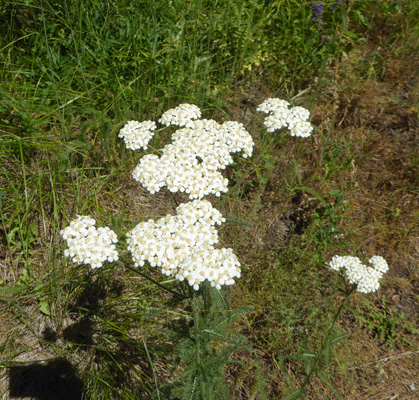 There were also quite a few of these Western Coneflowers (Rudbeckia occidentalis). I don't think I've ever seen them before.
Back on the main trail we found a picnic table to sit on (and swat at the mosquitos). And while sitting there I noticed one lone Sticky Geranium (Geranium viscosissimum).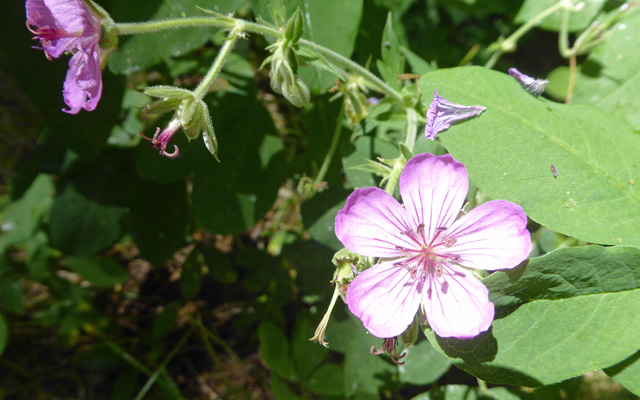 On the way back we stopped and watched the nearly mature goslings with their mother on one of the small ponds.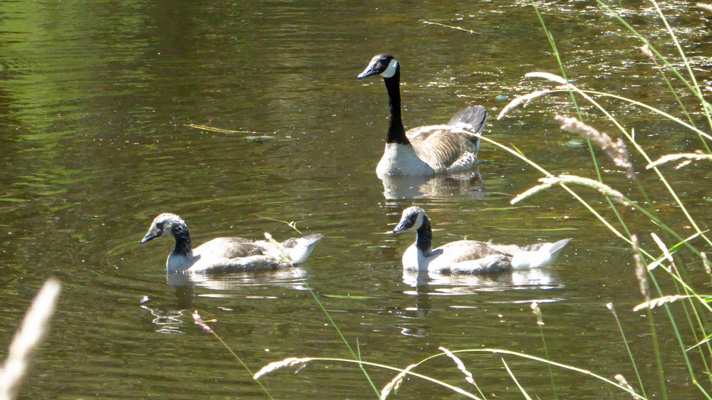 They're still kind of soft and fluffy but definitely at that in between stage.
By the time we got back it was in the 80's and we were happy to go back to the trailer and sit in the shade.