On Tuesday May 8th, we packed up at The Black Canyon of the Gunnison where the deer came to see us off—invading our picnic table area even before we left.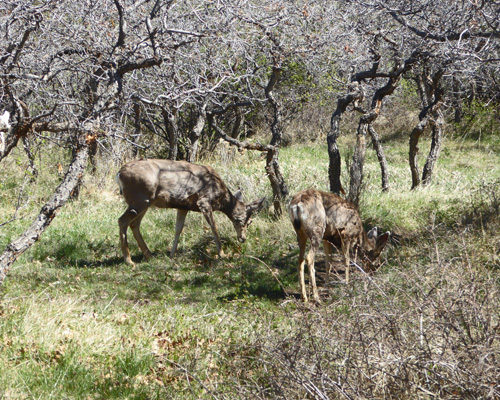 We got a great view of the Rockies to the southeast as we drove out of the park.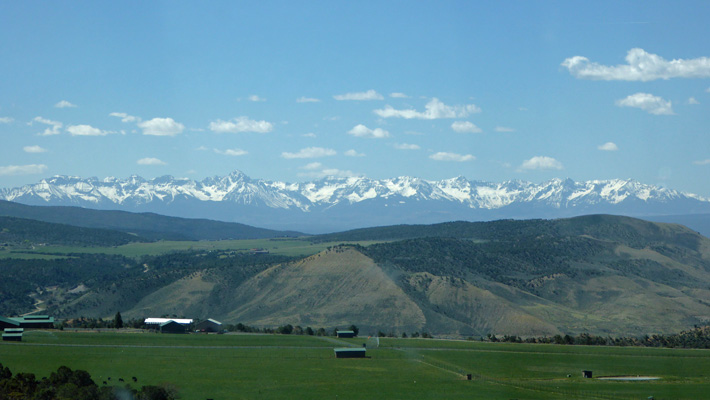 Then we drove east to the town of Gunnison where we stopped and picked up some prescriptions for Walter which hadn't been ready to be refilled when we left Sahuarita. For our first 3 1/2 years on the road we did all of our prescriptions through the mail but when we were in Sahuarita we had started using the WalMart there knowing that most any place we would go there'd be one where we could get refills. It didn't take long because it was a little Walmart and they had no line.
Walter's scratchy throat had turned into a full blown cold so we picked up cough syrup while we were at it hoping that he'd be able to sleep that night (which he did).
Not far out of Gunnison we turned south on Hwy 114 and wound our way through the hills and then the high desert of southern Colorado until we reached Great Sand Dunes National Park. There is a campground in Great Sand Dunes but it was full so we'd made a reservation at the Great Sand Dunes Oasis RV Park which is right outside the park. It had full hook up sites for $40.96 a night which isn't cheap but hey they're the only game in town. They had no WiFi but my new smart phone (with the help of a booster) got us a signal most of the time but it was never fast. They had great showers and a laundry which was inexpensive and a great view of the dunes as the afternoon shadows began to grow.

We even had a decent view of the foothills of the Sangre de Cristo Mountains from the back of the trailer.
On Wednesday May 9th, Walter we feeling a bit better (he heals so quickly!) and we drove out to the Visitors Center at Great Sand Dunes to watch the movie (which was good) and to have a look.

There were bus-loads of kids coming back from having hiked out to the dunes across the sand plain.
And there were gooseberries in bloom around the Visitors Center.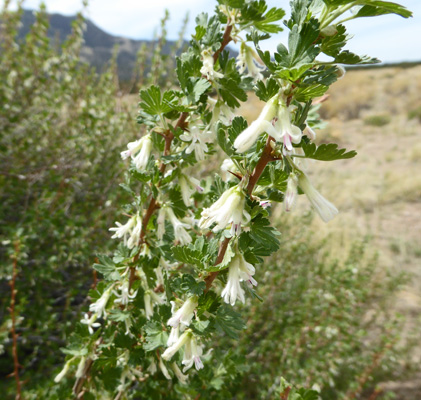 Here's a close up shot.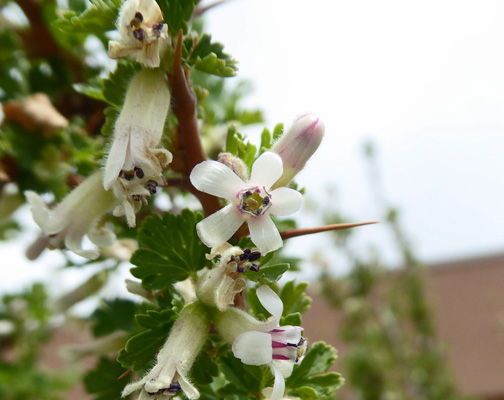 We drove out to the parking area closer to the Dunes and went in search for Medano Creek, a seasonal creek that appears this time of year as the snow melts in the Sangre de Cristo Mountains. We had to walk a ways across the sand (sandy socks one more time) but we found the creek as it was beginning to work its way around the dunes.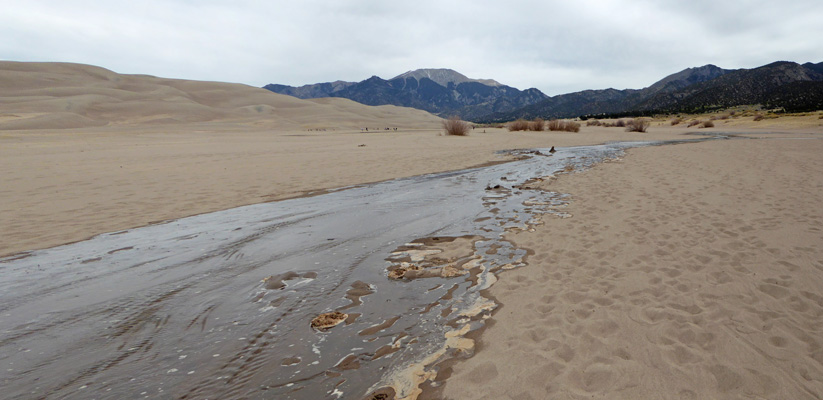 Here's the leading edge complete with foam.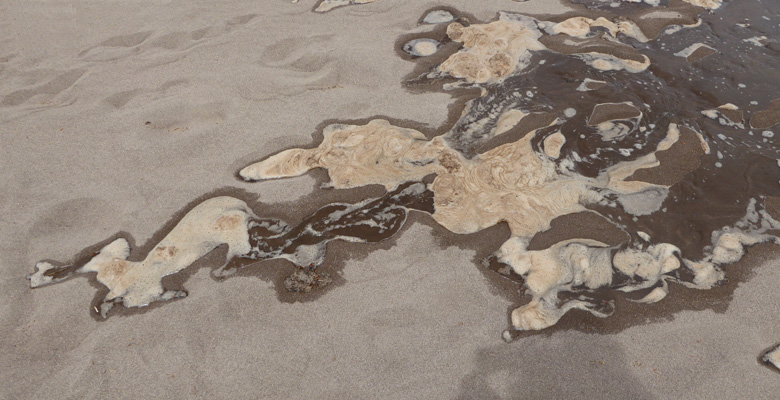 It's pretty fast moving water so it picks up a lot of sand which will slow the flow down and then the little dams break down and the water surges ahead.
On the left the dams are building up. On the right, they've given way and the creek surges ahead. In years when there's LOTS of water in the creek this is a major phenomenon—one not seen in many places in the world.
We drove out to the campground and took a quick drive through. It looks like a real nice place to camp—just no water or power. It was also FULL of kids camping with school trips.
From the parking area just down the hill from the campground I took this photo of the creek as it spreads out across the sand flowing to the left. All those little black spots are people playing in the water and wet sand.

We followed the single track dirt road out to "The Point Of No Return" where the road becomes a 4 wheel adventure that climbs up into the mountains. There was one lone old Ponderosa Pine standing out there with the mountains behind it.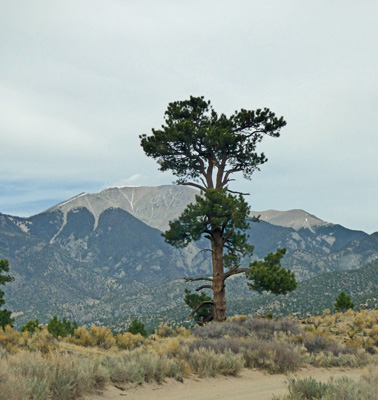 We stopped again at the parking area near the campground on our way back and watched folks climbing the dunes (only a few in the upper reaches) and playing in the creek.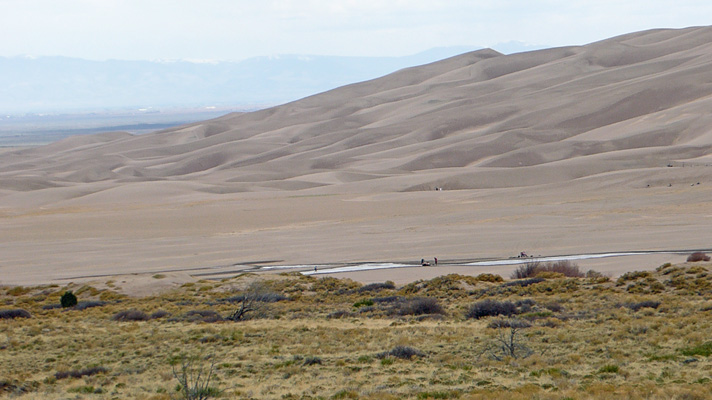 Water is clearly really special stuff here and the dunes are a real playground. People sandboard and sled and roll and climb and dig and have an all around good time.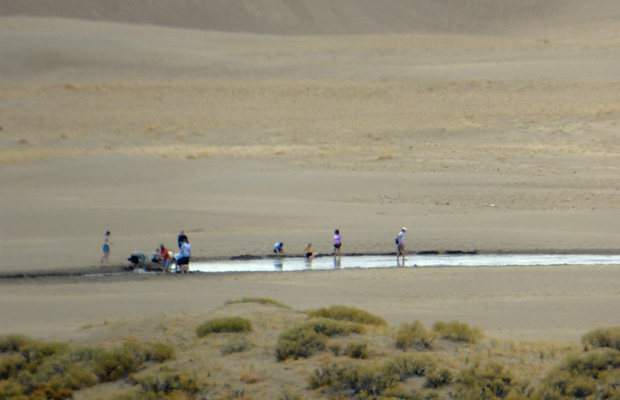 This is a very interesting park in that they have managed to preserve the entire set of eco-zones that are required to create and maintain the dunes. The Sangre de Cristo Mountains are in a park preserve and they feed the snow melt to the creeks (along with creating the backstop to create and maintain the dunes themselves). The dunes may be why folks come but they help maintain an interesting wetland system both around an UNDER the sand. And then on the western and northern sides of the dunes there are big wetlands that they've also preserved. Geologically it's all very complex and interesting.
Thursday May 10th, we drove back to the Visitors Center to have a look at the progress Medano Creek had made in the night. It had covered lots of ground—maybe 1000 yards.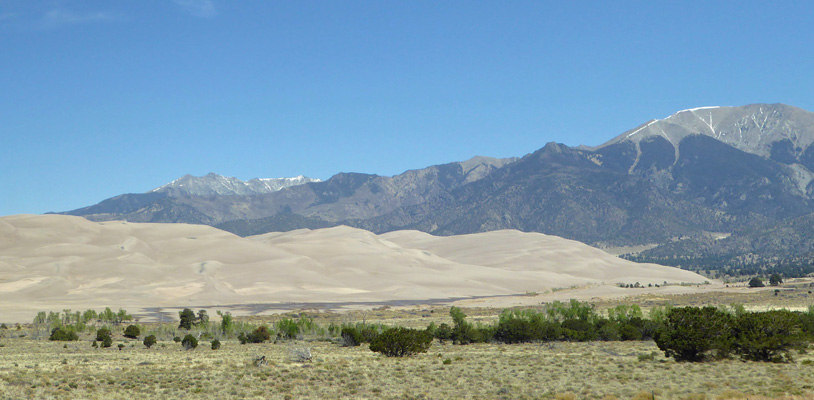 In fact, when we went to the Dunes Parking Lot we discovered you didn't have to walk across the sand at all to get to the water. The college kids had set up a party right past the viewing deck and were standing in the 2" deep water like they were at the beach.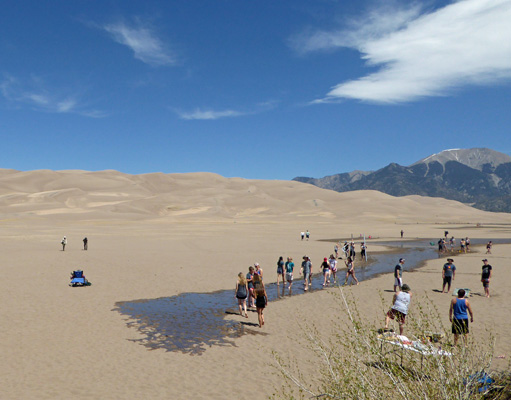 The day before we'd had to walk around the bend to the right to find the creek.
There were also about 80 kids from a school in Albuquerque NM (one of the dads was camping next to us) who hiked at least half way up the dunes.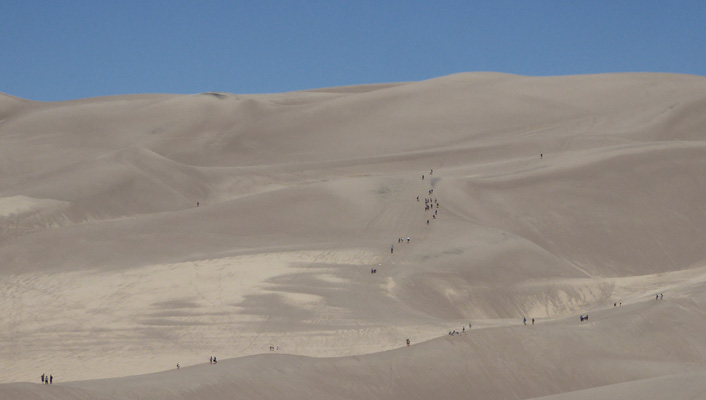 And a bunch of them made it to the top of the first ridge. That ridge is 700 feet above the sand plain. The highest dunes are behind them and are 750 feet high.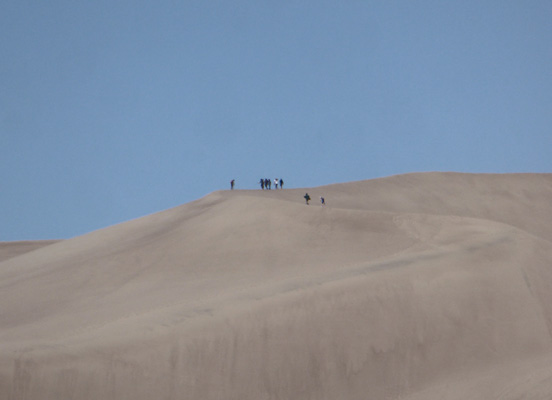 Here's the view of the creek from the campground overlook. MUCH more water spread out across the sand in just a day.

For a little change of pace (and a touch of green) we took the Montville Nature Trail which goes into the foothills following Mosca Creek.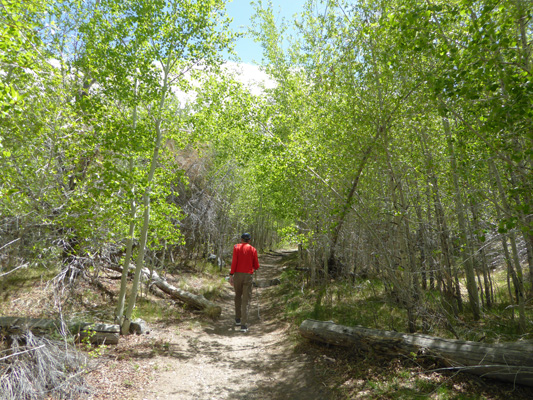 The fresh green comes from aspens and cottonwoods that were just leafing out.
There are a couple of nice little bridges that cross Mosca Creek.
And from the top of the ridge you get a nice view of the dunes.

There were a few Mountain Bladderpod (Physaria montana) in bloom here and there.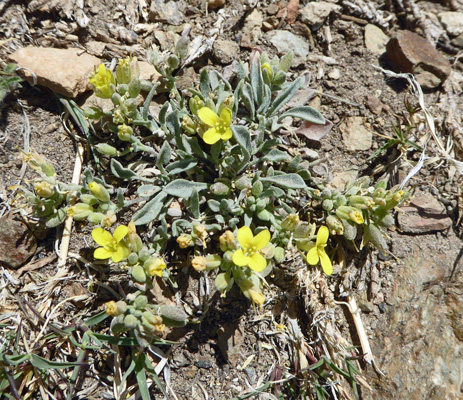 And one lone Whiplash Daisy (Erigeron flagellaris) in bloom in among the rocks.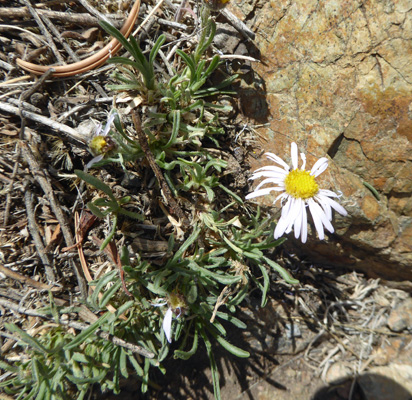 On Friday May 11th, we broke camp and drove north on Hwy 17 to Hwy 24 and then east to Mueller State Park just outside of Divide, CO (which is just east of Colorado Springs). They were still on first come first serve (reservations began on May 188th) and we got a nice electric only side pull through site with a great view of a tree-covered mountainside for $33 a night which includes your $7 a day use permit. This park is at about 9600 feet which is HIGH. Gunnison and Great Sand Dunes were both above 6000 feet so we'd had some time to acclimate but another 3600 feet was a big jump and we both felt the difference.
As we set up camp three wild turkeys strolled through the campsite next to us with the big old tom gobbling away.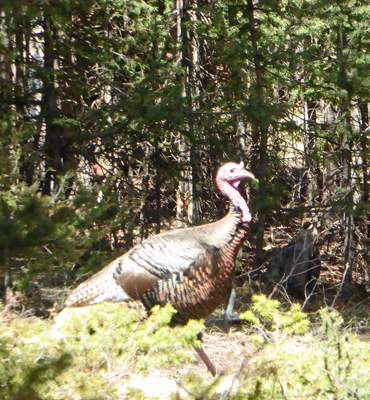 It turns out that they hunt turkeys in the spring here in Colorado and the western portion of the park was open for hunting. So the turkeys had come to the safe half of the park. We heard them off and on all weekend.
We took a drive back to the Visitors Center and got some literature about the area and then stopped at the Elk Meadow Overlook to get a shot of Pikes Peak.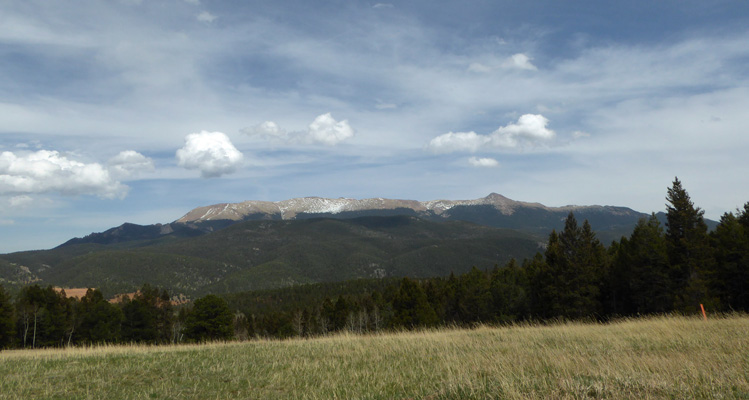 Originally we'd thought we'd take the drive to the top but once we realized that it was over 14,000 feet we decided we really didn't need to do that to ourselves. I had now come down with Walter's cold (he's such a generous fellow he couldn't keep it to himself and so he shared it with me) and he was still coughing so we really didn't need to add to our oxygen problems since we were both pretty breathless already.
On Saturday, we went into Woodland Park (about 10 miles away) and did grocery shopping and then spent a little time catching up on internet tasks at the library. We had decent cell signal up in the park but I had a Windows update that was nearly 1/2 a gig plus some other stuff. Besides, Woodland Park was only 8600 feet and it was nice to be able to breathe for a while. Then we went home a took a nap!
On Sunday May 13th (Happy Mother's Day), we took a drive south on Hwy 67 to the old mining town of Cripple Creek. The drive is really pretty.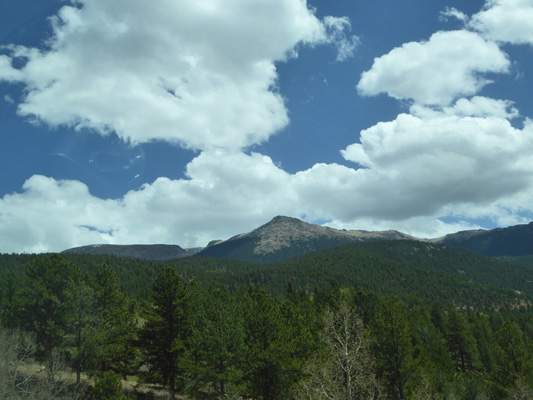 The road winds through the mountains and up and down and around and comes out at a viewpoint overlooking the town.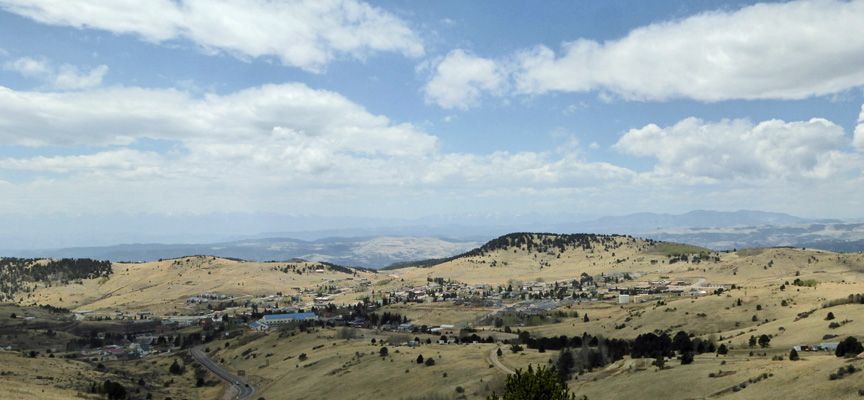 They have a fun welcome sign just on the outskirts.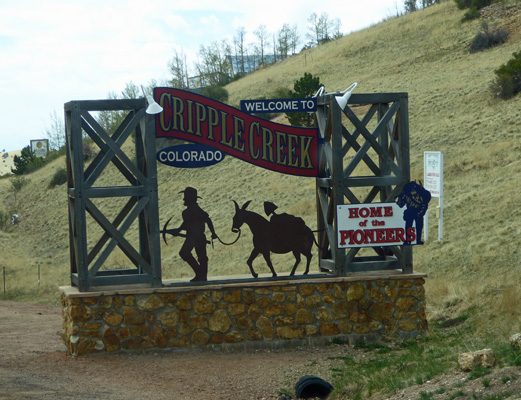 This was a big gold mining area for a long time and there are tailings and head frames scattered across the hilltops. They've shifted to a different kind of mining now—tourists pocket books. They have 9 casinos in town—8 of them on the old main drag.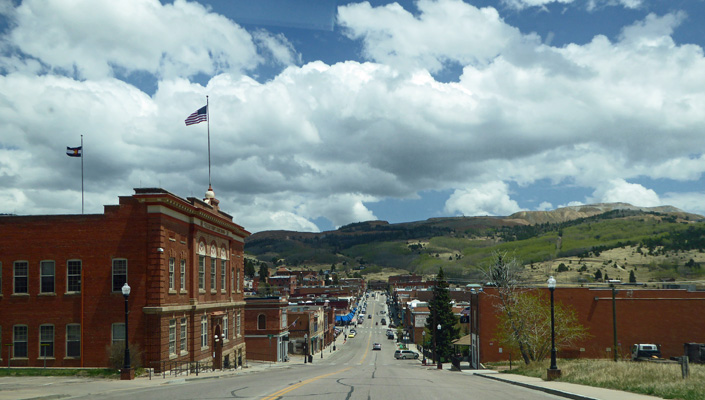 They also have a herd of 14 free-ranging donkeys. They pen them up for the winter to keep them safe and they had just released them at 10 am that morning. We found 8 of then grazing in the front yard of this old Victorian.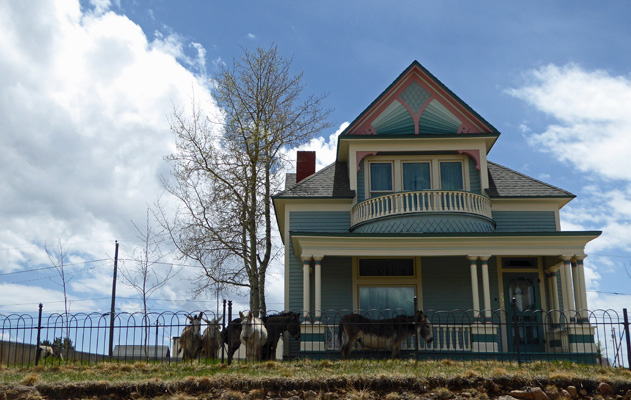 We drove on by the local museum where I took this shot of an old head frame.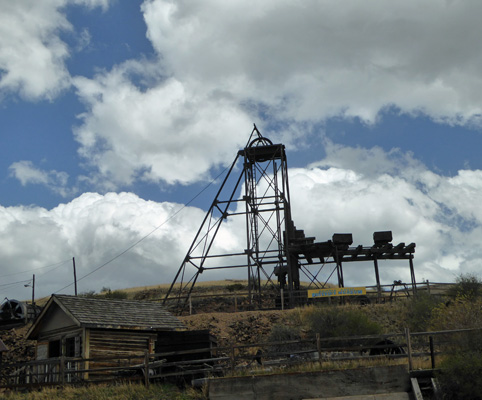 And then we stopped by the old depot where they run a small narrow-gauge railway in the summer up to Victor a few miles away.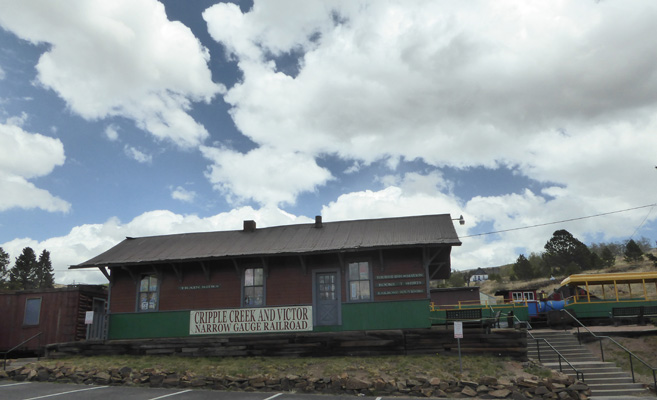 On Monday May 14th, we broke camp and made our way through Colorado Springs and out to I-25 so we could head north to Cheyenne, Wyoming. We had a couple of choices for camping there and we opted to stay at the Terry Bison Ranch RV Resort just a few miles north of the border into Wyoming. Resort is a loose term here but they had a 50% discount for Passport America on the first night so we paid $24 (plus tax) for a full hook up for the first night and full price ($48 plus tax) the next. Given that the KOA in town was over $50 a night for just electricity we figured we got a deal. Their Wi-fi was typical for an RV park—hit or miss.
This is a fully operational working 40 sq mile bison ranch. They have a little train you can take to go out to see the bison. They have a restaurant where you can have a bison burger. They have a gift shop and they even have their own set of carnival rides for special occasions. And they have their own stock yards to get the bison ready for sale. It was windy so we battened the hatches and hunkered down. I was feeling really lousy so I did the unheard of thing of crawling into bed while Walter went and had a bison chili burger at the restaurant. It wasn't cheap (they charge $5 extra for bison) but it was good.
On Tuesday May 15th, I was feeling better and we took a bit of a tour of the resort (it's really more like a dude ranch—they have trail rides and breakfast rides too). We could see a bunch of the bison from the campground.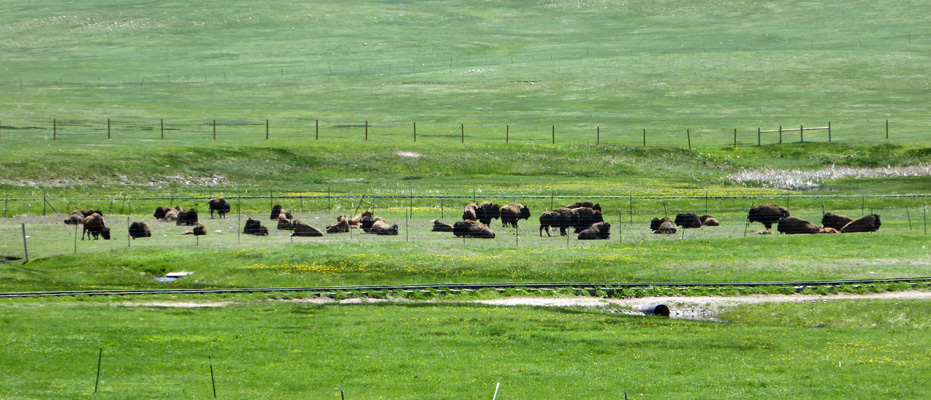 You can see the train tracks where their little train goes by. These guys actually seen to tolerate the fences which is remarkable since I'd always heard that was a big problem with raising bison. Maybe when you give them 40 sq miles to wander they tolerate a fence here and there.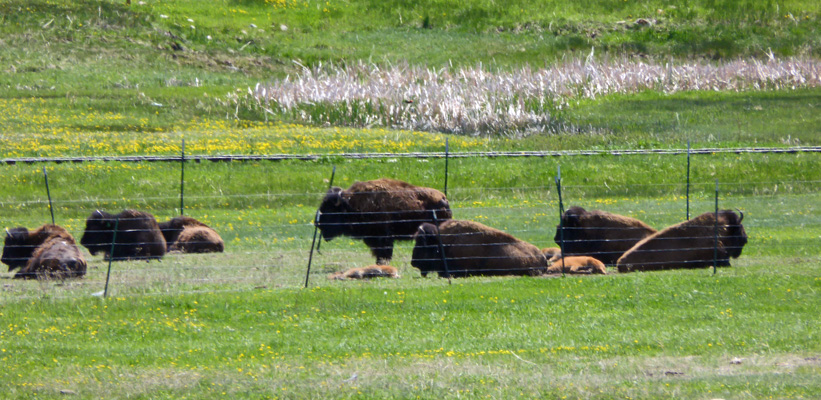 Then we went and walked the metal catwalk that they have over their livestock pens. They have llamas.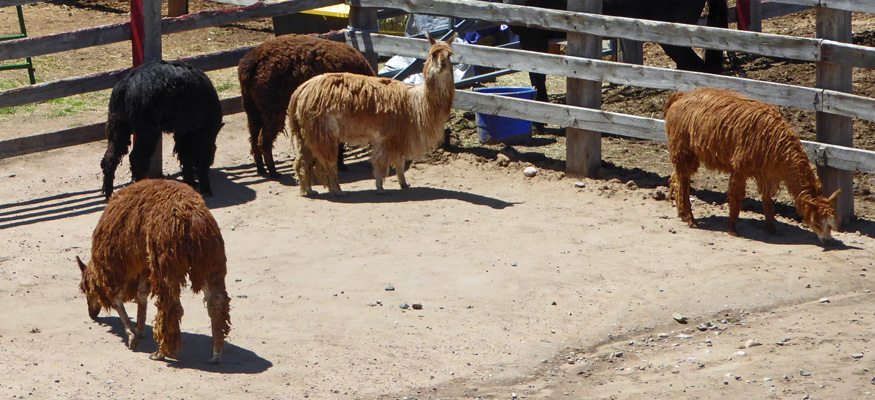 And goats with a pair of darling new kids.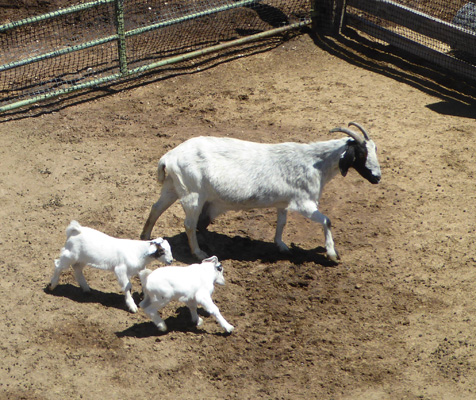 They were into everything and never stayed still.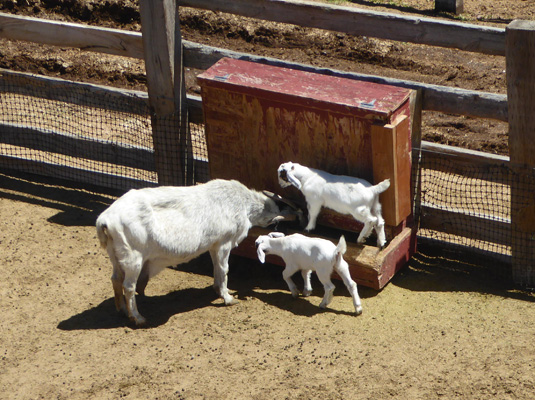 And there was a wonderful big Billy Goat. Such a handsome fellow.
They had a couple of miniature goats too who joined the regular goats while we were watching.
And they had several groups of ostriches.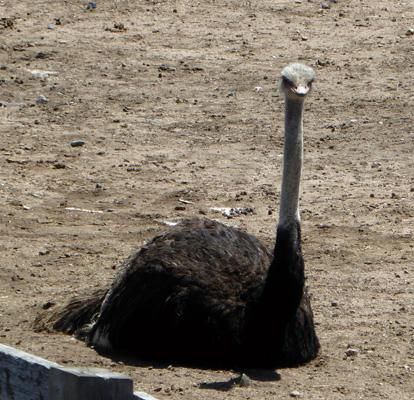 In addition to horses and ponies they also had donkeys.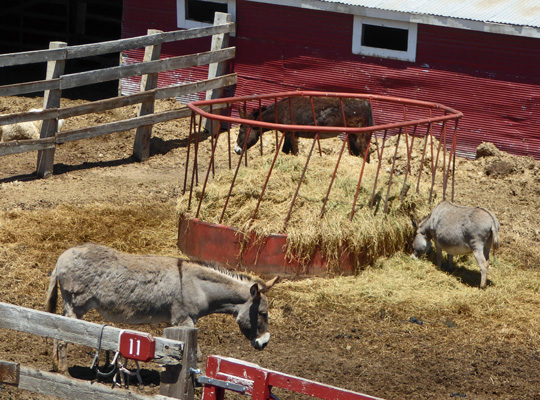 On our way to town we passed their 3 camels out grazing and this guy even posed for me.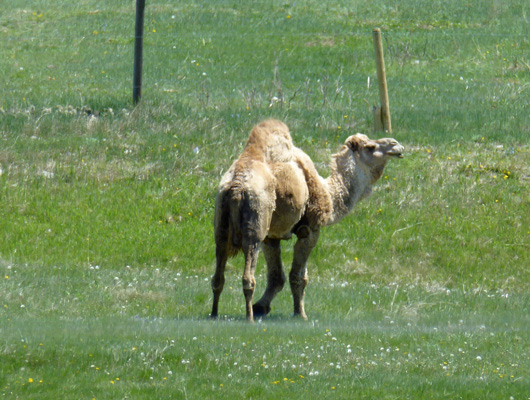 And we saw another large portion of the bison herd—they have between 2000 and 2500 bison depending on the time of year.
And we saw this lovely pronghorn (aka antelope) posing near the road (we saw some more on the way back but I was driving).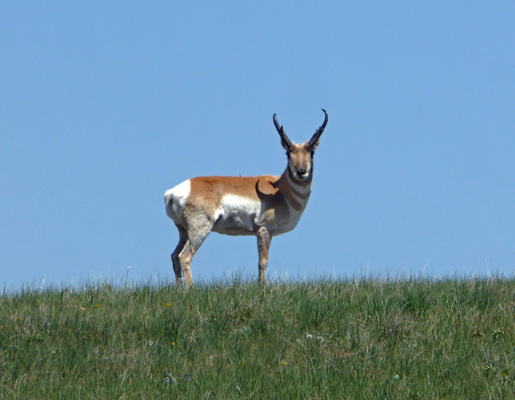 Cheyenne is only 6,000 feet and we both felt much better at the lower elevation.
On Wednesday May 15th, we headed north on I-25 across many more miles of rolling prairie. And then just past the town of Chugwater things changed and we had bluffs.

And rocks.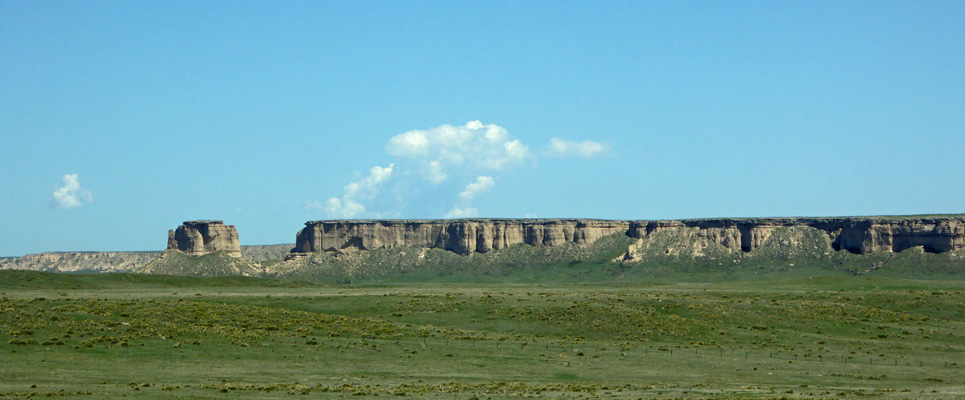 And then it went back to prairie with an occasional ridge of trees.
We turned east on Hwy 18 which turns north and eventually east again into South Dakota where we picked up Hwy 89 and swung through Wind Cave National Park on Hwy 385 until we reached Custer State Park just north of Wind Cave. Along the way we'd seen lots of pronghorns both single and in small herds. And as soon as we entered the state park we saw some right next to the road (we figure they were going after road salt).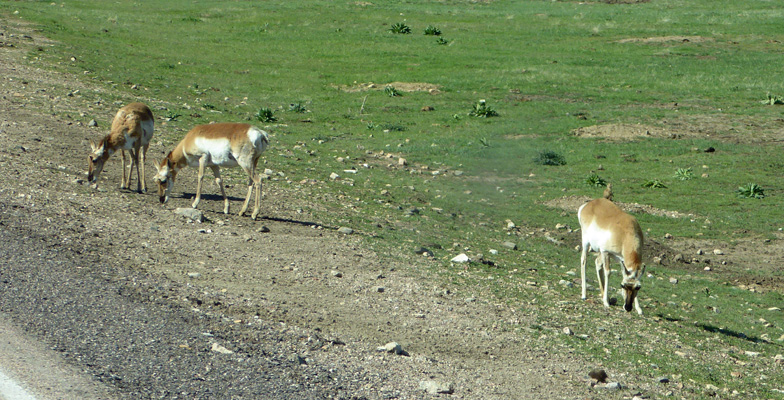 They really are lovely critters.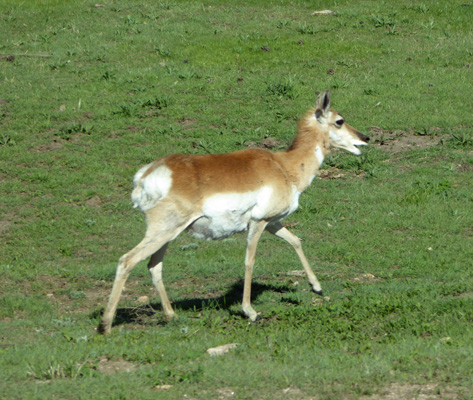 There's a huge prairie dog town along the road through Wind Cave and we saw lots of them in Custer State Park too. When you're driving along they look like rocks and then they start to move! But mostly they stand at attention and watch.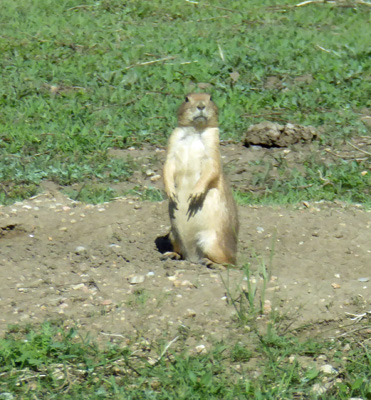 They had a big burn last December (yes, a 50,000 acre wild fire in the snow—that's what high winds will do for you) in the park and that means the grass is a gorgeous green this spring. They have a herd of about 1300 bison in the park and we saw few of them as we made our way north.
We had a reservation in the Blue Bell Campground and we managed to find the place with a little difficulty (they GPS coordinates the park provides aren't very accurate).
It had been in the low 80's during our drive but was down to 77 already when we set up camp at about 4:30. We opened up the windows to cool off the trailer and then the wind came up and we had to close everything back up.
It was spring here with a vengeance and the pollen count must have been incredibly high. This does not help with the clearing up of the cold symptoms: cough, hack, snort.
Blue Bell is a very nice campground. We got a back-in site with just electricity for $24 a night (plus various taxes and $20 for a week's park entry permit). It has lots of Ponderosa Pines and the grass was lush and green. We had a good Verizon signal that gave us 4 bars with our booster—the fastest LTE signal we've had so far.