We had a successful time in the Seattle area. Genevieve has had her last warranty repair completed—we were waiting for a part that was ordered back in April. I've passed all my medical tests with flying colors and won't have to have another colonoscopy for 10 years, praise be. And we've stocked up our larder with 3 months worth of things from Trader Joe's and PCC for our camp hosting stints in Oregon. And François, our Ford F150 got new tires and brakes--he has over 45,000 miles on him at this point.
Tuesday evening, July 19th, we spent a night at the Washington Land Yacht Harbor in Olympia. When we first stayed here in the fall of 2014 there were only 3 rigs in the place. They were nearly FULL when we arrived this time. Their long-term lot is entirely full and they have lots of folks paying the weekly rate waiting for spots in long term. There are still lots of Airstreams staying here (it used to be exclusively for Airstreams) but it's now been discovered by everyone else.
We moved on to the Evergreen Fairgrounds in Monroe on Wednesday July 20th after our appointment at the Airstream dealer in Covington. It was pretty full too. Last fall there were maybe 6 rigs here. This time they were way over half full when we arrived and on Friday night the pull through spots were nearly all full. Yikes, it's summer!
Our stay at the Evergreen Fairgrounds RV Park was pretty noisy since they have a race track that gets used pretty much every day this time of year. But the racing was always over pretty early and even on Saturday night they were done by 9:30. We had tons of errands to run that took us away from the place during the day so it wasn't bad. Besides, on Friday I could have slept through the 2nd Coming in the aftermath of the sedation from my colonoscopy! It takes me a long time to recover from it actually—I was still pretty rummy on Saturday and even on Sunday I was still feeling tired.
Thursday evening we had a lovely sunset. This only captured some of the yummy color.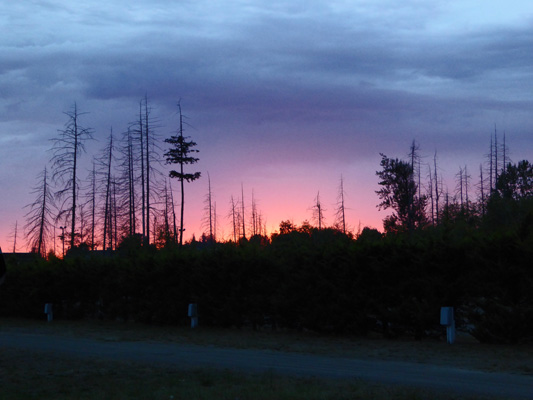 Monday July 25th, we headed south again to the Mossyrock, WA area for two nights at Taidnapam, a Tacoma Power park that we enjoyed back in 2014. Then we'll head down the Oregon Coast to Nehalem Bay State Park south of Canon Beach for a night before we hunker down for the weekend at Sutton Campground just north of Florence. This is a first come first served Forest Service campground where we found lots of open spaces during the week in late July in 2014. Wish us luck this time!